For most of us, the working week always flies by. There's little or no time for an elaborate breakfast. And in our house, its pretty much the same. But come the weekend, there's a little more time. You can sleep in, have a lazy breakfast or brunch before you start with your activities for the day.
Breakfast happens to be one of my favorite meals of the day. Well, a weekend breakfast, that is. Its the perfect time to whip up a batch of pancakes or French Toast or muffins. And if you're the mood for something savory, then eggs and toast with the optional bacon and sausages is a great option. If you're in a slightly more adventurous mood, then only a masala omelette will do. We love a good omelette. It needs to have nice bold flavors, a little spice and a little bite as well. We love it so much, that it sometimes makes an appearance as "breakfast for dinner". Anyone else like "breakfast for dinner" as much as I do? I cannot believe that I haven't shared this recipe with you before. It is super simple and so good. We usually serve it with some plain / buttered toast or some hot chapatis. They also make a fantastic sandwich when served between 2 slices of buttered bread. Try it out this weekend and let me know what you think of it.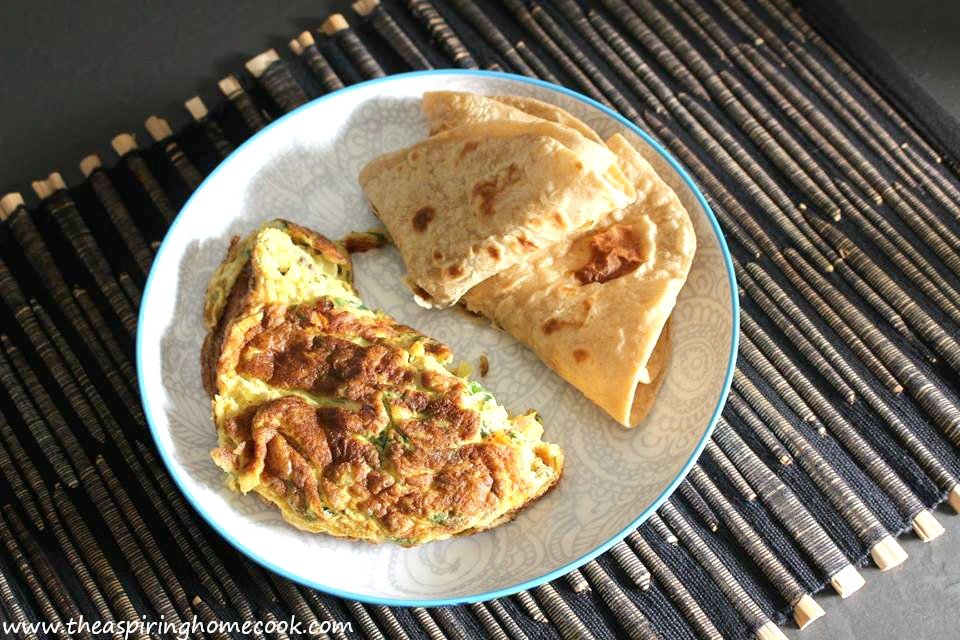 Masala Omelette
Yields 1 omelette
2 eggs
2 tbsp finely chopped onions
2 tbsp finely chopped tomatoes
1-2 tsp finely chopped coriander leaves and stalks
1/2 birdseye chilly, finely chopped
Salt, to taste
Freshly cracked black pepper, to taste
A good pinch of turmeric powder
1 tsp oil
Add the onions, tomatoes, chilly and coriander to a bowl.
Add the salt, pepper and turmeric powder to the bowl and mix everything thoroughly.
Heat a pan over medium heat.
Drizzle the oil in the pan. When the oil has heated, pour the omelette mix into the pan.
Cook it over medium heat till the bottom side has set and turned a light brown.
Carefully flip over and cook on the other side as well.
Serve hot.
Enjoy!
You can watch how I make it here –
Ever so often, life gets busy for everyone. When that happens in our home, I love having quick and easy recipes that I can fall back on even if I haven't had the time to cook dinner. My tolerance for take away and ready meals has steadily fallen in the last few years to the point where its non existent now. I do prefer home cooked food, even if its something as simple as breakfast for dinner.
Actually, I really like breakfast for dinner. This breakfast hash is a nice way to fancy things up. What I love about this hash is its made from scratch. That being said, it comes together so quick and easy and all in one pan. If you're using an oven proof skillet, you can crack the eggs right in and let them cook off in the oven. I didn't want to switch the oven on, so I used a second pan to fry the eggs. You could use poached eggs or scambled eggs too. This hash obviously uses potato. The addition of red peppers and kale makes it so colorful, not to mention, delicious. And kale in a recipe must definitely make it healthier.
So if you're ever in a situation where you need a meal on the table in under 30 minutes or if you feel like a fancier breakfast, or for that matter, breakfast for dinner option, try this hash out. You'll love it. We certainly did. And leftovers keep quite well, refrigerated. Simple heat it up the next day and serve with an egg, if desired.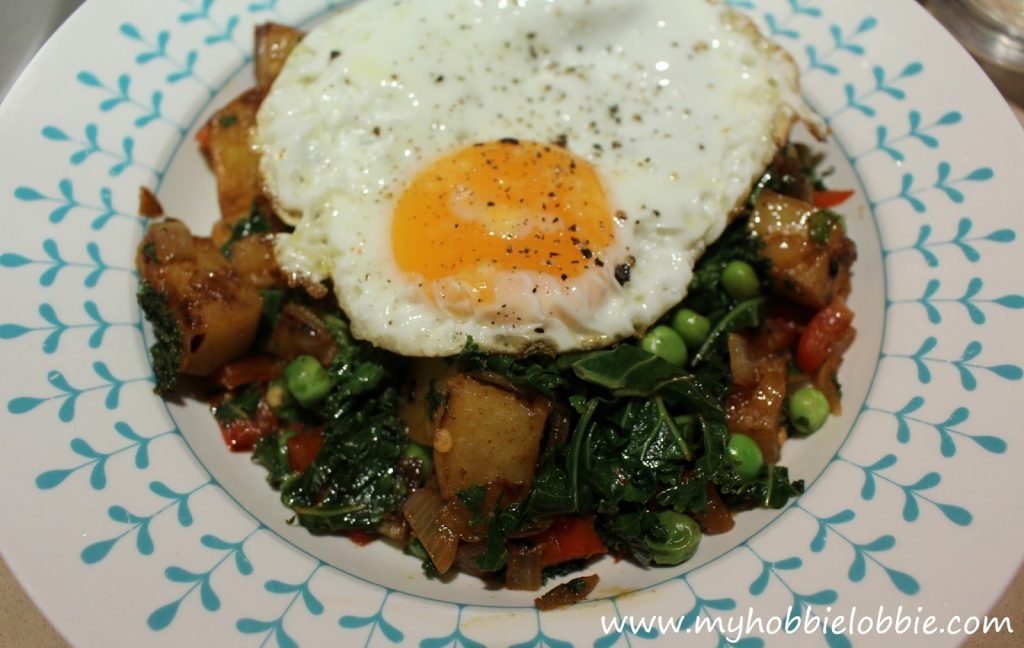 Breakfast Hash with Potatoes, Kale, Peppers and Green Peas


2 potatoes, peeled and diced (the smaller the cubes, the quicker it will cook)
1 medium onion, chopped
1 red pepper, chopped
2 cups kale, roughly chopped
1 cup green peas
1 tbsp olive oil
1/2 tsp smoked paprika
1/2 tsp cumin powder
Salt, to taste
Freshly cracked black pepper, to taste
1 egg per serving (You could use 2 eggs per serve, if desired)
Heat the oil in a pan over medium heat.
Add the potato to the pan and let it cook, stir every now and then to ensure even cooking and avoid any burning.
When its half cooked, add the onion and red pepper.
Saute and let the onion and pepper soften.
Add the paprika, cumin, salt and pepper.
Add the green peas and the chopped kale.
Let it cook for about a minute till the kale and the peas have warmed through.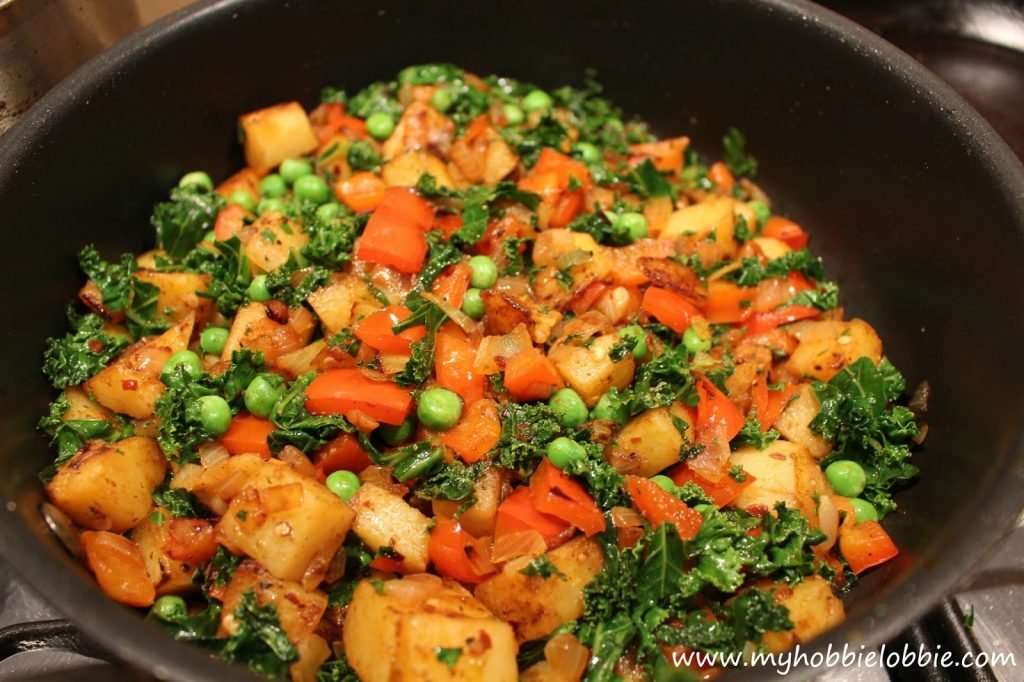 Serve hot, topped with an egg (or two) cooked to your liking.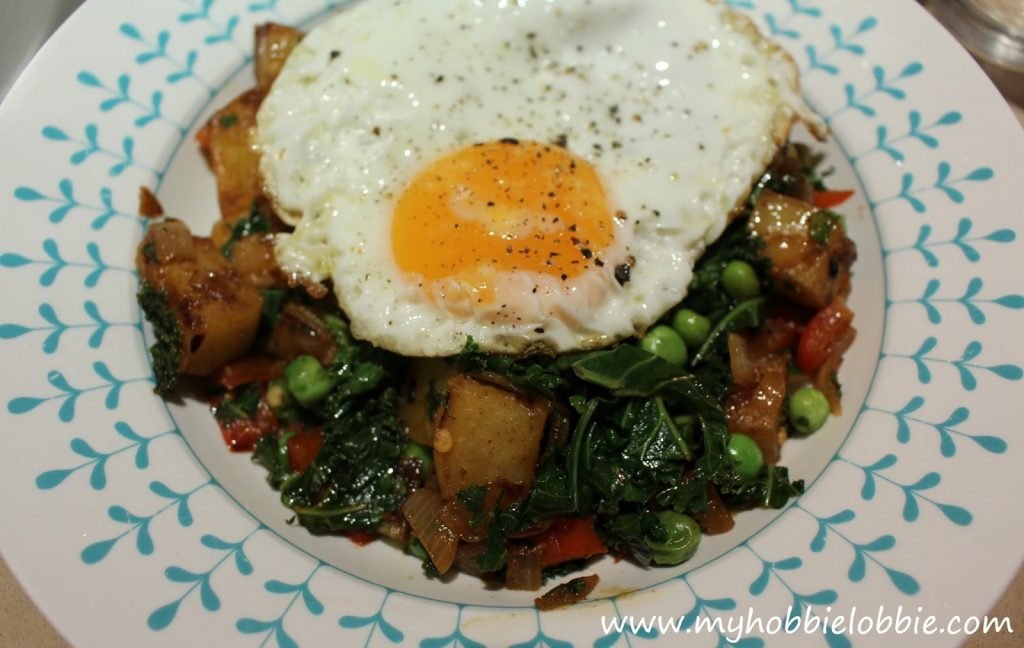 2
SRC
posts in 2 weeks! You must think I've lost my marbles. But no, I haven't, not yet atleast 😉 Last week was a bonus themed SRC reveal but this post today is my regular Group A reveal. For this month I was assigned Sid's blog,
Sid's Sea Palm Cooking
. I've been watching this blog for a while now and when I received my assignment, I was quite excited to be cooking from this blog. I almost fell off my chair when I read Sid's tagline from her "About" page. Turns out we are kindred sisters at heart. In her own words, this is what she has to say,
"Sid cooks, entertains, plays with food, and hates to clean the kitchen after a marathon cooking/baking session."
I feel ya Sid. I love the prepping, the cooking and the serving and all that. But absolutely hate the cleaning up after. OMG, I can't believe I have said that out loud. Fortunately, I have an absolutely amazing husband, who almost always helps with the clean up. And that makes me one lucky and extremely happy girl.
Back to Sid and her blog. She hosts Tapas night once a month and her friends bring along a dish each to share. That is a wonderful idea for a potluck and they put together some pretty impressive spreads month after month. While I was perusing her blog, a few posts caught my attention. I loved the look of these Game Day Wings, and her Za'atar Pita Crisps looked intriguing. I had also shortlisted her recipe for Tonkatsu and her Candied Ginger and Lime Cookies. In the end I went with her Breakfast Salad.
I was so pleased I picked Sid's Breakfast Salad recipe. Though it is a simple recipe, for me it was a first. I have never poached an egg before. And until now, I have always found or made excuses and put off trying my hand at poaching eggs. To be honest, I always found it a little intimidating. Today I decided to bite the bullet and give it a shot. I'm so happy that I did. Turns out, poaching eggs is actually really easy. I wonder why I waited this long to try it out. It is a really healthy way to enjoy an egg for breakfast too, because there is absolutely no oil / butter involved. I even managed to get a runny yolk and all. This might just be my new favorite way to eat an egg now. Thank you so much Sid for the much need nudge. If you haven't tried poaching an egg yet, do give it a try.
The salad itself, makes the dish a very wholesome breakfast. I didn't have any mushrooms in the kitchen when I set out to make this, so I left out the mushrooms. But because my husband looked and the salad leaves and then looked at me thinking I had lost my mind, I decided to coax him with a few sausages. I fried up some cheese kransky sausages and sliced them up. With some croutons and salad dressing, this makes a super yummy and hearty breakfast. You don't feel heavy or overwhelmed with grease after sitting down to this salad. Though this was my first attempt at a breakfast salad, I know for sure this wont be the last. I really enjoyed this for breakfast. I probably enjoyed this a little more than I thought I would.
I have made this a couple of times now, once using store bought French Salad Dressing and once with my go to dressing comprising of a squirt of lemon juice and a sprinkle of salt and freshly cracked black pepper to taste. Both were really good.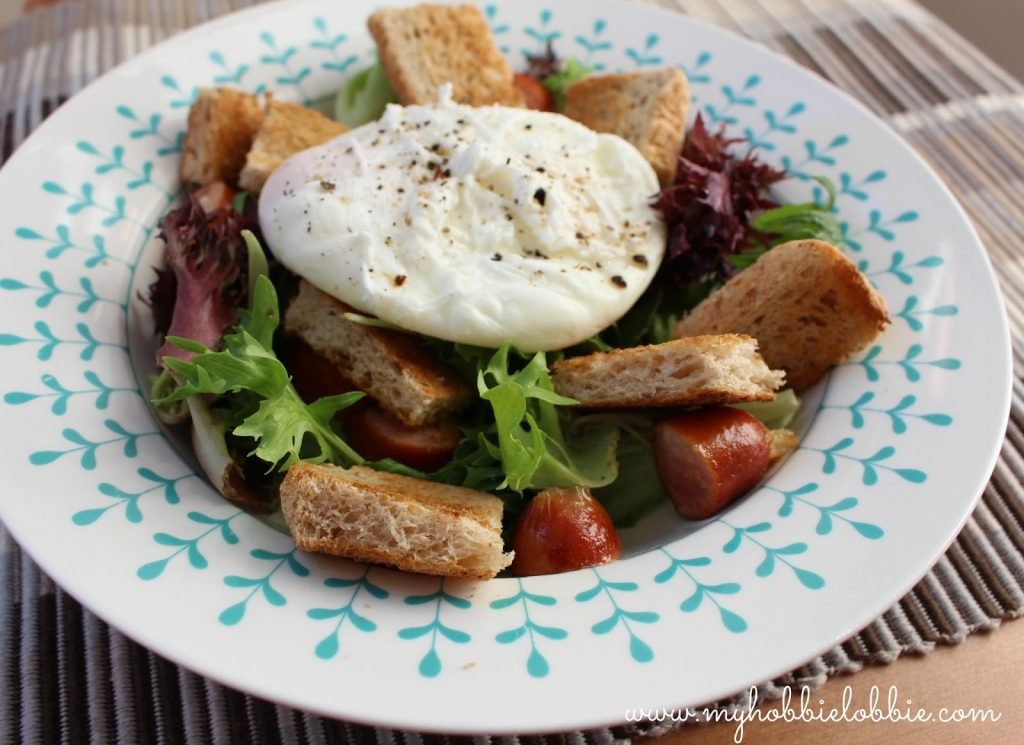 Breakfast Salad
Serves 1
To poach the egg –
Bring about a liter of water to a boil in a pot.
Add 2 tbsp vinegar to the boiling water.
Crack an egg into a ramekin.
Using a spoon, stir the water a few times till you have a little whirlpool going in the pot.
At this stage, gently pour the egg from the ramekin into the water. Cook of medium heat for about 2-3 minutes or till the egg whites have just set.
Drain using a slotted spoon and place on a paper towel to drain off any excess water.
For the salad –


A handful of salad leaves (I used the 4 leaf mix from Coles)
1 slice of bread
2 cocktail sized cheese kransky sausages
1 tsp olive oil
Salt, to taste
Freshly cracked, black pepper to taste
Salad dressing (of your choice), to taste
I turned the sliced of bread into croutons the lazy easy way. Simply toast it up in the toaster till browned and crunchy. Cut up into pieces and croutons are done.
Heat the oil in a pan and fry up the sausages till cooked. Carefully slice the sausages.
In the serving plate, place the salad leaves and drizzle a little salad dressing over.
Sprinkle the sliced sausages and crouton pieces over.
Place the poached egg on top and sprinkle some salt and pepper on the egg.
Enjoy!!!
Here's a peak at the runny yolk I managed to get 🙂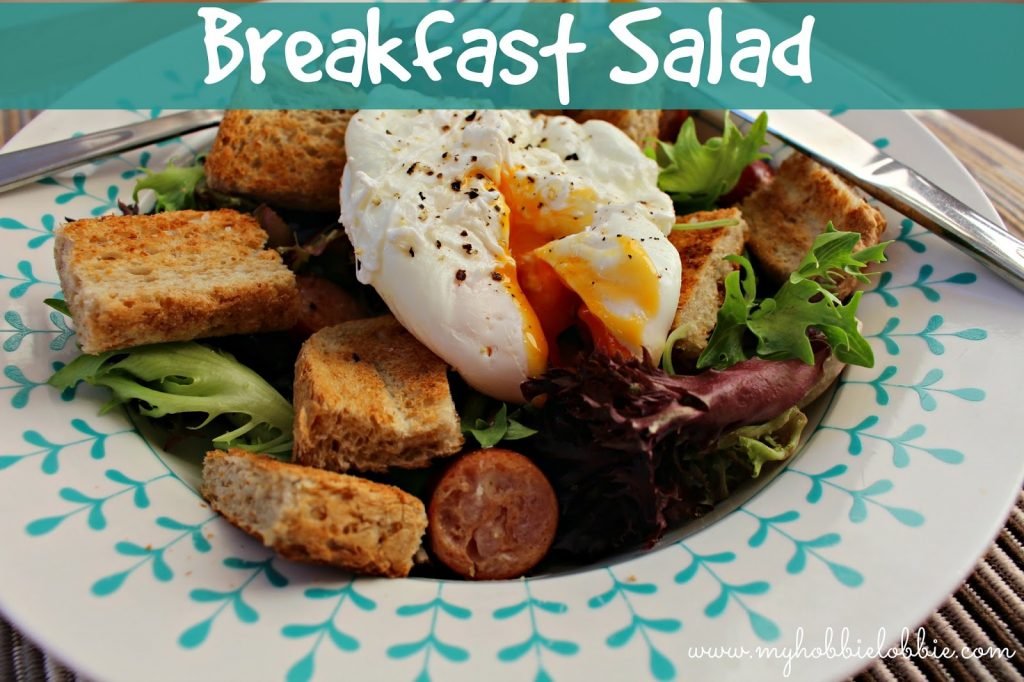 Don't forget to check what the others in Group A have whipped up this month.
**Disclaimer: This is NOT a sponsored post. I have just mentioned what type of salad leaves I've used here.
Hello everybody! Last month sure flew past. All of a sudden it was time for yet another
SRC
reveal. Don't know what SRC is – well, its only the coolest foodie club around. We are a group of bloggers who come together each month for what we call an SRC reveal. Each month we are assigned a blog from the group and we pick out one recipe from the assigned blog, make it ourselves and post about it on reveal day. The only catch it, you cannot disclose which blog you've been assigned till the reveal day. Its so much fun. I've been a part of this fun group for a while now, and it is so much fun. If you'd like to join, you can find more details
here
.
This month, I was assigned Beth's blog –
It's Good to be the Cook
What a fun name for a blog! Not surprising, since Beth sounds like a fun girl too. She cooks up some serious yum and strongly believes in eating healthy and exercising. She loves her sports and a 100% dog person (that's what she calls herself). I totally get that – I'm a 100% dog person all the way. I totally fell in love with Stella May, her really adorable little dog. Go on over and say hi to Beth and Stella, will you!
For this months reveal, I had quite a few options. What I really love about Beth's food is that apart from being healthy, it is also no fuss and big on the flavors – something I look for in food. I narrowed my options down to this
Italian Hoagie Dip
,
Beth's Springtime Tuna Salad
,
Sriracha White Bean Dip
and this
Onion, Tomato, Spinach Scramble
. There's plenty more great recipes on Beth's blog, so make sure you stop by. I decided to go with the Onion, tomato, spinach scramble. The weather in Sydney has cooled down considerably and there's nothing better than starting the day with a nice hot brekkie. This is the perfect option for a nice weekend breakfast. I've made a lot of omelettes in my lifetime, but this one was different. You saute the onion and tomato before adding the egg, and this intensifies the flavors and makes it extra yum. That coupled with the baby spinach stuffed in it results in something stunning. Pretty and colorful to look at and so tasty, not forgetting your getting some greens in as well. This one is simple but hits the spot.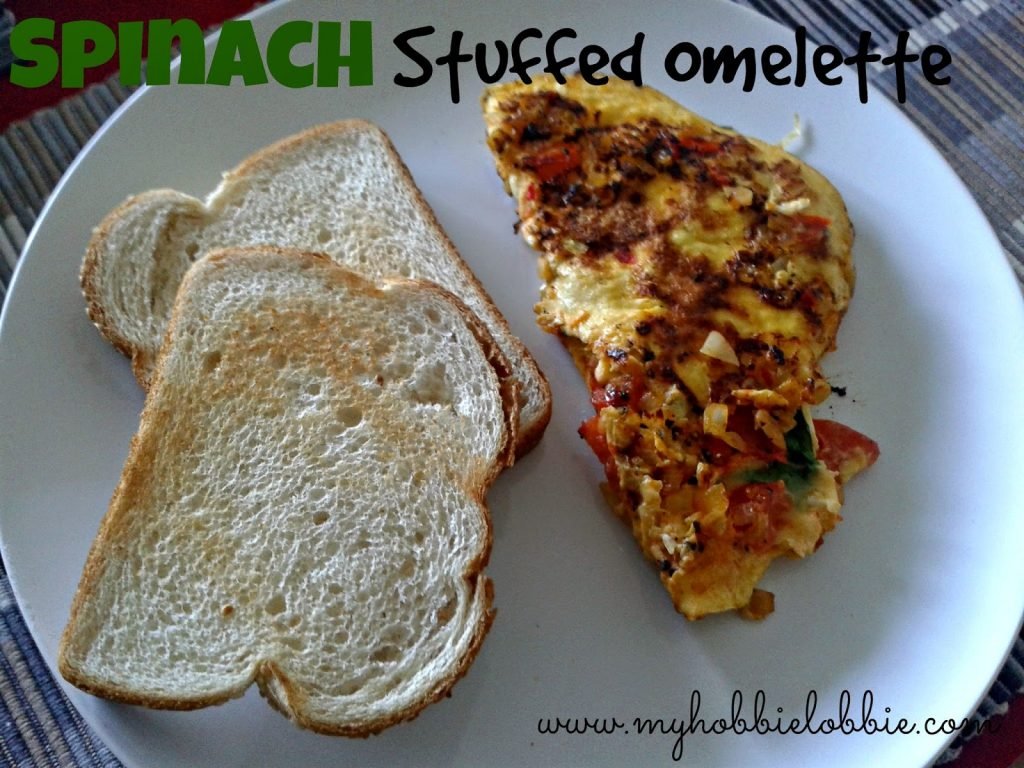 If you have trouble getting the little folk in your house to eat up their greens, this is an ideal way to get some in their diet. The spinach doesn't alter the taste of the omelette, but it adds all of its goodness to their diet. Here's the spinach, before you can flip half the omelette over the other side.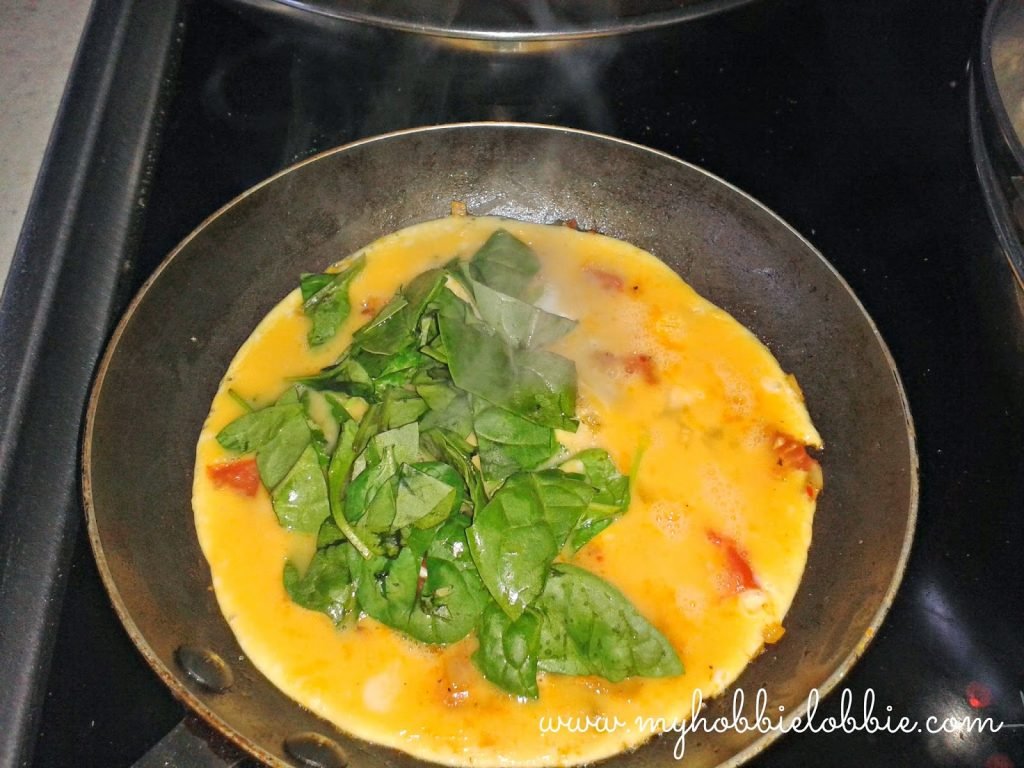 Spinach Stuffed Omelette
Makes 1
2 eggs, beaten
2 tbsp chopped onions
2 tbsp chopped tomatoes
A little chopped green, red chillies, to taste (optional)
A small knob of butter / a tsp oil
Salt, to taste
Freshly crushed black pepper, to taste
A handful of baby spinach, roughly chopped (I might've used approx. 15 leaves, you can use as much as you'd like)
Heat some butter or oil in a pan.
Add the onion and chilly (if using) and saute till the onions soften up a bit.
Add the tomato and stir fry for a minute. Season with salt and pepper.
Add the beaten egg and let it set on one side.
Place the spinach on one half of the omelette.
Carefully, flip the vacant half of the omelette over the other side.
Let it cook through. Flip over and let it cook on the other side too.
Cook to you liking.
Serve hot with some toast and a nice hot cup of coffee.
Here's a peek of what it looks like cut into. See the spinach peeking through –