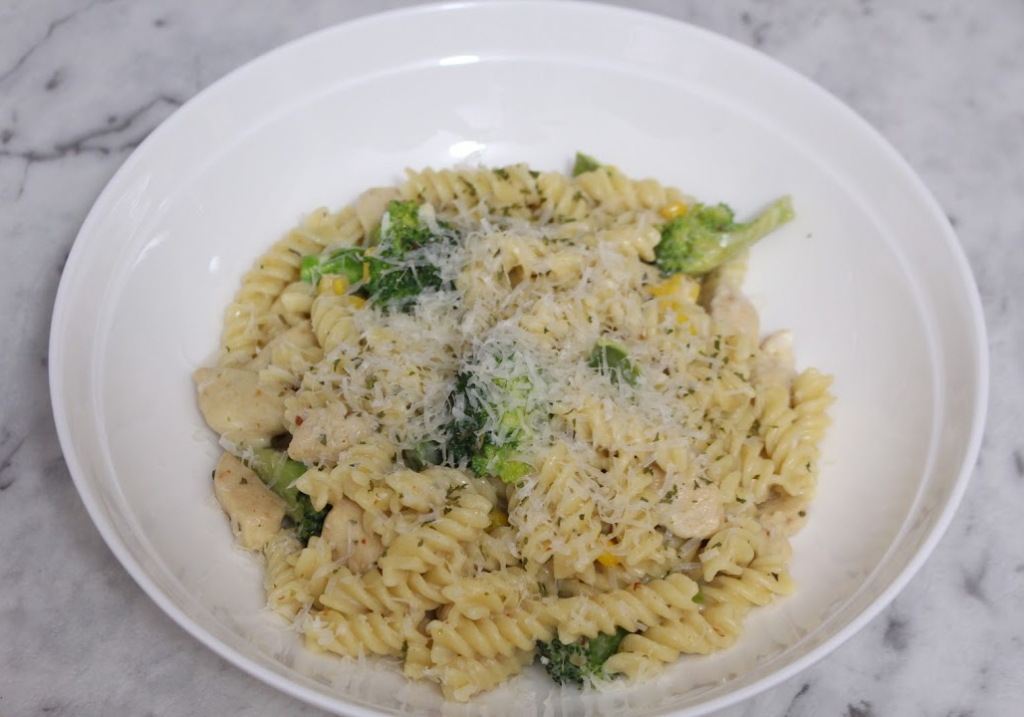 Pasta – one humble ingredient but endless ways to cook it up. It has got to be one of the most versatile ingredients in the kitchen. You can serve it hot or cold, in a soup, salad or as a main. It works so well with so many different veggies, proteins and sauces. I love me some pasta and always have a couple of varieties in my pantry cupboard.
Pasta dishes can range from simple to a little more complicated. I personally, love the idea of a few simple recipes that I can use during the week. This Chicken in white sauce pasta is one such dish. With a little multi-tasking, I can serve this up in well under half and hour. Yup, you heard that right, under 30 minutes. Honestly, what takes the most time, is boiling up the pasta itself. If you don't eat meat, you can still make this recipe, just leave out the chicken and add some mushrooms, peas or even a little spinach. A vegetarian variant turns out equally delicious.
Are you ready to check this recipe out???
Chicken in White Sauce Pasta
(Serves 4)
A single Chicken breast fillet, cut into bite sized pieces
1/4 cup green capsicum, diced
1 cup of broccoli florets
1/2 cup corn kernels
2 cloves of garlic, finely chopped
Salt, to taste
Freshly cracked black pepper, to taste
Chilli flakes, to taste
1/2 – 1 tsp Mixed herbs, or to taste
1 tsp lemon juice
1-2 tbsp olive oil
1-2 tbsp vegetable stock / water
Pasta (enough for 4 servings)
A little parsley, to garnish
A little Parmesan cheese, grated
For the white sauce –
1 tsp olive oil
1 1/2 tbsp butter
1 tbsp all purpose flour
1 1/4 cup milk
1/3 cup cheddar cheese, grated
Salt, to taste
Cook your pasta according to the packet instructions. I bring a large pot of water to a rolling boil. Season generously with salt. Add the pasta and cook till done. Drain and reserve about 1/2 cup of the cooking liquid.
While the pasta is cooking, season the chicken with salt, pepper and lemon juice to taste. Mix well.
Heat 1 tbsp olive oil in a pan. Add the chicken and cook through, stirring occasionally, till the chicken has cooked through. Remove the chicken in a bowl and set aside.
In the same pan, add 1 tbsp of olive oil and quickly add the garlic.
Stir through and immediately add the green capsicum. Still through and let the capsicum cook for about a minute.
Next add the broccoli and saute well. (See note*)
Add the corn and stir through.
Season with salt, pepper, chilli flakes and mixed herbs, to taste.
Add 1-2 tbsp vegetable stock (you can also use water), stir well, cover and let the veggies steam and cook for a minute or two or till they are done to your liking. (If you are adding cooked broccoli to the pan, you can leave this step out. )
Add the cooked chicken to the pan and stir through. Set aside and cook your white sauce.
To cook the White Sauce / Bechamel Sauce –
(For detailed instructions on how to make a great white sauce, check the video above)
Add a tsp of olive oil to the pan on medium heat.
Add the butter and let it melt.
Add the flour and stir briskly, making sure the flour incorporates well with the butter and oil and that no lumps are left.
Cook this roux off for about 30 seconds to a minute or till the raw smell of the flour has gone. (Do not let it develop any color.)
Add half the milk to the pan and stir through well, making sure no lumps remain.
Add the remaining milk and whisk well.
Cook the sauce till it has thickened to your liking, whisking well.
When the sauce is done, lightly season with a little salt.
To assemble the pasta –
Add the white sauce to the chicken and veggies in the pan. Stir well. Add the cheese and mix through.
Check the sauce for seasoning and adjust, if needed.
Add the cooked pasta to the pan and stir through.
Serve your pasta in some serving plates. Finish with a light sprinkling of parsley and a grating of parmesan cheese.
*NOTE: Our broccoli is fairly tender and cooks very quickly. If your broccoli takes longer to cook, blanch or steam it before adding to the pan.
I have kept my Easter prep for too late this year. I'm usually a lot more prepared than this. However, a minor accident had reduced my mobility this past week. I am on the mend but still not back to 100%. So I wanted to keep my treats quick and easy.
With that in mind I whipped up some Chocolate Nests. I love this recipe. It takes 3 ingredients and half and hour to make a batch. This is a very versatile recipe so you can make as big or small a batch, as you'd like. It is also a flexible recipe, so you can use the chocolate of your choice and mini eggs of your choosing too. So, if like me, you've left Easter prep for the last minute, try out this recipe. It is very popular with the little kids … and the big ones too.
Wish you and your loved ones a Happy and Holy Easter!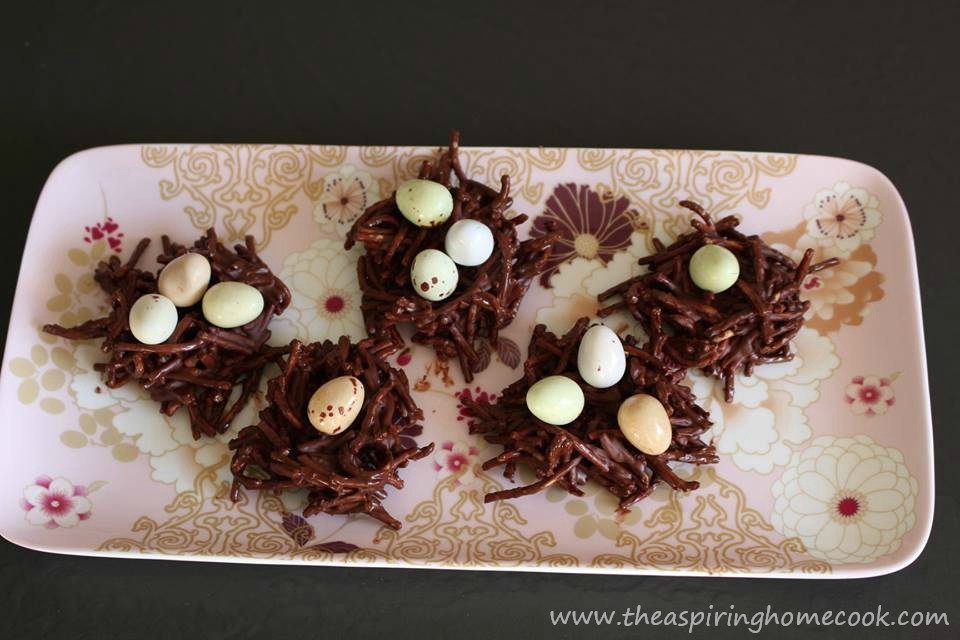 Chocolate Nests
Makes 8 Nests
100 grams Chocolate (I used Dark chocolate)
100 grams ready to serve Noodles
Mini Speckled Eggs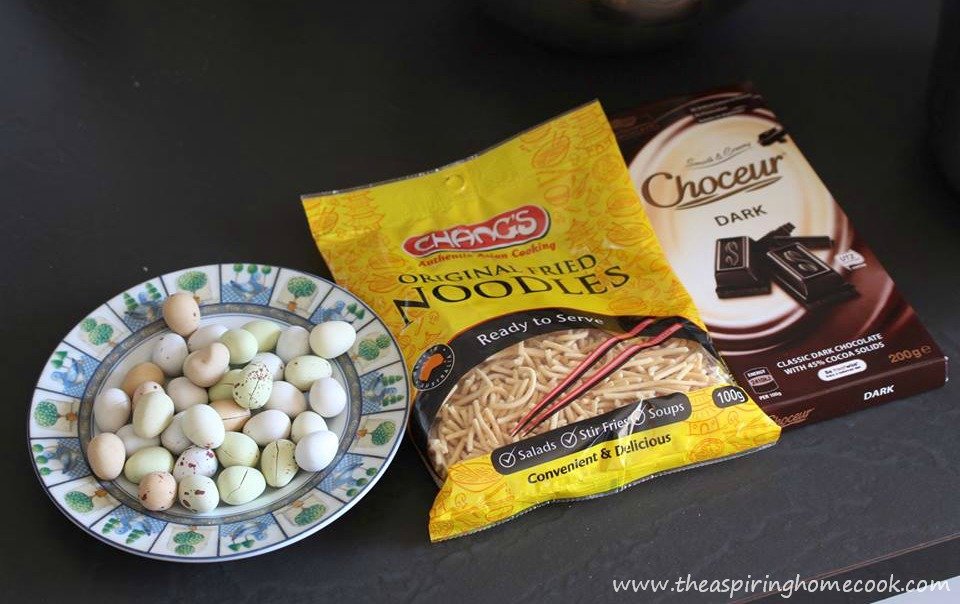 Chop up the chocolate roughly and melt using a double boiler. If you haven't worked with a double boiler, watch the video linked below to see how you can use a simple saucepan and bowl to make one. (You can also melt the chocolate in a micowave using a microwave safe bowl and in 30 second increments.)
Toss the noodles into the chocolate and mix gently to coat the noodles in the chocolate completely.
Using a spoon and either a spatula or a butter knife, scoop out portions of the noodles onto a tray lined with baking paper. Shape to form rough circular shapes and make a little dip in the center of each nest.
Place the mini eggs in the dents created.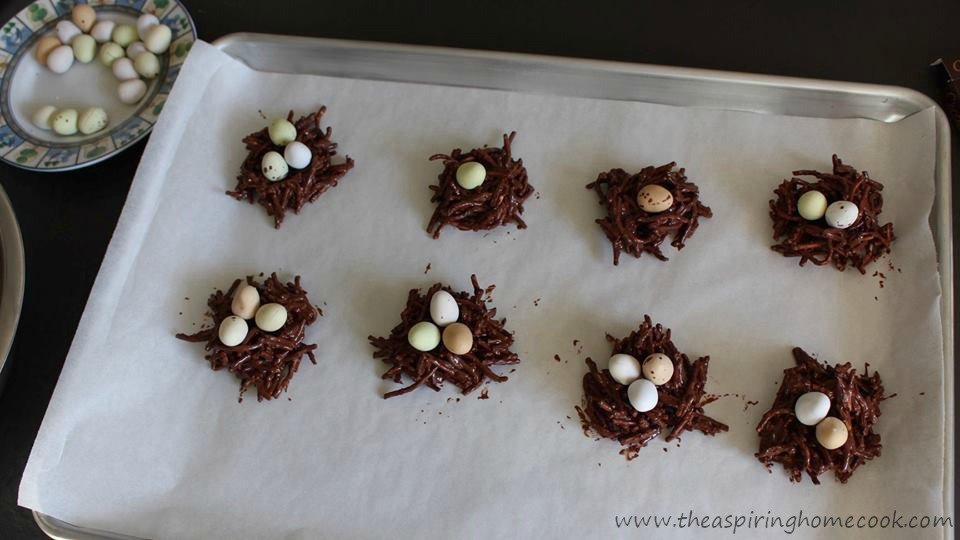 Refrigerate for 20 minutes.
Serve.
You can watch the video recipe here –
Yes, you read that correctly. Homemade mayonnaise in 30 seconds. I love having mayonnaise at hand most of the times. My husband likes some mayo with his crumb fried fish or chicken. We also enjoy it in sandwiches and salad dressings.
For me, the homemade Mayo craze started years ago, back when I was in Bombay. At that time, it was hard to find mayonnaise in stores. The good stuff was usually imported and cost a small fortune. The locally made stuff just didn't tick the boxes for me. So my husband and I decided to try making mayonnaise at home. A few struggled attempts later, we nailed down our recipe and method and I had posted that recipe here. It was just how we liked it and we could make as much as we needed in a few minutes. I have to say, it has been years since I've purchased mayonnaise from a store, except for a couple of times when we just moved to Australia and we waiting on our kitchen appliances and the rest of our stuff to get here.
A couple of years ago, I caught a little snippet of Matt Preston whipping up a batch of Mayonnaise and I simply had to try it with my recipe to see if it worked. The beauty of this method is that it takes about 30 seconds from start to finish to whip up a batch of mayonnaise with minimal clean up after. Since then we've never looked back. And today I'm going to share with you my recipe for 30-second Homemade Mayonnaise.
If you've every considered making Mayo at home, but thought it was too difficult or too fussy, I urge you to try this out. This is how I like my Mayo. The best part is, you can adjust the salt, sugar and vinegar in the recipe to make it just right for you. Added bonus, no nasties. You know exactly what has gone into making your jar of mayo. So I really hope you try it out soon.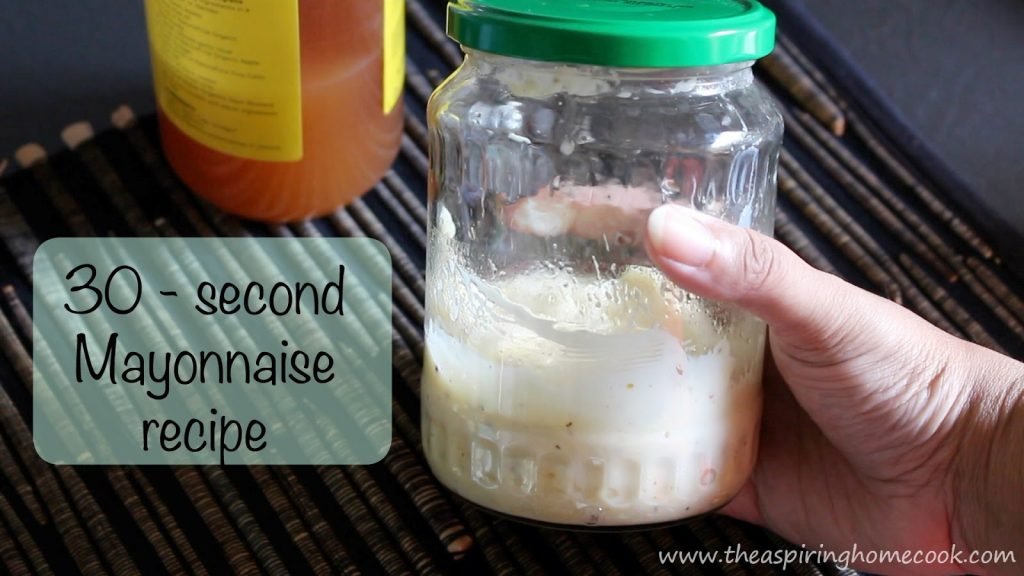 30-second Homemade Mayonnaise


1 fresh, free range egg
3/4 cup oil (I used sunflower oil but any mild flavored oil will do)
1/2 tsp mustard seeds
1 1/2 – 2 tsp apple cider vinegar, or to taste
Salt, to taste
1 tsp sugar, or to taste
Place all the ingredients in a clean and dry jar.
Place the blade of the immersion blender at the bottom of the jar and start it off at a medium speed.
Very slowly raise the blender toward to top of the oil in the jar. You should feel a little resistance as you do this from the emulsifying mayo below.
The mayonnaise is ready to use. You can close the jar and refrigerate till you are ready to use it.
You can watch the video recipe here –