Cashew Chicken on Lettuce
Recipe from: As Easy As Apple Pie
Serves 3
250g boneless, skinless chicken
2 tbsp low sodium soy sauce (Use a little lesser if you're using regular soy sauce)
2 tbsp oyster sauce
1/2 – 1 tsp red chilly paste
1/2 tbsp olive oil (cooking oil of your choice)
1/2 tbsp sesame oil
1 large clove garlic, finely chopped
1/2 tsp ginger, finely chopped (fresh ginger is best but you can also use lightly dried ginger like I did here)
1/2 cup raw cashew seeds
Iceberg lettuce leaves (or any lettuce of your choice)
Sesame seeds, to garnish
Cut the chicken to bite size pieces.
In a bowl, mix the chicken, soy sauce, oyster sauce and chilly paste and toss well. Set this aside for about 10 minutes to marinade.
While that is happening, chop the ginger and garlic. (Fresh ginger is best, but I didn't have any so I used some from Gourmet Garden.)
Chop the lettuce leaves into bite size pieces and place them on serving plates.
Now, heat the olive oil in a pan over medium heat. Add the ginger and garlic and saute for about 30 seconds or till they release a lovely aroma and are gently sizzling.
Turn the heat up to medium high and add the chicken and the marinade liquids. Add the sesame oil to the pan.
Stir fry for about 4-5 minutes or till the chicken has cooked through. (Please note, the cook time will depend on the size of the chicken pieces, so watch the pan and make sure the chicken pieces are cooked on all sides and have cooked through.) Stir the contents of the pan frequently, so ensure they don't burn.
When the chicken is cooked, add the cashew seeds and stir through for about a minute or till they've heated through.
And that's it. Your cashew chicken is ready to serve.
Spoon some of the chicken on the bed of lettuce. Make sure you have a few cashew seeds on each plate.
Sprinkle some sesame seeds on top and serve.
Enjoy!!!
NOTE: This is NOT a sponsored post.
Pin now for later –
In my last few posts, you may have heard me complain about the heat and unfortunately not much has changed. This has been one of the fiercest summers I've seen since coming to Australia. I am definitely not a an extreme summer person. I love the milder temperature of spring and autumn, I enjoy the rains and I love winter.
When its this hot, all cooking and baking activity in my kitchen drastically falls. We mostly have salads, some sandwiches and any cooked dishes are usually quick and easy ones. I've been eager to increase my repertoire of such dishes and after some searching online, I came across this amazing Satay Chicken Noodle Stir Fry recipe. There are a few stages in the recipe, but they're all really easy and come together very quickly. The beauty of this recipe is that you can serve this either cold as a salad or like I did, slightly warm as a Stir Fry. I can't tell you how immensely flavorsome and delicious it turned out. You get the nuttiness from the peanuts, the flavor from the curried chicken pieces, the tang from the fresh lime juice, the creaminess from the coconut milk and the freshness from the fresh coriander. In all, it is a beautifully balanced dish. I am so very glad I tried out this recipe and it sure is a keeper.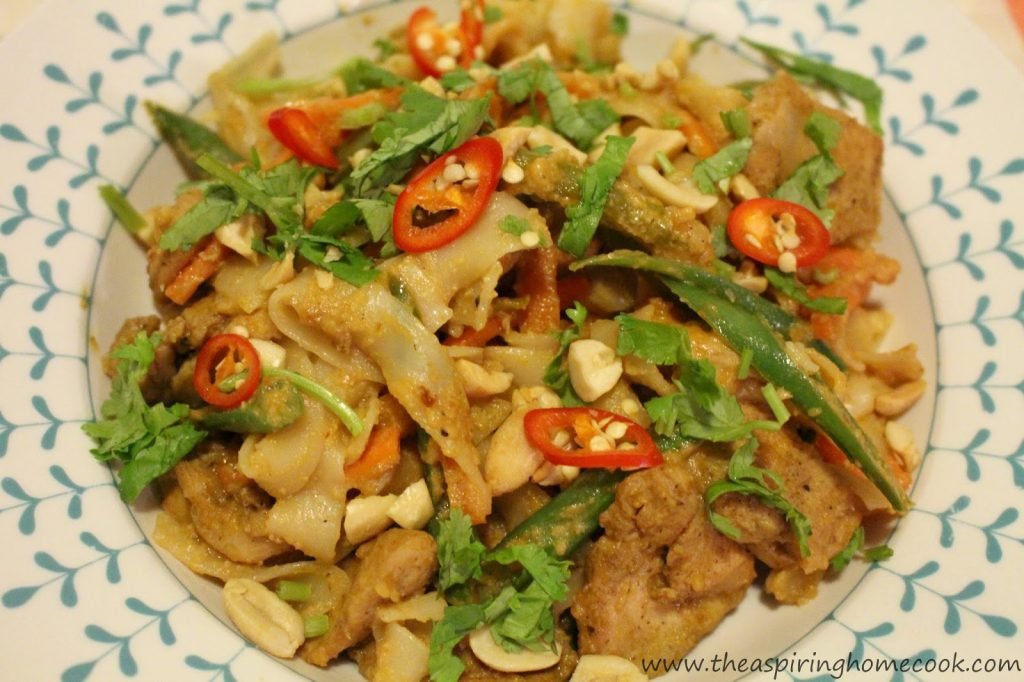 Satay Chicken Noodle Stir Fry
Adapted from: Recipe Tin Eats
Serves 3-4
For the dressing –
1/3 cup roasted peanuts (you could also use 1/4 cup peanut butter instead)
1 garlic clove, peeled
1 tbsp sesame oil
2 tbsp soy sauce
2 tsp palm sugar
1 1/2 tbsp Sriracha sauce
2 tbsp sour lime juice
6 tbsp coconut milk
2 tbsp water
1/4 tsp salt, or to taste
For the Satay chicken –
350g chicken breast, cut in half lengthwise and then slice thinly
Salt, to taste
Freshly cracked black pepper, to taste
1 1/2 tsp curry powder
1 tbsp soy sauce
1 1/2 tsp palm sugar
1 tbsp peanut oil (You can use any cooking oil you have)
For the Stir Fry –
1 pack flat dried rice noodles (I used a 200g packet of Pad Thai rice noodles)
1 large or 2 small carrots, julienned
12-15 green beans / french beans, edges trimmed and thinly sliced on the diagonal (Use this only if you are serving this as a stir fry. If you are serving it as a salad, leave it out and just use carrots, cabbage and spring onions)
2 spring onions, finely sliced on the diagonal
(You can use 1 cup of finely sliced green / red cabbage or a combination of both. I didn't have any, so I left it out this time.)
To serve –
1 red Birdseye chilly, finely sliced on the diagonal (optional)
3 tbsp roasted peanuts, roughly chopped
2 tbsp fresh coriander stalks and leaves, finely chopped
A wedge of sour lime
In a bowl, place the sliced chicken and all the satay chicken ingredients except the oil. Toss well and set aside for about 10-15 minutes to marinade.
While the chicken is marinading, make the dressing. Place all the dressing ingredients into a blender or food processor and blitz till you are left with a smooth dressing.
Cook the noodles according to the package instructions.
While the noodles are cooking, heat another pan over medium heat. Heat 1 tbsp peanut oil and gently tip in the marinaded chicken pieces and the marinade. Toss around a little and saute till the chicken pieces have cooked through. Take out the pieces of chicken onto a plate and set aside.
In the same pan, add about 1 tsp more peanut oil. Add the french beans and carrot and stir fry for about a minute. Now add the cabbage and the spring onion. Stir well and stir fry for about another minute. The veggies should have softened a bit by now. I like to leave my veggies on the crunchy side. If you like your veggies softer, cook for a little longer till they are done to your likeness.
Tip in the dressing and the chicken pieces. Stir through.
If it is too dry, add a tiny splash of water (1-2 tbsp of water) and heat through and toss well. (I didn't need to do this.)
Add the cooked noodles and gently toss through making sure that all the noodles are coated in that yummy dressing.
Take off the heat.
Portion out into serving bowls or on plates.
Sprinkle some roughly chopped peanuts, chopped coriander and sliced chilly (if using) over each bowl / plate.
Lastly squeeze some freshly squeezed sour lime juice over and serve or serve with a wedge of lime on the side.
Enjoy!!!
I can barely remember the last time I enjoyed some good chicken wings. It must have been atleast over 4 years ago when my brother whipped up some at a family BBQ. I had a big hankering for some and picked up some Chicken Wings the other day. Now, I do know how my brother makes his version but I thought it would be a good idea for him to do a guest post around here sometime. Now I just need to get him to do it.
Anyway, I wanted to try making something different and when I came across this recipe, it was a no brainer. I mean it has a concoction called Angry Sauce. How cool is that! I was really excited to try it out. The recipe seemed fairly simple. What I really loved about it is that the wings are baked. There is no frying involved. Yet, you are left with a beautiful crispy skin on the wings and that is just how I like it. It does make this recipe healthier. They are then dunked in a flavorful sauce and tossed. What you end up with is a really tasty, sticky plate of wings that is bound to be a hit at your next party or gathering. There is hardly any hands on time required for this recipe which makes it perfect for a party. And that Angry sauce is so good, a little spicy, tangy and sweet all at the same time. Yummmm. I do hope you try this recipe out. And if you do, I'd love to hear what you think of it.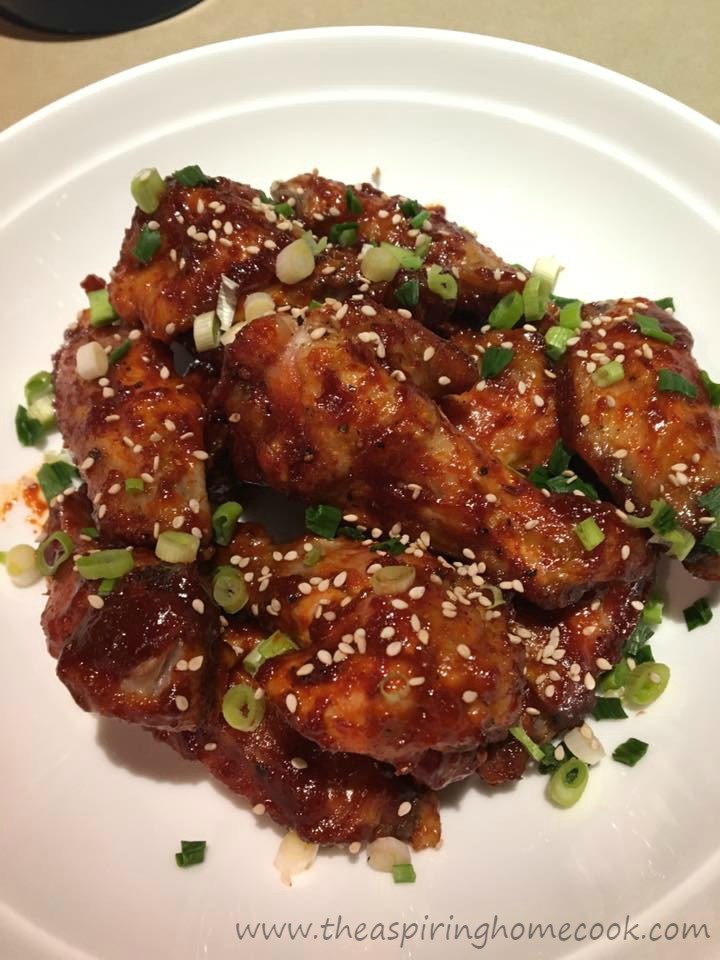 Chicken Wings in Angry Sauce
Adapted from: Food & Wine


2 pounds chicken wings (split the wings and either set the tips aside for a stock or discard. I bought Marco's Wing Nibbles from Woolworths that has this stage dealt with so you use the wings as is.)
1 – 1 1/2 tbsp olive oil
Salt, to taste
Freshly ground black pepper, to taste
1 – 2 tbsp gochujang (Korean red chilly paste) (depending on how hot you want the sauce)
1 tsp tabasco sauce
1 tsp red chilly powder
1-2 tbsp water
1 tbsp sugar
2 tsp rice wine vinegar
2 tsp soy sauce
1 spring onion, thinly sliced
1 tsp sesame seeds
Preheat the oven to 180ºC.
Line a large baking sheet with foil and spray with cooking spray. (I just used a Pyrex baking dish and lightly sprayed with olive oil.)
Toss the wings in the olive oil and sprinkle salt and pepper. Toss well to make sure all the wings are well coated.
Place the wings skin side up on the prepared baking tray and bake for about 40-45 minutes until they are cooked through and the skin is crisp.
While the wings are baking, in a small bowl, mix the rest of the ingredients for the sauce, except the spring onion and sesame seeds. If the sauce is too thick, add a little more water to thin it down a little.
Taste the sauce and adjust the spice, salt, sweetness or sourness, as needed.
Drain off any fat that has rendered from the wings while baking, and toss the wings in the sauce till it is well coated.
Sprinkle with the spring onion and sesame seeds.
Enjoy!!!




*** This post is not a sponsored post and I haven't received any compensation from either Marco's or Woolworths.