I feel so immensely happy as I type this post and I owe it all to our SRC Reunion event. Those of you who've been around here for a while, will know that I was part of this super fun group called the
Secret Recipe Club
. This was a lot of fun, sort of like Secret Santa for food bloggers. You were assigned a partner and you had to pick and cook a recipe from their blog and all the members would post about it on a pre-determined day called Reveal Day. I was part of the SRC right from June 2011 to November 2016, a little over 5 years. So when we wrapped that up, I knew I would missed this bunch of bloggers.
Early last month, Sarah of Fantastical Sharing of Recipes, who happens to be our SRC boss lady 😉 called out to all the club members and announced an SRC reunion event. Of course, I signed up for it and for this event, I was assigned Micha's blog, Cooking Mimi. Micha's blog is packed with great recipes. I had an absolute blast going through her blog and picking a recipe for today. After a lot of looking around I narrowed my choices down to this Hawaiian Pork, Potstickers (she even makes her own potsticker wrappers), Quick and Crispy Pork Cutlets and her Sweet Chili Pork. Have you spotted the trend here? I somehow happened to be zeroing in on Pork recipes. So this much was clear, I knew I was making Pork. When I saw her recipe for Sweet Chili Pork my mind was made up. This is what I was going to make.
Before we move on to the recipe, let's talk about this Sweet Chili Pork, shall we? This dish has it all with juicy little pieces of pork tossed in a sweet sauce with mild heat from the Sweet Chili sauce and the crunch of the onion and capsicum just rounds it off beautifully. I could not believe how easy this recipe was. I wanted to try it just to see if a recipe this minimal would hit the spot. And hit the spot it did. I am so glad I tried this out. My husband is not a fussy eater but he is my biggest critic and helps me work on recipes and tweak them. He was floored by this recipe. And I agree with him 100%. This recipe is very similar to the kind of takeaway meals we got back in Bombay, albeit not with pork, but with chicken. Thank you Micha, for an absolute stunner.
I only made a couple of minor additions to the original recipe. I added some finely chopped ginger and garlic and some pieces of capsicum (green peppers) to the recipe. We served this up with some fried rice, but this would work very well with some noodles too.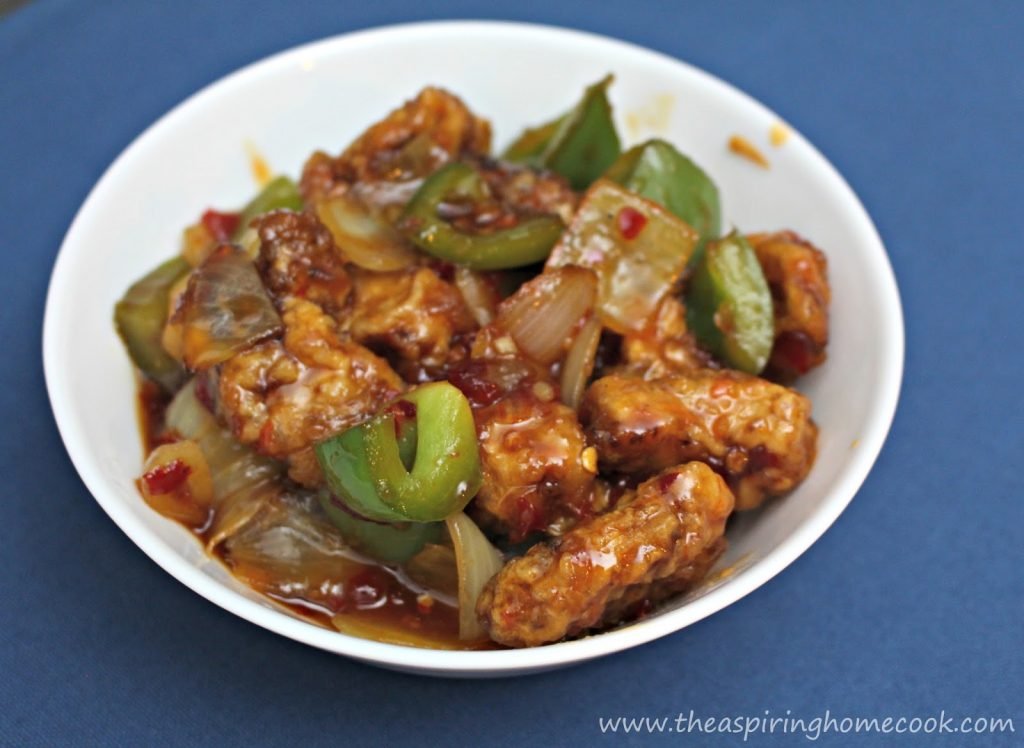 Sweet Chili Pork


1/4 kg boneless pork
1 egg
1/3 cup flour
1/4 cup cornstarch
1/2 cup + 1 tbsp vegetable oil
1 large onion, cut into cubes
1 /2 green capsicum, cut into cubes (similar in size to the onion cubes)
3 cloves garlic, finely chopped
1/2″ ginger, finely chopped
1/2 cup sweet chilli sauce
Salt, to taste
1 tbsp lime juice
Heat 1/2 cup of oil in a skillet over moderate heat.
Crack the egg into a small bowl, whisk it and set it aside.
In another bowl, mix the flour and cornstarch.
Cut the pork into bite sized pieces. Toss the pieces in a little salt and lime juice. Toss the pork pieces in the flour mix. Then dip them in the egg and in the flour mix again .
Fry the pieces of pork in batches for about 3-4 minutes a side or until golden brown and crispy. Drain and set aside.
Heat 1 tbsp of oil in another pan.
When the oil is hot, add the onion and capsicum and stir fry till the pieces have just started to soften. I like mine a little crunchy. Cook it to your desired level of doneness.
Add the finely chopped ginger and garlic and stir it around.
Add the sweet chilly sauce and the fried pork pieces. Stir to coat everything in the sweet chili sauce. At this point, if you want a little more sauce in the dish, add some more. Toss well.
Serve hot.
Enjoy!!!
Here's a peek at all my previous SRC posts.
Don't forget to see what the others have whipped up for our 2018 reunion –
As many of you know, I've been a part of the Secret Recipe Club for a long time now and this month was our last reveal. Yes, this much loved club is posting its last reveal this month and I know that it will be missed by all the members. As a parting post, I've decided to post a recap of all the recipes that I've made for the reveals for quicker access. I hope you enjoy having a look through with me.
Today's post is bittersweet for me. Today is our
SRC
Group A reveal day – our very last one. I've been with this fun bunch a little over 5 years and every month this club has brought me great joy. I've had the opportunity to meet (virtually ofcourse) so many wonderful people and have been introduced to so many great blogs during the past five years, I don't think I would've found them on my own. But all good things must come to an end and here we are at the end of a great run.
For my last assignment, I got Emily's blog, Life on Food. Emily's blog is full of wonderful food. I had an almost impossible task of picking a recipe for this reveal. Go over and say Hi to Emily and tell her I sent you. While you're there check out the wonderful food on her blog. You will also see her gorgeous little baby there – absolutely precious. Here's probably what makes Emily my favorite person – she goes to Disney World every year. Yes, every single year. Someday, I hope to be able to visit every single Disney park there it to visit. It is on my bucket list. Anyway, back to Emily's blog. In the end, I narrowed down my endless list to these gorgeous Cheddar Bay Biscuits, these Chocolate Hazlenut Truffles, Chocolate Chip and Hazlenut Cookies with Sea Salt, Macaroon Blossoms, and this Coconut Rice Pudding, but in the end these Classic Blueberry Muffins won.
We're in the middle of spring at the moment, so everywhere I look I can see berries and that was one of the main reasons I decided to go with this muffin recipe. You can never have too many muffin recipes, can you? This recipe is perfect for summer and they make a great brekkie on the go. You know what else they'd be great for …. morning tea at work. These muffins are one of the best berry muffin recipes I've tried. They're packed with berries and have a beautiful crumb. At first, I was a little skeptical of the cinnamon in this recipe, but don't be like me. The cinnamon is subtle and you can barely tell its there, but it does wonder for the flavor of the muffin. I did add a little vanilla extract to the recipe but other than that stuck to the original. Thanks Emily for a fantastic blueberry muffin recipe.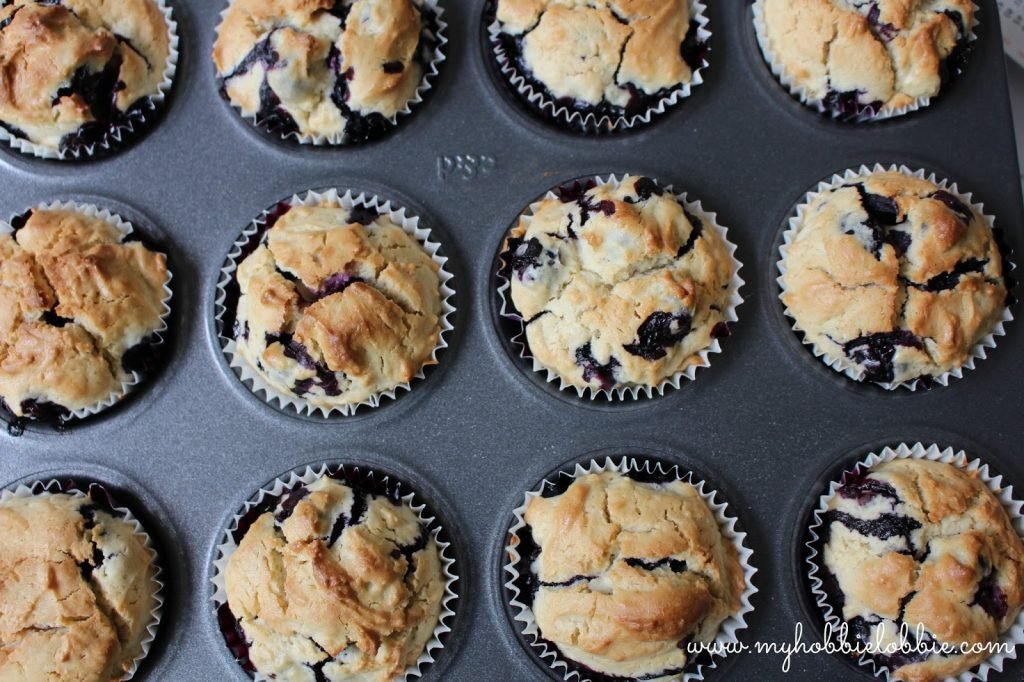 Classic Blueberry Muffins
Makes 12
2 cups all purpose flour
1 tsp baking powder
1 tsp ground cinnamon
1/2 tsp salt
1 egg
1 cup sugar
4 tbsp butter, melted and slightly cooled
1 1/4 cup sour cream
1 tsp vanilla extract
1 1/2 cup blueberries
Preheat the oven to 180º and line a muffin tray with paper liners or grease a tray.
In a mixing bowl, place the flour, baking powder, cinnamon powder and salt and whisk till combined.
Toss in the blueberries and make sure the flour mix coats them well and set the bowl aside. (This ensures the berries don't sink to the bottom.)
In another bowl whisk the egg till it has loosened. Add the sugar and whisk till you are left with a thick mixture.
Add the vanilla extract and combine.
Add the melted butter and whisk well to combine.
Lastly, add the sour cream and whisk until just combined.
Add the wet mix to the dry ingredients and gently fold in using a rubber spatula until just combined. The batter will be thick and you may see a few small dry flour spots. I found mine a little too dry so I added a couple of tbsps of milk and folded in gently. Take care to not overmix the batter.
Spoon the batter into the lined muffin tray.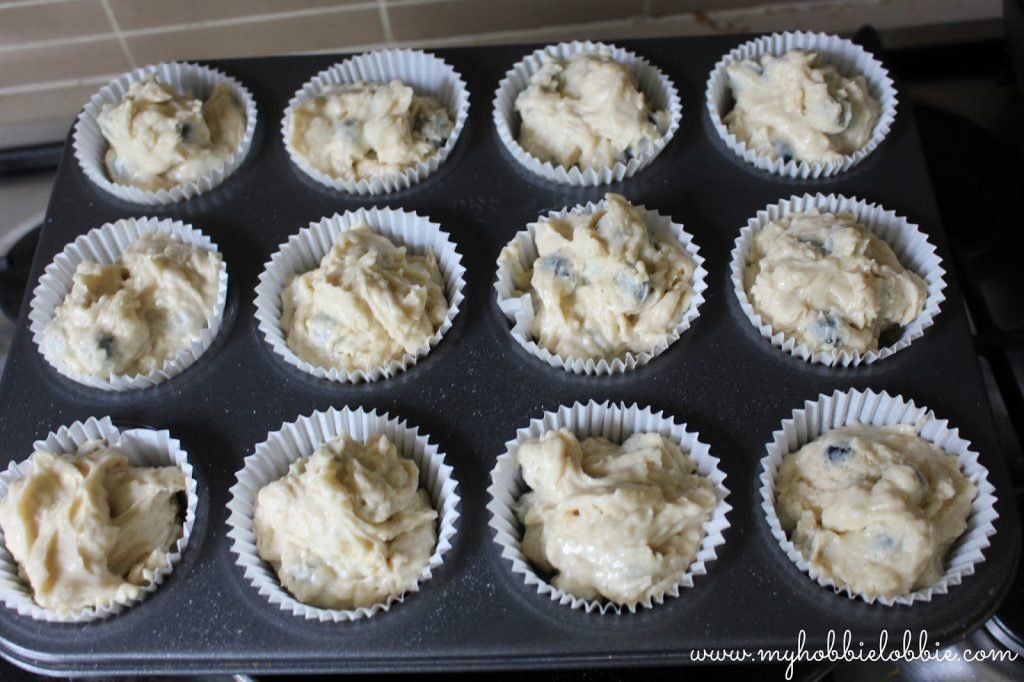 Bake till the tops are a light golden brown and a toothpick pierced in the center comes out clean, about 25-30 minutes.
Immediately move the muffins to a wire rack to cool and serve at room temperature.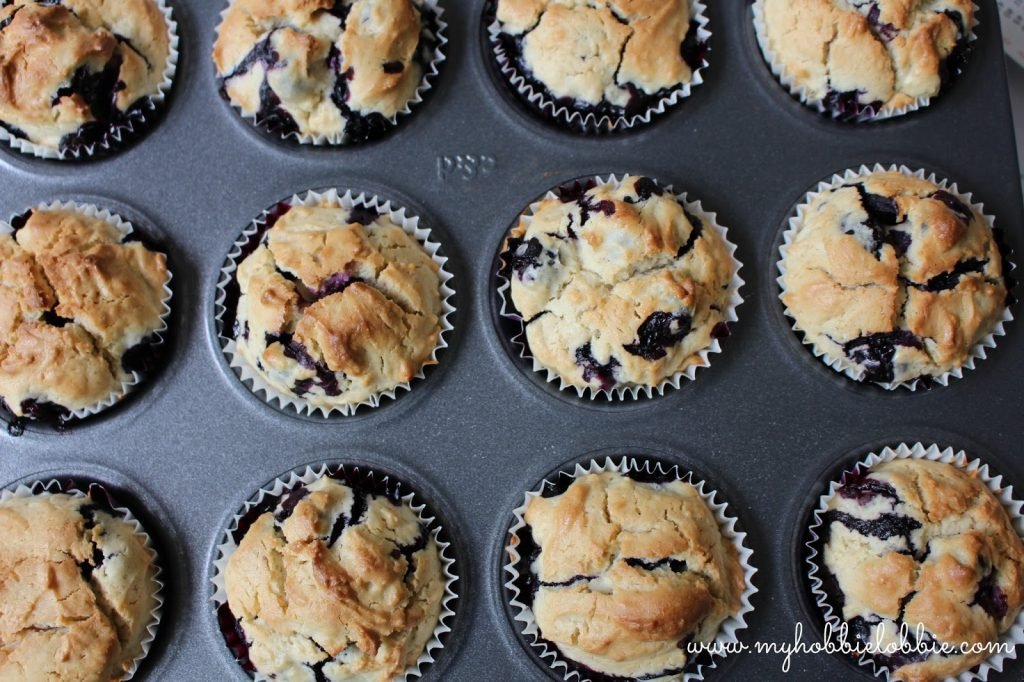 Store any leftovers in an airtight container at room temperature.
I don't know what I'm most excited about – the
SRC
reveal, this 2-minute cake, the Nutella in it or that it uses just 4 ingredients. It's safe to say that I'm super happy with this recipe. For this month's SRC assignment I had Cathleen's blog,
A Taste of Madness
. Picking a recipe for this month's reveal was particularly tough. Cathleen loves baking and is a big fan of anything covered in chocolate, in a nutshell. After spending some time going through her blog, I think we could become good friends. I know we like the same kind of food. How do I know that? Its simple really. I wanted to make (almost) every single recipe I came across on her blog. Seriously, go over to Cathleen's blog and check it out. You can thank me later 🙂 With great difficulty I narrowed my choices for this reveal down to her
Coconut Oatmeal Cake
,
Homemade Caramels
, this crazy
Smores Brownie Pie
, these Gooey
Cinnamon Squares
and the
Nutella Mug Cake
. After a lot of deliberation, serious deliberation, the Nutella Mug Cake won.
4 ingredients, a quick stir and 2 minutes later, your kitchen will smell amazing and you'll have a little mug of deliciousness in the form of this cake ready. This recipe was really the obvious choice for this reveal when I think of it, atleast subconsciously. My first mug cake recipe – this 2-minute Chocolate Mug Cake is one of the more popular recipes on my blog. And I know why. The appeal of instant gratification is hard to turn down. So if you lurve your Nutella, treat yourself to this Mug Cake.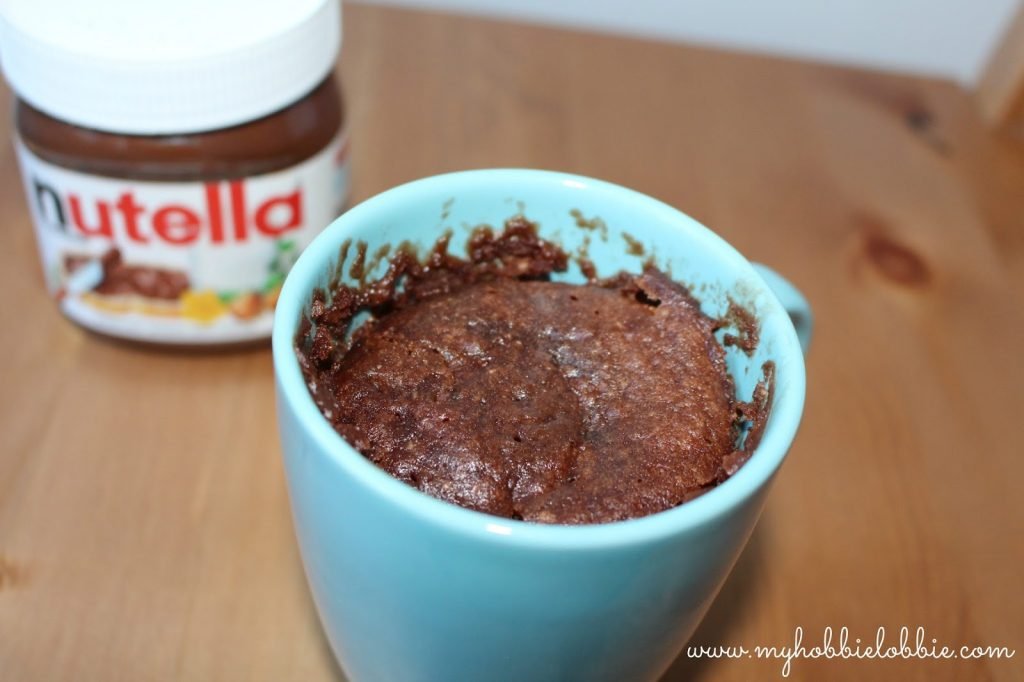 2-minute Nutella Mug Cake


4 tbsp all purpose flour
1/4 tsp baking powder
1/4 cup Nutella
3 tbsp milk
Whisk all the ingredients together. I find it easiest to whisk everything together in a bowl.
Pour the batter into a microwave safe mug.
Microwave for about 90 seconds and see if its done. If its not done, microwave in 30 second increments as needed.
Enjoy!!!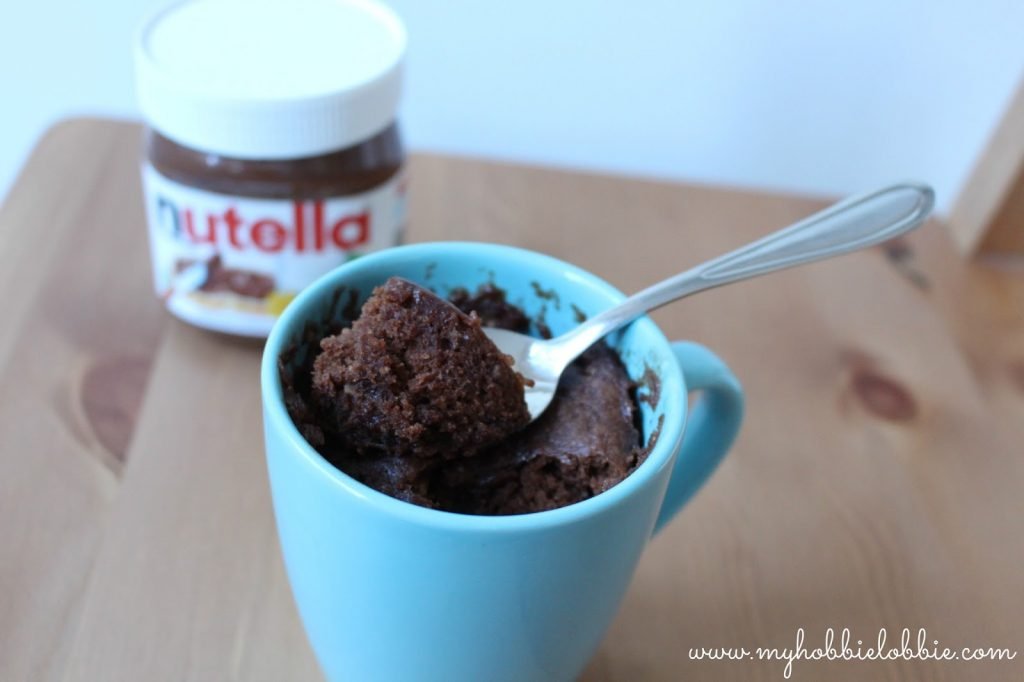 2
SRC
posts in 2 weeks! You must think I've lost my marbles. But no, I haven't, not yet atleast 😉 Last week was a bonus themed SRC reveal but this post today is my regular Group A reveal. For this month I was assigned Sid's blog,
Sid's Sea Palm Cooking
. I've been watching this blog for a while now and when I received my assignment, I was quite excited to be cooking from this blog. I almost fell off my chair when I read Sid's tagline from her "About" page. Turns out we are kindred sisters at heart. In her own words, this is what she has to say,
"Sid cooks, entertains, plays with food, and hates to clean the kitchen after a marathon cooking/baking session."
I feel ya Sid. I love the prepping, the cooking and the serving and all that. But absolutely hate the cleaning up after. OMG, I can't believe I have said that out loud. Fortunately, I have an absolutely amazing husband, who almost always helps with the clean up. And that makes me one lucky and extremely happy girl.
Back to Sid and her blog. She hosts Tapas night once a month and her friends bring along a dish each to share. That is a wonderful idea for a potluck and they put together some pretty impressive spreads month after month. While I was perusing her blog, a few posts caught my attention. I loved the look of these Game Day Wings, and her Za'atar Pita Crisps looked intriguing. I had also shortlisted her recipe for Tonkatsu and her Candied Ginger and Lime Cookies. In the end I went with her Breakfast Salad.
I was so pleased I picked Sid's Breakfast Salad recipe. Though it is a simple recipe, for me it was a first. I have never poached an egg before. And until now, I have always found or made excuses and put off trying my hand at poaching eggs. To be honest, I always found it a little intimidating. Today I decided to bite the bullet and give it a shot. I'm so happy that I did. Turns out, poaching eggs is actually really easy. I wonder why I waited this long to try it out. It is a really healthy way to enjoy an egg for breakfast too, because there is absolutely no oil / butter involved. I even managed to get a runny yolk and all. This might just be my new favorite way to eat an egg now. Thank you so much Sid for the much need nudge. If you haven't tried poaching an egg yet, do give it a try.
The salad itself, makes the dish a very wholesome breakfast. I didn't have any mushrooms in the kitchen when I set out to make this, so I left out the mushrooms. But because my husband looked and the salad leaves and then looked at me thinking I had lost my mind, I decided to coax him with a few sausages. I fried up some cheese kransky sausages and sliced them up. With some croutons and salad dressing, this makes a super yummy and hearty breakfast. You don't feel heavy or overwhelmed with grease after sitting down to this salad. Though this was my first attempt at a breakfast salad, I know for sure this wont be the last. I really enjoyed this for breakfast. I probably enjoyed this a little more than I thought I would.
I have made this a couple of times now, once using store bought French Salad Dressing and once with my go to dressing comprising of a squirt of lemon juice and a sprinkle of salt and freshly cracked black pepper to taste. Both were really good.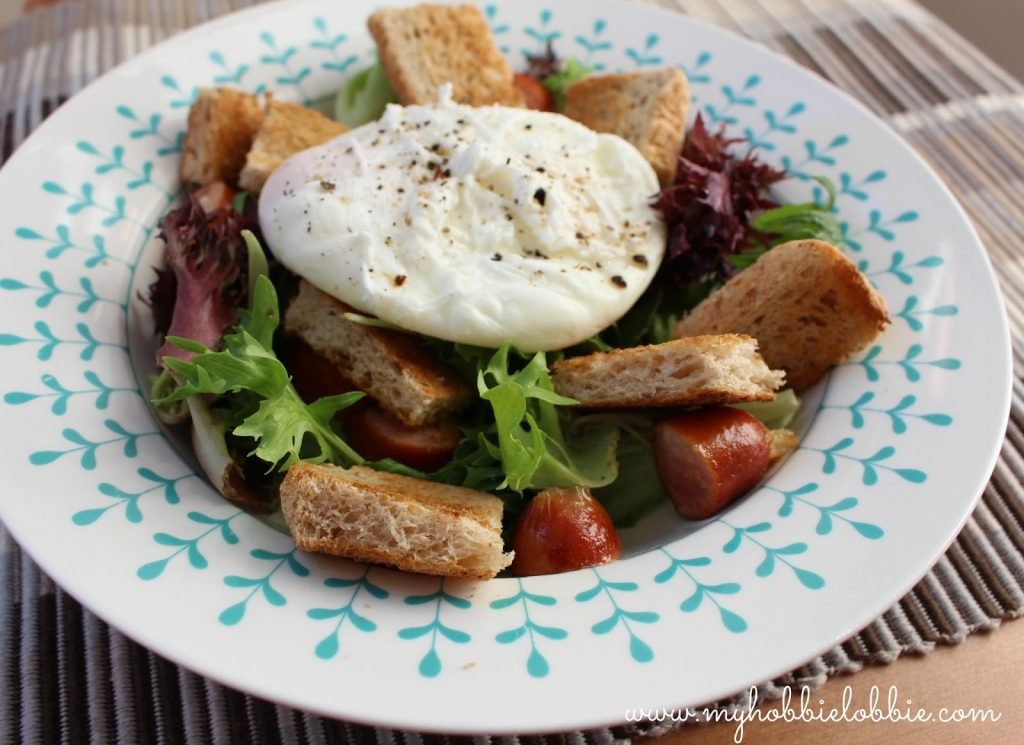 Breakfast Salad
Serves 1
To poach the egg –
Bring about a liter of water to a boil in a pot.
Add 2 tbsp vinegar to the boiling water.
Crack an egg into a ramekin.
Using a spoon, stir the water a few times till you have a little whirlpool going in the pot.
At this stage, gently pour the egg from the ramekin into the water. Cook of medium heat for about 2-3 minutes or till the egg whites have just set.
Drain using a slotted spoon and place on a paper towel to drain off any excess water.
For the salad –


A handful of salad leaves (I used the 4 leaf mix from Coles)
1 slice of bread
2 cocktail sized cheese kransky sausages
1 tsp olive oil
Salt, to taste
Freshly cracked, black pepper to taste
Salad dressing (of your choice), to taste
I turned the sliced of bread into croutons the lazy easy way. Simply toast it up in the toaster till browned and crunchy. Cut up into pieces and croutons are done.
Heat the oil in a pan and fry up the sausages till cooked. Carefully slice the sausages.
In the serving plate, place the salad leaves and drizzle a little salad dressing over.
Sprinkle the sliced sausages and crouton pieces over.
Place the poached egg on top and sprinkle some salt and pepper on the egg.
Enjoy!!!
Here's a peak at the runny yolk I managed to get 🙂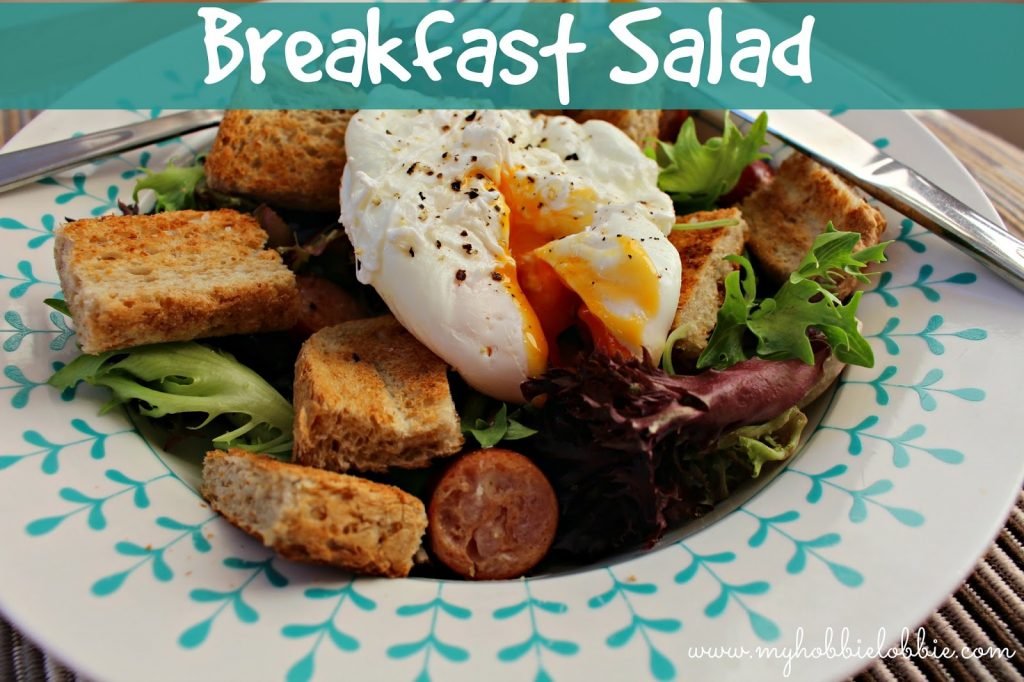 Don't forget to check what the others in Group A have whipped up this month.
**Disclaimer: This is NOT a sponsored post. I have just mentioned what type of salad leaves I've used here.
Oh yes, here's a second
SRC
reveal for the month of August. This is not my usual reveal with Group A. That still happens on the first Monday of every month. This month the Club has decided to have a little extra fun. The entire club comes together across all Groups for a Themed Reveal Day. The theme this month was Back to School. In this reveal, you can expect to see quick breakfast or dinner recipes, after school snacks and even creative lunchbox ideas.
For this reveal, I was assigned Michaela's blog – An Affair from the Heart. Michaela is a girl after my own heart. She doesn't just cook up some amazing food, she used to have an online scrapbooking business. She enjoys family time and loves having extended family around. Her latest creative outlet is in the form of entertaining. You will find loads of ideas on her blog. I was tossing between these Pizza monster sandwiches, Double Chocolate Banana Muffins, S'mores Yogurt and a Pineapple Kiwi Smoothie. I went with the smoothie. It will be perfect as a quick, delicious and nutritious breakfast or an after school snack. When its hot outside, nothings better than a nice tropical smoothie. Or if you are like me and live in the Southern Hemisphere and are waiting eagerly for Spring to get here, this smoothie is bound to take you straight to summer atleast for a few minutes.
This smoothie is easy to make and is full of fruity goodness and only used natural honey as a sweetener. That's a win in my book. It was a glassful of deliciousness and I was truly amazed at how thick it turned out. I must admit, in my house it is usually my husband who whips up smoothies for us. Irrespective of what he puts in them, he always manages to make a perfect smoothie and I usually dont have results as good as he does, so I just leave it to him. But after making this smoothie all by my lonesome, I am eager to try out new combinations now. Thank you Michaela for my new found smoothie mojo. I couldn't wait to use my new milkshake glasses and though I know this is a smoothie and not technically a milkshake, I still wanted to use them.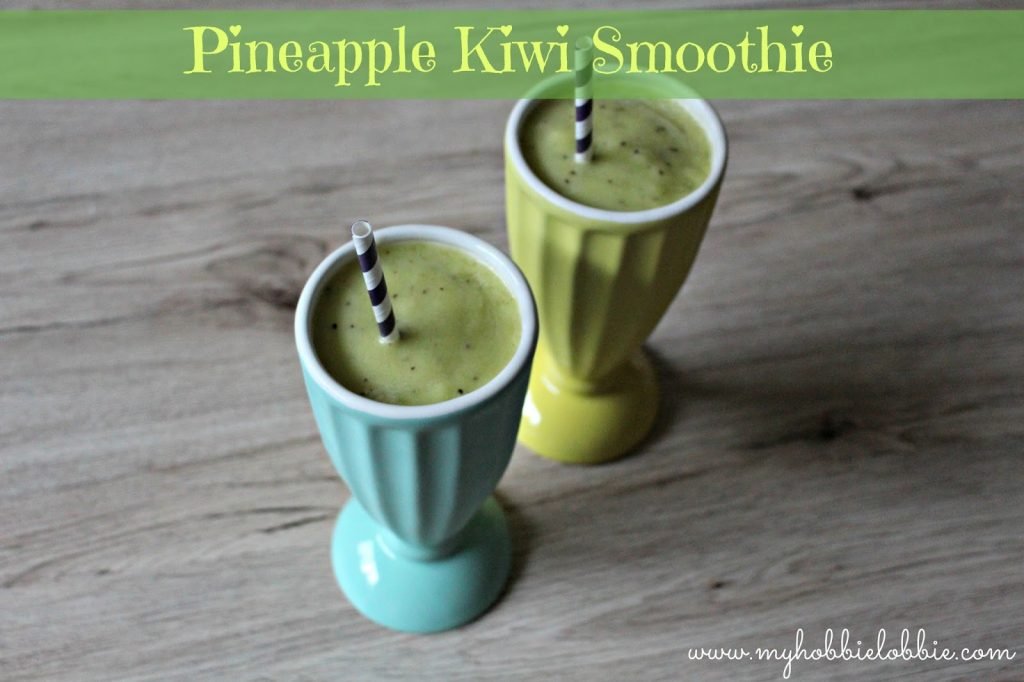 Pineapple Kiwi Smoothie
Serves 3
2 cups frozen pineapple chunks
2 kiwis
1/2 – 1 cup of pineapple juice (depending on how thick you want the smoothie)
2 tbsp raw honey
Blitz everything in a blender.
Use the pineapple juice to get everything started. Start with about half a cup and add more depending on how thick you want the smoothie.
If you are using fresh pineapple pineapple, add some ice to the blender.
Serve up in some pretty glasses.
Enjoy!
Hello everyone and welcome to our August installment of the
Secret Recipe Club
. This month I was assigned Traci's blog,
Burnt Apple
. What a fun adventure looking through her blog was. She has so many recipes I want to try; and so many ingredients I've never worked with before. A lot of her recipes are healthier versions because Traci strongly believes in using whole foods and natural sweeteners, from what I've seen. That being said, it doesn't mean she doesn't have some fun recipes in there – check out these
Bacon Cheddar Fries
,
Baked Churros
,
Crispy Cinnamon Raisin French Toast
and this
Baked Blueberry French Toast
. I'm hoping to try these out sometime soon. But after a month of packing, moving, unpacking and settling in, while working full time. I needed something comforting and super simple. Something warm would be a bonus, because we are smack bang in the middle of winter. So, I decided to try out her
Healthy Hot Cocoa Mix
for reveal day. But that's not all. I have a bonus recipe, yup I made a second treat from Traci's blog that I will share later in the week.
So back to this mix. You wouldn't believe how easy this was. 3 ingredients in a bowl, mix everything together and store. Then you simply store as needed. Traci used a healthier sweetener for her mix, but I used her basic version, using what I had on hand, which is why I'm calling it simply a Homemade Hot Chocolate Mix. I'm thinking this would make a fantastic present for Christmas, all dressed up – atleast for those of you who have a wintery Christmas. As for me and my husband, we are going to enjoy this right now. **slurrp**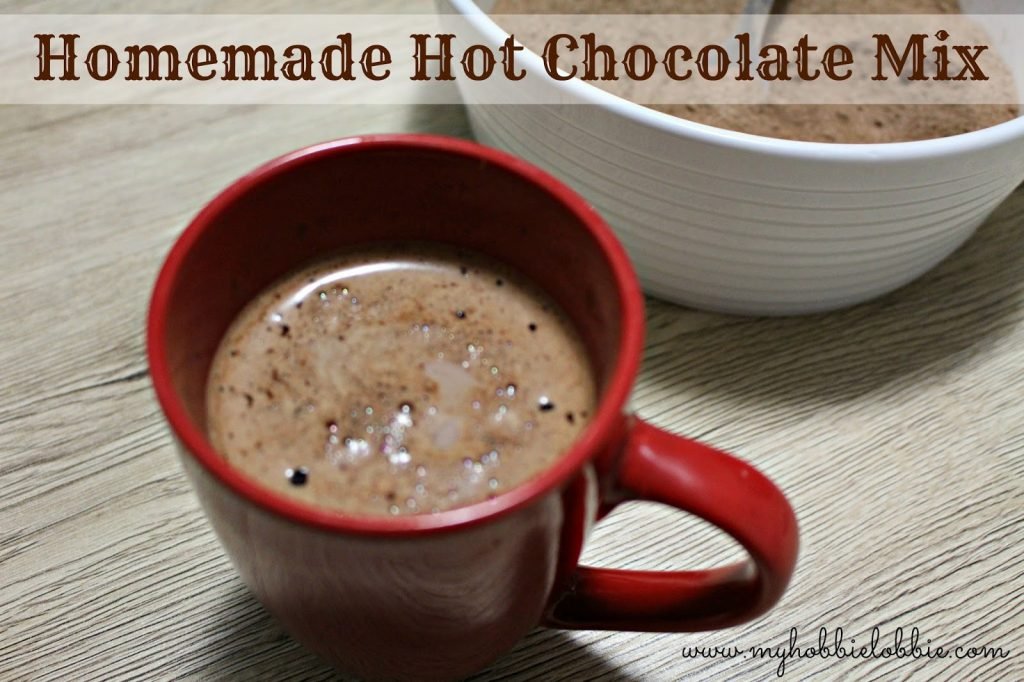 Homemade Hot Chocolate Mix


3/4 cup cocoa
1 cup sugar (I will cut this down to 3/4 cup next time) (Adjust to your liking)
1 tbsp cornstarch
Combine all the ingredients in a bowl thoroughly.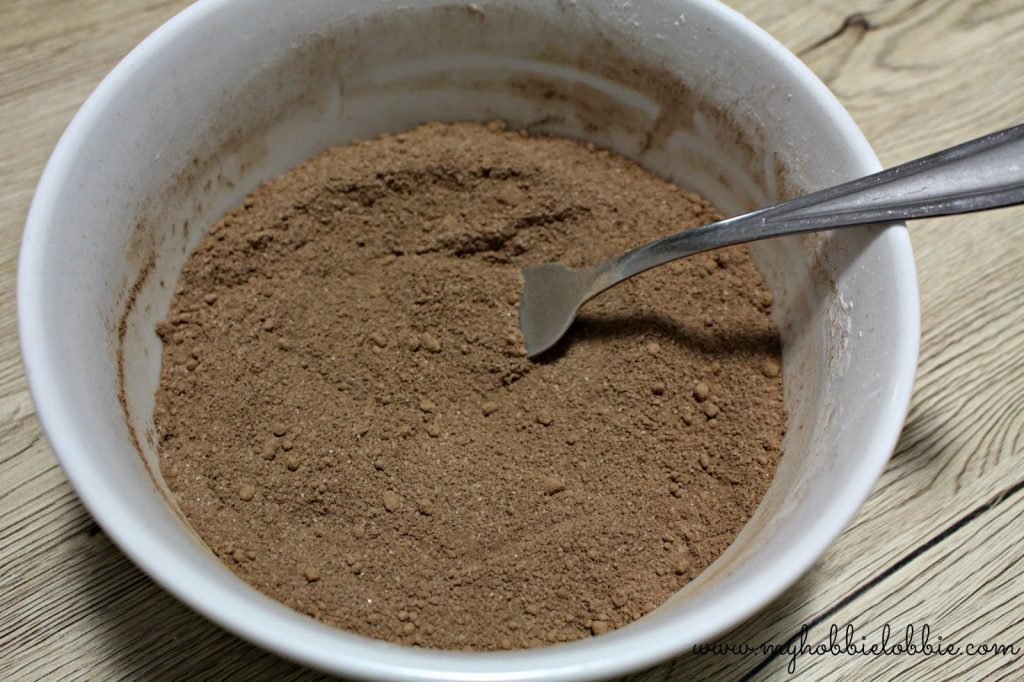 Store in an airtight container.
To use, simply place 2 tbsp of the mix in a mug and top off with milk.
Either heat in the microwave for 60 seconds and then in 30 second increments till it is hot enough for you. Or simply heat in a saucepan on the stovetop on a low heat, till it is hot enough for you.
… and ofcourse, every hot chocolate is better with some marshmallows 🙂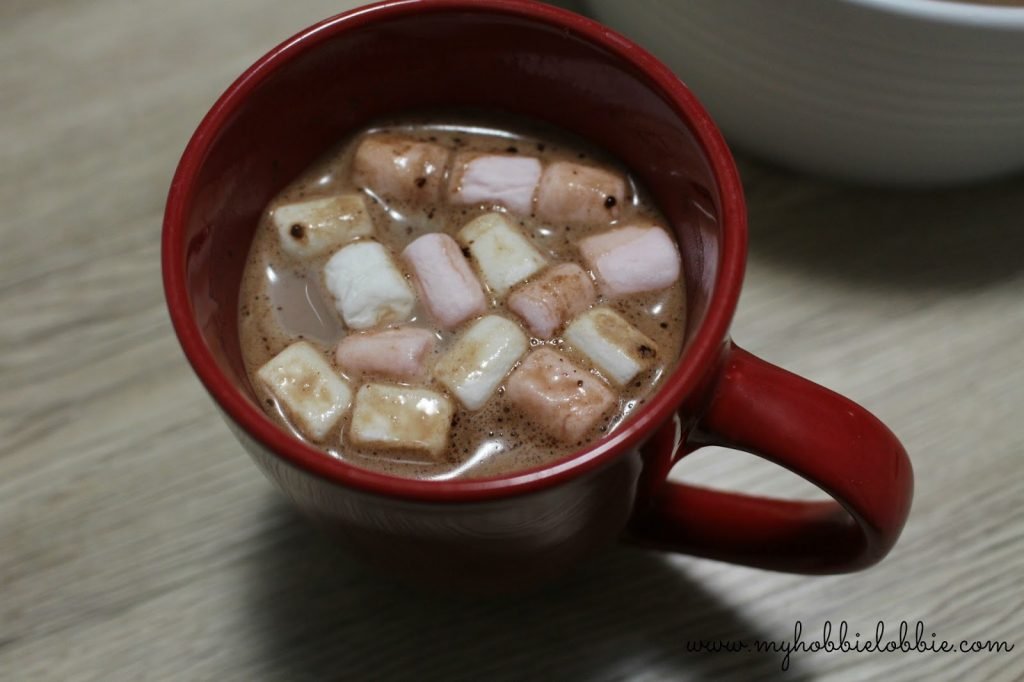 Don't forget to check out what other bloggers in Group A have whipped up for this reveal!
Okay, so it's time for the July edition of
SRC
. The last month has just whizzed by. Its been a huge whirlwind of activity. We've had to hunt and finalize another place to move into as our current lease is almost done. That, along with a full time job that sometimes feels more than a full time job has taken over the last month. I haven't had time to do much else. But I did do this assignment for today's reveal. And it was so very good.
For this month's SRC assignment I had Karen's blog, Lavender and Lovage. If you haven't visited Karen's blog yet, you should, you really should. Karen is a freelance writer and recipe developer who toggles between Yorkshire and France. These influences on her food is evident. Her blog is gorgeous and she has one of the most delicious recipe lists I've come across. I literally wanted to make every second recipe I saw, if not every single one. I was torn between these perfect Scotch Eggs, these super comforting Beer Battered Fish and Chips and this gorgeous Dark Sticky Double Gingerbread. I still intend trying all of these but I needed something that was not too fussy, but was still delicious and comforting. So when I saw Karen's recipe for the Carrot, Cumin and Tomato Soup, I knew I had found a winner. I had the carrots and tomatoes on hand. All I had to do was pick up a little cream and croutons of some sort. I got some bagel crisps and they were beyond perfect. This soup is so easy to make and with just a few basic ingredients, its hard to believe how delicious and hearty it turned out. Thanks Karen, this is a soup I know I will make often.
I stuck with the original recipe, except I halved it, since I was cooking for just the two of us .The only tiny change I made was I used fresh coriander leaves as a garnish instead of the parsley used in the original recipe.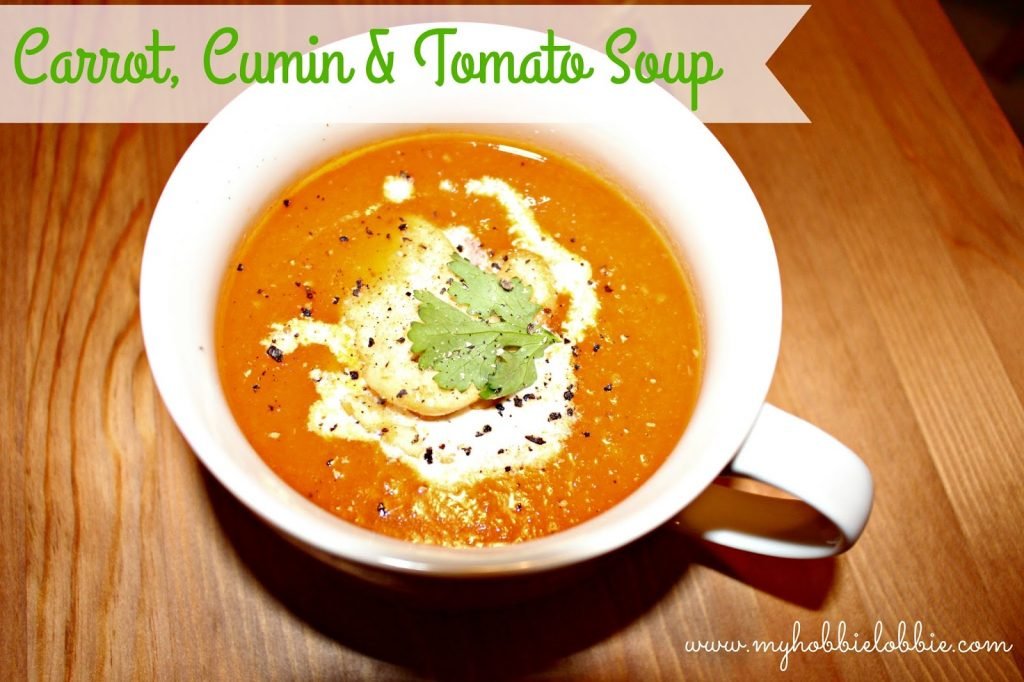 Carrot, Cumin & Tomato Soup
Serves 3-4
1 tbsp olive oil
1 onion, chopped
2 cloves of garlic, peeled and finely chopped
3 carrots, diced
4 tomatoes, sliced
1 tsp cumin powder
1/2 litre of vegetable / chicken stock
Salt, to taste
Freshly cracked black pepper, to taste
A couple of tbsps. cream, to top of the soup bowl (optional)
Fresh coriander leaves, for garnish
Bagel crisps, or any other croutons of your choice
Heat the olive oil in a pan and add the garlic and onion and stir fry till the onions have softened and slightly browned.
Add the cumin powder, tomatoes and carrot and saute for a minute.
Cover the pot and let it all cook for about 5 minutes till the tomatoes get a little mushy and the cumin is nice and fragrant.
Add the hot stock and stir well.
Season with salt and pepper.
Cover the pot and let it simmer for about 30 minutes or till the carrots are cooked through and are nice and tender.
Let it cool a little and then carefully blitz the soup using an immersion blender or a regular blender.
Serve up with some croutons and garnish with a drizzle of about a tablespoon of cream and fresh coriander leaves.
Enjoy!!!
Don't forget to check out what the other blogger's in Group A whipped up for today's reveal.
Hello all! Welcome to the June edition of the
SRC
. Is it really June already? Wow! This year seems to be flying by at record speed. But it is always exciting, prepping and posting for reveal day. This month I was assigned Laura's blog "
Mother Would Know
". This month things were a tad different for me. I knew which recipe I was going to make in less than five minutes after I received my assignment. I think for me that's a new record. How did that come about? I saw a recipe that I'd wanted to try for a very long time about 4-5 years ago. It was almost an obsession. But due to non availability of the core ingredient, I had to focus on other recipes instead. A lot has changed since then. We moved to a different country on another continent and are thrilled to call it home. This lovely land comes with so much diversity, it threw open a whole plethora of ingredients to play with.
It all started when during one episode of Masterchef Australia, I saw a participant make an avocado chocolate mousse. Since then I've always wanted to try it out. So when I saw Laura's recipe for Avocado Chocolate Mousse, I knew I had found the one. Previously I had no access to avocados. Now I do, so that was one hurdle less for me. I pretty much had the rest of the ingredients in at hand so it was an easy choice for me. I am also very eager to try a few other recipes from Laura's blog, like these Individual Strawberry Shortcake Biscuits, these delicious Cronuts, these indulgent Nutella Espresso Cookies, an intriguing Apricot Hamantaschen and her Granita.
For now, lets talk about this Avocado Chocolate Mousse shall we. My husband is a big fan of chocolate mousse – a great big one! This version is quick and easy to make and has a fantastic texture just like the original version and can be served up almost immediately. This recipe is fantastic if you want to whip up a delectable dessert for last minute company. Or if you don't care for the egg in a mousse. Yes, you heard me. This is an eggless chocolate mousse. I added a little brandy at the very end and mixed it through for an adult version of the dessert. But you can leave it out if you are going to be serving it to children. Or go wild and think of the number of variations you could come up with by substituting the brandy with your favorite liqueur.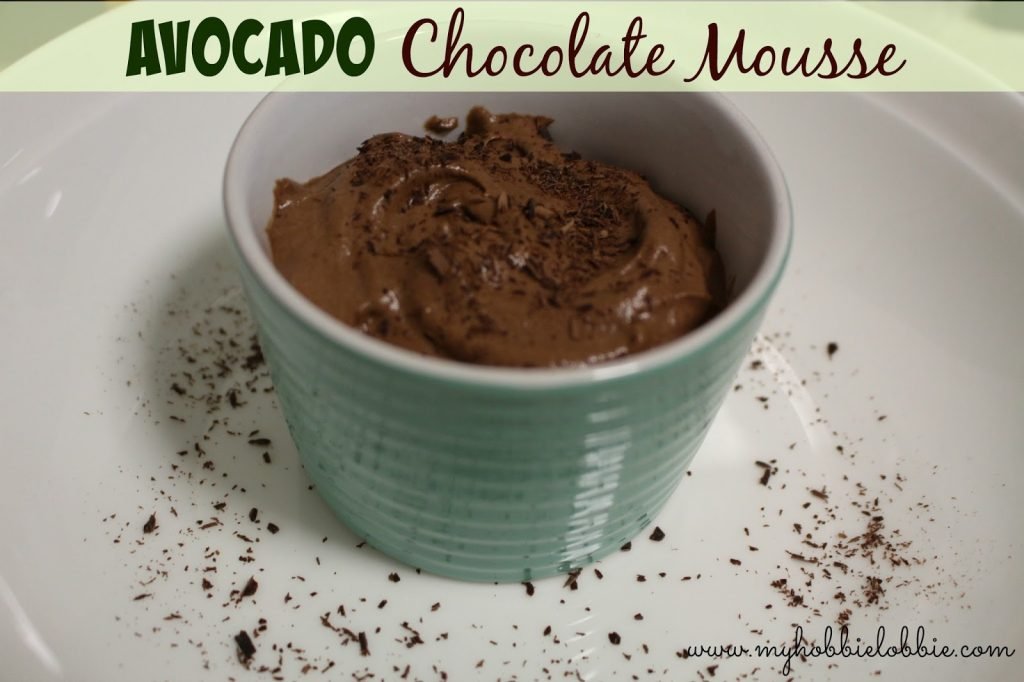 Avocado Chocolate Mousse
Serves 4
1 ripe avocado
1/3 cup unsweetened cocoa powder
1/2 cup dark brown sugar (the original recipe calls for light but I didn't have any)
2 tbsp semi sweet chocolate, melted
2/3 cup milk
1 tsp vanilla extract
2 pinches of salt
1/2 cup heavy / whipping cream
1 tbsp brandy
Place the chocolate in a heatproof bowl over a bigger bowl of simmering water. The small bowl should sit snugly over the bigger bowl of water but not make contact with the water. (This is what they call the double boiler method.)
Whip the cream in a separate bowl till stiff peaks form.
In another bowl mix the avocado, cocoa powder, sugar, melted chocolate, milk, vanilla and salt. Use an immersion blender and blitz till you are left with a smooth, luscious pudding-like consistency.
Gently fold the cream through the chocolate mix till incorporated well. Do not overwork the mix or you will loose all the lightness in the cream.
At this stage, I added the brandy and gently folded through.
Cover and refrigerate. You could also portion out the mousse into individual portions and cover the bowls and refrigerate.
Since most of the ingredients used are at a cooler temperature anyway, you should be able to serve this mousse very soon.
Top with berries of your choice, if desired.
The last couple of months have somehow seemed to sneak past. It is hard to believe that it is May 2016 already. The good part about coming into a new month is the
SRC
reveal day. This month, I was assigned Sally's blog,
Bewitching Kitchen
. I was so excited when I got this assignment. I've always been a huge fan of Sally's blog. Sally is a fascinating person. By day, she is a Biochemist. She also is an exercise fanatic. Originally born in Brazil, she has spent time living in Paris and now is in the USA. You can see delicious influences from all these places in her cooking and on her blog. If you love bread like I do, you are in for a treat. Go and have a look at Sally's blog. She has a plethora of bread recipes. While you are there, don't forget to check out the antics of 3 of the most adorable little doggies you have ever seen. I had an amazing time getting to know Sally a little better. And there are so many recipes I can't wait to try, like this
Baked Coconut
, these
Coconut Brigadeiros
, a delicious
Cappuccino Panna Cotta
and a savoury Brazilian delicacy called
Coxinha De Galinha
, just to name a few. The Bewitching Kitchen is one blog where you want to try out pretty much every recipe you see. I finally settled on a savoury one this month.
The weather has started cooling down here and when that happens, I find myself longing for soup. In the past, I have to admit, I've almost always ripped open a packet of instant soup and made do with that. In the last couple of years though, I have tried out a couple of homemade soups and I've enjoyed them so much, I have decided to make a few more this year and to get that started I picked Sally's Zucchini Spinach Soup for this month's reveal. Oh what a recipe this is – delicious, warm and hearty. It is hard to believe that a recipe this simple can be so comforting. I'm enjoying the discovery that making soups at home, from scratch is not as complicated as I thought it would be. Thanks Sally, for a beautiful soup, which will make an appearance on our dinner table on many more occasions.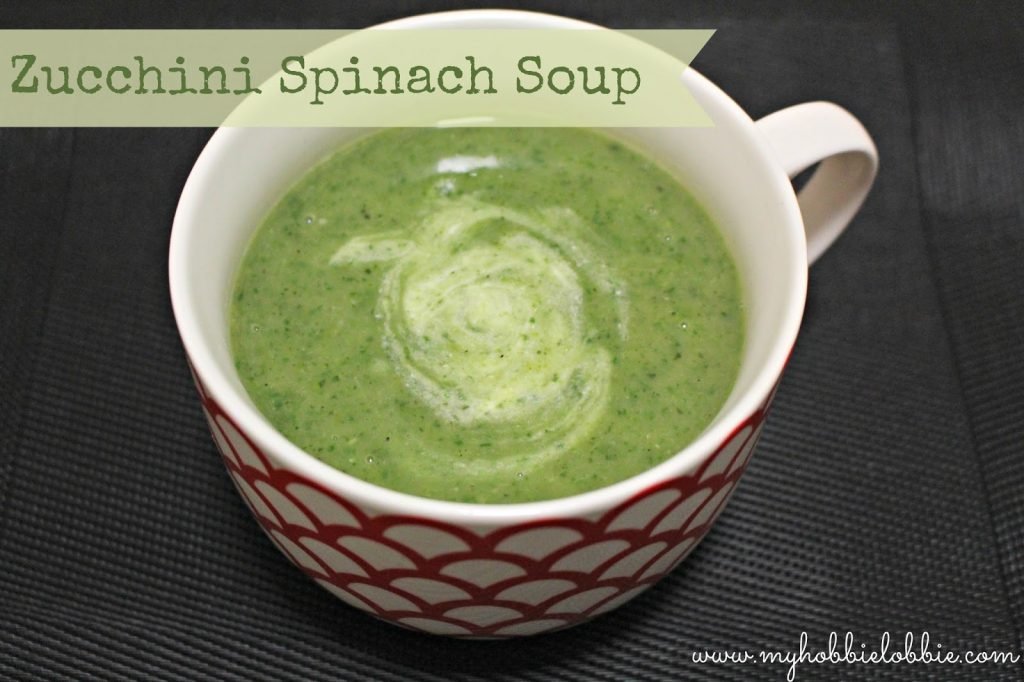 Zucchini Spinach Soup


1 tbsp olive oil
1 leek (white part finely sliced)
3 medium sized zucchini, slice thickly
1 can butter beans
4 cups water
2 cups baby spinach
Salt, to taste
Black pepper powder to taste
A dollop of yogurt
A squeeze of lemon juice
In a pot, heat the olive oil and add the sliced leek. '
Saute till the leek turns golden.
Add the zucchini slices.
Season with salt and pepper and saute till the slices get some colour on them, stirring every now and then.


Add the beans and let it cook for a couple of minutes.
Add the water (you could also use vegetable stock if you like).
Cover the pot and let it come to a boil over high heat.
Lower the heat and let it simmer for about 15 minutes or till the zucchini slices are tender.
Add the baby spinach leaves and stir. When the leaves wilt, you can take the soup off the stovetop.
I used an immersion blender to blitz this into a nice luscious soup. You could also use a blender if you don't have an immersion blender. Irrespective of what gadget you use, please, please, please be cautious while blending the soup, because it is scalding hot.
Serve up hot with a squirt of lemon juice and a little dollop of yogurt.
Enjoy!!!