Cheesecake is one of our favorite desserts at home. My last couple of birthday cakes have been cheesecakes. That alone should tell you how much I love it. But do you know whats even better than a cheesecake? Little mini cheesecakes, of course. Jokes aside, these are the perfect option for a party or even for the family. You can make them a day ahead of the party and keep them refrigerated. They are easy to serve and could serve to help portion control too. And they are super delicious as well. Now that's a dessert that ticks all the boxes for me.




Easy Mini Cheesecakes with a Strawberry Topping
Makes 8 mini cheesecakes
For the base –
120g Digestive biscuits
30g butter
For the cheesecake –
250g cream cheese
1/3 cup caster sugar
1 tbsp lemon juice
1/2 tsp lemon zest
1/2 tsp vanilla extract (or vanilla bean paste)
100g double cream
2 eggs
A tiny pinch of salt
For the topping –
1/2 cup strawberry jam
Fresh strawberries
For the base –


Melt the butter and keep aside.


Blitz the biscuits in a food processor till you get a coarse crumb texture. Add the melted butter and blitz again to combine. This should now resemble wet sand.
For the filling –


Beat the cream cheese till its creamy.
Add the sugar and and mix till it is well combined.
Add the eggs, one at a time, beating well after each addition.
Now add the lemon zest, lemon juice, vanilla and salt and mix till combined.
Lastly, add the cream and mix till it has incorporated with the rest of the ingredients.
To assemble –


Preheat the oven to 180 degrees C.
Line a cupcake tray with paper cases.
Place about 1 tbsp. or so of the biscuit crumb in each case. Using the back of a spoon, pack it down and flatten it.
Top it with the cheesecake filling about 2/3 of the way.
Bake for 15-17 minutes or till the outside has set and the middle still has a little jiggle to it. (You may find some of them puff up a bit or develop a little crack. That is fine.)
Take it out of the oven and let it cool down completely.
Warm the jam over some medium heat, just to loosen it a bit. You don't need to simmer or boil it. This took me about a minute.
Spoon a little jam over each of the mini cheesecakes.
Top with some fresh berries.
Refrigerate for 2-4 hours to set. You can leave it to set overnight as well.
Enjoy!!!
Today's post is a walk down memory lane for me. As a kid, this dessert made an appearance at a lot of parties and gatherings and on other special occasions too. My mum makes a version of this. However, back in the day, we always used custard powder to make our custard. And I used to love it. When we moved away from India, initially I found it a little hard to find the custard powder that we used. So I did the only other thing I could think of. I started working on a custard recipe. After a few attempts and tweaks, I came up with a recipe that I was happy with. It's a simple, easy and super delicious one. Well, you don't have to take my word for it. Try it out for yourself and see. And then come back and let me know what you thought of it.
Once you make the custard, there are so many ways you can use it. Make a thinner version and pour it over your favorite dessert. You can serve this custard with some fresh fruit or use it to make a fresh fruit tart (I'll share how I make mine very soon). Or you can do what I did, I made a layered dessert and serve it with some jelly. It was my first attempt at serving it up this way. If you don't want to make individual servings, you can set your custard and jelly separately and let your guests help themselves to it.
Whichever way you decide to serve it up, you are going to love it.
Vanilla Custard
4 egg yolks
3 cups milk
1/4 cup sugar
1 tbsp cornflour
A scant pinch of salt
1 tsp vanilla bean paste
In a heavy bottomed saucepan, whisk the egg yolks, sugar, salt and vanilla till it is light and creamy.
Add the cornflour and whisk it in.
Next add the milk and whisk it in till it is well incorporated and is a uniform mix.
Place on a medium heat and cook, whisking continuously for about 15-18 minutes.
Cool to room temperature and then refrigerate to set.
To make a layered dessert –


You'll need to whip up one portion of Jelly and a fruit salad
For the fruit salad –
1 pack of Raspberry Jelly
Assortment of fresh fruit, chopped into little pieces (Do NOT use pineapple, kiwi or papaya / pawpaw as your jelly will not set.)
Pour the jelly granules in a bowl.
Add 250ml boiling hot water. Stir to dissolve the Jelly granules.
Add 200ml cold water and stir through.
When the jelly has reached room temperature, add some chopped fruit.
Please note, every Jelly brand may have to be prepared differently. So, please follow the instructions on your box of jelly to achieve the best results.
Layer the custard and jelly in your servingware and keep refrigerated till you're ready to serve.
Enjoy chilled!
I have kept my Easter prep for too late this year. I'm usually a lot more prepared than this. However, a minor accident had reduced my mobility this past week. I am on the mend but still not back to 100%. So I wanted to keep my treats quick and easy.
With that in mind I whipped up some Chocolate Nests. I love this recipe. It takes 3 ingredients and half and hour to make a batch. This is a very versatile recipe so you can make as big or small a batch, as you'd like. It is also a flexible recipe, so you can use the chocolate of your choice and mini eggs of your choosing too. So, if like me, you've left Easter prep for the last minute, try out this recipe. It is very popular with the little kids … and the big ones too.
Wish you and your loved ones a Happy and Holy Easter!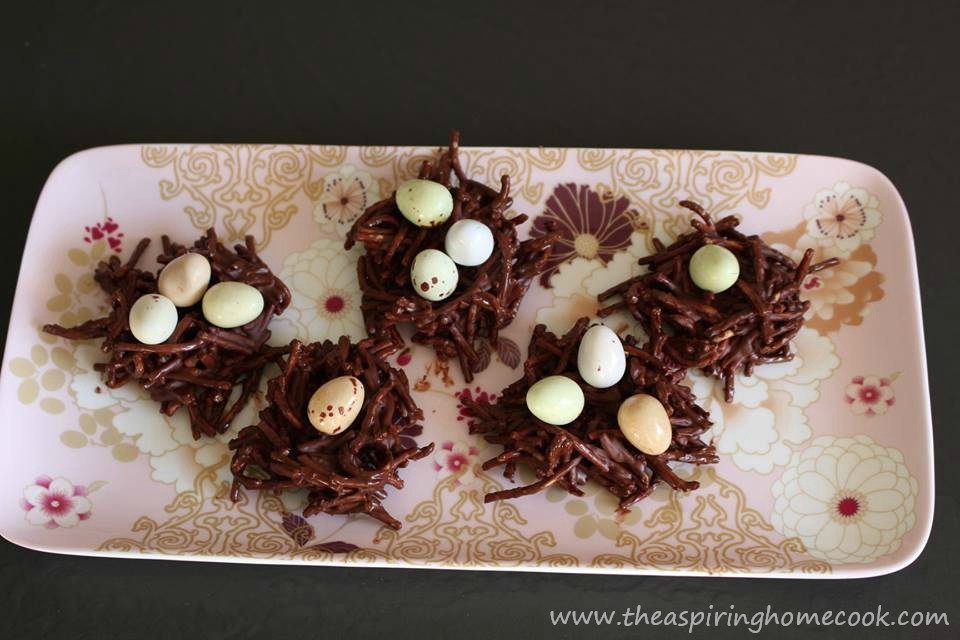 Chocolate Nests
Makes 8 Nests
100 grams Chocolate (I used Dark chocolate)
100 grams ready to serve Noodles
Mini Speckled Eggs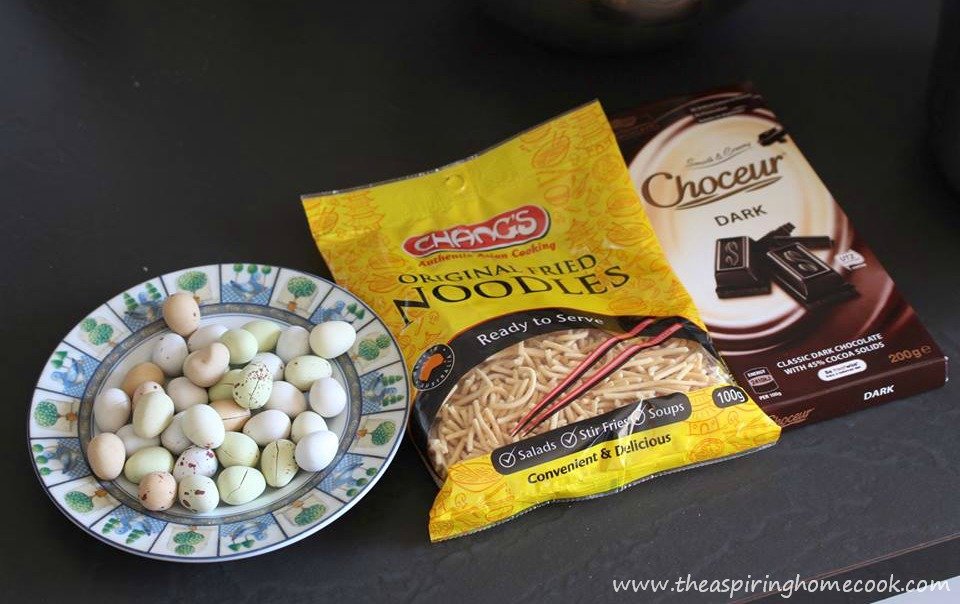 Chop up the chocolate roughly and melt using a double boiler. If you haven't worked with a double boiler, watch the video linked below to see how you can use a simple saucepan and bowl to make one. (You can also melt the chocolate in a micowave using a microwave safe bowl and in 30 second increments.)
Toss the noodles into the chocolate and mix gently to coat the noodles in the chocolate completely.
Using a spoon and either a spatula or a butter knife, scoop out portions of the noodles onto a tray lined with baking paper. Shape to form rough circular shapes and make a little dip in the center of each nest.
Place the mini eggs in the dents created.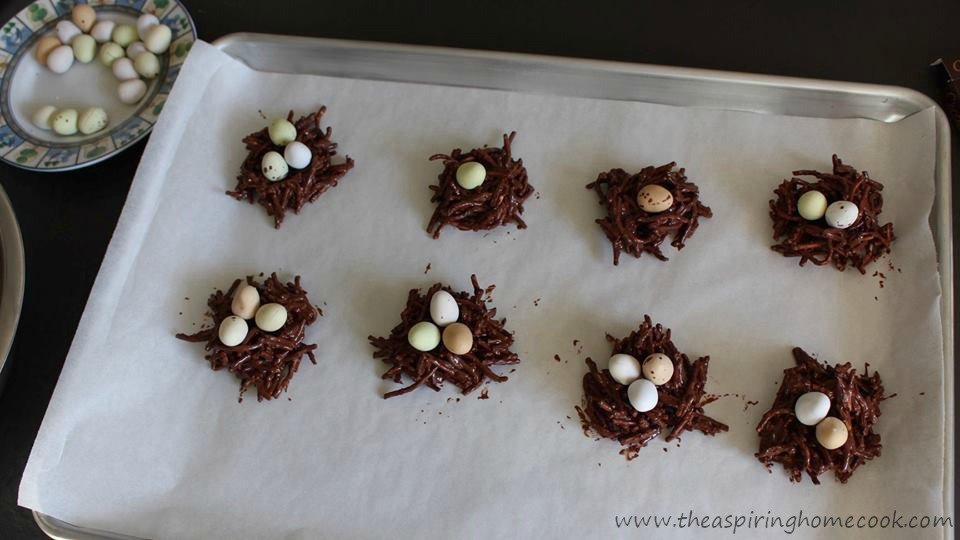 Refrigerate for 20 minutes.
Serve.
You can watch the video recipe here –
Hello! It's me. I'm so glad you are still here. I've been missing on the blog recently as we've just moved house. But I'm happy to report that after a couple of insane weeks of packing, cleaning and unpacking, we are mostly settled in and I'm back to my regular routine. While this was happening, winter seems to have well and truly set it. You won't find me complaining, because I LOVE winter. Its the season for soups, stews, warm puddings and lots of baking – all my favorite kind of things.
Speaking of warm puddings, I have a list of them I want to make this winter and hope the next few weeks will give me an opportunity to share them with you here. I have always wanted to try making some rice pudding (known as kheer in India) at home. Each time I walk by the frozen dessert section at Coles, I'm tempted to pick up a pot of rice pudding. But I don't, because surely it couldn't be too hard to make some at home. The problem is, I just never got around to doing it. Until now.
Usually rice pudding is made using uncooked rice. I recently found myself with some leftover plain Basmati rice from lunch and I didn't want it to go to waste. Waste not, want not, right? So I decided that I was going to try and use it to make some rice pudding instead. After a little searching, I found just the recipe I was looking for. A no-nonsense approach to a rice pudding that used leftover rice. You've probably ended up with some extra rice from an Indian takeout lunch / dinner on occasion. Don't throw that stuff out. Transform it into this glorious, rich and creamy rice pudding in no time with a few pantry staples.
BTW has anyone seen the latest mini series on ABC called War on Waste. Such an eye opener. It is shocking how much food is wasted regularly in households, among other wastage. This is a great way of reducing household food wastage. I love finding ways to reduce wastage. Do you have any recipes that use leftovers and cut down on food wastage? Tag them on Instagram using #MyWarOnWaste and lets help inspire people to reduce waste.
So go ahead and try it out. You can serve it as a beautiful tea time treat or as dessert. Any leftovers can be refrigerated. You can enjoy your rice pudding both warm or cold. Personally, I prefer mine warm, which works really well on colder days. I'm really glad I tried making this pudding at home. Who knew that something this tasty and satisfying could be this simple to make.
My rice pudding has a yellowish tint because I added a few strands of saffron to the pot while cooking it. You can leave it out and it will look like regular rice pudding.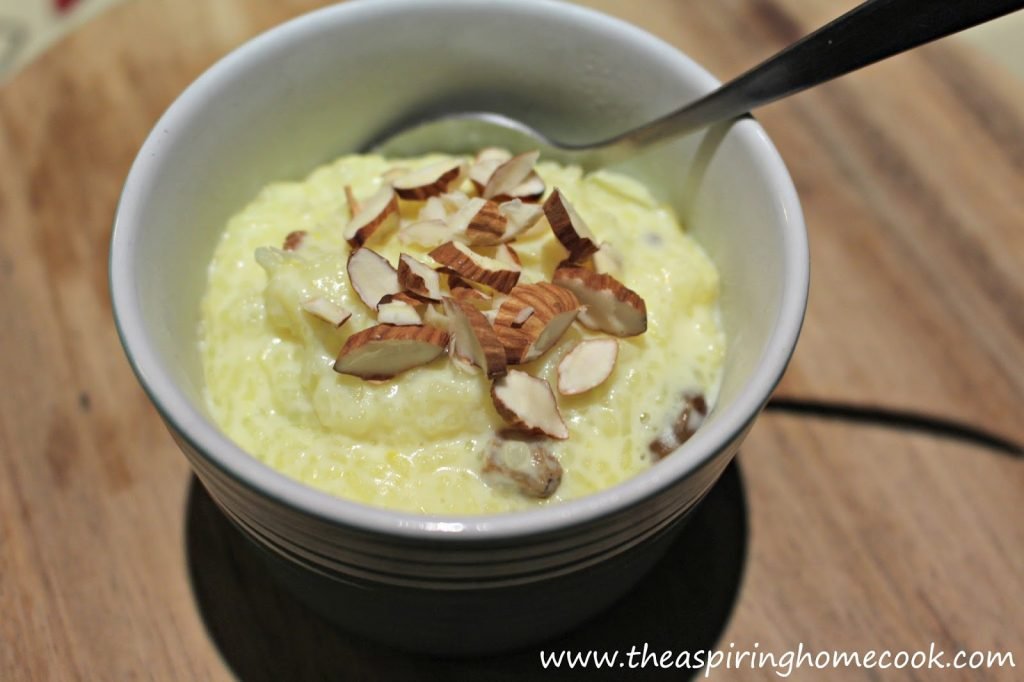 Rice Pudding
Adapted from: Fatima Cooks


1 cup cooked rice (I used leftover Basmati rice)
2 cups milk
1/4 cup sugar, or to taste
1/4 tsp cardamom powder
A few strands (4-6) saffron (optional)
A few raisins
A few almonds, roughly sliced / chopped
Place the rice, milk, sugar, cardamom powder and saffron strands in a pot.
Cook on medium heat, stirring continuously but gently. Scrape down the sides and the bottom of the pan regularly. Cook till the milk has reduced and has become a thick, cream like consistency. It is okay if some of the rice grains break down. It helps thickening the pudding. But don't mash the rice completely. You want a little texture in there.
How thick you want the pudding to be, is upto you. Just before it is done, add the raisins. Turn it off the heat when it has thickened to your liking. I find that heating the raisins through the pudding plumps them up a bit and makes them extra yummy, rather than just placing the raisins on top.
Serve in bowls and top with some sliced / chopped almonds.
Enjoy!!!
If you want more ideas like this to help reduce food wastage and save money, follow me on Pinterest here.
What do you do for dessert if you're from the southern hemisphere and Christmas happens to be in the middle of the summer? I have been trying to find a few options that can be used for your next Christmas / Holiday party. Something that can be made ahead, is easy to make and can feed a crowd. This is one of those types of recipes. I have been a big fan of Mary's blog "
The Food Librarian
" for years now. She is a big fan of Jello and has made some amazing creations with it. I first wanted to make some Broken Glass Jello back when we were in Mumbai. However, it was close to impossible to find a range of Jelly flavors easily. So I gave up on the idea after a lot of searching.
Then last week, I was trying to come up with some easy summer dessert options that I could make more Christmassy, and I thought of Jello. This is my first attempt at making Broken Glass Jello. I am very happy with the outcome given all that happened. Well into the process of making this, my flavorless gelatine powder ended up being a big hard rock of a block and I couldn't cut into it or shatter it with a meat mallet either. I ended up getting just a spoonful or so of the powder. So I had to add some gelatine leaves as well. This caused my condensed milk portion of the jello to not set as firm as I'd have liked. I'm hoping to have better luck next time around. That being said, this recipe was so easy to make. It just takes a little planning ahead, because it needs time to set in the fridge. It was so much fun working with the Jello. I felt a very childlike amusement and eagerness while I was chopping it up. The end result was really tasty. You don't even have to switch the stovetop or the oven on, if you have an electric kettle. If not, you'll need to boil some water and that's all the cooking this recipe calls for. That makes me very happy, because we seem to be having some very hot days at the moment. I can't wait to try some more versions of Jello out soon. You can switch out flavors and colors to suit the occasion. I used Aeroplane Jelly from Coles for this recipe. Feel free to use whatever you have at hand. I hope you enjoy this treat.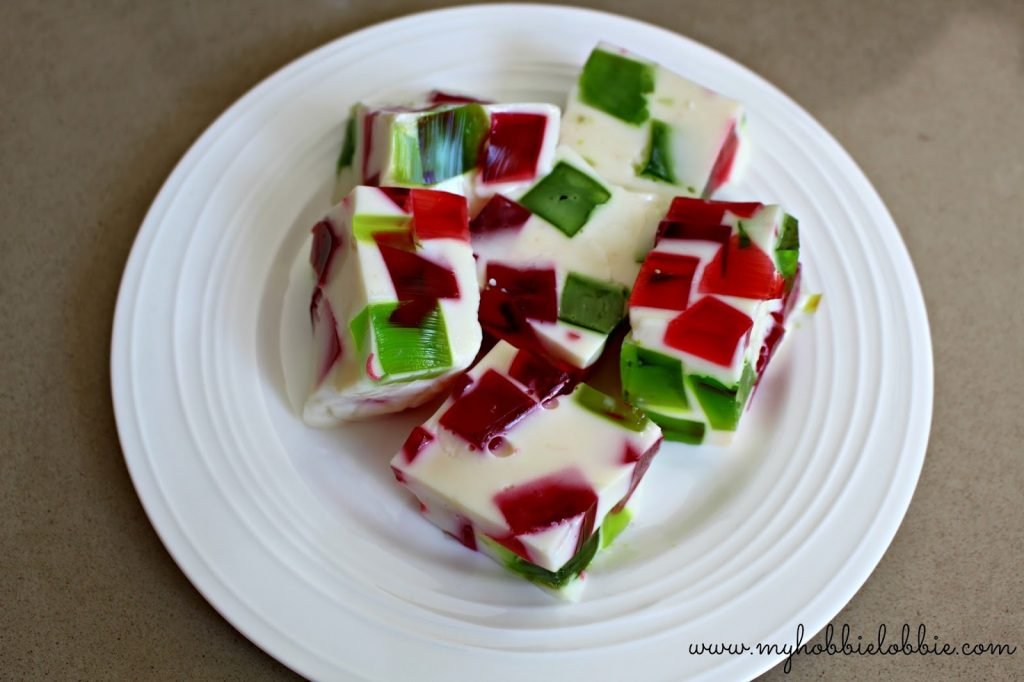 Christmas Broken Glass Jello
1 box Strawberry flavored Jelly (I used Aeroplane Jelly – 85g box)
1 box Lime flavored Jelly (This too is Aeroplane Jelly – 85g box)
3 gelatin leaves (This is unflavored. If you are using unflavored Jelly crystals, use 1 tbsp)
1/2 tin condensed milk (I used a Nestle 395g tin.)
First we're going to make the red and green portion of the Jelly because that has to set firm, so that we can cut it up into cubes. Please note, we are going to use just one cup of water for each packet. We're not following the recipe on the box, because it has to set firm enough to be able to cut into tiny cubes.
Mix the Strawberry flavored Jelly with 1 cup of boiling water and stir till it has all dissolved. Let this cool down to room temperature. Line a small container with cling film / Glad wrap. You need to keep some overhang so that you can pick the set Jelly out of the container using this as handles. This helps to unmould the Jelly later. I used a Sistema sandwich box for this and it was perfect. Try and use a square container, if possible, that way you can cut all of it into cubes. A round container will leave you with some off cuts at the edges. Ofcourse, if you don't have square containers, use whatever you have at hand. Trim off the edges of the Jelly later. Cover and place the container in the fridge to set. It will need a few hours to set firm. I made this the previous day and left it overnight to set.
Repeat the entire process for the Lime flavored Jelly.
The next morning, make the last bit of the recipe.
Dissolve the unflavored gelatin (crystals or leaves) in 1 cup boiling water. Add the condensed milk and stir till everything has dissolved and mixed well. Let this come to room temperature.
While the condensed milk Jelly is cooling, line an 8 inch square cake pan with cling film. Again keep some extra on the edges as overhand to help you unmould the Jelly, just like you did before.
Pick the Strawberry and Lime Jelly out of the containers, using the extra cling film on the sides.
Peel back all the cling film and chop them up into small cubes.
Gently mix the cubes and place them in the lined cake tray.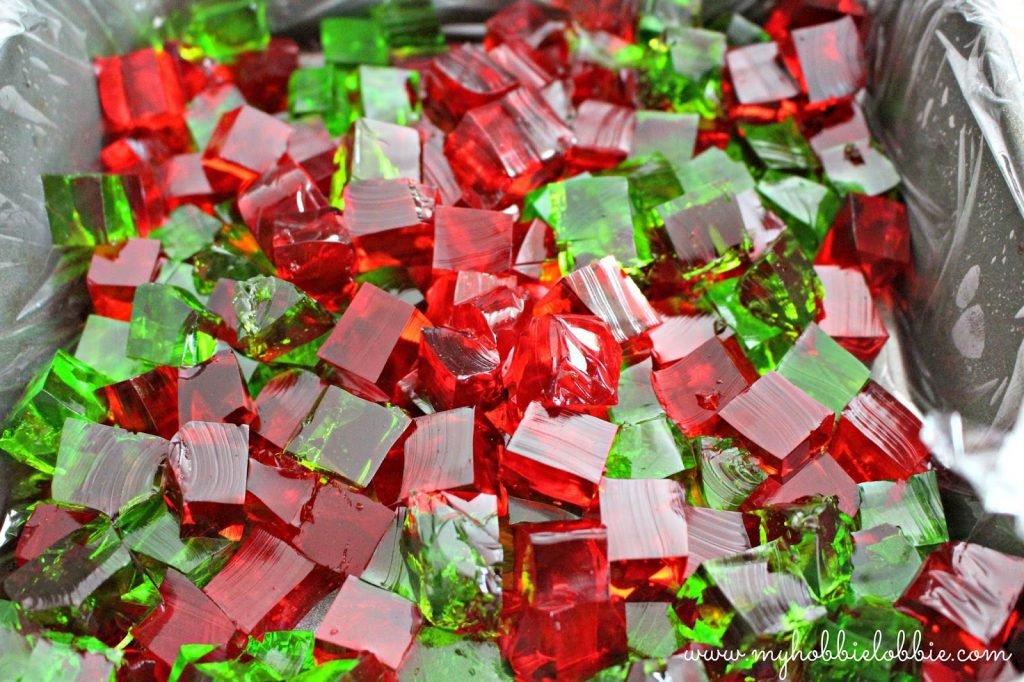 At this stage, if your condensed milk Jelly hasn't cooled completely, put the tray with the cubes back in the fridge. If you use the condensed milk Jelly while it is still warm, you will end up melting the red and green jelly cubes.
Once, the condensed milk jelly has cooled completely, pour it into the lined cake tray over the cubed jelly.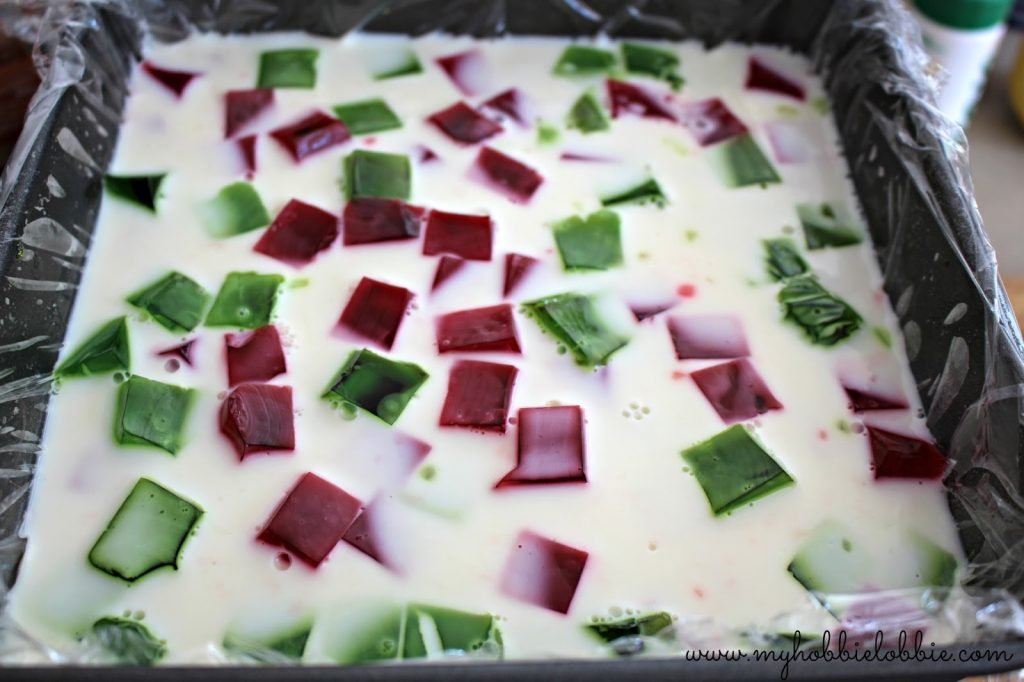 Leave to set in the refrigerator till firm. I left mine about 8 hours. You may be able to cut into this sooner, but make sure that the Jelly has set firm before you cut it up. This dish can be made ahead of time. So plan for about 8 hours to set at this stage.
Carefully, pick the set jelly out of the cake pan when it has set firm and cut into cubes.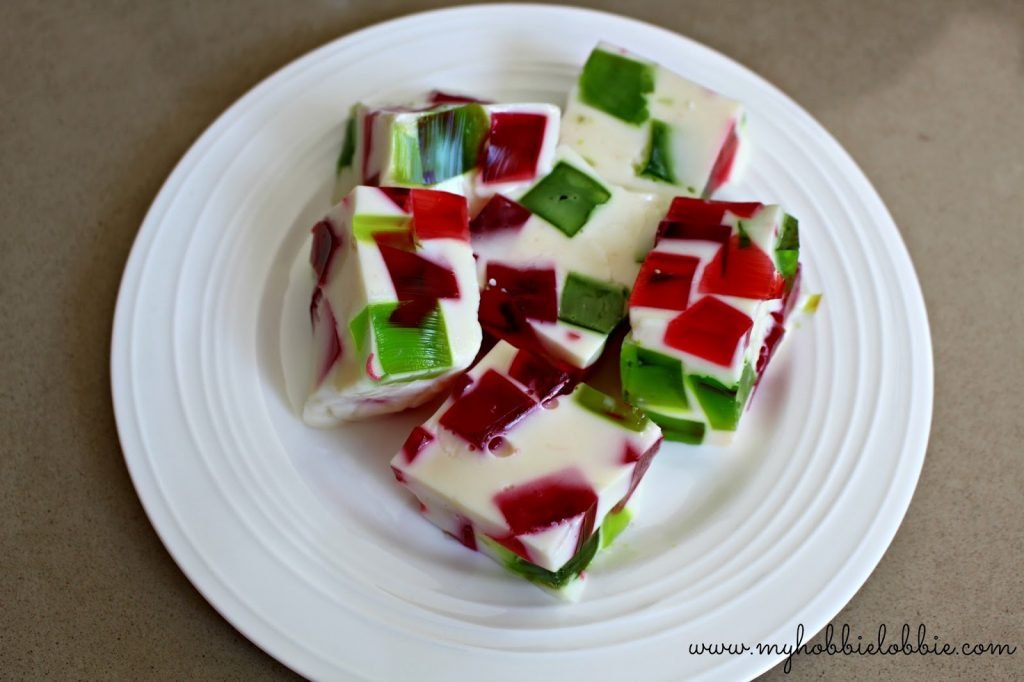 Serve up and watch everyone enjoy this with childlike glee.
*Disclaimer: This is NOT a sponsored post. I have simply shared the brands I used for this recipe.
I have finally gotten around to writing this post. For some reason these pictures have been lurking somewhere in the deep, dark recesses of my computer and kinda got forgotten there. Today, when I was looking for something else, I came across them and realized I hadn't yet shared it with you. So it just had to be done.
We've been trying to be more conscious of what we eat now. No fad diets or deprivation, but we're trying to focus on making better choices. Let me be very clear here, there will still be baked goodies. And lots of regular ones too. All I'm saying is that I'm going to be more open to the slightly healthier variants too. For example, these brownies. I came across this recipe when I was looking for ways to use up a massive box of sweet potatoes I picked up at the growers market at Flemington. The only sweetener in it is maple syrup. The rest of the sweetness comes from the sweet potato and the dates. And that make me happy. I can enjoy a piece because I know whats in it. There are also no eggs in the recipe, so that will make my vegetarian friends from India (the ones that don't eat eggs) very happy. This recipe also uses raw cacao powder instead of cocoa powder or chocolate. Though I'm pretty sure you'd be able to substitute them if you so wished. I hear raw cacao is purer and healthier. A quick blitz of ingredients in the food processor, a quick stir in of the dry ingredients and you're ready to bake. That's how easy it is to make these brownies.
Now, the verdict – These are nothing like the typical chocolate brownies you buy at the store or even make at home. They are equally delicious and have a nice gooey texture. They have a slightly different flavor from the sweet potatoes and kinda reminded me of a typical Goan sweet "Dodol" with minimal effort. So if you're up for trying out something a little different, give these sweet potato brownies a go. You won't be disappointed.
Sweet Potato Brownies
Recipe from: Deliciously Ella
2 medium to large sweet potatoes (approx 600g)
2/3 cup ground almonds (I used almond meal)
1/2 cup rice flour (You could also use buckwheat flour)
14 dates
4 tbsp raw cacao
3 tbsp pure maple syrup
A pinch of salt


Preheat the oven to 180ºC.
You need to use cooked sweet potato for the recipe. You could either roast, boil or stem them till they are nice and soft. I wrapped them in foil and baked them while I had the oven on the previous night.
Peel the sweet potato and cut them into chunks and add them to a food processor along with the pitted dates. Process this you are left with a nice creamy mixture.
Place all the dry ingredients in a bowl and stir together.

Add the sweet potato and date paste and mix this thoroughly combined.
I have a little confession. A few years ago, I used to not like Oreo biscuits very much. There!!! I said it. But wait, I must also say this. A few months ago, I sorta flipped a switch. I happened to try one again, and I must say, I didn't mind it at all. Don't ask me what happened or how it did, but I can now say I actually like Oreo biscuits. So it was time that I reworked what was originally a recipe that used Oreos, which, when I first made, I actually substituted with another biscuit. But recently, I made them again using the real thing.
Sometime in August, we were celebrating a couple of birthdays at work and I decided I was going to bring a batch of these to the celebration. I was a little skeptical of how they would be received, but I shouldn't have been. They disappeared. Not everyone had an opportunity to grab one, but some clever ones managed to get seconds, maybe thirds 😉 Those that had a chance to try them out, absolutely loved them. So turns out I didn't have to worry about these at all. I've had a few people ask me for the recipe more than once. So I'm actually doing another post for it.
This is one of the easier treats I've made and if you have to take something sweet to a potluck, may I recommend making these. They will be an instant hit. Be warned, they are really moreish. You wont be able to stop at one.
Oreo Truffles
(Makes 1 dozen)
200g Oreo cookies (each packet is 137g, I just used 2 packets)
60g cream cheese
200g chocolate (I used 100g milk chocolate and 100g dark chocolate but you could use all milk or all dark or any ratio you prefer)
1/4 cup Candy melts (I used Yellow melts)
Blitz the cookies in a food processor till it reaches a fine crumb state. (If you don't have a food processor, place the cookies in a ziplock bag and pound on them using a rolling pin.)
Stir in the cream cheese and mix thoroughly.
Roll them into balls. Refrigerate them for an hour so that the firm up.
Chop the chocolate into small pieces. Melt the chocolate in a microwave safe bowl for 30 seconds and stir. Then as needed microwave in 30 second increments stirring inbetween till the chocolate melts. The stirring helps the chocolate melt.
Line a cookie sheet tray with parchment paper.
Dip the cookie balls in the melted chocolate. Using a fork, let the excess chocolate drip off and leave them to set on the parchment lined tray. You can serve them up as they are or decorate them with sprinkles or chocolate then do that at this stage and leave it to set.
If you want to use sprinkles to decorate them, sprinkle them on the truffles just after you dip them in chocolate.
If you want to drizzle some chocolate or candy melts over, microwave them in a microwave safe bowl according to the package instructions. Pour it into an icing bag or a small ziplock bag, snip off the tip of the bag and drizzle the chocolate over the truffles. Leave to set.
Enjoy!!!
Hello all! Welcome to the June edition of the
SRC
. Is it really June already? Wow! This year seems to be flying by at record speed. But it is always exciting, prepping and posting for reveal day. This month I was assigned Laura's blog "
Mother Would Know
". This month things were a tad different for me. I knew which recipe I was going to make in less than five minutes after I received my assignment. I think for me that's a new record. How did that come about? I saw a recipe that I'd wanted to try for a very long time about 4-5 years ago. It was almost an obsession. But due to non availability of the core ingredient, I had to focus on other recipes instead. A lot has changed since then. We moved to a different country on another continent and are thrilled to call it home. This lovely land comes with so much diversity, it threw open a whole plethora of ingredients to play with.
It all started when during one episode of Masterchef Australia, I saw a participant make an avocado chocolate mousse. Since then I've always wanted to try it out. So when I saw Laura's recipe for Avocado Chocolate Mousse, I knew I had found the one. Previously I had no access to avocados. Now I do, so that was one hurdle less for me. I pretty much had the rest of the ingredients in at hand so it was an easy choice for me. I am also very eager to try a few other recipes from Laura's blog, like these Individual Strawberry Shortcake Biscuits, these delicious Cronuts, these indulgent Nutella Espresso Cookies, an intriguing Apricot Hamantaschen and her Granita.
For now, lets talk about this Avocado Chocolate Mousse shall we. My husband is a big fan of chocolate mousse – a great big one! This version is quick and easy to make and has a fantastic texture just like the original version and can be served up almost immediately. This recipe is fantastic if you want to whip up a delectable dessert for last minute company. Or if you don't care for the egg in a mousse. Yes, you heard me. This is an eggless chocolate mousse. I added a little brandy at the very end and mixed it through for an adult version of the dessert. But you can leave it out if you are going to be serving it to children. Or go wild and think of the number of variations you could come up with by substituting the brandy with your favorite liqueur.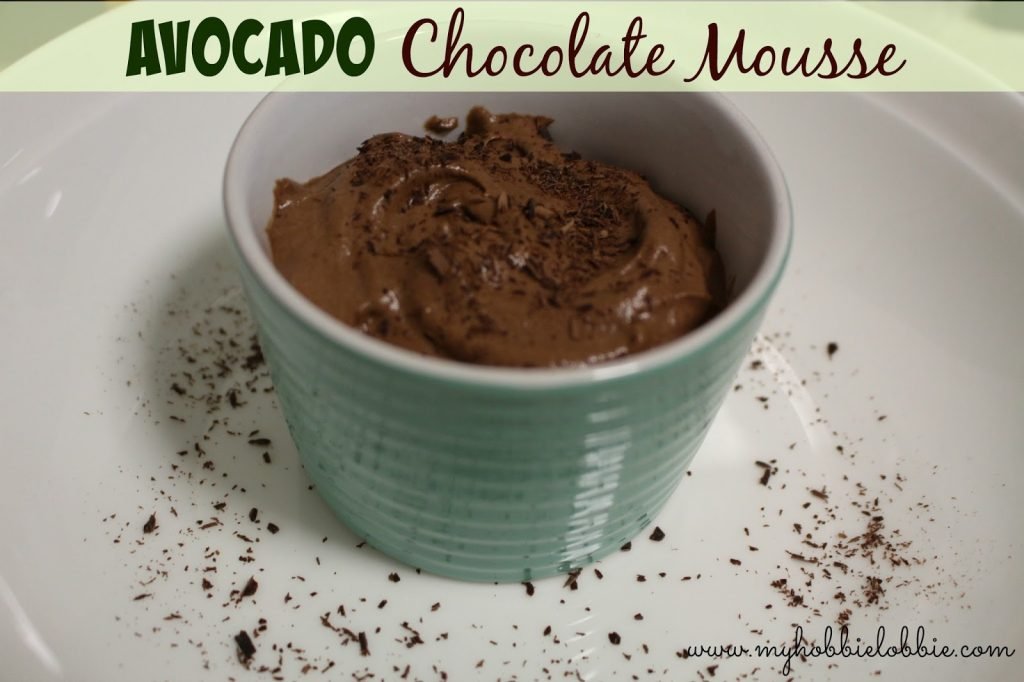 Avocado Chocolate Mousse
Serves 4
1 ripe avocado
1/3 cup unsweetened cocoa powder
1/2 cup dark brown sugar (the original recipe calls for light but I didn't have any)
2 tbsp semi sweet chocolate, melted
2/3 cup milk
1 tsp vanilla extract
2 pinches of salt
1/2 cup heavy / whipping cream
1 tbsp brandy
Place the chocolate in a heatproof bowl over a bigger bowl of simmering water. The small bowl should sit snugly over the bigger bowl of water but not make contact with the water. (This is what they call the double boiler method.)
Whip the cream in a separate bowl till stiff peaks form.
In another bowl mix the avocado, cocoa powder, sugar, melted chocolate, milk, vanilla and salt. Use an immersion blender and blitz till you are left with a smooth, luscious pudding-like consistency.
Gently fold the cream through the chocolate mix till incorporated well. Do not overwork the mix or you will loose all the lightness in the cream.
At this stage, I added the brandy and gently folded through.
Cover and refrigerate. You could also portion out the mousse into individual portions and cover the bowls and refrigerate.
Since most of the ingredients used are at a cooler temperature anyway, you should be able to serve this mousse very soon.
Top with berries of your choice, if desired.
Those of you who follow my blog posts will know that my recipe titles which are normally my post titles usually never make lofty claims. This time it just had to be done. I believe, yes, truly believe that I have come across the best cheesecake recipe.
Let's go back to where it all began, shall we! My husband and I were sitting one evening and watching the latest season of Masterchef Australia (one of my favourite food shows) and it happened to be a Masterclass episode. I'm so stoked they brought back the Masterclass episodes this year. I felt quite cheated out of them last year. Anyway, Matt Preston was making a baked cheesecake. We love cheesecake in our house. So we were very keen to check this masterclass out. Long story short, we loved the way his cheesecake turned out and decided that we would try it sometime soon.
Now I didn't know how soon "soon" would actually be. I figured it would be a while before I got a chance to make one of them. Turned out, my husband had other plans. The following Saturday while I was at work (yes, unfortunately I do work some weekends), he actually went to the shops and picked out all the ingredients for the cake and had it prepped by the time I got home from work. We popped it in to bake and then in the fridge to set. After dinner that day we were both anxious to see how it turned out. It was HEAVENLY. Soft, creamy, beautifully flavoured with a fantastic crust. We we both very, very pleased with the way this cheesecake turned out and I can happily say that this will now be my go-to recipe for a baked Cheesecake. Thank you Matt Preston! and thank you Masterchef Australia!
Baked Cheesecake


For the base –
1 packet of Granita biscuits (250g pack) (if you can't find Granita biscuits, you can use Digestive biscuits instead)
60g sugar
75 g butter, melted
For the filling –
750g cream cheese, at room temperature
230g or 1 cup caster sugar
4 eggs
2 1/2 tbsp lemon juice
1 tsp lemon
1 tsp vanilla extract
A pinch of salt
300ml double cream
Preheat the oven to 175ºC.
Line a 23cm spring form cake tin with baking paper.
Double wrap the outside of the cake tin with extra wide aluminium foil. This is to make the tin water tight to ensure that water from the little water bath you will create for the cake, doesn't seep into the cake.
For the base, blitz the biscuits in a food processor till you get crumbs. Add the sugar and blitz again for a couple of seconds till its mixes well. Add the unsalted butter and blitz again to combine.
At this stage, your base mix should resemble coarse wet sand.
Press the mix into the bottom of the prepared cake tin, spreading it out with the back of a large wooden spoon to even it out.
Bake for 10 minutes till lightly brown and set.
Remove the tin from the oven and set aside to cool. This base should be completely cooled before you add the filling.
For the filling, place the cream cheese in a stand mixer and using a padding attachment beat till smooth and creamy.
Add the sugar and beat till the sugar has completely dissolved.
Add the eggs one at a time, beating between each addition and make sure the egg is fully incorporated in the mix before adding the next one.
Add the lemon juice, vanilla extract and salt and mix until well combined.
Now add the cream and mix until well combined.
Pour the mix over the cooled base. Set the cake tin in the middle of a larger roasting tray or larger baking dish. You want to ensure your roasting tray / baking dish has high sides. Set this on the middle rack of the oven.
Carefully, fill the roasting tray with boiling water upto a 2 cm height and bake till the cake has set and the top is a little golden brown. This should take about 65 minutes.
Turn off the oven and leave the cheesecake inside the oven to cool with the oven door closed.
Then take the cheesecake and leave to cool completely.
Cover it and pop it into the fridge to cool a little and set further.
Serve with fresh berries if desired. But even by itself, the cake is so good you'll be glad you baked it.
For quite sometime now I've seen so many variants of the Chia pudding pop up all over the place. I've been tempted to try it out and see if we'd like it for a while. But I'm pleased to report that I'm finally part of the Chia pudding lover's clan. I've tried a couple of flavours so far and we've loved them. These are pudding options that are perfect either for breakfast, a snack or dessert. The first one was an Almond Joy inspired one, which we gobbled up before we could get any pictures. But going by how much we enjoyed that one, I wanted to try out a few more options. And that's when I came across this one. I love mangoes. I've been missing the good old Alphonso mangoes that are really popular in Goa and Mumbai. I have not had another mango that can match the Alphonso in taste and texture. As luck would have it, a while ago, when I was picking up a few things from my local Aldi store, I saw these…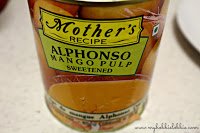 This pulp is sweetened. But it is so good, I could eat it with a spoon and call it dessert. I picked up a couple of cans. One was used for milkshakes and smoothies and one was in the pantry. I ended up using this pulp for the chia pudding. And since this was sweetened, I didn't add any sweetener to the milk. However, if you aren't using a sweetened pulp, you will need to add either honey or dates or sugar; basically any sweetener of your choice. Also, please note that the quantities mentioned below can be adjusted to suit your preference.
These are perfect for make ahead options. You can make them the previous day and have them ready to go in the morning. You could also set these in travel containers to take your breakfast to work. All you need to make now is the chia pudding, which is as simple as stirring the chia seeds into the milk. That's it. I stuck with the whole Goa inspired flavours and topping the puddings with some toasted cashew nuts. It was pretty spectacular – perfect for summer. I can wait to find some more of these cans of mango pulp now.
Have you tried chia puddings before? What's your favourite combination? Leave me a comment and let me know, I'm eager to try out different variations.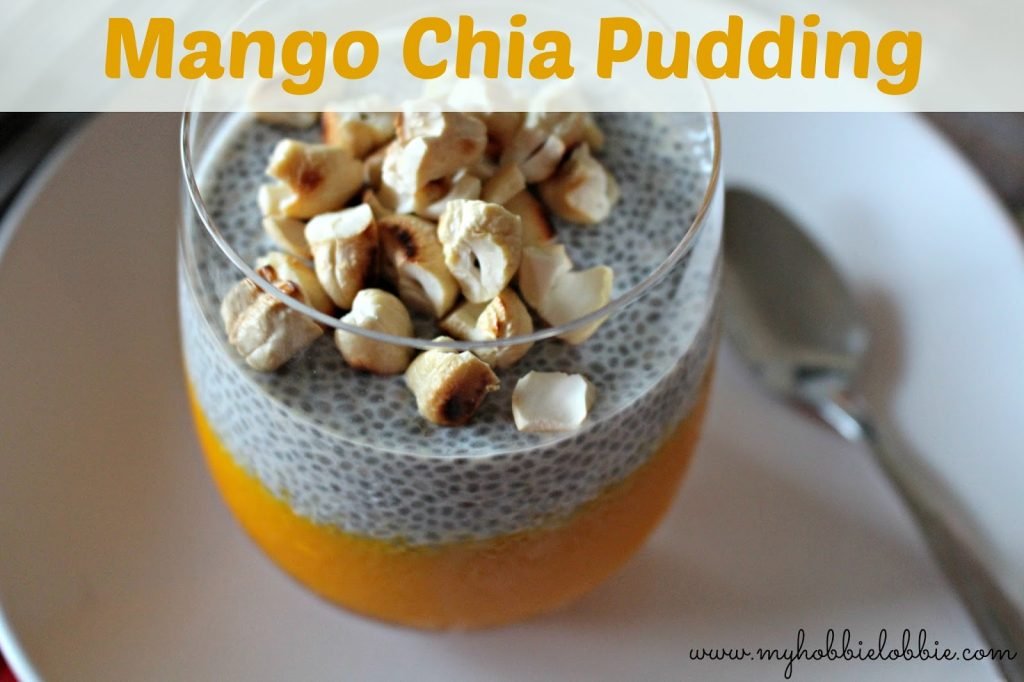 Mango Chia Pudding
Adapted from: Ashley Neese
Serves 2
2/3 cup Mango pulp, sweetened
1 cup milk
1/4 cup chia seeds
1/4 tsp. vanilla extract
A handful of cashew nuts, toasted
In 2 glasses, pour the mango pulp. I filled about 1/3 of the glass with the mango pulp, careful to not let the mango drip down the sides of the glass.
Set aside in the refrigerator.
In a seperate bowl, combine the chia seeds, milk and vanilla and stir for about 3-4 minutes constantly, till it becomes a thick pudding. Let it stand for about 5 minutes to set.
Pour the chia pudding over the mango pulp carefully, in a steady stream.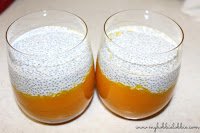 Cover the glasses with cling film and refrigerate for atleast 4 hours or overnight.
When you're ready to serve, top with some chopped up toasted cashewnuts.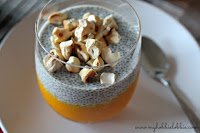 Sit back and enjoy!!!