Nothing says 'Spring is here' more than some Lamb kebabs. Spring Lamb is in stores now and while some of the premium cuts can be very pricey, today's recipe uses ground lamb (lamb mince). This is not just easy on the hip pocket, but cooks up really fast too.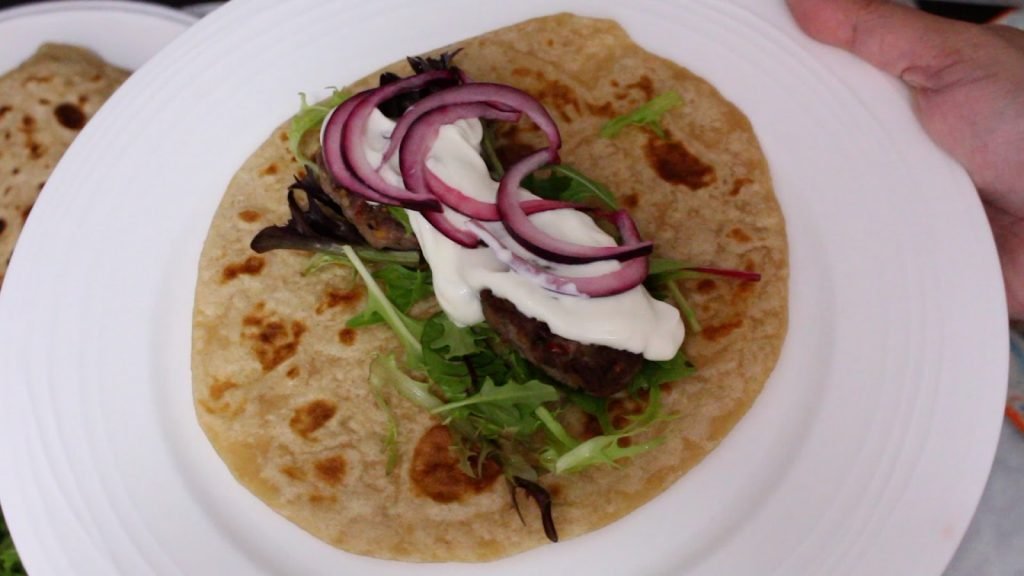 You can serve these kebabs as a starter, or with a salad as a main too. Today I'm serving it up as a wrap with some homemade, quick pickled onions and a yogurt dip. Start off by making the pickled onions and the dip, so that they have a little time to let the flavors develop.
Quick Pickled Onions
1/2 onion, sliced
Salt, to taste
1-2 tbsp Lemon juice
Separate the half rings of the onion slices.
Sprinkle salt and lemon juice over the onion and mix well to let the seasonings get to all the onion slices.
Cover and refrigerate for 30 minutes to an hour.
Yogurt Dip / Spread
1/2 cup Greek yogurt
Salt, to taste
1/2 tsp sugar, or to taste
1/2 clove of garlic, finely chopped
A few mint leaves, finely chopped
Mix all the ingredients together. Cover and refrigerate for 30 minutes to an hour.
Lamb Kebabs
500g lamb mince
Salt, to taste
Freshly cracked black pepper, to taste
2 chillies, finely chopped
3 large cloves of garlic, finely chopped
1-2 tbsp fresh mint, finely chopped
Oil, for frying
Mix all the ingredients and shape into kebabs.
Heat some oil in a pan.
Fry kebabs for a couple of minutes on each side, or till you get a beautiful golden brown color on each side and till its cooked through to your liking.
Serve hot.
** To make the wrap, I use some homemade, whole wheat chapatis, layer some salad greens on top, add a couple of the kebabs, smear some yogurt dip over and top with some pickled onions. Wrap up and enjoy.
Here's a stir-fry that's really quick to put together. It literally takes about 15 minutes. The veggies are lightly spiced (of course you can increase the spice levels if you fancy it) and still a little crunchy. The liver is tender and so flavorful. This dish is one of my childhood favorites. I remember my mum and dad making this once in a while and I so enjoyed it. What I can't figure out though, is why it took me so long to make this. This is literally the first time I've made it on my own. Better late than never! I know for sure this recipe is a keeper. We loved this dish so much, I will use it more often.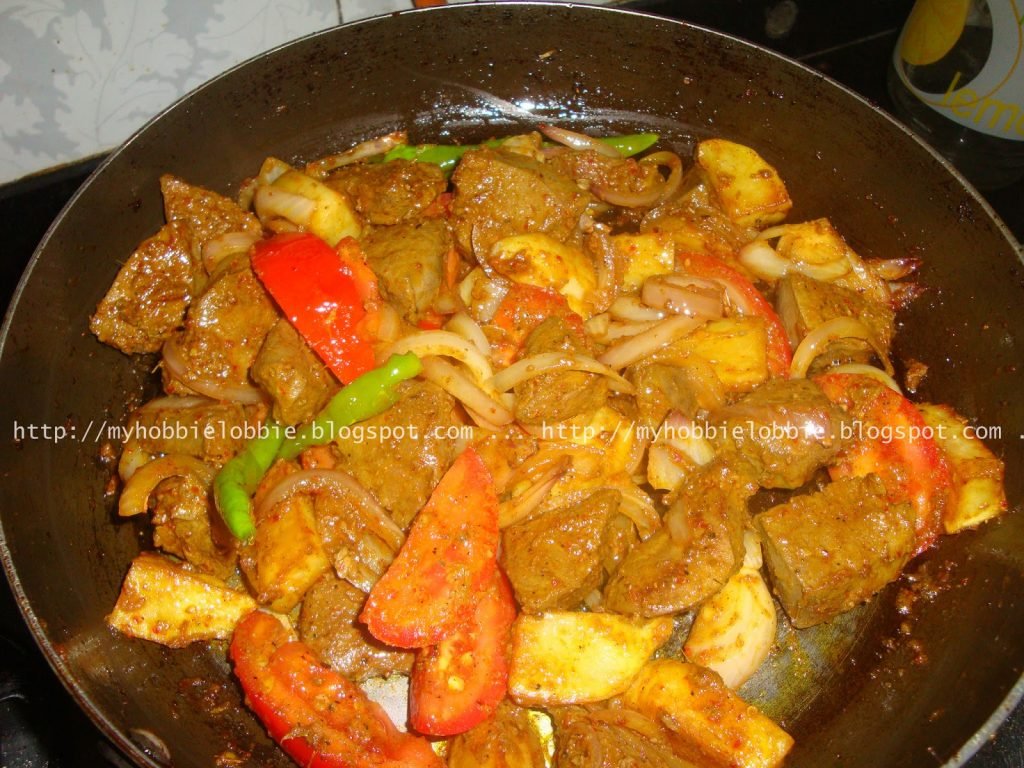 Mutton Liver Masala


250g fresh mutton liver
1 large onion, sliced
1 tomato, cut into thin wedges
1 potato, cut into wedges or cubed
1 green chilly, slit
Salt, to taste
Juice of 1/2 a lime
1 tsp ginger garlic paste
Black pepper powder, to taste
1/4 tsp turmeric powder
1/2 tsp red chilly powder
1-2 tbsp oil
Wash the mutton liver and cut in into bite sized slices.
Marinade with salt, lime black pepper powder and the ginger garlic paste for about 10 minutes, while you get the other ingredients prepped.
Slice the onion, tomato, slit the green chilly and peel, wash and cut the potato.
Heat some oil in a large pan and fry the potato wedges / cubes till they're done. Take them out of the pan and set aside.
In the same pan, add some more oil if needed and fry the mutton liver for a few minutes turning them over to make sure that they are cooked. Don't overcook the liver as it gets rubbery and doesn't taste as good. Take the mutton liver pieces out of the pan and set aside.
Using the same pan, add a little more oil if you need it. Drop in the green chilly and let it fry off for a few seconds. Then add the onions and saute them till they sweat a little. They should maintain some of their crunch.
Now add the turmeric powder and red chilly powder and stir well.
Add the tomato wedges and stir fry for a little while till the tomato has softened a little.
Tip the cooked potato wedges and the cooked liver into the pan. Stir everything gently but thoroughly to make sure the spices have coated everything and let it all warm through for a couple of minutes.
Serve hot.
This recipe is linked to –
Savory Sunday
Mouthwatering Mondays
Mangia Mondays
Hearth and Soul