Breakfast is the most important meal of the day. We've all heard that. However, very often, its one of the most rushed through or even ignored meal of the day. A lot of times, this happens because of our crazy busy schedules or we fall into a rut and breakfast gets boring. I mean, as much as I like toast, I really can't eat it every single day. Moreover, I don't think toast by itself is doing me any good.
In our house, we tend to eat oats for breakfast very often. Sometimes, this can prove difficult, because we're running late or its summertime and I can't bear the thought of turning the gas on to make us porridge. Not to mention, eating hot porridge on a hot day, only makes things hotter. So once I tried refrigerated overnight oats, I was really happy. If you've never tried overnight oats, you really should. Oats are healthy and when combined with some chia seeds, fresh fruit and nuts, it is a really healthy breakfast. The best part is, this is a make ahead recipe and requires no cooking. Which can be a blessing during hot summers. This is a versatile recipe and you can add your favorite fruit and nuts to top it off. So I hope you try this out as a breakfast option and let me know what you think.
Vanilla Overnight Oats
(Makes 1 portion)
1/3 cup rolled oats
1 tsp chia seeds
1/4 – 1/2 vanilla extract
Maple syrup, to taste
2/3 cup almond milk (you can use soy milk or any other milk of your choice)
Fresh fruit and nuts of your choice (I used some strawberries, grapes and slivered almonds)
In a mason jar, add all the ingredients except the fresh fruit and nuts that you're using to top off the oatmeal with.
Cover the jar and refrigerate overnight. (You can make a larger batch and use it through the week)
In the morning, add the fresh fruit and nuts of your choice. Serve up.
Enjoy!
So baked oatmeal is apparently a thing, and I didn't know until now. I'm wondering where I've been all this while. In a few short months, I've stumbled upon Smoothie Bowls and now Baked Oatmeal. We love the smoothie bowls. They were perfect for summer and we've had a long, hot one. Its not over yet, but the weather has started cooling down a tiny bit and I am looking forward to winter. Enter this awesome Baked Oatmeal.
In our house, we love oatmeal for breakfast. It does take a little more hands-on time to whip up in the morning compared to making toast. However, we all know that oatmeal is healthier for you than bread. And overnight refrigerator oatmeal is perfect for summer, but I prefer a warm breakfast when the weather is cooler. And how good would it be if someone could make me this warm breakfast in the morning while I got an extra ten minutes of sleep. That ain't happening so this baked oatmeal is the next best thing. You make a batch up one evening and it reheats beautifully for breakfast the next morning. The flavor options that I found on the internet are endless. This breakfast option is an absolute winner in my book and I know I'll be making it very often as the weather cools down.
Making baked oatmeal couldn't be simpler. Whisk the wet ingredients. Stir in the oats and bake. An added advantage is that this is clean eating at its best. No refined sugars in this breakfast option. Its like eating banana bread for breakfast, without the guilt. You use the oats instead of flour and maple syrup instead of sugar. Throw in some coconut oil and pecan nuts and you have taken this humble oatmeal breakfast up a couple of notches nutritionally. Don't take my word for it. Make a batch today and you'll have a household that actually enjoys oatmeal for breakfast.


Banana Bread Baked Oatmeal


2 large ripe bananas (or 3 small)
3/4 cup milk, at room temperature
2 eggs, at room temperature
1/4 cup coconut oil, melted and cooled
1/4 cup maple syrup
1 1/2 tsp vanilla extract
1/2 cup chopped pecans (additional for garnish)
2 cups rolled oats
1 1/2 tsp cinnamon powder
1/4 tsp salt
Preheat oven to 180ºC.
Grease an 8×8 baking dish and set aside.
Spread the chopped pecans on another ungreased baking tray and let them roast for 4-6 minutes or till they are toasted light golden brown. Cool.
In a large mixing bowl, mash the bananas.
Add the milk, eggs, coconut oil, maple syrup and vanilla to the mashed bananas and mix well till smooth.
Add the oats, salt, cinnamon powder and toasted pecans and stir till combined.
Pour into the greased baking dish and bake for 20-25 minutes or until set and golden brown on top.
Let it cool for a while (around 5 minutes) in the baking dish itself before cutting and serving.
Serve warm by itself or with some greek yogurt or milk, as desired. You could top it off with some fresh fruit and nuts as well.
If you're making this ahead of time, refrigerate and cut and reheat in the microwave as needed.
For quite sometime now I've seen so many variants of the Chia pudding pop up all over the place. I've been tempted to try it out and see if we'd like it for a while. But I'm pleased to report that I'm finally part of the Chia pudding lover's clan. I've tried a couple of flavours so far and we've loved them. These are pudding options that are perfect either for breakfast, a snack or dessert. The first one was an Almond Joy inspired one, which we gobbled up before we could get any pictures. But going by how much we enjoyed that one, I wanted to try out a few more options. And that's when I came across this one. I love mangoes. I've been missing the good old Alphonso mangoes that are really popular in Goa and Mumbai. I have not had another mango that can match the Alphonso in taste and texture. As luck would have it, a while ago, when I was picking up a few things from my local Aldi store, I saw these…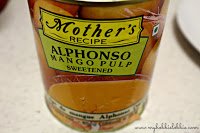 This pulp is sweetened. But it is so good, I could eat it with a spoon and call it dessert. I picked up a couple of cans. One was used for milkshakes and smoothies and one was in the pantry. I ended up using this pulp for the chia pudding. And since this was sweetened, I didn't add any sweetener to the milk. However, if you aren't using a sweetened pulp, you will need to add either honey or dates or sugar; basically any sweetener of your choice. Also, please note that the quantities mentioned below can be adjusted to suit your preference.
These are perfect for make ahead options. You can make them the previous day and have them ready to go in the morning. You could also set these in travel containers to take your breakfast to work. All you need to make now is the chia pudding, which is as simple as stirring the chia seeds into the milk. That's it. I stuck with the whole Goa inspired flavours and topping the puddings with some toasted cashew nuts. It was pretty spectacular – perfect for summer. I can wait to find some more of these cans of mango pulp now.
Have you tried chia puddings before? What's your favourite combination? Leave me a comment and let me know, I'm eager to try out different variations.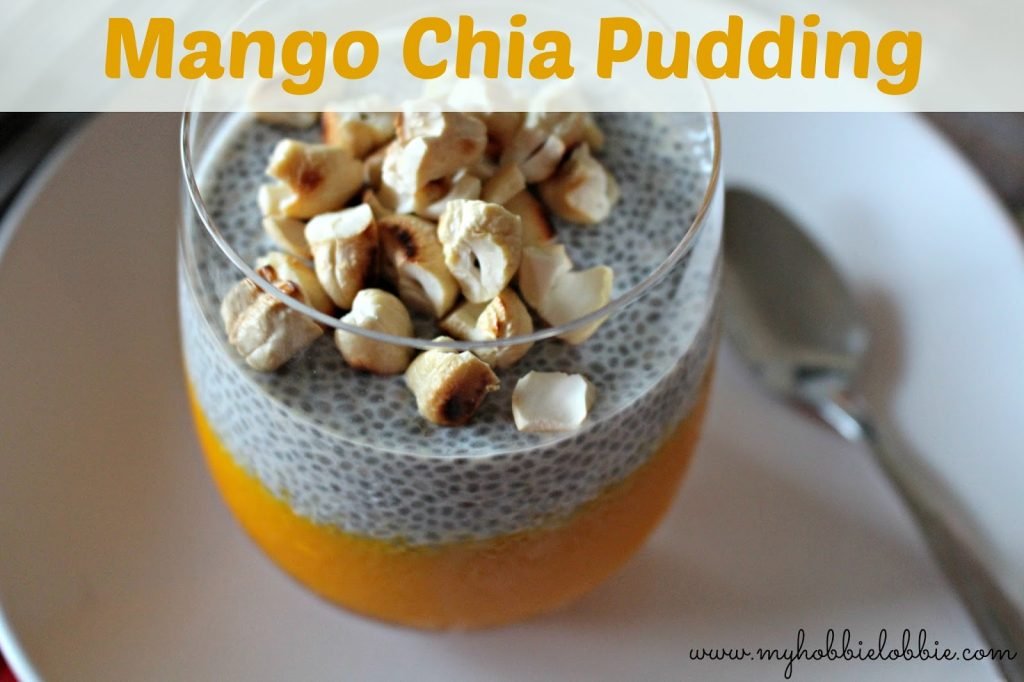 Mango Chia Pudding
Adapted from: Ashley Neese
Serves 2
2/3 cup Mango pulp, sweetened
1 cup milk
1/4 cup chia seeds
1/4 tsp. vanilla extract
A handful of cashew nuts, toasted
In 2 glasses, pour the mango pulp. I filled about 1/3 of the glass with the mango pulp, careful to not let the mango drip down the sides of the glass.
Set aside in the refrigerator.
In a seperate bowl, combine the chia seeds, milk and vanilla and stir for about 3-4 minutes constantly, till it becomes a thick pudding. Let it stand for about 5 minutes to set.
Pour the chia pudding over the mango pulp carefully, in a steady stream.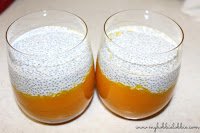 Cover the glasses with cling film and refrigerate for atleast 4 hours or overnight.
When you're ready to serve, top with some chopped up toasted cashewnuts.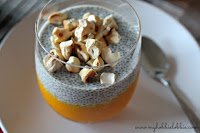 Sit back and enjoy!!!