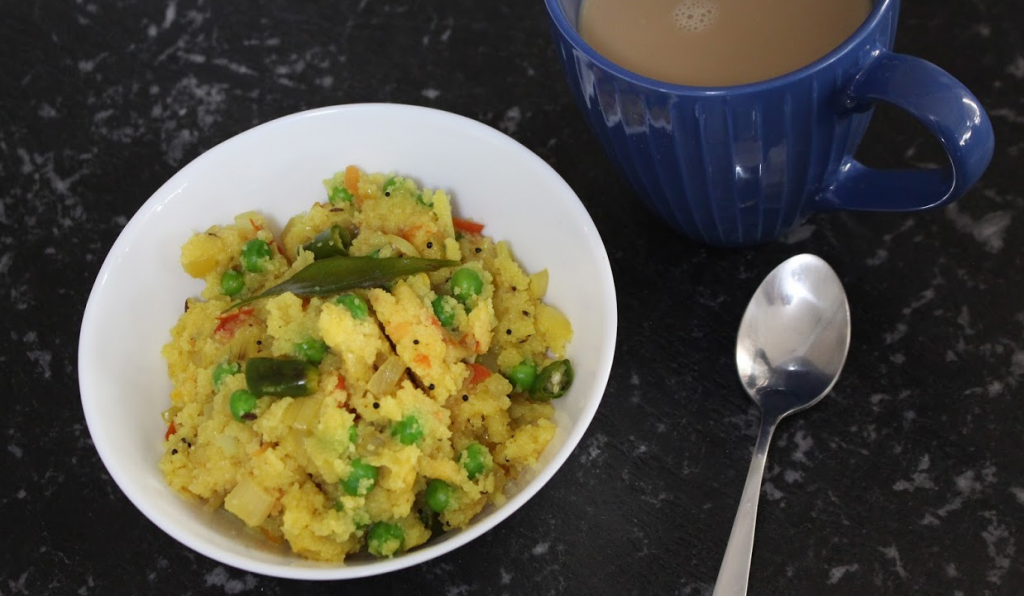 I feel like somewhat of a broken record saying this, but nevertheless, I will. Breakfast is the most important meal of the day. And I strongly believe in that.
In the past, I've been a bit here and there with breakfast. Growing up, we were almost always given a chapati or a paratha for breakfast. As a kid, it wasn't my most favorite thing in the world, but I always ate what was put in front of me. After moving out of my parents house, breakfast took a back seat. We were always in a rush to get out of the house to go to work and the first thing that got neglected was breakfast. A wholesome meal was often replaced with a slice of toast and coffee. But eventually, we got so fed up of that slice of toast, I started looking for ways to spice up brekkie, so to say. I did a lot of experimenting and also went back to some old favorites like this Upma that my mother made for us every now and then. 
Moving forward to current day, I'm happy to report that in our house, breakfast is now a more wholesome meal. So, if you'd like to get back to wholesome breakfasts, the way it is meant to be, you've come to the right place. Today, I'm going to share with you our family recipe for Upma. Upma, for those who are unfamiliar with the term, is a Masala Semolina dish. Only recently, I learnt that there's actually a different name for it in Goa. Goans refer to this as Tikhat Shiro (translates to Spicy Semolina). It is quick, easy, wholesome and delicious. So I'll stop yapping here and take you straight to the recipe. 
Upma
Yields: 2 adult portions
1/2 cup coarse semolina / rava
1 tbsp oil
1/4 tsp mustard seeds
1/4 tsp cumin seeds
5-6 curry leaves
2 chillies, cut into large pieces
1 small onion, finely chopped
1/2 inch ginger, cut into 2 pieces
1/8 tsp turmeric powder
1 small tomato (or 1/3 – 1/2 large), chopped
1/4 cup green peas
Salt, to taste
1 1/2 cup of water from a recently boiled kettle (hot water)
Dry roast the semolina on medium heat, till you get a nutty aroma and it only just starts changing color. Take it off the pan and place in a bowl and set aside. 
Heat the oil in the pan. 
Add the mustard seeds and let them splutter. 
Add the cumin seeds and soon after add the curry leaves and chilly pieces to the pan. Saute for a few seconds. 
Next, add the chopped onion and saute. When the onion has softened, add the ginger and stir well to fry off. 
Once the onion has started to develop a little color on the edges, add the turmeric powder and stir well. 
Add in the roasted semolina. Stir well to incorporate and saute for 20-30 seconds. 
Now add in the hot water. Carefully stir the mix.
Add salt to taste, chopped tomatoes and green peas. Stir well to combine. 
Stirring continuously, cook the semolina till all the moisture has been absorbed and you are left with nice fluffy grains. This usually takes me around 2 minutes. 
Take the pan off the heat, cover and let it rest for a couple of minutes. 
Serve hot. 
Enjoy!