It seems like I've been on a bit of a Goan food trip lately. For the past couple of days, we've enjoyed a whole lot of it. This is my 3rd consecutive Goan seafood recipe on the blog. And that too, in a matter of a couple of days. But I must say, I've enjoyed every single bite of it.
This sort of food takes me back to a simpler time. Back when I was in school (and that was a looooong time ago), every summer holiday was spent at the family home in Goa. I looked forward to those trips. The bus journey each way took aound 18 hours and was great fun. We'd pack a variety of munchies for the way. Bus journeys always made me hungry and sleepy. But I loved those long hours on the road. We actually looked forward to the journey almost as much the holiday in Goa itself. Have you every made that trip? What's your favorite part? My late aunt was a fabulous cook. Unfortunately, I was very young then. Too young to be interested in learning about cooking from her. To this day, I wish I had. Back then, it was 2 months of Goan fare. And I never tired of it. Cooking was a labor of love then. Even though we had a modern Gas kitchen, my aunt chose to cook on a wood fired stove in clay pots. And the food, was absolutely out of this world. I have not tasted food like that ever again. Who knows? Someday, I may go back to Goa for a couple of months to relive those days. One of the dishes my Aunt cooked really well was a Tisreo Sukhem – a Goan Clam stir fry. And this is a dish my mother cooks really well too and it is very similar to the one my Aunt made. Fortunately, I have learnt how to make it too. Clams are more commonly known as Pipis in Sydney.
On my last grocery shop, I picked some up from the fish monger. Now, you can cook the whole shell and you know its cooked once the shells have opened up. But both, my Aunt and my mother always make it on the half shell. So I did the same. Once the clams are halved, the entire dish probably takes about 15 minutes to put together. I hope you decide to try this Goan delicacy some time. You can serve it up as a side dish to a typical Goan Fish Curry and rice meal, or serve this with some chapatis or even with bread. However you choose to serve it, you will love it.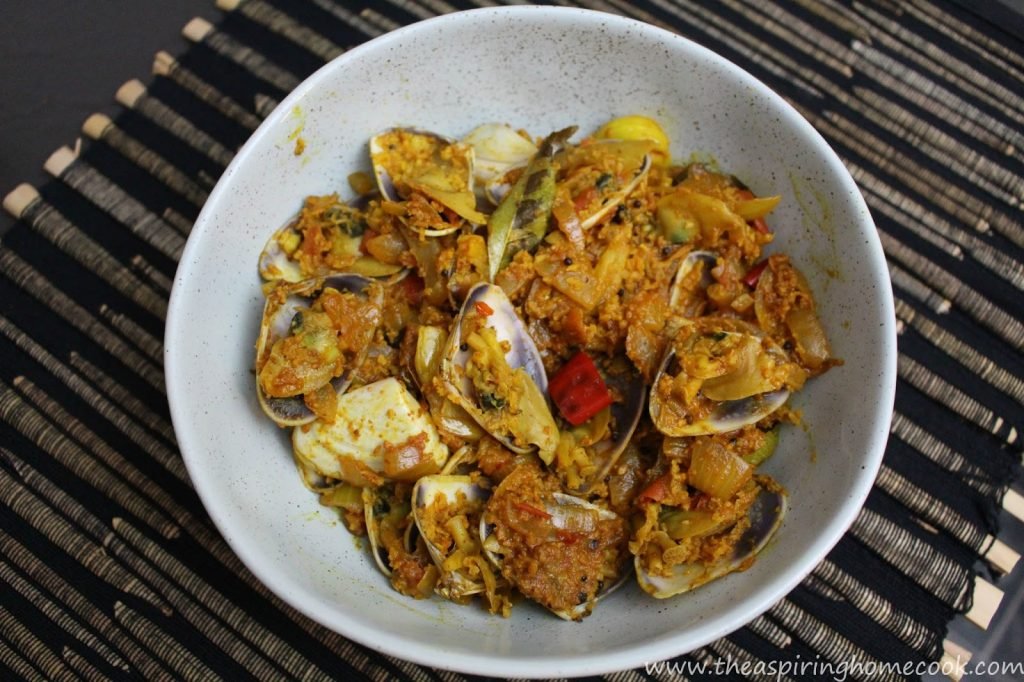 Watch the step by step process here –
Tisreo Sukhem


40-50 fresh clams / pipis
1/2 tsp black mustard seeds
6-8 curry leaves
4 cloves garlic, lightly bruised / crushed
1 medium onion, chopped
2 green / red chillies, cut into 1/2 inch pieces
1 tomato, chopped
1/4 tsp turmeric powder
1/2 tsp red chilly powder
1 heaped tsp coriander powder
2-3 tbsp grated coconut
1 tbsp coconut oil
Salt, to taste
Wash and halve the clams / pipis. (You can also chose to leave them whole.)
Heat the oil in a pan on medium heat.
Add the mustard seeds. When the seeds start to sputter, add the curry leaves and the chillies.
Stir that around and add the garlic cloves. Let that fry off for a few seconds.
Now add the chopped onions and saute them till they have softened and the edges have just started to brown.
Add the turmeric, chilly and coriander powders to the pan and stir well. Add a dash of water (about 1 tbsp) to deglaze the pan. The prevents the spices from burning.
Now add the chopped tomatoes and stir fry that for a couple of minutes.
Now add the clams and gently stir them through the spice mix in the pot.
Add salt to taste.
Add a small splash of water to help the clams steam through. (2-3 tbsps worth)
Switch to a low heat, cover the pan and cook for about 5-8 minutes, or till the clams have cooked through. Stir at the halfway mark and add more water, if needed. Just a little to prevent if from burning. If you find that there is too much liquid in the pan, cook it uncovered for the rest of the time.
(You are looking to have most of the liquid absorbed into the dish.)
(If you are using the clams whole, you'll know they are cooked, when the shells open up.)
About a minute before you take it off the heat, add the grated coconut and stir though. When the coconut has warmed through, take off the heat.
Serve hot!
Ok, so on Sunday, we took a culinary trip to Goa. Lunch and dinner was Goan fare. My previous post tells you about the amazing dried prawn
Kismur
we had. But that was just the accompaniment to the meal. It was served alongside a great Goan Fish Curry and rice and some Fried fish too. That meal, right there, is the way to every Goan's heart.
Today, I'm going to share with you the recipe for that amazing Goan Fish curry. This is a coconut based curry and combined with a few spices, you will be rewarded with the most gorgeous bowl of Fish curry. A good Goan Fish Curry is known for its color. They key to great color is good Kashmiri chillies. Kashmiri chillies are dried red chillies, very widely used in Indian cuisine. They are mild chillies so you won't get much heat from them, but they are known for the vibrant color they lend to the dish in which they are used. You can find Kashmiri chillies in any Indian store. In Sydney, I have used a few brands and a lot of them don't meet the mark at all. That was until I tried the 'Uttam' brand of Kashmiri chillies. Now, for the first time in years, I've managed to get a delicious curry with fantastic color. That made me very happy. Another important factor to a good curry is the curry paste. You need to grind the masala (spices) to a fine paste. Grind it for 3-4 minutes with a couple of breaks every now and then, so that your mixer (blender) doesn't overheat and trip. Lastly, sourness or tang is very important to a great curry. The curry needs to be balanced, but without enough sourness, it just won't taste right. That being said, add sourness to taste.
If you're in the mood for a great Goan meal, try out this curry.
Goan Fish Curry


1/2 kg fish of your choice (I used Mackerel)
1 medium onion, thinly sliced
A ball of tamarind, the size of a walnut
2-3 fresh green / red chillies, slit (optional)
Salt, to taste
2-3 pieces of Kokum / Mango sol (dried mango) (These are souring agents, use as much or as little as you need. If raw mango is available, use a few pieces of it and you curry will be even better)
** If you are using Mackerel, 4-5 tefla berries are added to the pot along with the curry paste and water and cooked. (I haven't been able to find it in Sydney yet, so I left it out. But it makes a huge difference to the flavor of the curry, so try and get your hands on some, if you can.)
For the curry paste / masala –
8 dried red Kashmiri chillies
6 large cloves of garlic or 10 small ones
8 black peppercorns
1 tsp coriander seeds
1 tsp turmeric powder
1/2 coconut, grated
Water, as required
Cut the fish into pieces and season them with a little salt and set them aside.
Soak the tamarind in about 1/4 cup of warm water and set aside for about 5 minutes.
Grind the tamarind and the water it was soaking in and all the ingredients listed under "For the curry paste" to a find paste using water as needed.
Place the sliced onion, tefla (if using), the curry paste and 2 cups of water in a pot and bring to a boil. Lower the heat and simmer for 30 minutes. You need to maintain the liquid content to have the right consistency. So top up with water, as needed.
Add the kokum / mango (if using), whole slit chillies and the fish pieces. Bring the curry to a boil again. Let this simmer on low heat for 5-10 minutes (depending on the size of the pieces of fish) or till the fish is cooked.
Check the seasoning and add more salt / sourness, if needed.
Serve with hot boiled rice.
To complete the meal, serve some fried fish and Kismur with it.
Enjoy!!!