Happy St. Patrick's Day everyone!!!
St. Paddy's Day crept up on me this year. I didn't have any Irish recipes planned for the day. But the more I went about my chores for the day, the more it bugged me that I wasn't doing anything special. I had made Irish Cream at home before many years ago. I'd whipped up a batch for my Mother's birthday and it went down a real treat. We had none leftover. So I thought the least I could do, was whip up a Batch of Irish cream for the day.
It is amazing how this beautiful liqueur comes together in minutes. You just need a few simple ingredients. Now you can definitely use an Irish Whiskey, if you have some on hand and it would be a more authentically Irish 'Irish Cream'. But in a pinch, any whiskey will do.
I even made my own chocolate syrup for this recipe because I never have that stuff in the house. It turned out really well. Even my husband, the tequila loving man that he is, was impressed.
Whip up a batch for your next gathering and watch it disappear. You could also decant this Irish cream in little bottles, use a little ribbon or twine and a pretty tag and use them as hostess gifts or place them in gift baskets or hampers. I can tell you this much, I would be very happy to receive a gift like this. Step aside Bailey's, you have some major competition now 😉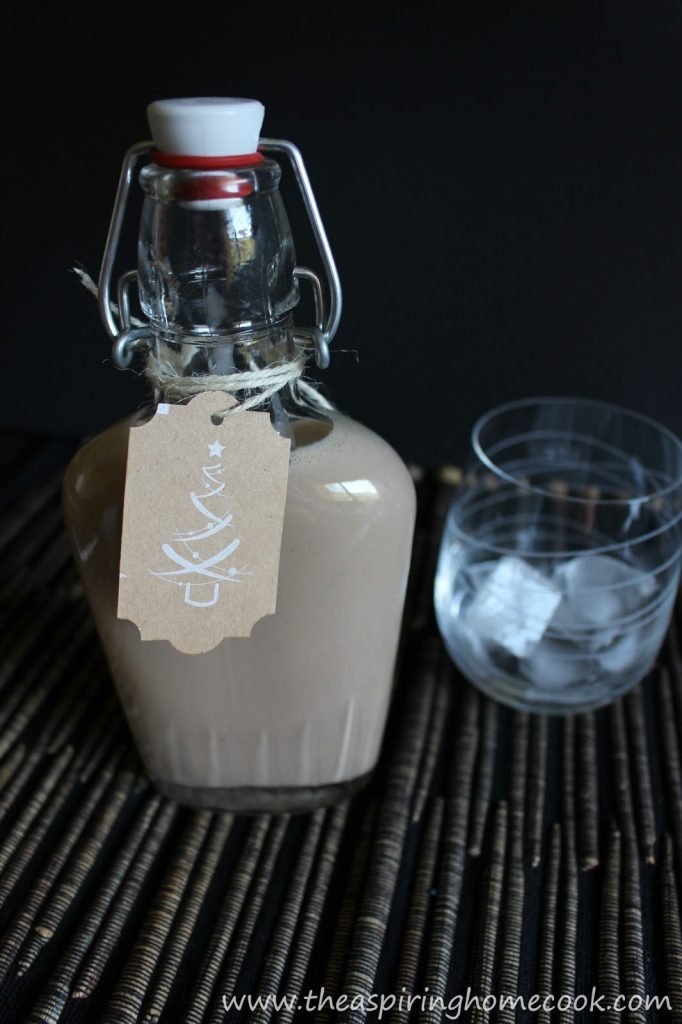 Since this recipe contains cream, the bottle needs to be refrigerated and should keep for 2 months, not that it will stick around that long. But you might want to include this information on your tag if you're gifting this to someone.
So what are you waiting for? Go make yourself a batch.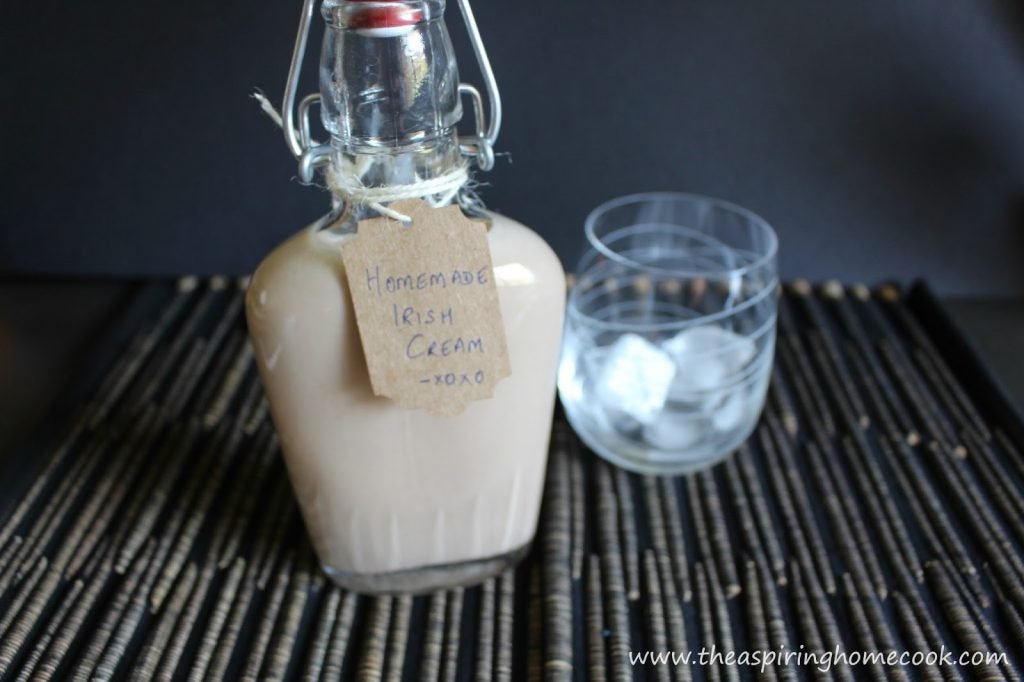 Homemade Irish Cream
Adapted from: The Make Your Own Zone
1 tsp instant coffee granules (if you don't have any on hand, use some brewed coffee, about 1/4 cup strong freshly brewed coffee, but make sure it has completely cooled before you use it.)
1 cup thickened cream
1 cup Whiskey
1 can sweetened condensed milk (I used a 395g can of Nestle condensed milk)
2 tbsp Chocolate Syrup (recipe below)
In a large bowl stir together the cream and the whiskey.
Add the coffee granules / brewed coffee and stir together till the granules have dissolved.
Now add the condensed milk and stir well.
Lastly add the chocolate syrup and stir well to make sure everything has mixed well.
Pour into bottles and refrigerate.
Enjoy on the rocks or use in any recipe that calls for Irish Cream.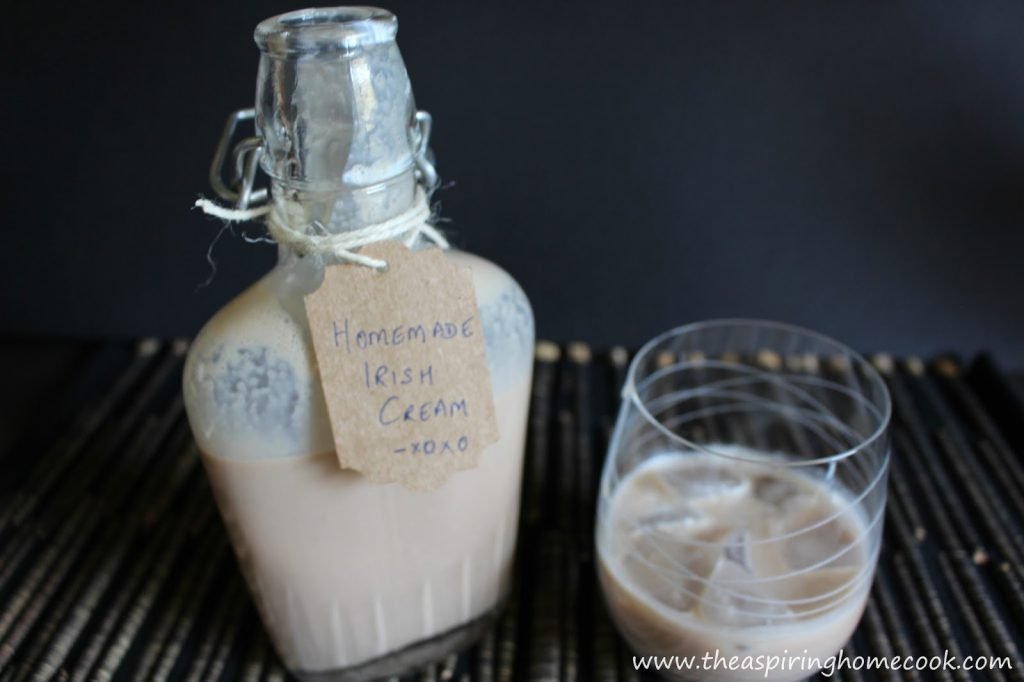 For the Chocolate Syrup –
1/2 cup water
1/3 cup sugar
1/3 cup cocoa powder
A pinch of salt
1 tsp Vanilla bean paste
In a small saucepan, place the water and sugar on medium high heat and whisk till the sugar is dissolved.
Whisk in the salt and cocoa to dissolve it all and continue cooking till it has slightly thickened. (This will take 3-4 minutes.)
Take the saucepan off the heat. Add the vanilla and stir through.
Leave it to cool before storing.
Pin now to your favorite boards!!!

Have you had a glass of chilled sweet lassi before? If you have, you know how unbelievably yummy it is. If you haven't, you should try it. Its sweet, creamy, cold and have I mentioned yummy. And the best part is, you don't even have to plan a trip to an Indian restaurant to have a glass. If you have some plain, unflavored, unsweetened yogurt you can whip up a glass in minutes.
I fancied this glass up with some strands of saffron and some chopped pistachio. But even without it, this sweet lassi is just as good. Its a perfect way to cool down on a hot summer day. A glass of it is quite filling too, so it makes a nice snack by itself.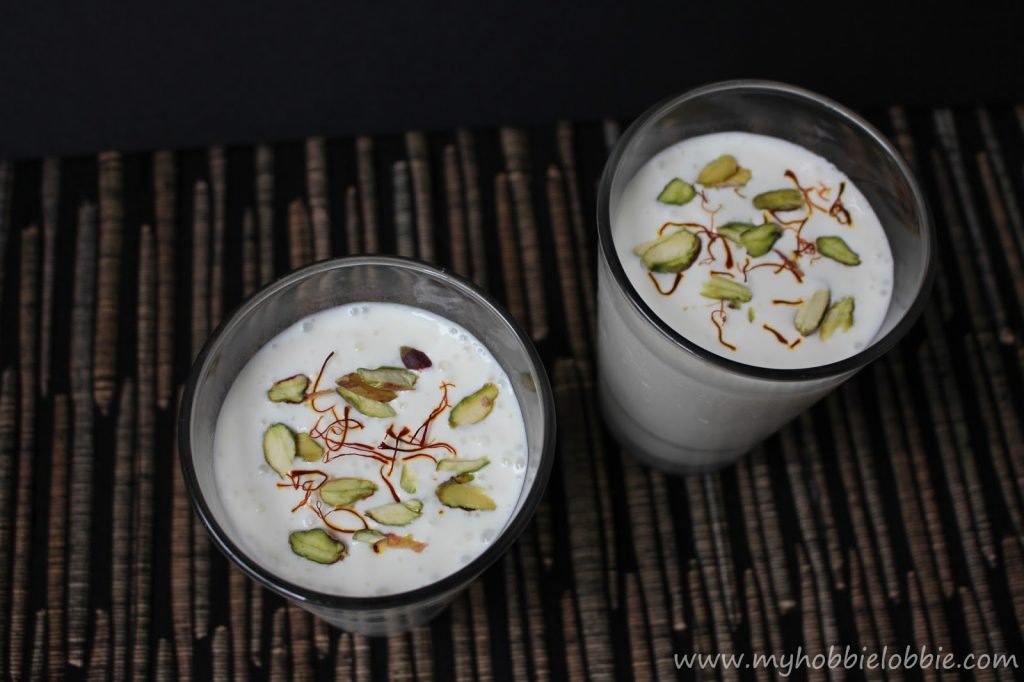 Sweet Lassi
Makes 2 glasses
1 3/4 cup of plain, unflavored, unsweetened yogurt
1/4 cup chilled water
2-3 tsp sugar (or to taste)
4-5 pistachios, sliced (optional)
A few strands of saffron (optional)
Put the yogurt, water and sugar in a blender and blitz till smooth and slightly frothy.
Pour into glasses.
If desired, sprinkle the saffron strands and sliced pistachio on top to garnish.
Serve chilled.
Here are some other lassi versions –
Strawberry Lassi
It's been a while since I've posted anything on the blog and I feel really bad about it. I've just not been able to find my cooking / baking mojo. See, we've had a long, hot summer; really long and really hot. I'm more of a winter person than a summer so I'm all ready for winter now. Unfortunately for us, we haven't had functional aircon for about four weeks now. So you can see why I haven't really been too active on here. I've had to figure out ways to deal with the insane heat levels that heat wave after heat wave brings to Sydney this year.
I was glad to have tried out smoothie bowls recently. They were my saving grace. Healthy, full of flavor and their amazing 'cool you down from the inside out' quality made them a regular occurrence in my kitchen. The first one I tried was this Mango Smoothie Bowl and this blueberry version was really delicious too. I had some blueberries that I should have finished sooner, but I didn't want to waste them so they went right in the bowl for some color. If you love blueberries, this treat is a must try if you are looking for a healthy summer cooler.
A few ingredients and a minute in the blender and a bowl is all you need to whip up this bowl of deliciousness, so I do hope you try it out.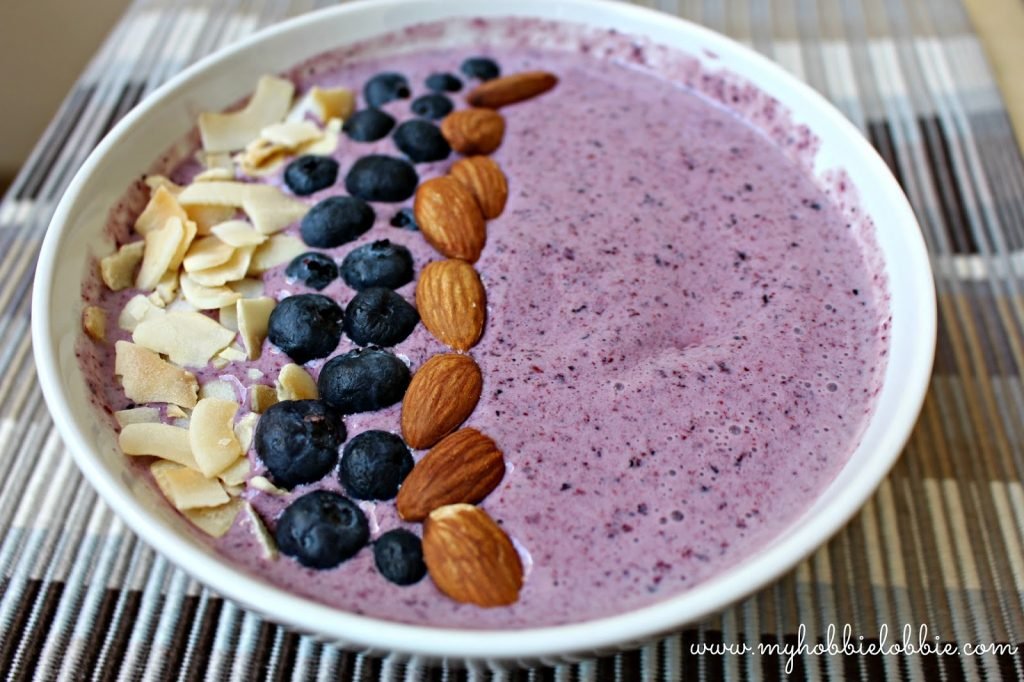 Blueberry Smoothie Bowl


1 ripe banana, frozen
1 cup frozen blueberries
1 cup milk
4 tbsp Greek yogurt
For the topping –
Sweetened coconut chips
Fresh blueberries
Almonds
Place the banana, blueberries, milk and yogurt in a blender and blitz on slow at first.
Scrape down the sides and blitz till you are left with a soft serve sort of consistency.
Pour this mix into a bowl.
Top with some sweetened coconut chips, fresh blueberries and almonds.
Serve chilled.
A couple of days ago, I came across something I instantly new was going to be a wonderful find. Now I am guilty of constantly looking for and saving interesting recipes that I want to try out. I have a list of bookmarks that grows every minute and a pinterest account that will prove my point. But this little treat flew straight to the top of that list. Turns out that smoothie bowls have been very popular for a while now. I was probably stuck under a rock for a really, really long time given that I hadn't seen these beauties before. But when I saw the first one, I had to look them up. There are so many combinations possible that it blew my mind. A smoothie bowl is bowlful of refreshing goodness with a choice of flavors and toppings only limited by your imagination. These smoothie bowls are like a cross between an ice cream, a soft serve, a frozen yogurt and a smoothie without the bad stuff. It is great for summer. And seeing how hot a summer it is turning out to be, these are going to be perfect for breakfast, Or once you see how good these are, a smaller portion as a snack.
Since this is my first smoothie bowl, I kept it simple. It is so easy to make and so refreshingly delicious, I know I'm going to be making more than a few more of these All you need is the fruit of your choice, milk and a little yogurt. Onto the toppings. You could use your choice of cereal, granola, nuts, seeds, chocolate chips pretty much whatever you feel like.
So go ahead and give these bowls a try. They will be a hard summer option to beat. You know you'll be seeing a few more of these. Oh, have I mentioned these just take a couple of minutes to make. Its a winner all the way.
Also, I have news. I have finally been bitten by the Instagram bug. I hope you can join me there. My Instagram username is @TheAspiringHomeCook. You can find the recipes from this blog making an appearance there at #theaspiringhomecook. Have you tried a recipe from this site. Post a picture on Instagram with #theaspiringhomecook and tag me in the picture to be featured in my feed.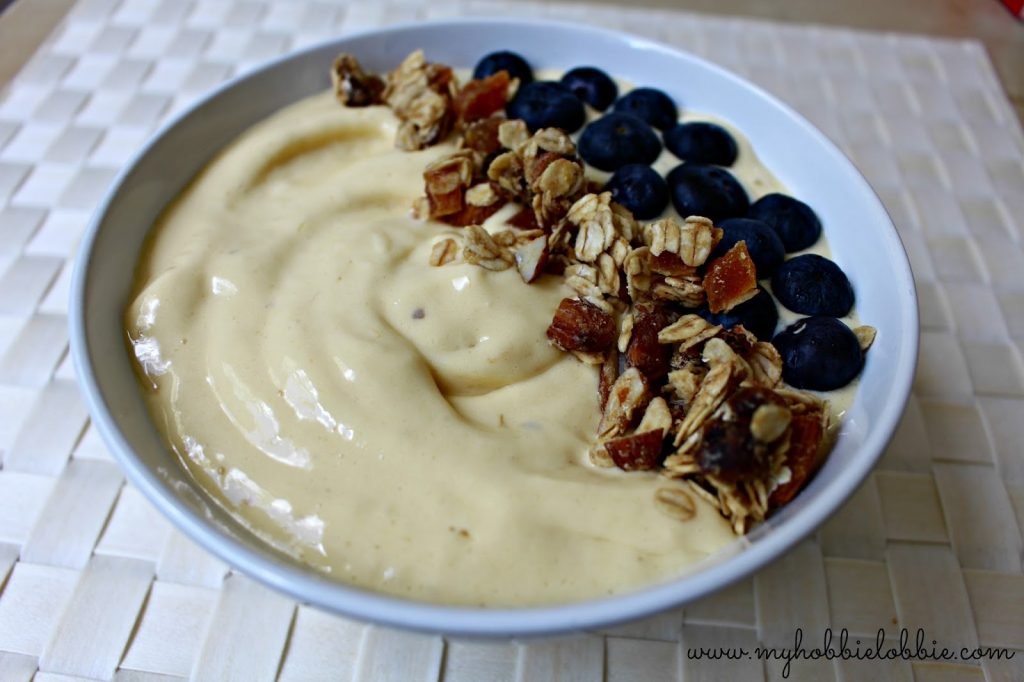 Mango Smoothie Bowl
Serves 1-2
1 cup frozen mango cubes
1 banana, frozen
1 cup milk
4 tbsp Greek yogurt
For the toppings –
A few fresh blueberries
Peanut butter granola
Place the mango, banana, milk and yogurt in a blender and blitz on slow at first.
Scrape down the sides and blitz till you are left with a soft serve consistency.
Pour the smoothie into a bowl.
Top off with fresh blueberries and some granola.
Serve chilled.
Oh yes, here's a second
SRC
reveal for the month of August. This is not my usual reveal with Group A. That still happens on the first Monday of every month. This month the Club has decided to have a little extra fun. The entire club comes together across all Groups for a Themed Reveal Day. The theme this month was Back to School. In this reveal, you can expect to see quick breakfast or dinner recipes, after school snacks and even creative lunchbox ideas.
For this reveal, I was assigned Michaela's blog – An Affair from the Heart. Michaela is a girl after my own heart. She doesn't just cook up some amazing food, she used to have an online scrapbooking business. She enjoys family time and loves having extended family around. Her latest creative outlet is in the form of entertaining. You will find loads of ideas on her blog. I was tossing between these Pizza monster sandwiches, Double Chocolate Banana Muffins, S'mores Yogurt and a Pineapple Kiwi Smoothie. I went with the smoothie. It will be perfect as a quick, delicious and nutritious breakfast or an after school snack. When its hot outside, nothings better than a nice tropical smoothie. Or if you are like me and live in the Southern Hemisphere and are waiting eagerly for Spring to get here, this smoothie is bound to take you straight to summer atleast for a few minutes.
This smoothie is easy to make and is full of fruity goodness and only used natural honey as a sweetener. That's a win in my book. It was a glassful of deliciousness and I was truly amazed at how thick it turned out. I must admit, in my house it is usually my husband who whips up smoothies for us. Irrespective of what he puts in them, he always manages to make a perfect smoothie and I usually dont have results as good as he does, so I just leave it to him. But after making this smoothie all by my lonesome, I am eager to try out new combinations now. Thank you Michaela for my new found smoothie mojo. I couldn't wait to use my new milkshake glasses and though I know this is a smoothie and not technically a milkshake, I still wanted to use them.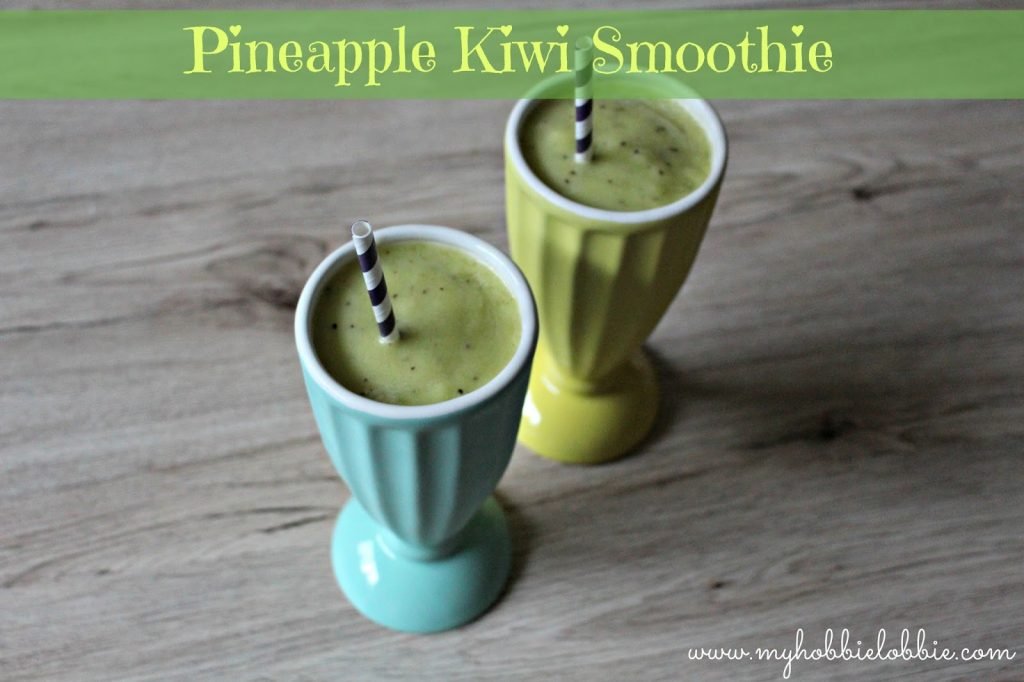 Pineapple Kiwi Smoothie
Serves 3
2 cups frozen pineapple chunks
2 kiwis
1/2 – 1 cup of pineapple juice (depending on how thick you want the smoothie)
2 tbsp raw honey
Blitz everything in a blender.
Use the pineapple juice to get everything started. Start with about half a cup and add more depending on how thick you want the smoothie.
If you are using fresh pineapple pineapple, add some ice to the blender.
Serve up in some pretty glasses.
Enjoy!
Is it too early to be starting with Holiday goodies? Is a milkshake even an appropriate holiday treat? Well the answer is 1) Its never too early to start trying out Holiday goodies and 2) Yes – especially when you live in a place that has a Summer Christmas.
This month for the SRC reveal, I was assigned Nicole's blog, Daily Dish Recipes. I've admired Nicole's blog for years and then somehow in the recent past I lost touch with it. I was so excited to learn that I was assigned her blog this month. Choosing a recipe to make for the reveal was not easy. After shortlisting a few, I was left with 23 recipes and after tossing to and fro between them for a few days I was no closer to picking one. The only thing that helped me decide this month was the weather Gods. We're smack bang in the middle of our first heat wave of the season, and we still have 2 months of Spring to go, Yikes!!! I needed to pick a recipe the would cool us down and would involve little or no cooking. I quickly looked through my shortlist and I was down to 2 recipes – Homemade Fruit Irish Cream Sodas and Gingerbread Milkshakes. I had pinned the Irish Cream Sodas to try a couple of years ago and I fully intend trying it out. But in the end, my love for Christmas won and I went with the Gingerbread Milkshakes. I wanted to have a nice cool drink to serve up around the holiday season. This milkshake was really delicious, I can see myself serving this at other times of the year too. There are just two components to this recipe, making the gingerbread syrup and then blending everything together. Making the syrup was really easy and my whole house smelled like Christmas. The flavours were beautiful, but I will make the syrup stronger the next time, that way I wont need to add too much and will be able to control the sweetness. But its an absolute winner of a recipe. Thank you Nicole 🙂 I halved the recipe and those are the quantities mentioned below. I made absolutely no changes (except leave out the whipped cream for the topping) and was very happy with the result.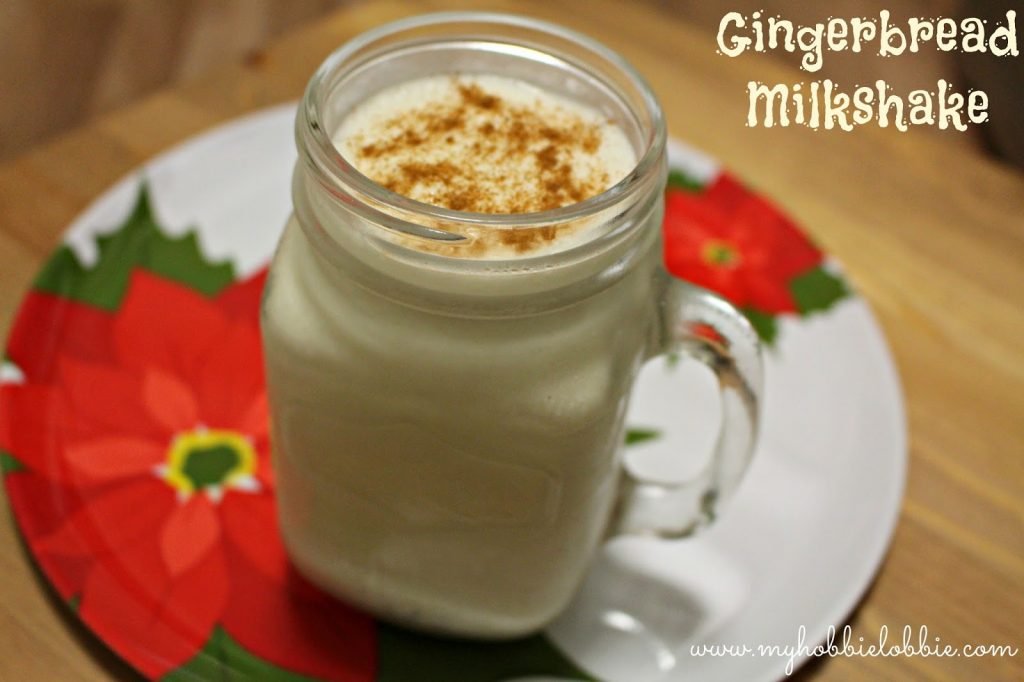 Gingerbread Milkshake


For the syrup:
1 cup water
3/4 cup sugar
1 1/2 tsp ground ginger
1/4 tsp vanilla extract
1/4 tsp ground cinnamon
For the milkshake:
30 ml milk
210 ml French Vanilla ice cream
Ground cinnamon, to sprinkle over
In a large saucepan, mix the water, sugar, ground ginger, vanilla and ground cinnamon and bring the mixture to a boil.
Once it has started boiling, lower the heat to a simmer and let the syrup simmer for about 20 minutes, stirring occasionally.
Store in syrup in a jar as you will have syrup left over.
In a blender, mix 1-2 tbsp gingerbread syrup, the milk and the ice cream and blend well. Taste and add more syrup if needed and blend well.
Pour into glasses and spinkle ground cinnamon on top to pretty it up.
Serve up!
Don't forget to check out what the other Group A members have posted this month.
Welcome to this month's edition of the
Secret Recipe Club
, what we lovingly call the SRC. For those of you visiting my site for the first time, SRC is a fun group of bloggers that come together once a month, and prepare one recipe from a pre-assigned blog and write up a post about it on the reveal day. Its sort of a Secret Santa for food bloggers.
This month, I was assigned the blog,
BC Mom's Kitchen
. What a fun blog. Anna, aka BC mom is a girl after my own heart. She looks for recipes that are quick and easy to make, without compromising on flavor. That is my food mantra, the kind of food I love to cook. After looking around for a bit, two recipes caught my eye, one was her recipe for
Stuffed Chicken Breasts
(which I will try soon, I've picked up all the ingredients for it) and a curious recipe called
Iced Caps
.
With summer kicking in here, I decided to go for a nice chilled treat – the Iced Caps. I've never heard of it called by that name before, but it looked like an interesting twist on the good old Cold Coffee, one of my all time favorites and its been that way for a long time. I've just not had one in ages. I couldn't let an opportunity like this pass me by. I had all the ingredients I needed at hand and chances are you will too. So if you're looking for a nice cool treat, you could be sitting down with a nice cool glass in sheer minutes. While it is simple to make, not to mention quick, don't let it fool you. I've made this a couple of times already and I get the feeling that I will make this a few more times, atleast, this summer. I've made it with and without the vanilla and I like it both ways. It turns out surprisingly creamy, yet not too heavy, with a nice kick of coffee. Thanks Anna, for the inspiration. This one is a keeper in my books.
I stuck to the recipe but I did make a double portion, because I knew my husband would want to try it out too. And try it he did. Let's just say we're really happy to have tried this recipe out.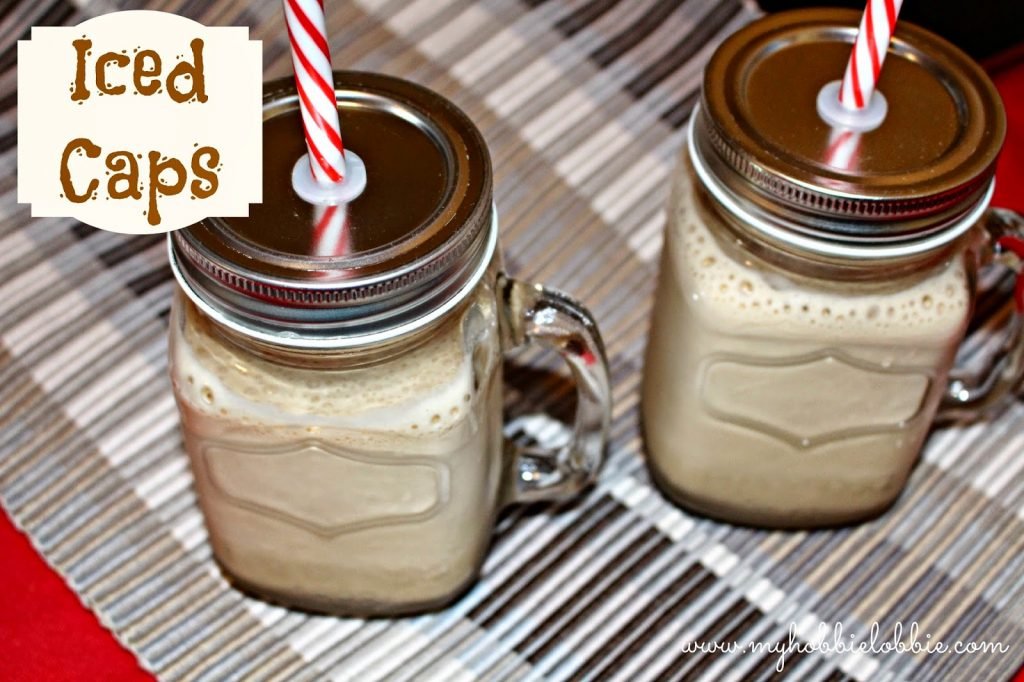 Iced Caps
(2 serves)
2 cups of milk (I used full cream)
2 tsp instant coffee
1 tsp vanilla
8 tsp sugar
12-15 ice cubes
Place all the ingredients in a blender and blitz till the ice has crushed.
Serve up chilled.
Enjoy!!!
This month for my
SRC
reveal, I was assigned Leslie's blog,
La Cocina de Leslie
. If you haven't visited her blog yet, let me ask to go over right now and check it out. Don't worry, this post will still be here when you get back. I was amazed at the collection of delicious recipes on her blog. I found myself drooling at all the Mexican fare on her blog. I can't wait to try a few of them out. The way things worked for me was there were a few things at play – work is super busy at the moment, that coupled with the usual chores at home, I haven't have the time to stop and breathe. At the same time, the weather has warmed up quite a bit at the moment. We seem to have jumped from winter to summer in about a week. I would've liked a longer Spring. But this means we have lots of delicious berries to work with. I needed something yummy and quick to make. So when I saw Leslie's post on
Strawberry Oat Smoothies
, I knew I had to try it.
Usually my husband is the one who whips up the smoothies in our house. I have also consciously started taking some juice or a homemade smoothie to work over the last couple of weeks. Its been a nice change and has helped me lay off the coffee and give me a burst of energy that I need. I just made a couple of changes to the recipe for this smoothie like leaving out the cinnamon and I also cut down the honey to half. You could adjust the sweetness to your liking. I would like to try it soon with the cinnamon and see how that turns out. Let me tell you a little about this smoothie. Even though it didnt have any cream, yogurt, ice cream or avocado, it turned out nice and creamy and that was a pleasant surprise. I reckon I have the oats to thank for that. They also give the smoothie good substance and a glass of this great stuff will keep you going for a while. I have a punnet of blueberries that I will use to make another batch of these smoothies. Thanks Leslie for introducing me to a great new twist on the smoothie. 🙂


Strawberry Oat Smoothie
(Makes 2)
1 1/2 cup cold milk
12-15 strawberries
4 tbsp. dry oats
2 tbsp. honey
Place all the ingredients in the bowl of a food processor and puree till smooth.
Pour out into a glass and enjoy!!!
Picking up where we left off with the Bursting Berry Muffins, I thought it would be a good idea to use up some more of those frozen berries. I've been dying to have a good smoothie for a while now. The days have been consistently getting cooler here and we've had some wet spells too. So when we had a slightly warmer day than usual, I decided to make a Mixed Berry Smoothie, a farewell to Summer, of sorts. But I love the cooler weather. It usually means Christmas is around the corner, atleast it did when we were in Mumbai. The fact that its not is going to take a little getting used to here in the Southern Hemisphere. I still find it a little unusual to have a cooler Easter and a warmer Christmas. Anyway, I digress.
Back to this smoothie. Nothing could be simpler to put together. I used a packet of Nana's frozen mixed berries, a mix of blueberries, blackberries, raspberries and strawberries. I loved the flavors in this smoothie. It seriously made me wonder why I don't make them more often. Well, I guess it gives me something to look forward to when Summer is back. Another thing you mind want to consider is the seeds from the raspberries. I didn't care for the crunch of the seeds. If you're like me, you might want to consider leaving out the raspberries, but I think they add a nice flavor to the drink.
How do you deal with the seeds?
If you want to make a dairy free version, simply leave out the milk and yogurt and replace it with some fruit juice. I think that would be really delicious too.
We sat down to a nice big glass each after a particularly high intensity evening walk. My body was craving for something sweet and this was perfect. So much healthier than a soda and more delicious too.
Mixed Berry Smoothies
1 1/2 cup mixed frozen berries
1 ripe banana
1/2 cup of plain Greek yogurt
A splash of milk, optional (I needed a little to get the mix going in the blender.)
Sugar / Honey, to taste
Place all the ingredients into a blender and blitz till it reaches the desired consistency, nice and creamy.
I needed to add a little milk to get the blender going. Some people choose to use a fruit juice instead. You can use either.
Enjoy!
Here we are – Its already the month of May and the Indian Summer hasn't been kind to us at all. With ever soaring temperatures and insane humidity levels, we've been reeling with the heat. I can't wait for the rains to kick in. However, if there's something that can take my mind of the weather, its got to be the
Secret Recipe Club
. Month after month we have 4 reveals by 4 incredible groups of bloggers, each Group headed by a hostess, Jane, Suzanna, Angela and Sarah for Groups A, B, C and D respectively, and at the head of this massive project, we have our fearless leader April. Thank you ladies for the huge effort you make each month to add this wonderful element of fun to our lives.
For this month's assignment, I had Nicole's blog
The Daily Dish Recipes
. Nicole is a mom to 5 teenagers and a bunch of furbabies – 4 dogs, 2 cats and a hedgehog. I've wanted to be a part of a big family for as long as I can remember. You've got to head on over and check them out. The kids are adorable and do check out the pets – they're cutey-pies too. You think Nicole would have her hands full, just taking care of the household. No can do. Besides cooking, writing, blogging and photography, she does scrapbooking, crafting, DIY and home improvement projects. She also enjoys reading, music and movies. I'll let you in on a personal secret – I think I've partnered with Superwoman for this months SRC. 🙂 🙂 🙂 Nicole, you are my role model. How you get all this done, I can't begin to fathom, but you have inspired me to try getting a few more things done with my time. Its just the nudge I needed, so thanks a ton.
I had such a wonderful time going through this blog. Nicole's got so much to choose from. I'm dying to try out so many things from her blog. You won't believe it, but I've had her post on
Homemade Fruit Irish Cream Sodas
pinned months ago. I was so glad to bump into her blog again, since I'd almost forgotten about these beauties. I'm so gonna try them this summer. She has so many other wonderfully cooling drinks listed that its no surprise that I decided to go with one of her smoothies for this month's reveal. I made a couple of changes to the smoothie based on availability of ingredients. I subbed almond milk for regular dairy and I don't have access to sweet basil, homegrown or otherwise, so I left that out altogether. The recipe below reflect the changes I made. What I ended up with was so good. Healthy and perfect for this never ending heat wave we seem to be going through. I know this drink will make an appearance a few time again before the summer is done.
Melon – Cucumber Smoothie
(Serves about 4)
1 small Cantaloupe, skinned, deseeded and cubed (about 2 1/2 cups)
2 fresh cucumbers, skinned and thickly sliced
1 cup milk
2 tsp honey (you can add this to taste)
2 cups crushed ice
Blend all the ingredients except this ice, till smooth.
Add the ice cubes and blend again.
Pour into glasses and chill out!!!
document.write('