Have you had a glass of chilled sweet lassi before? If you have, you know how unbelievably yummy it is. If you haven't, you should try it. Its sweet, creamy, cold and have I mentioned yummy. And the best part is, you don't even have to plan a trip to an Indian restaurant to have a glass. If you have some plain, unflavored, unsweetened yogurt you can whip up a glass in minutes.
I fancied this glass up with some strands of saffron and some chopped pistachio. But even without it, this sweet lassi is just as good. Its a perfect way to cool down on a hot summer day. A glass of it is quite filling too, so it makes a nice snack by itself.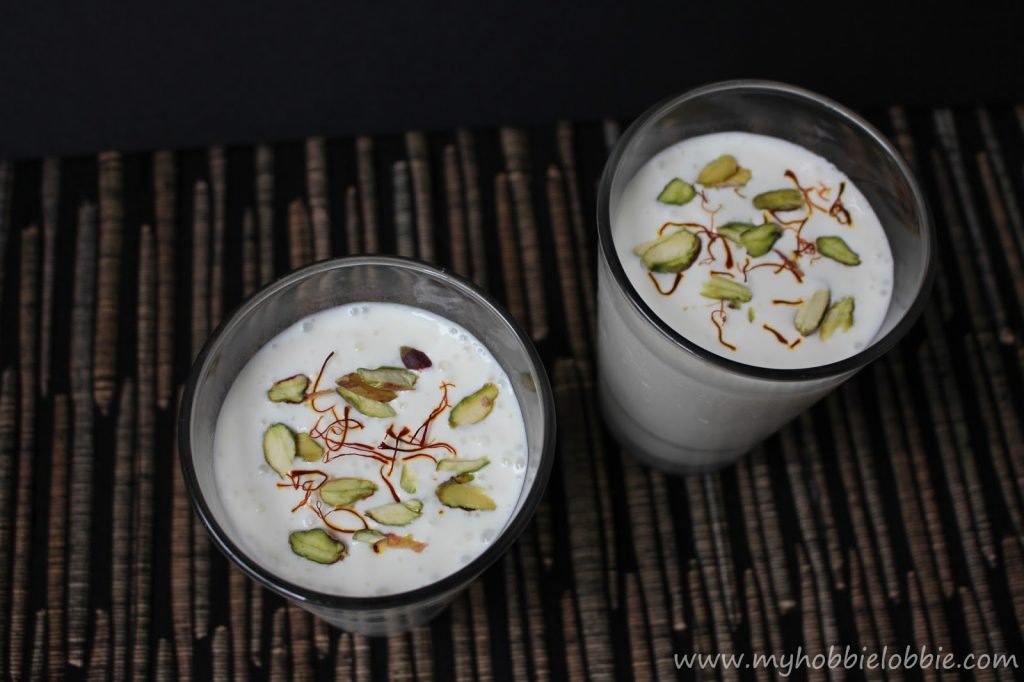 Sweet Lassi
Makes 2 glasses
1 3/4 cup of plain, unflavored, unsweetened yogurt
1/4 cup chilled water
2-3 tsp sugar (or to taste)
4-5 pistachios, sliced (optional)
A few strands of saffron (optional)
Put the yogurt, water and sugar in a blender and blitz till smooth and slightly frothy.
Pour into glasses.
If desired, sprinkle the saffron strands and sliced pistachio on top to garnish.
Serve chilled.
Here are some other lassi versions –
Strawberry Lassi
It's been a while since I've posted anything on the blog and I feel really bad about it. I've just not been able to find my cooking / baking mojo. See, we've had a long, hot summer; really long and really hot. I'm more of a winter person than a summer so I'm all ready for winter now. Unfortunately for us, we haven't had functional aircon for about four weeks now. So you can see why I haven't really been too active on here. I've had to figure out ways to deal with the insane heat levels that heat wave after heat wave brings to Sydney this year.
I was glad to have tried out smoothie bowls recently. They were my saving grace. Healthy, full of flavor and their amazing 'cool you down from the inside out' quality made them a regular occurrence in my kitchen. The first one I tried was this Mango Smoothie Bowl and this blueberry version was really delicious too. I had some blueberries that I should have finished sooner, but I didn't want to waste them so they went right in the bowl for some color. If you love blueberries, this treat is a must try if you are looking for a healthy summer cooler.
A few ingredients and a minute in the blender and a bowl is all you need to whip up this bowl of deliciousness, so I do hope you try it out.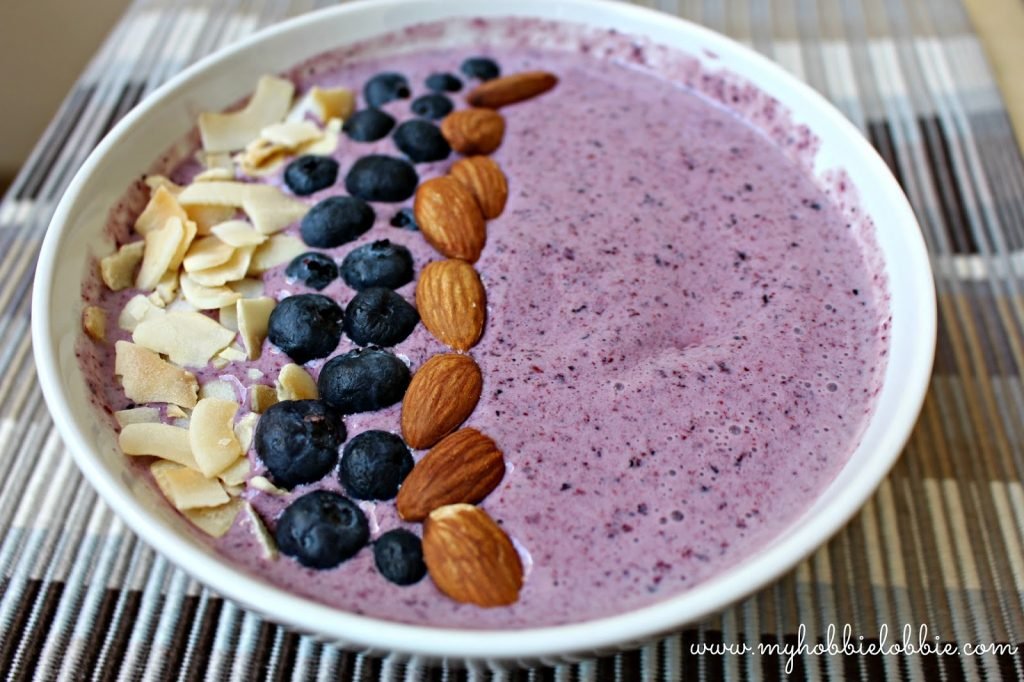 Blueberry Smoothie Bowl


1 ripe banana, frozen
1 cup frozen blueberries
1 cup milk
4 tbsp Greek yogurt
For the topping –
Sweetened coconut chips
Fresh blueberries
Almonds
Place the banana, blueberries, milk and yogurt in a blender and blitz on slow at first.
Scrape down the sides and blitz till you are left with a soft serve sort of consistency.
Pour this mix into a bowl.
Top with some sweetened coconut chips, fresh blueberries and almonds.
Serve chilled.
I can't believe its almost been a week since I last posted. I was just so proud that I'd managed to post regularly over the past couple of months, then the last few weeks took me completely by surprise. So many things came up all of a sudden, I barely had time to cook up our daily meals for us. I did make a few treats that I can't wait to share with you. I'm hoping things will be a bit more
back-to-normal
now. I have my fingers crossed. If you're wondering what I was so busy doing, don't fret, I will let you on to it really soon.
I'd made this ice cream a couple of weeks ago. After the success I had with the Mango Ice Cream, I decided I was definitely going to try out a few more options. I had this sudden craving for a roasted almond ice cream. It was all I could think about for a few days. I had a scoop @ 'Natural's' when we'd gone for a movie and just needed to have some again. After scouting the web for a while, I came across a version of this ice cream to be made in an ice cream maker, that could be easily adapted to make a No Churn version. The best part is that this recipe uses no sugar. You heard me alright, not a grain of sugar. Honey is the only sweetener used. What I realized is that this ice cream tastes best after it has spent a few days in the freezer. The flavors mellow and blend well and the roasted almonds add a lovely flavor and crunch to it. I hope you try this out sometime.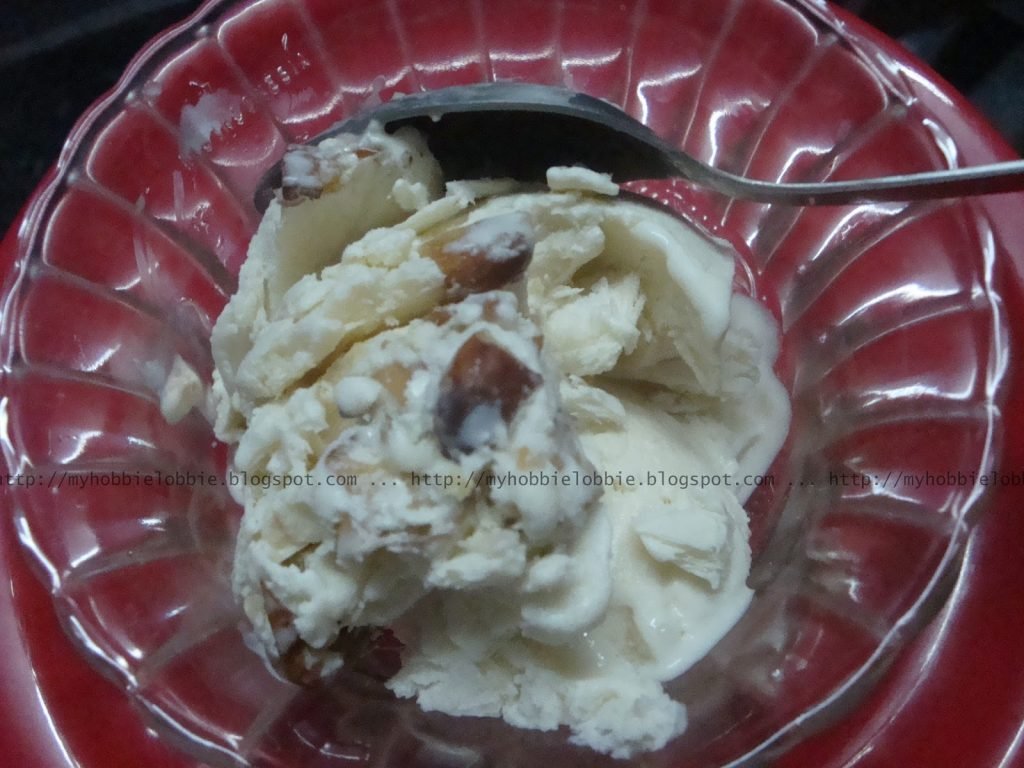 Honey & Roasted Almond No Churn Ice Cream
Adapted from: Chocswirl
500ml single cream
120-150ml honey (or to taste)
50g almonds
Spread the almonds on a baking tray and set it on the top rack of the over and grill till they've browned. Let them cool, then chop them roughly.
Whisk the cream and the honey till it has thickened a little.
Add the chopped roasted almonds and stir it in.
Pour into a freezer container and freeze for a few hours or till set.
Enjoy!
Notes:
The original recipe calls for it to be beaten every 45 minutes or so about 3-4 times. I did it just once and the consistency was nice and creamy. I'm sure it would've been fine even if I hadn't done this, since there was nothing with a high liquid content added to the cream.


This recipe is linked to –
Ice Cream Social 2011
Sweet Tooth Friday
Sweets for a Saturday