Goan sausage pulao is soul food for almost every Goan. And I definitely fall into that category. I've only been able to make this now, more than 5 years after we moved away from India, mainly because I haven't had access to a good Goan sausage. Goan sausages are called Chorize / Chorise and they are the spicier and tangier cousin of the Portuguese Chorizo. I recently tried making my own sausages at home and while I need to tweak the recipe just a tiny bit, I was pretty stoked with the results. They are the tastiest sausages I've had.
Anyway, on to the pulao. This pulao is a brilliant one-pot meal that comes together in a jiffy. You don't need to make your own sausages to enjoy this pulao. If you do, kudos to you. Otherwise, simply buy some good Goan sausages. Your pulao will only be as tasty as your sausages are. This pulao is a culmination of my
Peas Pulao
and my
Goan sausage chilly fry
, which by the way, make a stunning combination too.
Are you ready for it???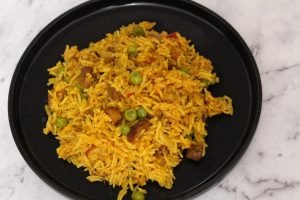 Goan Sausage Pulao
Serves 2
2/3 cup Basmati rice
1 tbsp oil
2 green cardamom pods
2″ cinnamon
8 black peppercorns
5 cloves
1/2 onion, chopped
1 chilly, finely chopped (or to taste)
1/3 tsp turmeric powder
1 large link of Goa sausages
1/2 tomato, chopped
1/4 cup green peas
Salt, to taste
Wash the rice in some water and drain. Repeat this 3-4 times. Then soak the rice in water for 30 minutes. The water level should be an inch above the level of rice. After 30 minutes, drain the rice, rinse through with some fresh water and drain. Your rice is now ready to be cooked.
Heat the oil in a vessel on a medium heat.
Add the whole spices (cardamom, cinnamon, peppercorns and cloves) to the oil and saute for about 30 seconds.
When the spices are nice and fragrant, add the onion and chilly. Saute till the onions have softened and turn translucent.
Add the turmeric powder and stir well.
Add the sausage and stir fry for a couple of minutes.
Add the tomato and cook till the tomato has softened.
Now add the rice and gently stir through, using either a wooden or silicon spoon, to prevent the grains from breaking.
One the rice has fried off a little for about a minute, and is coated well with all the spices add the green peas and 1 1/3 cup of room temperature water. (The ratio of rice to water should be 1:2)
Add salt to taste. (Remember the sausage also has some amount of salt in it.)
Stir well.
Cover and cook on medium heat till all the water has been absorbed by the rice.
Take off the heat and keep it covered. Let it rest for a couple minutes.
After a couple of minutes, fluff up the pulao gently with a fork.
Serve hot.
One whiff of this prawn pulao takes me back years, or is it a couple of decades back to when I was growing up (yikes, I feel old now). My mum used to make this pulao for us. I grew up in a house of prawn lovers. Yes, you heard that right. Mum has a few go to recipes for prawns – this
Prawn Chilly fry with Coriander speckled rice
(my absolute favorite), a Goan prawn curry (I still cannot get mine to taste like hers so I will get her to make me some for the blog) and this prawn pulao.
This prawn pulao is pretty amazing. It is a meal in itself served with a nice, light, fresh salad alongside. It comes together fast and easy and if you love prawns like us, you'll be glad to have this recipe to fall back on. Throw in a few drinks and you could make this to serve a crowd too. The recipe below makes 2 generous portions if served as a meal. If you intend making a larger quantity, you just need to keep in mind the rice to water ratio. As long as you use 1 portion of rice to 2 portions of water, you'll be fine. All the other ingredients can be multiplied and adjusted to suit your taste. As long as the rice and water ratio is right, you will be left with a perfect rice dish. It wont be mushy, the grains will be whole, the rice will be fluffy and all will be well.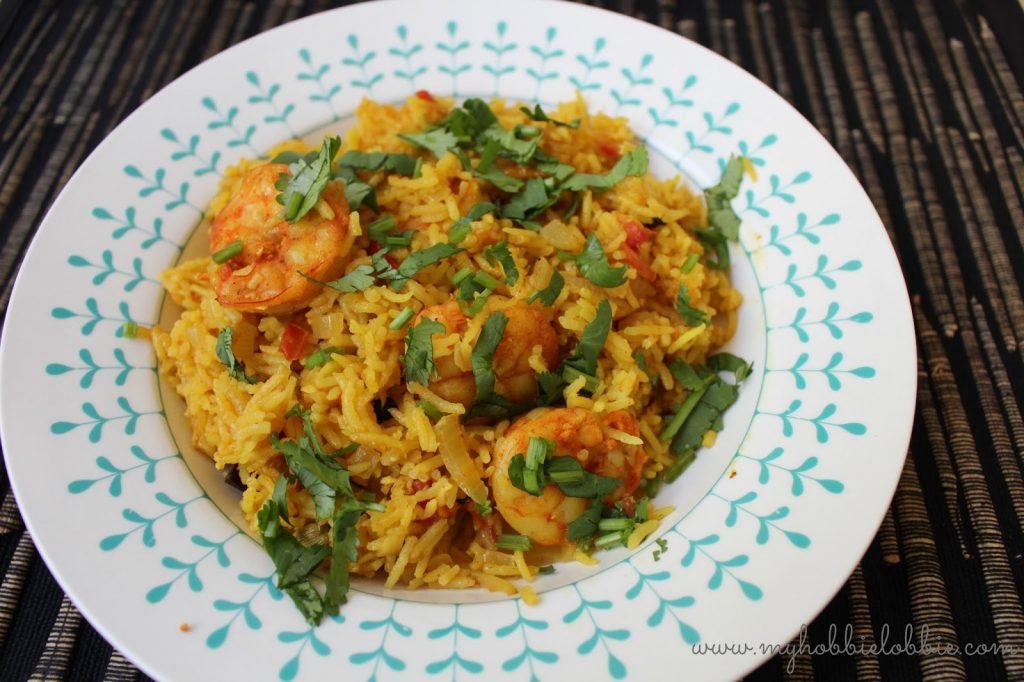 Prawn Pulao
Serves 2
For the prawns:
10-12 medium to large prawns, shelled and deveined (5-6 per person) (I used the local Aussie Banana Prawns, but you could use King Prawns or any other type you can get your hands on)
Salt, to taste
Lime / lemon juice to taste
A pinch of turmeric powder
1/4 tsp red chilly powder
1 tbsp olive oil
For the rice:
2/3 cups Basmati rice
5 cloves
2 bay leaves
2 cardamom pods
5 pepper corns
2 pieces of cinnamon, about an inch each
1 medium onion, diced
1 medium tomato, diced
1 tsp ginger garlic paste
1 green / red chilly, finely sliced (optional)
1/4 tsp turmeric powder
1 tbsp olive oil
Salt, to taste
1 1/3 cup water
1-1 1/2 tbsp fresh coriander leaves and stems, finely chopped, to garnish
Marinade the prawns with some salt, a little lime juice, turmeric and chilly powder and keep it aside for 15-30 minutes.
Wash the rice and drain the water. You will need to do this about 2-3 times, till the water runs clear.
Place a tablespoon of oil in a frying and and when it is hot, carefully place the prawns in the pan without over crowding the pan. Fry the prawns till they turn opaque with a little char and flip them over and let them char on the other side too. This takes just a couple of minutes, don't leave them unattended. You just want some color on the outside. They don't need to cook all the way because they will continue to cook with the rice. Take the prawns out of the pan and keep aside.
Heat a tablespoon of olive oil in the pot that you want to cook the rice in. Add the cloves, bay leaves, cardamom pods, pepper corns and cinnamon. In a few seconds, the spices will smell fragrant. Add the onions to the pot.
Saute the onions till they have softened.
Add the ginger garlic paste and let it cook of for a minute.
Add the turmeric powder and the sliced chilly and stir it up.
Add the tomato and stir well.
Drain the rice and run some fresh cold water through and drain it again.
Add the rice and the fried prawns to the pot and stir gently till the rice and prawns are coated with the spices. Season with some salt and add the water.
Stir a little and check the seasoning. I taste a little of the stock and see if more salt is needed.
When the water comes to a boil, cover the pot and lower the heat to a simmer. Let it cook till all the water is absorbed. As soon as all the water is absorbed, take the pot of the heat and leave aside covered for a couple of minutes. Loosen the rice gently with a fork.
Serve hot and sprinkle the chopped coriander over the rice just before serving.
Enjoy!!!