Today, I have sort of a confession to make. Okra or Ladyfingers or Bhindi / Bhende (in Hindi / Konkani) whatever name you know it by, happens to be one of my favorite vegetables. There, I've said it out loud. Sadly, this intriguing vegetable has a bad reputation. It is infamous for being slimy and tasteless. I am going to try and persuade you otherwise. Yes, okra tends to when raw. Because of that a lot of folks simply won't work with it. I've had the opportunity to try this vegetable in many different forms. If you've been here a few times, you know my Mum is a great cook. She would use these is vegetable curries and lentils stews (sambhar), stuff them with rechaad masala and fry them and make a stir fry (bhaji) two different ways. Since then I've tried atleast 3 more ways to cook them, like this
Kurkuri Ajwaini Bhindi
. That's how much I love okra. And I'm here to tell you that if it is cooked well, it isn't slimy at all. And it is tastes amazingly delicious.
In Goan homes, this is a very popular way to cook okra. Just a few simple ingredients go into the pot and result in a beautiful stir fry. Serve this vegetable hot with some chapatis or even as a side dish to some fish curry and rice for a complete Goan meal.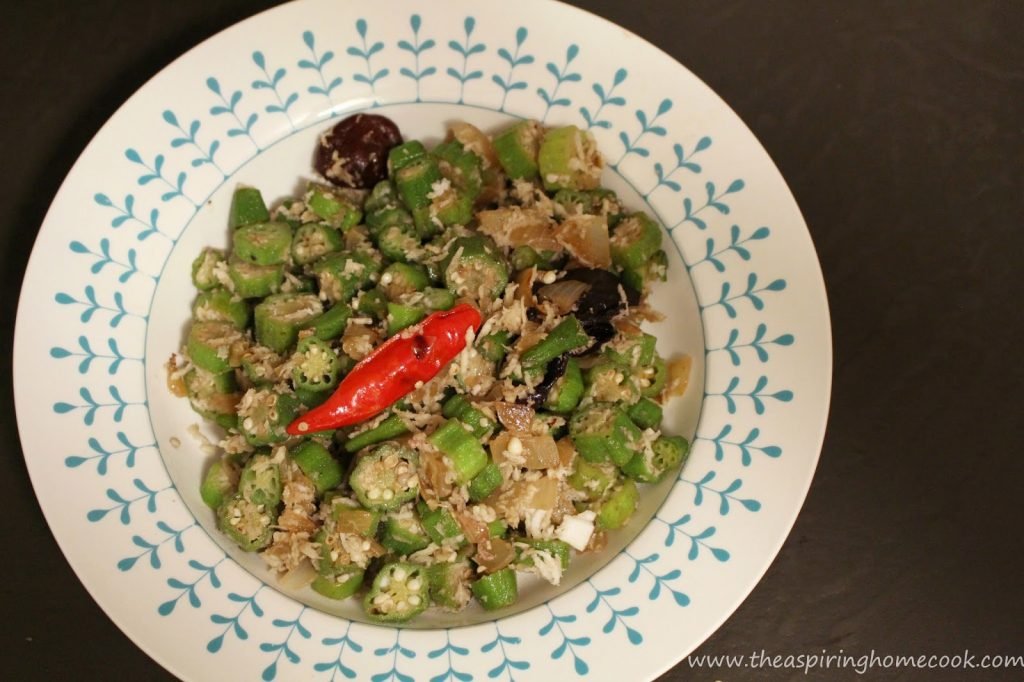 Goan Okra Stir Fry / Bhende Solantule
250gms okra
1 medium onion, diced
2 birdseye chillies, slit
5 pieces of Kokum
1/4 cup grated coconut
Salt, to taste
1 tbsp olive oil
Wash and dry the okra. Cut off and discard the heads. Cut the okra into slices.
Heat the oil in a pan.
Add the chillies to the pan and saute it for a few seconds.
Now add the chopped onions and stir fry till the onion softens and the edges of the pieces of onion start turning brown. Now add the okra and kokum to the pan and saute for a couple of minutes, stirring every now and then to ensure it doesn't stick to the pan or burn.
Add salt to taste and stir and continue to cook uncovered till the edges of the okra slices start turning a light brown.
At this stage add a touch of water (a couple of tablespoons) to help the vegetable cook. Lower the flame, cover the pan and simmer for a few minutes.
Stir the contents of the pan and check for seasoning and and when the okra is tender, add the coconut and stir through. (When you first uncover the pan, if the okra hasn't cooked through and the liquid has been absorbed, add another small splash of water and continue to cook till the okra is tender).
Cook for another minute or till the coconut has warmed through.
Serve hot.
Ever since we moved to Australia, I've found it very difficult to get my hands on ladyfingers (also called okra). Its only in the last couple of weeks, I've found it at not just one, but two locations. This makes me very happy.
We cook okra in a number of ways – in a prawn curry, pan fried in a spicy red rechaad masala, tawa style, and from now on I'm happy to report that as a once in a while treat I will use this recipe for a fantastic crispy version. It is an extremely delicious recipe, albeit not the healthiest one and I would recommend not making this way too often as it starts off with deep frying the okra. The resulting okra is super crisp and makes a wonderful accompaniment to some dal tadka or khichdi or just by itself. My husband got through half the quantity I made even before we sat down for lunch. I'll take that as a win. I love this recipe not just because of the crispiness, but I happen to love the flavour combination of chaat masala with the carom seeds. So I hope you try it out too and enjoy it as much as we do.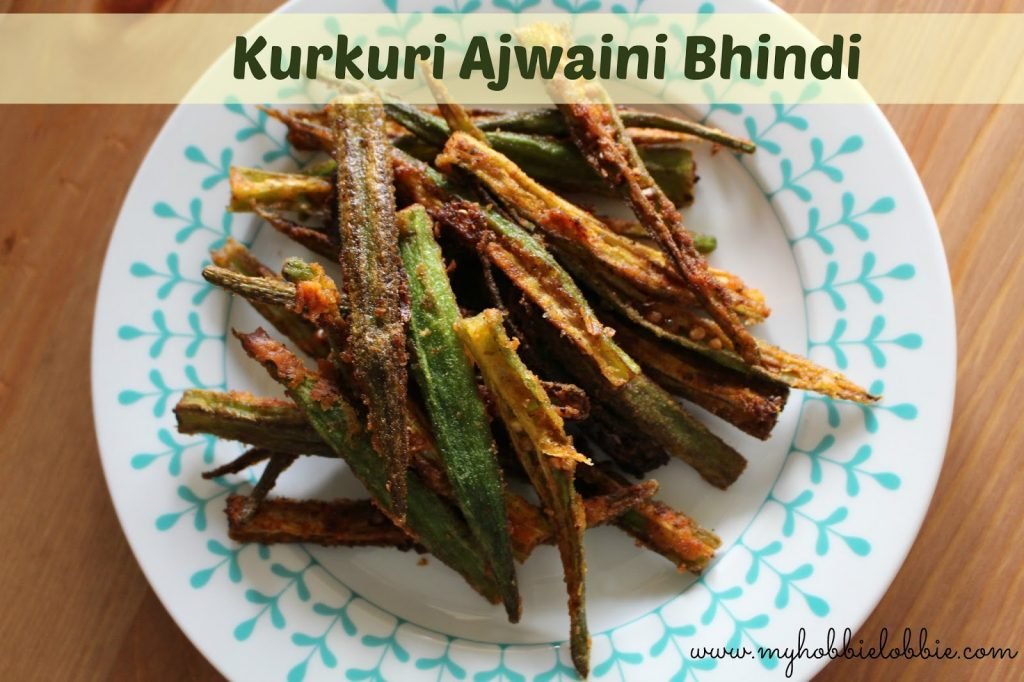 Kurkuri Ajwaini Bhindi

250g lady fingers / okra
1/2 tsp carom seeds / ajwain
1/4 tsp turmeric powder
2 tsp chaat masala
3 tbsp besan (chickpea flour)
1/2 tsp salt
1/2 tbsp lemon juice
1 tsp chilli powder
Oil, for deep frying
Wash and pat the okra dry.
Cut the head off and discard. Cut the okra into quarters lengthwise.
Heat oil in a wok for deep frying.
Sprinkle the ajwain, turmeric powder, chaat masala, salt and the besan on the okra.
Squeeze the lemon juice and toss it well to coat the okra evenly.
Add half the okra to the hot oil carefully and fry on medium heat till crisp. Drain on some absorbent kitchen paper. Repeat with the remaining okra.


Enjoy hot.
**Note: Mix all the ingredients just before frying. Do NOT do this in advance as the salt with just draw out the liquids and result in a soggy batch, which you don't want.