Up until a few years ago, I wasn't the biggest fan of khichdi. At the time, I had never made it myself and the few versions that I tried, always fell short. That is till I tried Gloria's recipe. Gloria used to be my brother-in-laws housekeeper and she was very skilled in the kitchen. While I didn't have the opportunity to spend to much time with her, this was one recipe, she very willingly shared with me. I have tweaked it to suit our tastes and I love this version. To me this khichdi has now become comfort food. So, whenever I'm under the weather or even if its just a cold, wet day, I feel myself yearning for a bowl of this moong dal khichdi. Have I mentioned that this is a ridiculously easy recipe? Well, it is and today I'm sharing this little gem with you. I hope you try it out and like it as much as we do.
Moong Dal Khichdi
Serves 2
1/3 cup basmati rice
1/3 cup moong dal
1 tbsp oil
1 chilli, cut into large pieces
1/2 a medium sized onion, chopped
1/4 tsp. turmeric powder
Freshly cracked black pepper, to taste
Salt, to taste
Fresh coriander, chopped (leaves and stalks)
For the tempering –
1 1/2 tbsp ghee (clarified butter)
3 cloves garlic, finely chopped
1/2 tsp cumin seeds
Wash the rice and the dal separately. Repeat this process a few times, till the water runs clear. Soak the rice and the dal separately. The rice needs to soak for about 20 minutes and the dal for about 10 minutes. (So I soak the rice first, and 10 minutes later, I soak the dal). Drain the water in each of the bowls and run some fresh water through and drain again.
Heat the oil in a vessel on medium heat.
Add the chillies and saute for a few seconds.
Add the onions and saute till they have softened and are a little translucent.
Add the pepper and turmeric powder and stir well, to coat the onions.
Add the rice and the dal and stir through.
Now, add 2 1/3 cup of water. (I use a 1:3.5 ratio. That is, 1 part rice to 3.5 parts of water. Towards the end if you feel the need to add some more water, you can. I added another 1/3 cup towards the end. So this time I used a 1:4 ratio. The quantity of water will depend on your rice. So start off using 3.5 parts)
Add salt to taste and stir through. Once the salt has dissolved, you can taste the liquid in the pot and see if it is seasoned to your liking or add more salt, if needed.
Bring the water to a boil. Then cover the pot, reduce the heat to a simmer and let the rice and lentils cook off till tender and most of the liquid has been absorbed. (At this point if you feel the need to cook it further, add a little more water and continue cooking as stated above.)
When done, take off the heat and start working on the tempered spices.
In a small vessel, melt 1 1/2 tbsp ghee.
Add the chopped garlic and stir around. Let this cook gently till a little of the rawness of the garlic goes away.
Then, add the cumin seeds and gently cook a little more. This will infuse the ghee with beautiful flavors. Make sure to watch carefully, as you don't want the garlic to take on any color or burn.
Add this to the pot of khichdi and stir through.
Finish off with some chopped coriander and stir to distribute well.
Serve hot. Garnish with a little extra coriander and serve with a pickle of your choice. I recommend a Mango Chundo / Chunda (a sweet and slightly spicy Mango pickle).
Enjoy!
Hello! It's me. I'm so glad you are still here. I've been missing on the blog recently as we've just moved house. But I'm happy to report that after a couple of insane weeks of packing, cleaning and unpacking, we are mostly settled in and I'm back to my regular routine. While this was happening, winter seems to have well and truly set it. You won't find me complaining, because I LOVE winter. Its the season for soups, stews, warm puddings and lots of baking – all my favorite kind of things.
Speaking of warm puddings, I have a list of them I want to make this winter and hope the next few weeks will give me an opportunity to share them with you here. I have always wanted to try making some rice pudding (known as kheer in India) at home. Each time I walk by the frozen dessert section at Coles, I'm tempted to pick up a pot of rice pudding. But I don't, because surely it couldn't be too hard to make some at home. The problem is, I just never got around to doing it. Until now.
Usually rice pudding is made using uncooked rice. I recently found myself with some leftover plain Basmati rice from lunch and I didn't want it to go to waste. Waste not, want not, right? So I decided that I was going to try and use it to make some rice pudding instead. After a little searching, I found just the recipe I was looking for. A no-nonsense approach to a rice pudding that used leftover rice. You've probably ended up with some extra rice from an Indian takeout lunch / dinner on occasion. Don't throw that stuff out. Transform it into this glorious, rich and creamy rice pudding in no time with a few pantry staples.
BTW has anyone seen the latest mini series on ABC called War on Waste. Such an eye opener. It is shocking how much food is wasted regularly in households, among other wastage. This is a great way of reducing household food wastage. I love finding ways to reduce wastage. Do you have any recipes that use leftovers and cut down on food wastage? Tag them on Instagram using #MyWarOnWaste and lets help inspire people to reduce waste.
So go ahead and try it out. You can serve it as a beautiful tea time treat or as dessert. Any leftovers can be refrigerated. You can enjoy your rice pudding both warm or cold. Personally, I prefer mine warm, which works really well on colder days. I'm really glad I tried making this pudding at home. Who knew that something this tasty and satisfying could be this simple to make.
My rice pudding has a yellowish tint because I added a few strands of saffron to the pot while cooking it. You can leave it out and it will look like regular rice pudding.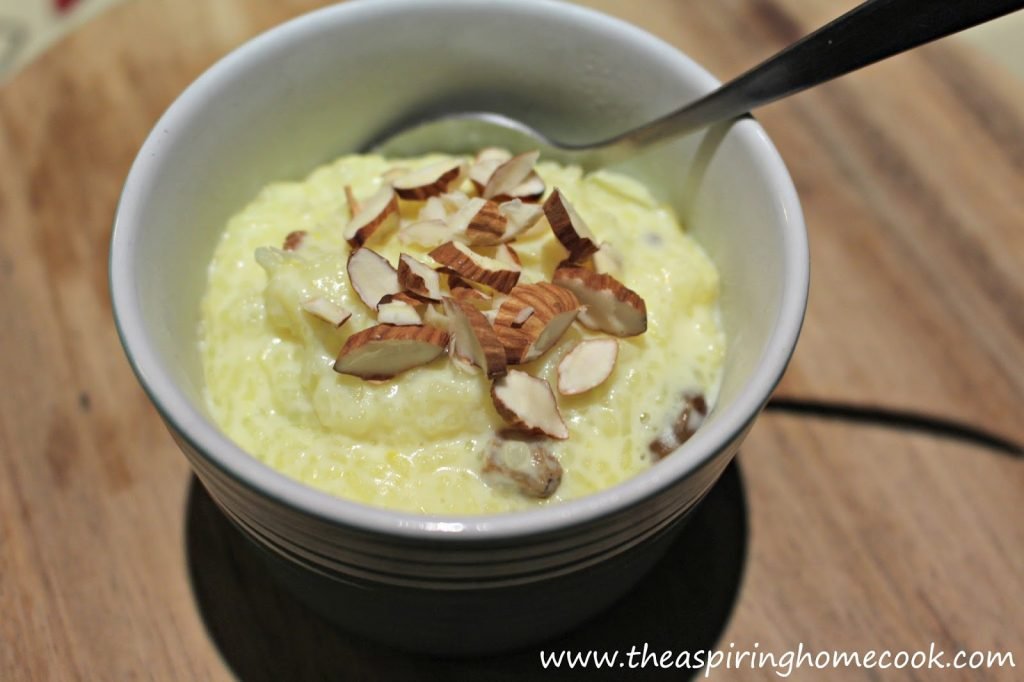 Rice Pudding
Adapted from: Fatima Cooks


1 cup cooked rice (I used leftover Basmati rice)
2 cups milk
1/4 cup sugar, or to taste
1/4 tsp cardamom powder
A few strands (4-6) saffron (optional)
A few raisins
A few almonds, roughly sliced / chopped
Place the rice, milk, sugar, cardamom powder and saffron strands in a pot.
Cook on medium heat, stirring continuously but gently. Scrape down the sides and the bottom of the pan regularly. Cook till the milk has reduced and has become a thick, cream like consistency. It is okay if some of the rice grains break down. It helps thickening the pudding. But don't mash the rice completely. You want a little texture in there.
How thick you want the pudding to be, is upto you. Just before it is done, add the raisins. Turn it off the heat when it has thickened to your liking. I find that heating the raisins through the pudding plumps them up a bit and makes them extra yummy, rather than just placing the raisins on top.
Serve in bowls and top with some sliced / chopped almonds.
Enjoy!!!
If you want more ideas like this to help reduce food wastage and save money, follow me on Pinterest here.
One whiff of this prawn pulao takes me back years, or is it a couple of decades back to when I was growing up (yikes, I feel old now). My mum used to make this pulao for us. I grew up in a house of prawn lovers. Yes, you heard that right. Mum has a few go to recipes for prawns – this
Prawn Chilly fry with Coriander speckled rice
(my absolute favorite), a Goan prawn curry (I still cannot get mine to taste like hers so I will get her to make me some for the blog) and this prawn pulao.
This prawn pulao is pretty amazing. It is a meal in itself served with a nice, light, fresh salad alongside. It comes together fast and easy and if you love prawns like us, you'll be glad to have this recipe to fall back on. Throw in a few drinks and you could make this to serve a crowd too. The recipe below makes 2 generous portions if served as a meal. If you intend making a larger quantity, you just need to keep in mind the rice to water ratio. As long as you use 1 portion of rice to 2 portions of water, you'll be fine. All the other ingredients can be multiplied and adjusted to suit your taste. As long as the rice and water ratio is right, you will be left with a perfect rice dish. It wont be mushy, the grains will be whole, the rice will be fluffy and all will be well.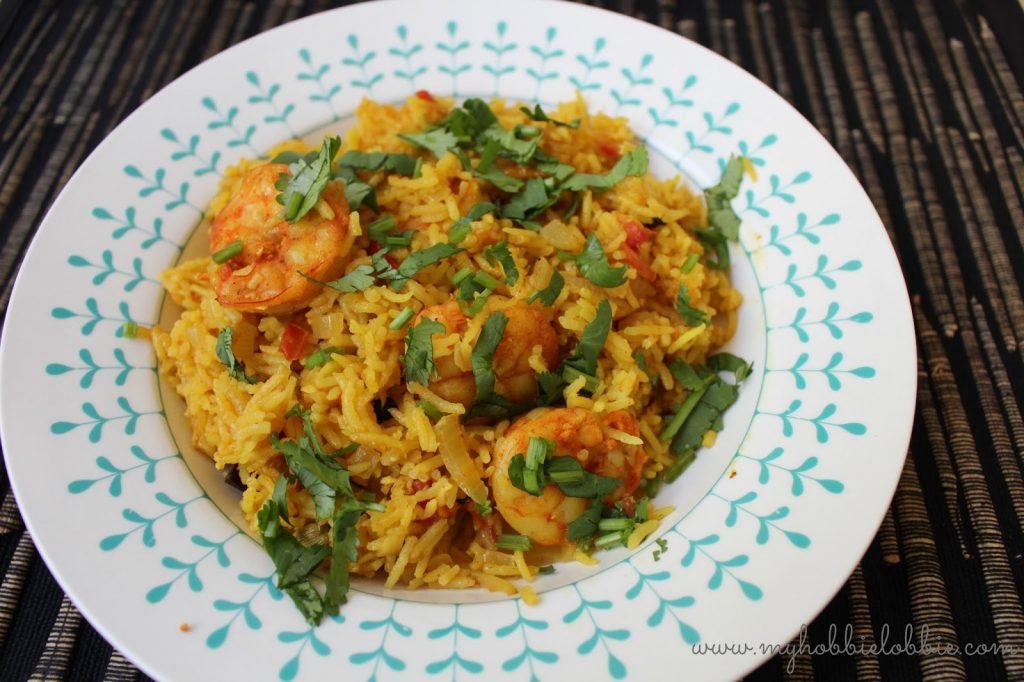 Prawn Pulao
Serves 2
For the prawns:
10-12 medium to large prawns, shelled and deveined (5-6 per person) (I used the local Aussie Banana Prawns, but you could use King Prawns or any other type you can get your hands on)
Salt, to taste
Lime / lemon juice to taste
A pinch of turmeric powder
1/4 tsp red chilly powder
1 tbsp olive oil
For the rice:
2/3 cups Basmati rice
5 cloves
2 bay leaves
2 cardamom pods
5 pepper corns
2 pieces of cinnamon, about an inch each
1 medium onion, diced
1 medium tomato, diced
1 tsp ginger garlic paste
1 green / red chilly, finely sliced (optional)
1/4 tsp turmeric powder
1 tbsp olive oil
Salt, to taste
1 1/3 cup water
1-1 1/2 tbsp fresh coriander leaves and stems, finely chopped, to garnish
Marinade the prawns with some salt, a little lime juice, turmeric and chilly powder and keep it aside for 15-30 minutes.
Wash the rice and drain the water. You will need to do this about 2-3 times, till the water runs clear.
Place a tablespoon of oil in a frying and and when it is hot, carefully place the prawns in the pan without over crowding the pan. Fry the prawns till they turn opaque with a little char and flip them over and let them char on the other side too. This takes just a couple of minutes, don't leave them unattended. You just want some color on the outside. They don't need to cook all the way because they will continue to cook with the rice. Take the prawns out of the pan and keep aside.
Heat a tablespoon of olive oil in the pot that you want to cook the rice in. Add the cloves, bay leaves, cardamom pods, pepper corns and cinnamon. In a few seconds, the spices will smell fragrant. Add the onions to the pot.
Saute the onions till they have softened.
Add the ginger garlic paste and let it cook of for a minute.
Add the turmeric powder and the sliced chilly and stir it up.
Add the tomato and stir well.
Drain the rice and run some fresh cold water through and drain it again.
Add the rice and the fried prawns to the pot and stir gently till the rice and prawns are coated with the spices. Season with some salt and add the water.
Stir a little and check the seasoning. I taste a little of the stock and see if more salt is needed.
When the water comes to a boil, cover the pot and lower the heat to a simmer. Let it cook till all the water is absorbed. As soon as all the water is absorbed, take the pot of the heat and leave aside covered for a couple of minutes. Loosen the rice gently with a fork.
Serve hot and sprinkle the chopped coriander over the rice just before serving.
Enjoy!!!
Today I'm going to share with you a much loved recipe. This one packs a lot of flavour and comes together easily. Most of the work involved actually is prepping the veggies. And yes, this fried rice has more than its fair share of veggies, which makes it quite nutritious. If you've never made fried rice at home before, I urge you to try it out. You'll ditch the take-out version for the home made one instantly.
What I also like about this fried rice is you can pretty much use whatever you have on hand. You can switch up the veggies. I almost always use onion, spring onion, capsicum and carrot. I also add zucchini, snow peas, cabbage and baby corn if I have any of them on hand. The same is the case with the protein. Almost always I use a little bacon for flavour and some egg. Then I either use prawns, shredded chicken and sometimes even ham depending on what I have available at the time. So like you see, this fried rice is one of those meals you can put together almost any day of the week, even when your grocery run is due the next day. Apart from cooking the rice, it comes together in one pan – I now use my wok and love it.
This is the quickest way I find to get this on the plate. Soak my rice and when the rice is soaking and cooking, I prep my protien and veggies. When everything is ready, the final dish takes about 10 minutes tops to put together. Its one of my favourite quick and easy weeknight meal options. I tend to add a lot of vegetables and I like it that way, you could drop the quantity of vegetables to suit your liking. This is just a guide to making this fried rice and the quantities are suggestions. Go with what you think you'll enjoy and adjust to your liking.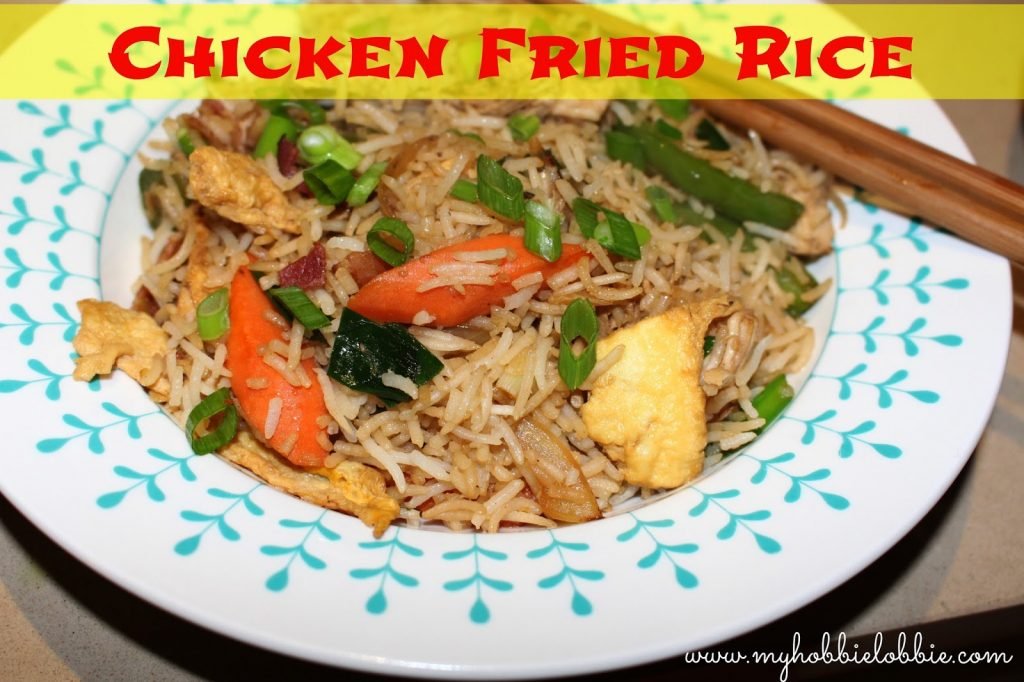 Chicken Fried Rice
Serves 3 (as mains)


1 cup basmati rice
2 cloves garlic, finely chopped
1 birdseye chilly (optional – we enjoy hot food but you can leave it out if you dont)
3 spring onions
1 red pepper
2 carrots
6-8 green beans
A handful of finely sliced cabbage (about a cups worth)
2 eggs
3 rashers of bacon (I used streaky bacon)
A cup of shredded chicken (you could used poached, roast, or rotisserie chicken)
A couple of tablespoons of oil (vegetable, olive or sunflower or any other cooking oil of your choice)
1 tsp sesame oil
Salt, to taste
Freshly cracked black pepper, to taste
Approx. 1 tbsp soy sauce (I use salt reduced soy)
1 tsp rice wine vinegar
Rinse the rice a couple of times and drain. Soak in fresh water at room temperature for about 20-30 minutes.
Bring a pot of water to the boil (just like you would for pasta). Add a spoon of salt to the water and carefully add the rice. Cook the rice till almost done (al dente). Don't cook the rice through as it will turn mushy once you add it to the wok.
Drain the cook rice and using a fork lightly loosen the grains and leave to cool.
In the meanwhile, clean and chop all your vegetables. I like to chop mine in like sized pieces. You could julienne everything or slice it on the diagonal into little chunks. (I will try and get a picture of the chopped up veggies when I make this next, I was in a hurry this time and forgot.)
Dice the bacon rashers and keep aside.
Keep all your ingredients handy. The trick to cooking a delicious fried rice is to cook it on a high heat and cook it quickly.
Heat your wok or pan. Add a little cooking oil to the pan. Crack 2 eggs in a bowl, add a little salt and lightly whisk. Now either make a plain omlette and cut into chunks or a plain scramble. Take the egg off the pan and keep aside.
Next step is to fry off the bacon. Add a little oil if needed and tip the cut bacon into the work and let it cook a little and add some flavor to the pan. Dont cook till crisp. You just want the ends to start changing to a light brown. Now add the garlic and chilly and saute till it gets fragrant.
Add the sesame oil and then tip in the diced pepper and the rest of the veggies and stir fry on high heat till they cook off a little. You still want them to have a little bite.
Add the chopped spring onions.
Add a light sprinkle of salt and some freshly cracked black pepper.
Add the soy sauce and rice wine vinegar and stir to let it coat the veggies. Please adjust the sauce to suit your liking.
Tip in the chicken and egg and stir well to incorporate.
At this stage add the rice to the wok and gently mix everything but mix thoroughly. I use a spatula and a pair of chopsticks to do this.
Once the rice has warmed through, serve hot and top with finely sliced spring onion greens to garnish and if you're feeling particularly adventurous, some finely sliced fresh chilly.
Enjoy piping hot.
**Leftovers warm up really well the next day too.
For quite a few months now, I've been yearning for some good Chaklis (Savoury Indian rice crackers). I have made them at home in Bombay using my late Mother-in-law's recipe and they are fantastic. I bought a couple of different packets from the Indian grocery stores here in Sydney, but it just never hits the spot. So why am I not making them here? I didn't have this –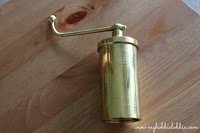 I know for those of you who haven't seen this before, it must look like something straight out of an alien space craft but just wait till you see what you can do with it. This is what it looks like on the inside –
In some ways it is similar to a spritz cookie press. You slide in a plate from the assortment on the right into the barrel. For this recipe I used the one with the single star shaped perforation. Place your dough in the barrel and top it with the spiral press. All you do it rotate the lever on the top and that lowers the press and presses out the dough through the perforation. If that doesn't make sense yet, don't worry, it will shortly.
My dear blogging friend Manu of
Manu's Menu
had posted some recipes featuring this press. So I asked her where she got her's from and she very kindly directed me to the shops in Harris Park. So last weekend that's where we went and finally bought one. I've hunted for this press for so long here and am so thrilled that I now have one. No more buying those unsatisfying packets of cruchy, but still hard like stone chaklis from the store for me.
The very next morning, we set out making a batch of chaklis. The dough comes together quick and easy and makes a decent sized batch. Stored in an airtight container should give us something to much on for atleast a week with a cup of afternoon tea. And that thought makes me very happy indeed.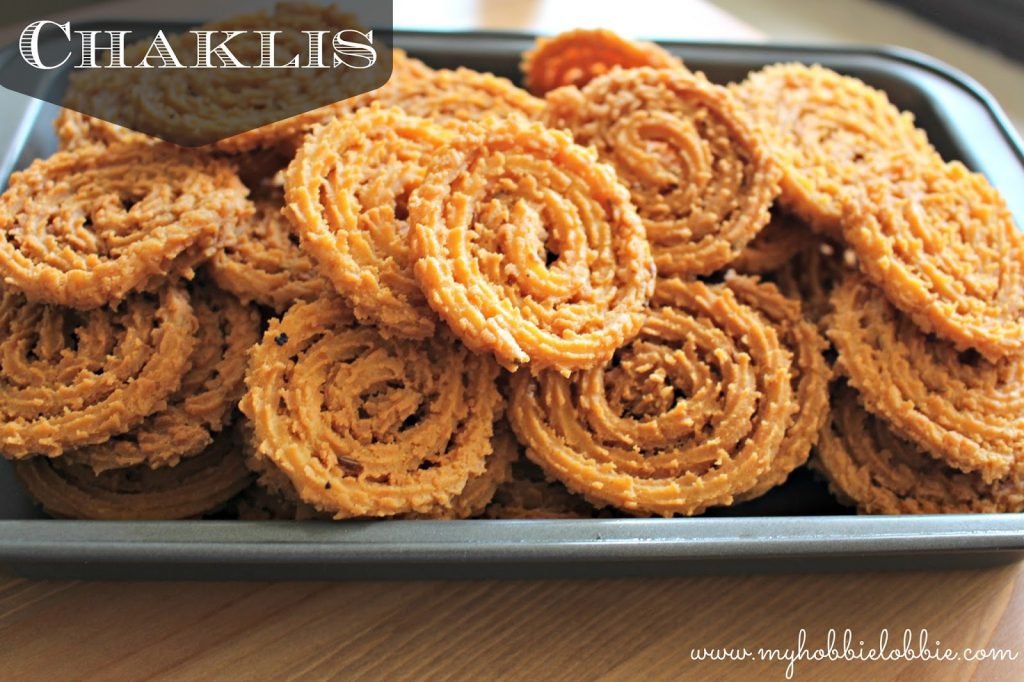 Chaklis
3 cup rice flour (fine)
1/2 cup all purpose flour
1/2 cup ghee
1 tsp salt, or to taste
1 tsp. red chilly powder
1/4 tsp turmeric powder
1 tsp sesame seeds
1 tsp cumin seeds
Oil for deep frying
Place all the ingredients in a large bowl and rub the ghee into the flour till everything is well mixed.
Gradually add little water to knead to a dough.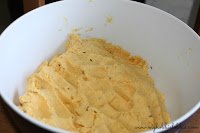 Heat the oil. Test with a tiny pea sized piece of dough. When added to the oil, it should rise to the surface quickly. If it browns really fast, the oil is too hot and needs to be cooled a little. If it settles to the bottom, the oil is not hot enough and needs to be heated a little more.
The oil temperature is important, if its too hot, the chaklis will brown but stay raw on the inside and if the oil is not hot enough, it tends to absorb a lot of oil and wont have the right texture.
Take portions of dough and add to the chakli press.
Shape the chaklis on some baking paper.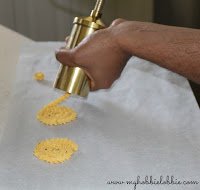 That's my wonderful husband cranking out the chaklis while I fry them, just incase you were wondering if that was my hand 😉
Carefully using a flat spatula, life the chaklis off the paper and place into the oil. Let it cook on medium flame till golden brown. Drain on some absorbent kitchen paper.
When it has cooled completely, store in an air tight container.
Enjoy!!!
Is anyone up for quick, easy, one pot meals? I though so! Like so many of you, I too am constantly on the look out for one pot meal wonders. For me, its a tad easier when I have the option of using meat or seafood to flavor it up. This tava pulao took me by complete surprise. Tava means griddle and pulao means a savory rice preparation, so the name doesn't really talk about how wonderful this vegetarian one pot meal is. Tava pulao is also considered street food and can be found at street food carts in most parts of the city. I've seen a couple of such carts, and although I'm not a snob where street food is concerned (I love chaat), I just haven't been able to get myself to eat a portion. However, I did manage to sample this a few times at the office cafeteria. Those of you who've been subject to cafeteria food atleast in Mumbai, know exactly what I'm talking about. While being edible, their version of this pulao wasn't spectacular or even flavorful. You need a curry to go through it.
While I was on the hunt for some vegetarian recipes that I could add to my arsenal, I came across a recipe for Tava Pulao. I hadn't thought about this in a while and when I saw it, I decided that this was as good a time as any to try it out. So this was our Sunday lunch a while ago. Looking at the ease of putting this together, initially, I was a little skeptical about how it would turn out. But we enjoyed this so much, that I've made it on two other occasions since then. It has a lovely assortment of vegetables and is beautifully spiced. You can use whatever assortment of vegetables you have at hand. As far as the spices go, the original recipe calls for Pav Bhaji Masala. I didn't have any, so I just left it out and it turned out fine. I was questioning the practicality of having to buy an ingredient to use in just one dish and that kept me from buying it for a while. But I now want to try making my own Pav Bhaji (which is another favorite in our house), so I picked up a box of the masala yesterday. I'm eager to see how it impacts the flavor of this dish. So stay tuned to see how my Pav Bhaji making endeavor fares, but in the meanwhile, here is the recipe for the Tava Pulao.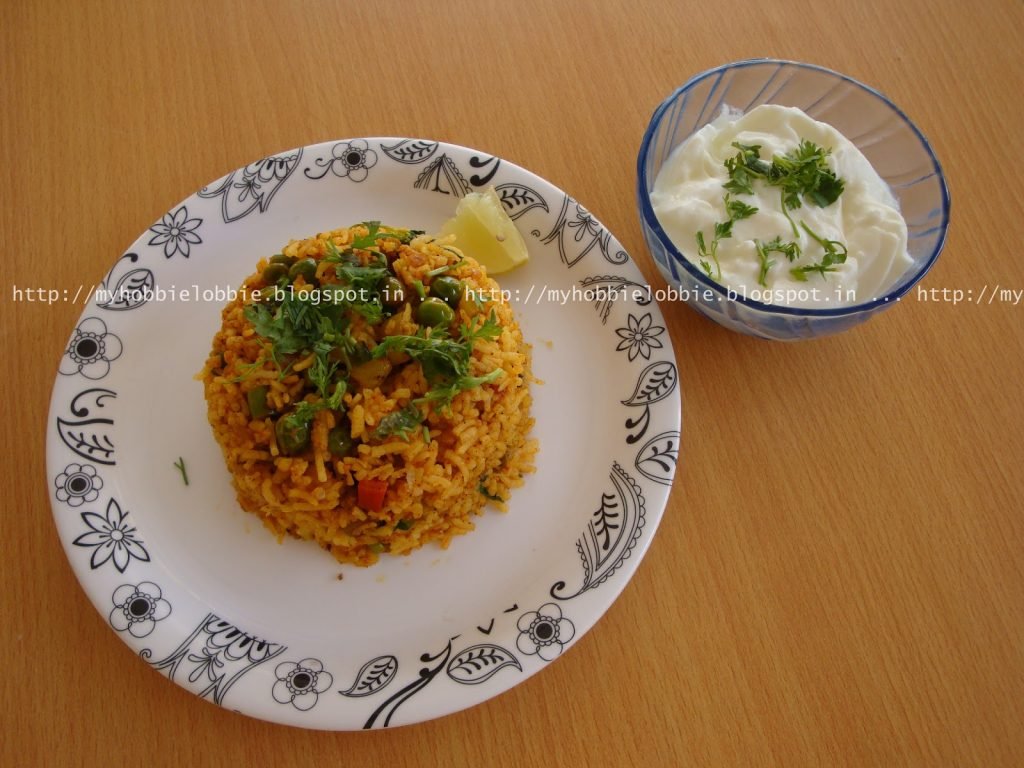 Tava Pulao
Adapted from: Sizzling Tastebuds
Serves 2
1/2 cup long grained rice
2 tbsp vegetable oil
1/2 tsp cumin seeds
1 large onion, finely chopped
1 cup mixed vegetables (I used green peas, diced carrot and chopped up french bean)
Salt, to taste
1 tsp coriander powder
1/2 tsp red chilli powder
1/2 tsp turmeric powder
1/2 tsp amchur powder (dried mango powder)
1 tsp garam masala powder
Lemon juice, a few drops over the rice
1 tbsp fresh coriander leaves, chopped
Wash and soak rice for about 10-15 minutes, then boil the rice till done. Don't overcook it, you don't want it to turn mushy. Using a fork, fluff up the grains of rice and let it cool down a little.
In a large pan (originally a tava is used, but I didn't have a large enough one, so I just used a pan instead), heat some oil and tip in the cumin seeds. Let them sputter while making sure they don't burn.
Add the onions and stir fry till slightly browned.
Add the chopped vegetables and saute for about 5 minutes. They should be cooked about 3/4 the way now.
Add the powdered spices and mix well, taking care that you don't mash the vegetables while stirring.
Add the cooked rice to the veggies and toss well to mix.
Add a dash of lemon juice and coriander leaves to finish off.
Serve this with some raita. I served it with a plain yogurt sprinkled with some chopped coriander leaves, but you could also serve a mixed vegetable raita instead.
This recipe is linked to –
Hearth & Soul
Trick or Treat Tuesday
Totally Tasty Tuesdays
Tempt My Tummy Tuesday
Here's a quick post and an even quicker recipe. Khichdi is a rice dish cooked in a pressure cooker for about 10 minutes and seasoned in many different ways, depending on which part of the country your eating it in. I've eaten a Dal Khichdi which is a rice and lentil dish and a Paalak khichdi, a spinach and rice dish. I've not yet tried making the Paalak Khichdi at home. If you have I'd love if you could share the recipe with me so that I can try it out too. The Dal Khichdi, however, I've tried multiple times. This khichdi should be served with some aachar or pickle. You could also serve it with a side of salad or yogurt, if you'd like. I've tried a few takes on this and the one that I made a couple of days ago, I think, was my best attempt so far.
Dal Khichdi


1 onion, finely chopped
1 green chilly, cut into 1/2″ pieces
1/2 tsp cumin seeds
3-4 garlic peels, finely chopped
1 tbsp veg. oil
1 tbsp. ghee or clarified butter
1/4 tsp turmeric powder
3/4 cup rice
1/4 cup split lentils (I use whatever I have on hand usually moong or masoor dal. This time I used a combination of both)
1-2 tbsp fresh coriander leaves and tender stems, chopped
Salt, to taste
Wash the rice and the lentils together and let them soak for 10-15 minutes. You can start prepping the rest of the ingredients in the meanwhile.
Heat the oil in a pressure cooker and add the cumin seeds and let them sputter, taking care not to burn them.
Add the chilly and the onion and saute till the onions are soft and pinkish brown.
Tip in the turmeric powder and stir till well mixed.
Drain the rice and lentils that have been soaking and add them to the cooker. Stir gently to mix everything.
Add salt to taste and 4 cups of water.
Stir gently. Cover the pressure cooker and add the stopper.
Cook on high flame. After the first whistle, cook on low flame for 10 minutes.
Turn off the heat and let the pressure drop on its own.
Once the cooker can be opened, add the chopped coriander and stir to mix.
Prepare the tempering. In another small frying pan, place the ghee and the chopped garlic. Let it saute gently on low fire till it turns fragrant. Don't burn the garlic as you'll lose all the flavor. Add this ghee and the garlic to the cooked rice and stir to incorporate.
Serve pipping hot.
I love peas pulao! There, I said it. This mildly flavored rice dish adorned with little green peas is something that I can eat by itself with a fresh garden salad on the side. Having said that, this rice is usually whipped up in Catholic homes all over Mumbai and Goa for a special meal, be it a festive occasion or a birthday or any other gathering. It pairs amazingly well with a variety of meat curries, like pork sorpotel, chicken cafreal and many, many more, and I can tell you it is a real treat. I look forward to sharing my family recipes for these meat curries with you soon.
For now, we'll get back to the peas pulao. The preparation is really simple and the few spices used add a fragrant warmth to the rice rather than a spicy heat. Don't let the simplicity of this dish undermine its flavors. Try it out and see for yourself.
A lot of folks seem to have trouble with the rice ending up very soft and mushy. This happens for a number of reasons like wrong amount of cooking water, too much stirring while the rice is cooking etc. I've made this rice hundreds of times and have never encountered such a problem. So I think if you stick to the measures, you should be good to go.


Peas Pulao


2 bay leaves
1-2″ cinnamon sticks
2 pods green cardamom
4-5 cloves
6 black peppercorns
1/2 large or 1 small onion, chopped
1 tbsp oil
1 cup long grained rice
2 cups water
1/4- 1/2 tsp turmeric powder
A handful of green peas
Salt, to taste
If you're using frozen peas, keep them out to thaw for a while.
Wash the rice and leave it to soak in some water for about 15-20 minutes while you prep the rest of the ingredients.
Heat the oil mildly in a vessel and add the bay leaves, cinnamon, cardamom, cloves and peppercorns and let them warm up and infuse the oil with their aromas and flavors, taking care not to burn the spices.
Add the chopped onion and saute till the onions and soft and translucent and start taking on a little colour.
Add the turmeric powder and stir well.
Drain the water that the rice was soaking in and tip the rice into the vessel.
Stir gently making sure you don't break the grains down while stirring.
Once the rice is well coated with the spices in the pan, add the water, salt to taste and the green peas.
Cover and let it cook on a low flame, till all the water has been absorbed.
Fluff up the rice using a fork and not a spoon so that you don't mash the grains.
Serve hot with your favourite curry.
Please remember that if you'd like to change the quantity of rice used, the rice to water ratio should always be 1:2. That is 1 measure of rice to 2 measures of water to cook it in.
This recipe is linked with –
My Meatless Mondays
Mouthwatering Mondays
Mangia Mondays
A Little Birdie Told Me
This is a recipe I came up with on the go. This Saturday, I was presented with a situation where I had a couple of really great side dishes(one of them being
fish cutlets
and the other I will share with you shortly) for lunch and I needed to whip up a nice rice dish. I didn't want to use my regular pulao recipe (which I've just realized I haven't shared with you yet, but I will), so I decided to try making a vegetable pulao. Usually I only ever use peas in my rice, but this time I felt a little adventurous and used some corn kernels, peas and chopped up carrot. I ended up with a tricolored medley of vegetables in my rice, hence the name Tricolored Vegetable Pulao. Doesn't it look pretty. I was very happy with the way it looked and it tasted great. I think I'd be able to eat this by itself. This dish is also ideal to prepare if you have kids in the house that don't each too much spice, I'm sure they'll love it. Try it out and you'll see for yourself why this is a kid friendly recipe.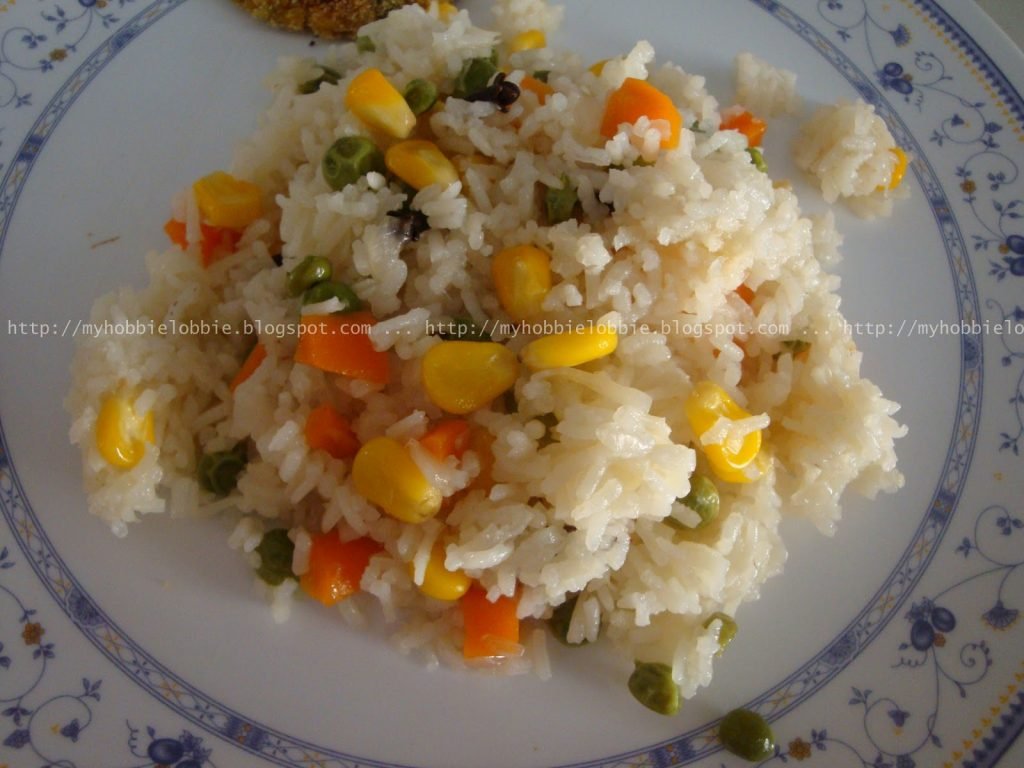 Tricolored Vegetable Pulao


1 cup rice
2 bay leaves
2″ cinnamon
6 cloves
4 pepper corns
2 pods of cardamom, whole
Salt, to taste
1 tbsp vegetable oil (You can use ghee/clarified butter if you prefer)
1 carrot, peeled and diced
1/4 cup green peas (You can adjust this quantity to suit your liking, I used a little more)
1/4 cup corn kernels (You can adjust this quantity to suit your liking, I used a little more)
1 onion, chopped
Wash the rice and soak it in some water while you prepare the other ingredients for the pulao, about 15 minutes.
Heat some oil in a vessel and add the bay leaves, cinnamon, cardamom, cloves and pepper corns. Let it infuse the oil with its flavors.
Once you can smell the aromas from the spices, add the onions and saute till they are soft and translucent.
Add the vegetables and stir fry them for a couple of minutes. Add salt to taste.
Drain the rice and add it to the veggies. Stir gently.
Add 2 cups of water. (I use a 1:2 rice to water ratio while making a pulao.)
Stir gently to mix everything. Cover and cook till all the liquid is absorbed.
Turn off the fire and fluff the rice up using a fork.
Serve hot!
This recipe is linked to –
Mouthwatering Mondays
Just Another Meatless Monday
Mangia Mondays
My Meatless Mondays
Sometimes, having something thats a little step up from the traditional plain boiled/steamed rice is a welcome change. It fancies up almost any meal. Some dishes just taste better with a pulao, better known to some as a pilaf. Whatever name you know it by, this is a simple version that I think went really well with my
Paalak Paneer
.
You don't need anything fancy, just basic ingredients that almost anyone will have in their homes.
Jeera Rice
Serves 2-3 large portions
1 bay leaf
2 cardamom pods, whole
2″ cinnamon
5 cloves
6 pepper corns
1/2 – 3/4 tsp cumin seeds
1 medium onion, chopped finely
1 tbsp ghee / clarified butter
1/2 cup long grained rice (You can use Basmati, if you have some)
Salt, to taste
1 cup water
Wash the rice and soak it in some water while you get the other ingredients started.
Heat the ghee in a large vessel.
Tip in the bay leaf, cardamom, cinnamon, cloves and pepper corns and let it get fragrant.
Add the cumin seeds and let it fry for a little while till it gets fragrant. Make sure you don't burn the cumin, it'll ruin your dish.
Add the chopped onion and saute till the onion gets soft and transparent.
Drain the rice and add it to the vessel. Let this fry off for about a minute or so, till the rice is coated with the spices and ghee in the vessel. Do not stir too much or you'll break up the grains of rice.
Add the water and salt to taste. Stir once, gently. Bring it to a boil, cover and simmer on low heat till all the water has been absorbed and the rice is tender.
Fluff it up with a fork to loosen the grains. You don't want to mash it up.
Serve hot with a gravy of your choice.
I served this up with some Palaak Paneer.
Add a bowl of raita to this to make it a wholesome, delightful meal.
NOTE: If you need to increase the quantity of rice, use the following ratio. 1 portion rice : 2 portions water.




This recipe is linked to –
Tuesdays at the Table
Delectable Tuesday
Hearth and Soul
A Little Birdie Told Me