Black Bean and Sweet Corn kernels come together to make amazing flavor-packed tacos, using a taco-seasoning made from scratch.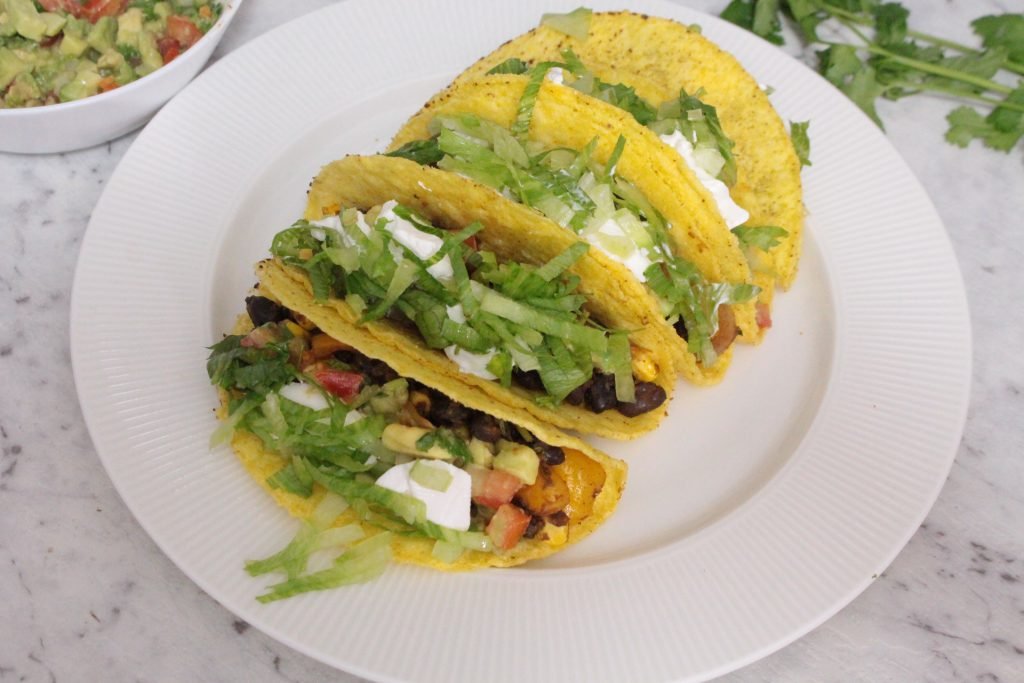 Today I'm sharing with you a recipe that is so simple and easy to put together, and results in such an extremely flavorful dish, you are going to be blown away.
That was a bold statement to start off with, right? Well, that's because it's the truth. Everybody needs a few recipes like this in their arsenal, because let's face it, life can get hectic and recipes like this make it easy to get dinner on the table in a hurry. I know a lot of folks do 'Taco Tuesday'. We personally don't, but that's just because we enjoy Tacos whenever we feel like it.
Tacos are usually associated with meat fillings, usually chicken, beef, pork and sometimes even fish or shrimp. But this doesn't mean you can't enjoy a really good taco if you follow a plant-based diet. And today's recipe is going to show you just that.
We'll be making a quick black bean and corn taco mix and a chunky guacamole to fill our tacos with. For the black bean mix, I use half a cup of dried black beans. These beans are soaked overnight and then pressure cooked the next day. I have a stovetop pressure cooker that gets the job done in under ten minutes. This works out so much better than buying canned beans because there is less waste, it works out to be more economical and I feel the beans are so much tastier. Try it out, if you have a pressure cooker or an instant pot. If not, you can simply use a can of black beans.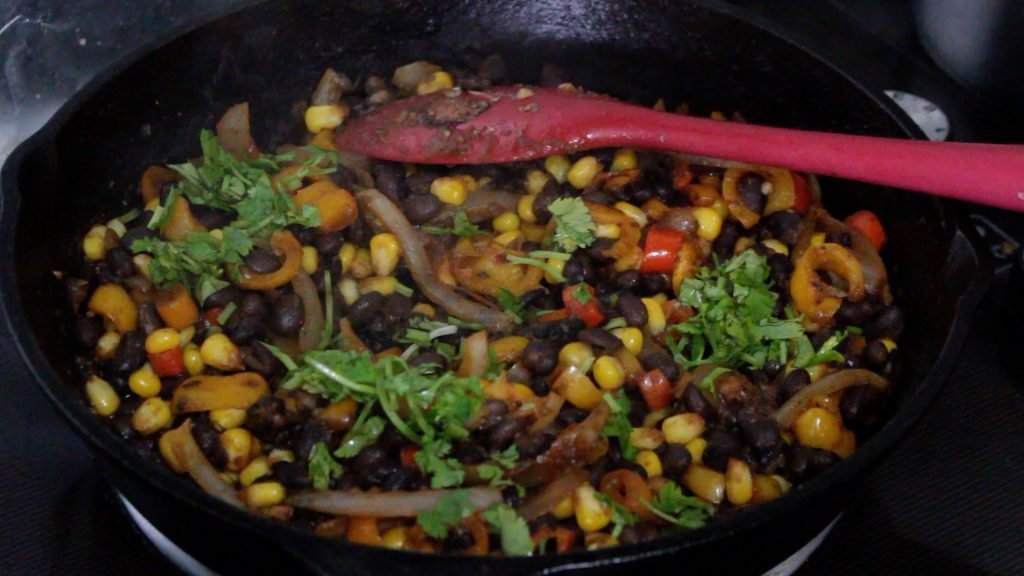 My chunky guacamole is also a very basic and simple recipe. It combines the richness of the avocado with the punchy flavors of a pico de gallo or a salsa. And like me, if you just need to serve 1 or 2 people, save the half of the avocado that has the pit still in it, squeeze some lime juice all over the cut surface, pop it into an avocado saver if you have one, or simply cover it with some cling film and pop it into the fridge for the next meal or the next day. This reduces the browning of the avocado. Do you have any tips for storing half an avocado? Leave me a comment and let me know. I'd love to be able to store it without having to use any single use plastic.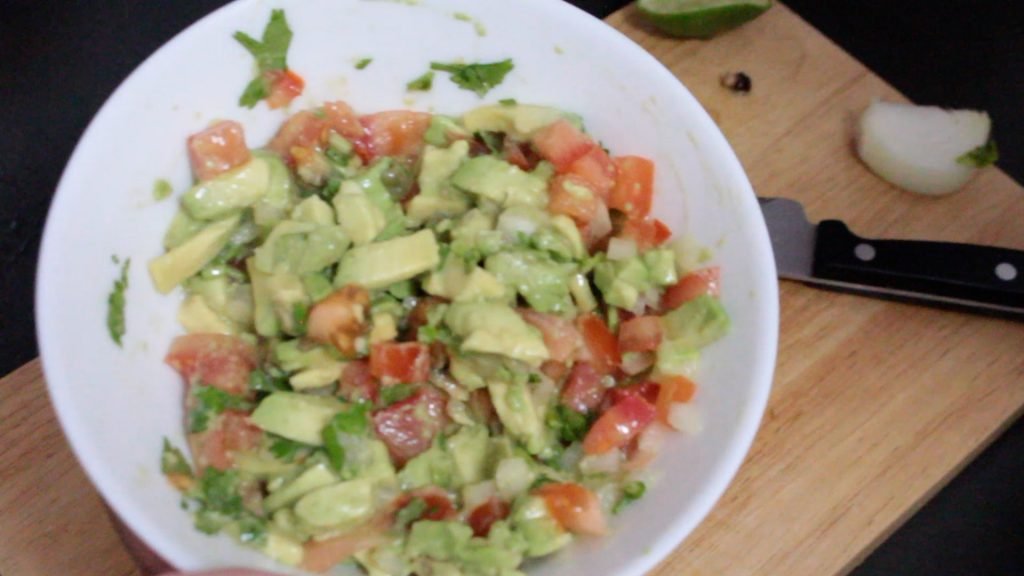 Assembling your tacos is one of the most fun parts of this recipe. You can add whatever your heart desires to your taco. Here's what I use to make up my tacos –
Hard corn taco shells
Black bean and corn mix
Chunky guacamole
Pickled jalapenos
Plant based sour cream
Finely shredded lettuce
If you love a good taco, you simply have to try it out and I hope you love it as much as we do. This recipe makes enough of the bean mix for 12-15 tacos. If you're serving 12-15 tacos in one sitting, double the guacamole recipe.
Black Bean and Corn Tacos
Course: Main
Cuisine: Mexican
Difficulty: Easy
Black Bean and Sweet Corn kernels come together to make amazing flavor-packed tacos, using a taco-seasoning made from scratch.
Ingredients
For the Black Bean and Corn Taco Mix –

1/2 cup dried black beans OR 1 can black beans

1/2 cup sweet corn kernels

1/2 onion, sliced

1/2 capsicum, sliced (See note)

1 large clove of garlic, finely chopped

1 tbsp oil

1/4 tsp smoked paprika

1/2 tsp ground cumin

A pinch of extra hot cayenne pepper powder (optional)

1/4 tsp dried oregano

2 tbsp Chipotle Sauce

1-2 tbsp fresh coriander leaves and stalks

For the guacamole –

1/2 large avocado

2 tbsp of chopped onion

1/2 large tomato, diced

1 tbsp coriander leaves and stalks, chopped

Salt, to taste

Lime juice, to taste

For the Tacos –

Hard corn taco shells

Pickled jalapenos

Sour cream

Shredded lettuce
Directions
To make the black bean and corn mix –
Wash and soak the black beans for 6-8 hours or overnight. Drain the water, rinse through and cook till beans are done. (I cooked the beans in a stovetop pressure cooker and they get ready in under 10 minutes.)
Heat oil in a pan and saute the onions till they've slightly softened.
Next, add the capsicum and let them saute for about a minute.
Add in the garlic and stir fry well till the garlic is nice and fragrant. Be careful and make sure the garlic doesn't burn.
When the garlic turns fragrant add the paprika, cumin and cayenne pepper powders and the dried oregano. Stir well.
Add in the chipotle sauce and stir thoroughly.
Add the black beans (that have been previously cooked) and the corn (I use frozen corn) to the pan and stir well.
Let this cook off for a couple of minutes or until the beans and corn has heated through.
Check for seasoning and adjust as needed.
Once most of the liquid from the pan has been absorbed, take the pan off the heat.
Top it off with the chopped coriander.
To make the guacamole –
Add all the ingredients to a bowl and mix well.
To make the tacos –
Heat the taco shells according to the packet instructions.
Layer the black bean and corn mix, the guacamole, pickled jalapenos, sour cream and shredded lettuce and serve up.

Enjoy!
Recipe Video
Notes
The 2 servings mentioned at the start of the recipe is for 2 servings of 4 tacos each (Roughly about 8 tacos). This recipe makes enough of the black bean mix for 12-15 tacos. If you are serving 12-15 tacos in one sitting, you may want to double the guacamole recipe.
The black bean and corn mix works really well in burritos and quesadillas too.
You can use 1/2 a capsicum of your choice or you can use smaller sweet peppers instead. In all you'll need about 1/2 a large capsicums worth of peppers. You can adjust this amount to suit your liking.
With the Holiday season done, I know a lot of us are trying to get back to regular eating habits. We're trying to eat a little healthier after all the Holiday indulgences. We've also had a family wedding in early January, so for us the indulgences have been a little more that usual this time around. Now that I'm back and mostly unpacked and back to business as usual, the focus is on healthier food.
I love trying out new recipes and cuisines. Now I know Mexican food is hardly a new cuisine, but for me, this was a new recipe. My ground beef recipe is a little more involved than this one. I love the simplicity of it. The method was a little different than what I was used to, but by the time this taco meat was ready, it looked and smelt great and tasted fantastic. I can guarantee this tastes so much better than any packaged taco meat that you buy from the store. And you know exactly what has gone into the pot.
You could, as the name suggests, use this in tacos, but since we are trying to eat healthier, we enjoyed this with some iceberg lettuce and a bean salad on the side. Who said healthy eating had to be boring or tasteless. This was healthy and delicious and is going to make quite a few appearances on our dinner table. I do hope you try it out too.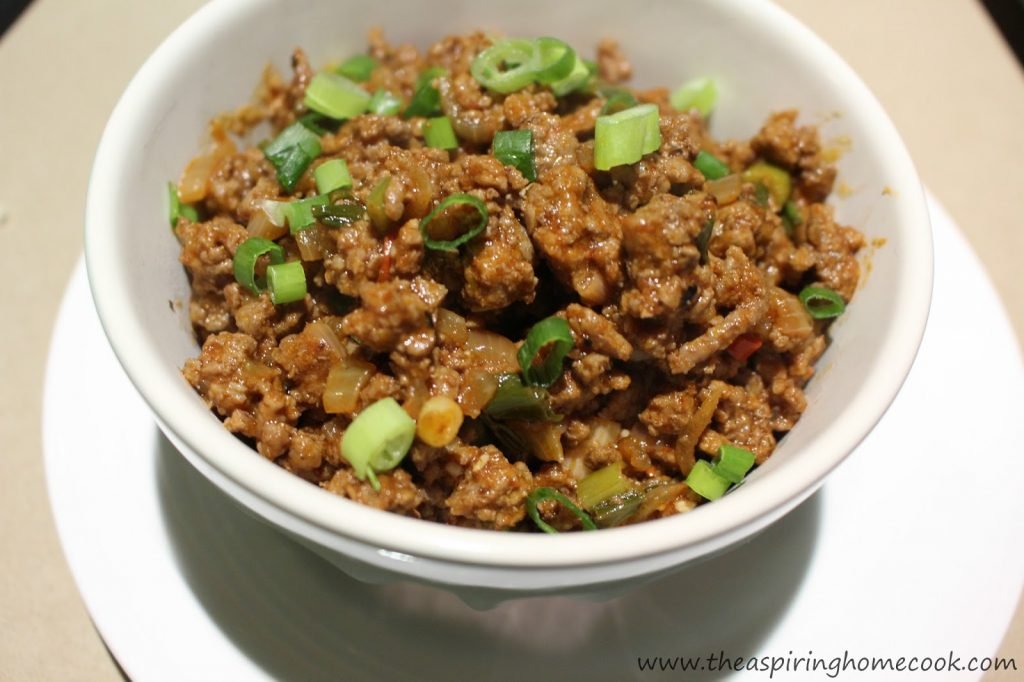 Homemade Seasoned Taco Meat
Recipe from: Premeditated Leftovers


1/2 kg lean ground beef
1 tbsp olive oil
1 cup onion, finely chopped
1/2 cup tomatoes, chopped
2 cloves garlic, finely chopped
1 1/2 tsp cumin powder
1 1/2 tsp chilli powder
1 tsp paprika
1/4 tsp salt
1/4 tsp crushed black pepper
1/2 tsp dried oregano
1 cup water
2 green onions, sliced
Heat the olive oil in a skillet over medium high heat.
Add the ground beef to the pan and cook the meat till it is browned and no longer pink. This should take about 4-5 minutes.
Now add the onions and tomatoes and cook for about 2-3 minutes or till the onions have started to soften.
Add the rest of the ingredients except the water and the green onions. Stir everything together and saute for a couple of minutes. By now all the spices should have started doing their job and should be fragrant.
Now add the water and bring the pot to a simmer.
Cover the pot and let it simmer for about 5 minutes.
Now uncover the pot and cook the meat uncovered till almost all the liquid has evaporated.
Take the pan off the heat and stir in the green onions.
Enjoy!
This has got to be one of the quickest recipes I've come across. Its taken me longer to write up this post than to make this fresh salsa. If you haven't realized by now, I really like my tortilla chips and nachos. You might remember my homemade version from
here
. Even though tortilla chips are easily available all over the place here in Australia, I somehow still prefer the homemade version. For this post, you'll see a store bought option pictured. I just need a little time to whip up a homemade batch, it is so much better; tastier and you know exactly whats in it.
But today we're here to talk not about the chips, but this really yummy salsa dip. A while ago, I'd picked up a jar from the local supermarket, that claimed to be 'Hot'. I love spicy stuff, so I thought this would really hit the spot. What I love about Mexican food is the spice from the chillies and peppers and the tang from the lemon and tomatoes. Much to my disappointment, this store bought salsa was neither 'Hot' nor tangy. I knew I had to figure out a way to get my hands on something better. So when I came across this recipe for a blender version of Salsa, I decided to try it out. It was too quick and easy a recipe to pass up. And am I glad I tried this out. The salsa was fresh, packed full of flavor, you can easily adjust the spice levels to your liking. It was everything a good salsa should be. I sure hope you try it out.
The picture doesn't do it much justice. It was fairly late in the evening when it was taken. I hope to get a better picture up sometime soon.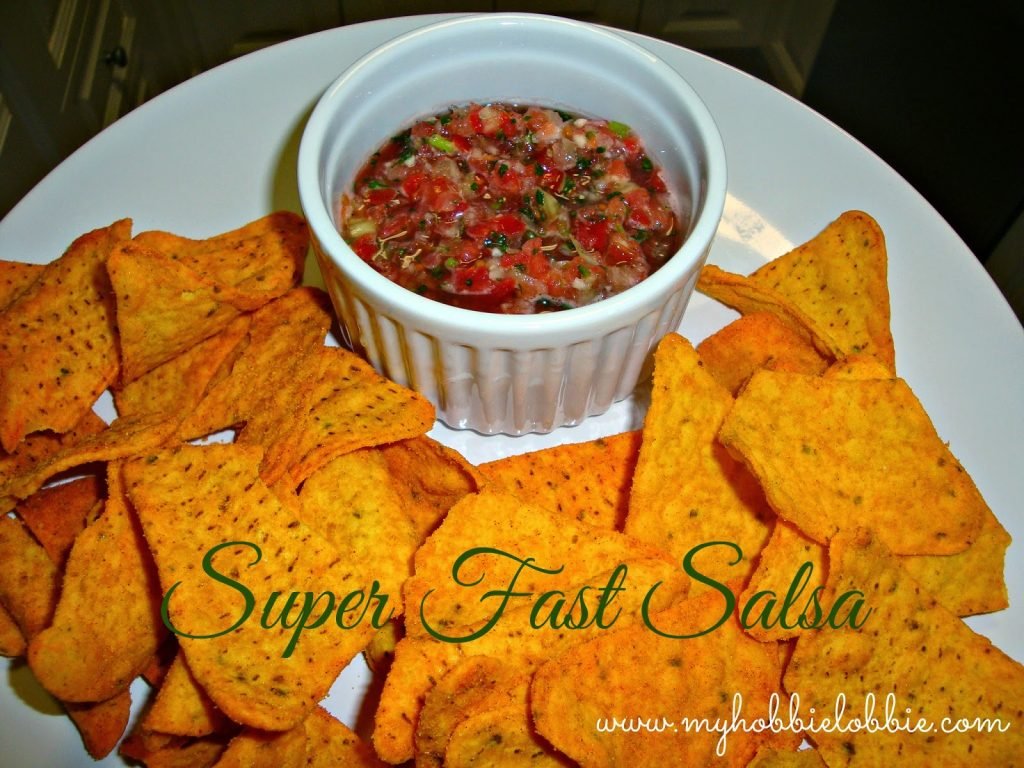 Super Fast Salsa
(Adapted from: Barbara Bakes)
1 clove of garlic
1/4 onion, roughly chopped
2 -3 tomatoes, roughly chopped
Fresh coriander leaves with stalks
Lime juice, to taste
Salt, to taste
Place all the ingredients in the food processor.
Pulse till it reaches the consistency you like and is combined.
Adjust the salt and lime if needed.
Enjoy!
Chicken is a protein that we eat most frequently at home. Whether it is a curry or fried, roasted or in a salad, we love it. What I also love about it is that is easy to prepare and cooks fast. One of many new edible ingredients that I've had access to in the last year is a Cajun spice mix. A lot of the spices I use are Hoyt's including this one.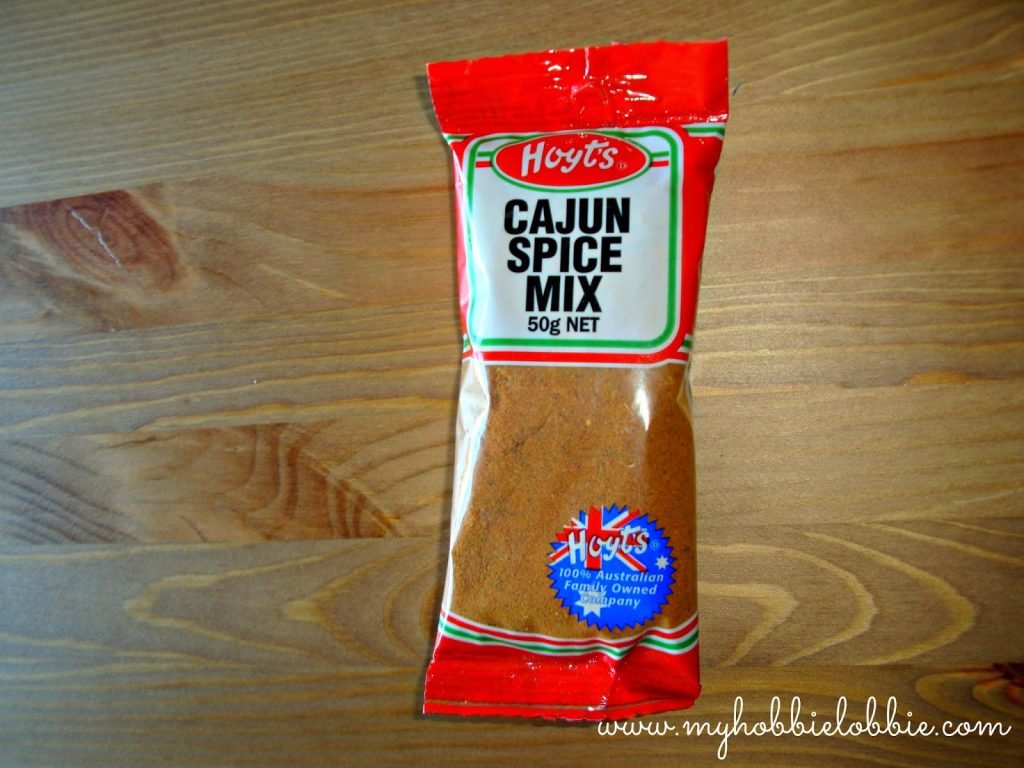 This is the first brand of Cajun Spice that I tried and enjoyed it a lot, so I've just stuck with it. And moreover, it is a 100% Aussie family owned company; I try to buy local whenever possible. I know there are loads of folks who make this blend at home and sometime in the future, I fully intend trying my hand at making it myself. For now, I'll stick with what I have easy access to.
Making Cajun chicken my way, couldn't be easier. I use smaller pieces of boneless chicken. Sometimes I use thigh fillets, other times I use breast fillets. I almost always buy the whole bird and then portion it out and cut it up at home (that is husband's department though). You could use whatever cut you like. Its nice to leave the chicken to marinade for about half an hour, but at times, when I've been pressed for time, I've made it after just 10 minutes and it still turns out pretty good. This is not a recipe as such, more of a guide to some yummy chicken.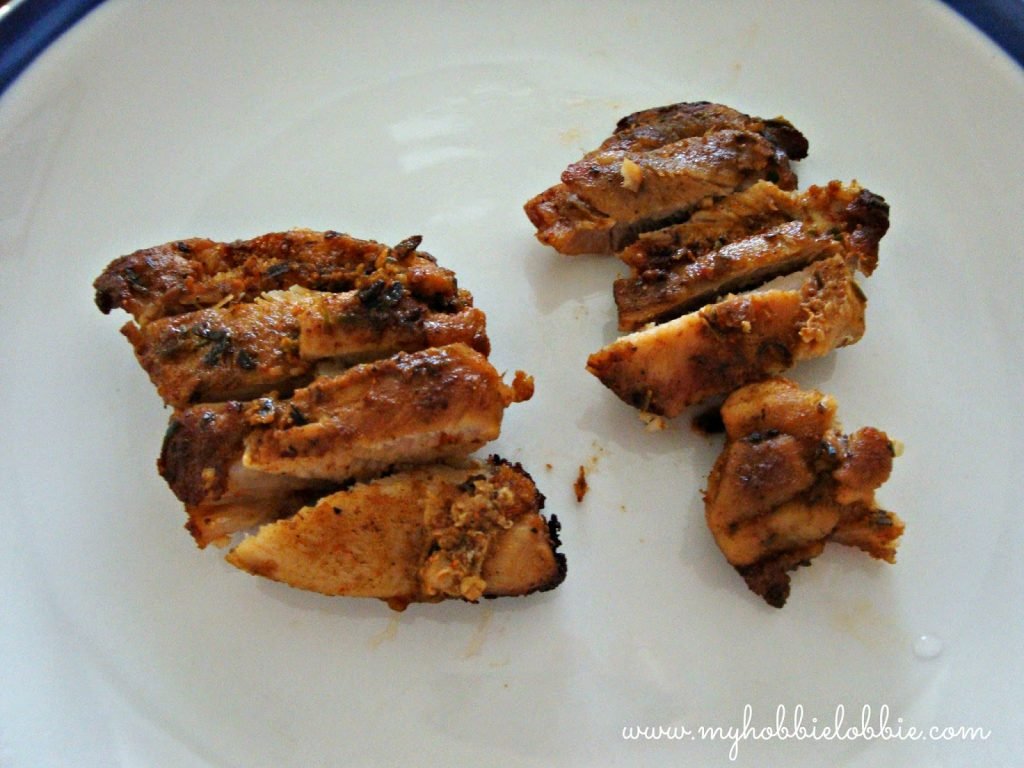 Boneless chicken pieces
Salt, to taste
Lime juice, to taste
Cajun spice blend, to taste
1 tbsp Vegetable oil
Take off the skin and trim the fat, if any, from the pieces of chicken.
Sprinkle the salt and cajun spice mix over the pieces of chicken.
Squeeze the sour lime juice over the chicken. I think the lime juice is what brings out the wonderful flavors of the spice blend. Its definitely not the same without the tang from the citrus juice. If you don't have lime juice at hand, you could use lemon juice too, you'll just need to use a little more.
Toss the pieces well to ensure they are well coated. Rubbing the spices into the pieces of the chicken works really well. Leave the chicken pieces in the spice rub for about half an hour.
Heat the oil in a pan. Carefully place the pieces of chicken in the pan and fry on both sides over medium heat till done. Depending on the number of chicken pieces you are frying, you may need to cook it in batches. Do not overcrowd the pan. You may need to use a touch more oil for each batch. (Tip: I start on a slightly higher heat to seal in the juices and then lower the heat to cook it through.) If you have a grill, I'm pretty sure this would taste fantastic grilled too.
You could serve these chicken pieces as they are with a salad for a fantastic quick weeknight meal. Or you could do what I do – cut up the pieces and use them in wraps and take them to work for a great packed lunch option. Here's how a put the wraps together.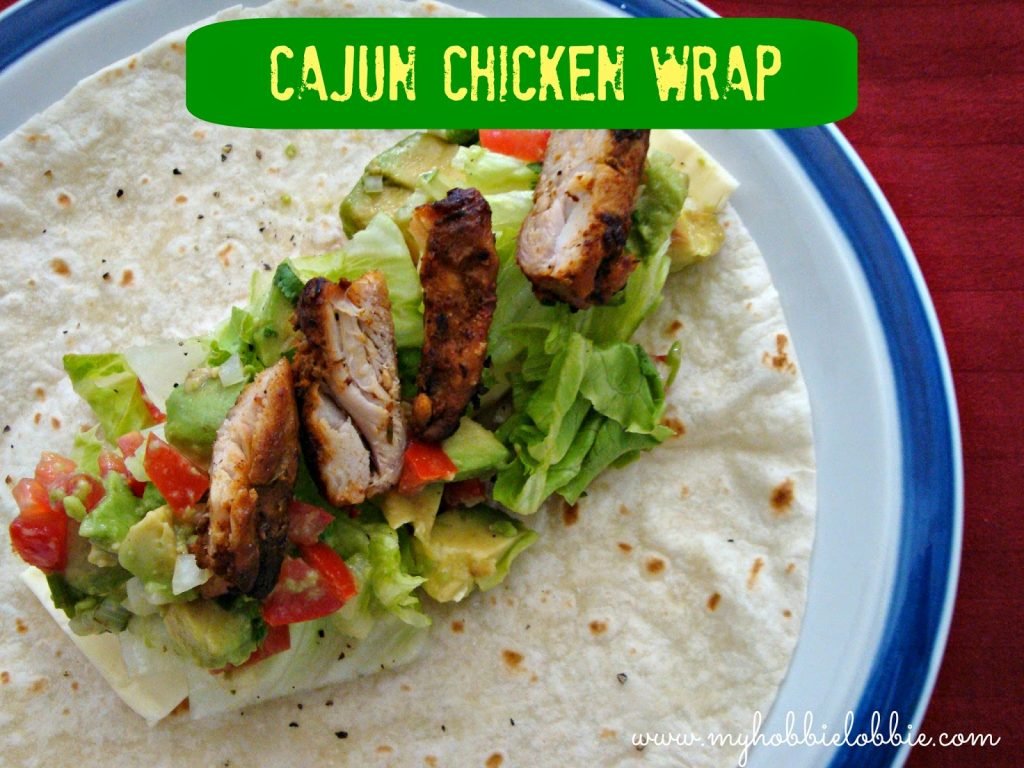 For the Wrap –
Flour tortillas (I used store bought)
Iceberg lettuce, chopped
Cheese slices, optional
Cajun chicken pieces
Lay the cheese in the middle of the tortilla and place some lettuce on top.
Top that with the the chunky guacamole and lay the chicken pieces over it.
Carefully, roll the tortilla to make the wrap.
Tip: If I'm eating the wrap straightaway, I warm the tortilla before making the wrap.
Enjoy!!!
** This is not a sponsored post. I'm just sharing with you a product I really enjoy.
Have I told you about how much I love avocados? Ofcourse not, because before we came to Australia, I'd never tasted one. But when I tried my first one, I was in love. I've had a few avocados since then and have loved every bite. My favorite way to enjoy an avocado is in the form of this simple, yet fresh and vibrant Guacamole. It is a chunky version so its nothing more than chopping up a few veggies, mixing and seasoning them. I can actually eat this by the bowlful. I serve this as a side like a salad, as a dip for some corn chips and so much more. Stay tuned for more.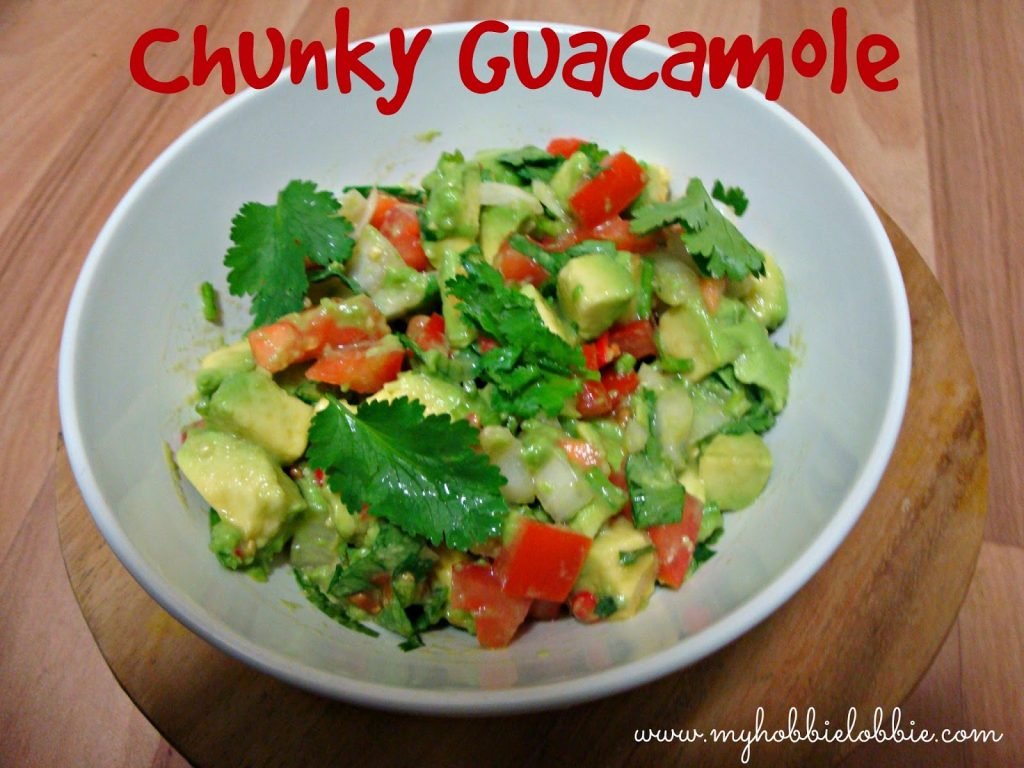 Chunky Guacamole
1 avocado, halved, pitted, peeled and chopped
1/2 onion, chopped
1 tomato, chopped
1 green chilly, finely chopped (optional)
1 tbsp fresh coriander leaves, chopped
Salt, to taste
Sour lime juice, to taste
Mix all the veggies in a bowl, add salt and lime to taste and toss well.
Serve.
Here's another take on homemade tortilla chips. You must've figured out by now that I like my nachos. Unfortunately, tortilla chips are pretty hard to come by in stores around here. And when you do find a packet, their either insanely overpriced or terribly salty and full of artificial stuff you don't want to be putting into your system. So a while ago I'd made some
Nachos
, from scratch. I was pretty happy with the way it turned out. The only thing that I wasn't thrilled about is that the tortilla chips were roasted on the griddle and then deep fried, meaning, lengthy process, not to mention I found the chips absorbed more oil than I'd have liked. So when I was browsing through my recipe book collection the other day, I came across another take on tortilla chips by Nita Mehta. So I said why not give it a try. Here you deep fry the dough directly.
I must say, I was really pleased with this take on homemade tortilla chips and I know for a fact that this will be my go to recipe in the future. For starters, the process was considerably shorter that the first version. These chips can be made ahead of time and stored in an airtight container. They don't absorb much oil and are nice and crunchy. A note of caution, these are so darn good, you won't be able to stop munching on them just the way they are. We went though half of the quantity without even making a single portion of nachos with them. They make fantastic nibbles.
Tortilla Chips
Recipe from: Soups, Salads & Starters by Nita Mehta


1 1/2 cup corn meal (also called maize flour or makki ka atta)
1 cup all purpose flour
2 tbsp oil
1 tsp salt
1/2 tsp carom seeds (ajwain)
Mix all the ingredients in a large bowl.
Knead into a pliable dough with water.
Make large marble sized portions and roll them out into thin discs.
Prick it all over with a fork.
Cut into wedges.
Heat some oil in pan and deep fry on a medium flame till they turn golden brown in color.
Drain them off on some absorbent kitchen paper.
When they've cooled off completely, store in an air tight container.
Use as needed.
This recipe is linked to –
Savory Sunday
Mangia Mondays
Hearth & Soul
A Little Birdie Told Me
Tuesdays At The Table
UPDATE
: I've found an easier recipe for homemade tortilla chips. Check it out
here
.
I've always wanted to try making nachos at home and yes, from scratch. Recently, I've been thinking a lot about this amazing plate of Nachos that I had while I was in Goa for a few days. I knew that if I wanted it like that, I'd have to make it myself. The only thing I had a recipe guide me with was the corn tortillas for the homemade tortilla chips, which I took from Nita Mehta's "Multi-cuisine Cookbook". I didn't spend time looking for recipes for the rest of the stuff, but just threw a few things together from memory. It really was quite funny, me, roaming in circles in my kitchen, trying to remember what was on the plate and what the flavors were and then checking to see if I had what was needed to put together a plate of Nachos. Crazy visual, anyway back to food.
Being my first attempt, I was very pleased with the way it turned out, the textures and flavors were nice. However, when I make this next, I'm definitely going to up the cheese. I think I will look around on the internet for a few ideas to pretty this up. I'd be glad if I could get a little input from you wonderful bloggers out there. I know a lot of you have made Nachos at home and have some tricks up your sleeves. I'd love to hear from you. For those of you who haven't tried making these before, I suggest you do it, soon, if you love Mexican food that is, and only if you want to be able to dish out some yummy stuff right out of your kitchen. Here's my humble take on it –
Nachos –
For the homemade tortilla chips –
(Makes 10-12)
1 1/2 cups corn meal
1 cup all purpose flour
3/4 tsp. salt
Warm water, to knead the dough
Oil, for deep frying
Mix the dry ingredients in a large bowl.
Knead it into a dough using enough warm water to make it a pliable dough.
Cover with a damp cloth and let it rest for an hour.
Divide the dough into portions. Roll out to form a thin disc.
Heat a griddle. Place the rolled tortilla on the griddle and let it cook for about a minute on a medium flame.
Turn over and cook the other side till a few brown specs start appearing. Don't let them crisp up.
When the tortillas are ready, cut into 8 wedges each and deep fry in hot oil.
Drain on some kitchen paper.
For the Pico de Gallo –
1 onion, chopped
1 tomato, chopped
1-2 green chillies, chopped
1 tbsp. fresh coriander leaves, chopped
Salt, to taste
Lime juice, to taste
Toss all the veggies in a bowl. Add the salt and lime juice. Toss well. Check for seasoning.
For the assembly –
I didn't want to switch the oven on for this, so I just used the stove top and improvised.
Place the tortilla chips on a griddle. Grate some cheese over it. You can use whatever variant of cheese you enjoy, or have at hand. Don't skimp on the cheese if you want some really deliciously cheesy nachos.
Carefully tip the nachos with the cheesy top on a plate, trying not to disturb the layer of cheese on top.
Serve up with sides of your choice. I served it with some sour cream and some pico de gallo.
You can also serve it with some guacamole and salsa if you'd like.