Boy! Oh boy! Oh boy! I am so excited about this month's
SRC
assignment. This month, I was finally assigned Sawson's blog,
Chef in Disguise
. I tell you, I have been a fan of this gorgeous blog for years now. Sawson is an "orthodontist by day and food explorer by night". I love that term,
food explorer
sounds so much more exotic than
food blogger.
And food explorer she is. If you go on over to Sawson's blog, you will be treated to a vast array of delicious recipes with beautiful pictures. Her blog mainly focuses on Middle Eastern cuisine, which I have enjoyed getting familiar with. Everything is so flavourful and there is so much variety. In addition to that she participates in the Daring Cooks and Daring Bakers Challenges as well. So you can expect a lot of recipes from other parts of the world too.
I have had my eye on a couple of her recipes for ages now, but when I actually looked through her blog, there was so much more I wanted to try. With great difficulty, I narrowed it down to these spinach and feta mini rolls (I can't wait to try these), these awesome spiral meat pies called Yafawi Sfeeha, these Cheese and Zaatar sticks and cool off with this sweet tamarind drink, and for dessert how about this Harissa! I decided to go with the recipes I've been eyeing since forever – Sawson's Shish Tawook Chicken and this Middle Eastern Garlic sauce called Toum. Both were very easy to make and really delicious. The chicken was succulent and full of flavour and the garlic sauce was nice and garlicky with a nice tangy kick. My sauce turned out a little runny and I'd love to learn how to thicken it up a little more, but the flavour was all there.
I made some wraps with Pita bread, finely cut Cos lettuce, sliced cherry tomatoes, finely sliced red onion and topped it with this gorgeous chicken and the garlic sauce. It was so very good. Thank you Sawson, for sharing these recipes.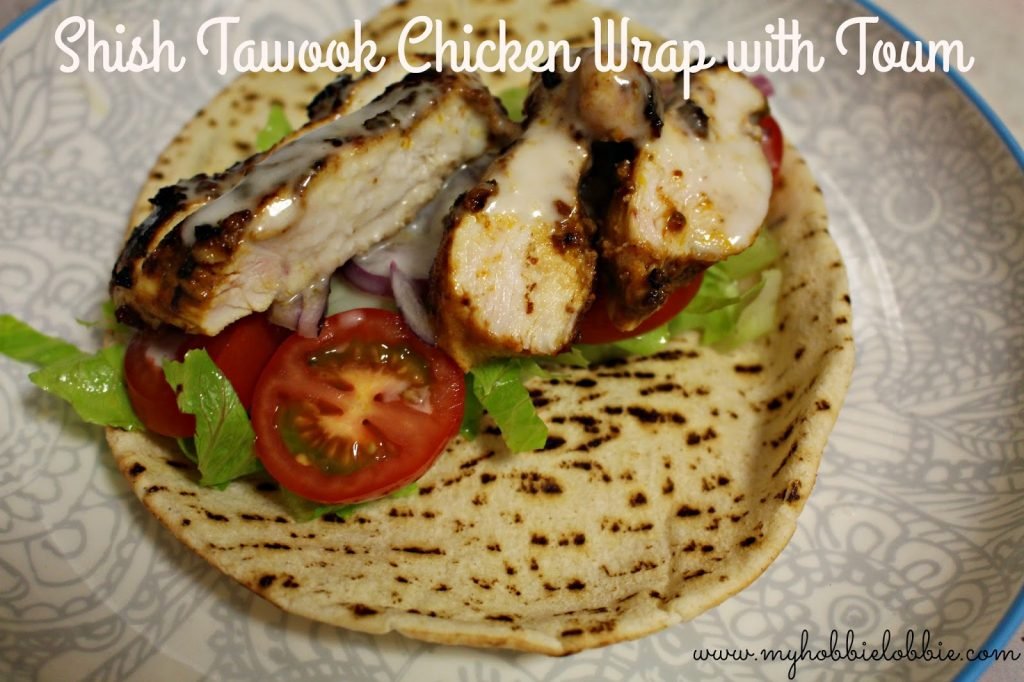 Shish Tawook Chicken


2 chicken breast fillets, skinless
1 tbsp tomato paste
2 tbsp ketchup
2 cloves garlic, minced
3/4 tbsp mustard
1 tbsp soy sauce
1 tbsp dried oregano
2 tbsp olive oil
2 tbsp yogurt
1 tsp smoked paprika
1/2 tsp salt
1 tsp all-spice powder
Cut the chicken breast into strips or pieces.
Mix the rest of the ingredients together and marinade the chicken with it. Make sure all the pieces are well coated with the pieces.
Cover with cling film and leave to marinade for atleast half an hour or in the fridge overnight.
Drip off the excess marinade and grill or pan fry the chicken till done.
Toum


2 tbsp cornstarch
3/4 cup water
3-5 cloves garlic, minced
1 tsp lime juice, or to taste
3-5 tbsp vegetable oil
A pinch of salt
Dissolve the cornstarch in the water.
On a medium low flame, cook the cornstarch solution till it thickens and starts to bubble, whisking continuously. Continue cooking for another two minutes.
Take the solution off the heat and cool down completely.
Place the cooled solution in a food processor or blender. Add the minced garlic, salt and lemon juice.
Blitz till the mix starts turning white.
Drizzle the oil in one spoon at a time, like you would for a mayonnaise till it thickens to the consistency of a mayonnaise. You may not need all of the oil.
Serve immediately or refrigerate in an air tight container.
** My version wasn't as thick as I'd have liked it to be, but I hope to get that fixed soon.
<!– end InLinkz script —>
Chicken is a protein that we eat most frequently at home. Whether it is a curry or fried, roasted or in a salad, we love it. What I also love about it is that is easy to prepare and cooks fast. One of many new edible ingredients that I've had access to in the last year is a Cajun spice mix. A lot of the spices I use are Hoyt's including this one.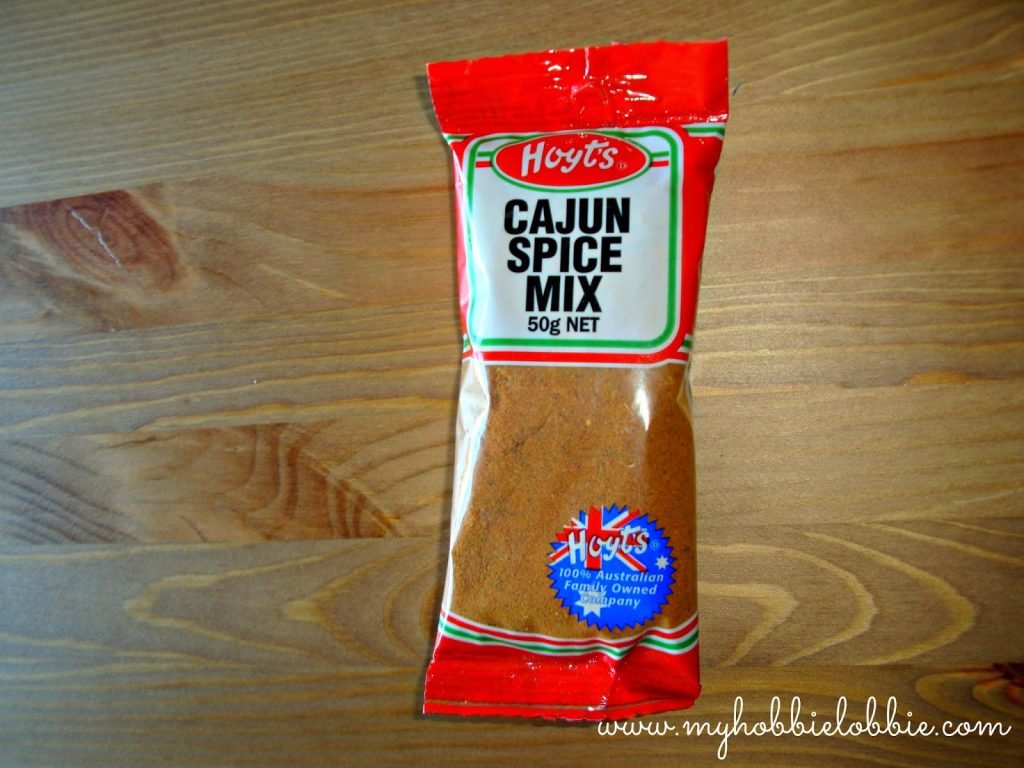 This is the first brand of Cajun Spice that I tried and enjoyed it a lot, so I've just stuck with it. And moreover, it is a 100% Aussie family owned company; I try to buy local whenever possible. I know there are loads of folks who make this blend at home and sometime in the future, I fully intend trying my hand at making it myself. For now, I'll stick with what I have easy access to.
Making Cajun chicken my way, couldn't be easier. I use smaller pieces of boneless chicken. Sometimes I use thigh fillets, other times I use breast fillets. I almost always buy the whole bird and then portion it out and cut it up at home (that is husband's department though). You could use whatever cut you like. Its nice to leave the chicken to marinade for about half an hour, but at times, when I've been pressed for time, I've made it after just 10 minutes and it still turns out pretty good. This is not a recipe as such, more of a guide to some yummy chicken.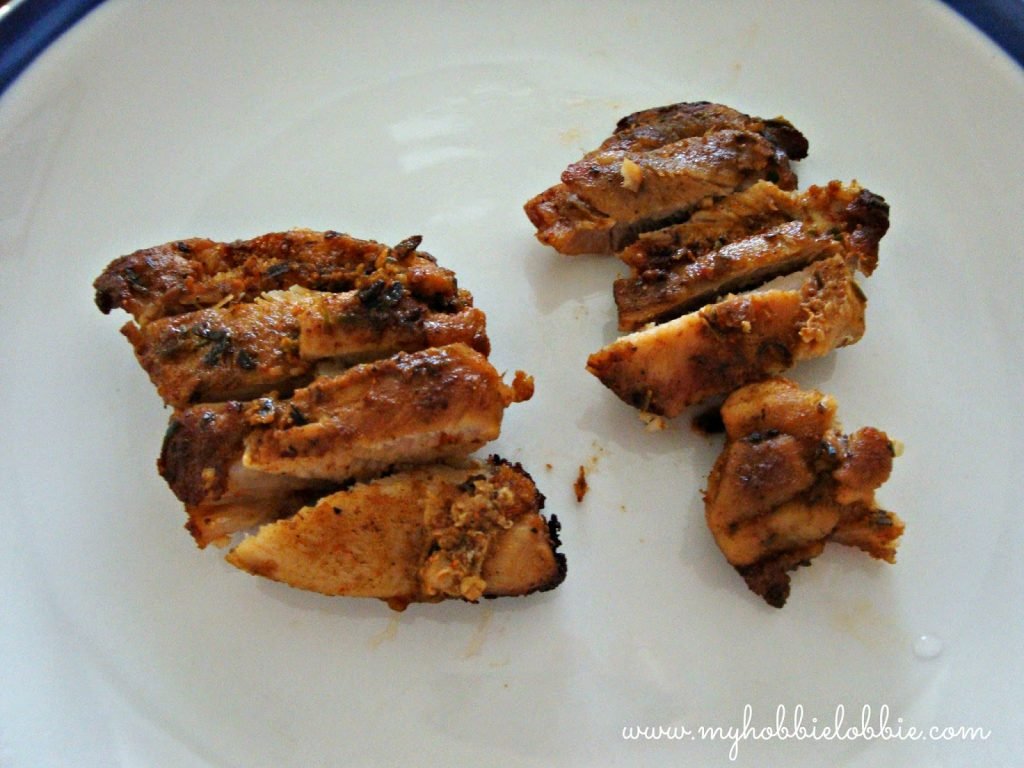 Boneless chicken pieces
Salt, to taste
Lime juice, to taste
Cajun spice blend, to taste
1 tbsp Vegetable oil
Take off the skin and trim the fat, if any, from the pieces of chicken.
Sprinkle the salt and cajun spice mix over the pieces of chicken.
Squeeze the sour lime juice over the chicken. I think the lime juice is what brings out the wonderful flavors of the spice blend. Its definitely not the same without the tang from the citrus juice. If you don't have lime juice at hand, you could use lemon juice too, you'll just need to use a little more.
Toss the pieces well to ensure they are well coated. Rubbing the spices into the pieces of the chicken works really well. Leave the chicken pieces in the spice rub for about half an hour.
Heat the oil in a pan. Carefully place the pieces of chicken in the pan and fry on both sides over medium heat till done. Depending on the number of chicken pieces you are frying, you may need to cook it in batches. Do not overcrowd the pan. You may need to use a touch more oil for each batch. (Tip: I start on a slightly higher heat to seal in the juices and then lower the heat to cook it through.) If you have a grill, I'm pretty sure this would taste fantastic grilled too.
You could serve these chicken pieces as they are with a salad for a fantastic quick weeknight meal. Or you could do what I do – cut up the pieces and use them in wraps and take them to work for a great packed lunch option. Here's how a put the wraps together.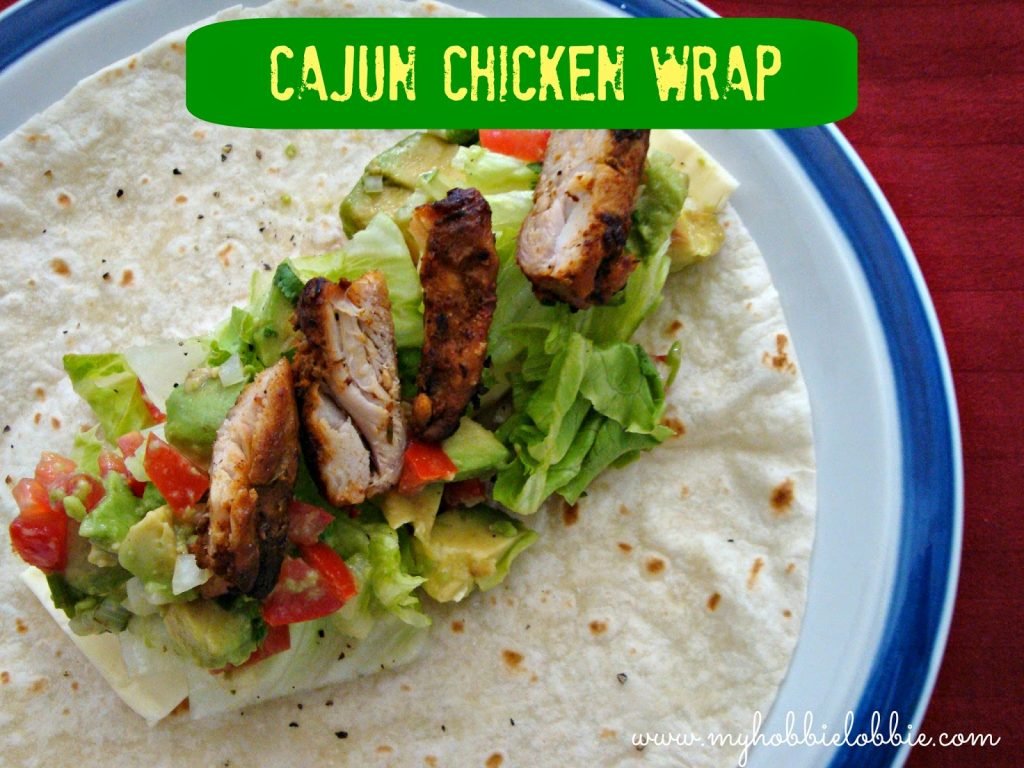 For the Wrap –
Flour tortillas (I used store bought)
Iceberg lettuce, chopped
Cheese slices, optional
Cajun chicken pieces
Lay the cheese in the middle of the tortilla and place some lettuce on top.
Top that with the the chunky guacamole and lay the chicken pieces over it.
Carefully, roll the tortilla to make the wrap.
Tip: If I'm eating the wrap straightaway, I warm the tortilla before making the wrap.
Enjoy!!!
** This is not a sponsored post. I'm just sharing with you a product I really enjoy.
This one isn't really a recipe, but just a way to use up some leftover ground
beef mince
and make it a little interesting. The wrap adds a lovely crunch and is super versatile; fill it with whatever you have at hand. It is a beautiful way to serve up leftovers.
I use ice berg lettuce leaves, but you can adapt and use any lettuce you have. Another thing to remember is, make sure the beef is slightly on the drier side. While cooking the mince, if you've left it at a gravy consistency, simply cook it uncovered till the juices dry up, stirring occasionally to ensure it doesn't burn.
I didn't just stop there. I threw in some thinly sliced onion, a slice of tomato and some chopped coriander leaves.
As options, you could use steamed prawns and a cocktail sauce, you could use leftover grilled chicken with some sauteed onions and mushrooms and so much more. I like to think of this as a healthy snack; there's no carbs. If you decide to whip up some lettuce wraps, I'd love to hear from you. Leave me a comment and tell me what you used as a filling. You could send me some pictures or a link too, I'd be happy to feature them here.
Here's to healthy snacking!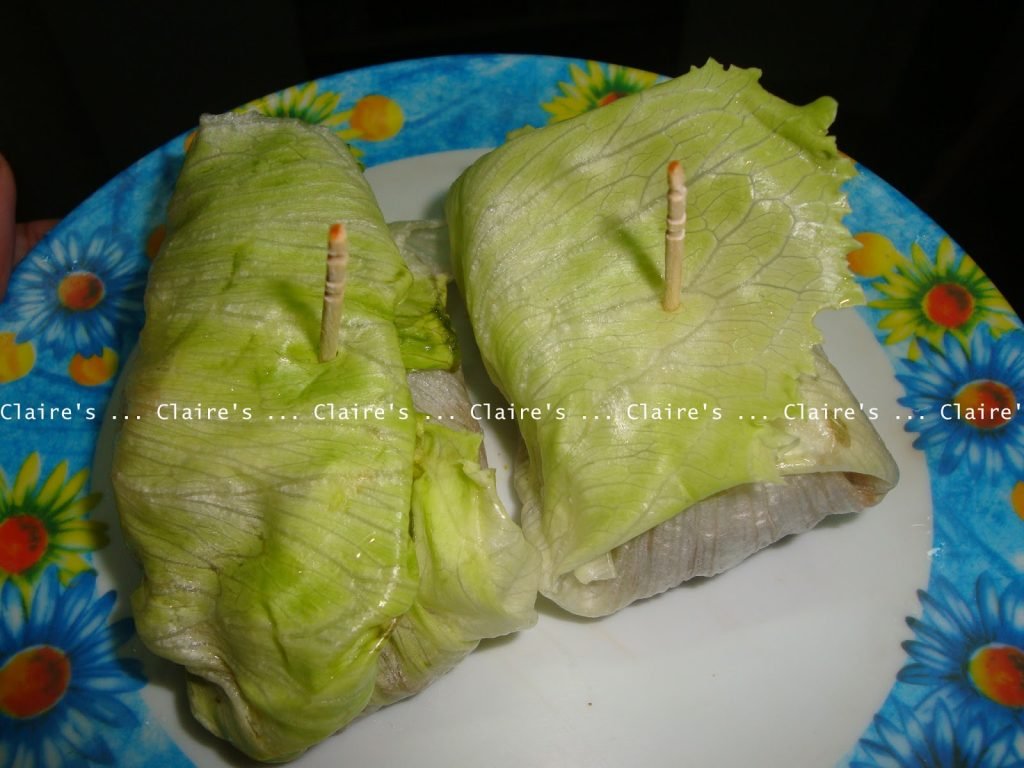 Crunchy Lettuce Wraps


Iceberg lettuce
Leftover beef mince
A few slices of onion
A few slices of tomato
Fresh coriander leaves, chopped


Wash, pat dry and separate as many layers of ice berg lettuce as you'd want wraps.
Place a spoonful of the beef mince, a few slices of onion, a slice of tomato and some chopped coriander leaves.
Wrap it snugly, so that the filling doesn't fall out. As a precaution, I used some small cocktail sticks to keep everything in place.
Place on a platter and serve.