Veggies – Love Em or Hate Em?
In my house, we love veggies. Whether it is steamed, in a curry, stir fried or straight up in a salad, we love it all. We are trying to include more veggies in diet as much as we can, because it is healthier for you. And when you eat what's in season, it tends to be a lot easier on the pocket too. I try to eat local produce as much as I can and always go for what's in season.
When I came across a recipe for a vegetarian Shepherd's Pie, I knew I had to try it. It calls for a bunch of veggies, which most of us usually have on hand, and lentils. We eat a lot of lentils, pulses, legumes, so I knew this would be an interesting way to switch things up. There are a few processes involved in the recipe, but they are all really simple and I loved that there were leftovers.
This Veggie Shepherd's Pie is chock full of veggies and lentils and is the perfect meal for a cold, wet day. And my secret ingredient is a little Vegemite. This adds amazing depth of flavour and that umami quality that most recipes reach for. The veggies and lentils are full of flavor and are topped with mashed potatoes.And who doesn't love mashed potatoes?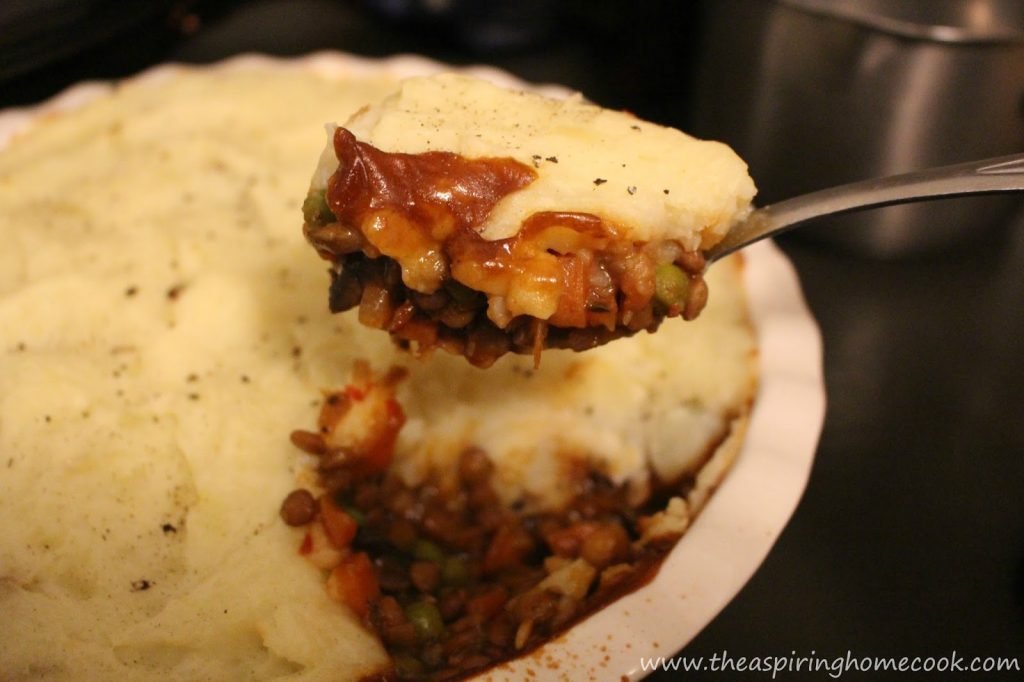 Vegetarian Shepherd's Pie
1 cup cooked lentils
1 tbsp olive oil
2 cloves garlic, finely chopped
1 large onion, chopped
3 carrots
2 stalks celery
Handful of button mushrooms, sliced
Salt, to taste
1 tsp dried thyme
1 tsp dried mixed herbs
1/2 tsp smoked paprika
Freshly cracked black pepper, to taste
1 tbsp tomato paste
1 tsp vegemite
1 tbsp flour
1 cup vegetable broth
1 cup frozen peas
6-8 potatoes, depending on size (You need enough to make about 4 cups worth of mashed potatoes)
A small splash of milk, if needed
A knob of butter (optional)
Heat olive oil in a large skillet over medium heat.
Add the onions and garlic and saute till the onions have softened.
While the onions are cooking, dice the carrots and celery to 'more or less' resemble the size of the peas and lentils.
Once the onions have softened, add the diced carrots and celery to the pan and cook till the celery has started to soften.
Now add the sliced mushrooms, salt, thyme, mixed herbs, smoked paprika and pepper to the pan. Stir well to let the spices incorporate. Continue cooking till the mushrooms have fully softened.
Add the vegemite, tomato paste and the flour to the pot. Stir and continue to cook the veggies till they're coated and the pasty mix starts to coat the bottom of the pan. This should take about 2 minutes.
Add the vegetable broth to the pan. Stir to dissolve the flour and tomato paste that has coated the bottom of the pan.
Bring the broth to a simmer. It will have started thickening. Add in the cooked lentils and peas and let them all heat through.
Taste for seasoning and add more salt and pepper if needed, stir through and take the pot of the heat.
Preheat your oven to 200ºC.
Wash and peel the potatoes and cut them into cubes to cut down on cooking time.
Boil them in salted water till tender. Drain and mash the potatoes with the milk and butter (if you are using) till no lumps are left. Taste and add more salt, if needed.
Add the vegetables to a large casserole dish (I used my 9 inch ceramic pie dish). Top with the mashed potatoes. It is easier to handle the mashed potato when it is still warm. I used the back of a spoon to flatten the mashed potatoes. You can choose to use a fork or a spoon to create a decorative pattern if you'd like.
Bake for around 15 minutes till everything has heated through. If you want the mashed potatoes to brown some more, place it closer to the top heating element of your oven, or turn your broiler on (if your oven has that function) and bake for a few more minutes. Watch closely and when it has browned to your liking, take it out of the oven.
Sprinkle some more freshly cracked black pepper over the top and serve hot.
Enjoy your veggies!!!
Pin this now for later –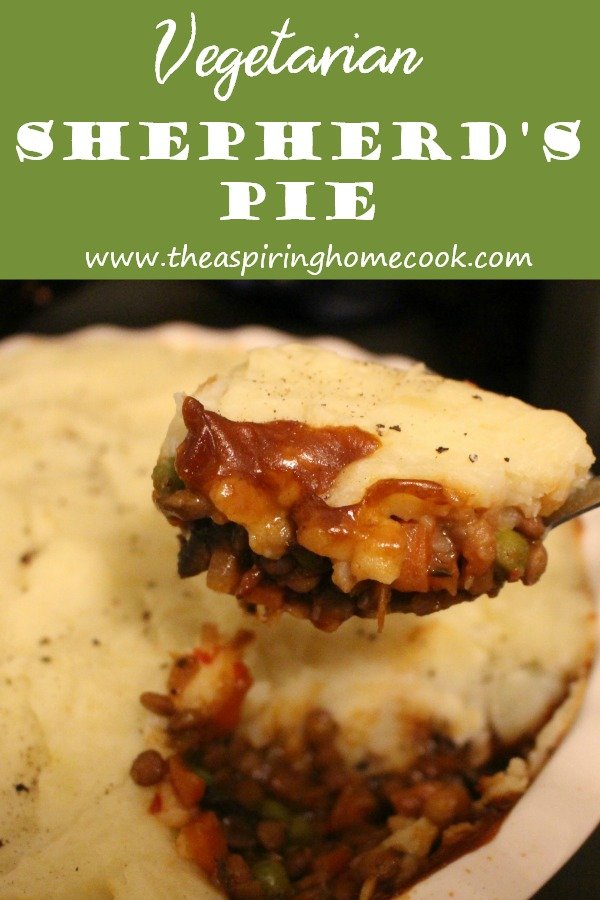 It is so good to have access to an oven again. After a trying 6-7 months without one, the last few have been bliss. My last post talks about how to make a basic chicken roast in the oven. Every roast, chicken or otherwise, needs to be accompanied by a few yummy sides too. I only recently realized that I haven't posted too many such sides on my blog. Now that was just not done. I had to rectify that. So I'm going to start with these really delicious baked potato wedges. These baked potato wedges are a step up from the humble roasted potatoes. The garlic herb seasoning makes these irresistible.
Most of you know my deep rooted love for the humble potato in every form. This recipe here, is another good one. Its healthier than the regular french fries, but don't let that fool you. I know these wedges will make more than a few appearances on my dinner table.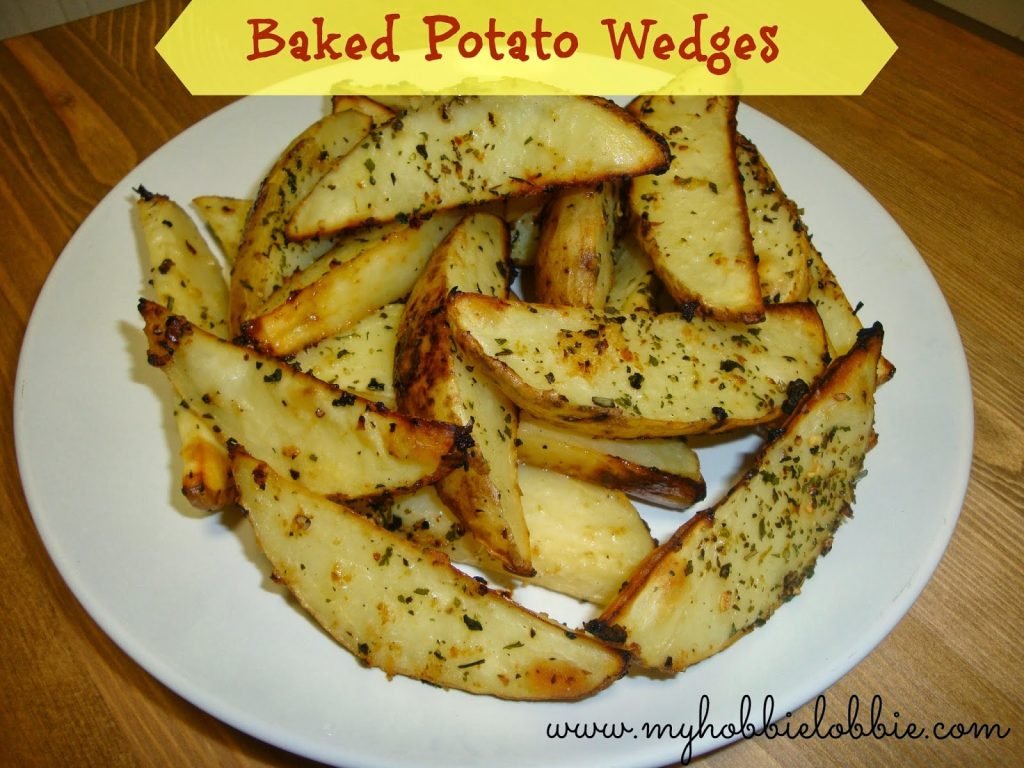 Baked Garlic Herb Potato Wedges
2 potatoes, washed thoroughly, skins left on
Salt, to taste
1-2 tbsp. Olive oil
1/2 tsp garlic powder (I used garlic salt and adjusted the salt levels accordingly)
Black peppercorns, crushed, to taste
1 tsp dried Italian herb mix
A little dried parsley (or finely chopped fresh parsley), to garnish
Preheat oven to 210°C.
Cut the potatoes in half, lengthwise and each half into 4-5 wedges, equal in size.
Toss the wedges with the rest of the ingredients in a bowl and make sure all the wedges are coated evenly. You can adjust the quantities of the seasoning to your taste. The quantities mentioned above work well as a guide.
Line a baking sheet with foil. Place the wedges skin side down. Space them evenly so that they cook uniformly.
Bake for about 30-35 minutes or until browned to your liking, crusty on the ends and tender inside.
Serve immediately. Add more salt if needed while they are still hot from the oven.
Sprinkle a little parsley over the potatoes and serve hot.
Sit back and enjoy!
UPDATE: Over the years, I've made one little addition to this recipe, that I think makes this recipe even more delicious. After the mustard seeds sputter, add 1/2 tsp cumin seeds and let it release its aroma, should take a few seconds. Then continue with the recipe. Nothing else changes. Keep a close eye on the cumin seeds and don't let it burn.
Also, I have come to realise that there is a difference in the size of sour limes found in India and other countries. You need just a few drops, maybe a teaspoon of it for a mild change in flavours.
I've been having such crazy days of late, I just don't know where all the 24 hours off the day go. Things such seem to be happening at such a frenzied pace, and that too for no reason in particular. I wonder what brought this on. Since I haven't been able to devote much time to this space, I decided I was going to make up for it by posting one of my all time favorites – the humble aloo bhaji (A mildly spiced potato stir fry.) I do love my fries and mashed potatoes, but sometimes I find myself longing for a portion of this stir fry.
Making this stir fry can be super quick, not to mention easy, if you have a few boiled potatoes at hand. Make sure that when you're boiling potatoes for this stir fry, you don't overcook them, else they will not hold their shape and get all mushy. It'll still taste great, but just won't be as much of a visual treat. I usually wash the potatoes and pressure cook them with some water and salt for about 10 minutes after the first whistle. Remember to turn your gas to low after the whistle. If you don't want to use a pressure cooker, peel and cube the potatoes and cover them in water, add a little salt and boil them on the stovetop till tender.
This stir fry is a versatile side dish. In India, every region tweaks it a little and uses it in loads of different ways. It can be served with some hot chapatis (Whole wheat flat bread), pooris (savory deep fried flat bread), used as stuffing for masala dosas (savory crispy crepes filled with this potato mix) and so on. I'm going to try to post each of these in the future. Oh! and by the way, this potato mix makes for a lovely topping on a slice of toasted bread or can also be used as a filling for a grilled sandwich. How about that!
Watch the video here –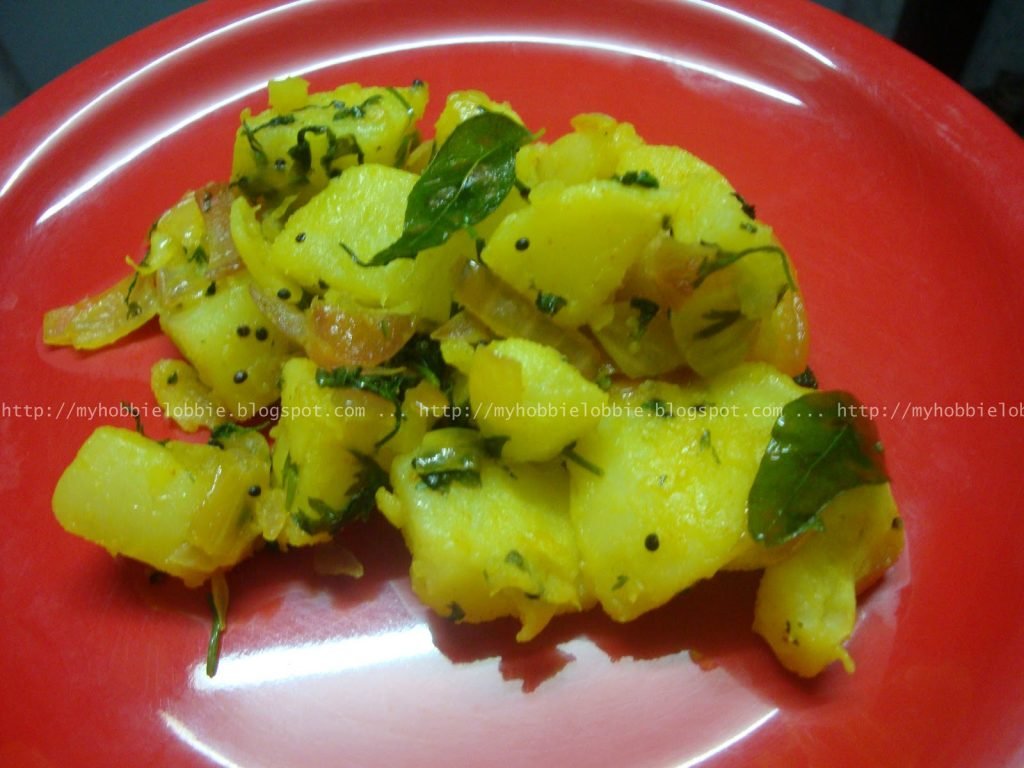 Aloo Bhaji
(Serves 4)
3-4 large potatoes, boiled, peeled and cubed (about 1/2 kg)
1 large onion, chopped
2 birdseye / green chillies, sliced (or to taste)
8-10 curry leaves
1 tsp mustard seeds
1/2 tsp cumin seeds
1/2 tsp (scant) turmeric powder
1 tbsp lime juice
2 tbsp fresh coriander leaves, chopped
1 tbsp vegetable oil
Salt, to taste
1/2 tsp sugar
Heat the oil in a pan.
On a medium flame, add the mustard seeds and let them sputter.
Add the curry leaves and the chopped chilly. Let it fry for a few seconds.
Add the cumin seeds and immediately after tip in the chopped onions and saute it for a few minutes till the onions have softened and turned a light brown.
Add the turmeric powder and stir well. Let it cook for about a minute. Stir to make sure it doesn't stick to the pan and burn.
Tip in the potatoes and stir well till the potatoes are well coated with the spice mix.
Add the lime juice and salt to taste and stir well.
Add the sugar and stir well.
Check for seasoning and adjust, if needed.
Once the potatoes have heated through, sprinkle the chopped coriander leaves and toss lightly. Take the pan off the heat.
Serve hot.