Like some of you already know, my mother's family originally is from Goa. Growing up, we spent almost every summer in our ancestral home in Goa. It was a sprawling old Portuguese styled house with large grounds surrounding it. In our garden grew a variety of mango trees. We also had a great big coconut tree. Our garden also housed some custard apple, pomegranate, chickoos / Sapota, jackfruit, cashews, guavas, bananas and so much more. Some of my fondest memories have got to be me tagging along with my aunt harvesting all the lovely organic produce right through our holidays and enjoying all the yummy food my mum and aunt would whip up for us.
This prawn curry made a regular appearance on the table along with some Goan red rice and whatever vegetable was in season. Our Goa house had 2 kitchens, one was a traditional old wood fired one and the other was a modern one with a gas stove-top. However, almost all the cooking was done in earthenware pots in the old kitchen. While everything took a lot longer to cook, the taste was unbeatable.
I would give anything to experience something like that again. While that might still be a pipe dream, for now, I just make do replicating some of the good old recipes. This prawn curry is a coconut based curry, known for its vibrant orange color and its spicy and tangy flavors. I hope you try it out and enjoy it as much as we do.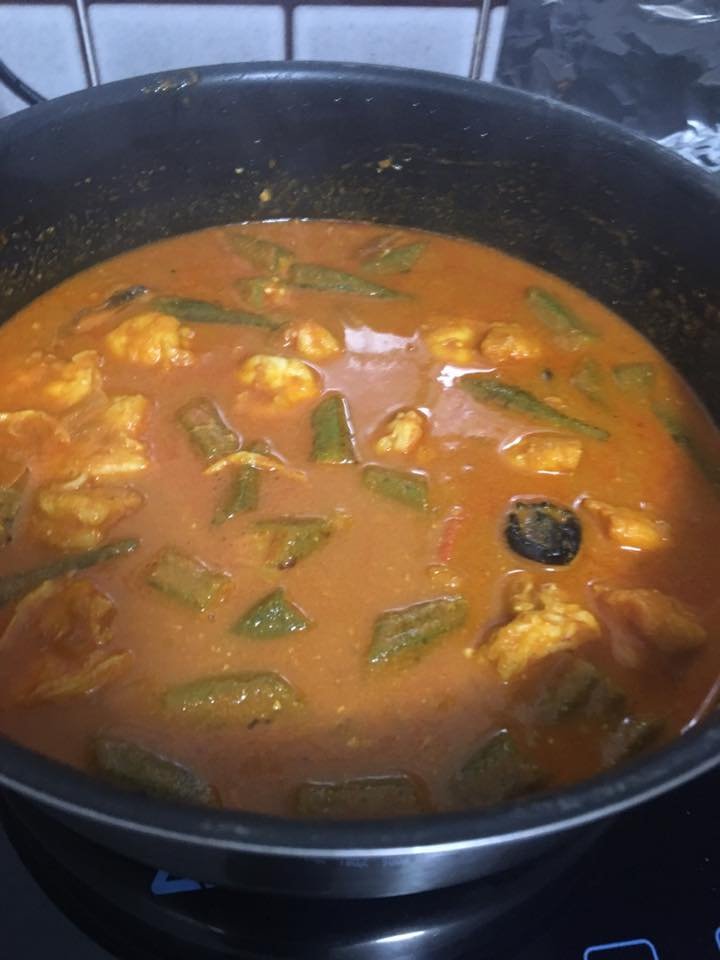 Goan Prawn Curry with Okra
500g prawns, shelled, de-veined and washed a couple of times
1 small onion, finely chopped
2 chillies, split lengthwise
A couple of pieces of Kokum / Aamsol (dried souring agents)
6-8 okra pods, trim off the stalk and cut into approx. 1 inch pieces
Salt, to taste
1-2 tbsp oil
A small ball of tamarind (about half a walnut in size)
For the masala / spice paste – 
1/2 cup grated coconut
6 Kashmiri chillies
3 cloves garlic
1/4 tsp turmeric powder
1/8 tsp black pepper corns
1/4 tsp cumin seeds
1 tbsp coriander seeds
Sprinkle a little salt on the prepped prawns and set aside.
Soak the tamarind in a little warm water in a small bowl and set aside.
Grind all the ingredients for the masala into a fine paste using a little water, as needed
Heat the oil in a large vessel.
Add the onions and saute till they soften. Add the kokum / aamsol.
Add the ground masala / spice paste to the pan and let it fry for a couple of minutes.
Add a cup of water to the mixer and swirl around to pick up any of the remaining spice mix and add to the pan. Add more water as needed to achieve the desired consistency.
Add the chillies and bring to a boil. Season lightly with a little salt (The prawns also have some salt on them so add salt accordingly).  Lower the heat to a simmer and add the okra.
Cook gently till the okra is almost cooked. Check for seasoning.
Mash the tamarind up and discard any pieces of fibre or shell and add some of the tamarind paste, to taste.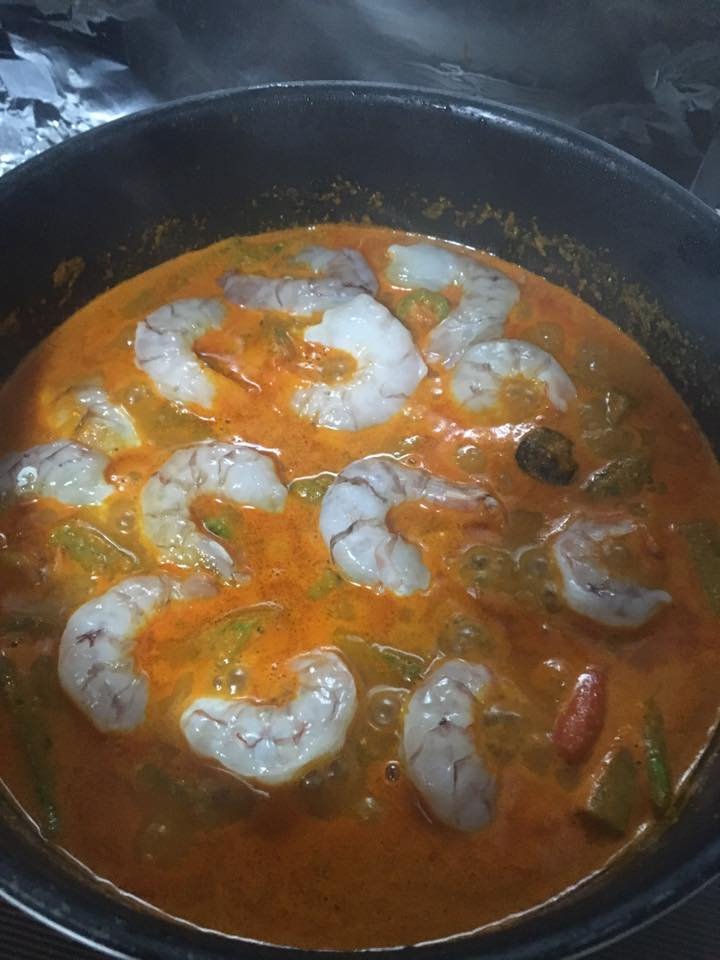 Add the prawns. Continue cooking just till the prawns have cooked through. (This usually just takes a couple of minutes depending on the size of the prawns.) Do not overcook the prawns.
Check for seasoning and adjust, if needed.
Serve hot.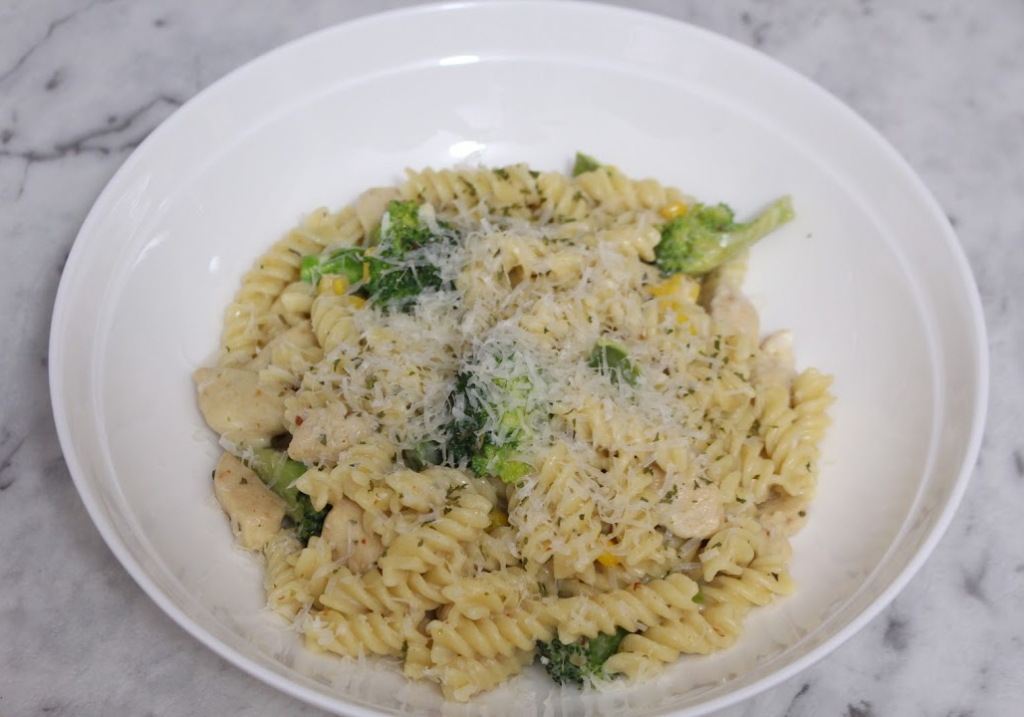 Pasta – one humble ingredient but endless ways to cook it up. It has got to be one of the most versatile ingredients in the kitchen. You can serve it hot or cold, in a soup, salad or as a main. It works so well with so many different veggies, proteins and sauces. I love me some pasta and always have a couple of varieties in my pantry cupboard.
Pasta dishes can range from simple to a little more complicated. I personally, love the idea of a few simple recipes that I can use during the week. This Chicken in white sauce pasta is one such dish. With a little multi-tasking, I can serve this up in well under half and hour. Yup, you heard that right, under 30 minutes. Honestly, what takes the most time, is boiling up the pasta itself. If you don't eat meat, you can still make this recipe, just leave out the chicken and add some mushrooms, peas or even a little spinach. A vegetarian variant turns out equally delicious.
Are you ready to check this recipe out???
Chicken in White Sauce Pasta
(Serves 4)
A single Chicken breast fillet, cut into bite sized pieces
1/4 cup green capsicum, diced
1 cup of broccoli florets
1/2 cup corn kernels
2 cloves of garlic, finely chopped
Salt, to taste
Freshly cracked black pepper, to taste
Chilli flakes, to taste
1/2 – 1 tsp Mixed herbs, or to taste
1 tsp lemon juice
1-2 tbsp olive oil
1-2 tbsp vegetable stock / water
Pasta (enough for 4 servings)
A little parsley, to garnish
A little Parmesan cheese, grated
For the white sauce –
1 tsp olive oil
1 1/2 tbsp butter
1 tbsp all purpose flour
1 1/4 cup milk
1/3 cup cheddar cheese, grated
Salt, to taste
Cook your pasta according to the packet instructions. I bring a large pot of water to a rolling boil. Season generously with salt. Add the pasta and cook till done. Drain and reserve about 1/2 cup of the cooking liquid.
While the pasta is cooking, season the chicken with salt, pepper and lemon juice to taste. Mix well.
Heat 1 tbsp olive oil in a pan. Add the chicken and cook through, stirring occasionally, till the chicken has cooked through. Remove the chicken in a bowl and set aside.
In the same pan, add 1 tbsp of olive oil and quickly add the garlic.
Stir through and immediately add the green capsicum. Still through and let the capsicum cook for about a minute.
Next add the broccoli and saute well. (See note*)
Add the corn and stir through.
Season with salt, pepper, chilli flakes and mixed herbs, to taste.
Add 1-2 tbsp vegetable stock (you can also use water), stir well, cover and let the veggies steam and cook for a minute or two or till they are done to your liking. (If you are adding cooked broccoli to the pan, you can leave this step out. )
Add the cooked chicken to the pan and stir through. Set aside and cook your white sauce.
To cook the White Sauce / Bechamel Sauce –
(For detailed instructions on how to make a great white sauce, check the video above)
Add a tsp of olive oil to the pan on medium heat.
Add the butter and let it melt.
Add the flour and stir briskly, making sure the flour incorporates well with the butter and oil and that no lumps are left.
Cook this roux off for about 30 seconds to a minute or till the raw smell of the flour has gone. (Do not let it develop any color.)
Add half the milk to the pan and stir through well, making sure no lumps remain.
Add the remaining milk and whisk well.
Cook the sauce till it has thickened to your liking, whisking well.
When the sauce is done, lightly season with a little salt.
To assemble the pasta –
Add the white sauce to the chicken and veggies in the pan. Stir well. Add the cheese and mix through.
Check the sauce for seasoning and adjust, if needed.
Add the cooked pasta to the pan and stir through.
Serve your pasta in some serving plates. Finish with a light sprinkling of parsley and a grating of parmesan cheese.
*NOTE: Our broccoli is fairly tender and cooks very quickly. If your broccoli takes longer to cook, blanch or steam it before adding to the pan.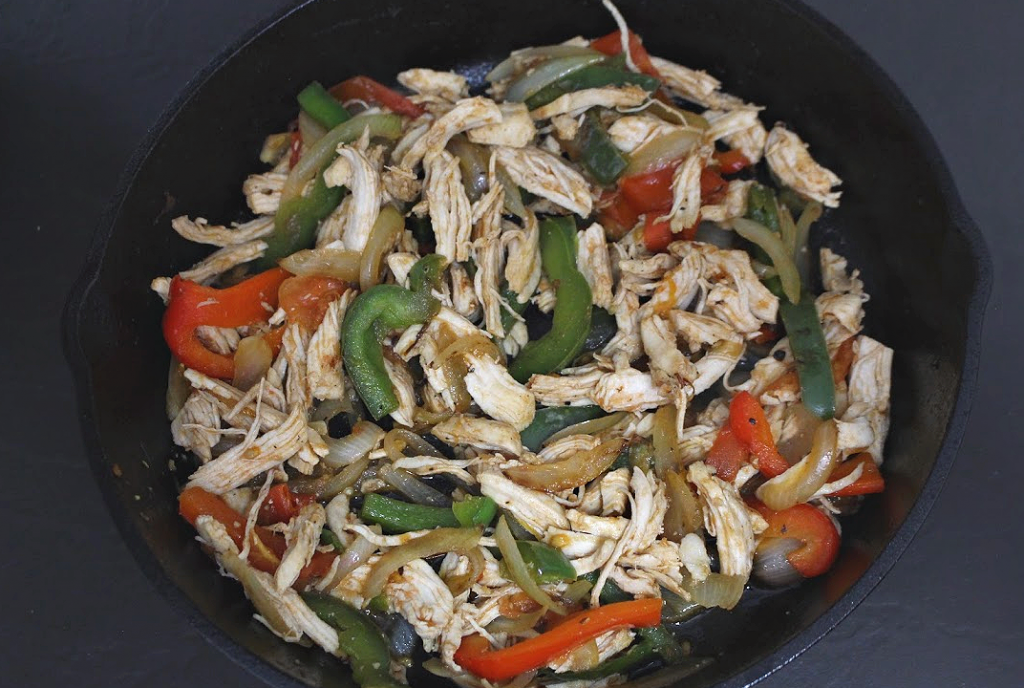 Earlier in the year, I put up a post on my YouTube community tab and asked you what kind of recipes you'd like to see on the channel. One recurring request that came out of that exercise, was chilly fry recipes. So today, I'm going to share with you one of the many ways I make a chilly fry. This is one of the quickest and simplest recipes for a Chicken Chilly Fry.
I've cooked up the chicken specifically for this recipe, however, if you have some leftover roast chicken, you could just as easily use that as well. The recipe can be made kid friendly by simply leaving out the chillies. However, if you're looking for a little spice in the dish, a couple of chillies, slit lengthwise, hit just the right spot.
Chicken Chilly Fry
1 chicken breast, cut into a couple of smaller pieces
For the marinade –
Salt, to taste
Freshly cracked black pepper, to taste
1-2 tsp sour lime / lemon juice
1/2 tsp garlic paste
1/4 tsp ginger paste
For the chilly fry –
1 onion, sliced
Some green and red peppers, sliced
1 tomato, sliced thickly
2 chillies, slit lengthwise (optional)
2 tbsp oil
Salt, to taste
Freshly cracked black pepper, to taste
Marinade the chicken by mixing all the marinade ingredients and slathering over the chicken pieces. Cover and marinade for atleast 15 minutes. (When I remember to, I marinade the chicken overnight, in the fridge. Just make sure you take it out of the fridge a little while before cooking, so that it comes to room temperature.)
Cover the pieces with sufficient water and bring to a gentle boil and simmer till the chicken is completely cooked. Take the chicken pieces out of the stock and reserve the stock. When the pieces are cool enough to handle, shred them and set aside.
Heat some oil in a pan.
If you're using chillies, add them to the pan and fry them off to infuse some flavor into the oil.
Add the sliced onion and saute for a minute. Next add the peppers and let them cook till they get a little char on them.
Add the tomatoes, let them cook a little. Make sure them come in contact with the pan a little, so they can develop a nice little char on them too.
Season with salt and pepper, to taste.
Next, add the shredded chicken and stir to mix everything well.
If the mix appears a little dry, add a couple of spoons of the stock to the pan and stir well. (Add the stock as needed. I used about 4-6 tbsps. in all)
Once most of that liquid has been absorbed, your chilly fry is ready.
Serve hot.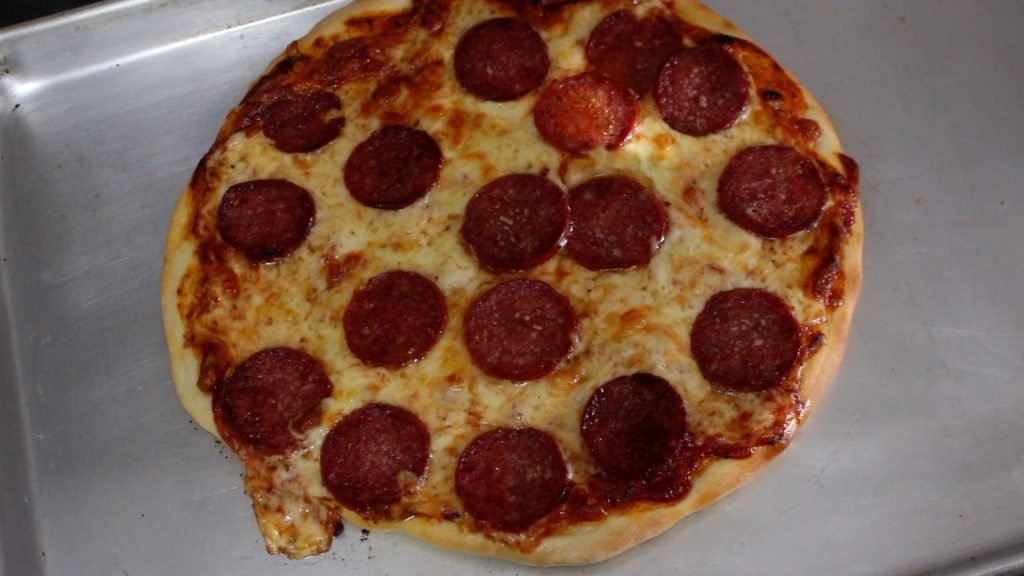 When I think back at my first experience eating pizza, I'm immediately taken back home to when I was about 10 or 12 years old. My best friends mother had whipped up some little pizzas for us as a snack using store bought pizza bases, a little sauce and some toppings. I can't remember what was on it, but what I do remember was that I liked it very, very much. After that, she very kindly shared that recipe with my mother, who whipped them up for us at home, every once in a while.
Fast forward to about 7-8 years ago, I actually learned to make my pizza bases from scratch. After a whole lot of trial and error, I finally found a combination that worked well for me. And I've stuck to that ever since. And its safe to say, that since then, I have never bought a store bought pizza base. It is quite easy to make, once you know what your doing. Coupled with this, I'm also going to share my no-cook pizza sauce recipe with you. This recipe is probably older than my pizza dough recipe. As far as the toppings go, we've tried a lot of combinations. Once you have the basics in place, you can switch up you toppings to suit your tastes.
I'm going to whip up 2 pizzas today, one is a pepperoni pizza and the other is a mixed vegetable pizza. While, we're tried a few topping options, these two have got to be strong favorites in my house.
So let's get on to the recipe, shall we?
Homemade Pizza


For the pizza dough –
2 cups all purpose flour (maida)
1 tsp instant dried yeast
1 tsp sugar
150ml luke warm water (approx.) (use as needed)
2 spoons olive oil
Salt, to taste
In a little bowl, combine the yeast, sugar and a couple of tablespoons of warm water. Set the bowl aside for about 5-10 minutes for the yeast to activate.
After 5-10 minutes, the yeast will turn frothy and is now activated.
In a large mixing bowl, take 2 cups flour and add the salt (I use about 3/4 tsp salt). Using your fingers, mix the salt through the flour.
Make a well in the middle of the mound of flour and add the yeast mix.
Start combining the flour with the yeast and gradually add warm water, as needed to form a soft dough.
The dough will be tacky at first, but will eventually be much more manageable and smooth.
Stretch the dough while kneading and continue this process for about 5 minutes. (See video above, for method). Halfway through the process, add the oil in 2 stages and continue working the dough.
Shape into a ball, and place in a greased bowl. Drizzle a little olive oil on the dough and lightly coat the top of the dough, so that it doesn't dry out. Cover the bowl with some cling film or a clean, damp towel and leave the bowl in a warm place for the dough to rise. Leave to prove (rise) for about an hour, or till the dough doubles in volume. (It might take a little longer during cooler months.)
For the sauce –
1-1 1/4 cup passata, tomato puree or canned tomatoes (If using canned tomatoes, process them to a puree before using)
2-3 small cloves of garlic, minced
2 tsp olive oil
Salt, to taste
Freshly cracked black pepper, to taste
A little less than 1/2 tsp dried mixed herbs
1/4 tsp dried oregano
1/2 tsp sugar
1/4-1/2 tsp red chilly flakes
Add all the ingredients into a bowl. Stir to mix thoroughly.
The sauce is now ready to use.
To make the pizzas –


Preheat the oven to 250 deg C.
Divide the dough into 2 portions.
Stretch the dough to form the base. (See the video above for method)
Spread the sauce over the base, leaving a little margin from the edges.
Add toppings of your choice and cheese. (I use a combination of mozzarella and colby / cheddar).
Bake for 10-12 minutes or till the dough (pizza base) is cooked through and the cheese has melted.
Enjoy!
NOTES:
1) Remember to use warm water, not hot water. Hot water will kill your yeast and your dough will not rise.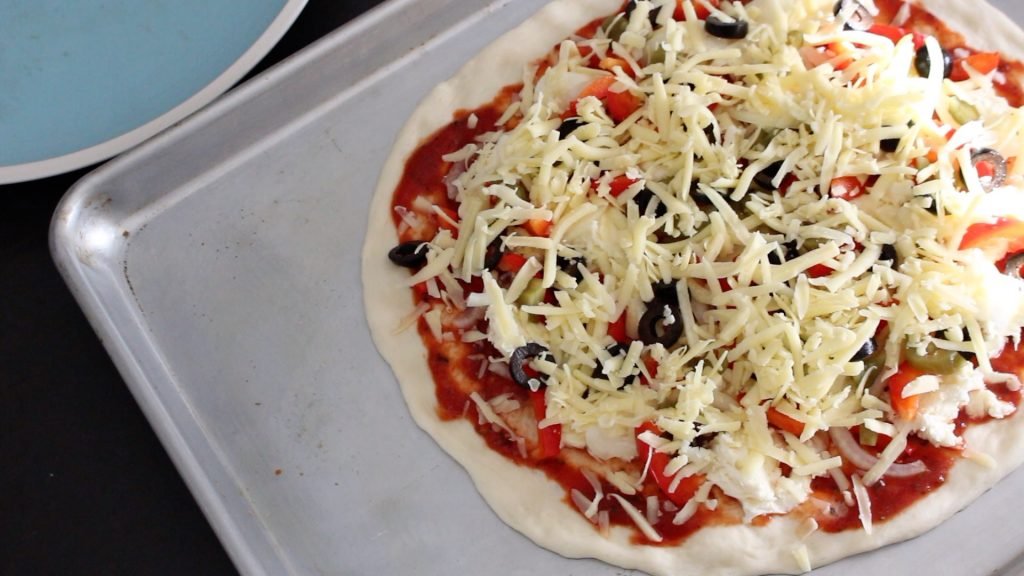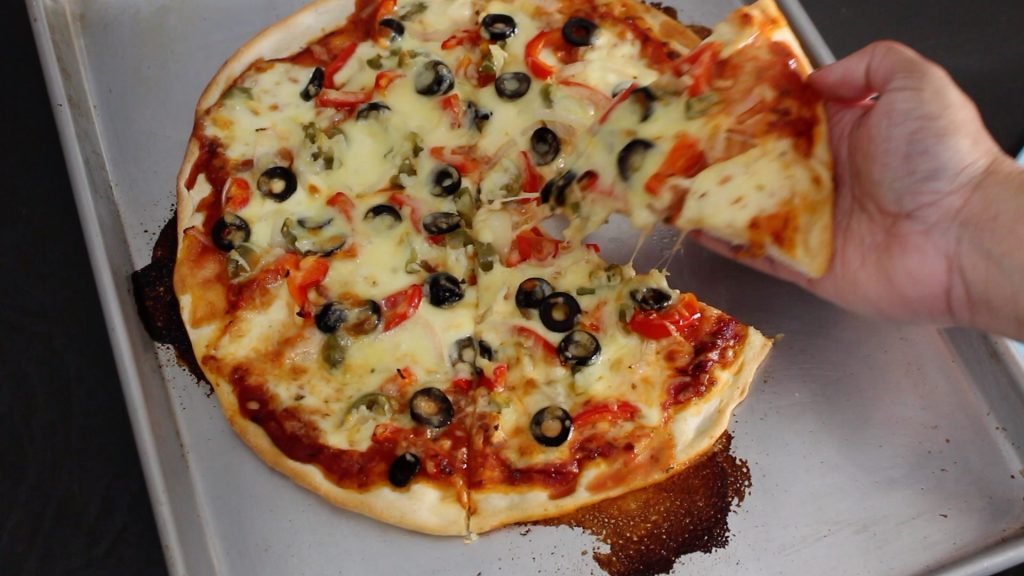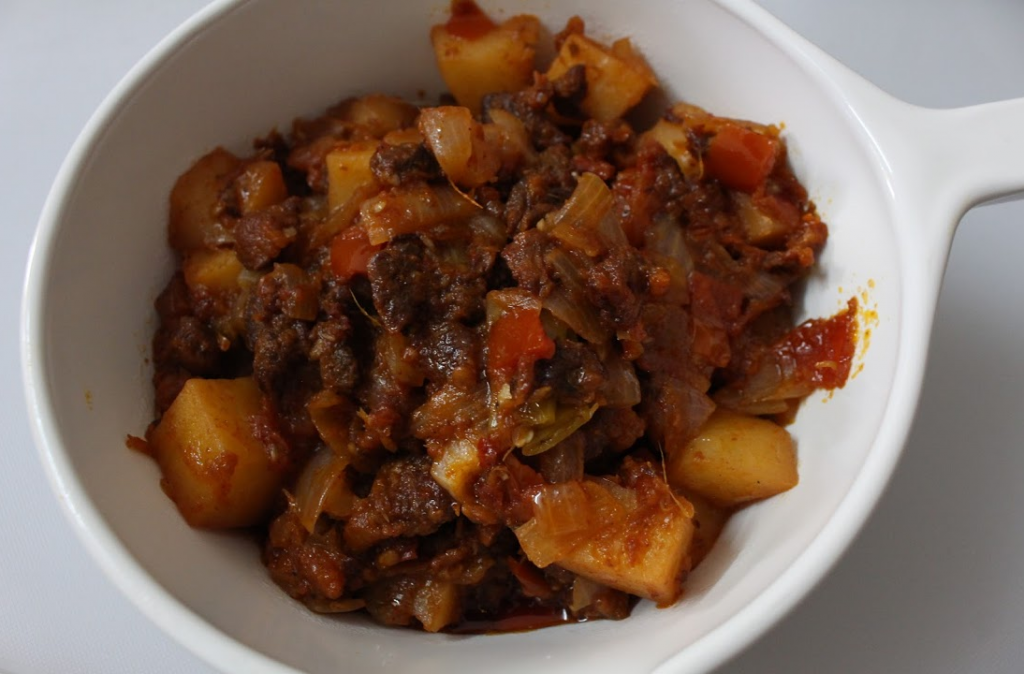 Today, I'm showcasing a highly requested recipe for the oh-so-popular Goan Sausage Chilly Fry. These little beauties are also called Chorize much like its European counterpart, the Chorizo. The Goan sausages originally can be traced back to the Portuguese who ruled Goa and bought with them a lot of their culture, including their food. This sausage was then coupled with the local spices and flavors in Goa and the resulting Goan Chorize is much more spicy and tangy and more pungent than the Portuguese one. But this is a good thing. All these flavors, when well balanced, make for a delectable meal. I have yet to meet someone who has tried Goan sausages and not liked it. In the past, a really long time ago, I have shared one of the ways I make my chilly fry
here
.
The recipe I'm sharing with you today, is more or less the same as the previous one as far as ingredients go, but the process of cooking it up differs. This is how my Nana and Mum have always made it and this is a method I personally prefer. The sausage meat usually contains a fair amount of fat and so no additional oil is needed. If the sausage you're using is lean, I would recommend my previous version of this recipe. Now the taste of the dish you end up with, to a large extent depends on the actual sausage meat. So if at first you're not happy with the dish, try using a different brand of sausages and you will be surprised at how much of the difference this makes.
Today's version of my Goan Sausage Chilly Fry is a great option for a quick and easy weeknight meal or for whenever you're short on time too. All the ingredients go into a pot with some water and is placed on the heat till cooked through. All you then need to do, is check for seasoning and adjust, if needed and you're ready to serve up.
So if you haven't yet tried making Goan sausages at home, try this out. I'm sure you'll love it.
Goan Sausage Chilly Fry
60 beads of Goa sausages (take the meat out of the casing)
6-8 curry leaves
3 large, mild chillies, chopped into large pieces
1/2″ ginger, chopped into a couple of large pieces
1 1/2 large or 2 medium onions, chopped
2 potatoes, cubed
1 tomato, chopped
Salt, to taste
Vinegar, to taste
In a large pot, place the sausage meat, curry leaves, chillies, ginger, onions, potatoes, tomatoes and add 11/2 cup of water. Stir well. Cover the pot and bring to a boil on high heat.
Once it comes to a boil, lower the heat to medium and cook till the potatoes and meat has cooked through and the liquid in the pot has mostly dried up.
Taste and add salt and vinegar, as required.
Serve hot!
This chilly fry pairs really well with some good bread – dinner rolls or some good crusty bread works brilliantly. You can also serve this up with some chapatis or some
Peas Pulao
.
NOTE: You can adjust the consistency to suit your liking. If you want the chilly fry completely dry, once the meat and potatoes have cooked through, cook it uncovered till the liquid dries up. If you'd like more of a gravy, add a little more water or take it off the heat as soon as the meat and potatoes have cooked.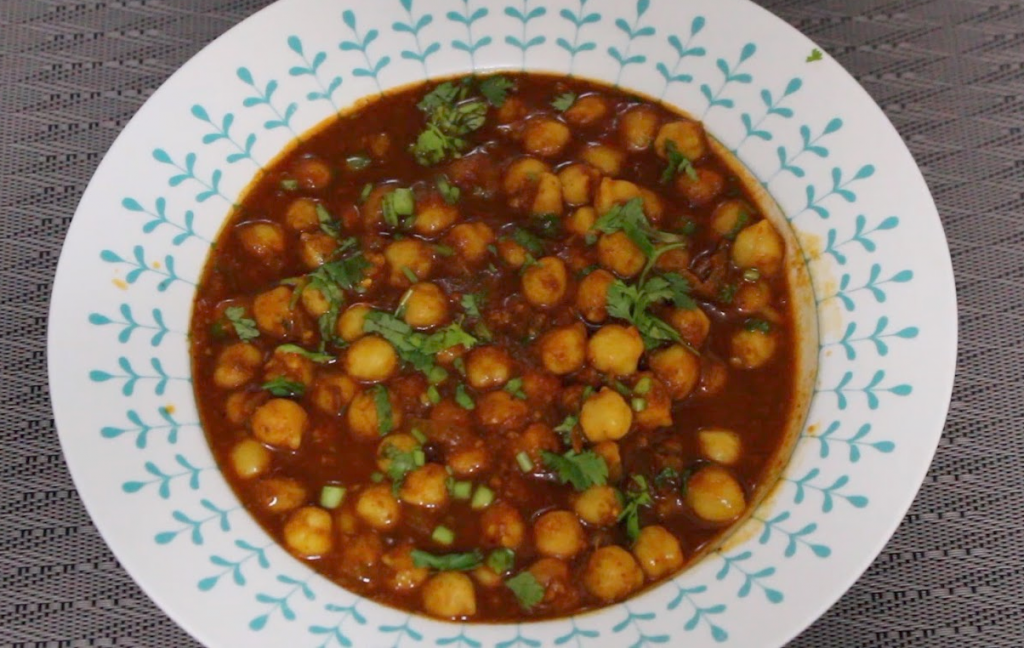 Chickpeas! If you've been around this space a bit, you'll know that I love my beans and lentils. Chickpeas happen to be right on top of that list. The best part is, they are so easy to work with. And No! I'm definitely not talking about using the canned stuff. While you can use canned chickpeas in most recipes that call for chickpeas, and I have too (when I didn't have access to my pressure cooker), there is nothing like cooking your chickpeas or any other beans for that matter, from scratch. I haven't bought the canned stuff for years now. I buy dry beans and lentils by the kilo.
To cook the beans, simply wash and soak them for 6-8 hours, drain and refresh the water. I use a pressure cooker to cook my beans in my stovetop pressure cooker with water, salt and a couple of whole Kashmiri chillies. It takes me just 5 minutes of cooking time after the pressure has built up to cook my beans through. However, each pressure cooker is different. Please refer to the user guide for your cooker, to see how long you need to cook the beans. If you done have a pressure cooker, cook it in a pot with sufficient water till tender.
Once, you've boiled your chickpeas, you can use them in so many different ways. I have shared a recipe for
Chole
on the website previously. That is still a great recipe but I have since tweaked it a little and I'm going to share that new version of the recipe today. I will call it Chana Masala to avoid any confusion. You can also use the boiled chickpeas in a
simple chickpea salad
, make some
Hummus
or use the kala chana (a darker version of the chickpeas) to make this amazing stir fry called
Black Chana Fugad
. They are all delicious.
Chana Masala
1 cup dry chickpeas (Wash, soak for 6-8 hours and cook till tender. Reserve the boiling liquid.)
1 bay leaf
2 inches of cinnamon
5-6 cloves
8-10 peppercorns
2 green cardamom pods
1 black cardamom pods
1 tsp cumin seeds
1 onion, finely chopped
2 green/red chillies, split lengthways
1/2 tsp ginger paste
1 tsp garlic paste
1/2 tsp turmeric powder
1 1/2 tsp Kashmiri chilly powder
1 1/2 tsp garam masala powder
1 cup tomato puree / passata
1 tbsp oil
Salt, to taste
1/2 tsp sugar
Fresh coriander leaves and stalks, finely chopped, to garnish
Heat the oil in a large vessel.
Add the bayleaf, cinnamon, cloves, peppercorns and cardamom pods.
When the spices turn aromatic, add the cumin seeds and stir.
Immediately add the chillies and onion. Saute till the onions have softened and have starting getting a little brown around the edges.
Add the ginger and garlic paste and stir through. Saute for another minute.
Add the turmeric powder, chilly powder and garam masala powder and stir well.
Add a couple of tablespoons of the stock from cooking the chickpeas to deglaze the pan and prevent the spices from burning. Stir through thoroughly.
Now add the tomato puree and cook for 3-4 minutes stirring every once in a while.
Add some more stock to bring the curry to the desired consistency. Please note, the curry will thicken a little as it cooks.
Bring it to a boil. Cover the pot and simmer for 5 minutes.
After 5 minutes, stir and check for seasoning. Add more stock if needed. Add more salt, if needed. Add 1/2 tsp of sugar. (Depending on the tomatoes you're using, you may need to add a little more sugar. Add to taste.) Stir through. Cover and simmer for another 5-7 minutes.
At this stage your curry should be cooked. Lastly add in the boiled chickpeas. Cook for another couple of minutes till the chickpeas have heated through.
Garnish with chopped, fresh coriander and serve hot.
Enjoy!!!
I feel so immensely happy as I type this post and I owe it all to our SRC Reunion event. Those of you who've been around here for a while, will know that I was part of this super fun group called the
Secret Recipe Club
. This was a lot of fun, sort of like Secret Santa for food bloggers. You were assigned a partner and you had to pick and cook a recipe from their blog and all the members would post about it on a pre-determined day called Reveal Day. I was part of the SRC right from June 2011 to November 2016, a little over 5 years. So when we wrapped that up, I knew I would missed this bunch of bloggers.
Early last month, Sarah of Fantastical Sharing of Recipes, who happens to be our SRC boss lady 😉  called out to all the club members and announced an SRC reunion event. Of course, I signed up for it and for this event, I was assigned Micha's blog, Cooking Mimi. Micha's blog is packed with great recipes. I had an absolute blast going through her blog and picking a recipe for today. After a lot of looking around I narrowed my choices down to this Hawaiian Pork, Potstickers (she even makes her own potsticker wrappers), Quick and Crispy Pork Cutlets and her Sweet Chili Pork. Have you spotted the trend here? I somehow happened to be zeroing in on Pork recipes. So this much was clear, I knew I was making Pork. When I saw her recipe for Sweet Chili Pork my mind was made up. This is what I was going to make.
Before we move on to the recipe, let's talk about this Sweet Chili Pork, shall we? This dish has it all with juicy little pieces of pork tossed in a sweet sauce with mild heat from the Sweet Chili sauce and the crunch of the onion and capsicum just rounds it off beautifully. I could not believe how easy this recipe was. I wanted to try it just to see if a recipe this minimal would hit the spot. And hit the spot it did. I am so glad I tried this out. My husband is not a fussy eater but he is my biggest critic and helps me work on recipes and tweak them. He was floored by this recipe. And I agree with him 100%. This recipe is very similar to the kind of takeaway meals we got back in Bombay, albeit not with pork, but with chicken. Thank you Micha, for an absolute stunner.
I only made a couple of minor additions to the original recipe. I added some finely chopped ginger and garlic and some pieces of capsicum (green peppers) to the recipe. We served this up with some fried rice, but this would work very well with some noodles too.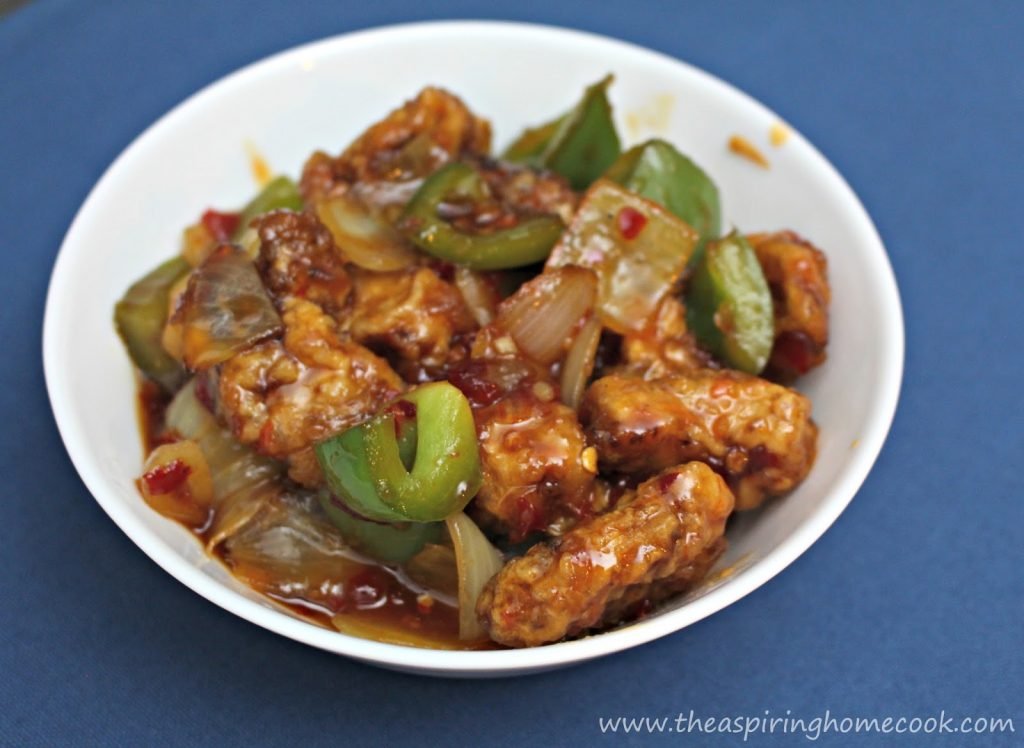 Sweet Chili Pork


1/4 kg boneless pork
1 egg
1/3 cup flour
1/4 cup cornstarch
1/2 cup + 1 tbsp vegetable oil
1 large onion, cut into cubes
1 /2 green capsicum, cut into cubes (similar in size to the onion cubes)
3 cloves garlic, finely chopped
1/2″ ginger, finely chopped
1/2 cup sweet chilli sauce
Salt, to taste
1 tbsp lime juice
Heat 1/2 cup of oil in a skillet over moderate heat.
Crack the egg into a small bowl, whisk it and set it aside.
In another bowl, mix the flour and cornstarch.
Cut the pork into bite sized pieces. Toss the pieces in a little salt and lime juice. Toss the pork pieces in the flour mix. Then dip them in the egg and in the flour mix again .
Fry the pieces of pork in batches for about 3-4 minutes a side or until golden brown and crispy. Drain and set aside.
Heat 1 tbsp of oil in another pan.
When the oil is hot, add the onion and capsicum and stir fry till the pieces have just started to soften. I like mine a little crunchy. Cook it to your desired level of doneness.
Add the finely chopped ginger and garlic and stir it around.
Add the sweet chilly sauce and the fried pork pieces. Stir to coat everything in the sweet chili sauce. At this point, if you want a little more sauce in the dish, add some more. Toss well.
Serve hot.
Enjoy!!!
Don't forget to see what the others have whipped up for our 2018 reunion –
Growing up in Bombay and spending most of my summer breaks in Goa, I have had more than my fair share of curries. My Mum and my Aunt were great cooks and both could whip up a mean curry with great ease. So whether it was a meat (Chicken, mutton, beef or pork), seafood (fish, prawn or crab), lentil or vegetable curry, they were all really good. The best part is, they could do a lot of this without looking at a recipe. Now I haven't reached the 'no recipe' stage for some of the more intricate curries, but I do know a thing or two about them.
So, a while ago, when I saw this episode of Poh & Co, where Poh (one of my favorite TV chefs) whipped up a Nonya (a type of Malaysian) Chicken Curry, both, my husband and I knew we had to try the recipe out. The recipe does call for a few specialty ingredients, but the first time I made this curry, I didn't have them and so I left them out. Even then the curry was a great one. But I knew I wanted to try the recipe with all of the ingredients. So I picked up the Pandan leaves and the Shrimp Belachan at a local Asian grocery store and made the curry again. This time with all the ingredients. The result was a mind-blowing curry. Now I don't often refer to a curry as mind-blowing. A cake, maybe, but never a curry. But this curry is all that, and then some. It is one of my favorite chicken curries. And today I'm going to show you how I make mine. I have altered the method a tiny bit, to make the recipe more convenient and I hope you try this out the next time you want to make a chicken curry.
If you've never made a curry before, don't let the idea scare you. It is easier than you think. I've put together a video to walk you through the process.
Let's move on the the detailed recipe for this Nonya Chicken Curry.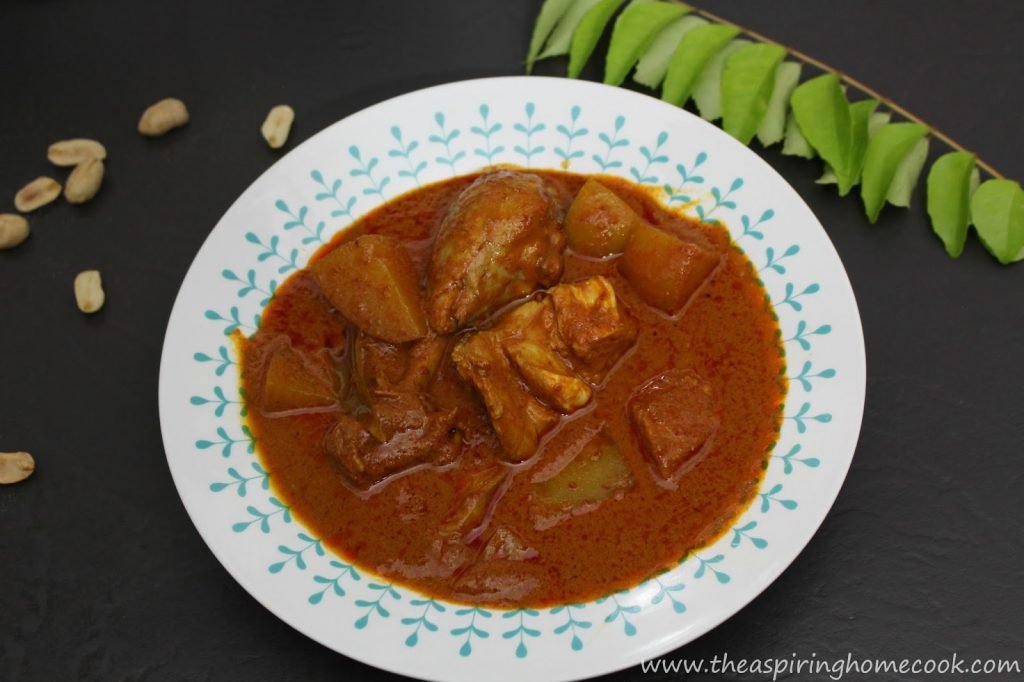 Nonya Chicken Curry
Recipe from: Poh Ling Yeow
3 tbsp Coriander seeds
1 tsp Cumin seeds
1 tsp Fennel seeds
15 dried red chillies
2 onions, roughly chopped
4 cloves garlic
20g toasted Belachan
1/2 tsp turmeric powder
8-10 curry leaves
2 tbsp oil (I use olive oil for all my cooking. You can use whatever oil you normally cook with.)
1 star anise
3 cloves
1 inch cinnamon
1 1/2 kilo chicken pieces
2 potatoes, cut into large cubes
2 birdseye chillies, slit lengthways
1 can coconut cream (400 ml can)
2 pandan leaves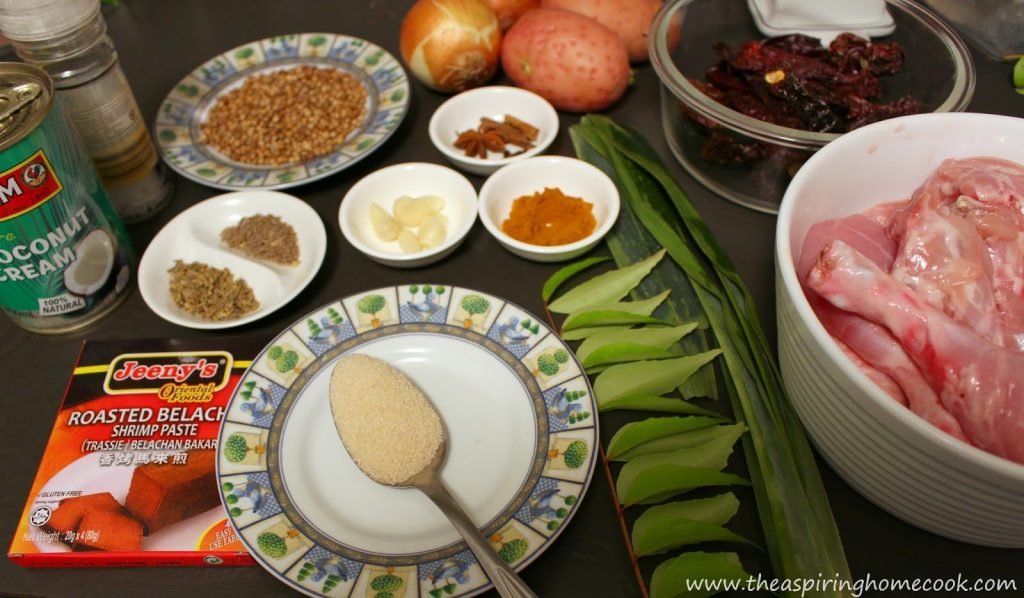 Take the skin off the chicken, cut into pieces, trim the fat off and set aside.
Deseed the dried chillies and soak them in hot water till they've rehydrated and softened.
In a dry pan, on medium heat, roast the coriander, cumin and fennel seeds till fragrant. Take them off the pan and set aside to cool.
Using a blender or food processor (you can also use a mortar and pestle if you dont have one), grind the roasted coriander-fennel-cumin seeds mix, drained red chillies, onion, garlic, belachan and turmeric to a fine paste, adding a little water as needed.
Heat oil in a large pot / pan over medium heat. Add the star anise, cinnamon and cloves and let them fry till fragrant about 20-30 seconds.
Add the spice paste (rempah) to the pan and saute for 6-8 minutes till the sauce is very fragrant.
Tear the pandan leaves into 3 strips lengthways and knot them together. Add the pandan and curry leaves to the spice mix.
Add the chicken to the pan and stir to coat with the spice paste. Saute for 1-2 minutes or till the chicken pieces start to look opaque.
Add the coconut cream and stir well.
Add the potatoes, salt and sugar. Add a little water to thin down the sauce a little to reach the desired consistency. Let it come to a boil.
Add the slit birdseye chillies, lower the heat, cover the pot and simmer till tender. Check after 5-7 minutes, add more water if needed, stir to make sure the curry doesn't stick to the bottom of the pan. Cover the pot and continue cooking till the chicken and potatoes are cooked.
Serve hot with rice. I tried to serve it up like a Nasi Lemak, but with plain rice instead of coconut rice. I added some fried baby anchovies, peanuts, boiled egg and some cucumber slices.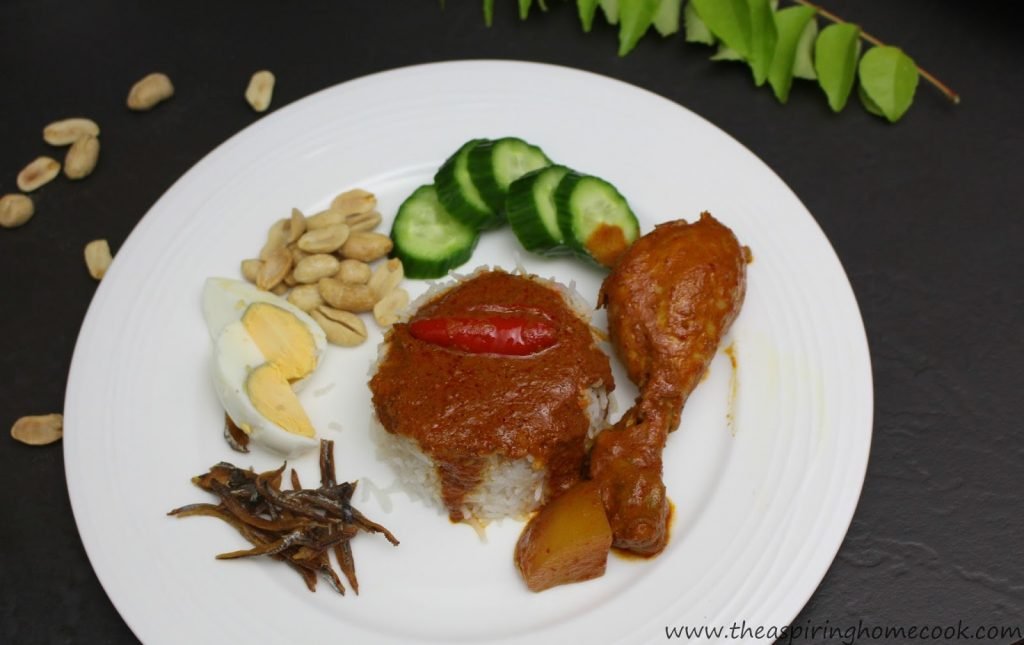 This curry also goes really well with roti or even bread. If you can get on hands on some Roti Canai, even better.
Enjoy!!!
I have always had a love affair with food. Even as a kid, both my brother and I, were never picky about food. I guess we had Mum to thank for that. She was, and to this day is a fantastic cook. Given, now because of her health, she cannot do as much as she used to, back in the day. But when we were growing up, every meal was home cooked. I don't remember eating out till much later, when I was in college. Right from breakfast, through to lunch and dinner, snacks and desserts, she made everything. And a great variety of it too. I'm happy that now, I can proudly say, I try to do the same. I still have a lot to learn and experiment with, but I owe my love for cooking and good food to my Mother.
These Beef cutlets have got to be one of my favorite recipes. When we were kids, my brother and I would wait for Mum to make a batch of these cutlets at home. It wasn't made very often, but when it was, it was a real treat. I have, for the most part, stuck to my Mum's recipe, with just a few tweaks.
These cutlets are very versatile. Make them smaller in size and serve them up with some tomato ketchup or Barbecue Sauce as starters or Finger food, make them larger and use them as patties in Burgers or make a medium size and serve it up with some Mashed potatoes / Roasted potatoes / Fries and a salad .
I have posted a beef cutlet recipe before, but that was a really long time ago. This recipe is the same, with just the addition of some Worcestershire sauce. I thought it would be a good opportunity for me to take some new pictures. After all, its been a long journey from 'My Hobbie Lobbie' to 'The Aspiring Home Cook'. I've also filmed a little video with some handy dandy tips too. I will link the video at the end of this post.
Goan Beef Cutlets
(Makes about 14-15)


500g ground beef (beef mince)
1 large or 2 medium onions, finely chopped
2 birdseye chillies, finely chopped (optional)
3-4 cloves of garlic, finely chopped
1/2″ ginger, finely chopped
1-2 tbsp fresh coriander leaves, finely chopped
1 egg
1/4 tsp black pepper powder
1/4-1/3 tsp turmeric powder
1/2 tsp red chilly powder
2 tsp Worcestershire Sauce
Salt, to taste
2 slices of bread
Bread crumbs, to coat the cutlets
Olive oil, for frying (You can use whatever cooking oil you have on hand)




Soak the slices of bread in water for a few seconds, drain out all the liquid and crumble. Mix together all the ingredients except the bread crumbs and vegetable oil.


Make sure all the ingredients are well mixed and evenly distributed.


Shape into cutlets.


Coat with bread crumbs.


Heat 2 tbsp oil in a pan. Carefully place the cutlets in the pan and let it cook on a medium heat till its done to your liking. Turn over and cook the other side as well.




Repeat till you're done with the meat mix, adding more oil to the pan as and when you need to.


Serve hot.




Enjoy!!!
Here's the video –
This recipe takes me way back to when I'd first enjoyed some Tava vegetables. It was at a party that had a huge buffet offering, both non-vegetarian and vegetarian. While the non-vegetarian spread was really impressive, I was intrigued by a live stall happening over on the veggie side of the table. There was a massive tava (cast iron griddle) and it had a variety of vegetables on it. The aroma was deliciously intoxicating and I knew I had to try some. I helped myself to a small assortment, some salads and took some naan bread to go along with it. Little did I know that this dish would have me hooked for a long time to come. This was about 7 years ago, I think. To this day, the thought of those tava vegetables has me yearning for some.
After a lot of searching, high and low, I found a recipe, that I tweaked to try and replicate the flavors I so vividly remember. Since I cook for just my husband and I, this recipe is scaled down. I also just use my favorite veggies from that day – okra (bhindi) and potatoes (aloo). I found that these are also some of the easy ones to work with. I don't make this recipe very often, because the veggies start off by getting deep fried and are then tossed with a spice mix (tava masala), and the deep frying tips this to the slightly indulgent side.
The spice mix, or my version of the tava masala is hot a very hot mix. The spices used are warm and flavorful. The chaat masala is an integral part of this recipe. If you haven't tried it before, it is a blend of a few spices like cumin, pepper and a few others with some powdered mango. So it has a unique flavor profile, you get a slight hit of salt, tang from the mango and delicious flavor from the blend of other spices. You can easily find this at any Indian grocery store. (This chaat masala also works well with other chaat recipes you find on my blog.)
So try this easy stir fry recipe. This is best enjoyed served hot with some chapatis, rotis, naan or other flatbread of your choice. It would also work well as a side dish to some hearty Dal & Rice.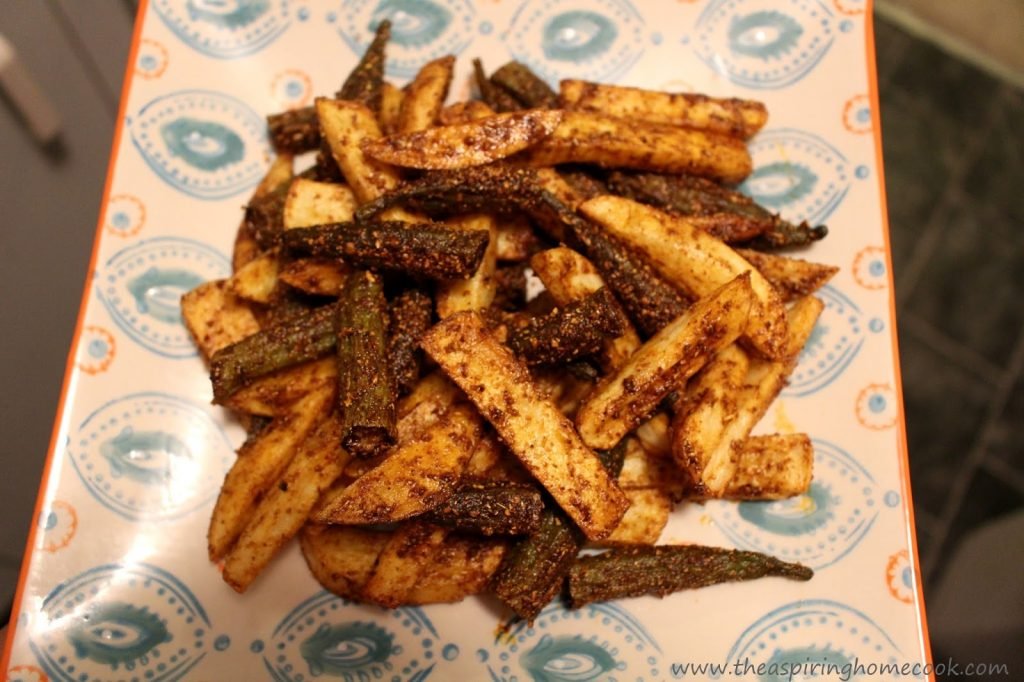 Tava Style Aloo Bhindi


3 medium potatoes
20-25 okra
1/4 tsp turmeric powder
1/2 – 1 tsp Kashmiri chilly powder (or any other mild chilly powder)
1 tsp coriander powder
1/4 tsp cumin powder
1/4 tsp chaat masala
Salt, to taste
1 1/2 – 2 tbsp oil, plus oil for deep frying
Place a pan with the oil for deep frying on medium high heat.
Wash and peel the potatoes and cut into evenly sized fries / chips.
Wash the okra and pat dry. Chop the stalks off the okra and discard. Try and use okra that is similar in size, if not, cut them down to about the same size as the potato pieces.
By now, the oil should be hot. Carefully, and in batches, add the potatoes to the oil. Don't overcrowd the pan or the oil will froth over and spill.
Deep fry the potatoes on medium heat till they've cooked through. Drain using a slotted spoon and set aside on some kitchen paper to get rid of any excess oil.
Deep fry the okra on medium heat till they have start getting a little darker in color and have started crisping up.
Drain using a slotted spoon and set aside on some kitchen paper to get rid of any excess oil, like you did the potatoes.
Take the oil for deep frying off the heat.
Heat 1 tbsp oil in a large pan on medium heat. When the oil is warm, NOT hot, add in the turmeric powder first and then add the rest of the spice powders.
Stir that through for about 20-30 seconds or till the spices get aromatic.
Add the okra to the pan and toss well. Lastly add the potatoes and toss to coat the veggies with the spices evenly.
Check for seasoning and add salt, to taste. Toss well.
Serve hot.
You can watch the video recipe here –