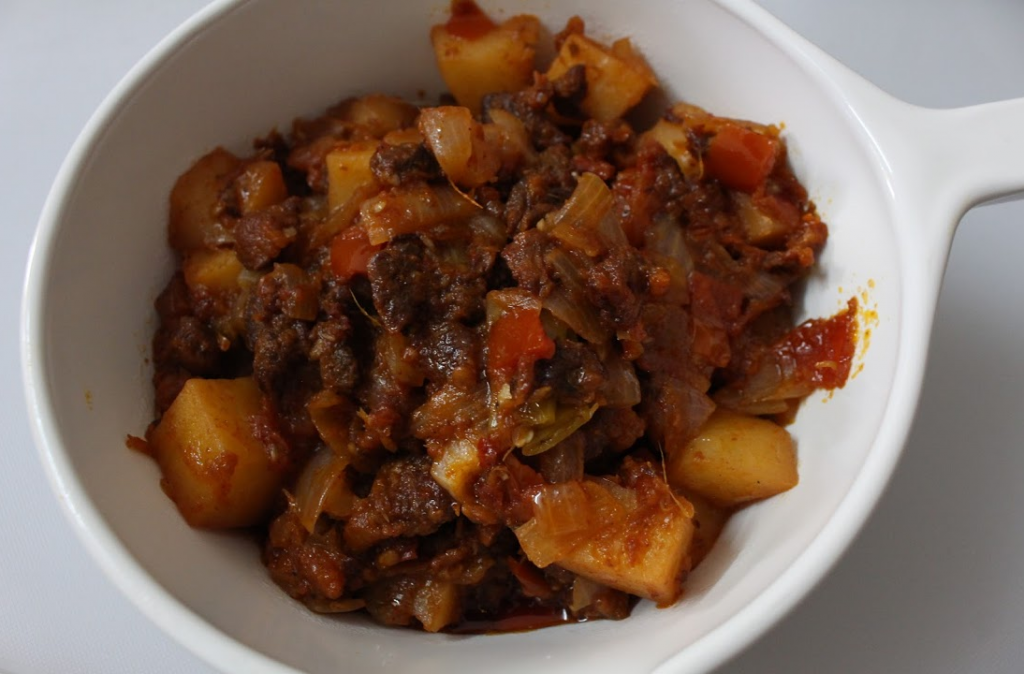 Today, I'm showcasing a highly requested recipe for the oh-so-popular Goan Sausage Chilly Fry. These little beauties are also called Chorize much like its European counterpart, the Chorizo. The Goan sausages originally can be traced back to the Portuguese who ruled Goa and bought with them a lot of their culture, including their food. This sausage was then coupled with the local spices and flavors in Goa and the resulting Goan Chorize is much more spicy and tangy and more pungent than the Portuguese one. But this is a good thing. All these flavors, when well balanced, make for a delectable meal. I have yet to meet someone who has tried Goan sausages and not liked it. In the past, a really long time ago, I have shared one of the ways I make my chilly fry
here
.
The recipe I'm sharing with you today, is more or less the same as the previous one as far as ingredients go, but the process of cooking it up differs. This is how my Nana and Mum have always made it and this is a method I personally prefer. The sausage meat usually contains a fair amount of fat and so no additional oil is needed. If the sausage you're using is lean, I would recommend my previous version of this recipe. Now the taste of the dish you end up with, to a large extent depends on the actual sausage meat. So if at first you're not happy with the dish, try using a different brand of sausages and you will be surprised at how much of the difference this makes.
Today's version of my Goan Sausage Chilly Fry is a great option for a quick and easy weeknight meal or for whenever you're short on time too. All the ingredients go into a pot with some water and is placed on the heat till cooked through. All you then need to do, is check for seasoning and adjust, if needed and you're ready to serve up.
So if you haven't yet tried making Goan sausages at home, try this out. I'm sure you'll love it.
Goan Sausage Chilly Fry
60 beads of Goa sausages (take the meat out of the casing)
6-8 curry leaves
3 large, mild chillies, chopped into large pieces
1/2″ ginger, chopped into a couple of large pieces
1 1/2 large or 2 medium onions, chopped
2 potatoes, cubed
1 tomato, chopped
Salt, to taste
Vinegar, to taste
In a large pot, place the sausage meat, curry leaves, chillies, ginger, onions, potatoes, tomatoes and add 11/2 cup of water. Stir well. Cover the pot and bring to a boil on high heat.
Once it comes to a boil, lower the heat to medium and cook till the potatoes and meat has cooked through and the liquid in the pot has mostly dried up.
Taste and add salt and vinegar, as required.
Serve hot!
This chilly fry pairs really well with some good bread – dinner rolls or some good crusty bread works brilliantly. You can also serve this up with some chapatis or some
Peas Pulao
.
NOTE: You can adjust the consistency to suit your liking. If you want the chilly fry completely dry, once the meat and potatoes have cooked through, cook it uncovered till the liquid dries up. If you'd like more of a gravy, add a little more water or take it off the heat as soon as the meat and potatoes have cooked.