When I think back at my first experience eating pizza, I'm immediately taken back home to when I was about 10 or 12 years old. My best friends mother had whipped up some little pizzas for us as a snack using store bought pizza bases, a little sauce and some toppings. I can't remember what was on it, but what I do remember was that I liked it very, very much. After that, she very kindly shared that recipe with my mother, who whipped them up for us at home, every once in a while.
Fast forward to about 7-8 years ago, I actually learned to make my pizza bases from scratch. After a whole lot of trial and error, I finally found a combination that worked well for me. And I've stuck to that ever since. And its safe to say, that since then, I have never bought a store bought pizza base. It is quite easy to make, once you know what your doing. Coupled with this, I'm also going to share my no-cook pizza sauce recipe with you. This recipe is probably older than my pizza dough recipe. As far as the toppings go, we've tried a lot of combinations. Once you have the basics in place, you can switch up you toppings to suit your tastes.
I'm going to whip up 2 pizzas today, one is a pepperoni pizza and the other is a mixed vegetable pizza. While, we're tried a few topping options, these two have got to be strong favorites in my house.
So let's get on to the recipe, shall we?
Homemade Pizza


For the pizza dough –
2 cups all purpose flour (maida)
1 tsp instant dried yeast
1 tsp sugar
150ml luke warm water (approx.) (use as needed)
2 spoons olive oil
Salt, to taste
In a little bowl, combine the yeast, sugar and a couple of tablespoons of warm water. Set the bowl aside for about 5-10 minutes for the yeast to activate.
After 5-10 minutes, the yeast will turn frothy and is now activated.
In a large mixing bowl, take 2 cups flour and add the salt (I use about 3/4 tsp salt). Using your fingers, mix the salt through the flour.
Make a well in the middle of the mound of flour and add the yeast mix.
Start combining the flour with the yeast and gradually add warm water, as needed to form a soft dough.
The dough will be tacky at first, but will eventually be much more manageable and smooth.
Stretch the dough while kneading and continue this process for about 5 minutes. (See video above, for method). Halfway through the process, add the oil in 2 stages and continue working the dough.
Shape into a ball, and place in a greased bowl. Drizzle a little olive oil on the dough and lightly coat the top of the dough, so that it doesn't dry out. Cover the bowl with some cling film or a clean, damp towel and leave the bowl in a warm place for the dough to rise. Leave to prove (rise) for about an hour, or till the dough doubles in volume. (It might take a little longer during cooler months.)
For the sauce –
1-1 1/4 cup passata, tomato puree or canned tomatoes (If using canned tomatoes, process them to a puree before using)
2-3 small cloves of garlic, minced
2 tsp olive oil
Salt, to taste
Freshly cracked black pepper, to taste
A little less than 1/2 tsp dried mixed herbs
1/4 tsp dried oregano
1/2 tsp sugar
1/4-1/2 tsp red chilly flakes
Add all the ingredients into a bowl. Stir to mix thoroughly.
The sauce is now ready to use.
To make the pizzas –


Preheat the oven to 250 deg C.
Divide the dough into 2 portions.
Stretch the dough to form the base. (See the video above for method)
Spread the sauce over the base, leaving a little margin from the edges.
Add toppings of your choice and cheese. (I use a combination of mozzarella and colby / cheddar).
Bake for 10-12 minutes or till the dough (pizza base) is cooked through and the cheese has melted.
Enjoy!
NOTES:
1) Remember to use warm water, not hot water. Hot water will kill your yeast and your dough will not rise.
We're in for another scorching week ahead. I think the hot days are my least favorite things about summer. I love the beach days, all the frozen treats and grilling, the amazing fruit and veg that summer brings, but I cannot deal with the heat. And we seem to get a fair bit of it. One of the main reasons is I cannot cook or bake as much as I'd like to when its this hot.
It is especially at times like this that I love big salads. While I'm quite happy to put together a tossed garden salad a few times a week, I think I need to add a few new salads to my repertoire. We're trying to cut down our meat intake and substitute it with as much vegetarian food as possible. So salads like this Lemon, Sun-dried Tomato & Almond Quinoa Salad are perfect. Its all vegetarian yet hearty, involves minimal cooking and so very tasty. And its not just my opinion, my husband had a second helping of this salad for dinner.
I have tried cooking with quinoa before, but it was a total fail. So I was very skeptical about trying it out again. But I decided that trying something once and never trying it again, wasn't giving it a fair chance. So on my last trip to Costco, I just picked up a bag of quinoa. Now that I have this great big bag of quinoa, I was going to have to use it. So recently when I was looking for a salad recipe with Italian influences to pair up with my eggplant patties, I decided to look for one with quinoa in it. And when I stumbled upon this recipe, it sounded perfect. There was just one problem. I didn't have any parsley at home. So I just used the next best thing, coriander leaves. Personally I love the flavor that coriander leaves add to any dish and I thought it worked very well with this salad. But I also know there are folks out there that cant stand it. If you are one of them, feel free to use parsley instead. I can't wait to try it out with parsley the next time. I'm very happy to have another wonderful salad to include in my meal rotation now.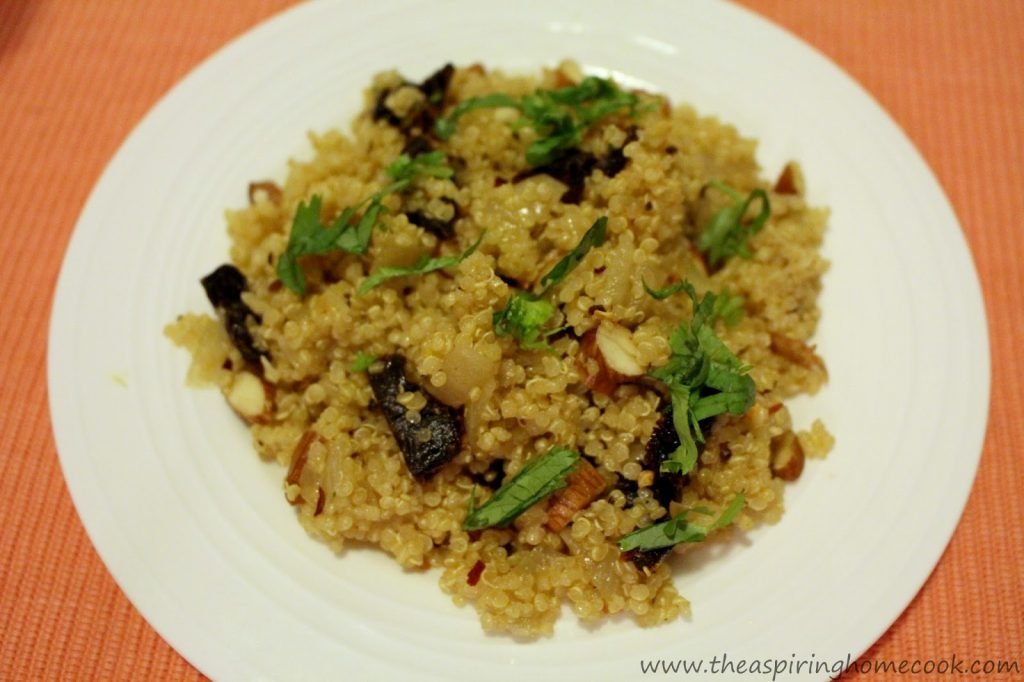 Lemon, Sun-dried Tomato and Almond Quinoa Salad
Adapted from: Averie Cooks
2 tbsp olive oil
1 large onion, finely chopped
1 cup quinoa
1 1/4 cups of water
2 tbsp apple cider vinegar
1/2 tsp lemon zest
2 tbsp lemon juice
1 tsp salt, or to taste
1/2 tsp freshly cracked lack pepper, or to taste
1/2 cup sun-dried tomatoes, sliced (I used the ones bottled in oil and drained them before slicing)
2 tbsp coriander leaves and stems, finely chopped
1/2 cup roughly sliced almonds
1 tsp red chilly flakes (optional)
Heat the olive oil in a large pan over medium high heat.
Add the onions and cook till the onions have softened and have just started browning.
Add the quinoa and stir. Let it toast for about 30 seconds.
Now add the water, apple cider vinegar, lemon juice, salt and pepper. Stir. Reduce the heat to low, cover the pan and cook for about 12-15 minutes or until all the liquid has been absorbed.
While the quinoa is cooking, chop up the rest of the ingredients.
Place the quinoa in a large bowl, add the rest of the ingredients and toss well.
Taste and add more salt or pepper or lime if needed. If, at this stage, you find the salad too sour, add a tiny bit of sugar to balance it out. I just stuck with the quantities listed above and I didn't need to add anything at this stage.
It stores well in an airtight container in the fridge for 2-3 days. This can be served either as a warm or cold salad.
Serve up this salad either as an accompaniment at a meal or a slightly larger portion as a meal in itself.
Enjoy!!!
Let me start of by telling you how glad I am to be able to get this post done. We made this batch of Tiramisu a couple of weeks ago and I finally sat down to post about it last evening. When to my shock and horror I couldn't find the recipe. I spent over an hour hunting for it. See I have this horrible habit; I bookmark recipes that pique my interest. Everywhere – on my laptop, my husband's laptop, my tablet and this is apart from the thousands that are on Pinterest. I went through every possible list I thought it would be on, but I just couldn't track it down. I'm usually good at keeping my links safe. Then I decided to take a little break and combed through my Pins again, for the third time. Much to my relief, there it was, sitting pretty. I was glad I hadn't lost this recipe, because not only was it an easy one to follow, it was absolutely delicious. There are a lot of recipes out there with differing methods. This one sounded good and I'm going to stick with it.
The recipe came together nice and easy. When I make this next, I will work on better presentation. This time around, I had a very eager husband buzzing around the kitchen with excitement. Halfway through my assembly, he decided he wanted to help me capture step by step pictures. So I have a few. I'm sure he will get better at them with a little practice. But you've gotta love a guy who is so eager to help 😉
Watch the video version of the recipe here –
Tiramisu
Adapted from: Green Road to Bliss
500g mascarpone cheese
5 egg yolks and 1 egg white
160g sugar
300 ml espresso coffee (I used strong, instant coffee – don't tell anyone)
1/2 cup water
400g Savoiardi biscuits (lady fingers), approx.
Unsweetened cocoa powder, for dusting
30ml brandy (optional)
Prepare the coffee. Set aside 1 tsp of coffee and mix the rest with the water.
Mix the brandy into the cooled coffee, if using.
Beat the eggs with sugar till fluffy about 2 minutes. Start on a low speed and gradually increase.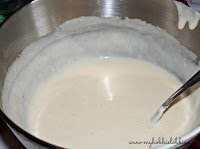 Add the mascarpone cheese and the 1 tsp of (cold) coffee that was reserved.
Combine everything together until you are left with a soft and creamy mixture.
To assemble –
Spread a very thin layer of the mascarpone mix on the bottom of the pan.
Lightly dip the savoiardi into the coffee solution, but do not over soak them. Layer them over the mascarpone layer. Try to cover the base of the pan with the biscuits without leaving any gaps.
Spread half the mascarpone mix over evenly and dust with cocoa.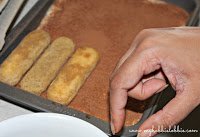 Second layer starting up
Repeat with another layer of savoiardi and mascarpone and a final dusting of cocoa.
Second layer almost done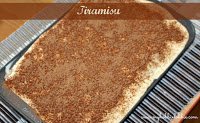 Take care to not overpour the mascarpone mix at the end
Refrigerate for a couple of hours.
Serve and enjoy!

In last few weeks have been an absolute blur for us. We'll soon be moving from Mumbai where both my husband and I were born and brought up to Sydney, Australia. We were so excited when our paperwork came through and since then things in our home have been absolutely crazy. With travel arrangements, shopping, packing and selling off things we're not taking, I've hardly had any time to focus on cooking. This month I was assigned Jackie's blog Rediscovering Lost Arts From Our Mothers. This blog was new to me and I was thrilled to see the ideology behind it. I agree with Jackie all the way, there's so much we're missing out on in the form of tradition, practices and culture all because of the convenience of today's world, where were always in a hurry, short of time and running. You should stop by Jackie's space and check it out, she's got loads of recipes on canning, smoking, preserves and wonderful home cooked goodness.
To my absolute delight, that not all she has. Even though I didn't have much time, I managed to make 2 recipes from her blog using stuff that I had in the pantry. I've always wanted to try Spaghetti Alio Olio after watching David Rocco make it on his cooking show. This seemed like the perfect opportunity since Jackie has a version of it on her blog and while I was going through her space, I noticed a post on Onion straws. Like her I love me some onion. Whether is onion rings, sauteed onions, onions in a salad or these onion fritters, I love cooking with onion and enjoy eating it in its many different forms too. I was intrigued by her recipe and it seemed simple and quick enough for me to try. Both these dishes came together so quickly and can I tell you, they were both yummy. The spaghetti was simple but so flavorful. I loved it. The onions straws, may I add, was an absolute hit. I had a hard time keeping my husband away from it long enough to get pictures. There are crisp, delicious and very addictive. They'd be a fantastic addition to some grilled or roasted meat, but I think they make for some very yummy party munchies too. The only thing I'd do differently next time is use larger onions. These ones were rather small so the onion straws don't particularly look like straws, but were delicious nevertheless. In all I was very happy with the way both recipes turned out. Thanks Jackie, for introducing me to these yummy treats. The only changes I made was I used fresh coriander instead of parsley since that is what I had on hand and I upped the garlic content. I love garlic and if you don't please remember to cut down on the quantities mentioned.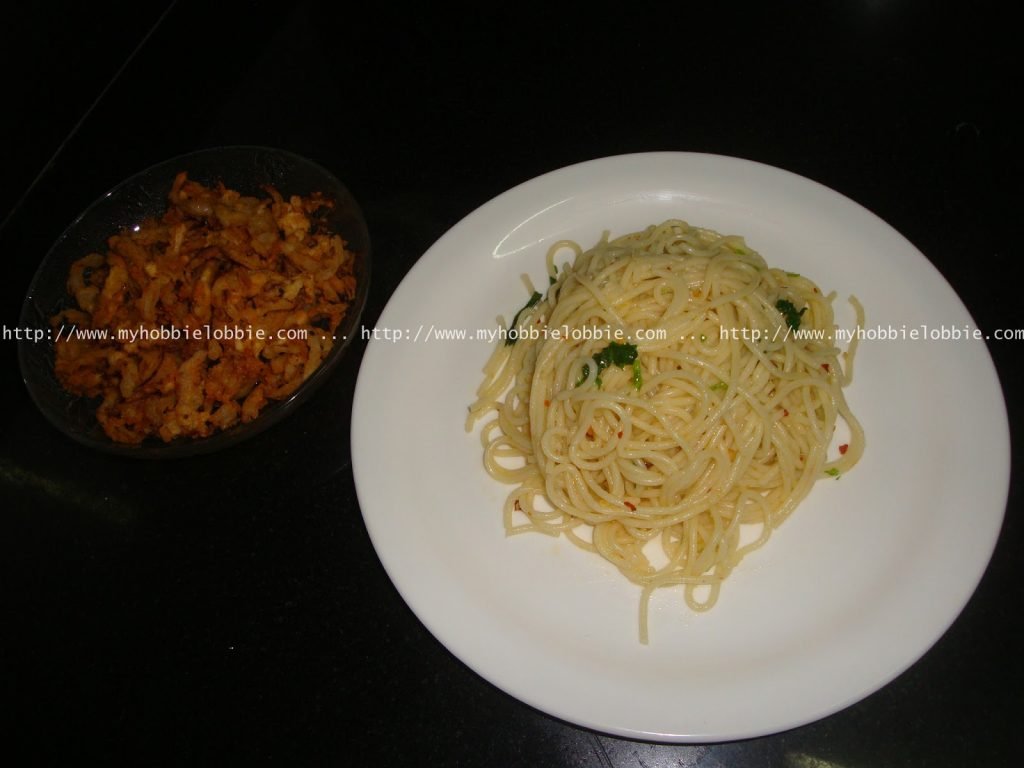 Spaghetti Alio Olio


1/2 lb. spaghetti
1/4 cup olive oil
1/8 cup butter
3 cloves garlic, chopped fine
1/2-1 tsp. red pepper flakes, to taste
2 tbsp. fresh coriander, chopped (Original recipe calls for parsley)
Salt, to taste
Pepper, to taste
Boil the spaghetti till its al dente and drain. (You may want to reserve some of the boiling liquid and add a little back if you feel that the spaghetti has dried up when adding the herbs – I didn't need to)
In a small pan, add the oil and butter and the garlic and saute for a few seconds on medium low heat till the garlic releases flavor and aroma. Add the red pepper flakes and pepper and saute for a few seconds more. Make sure the garlic doesn't brown, else its burnt and will be slightly bitter.
Add this back to the pasta and place on the stove for a little while on low heat. Toss the pasta well and make sure the oil and herbs are evenly distributed.
Add the chopped coriander and toss well. Serve hot.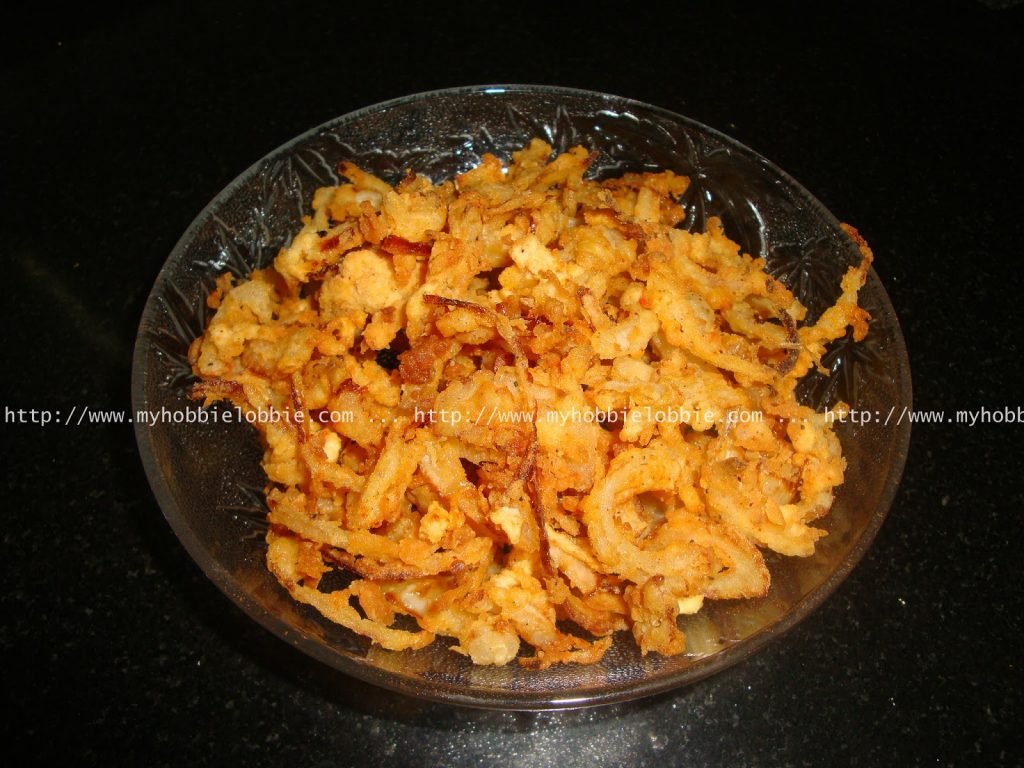 Onion Straws
2 onions, finely sliced
1 cup buttermilk
1 cup all purpose flour
Salt, to taste
Crushed black pepper, to taste
Red chilly powder, to taste
Oil for deep frying
Peel and slice the onions and soak it in the buttermilk.
Heat the oil for deep frying.
In the meanwhile, add the salt, pepper and red chilly powder to your flour and mix well.
Shake off the excess buttermilk from the resulting onion straws and dredge it in the flour mix.
Carefully place it in the oil and deep fry till golden brown and beautifully crispy.
Enjoy!!!
Thank you Jutta (Hungry Little Girl) for hosting this fun event month after month. Its been a blast. If you'd like to join in on the fun, click here.
Today's post is my first as part of a fun baking group that I recently came across called "Baking Partners". Read all about it and join up
here
. The idea is a small group of people come together and improve their baking skills by targeting a common recipe / technique each month. I loved the sound of it and immediately signed up. Thank you, Swathi, for letting me be a part of this group.
Their goal for this month was attempting to make a New York Style Pizza from scratch at home. We love pizzas and I enjoy making them from scratch too and yet somehow, I've never blogged about if before. Strange, I know. I figured this would be a great way to add to my baking repertoire and I pretty much stuck to the recipe except for not using fresh basil in the sauce as it wasn't available. But I did instead add some mixed Italian herbs to develop a better flavor profile for the sauce. I halved the recipe and made 3 pizza pies of different sizes. This was enough for dinner for 2 with enough leftover for another meal coupled with a salad.
It was a good learning experience and I can't wait to see what this group decides to bake next. For now, here's a peak at the pizzas I made. They tasted wonderful and I was very pleased with the fact that it was made at home and not just ordered for. One thing that I will do the next time is pay more attention to presentation. Other than that, this recipe is great.
This is the veggie one we enjoyed. Toppings include red onion rings, green peppers and corn. I used a combination of Mozzarella and Cheddar cheese.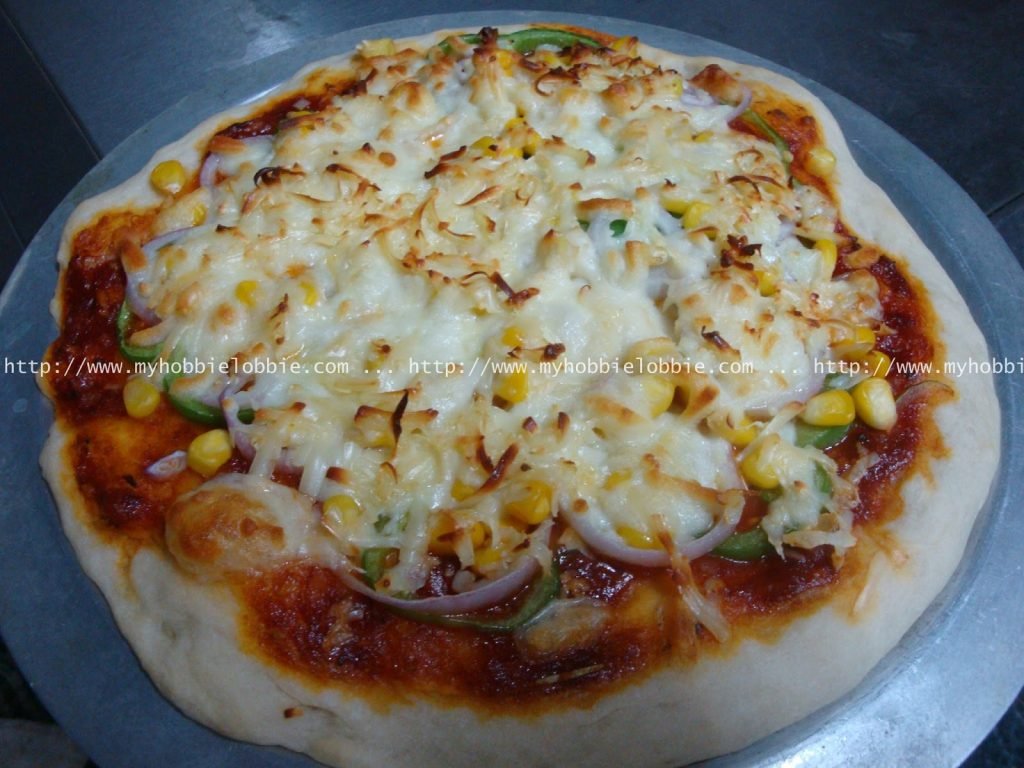 Here's a snapshot of the non-veg version. Toppings include red onion rings, green peppers and spicy pork sausage slices. I used the same combination of Mozzarella and Cheddar cheese for this one as well.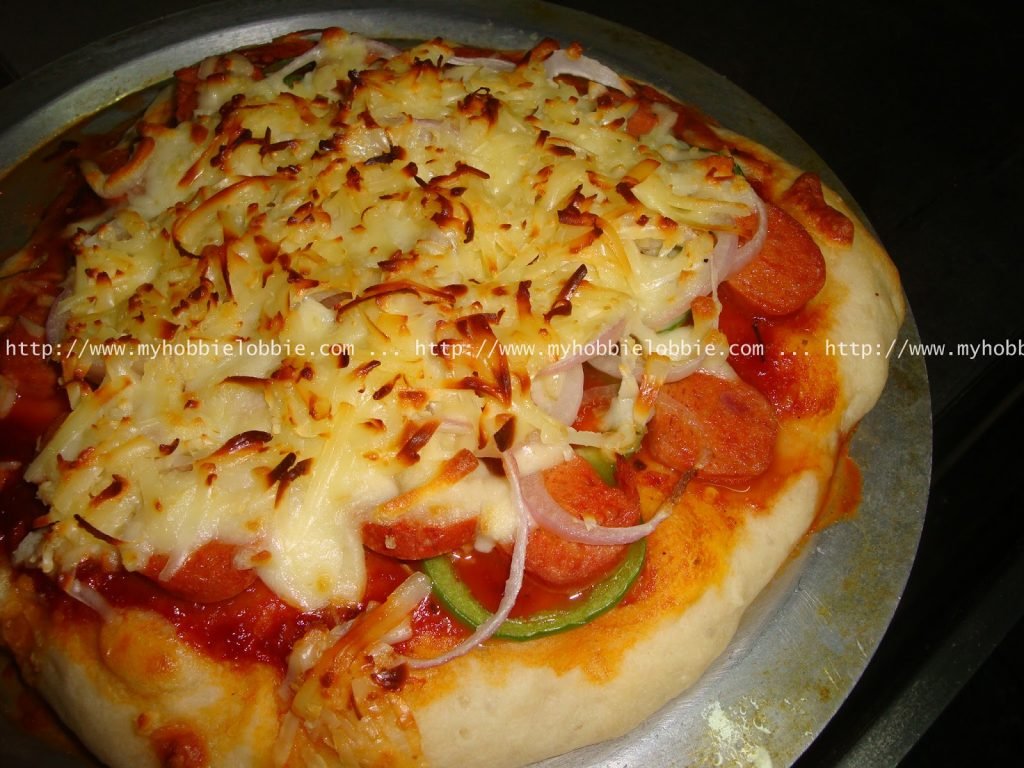 New York Style Pizza
Adapted from: Serious Eats
Shredded cheese of your choice – I used a mix of mozzarella and cheddar
Toppings of your choice – I used Veg (Onion rings, Green pepper rings and corn kernels) and Non-veg (Onion rings, green pepper wings and spicy pork sausage slices)


For the Dough –


2 1/4 cups all-purpose flour
3/4 tbsp sugar
1 1/2 tsp salt
1 tsp instant yeast
1 1/2 tbsp EVOO
7 1/2 ounces lukewarm water
Place the flour on your workstation.
Make a well in the center and place the yeast, sugar and water in the center.
A water gradually and work the flour from the center working in a little bit of the flour at a time, till all the flour is used up. You may or may not need all the water.
When you've got a soft, pliable dough, place it on one side.
Spoon the salt on the workstation and pour the oil over the salt. Rub down on it using the base of your palm.
Work the oil into the dough. Round it off to a smooth ball, cover with a damp cloth and keep aside in a warm place for about an hour or till the dough has doubled in size.
In the meanwhile you can start working on the sauce.


For the sauce –


1 (200g) pack tomato puree (non availability of canned tomatoes)
1/2 tbsp olive oil
1/2 tbsp butter
2 cloves garlic, minced
1 white onion, finely chopped
1/4 – 1/2 tsp. Dried oregano
1/4 – 1/2 tsp. Mixed Italian herbs
Salt, to taste
A pinch of red chilli flakes
Freshly cracked black pepper, to taste
1/2 – 1 tsp. sugar
Heat the oil and butter in a pan.
Tip in the garlic and saute for a few seconds to release the aroma.
Tip in the onion and saute till the onions have softened.
Tip in the spices and herbs and stir it in.
Add the tomato puree and stir in. Let it simmer for about 10 minutes.
Season with some salt, pepper and sugar. Stir and let it continue simmering till it thickens and the flavors develop, about another 15-20 minutes. Be careful to not burn it. Check on the sauce at about the halfway mark. If you're happy with the flavors, take it off the fire.
To assemble –


Preheat the oven to 180ºC.
Lightly drizzle some olive oil on the baking sheet and spread it on the pan.
Divide the dough into 2-3 portions. Roll into balls and using your fingers flatten it out to form a disc, keeping the outer edge a little thicker. Drape the dough over your knuckles and gently stretch till the crust is about 1/4″ thick.
Place on the greased sheet. Spread the sauce over it. Add your toppings and finally the cheese.
Bake for about 10-15 minutes till the cheese is all melty and has a few brown specks on it.
Take out of the oven, slice and serve hot.
Note: The original recipe has you rest the dough for about 24-72 hours. But when I did that the last time I made pizza, I was treated to a big disastrous mess in the fridge. So I made these the same day.