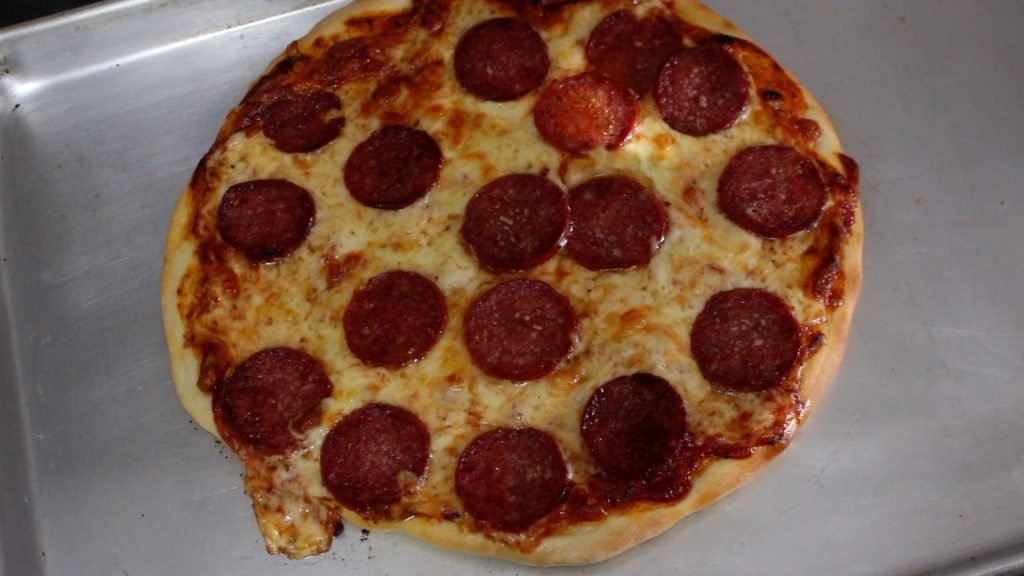 When I think back at my first experience eating pizza, I'm immediately taken back home to when I was about 10 or 12 years old. My best friends mother had whipped up some little pizzas for us as a snack using store bought pizza bases, a little sauce and some toppings. I can't remember what was on it, but what I do remember was that I liked it very, very much. After that, she very kindly shared that recipe with my mother, who whipped them up for us at home, every once in a while.
Fast forward to about 7-8 years ago, I actually learned to make my pizza bases from scratch. After a whole lot of trial and error, I finally found a combination that worked well for me. And I've stuck to that ever since. And its safe to say, that since then, I have never bought a store bought pizza base. It is quite easy to make, once you know what your doing. Coupled with this, I'm also going to share my no-cook pizza sauce recipe with you. This recipe is probably older than my pizza dough recipe. As far as the toppings go, we've tried a lot of combinations. Once you have the basics in place, you can switch up you toppings to suit your tastes.
I'm going to whip up 2 pizzas today, one is a pepperoni pizza and the other is a mixed vegetable pizza. While, we're tried a few topping options, these two have got to be strong favorites in my house.
So let's get on to the recipe, shall we?
Homemade Pizza


For the pizza dough –
2 cups all purpose flour (maida)
1 tsp instant dried yeast
1 tsp sugar
150ml luke warm water (approx.) (use as needed)
2 spoons olive oil
Salt, to taste
In a little bowl, combine the yeast, sugar and a couple of tablespoons of warm water. Set the bowl aside for about 5-10 minutes for the yeast to activate.
After 5-10 minutes, the yeast will turn frothy and is now activated.
In a large mixing bowl, take 2 cups flour and add the salt (I use about 3/4 tsp salt). Using your fingers, mix the salt through the flour.
Make a well in the middle of the mound of flour and add the yeast mix.
Start combining the flour with the yeast and gradually add warm water, as needed to form a soft dough.
The dough will be tacky at first, but will eventually be much more manageable and smooth.
Stretch the dough while kneading and continue this process for about 5 minutes. (See video above, for method). Halfway through the process, add the oil in 2 stages and continue working the dough.
Shape into a ball, and place in a greased bowl. Drizzle a little olive oil on the dough and lightly coat the top of the dough, so that it doesn't dry out. Cover the bowl with some cling film or a clean, damp towel and leave the bowl in a warm place for the dough to rise. Leave to prove (rise) for about an hour, or till the dough doubles in volume. (It might take a little longer during cooler months.)
For the sauce –
1-1 1/4 cup passata, tomato puree or canned tomatoes (If using canned tomatoes, process them to a puree before using)
2-3 small cloves of garlic, minced
2 tsp olive oil
Salt, to taste
Freshly cracked black pepper, to taste
A little less than 1/2 tsp dried mixed herbs
1/4 tsp dried oregano
1/2 tsp sugar
1/4-1/2 tsp red chilly flakes
Add all the ingredients into a bowl. Stir to mix thoroughly.
The sauce is now ready to use.
To make the pizzas –


Preheat the oven to 250 deg C.
Divide the dough into 2 portions.
Stretch the dough to form the base. (See the video above for method)
Spread the sauce over the base, leaving a little margin from the edges.
Add toppings of your choice and cheese. (I use a combination of mozzarella and colby / cheddar).
Bake for 10-12 minutes or till the dough (pizza base) is cooked through and the cheese has melted.
Enjoy!
NOTES:
1) Remember to use warm water, not hot water. Hot water will kill your yeast and your dough will not rise.