I have always had a love affair with food. Even as a kid, both my brother and I, were never picky about food. I guess we had Mum to thank for that. She was, and to this day is a fantastic cook. Given, now because of her health, she cannot do as much as she used to, back in the day. But when we were growing up, every meal was home cooked. I don't remember eating out till much later, when I was in college. Right from breakfast, through to lunch and dinner, snacks and desserts, she made everything. And a great variety of it too. I'm happy that now, I can proudly say, I try to do the same. I still have a lot to learn and experiment with, but I owe my love for cooking and good food to my Mother.
These Beef cutlets have got to be one of my favorite recipes. When we were kids, my brother and I would wait for Mum to make a batch of these cutlets at home. It wasn't made very often, but when it was, it was a real treat. I have, for the most part, stuck to my Mum's recipe, with just a few tweaks.
These cutlets are very versatile. Make them smaller in size and serve them up with some tomato ketchup or Barbecue Sauce as starters or Finger food, make them larger and use them as patties in Burgers or make a medium size and serve it up with some Mashed potatoes / Roasted potatoes / Fries and a salad .
I have posted a beef cutlet recipe before, but that was a really long time ago. This recipe is the same, with just the addition of some Worcestershire sauce. I thought it would be a good opportunity for me to take some new pictures. After all, its been a long journey from 'My Hobbie Lobbie' to 'The Aspiring Home Cook'. I've also filmed a little video with some handy dandy tips too. I will link the video at the end of this post.
Goan Beef Cutlets
(Makes about 14-15)


500g ground beef (beef mince)
1 large or 2 medium onions, finely chopped
2 birdseye chillies, finely chopped (optional)
3-4 cloves of garlic, finely chopped
1/2″ ginger, finely chopped
1-2 tbsp fresh coriander leaves, finely chopped
1 egg
1/4 tsp black pepper powder
1/4-1/3 tsp turmeric powder
1/2 tsp red chilly powder
2 tsp Worcestershire Sauce
Salt, to taste
2 slices of bread
Bread crumbs, to coat the cutlets
Olive oil, for frying (You can use whatever cooking oil you have on hand)




Soak the slices of bread in water for a few seconds, drain out all the liquid and crumble. Mix together all the ingredients except the bread crumbs and vegetable oil.


Make sure all the ingredients are well mixed and evenly distributed.


Shape into cutlets.


Coat with bread crumbs.


Heat 2 tbsp oil in a pan. Carefully place the cutlets in the pan and let it cook on a medium heat till its done to your liking. Turn over and cook the other side as well.




Repeat till you're done with the meat mix, adding more oil to the pan as and when you need to.


Serve hot.




Enjoy!!!
Here's the video –
With the Holiday season done, I know a lot of us are trying to get back to regular eating habits. We're trying to eat a little healthier after all the Holiday indulgences. We've also had a family wedding in early January, so for us the indulgences have been a little more that usual this time around. Now that I'm back and mostly unpacked and back to business as usual, the focus is on healthier food.
I love trying out new recipes and cuisines. Now I know Mexican food is hardly a new cuisine, but for me, this was a new recipe. My ground beef recipe is a little more involved than this one. I love the simplicity of it. The method was a little different than what I was used to, but by the time this taco meat was ready, it looked and smelt great and tasted fantastic. I can guarantee this tastes so much better than any packaged taco meat that you buy from the store. And you know exactly what has gone into the pot.
You could, as the name suggests, use this in tacos, but since we are trying to eat healthier, we enjoyed this with some iceberg lettuce and a bean salad on the side. Who said healthy eating had to be boring or tasteless. This was healthy and delicious and is going to make quite a few appearances on our dinner table. I do hope you try it out too.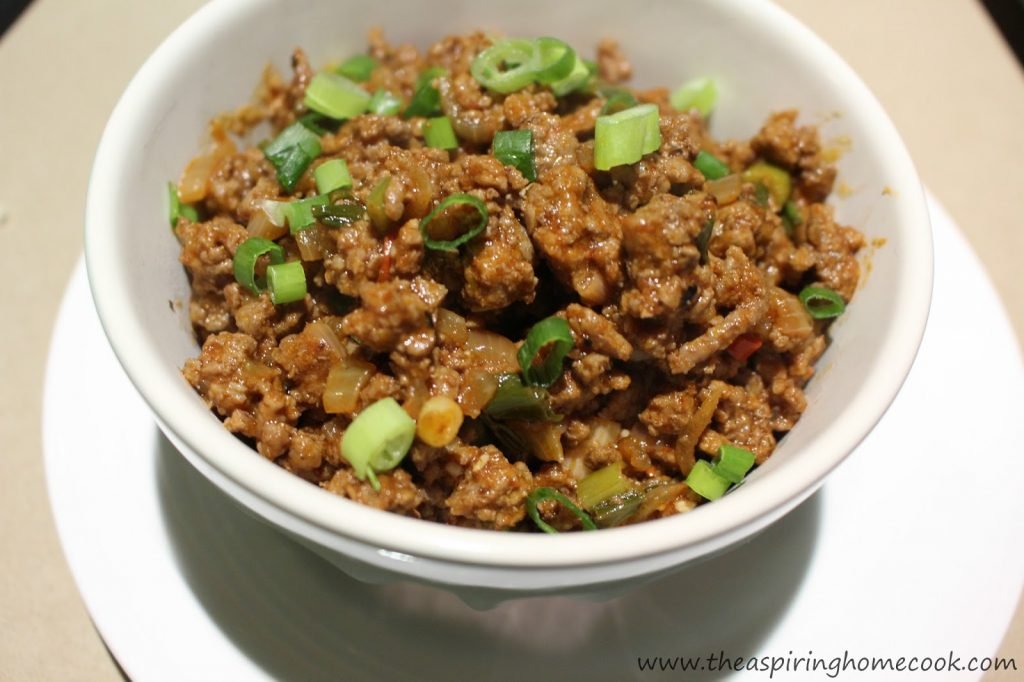 Homemade Seasoned Taco Meat
Recipe from: Premeditated Leftovers


1/2 kg lean ground beef
1 tbsp olive oil
1 cup onion, finely chopped
1/2 cup tomatoes, chopped
2 cloves garlic, finely chopped
1 1/2 tsp cumin powder
1 1/2 tsp chilli powder
1 tsp paprika
1/4 tsp salt
1/4 tsp crushed black pepper
1/2 tsp dried oregano
1 cup water
2 green onions, sliced
Heat the olive oil in a skillet over medium high heat.
Add the ground beef to the pan and cook the meat till it is browned and no longer pink. This should take about 4-5 minutes.
Now add the onions and tomatoes and cook for about 2-3 minutes or till the onions have started to soften.
Add the rest of the ingredients except the water and the green onions. Stir everything together and saute for a couple of minutes. By now all the spices should have started doing their job and should be fragrant.
Now add the water and bring the pot to a simmer.
Cover the pot and let it simmer for about 5 minutes.
Now uncover the pot and cook the meat uncovered till almost all the liquid has evaporated.
Take the pan off the heat and stir in the green onions.
Enjoy!
We had a crazy weekend. It started out with the regular weekend chores like laundry, grocery shopping, cleaning – you know how it works, right? and before we knew it, we found ourselves scrambling to save some trees in our area from being cut. We did manage to put a halt to the original plan of chopping down 13 great, big trees that are atleast 30 years old. I say this with so much authority because the trees have been in their spots as far back as I can remember. I'm pretty sure they are much older than me. We had a local newspaper report the incident and are hoping that this will help us preserve the remaining tree cover in the area. You can check out the article here.
Anyway, things got better from there. We spent Sunday with family at my brother-in-law's place. The guys had a blast. They played carrom after years and played for quite a few hours, while I spent time with my sister-in-law and neices (you remember them – Faith & Shania – from my second post). After a delightful morning and lunch with them, we headed home.
I was exhausted but I still wanted to make something for dinner that night.At first, I wanted to make some Moussaka. I've made that a couple of times before, and my husband and I simply love it. Then I started having second thoughts as the recipe calls for a lot of frying and with the temperatures and humidity levels being sky-high in Mumbai at the moment, I didn't think I could endure all that frying. So as I was sifting through my collection of recipes, I stumbled upon a recipe for Shepherd's Pie that I'd bookmarked some time ago and decided to give it a go. The original recipe calls for lamb mince but since I only had beef mince in the house, I made the switch. Well some folks say that Shepherd's Pie is strictly made using lamb mince and if you do happen u switch the meat like I did, then what you've made is some Cottage Pie. Either way, I must say, this recipe did not disappoint. I used the recipe found in Nita Mehta's – The Best of Mutton. All you do is make some mashed potato and a simple mince. Place the mince in a baking dish and smear the mashed potato over to make a nice layer. Bake @ 170ºC for about 20 minutes. In less than an hour, we sat down to a hearty, warm and scrumptious dinner. This, served with a lovely fresh salad, is really yummy.
Give it a go and you won't be disappointed.
Note to Self: Next time, get pictures before wolfing down delicious food. 🙂