** This post contains affiliate links.
Goa, renowned for its beautiful beaches and people is an idyllic getaway for many. Every school holiday meant a trip to Goa to spend time with family. Along with beautiful weather and some of the most amazing produce, what I enjoy most are the traditional Goan sweets. Since moving from Bombay, these sweets are no longer within easy reach for me. So over the last few years, I've done the next best thing – learn to make them myself. A lot of these sweets make an appearance on the Goan Christmas platter also called Kuswar (pronounced koos-wahr). So far, I've had brilliant luck with quite a few and I will list them along with links to their recipes at the end of this post. I'm hoping to get a few more of them up earlier this year. So check back soon.
Today, after a long wait, I'm happy to share with you a recipe for Dodol. Dodol is almost a jelly like sweet made using Goa Jaggery, coconut and rice. Traditionally made, it is a very labor intensive recipe, but the results are so worth it. You use coconuts, freshly grated and juice extracted, the rice roasted and ground and after the jaggery is added you cook it long and slow, stirring continuously. Unfortunately for me, I don't have access to Goa Jaggery in Sydney. But I was told that I could use Molasses instead. So on my last grocery shop, I picked up a bottle of Molasses. I decided I was going to try a few short cuts to cut down on time involved and used rice flour and a can of coconut cream. I'm happy to report that the whole prep and cooking process that usually takes hours, took be about half an hour from start to finish. The hardest part was leaving it overnight to set. You may not need to leave it that long, but I made the dodol in the evening and it was too warm to cut into after dinner.
But when I did cut into it, it was soft and delicious, just like I remember. I would recommend refrigerating it for a while before serving. It cuts a lot easier when cold. So if you've been putting of making Dodol because you can't find jaggery, go get some molasses and get making. When adding the molasses, don't go by the color of the mix, but taste for sweetness.
Dodol


1 1/2 cup rice flour
1 can (400ml) coconut cream
350-400g molasses
3 tbsp roughly chopped cashew nuts
1 tsp ghee to grease the loaf tin and knife
Water, as needed
Grease a loaf tin with a little ghee and keep aside.
In a large pan (I use the 12″ Kitchenaid Stainless steel skillet) measure out the rice flour. Add enough water and make a batter (almost like a thick pancake batter). I use a whisk for this as it mixes the flour well without any lumps.
Pour in the coconut cream and whisk till dissolved.
Add the molasses and stir.
Now, place the mix on a medium heat and let it cook, stirring continuously.
When it starts thickening, drop the heat to low and continue stirring. I find that you may still find lumps in the mix even inspite of stirring. Use a whisk and break them up. It returns to a smooth consistency very quickly. I had to do this about 3 times.
As it thickens, it gets harder to stir. Add the chopped cashew nuts and keep stirring.
After about 20 minutes, here's what my mix looked like.
Continue cooking till the mixture starts leaving the sides of pan and looks a little glossy. I cooked the mix down for about another 5 minutes, stirring continuously.
At this stage, you need to work quickly. Pour into the greased loaf tin and flatten it down using the back of a spoon or a spatula.
Leave to set and cool completely. Once it has cooled you can either refrigerate it for later use or demould it to serve. To demould, just place a plate, slightly larger in size than the loaf tin, on top and tip the tin over the plate. A slight shake of the tin and plate should be enough to loosen the dodol and let prop it on the plate.
Slice and serve.
Enjoy!!!
Pin now and try later.
Other Goan sweets and Kuswar –
Perad / Guava Cheese (using canned guavas)
Perad / Guava Cheese (using fresh guavas)
Kulkuls
Coconut Toffee
Milk Cream
Jujups
Baath
Marzipan
UPDATE: I've finally had an opportunity to take new pictures. The recipe used is still the exact same one. You can watch the entire Kulkul making process in the video at the end of this post. Enjoy!
(I will still keep the old pictures on the post as it shows you the step by step process.)
As Christmas comes closer, I see so very many posts of Christmas cookies and treats pop up all over the place. A lot of the treats that you now see have evolved over the years. In the last couple of years, I have seen and tried out a few that are brand new to me and I wouldn't have known of if it wasn't for the internet. These were so much easier and quicker to make than the kind of Christmas sweets I am used to making, not to mention absolutely delicious. Today, however, I'm going to share with you a Christmas treat that I've grown up with, these gorgeous Kulkuls. This is a traditional Goan sweet and if you haven't had them before these are little deep-fried, sweet, pastry bites.
This sweet called Kulkuls (cuhl-cuhls), is something I've grown up with. Every year, at around this time the family would gather to make these little treats. And yes, it is a family affair. This little bites of fried, sweetened pastry take a while to make. Since, many hands make for light work, my Grandma, my Mum, my Father (whenever he was on leave from work), my brother and I would sit down to make these sweets. We'd make a massive batch of this every year and it would take a whole evening from start to finish. That being as it is, we'd make Kulkuls every single year. These little fried dumplings can be sweetened to your liking and they have a long shelf life. The batch that we used to make around this time, would last till the end of Jan. In all honesty, they'd probably keep much longer, but they are so tasty and addictive, they'll be finished long before that.
Most of my family recipes, the old Goan ones have been handed down from one generation to another. The weird part is almost all of these recipes, never had fixed quantities of ingredients mentioned. The recipe is very forgiving and I've managed to chart down some quantities for reference. This quantity is a much more manageable batch size than what I'm used to, but you could cut it down further, if you need to. The process should take a couple of hours but I think its all worth it. While I did manage to get step by step pictures of the process, I didn't manage to take a picture of the batch after it was done frying. So for the time being, I am putting up a picture of our platter of traditional Goan Christmas sweets from last year which has some kulkuls on it. I"ll try and get a better one this year.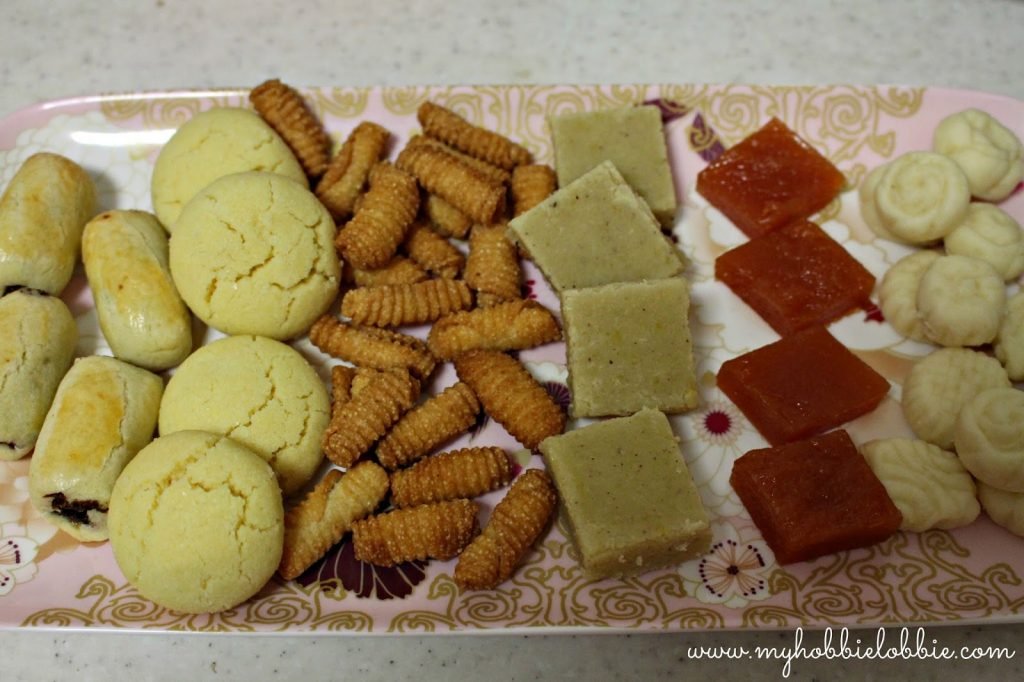 L-R: Date Rolls, Nankatais, Kulkuls, Chonya Doce, Perad, Milk Cream
Kulkuls


1/4 kg Semolina (rava)
1/4 kg All purpose flour (maida)
1 egg
A splash of milk
3 tbsp clarified butter (ghee)
1/3 can coconut cream (400ml can) (You could also use about 150 ml freshly extracted coconut juice)
2 fat pinches of salt, or to taste
Superfine (or powdered) sugar, to taste (Start with a couple of heaped tablespoons and add more as needed)
Oil, for deep frying
Knead all the ingredients to a dough using milk as needed.
Kneading the dough once its done, should leave a slight trace of ghee on your hand, but only just. If your dough is on the dry side, add a little more ghee and knead again. This ensures that the dough doesn't stick to the forms we're using to shape the kulkuls.
Taste a little pinch of the dough for sweetness. I tend to not make these too sweet so that it cuts through all the other sweetness on the plate. If you think you want the kulkuls sweeter, add some more sugar and knead into the dough.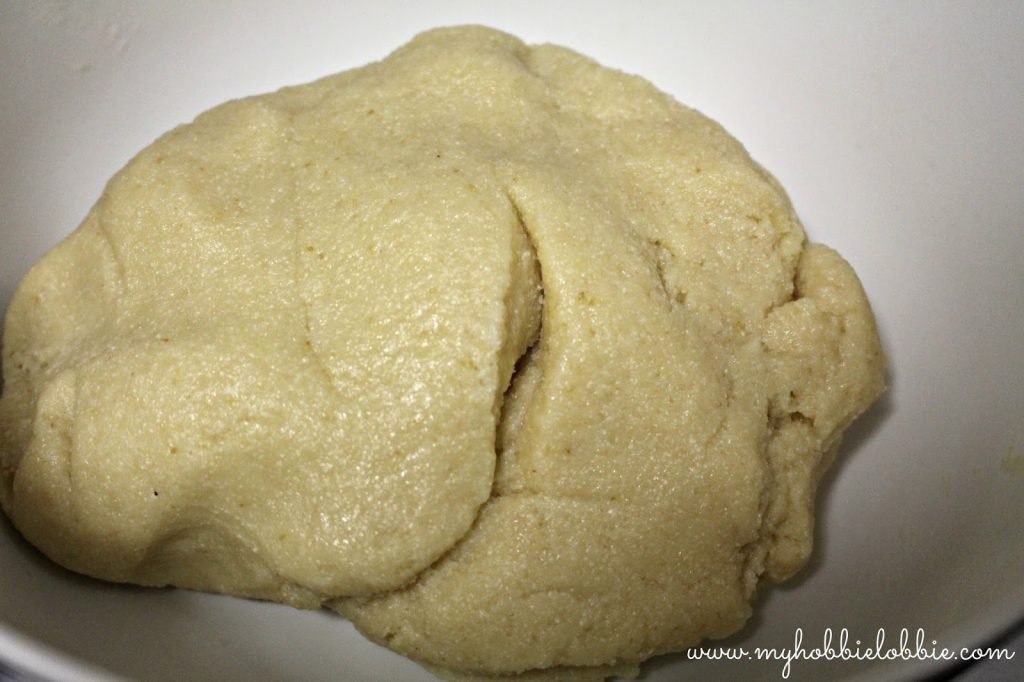 Cover the dough with a damp cloth and let it rest for about half and hour.
To shape the kulkuls, you can use a variety of things. We now use these paddles that are specifically used for kulkuls. If you don't have these paddles, you can use the back of a fork or a new, clean haircomb.
Work with a small portion of the dough at a time. Keep the unused dough covered with a damp cloth while you work with the rest. Roll into a long sausage shape and cut into pieces.
Working with one piece at a time, place the piece of dough on the paddle.
Using your thumb, flatten the dough into a rectangular piece as shown in the pictures below.
Starting with the end closest to you, gently life the dough and roll away from you, keeping the roll fairly tight.
Lightly press the edge of the roll to seal it up so that it doesn't open up while frying.
Adjust the size of the pieces of dough to suit the size of the kulkuls you need.
Repeat with the rest of the dough. As you shape the kulkuls, keep them on a flat tray. I turn a cookie sheet upside down and use the back of the tray.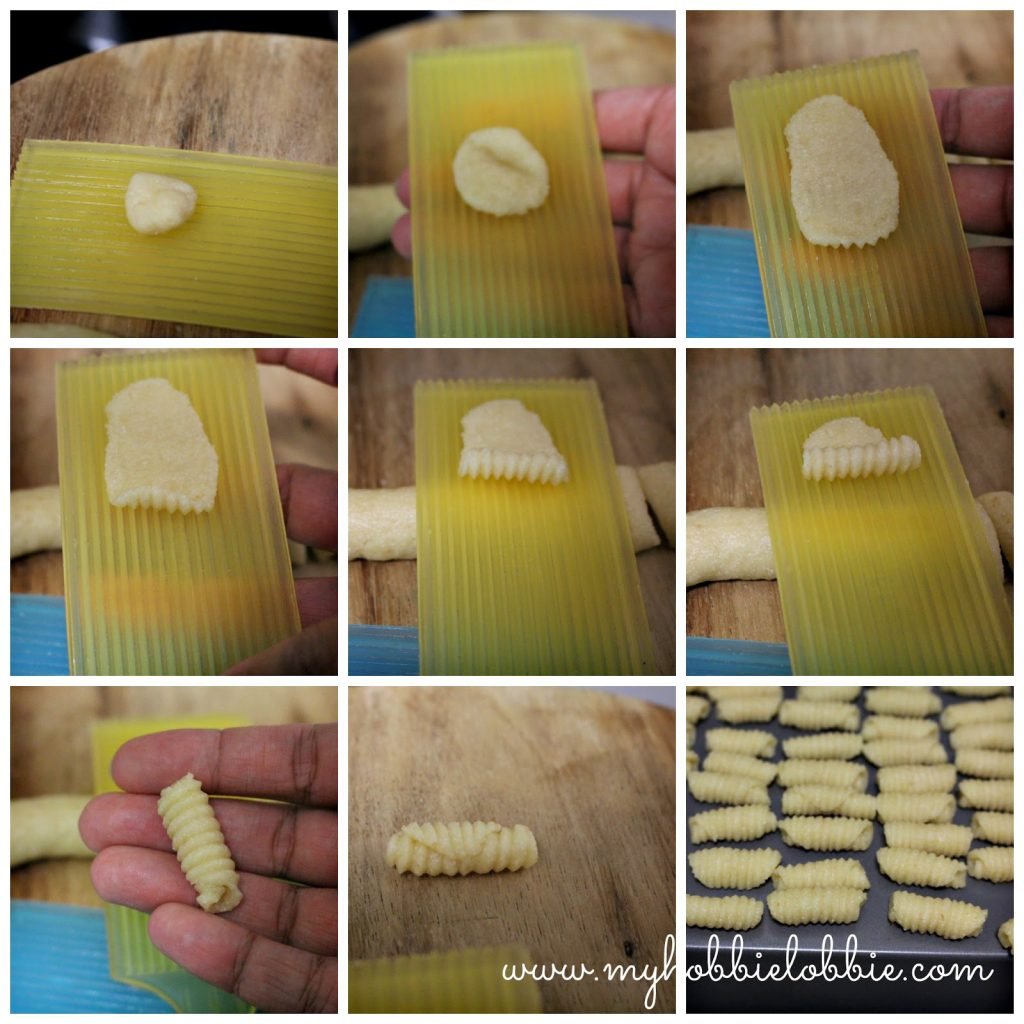 When they are all done, heat some oil for deep frying.
Test that the oil is hot enough by gently dropping a small bead of dough into the oil. If it bubbles in the oil, instantly and comes to the top, the oil is hot enough.
Keep the oil on medium heat.
Gently tip the kulkuls into the oil. Don't overcrowd the pan. Fry them in small batches as the oil may froth a little and bubble up and spill over. Start with the ones that were shaped first.
When the kulkuls are golden brown, drain using a slotted spoon and place on some kitchen paper to drain off any excess oil.
Repeat with the rest of the kulkuls until they are all fried up.
When the kulkuls have completely cooled down, store in an airtight container.
Enjoy this lovely addition to your Kuswar platter.
** I'm hoping to get more pictures this year and will add them to this post.
If you're looking for other Kuswar recipes, you can find them here –
1) Marzipan
2) Date Rolls
3) Nankatais
4) Chaklis
5) Baath / Badca
6) Peraad
7) Coconut Toffee
8) Milk Cream
9) Jujups
10) Coconut Ladoos / Coconut Snowballs
A while ago, a reader had requested for a traditional Goan Baath recipe. That was a while ago, but eventually I got around to getting a picture of this delicious cake before it disappeared. So I've taken the opportunity to share the recipe with you. Baath or Badca – whatever you are used to calling it, is a delicious traditional recipe for a Goan coconut and semolina cake. Its not your run of the mill light fluffly sponge cake, but a more dense and rich one. A good baath cake should not be dry and should be mildly flavoured with ground cardamom. We typically make this for Christmas and it is a part of our Kuswar (Christmas platter).That being said, there is absolutely no reason you can't eat this any time of the year. It goes down an absolute treat with a cup of tea / coffee.
This is a simple cake to prepare and does not require you to bring out the heavy equipment. A mixing bowl and wooden spoon should suffice. You start of by making a sugar syrup and cook off the coconut and dessicated coconut in it. Then add the eggs and bake.
Baath


200g dessicated coconut
2 cups water
2 cups semolina
2 cups sugar
6 tbsp ghee (clarified butter)
6 eggs
1 tsp baking powder
A generous pinch cardamom seeds, crushed (Seeds from about 6 large pods)
In a heavy bottomed pan, bring the water to a boil.
Add the sugar to the pan and let it melt.
Once the sugar has melted, add the coconut and the ghee and let it come to a boil, stirring frequently.
Add the semolina and let it cook for 5 minutes, stirring frequently.
Add the crushed cardamom seeds.
Take off the heat and cool.
After the mix has cooled
Preheat the oven to 180ºC and line and grease a baking dish / cake pan.
When the mix has cooled, add the baking powder.
Just before baking, add the beaten eggs. Mix well till the eggs have been incorporated well.
Pour the batter into the prepared pan and bake till done. (Till a skewer pierced in the center of the cake comes out clean.)
If the top starts to brown too quickly, cover the top with some aluminium foil.
Cool down and enjoy!!!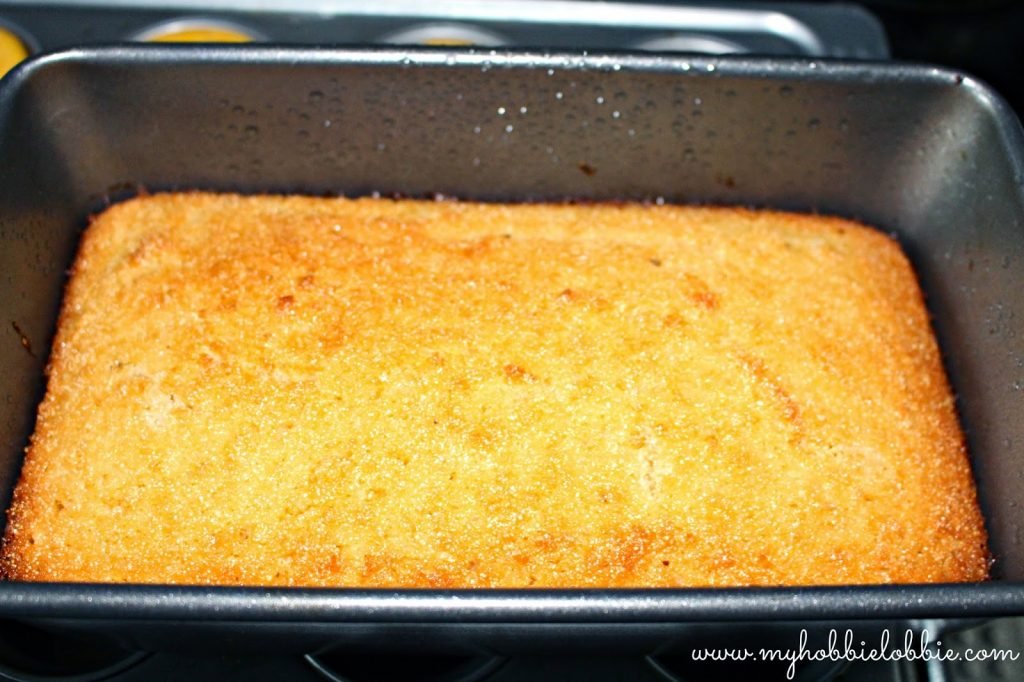 NOTE – Add the eggs only just before you bake the cake and not in advance. Preheat the oven in time to bake the cake.
Watch the video recipe here –
Over the last couple of weeks, I've received numerous requests from readers for my marzipan recipe used for my
Easter goodies
. Its taken me this long to post it as I've got it scribbled on a tiny piece of paper and I haven't had much time to hunt for it or type it out. But I finally managed to track it down and type it out. That too, just in time for Easter. So this post is for all of you who've waited so patiently for it.
This Easter, why don't you try making some goodies at home. Marzipan is a little finicky to get right but I've used this recipe that specifies exact time for cooking it. That makes it easier to handle. I've used this for years now and find it easier compared to some of the other recipes. I know that traditionally marzipan calls for almonds to be used, however, cashew nuts are more abundant here than almonds are so this recipe uses cashew nuts.
Marzipan
200gms Cashew nuts, ground to a powder
Melt sugar in the water over the fire on high heat.
After the sugar melts, add the powdered cashew nuts and stir on low
heat for exactly 7 minutes.
Remove on a flat dish and add the almond essence.
Allow it to cool by stirring with a spoon or spatula.
Bind into a dough, color and use as desired.
Note:
– If the marzipan turns too dry add a couple of drops of rose water and knead till it reaches desired consistency.
– If the marzipan is slightly moister than you'd like, knead with some icing sugar till it reaches the desired consistency.
– If the dough is too moist, put in back on the fire for a minute or so and stir. This step is usually not needed. I had to do this just once when using a different stovetop and the lowest flame was way to low than what you'd find on a regular stove top.
UPDATE: I've added a new, better picture for the milk cream and the video recipe for it at the end of the post. The recipe is still the same great recipe.
As promised in last weeks post, this week as well, I'm sharing 2 lovely treats. One is a little time consuming, the other far quicker. Both of these can be found on the traditional Goan Christmas sweets platter. These are none other than Milk Cream and Coconut Toffee. I simply love them both very much. I remember when I was a kid, my Nana (may she rest in peace), would be solely responsible for whipping up the coconut toffee and to this day I remember, she would tinker about the kitchen for about 15-20 minutes at the most and voila, the coconut toffee was ready. We then simply had to wait for it to cool. I've always been a big coconut toffee lover (Bounty being one of my favourite candy bars) but since my Nana passed away, we never made this any more. I wonder why. This year that is about to change.
Now the Milk Cream was a completely different story. You see, neither my Nana or my Mum knew how to make milk cream, but my Aunt used to make some of the best milk cream I've ever had to this date. She guarded her recipe with her life. Eventually, I managed to persuade her to share the recipe with me and she obliged. So I came home and decided that I was going to make Milk Cream that Christmas. And make it I did. Little did I know how fickle sugar was. The recipe seemed fairly simple and I figured like the rest of the traditional sweets, it wasn't done till your arm fell off from all the stirring. How wrong I was. I ended up with nothing close to the perfect Milk Cream that my aunt used to make but with some milk cream crumbs, some really delicious crumbs. I figured that while this couldn't be shared with friends and visitors, there was no reason why we at home couldn't enjoy it. So once my crumbs cooled off, I bottled it and we enjoyed this strange version of the Milk Cream for quite a while. When I called my aunt later and told her about it, she told me that my only error was I had overcooked it and thats why the mix had crystallized. She asked me to have a go at it again, but being the teenager I was, once was quite enough. I wasn't as persistent back in the day. I figured I would just enjoy the generous portion she usually gave us, since she knew it was my favourite.
Years later, with some much needed guidance, I attempted making this again and this time it worked out. I've never looked back since. I hope you try this out when time permits you won't be sorry. It's a lovely little bite that simply melts in your mouth.
Last week we started with the more time consuming treat first. This week, I'm starting with the quicker one.
Coconut Toffee


1 1/2 cups sugar
1/2 cup water
2 cups desiccated coconut (unsweetened)
A pinch of ground cardamom seeds
A couple of drops of food colour of your choice
Clarified butter for greasing the plate
Place the sugar and water in a heavy bottomed saucepan and place on a medium flame. Cook till it reaches 235ºF on a candy thermometer.
Grease a steel / aluminium plate or cookie sheet using ghee / clarified butter.
When the sugar solution reaches the desired temperate, add the coconut, cardamom powder and food colour. Mix well and take it off the fire.
Pour the mix onto the greased pan and flatten out evenly.
Let it cool for a while and then cut into squares.
Enjoy your coconut toffee!!!
Moving onto the milk cream. It is a time consuming recipe and you will be tempted to turn up the gas. Please don't. You get a lighter coloured end result if it is cooked on a slow flame. Do not leave it unattended.
Milk Cream


100g cashew nuts, ground to a powder
Boil
the milk in a heavy bottomed vessel and continue cooking till is reduces to half the quantity on a very
slow flame, stirring occasionally and ensuring that the milk that's on the sides
of the vessel is stirred into the rest of the milk and not allowed to brown
there.
Add sugar and keep on stirring.
When thickened, add the cashew nut
powder. Keep stirring over a very slow flame till it starts leaving the vessel.


Pour the
mixture onto a steel plate and stir to cool a little.
Knead it into a dough
while still warm. Mould into desired shapes.
NOTE:
If the
dough turns out too sticky add a little icing sugar and knead.
Watch the video recipe here –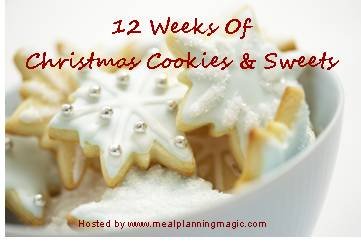 Don't forget to stop by next week for the 3rd issue of Double Treats.
I can't wait to see what the others have brought to the table this week. Go ahead and check it out –
You read that correctly. This post will feature not one but 2 holiday treats. I've missed out on week 5, 6 and 7 of the 12 Weeks of Christmas Cookies blog hop hosted by Brenda from
Meal Planning Magic
, since I was busy enjoying my holiday. But I intend making it up to you by posting 2 treats this week, the next week and the week after that as well.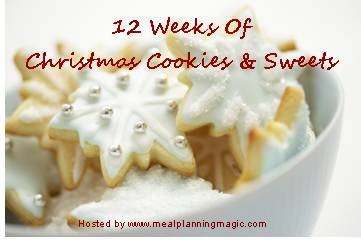 The first treat I'm going to share with you today is a traditional Goan Christmas sweet called Perad (pronounced Peraad)or Guava Cheese. This is one of my favorites. But then again, I think I enjoy all the traditional Christmas sweets. I hope to share a few with you this year. What I love about this is the same recipe can be used to make the most amazing guava jam as well. As you cook this recipe when its still a loose consistency, you can use it as a guava jam and on cooking it further, what you end up with is guava cheese. When I was younger, my grandmother would faithfully make both, the jam as well as the sweet every year. We would have it with bread, chapatis and even spoonfuls of it just by itself. I haven't made the jam for quite a while so I don't have a picture. But I do have a picture of the guava cheese or Perad from 2 years ago – before my blogging days. I will try and get a few better pictures this year. Don't let the pictures fool you, this is good stuff.
Perad (Guava Cheese)


250g ripe guavas (Guavas should be ripe but slightly firm, not mushy)
350g sugar
Juice of 1 big sour lime or 2 small sour limes
1 tbsp ghee (clarified butter)
Red color / caramel color (optional)
Wash the guavas and cut out the stalk portion. Take off any brown portions of the skin as well. Cut into halves breadth-wise.
Bring some water to a boil in a steel vessel. Add the guavas and make sure that the water covers the guavas after you put them in. Cook till the seeds are just about popping out.
Drain and keep aside. Scoop the seeds out. Dice the fruit into cubes. Weigh it and grind it to a pulp.
Sieve the seedy portion to extract some more pulp. Place the pulp, sugar and lime juice in a thick bottomed vessel on a slow flame and cook till it starts leaving the vessel. You have to stir continuously and thoroughly, making sure none of the mix is sticking to the bottom of the vessel. If you stop stirring, the mix gets agitated and you'll end up with a bubbling mix that is difficult to handle and may burn.
(If you want to make guava jam, when it has taken on a good jam like consistency, you can take it off the fire, cool and bottle it. If you're making Perad or guava cheese, continue cooking.)
Test to see if done. (Use water test – Place some cold water in a small bowl and drop a teaspoon of the sweet on it. If it firms up on cooling it is done. If it is still soft or too sticky, it needs more cooking).
When done, add ghee and color (if using) and mix well. Addition of the ghee adds sheen to the end product.
Grease a cookie pan (or thali) with ghee and pour the mixture on it. Use a palette knife to smoothen it out. Spread while still warm. Leave it to cool a little and set. Cut into pieces after it sets.
When it has cooled off completely, you can store it in a container.
NOTE: If you want to make a larger quantity, DO NOT double this recipe. If the guavas weigh 500gms., use 650gms. sugar. Whatever the weight of the fruit add 150 grams to it to get the sugar quantity.


These traditional Goan sweet dishes are usually passed on from one generation to the next and there usually aren't too many written versions of the recipe. Also, it takes a couple of attempts to perfect. But if you follow the instructions closely, you shouldn't have any trouble. In any case, don't hesitate to clarify any doubts you may have.
The second treat I have lined up for you today, is much simpler in comparison. So if you don't have the time or inclination to whip up a labour intensive guava cheese, try these no bake cookies. It takes 5 minutes to make them and about an hour of refrigeration is called for.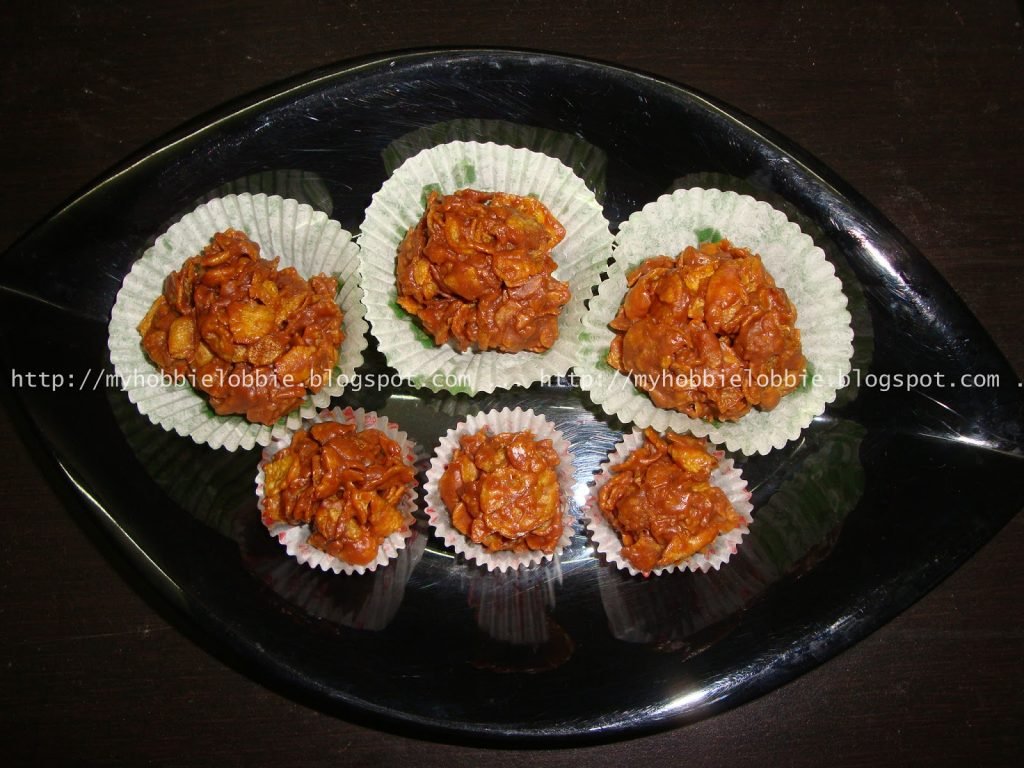 Choco-Caramel Crispy Cakes (No bake cookies)
4 (2oz.) Mars or Milky Way candy bars
1/4 cup unsalted butter
2 1/2 cups corn flakes
Approx. 40 mini cupcake paper liners
Break the candy into smaller pieces and place it in a saucepan along with the butter on low heat, stirring frequently.
When everything has melted, add the cornflakes and mix well, until it is well coated with the chocolate mixture.
Scoop out the mix into the mini cupcake liners.
Place them on a tray in the refrigerator to set for at least an hour.
Enjoy!!!
Note: I made both sizes, but in hindsight I would strongly recommend going with the mini liners, the regular ones are too big.
Join me next week for 2 more treats and don't forget to check what the others have brought to the table this week.
This is a fairly simple dessert that my mum used to surprise us with every once in a while. I still have fond memories of coming home to be greeted to some of this. As a child, I think this was one of my favorite desserts. It is so simple to make, yet tastes divine. I used some Brown & Polson Vanilla Custard, but I've always wanted to try making my own custard. I'll probably do that the next time I make this. I can't believe I haven't made this on my own before. This dessert is served refrigerated, so its lovely for the summer months when you need to take an edge off the heat. I consider this one a healthy dessert and I'm sure you'll agree once you've taken a look at the list of ingredients.
Vanilla Custard in Guava Cups


For the Vanilla Custard –
1/2 litre milk
2 tbps custard powder
3-4 tbsp. sugar, superfine or to taste
Mix the custard powder and the sugar with the cold milk.
Place on a medium flame, stirring continuously till it has thickened.
Cool and refrigerate.
For the Guava Cups –
3 guavas, ripe but firm and not bruised (Use as many guavas as you would need to serve the number of people for the meal. You can serve half a guava to a person.)
1 1/2 cup water
1/3 cup sugar
5 cloves
Wash and cut the guavas in half. Cut off the brown parts near where the stem would've been.
In a large vessel, place the guavas cut side up.
Pour enough water to reach a little over the top of the guavas and add the sugar.
Bring to a boil and continue cooking till the seed portion of the guavas start popping out of the flesh.
At this point, you can pick out the guavas using a slotted spoon, cool the stewing liquid and place the guavas back in it and refrigerate till you're ready to serve.
I picked out the guavas and let the sugar syrup continue boiling till it had thickened a little.
The stewed guavas are delicious even by themselves.
For Assembly –
When you're ready to serve, scoop out the guava seeds and discard. Place the guava on the serving plate/bowl.
Spoon out the chilled custard into the guava cup. I always like a little extra custard for me.
Enjoy!
This recipe is linked to –
Decidedly Healthy or Horridly Decadent
Fun with Food Fridays
Sweets for a Saturday
Yes folks, here we are, at the final week of an amazing 12 week journey. A journey where so many wonderful bakers, cooks and bloggers put up some wonderful treats each week. I know I've learned so much from them. Their work has truly been inspiring. My ever growing 'to bake' list just got a whole lot longer and I can't wait to try out some of these treats myself.
Considering how close we are to Christmas and how swamped I am with things that need to be done around my house and in my kitchen, I haven't baked anything for this weeks round up. Now that doesn't mean I didn't bake anything. There's a load of stuff happening in the kitchen … more on that later. However, it also doesn't mean that I'm going to skip this weeks submission. This week I'd like to showcase what we in India call 'Jujups'. This is a lovely sugary treat that can be made in a number of flavors and colors. Its quite a hit with kids. I haven't yet made jujups this year, so I'm going to add a picture from last year. I will add a better picture when I make it this time around.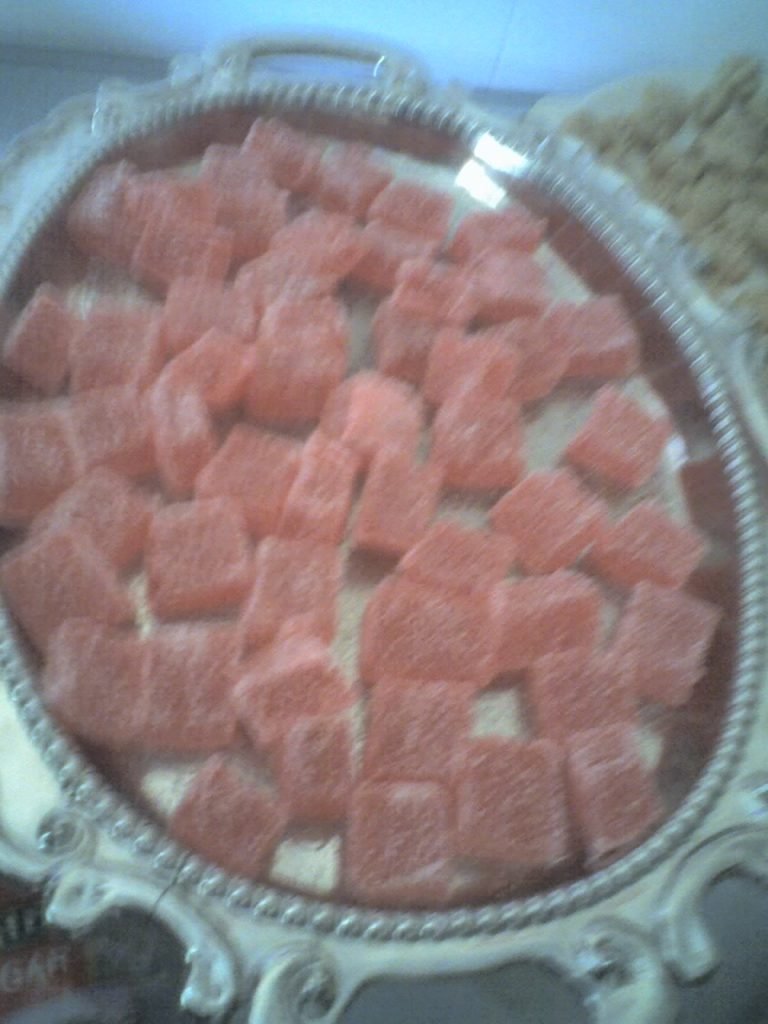 A pinch of cream of tartar
In a steel vessel, add ¾ cup water, sugar and the cream of tartare to make a sugar syrup. Keep on a high flame and stir till the sugar dissolves. Then on a low flame and let it cook to a 2 thread consistency approx. about 20 mins. While this is cooking, use ¼ cup of water and dissolve the gelatin in it. Add the juice of 1 sour lime and mix well. Let it soak for about 5-10 minutes.
Once the sugar syrup is ready, add the gelatin mix to it and stir well. Let this concoction warm through for a minute or so. Add the color and flavoring as desired and mix well. Grease a tray with olive oil and pour the mixture through a metal strainer into it. Leave it to set undisturbed. Once it cools you may keep it in the fridge overnight. The next day, bring the mix to room temperature and then loosen the edges using a knife. Unmould the jujups on a board covered liberally with castor sugar. Cut with a greased knife and roll the pieces in castor sugar. Cover and keep in an air tight container.
Here's a handy dandy chart to guide you when trying out different flavor and color combinations. This is the assortment I made last Christmas. Feel free to experiment and make it your own. If you do try any flavors that aren't mentioned here, let me know how it goes, so that I can add to this list.
Color – Flavor
Yellow – Pineapple / Lemon
NOTE:
Cream of tartar is used to prevent crystallization of sugar in the sugar syrup. Make sure you use a very small pinch – if excess is used, the jujups won't form.
Don't forget to check out what the others have put up this week!
Week 12 Twelve Weeks of Christmas: