This is a recipe I came across by pure chance. Last week I bought a big basket of fresh ricotta, not for the ricotta, but for the basket. Has anyone else done something as crazy as that? I needed the basket for a project I'm working on and if all goes well, I will share that with you. But I must admit, I was quite stoked to have the fresh ricotta to play with. And play I did. This is one of the things I made using that ricotta. I made a batch of these amazing Savory Ricotta Scones. I used a bunch of dried herbs I had in the kitchen, but I can only imagine how much more amazing these would taste with fresh herbs. One of the things I want to do, is grow my own herbs. And if I have any luck with that, I will make this recipe using fresh herbs.
Have you tried making scones before? I've tried these Chocolate Chip Banana Scones, Double Chocolate Scones and some Classic Scones – all sweet ones, out of which my favorite one is the Chocolate Chip Banana Scone. That being said, I do want to try my hand at a few more recipes. So this time, I decided to try out a savory scone and when I saw this recipe for Savory Ricotta Scones, I was thrilled. It would be the perfect way to build on my scones list as well as use up that amazing Ricotta.
The recipe itself was very simple and the scones turned out really well. They were tender and delicate and beautifully flavored. They would pair fantastically with a soup. I want to try these with a roasted tomato soup when the weather cools down. So whether or not you've tried scones before, I do hope you try these out. Serve them with a soup, or for brunch or with some tea and let me know what you think of them.
I've made a little video to help you through the process –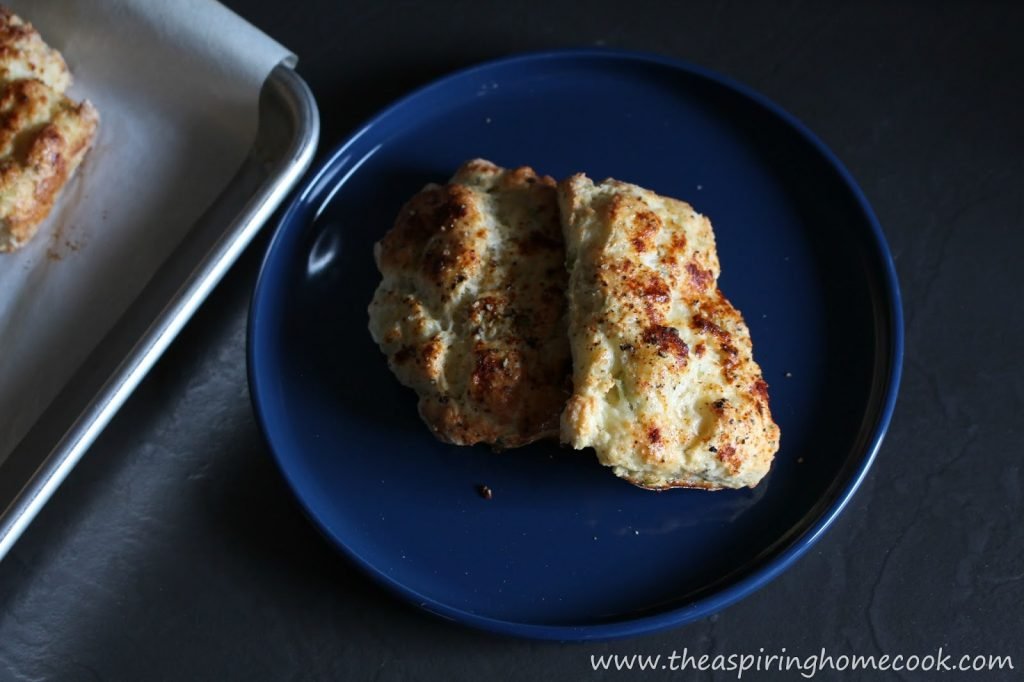 Savory Ricotta Scones
Adapted from: Love Life and Good Food
2 cups all-purpose flour
1 tbsp baking powder
2 tsp sugar
1/2 tsp salt
5 tbsp chilled butter
1/2 cup sliced spring onions
1/2 tsp dried mixed herbs
1/4 tsp dried parsley
1/8 tsp dried thyme
1 cup ricotta cheese
2/3 cup milk
1 egg
Sea Salt
Black pepper, freshly cracked, to taste
Smoked paprika, to sprinkle over
Preheat the oven to 220ºC.
Line a baking tray with some parchment / baking paper and lightly grease the paper.
Whisk the flour, baking powder, sugar and salt in a large bowl.
Cut the butter through the flour mix or grate it and mix it till you get a coarse crumb texture.
Add the spring onions and herbs. Stir through.
Add the Ricotta cheese and milk and stir through just until combined.
Turn out on a lightly floured surface. Lightly bring the dough together. Do not knead.
Pat the dough into a rectangle. Dip the cutter or knife in some flour and cut into 10-12 equal pieces.
Place on the parchment lined baking tray.
In a small bowl, whisk the egg with 1 tsp water. Use a silicone / pastry brush and brush the egg white on the scones. Sprinkle some salt, freshly cracked black pepper and smoked paprika over the tops of the scones.
Bake for 20 minutes.
Serve while still warm with a little butter.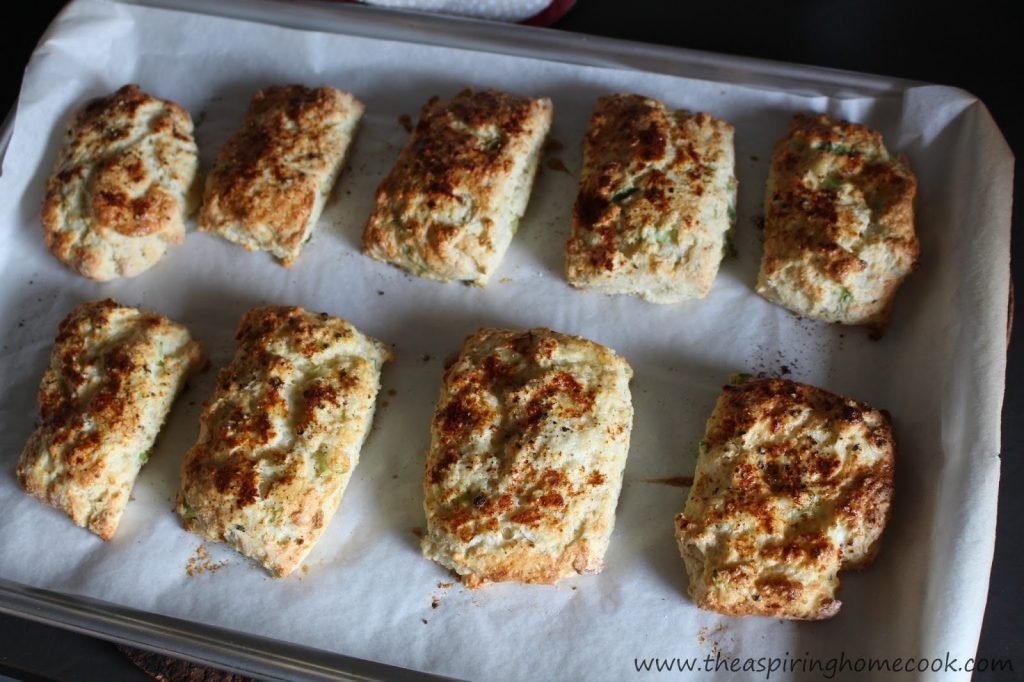 If you're making these in advance or if you have leftovers, they reheat well either in a covered pan on low heat or wrap them in foil and warm in a 180ºC oven for about 5-10 minutes.
Anyone who knows me well, knows I love my snacks. Most Indian snacks are deep fried. Actually, scratch that, most snacks anywhere are deep fried. Well, atleast the yummy ones are. That being the way it is, I try to cut down on these kinds of snacks. Which means, I'm constantly on the lookout for healthier options. And it goes without saying that even these healthier options, have to be delicious. At the end of the post, I will list some of the recipes that I find healthier. Do you love your snacks as much as I do? Hit me up with your healthy snack recipes in the comments section. I would love to try them out and will post my experience here, with credit to you, of course.
Today's post is one such snack option. Kale Chips. I never thought I'd love it as much as I do. I've had the option to cook with Kale only in the last couple of years. I've not tried too many Kale recipes so far. Just this Skillet Breakfast Hash and now these Kale Chips. I've made them both a few times and we love them. That is how I knew, I had to share these Kale Chips with you. Kale is really good for you. They are choc full of antioxidants. These are baked and I can't tell you how delightful they are to snack on. You have to try it to believe it. What I love is that the options for the seasonings are endless. I have a soft spot to this Spicy Masala Chaat Seasoning. It is a little tangy, a little salty and a little spicy – just perfect. And its such an easy recipe too. All you do is prep the leaves, sprinkle the seasoning over, toss and bake. So what are you waiting for? Try it out. You'll definitely want to make it again.
You can watch the recipe here –
Kale Chips


1 bunch of Kale, washed and shaken dry
1 tbsp olive oil
1/2 tsp Kashmiri chilli powder or to taste
1/2 tsp Chaat masala, or to taste
Salt, to taste
Preheat the oven to 180ºC.
To prep the Kale leaves, break the leaves into smaller chip size portions, discarding the tougher stem.
In a small bowl, mix the olive oil, the chilli powder, chaat masal and salt together.
Drizzle this over the the kale leaves and toss well to make sure all the leaves are coated with the spices. Its best to do this with your hands. Rub the leaves gently to get the seasoning in the little nooks and crannies.
Either line a baking tray with some parchment paper or lightly spray with some oil
Arrange the kale leaves in a single layer on the tray.
Bake for 10-15 minutes or till the leaves are lightly browned.
Keep a close watch on the leaves as they can go from just right to burnt very quickly.
Take them out of the oven and let the chips cool completely before eating. They crisp up as they cool.
Sit back and enjoy.
Pin now and enjoy later!
Bananas – probably one of my favorite fruits around. Any of you out there as crazy about your Nanas as I am. I have them in the house almost every week. That being said, every once in a while, I end up with bananas getting a little over ripe. Have you had that happen to you? Stop! Don't throw it away. I always try and find ways to use up over ripe bananas too. Waste not, want not, right?
I'm always on the look out for new ways to use up these over ripe bananas. You may have noticed I have more than a few recipes on the blog that you can try out, if you need to use up some bananas. But this time, I wanted something a little more indulgent. On my recent trip to Costco, I bought a bag (a fairly large one) of bittersweet chocolate chips, so I thought why not use some chocolate chips in a good banana bread recipe. After a little looking around, I found one I knew was going to be great.
A little mashing, a few whisks and a very short while later, I was ready to pop this Chocolate Chip Banana Bread in the oven. Just one large mixing bowl needed. You don't even need to break out the heavy duty equipment to whip up this batter. After baking and probably doing the hardest part of this recipe – waiting for it to cool down, I ended up with a pillowy soft loaf of Banana bread studded with chocolate chips, some still a little melted from the baking, lending a beautiful, but not too sweet, chocolatey (Wait! is that even a word?) element to this bread. I know this recipe is a keeper. Try it out for yourself and see,
Chocolate Chip Banana Bread
Yields: 1 Loaf
Recipe from: Something Swanky
4 medium over ripe bananas
1 egg
3/4 cup sugar
1 tsp vanilla
1/4 cup vegetable oil
1 1/2 cups all purpose flour
1 1/4 tsp baking powder
1/2 tsp baking soda
1/2 tsp cinnamon powder
1/8 tsp salt
1/2 cup bittersweet chocolate chips (plus extra to sprinkle on top)
Preheat your oven to 180ºC.
Line a loaf tray with greaseproof paper and spray with cooking spray. I used my olive oil spray.
In a large mixing bowl, mash the bananas till they are mostly smooth.
Add the egg, sugar, vanilla and oil and whisk to mix well.
Next, add the flour, baking powder, baking soda, cinnamon powder and salt and mix till a batter forms. Do not over mix.
Fold in the chocolate chips using a rubber / silicone spatula.
Pour the batter into the prepared loaf tin.
Sprinkle a few more chocolate chips on top if you like. At this stage, I would recommend slightly pressing these chocolate chips into the batter. It will look better this way. I didn't do that but will definitely do it the next time.
Bake for about 40-45 minutes or till a skewer pierced though the centre comes out clean. Try and avoid piercing any of the chocolate chips. If you hit a chocolate chip, wipe the skewer down and check again.
When it is done, take it out of the oven and leave to cool for about 10-15 minutes.
Slice and enjoy with a hot cuppa tea of coffee or even some milk.
Here's what the inside looks like. Yummmm!
Need more ideas to use up some over ripe bananas? Try these —
1) Banana Bread
2) Mini Eggless Banana Walnut Muffins
3) Chocolate Chip Banana Bread Scones
4) Banana Oat Blueberry Pancakes
5) Mango Smoothie Bowl (Peel the over ripe bananas, put in freezer friendly zip lock bags and use anytime to make this smoothie bowl)
6) Blueberry Smoothie Bowl (Again, peel the over ripe bananas, put in freezer friendly zip lock bags and use anytime to make this smoothie bowl)
So baked oatmeal is apparently a thing, and I didn't know until now. I'm wondering where I've been all this while. In a few short months, I've stumbled upon Smoothie Bowls and now Baked Oatmeal. We love the smoothie bowls. They were perfect for summer and we've had a long, hot one. Its not over yet, but the weather has started cooling down a tiny bit and I am looking forward to winter. Enter this awesome Baked Oatmeal.
In our house, we love oatmeal for breakfast. It does take a little more hands-on time to whip up in the morning compared to making toast. However, we all know that oatmeal is healthier for you than bread. And overnight refrigerator oatmeal is perfect for summer, but I prefer a warm breakfast when the weather is cooler. And how good would it be if someone could make me this warm breakfast in the morning while I got an extra ten minutes of sleep. That ain't happening so this baked oatmeal is the next best thing. You make a batch up one evening and it reheats beautifully for breakfast the next morning. The flavor options that I found on the internet are endless. This breakfast option is an absolute winner in my book and I know I'll be making it very often as the weather cools down.
Making baked oatmeal couldn't be simpler. Whisk the wet ingredients. Stir in the oats and bake. An added advantage is that this is clean eating at its best. No refined sugars in this breakfast option. Its like eating banana bread for breakfast, without the guilt. You use the oats instead of flour and maple syrup instead of sugar. Throw in some coconut oil and pecan nuts and you have taken this humble oatmeal breakfast up a couple of notches nutritionally. Don't take my word for it. Make a batch today and you'll have a household that actually enjoys oatmeal for breakfast.


Banana Bread Baked Oatmeal


2 large ripe bananas (or 3 small)
3/4 cup milk, at room temperature
2 eggs, at room temperature
1/4 cup coconut oil, melted and cooled
1/4 cup maple syrup
1 1/2 tsp vanilla extract
1/2 cup chopped pecans (additional for garnish)
2 cups rolled oats
1 1/2 tsp cinnamon powder
1/4 tsp salt
Preheat oven to 180ºC.
Grease an 8×8 baking dish and set aside.
Spread the chopped pecans on another ungreased baking tray and let them roast for 4-6 minutes or till they are toasted light golden brown. Cool.
In a large mixing bowl, mash the bananas.
Add the milk, eggs, coconut oil, maple syrup and vanilla to the mashed bananas and mix well till smooth.
Add the oats, salt, cinnamon powder and toasted pecans and stir till combined.
Pour into the greased baking dish and bake for 20-25 minutes or until set and golden brown on top.
Let it cool for a while (around 5 minutes) in the baking dish itself before cutting and serving.
Serve warm by itself or with some greek yogurt or milk, as desired. You could top it off with some fresh fruit and nuts as well.
If you're making this ahead of time, refrigerate and cut and reheat in the microwave as needed.
It's been nice to settle in to my regular routine over the last few days. Truth be told, I do miss being on Holiday and being around family and friends. But there is something deeply pacifying about being back home doing my thing.
I haven't baked in ages. Furthermore, its been about three months since I last shared a baked recipe here. I was tossing between cookies, brownies and tea cakes. And while I was looking, I realized that I had this exotic little gem saved in my massive 'must-try' list. And with a name as exotic sounding as Basbousa, I had to. So as soon as the temperature dipped a tiny bit, I decided to turn the oven on. Basbousa is an Egyptian semolina cake drenched in sugar syrup.
This batter comes together really quick and easily. There's no need to break out the heavy equipment, I just used a whisk. So basically you bake the cake, make a sugar syrup and drizzle it over the cake and top with some sliced / slivered (flaked) almonds and coconut chips and that's it. This is a dense tea cake, so don't expect a light sponge. It has a very different flavor profile compared to a basic sponge too. It has a subtle tang from the yogurt and the lemon in the syrup. Dare I say, it is very deliciously different. My husband really liked this cake. And he is someone who loves a good chocolate cake and the occasional sponge cake. This one though, he has asked me to keep track of, so that we can make it again. Imagine my surprise. But then again, it wasn't overly surprising considering how good this cake is. Try it out for yourself.
Basbousa
Recipe from: The Mediterranean Dish
For the cake –
1/2 cup butter
1 cup sugar
1 cup natural, unflavored yogurt
2 cups coarse semolina
1/2 cup milk
1 tsp baking powder
1/4 cup sliced / flaked almonds
1/4 cup sweetened coconut chips or sweetened shredded coconut
For the syrup –
1 1/2 cup sugar
1 3/4 cup water
2″ cinnamon
1/4 tsp lemon juice
Preheat the oven to 170ºC and grease a 9 inch cake tin and keep aside.
Melt the butter and set aside. You can do this in a little saucepan on the stovetop on in a little microwave safe bowl in the microwave. Set this aside.
In a large mixing bowl, whisk together the yogurt and sugar.
Now add the semolina, milk and baking powder and mix thoroughly.
Next, stir in the melted butter and whisk well. Let the batter rest for a while (about 5-10 minutes or so) for the semolina to absorb some of the moisture.
Pour the batter into the greased cake tin and bake for about 40-45 minutes.
While the cake is baking, make the sugar syrup. Place the sugar water and cinnamon in a saucepan. Bring to a boil on high heat stirring occasionally, but only till the sugar dissolves. Turn the heat down to low and continue to cook for a few minutes till the syrup thickens. Then take off the heat and stir in the lemon juice.
Set aside to cool and then remove the cinnamon.
When the cake is ready, take it out of the oven and immediately pour the cool syrup on the hot cake.
Leave the cake to cool off completely and let the cake absorb the syrup, at least for an hour.
Just before serving, top the cake with the almond and coconut chips.
Serve.
Today's post is bittersweet for me. Today is our
SRC
Group A reveal day – our very last one. I've been with this fun bunch a little over 5 years and every month this club has brought me great joy. I've had the opportunity to meet (virtually ofcourse) so many wonderful people and have been introduced to so many great blogs during the past five years, I don't think I would've found them on my own. But all good things must come to an end and here we are at the end of a great run.
For my last assignment, I got Emily's blog, Life on Food. Emily's blog is full of wonderful food. I had an almost impossible task of picking a recipe for this reveal. Go over and say Hi to Emily and tell her I sent you. While you're there check out the wonderful food on her blog. You will also see her gorgeous little baby there – absolutely precious. Here's probably what makes Emily my favorite person – she goes to Disney World every year. Yes, every single year. Someday, I hope to be able to visit every single Disney park there it to visit. It is on my bucket list. Anyway, back to Emily's blog. In the end, I narrowed down my endless list to these gorgeous Cheddar Bay Biscuits, these Chocolate Hazlenut Truffles, Chocolate Chip and Hazlenut Cookies with Sea Salt, Macaroon Blossoms, and this Coconut Rice Pudding, but in the end these Classic Blueberry Muffins won.
We're in the middle of spring at the moment, so everywhere I look I can see berries and that was one of the main reasons I decided to go with this muffin recipe. You can never have too many muffin recipes, can you? This recipe is perfect for summer and they make a great brekkie on the go. You know what else they'd be great for …. morning tea at work. These muffins are one of the best berry muffin recipes I've tried. They're packed with berries and have a beautiful crumb. At first, I was a little skeptical of the cinnamon in this recipe, but don't be like me. The cinnamon is subtle and you can barely tell its there, but it does wonder for the flavor of the muffin. I did add a little vanilla extract to the recipe but other than that stuck to the original. Thanks Emily for a fantastic blueberry muffin recipe.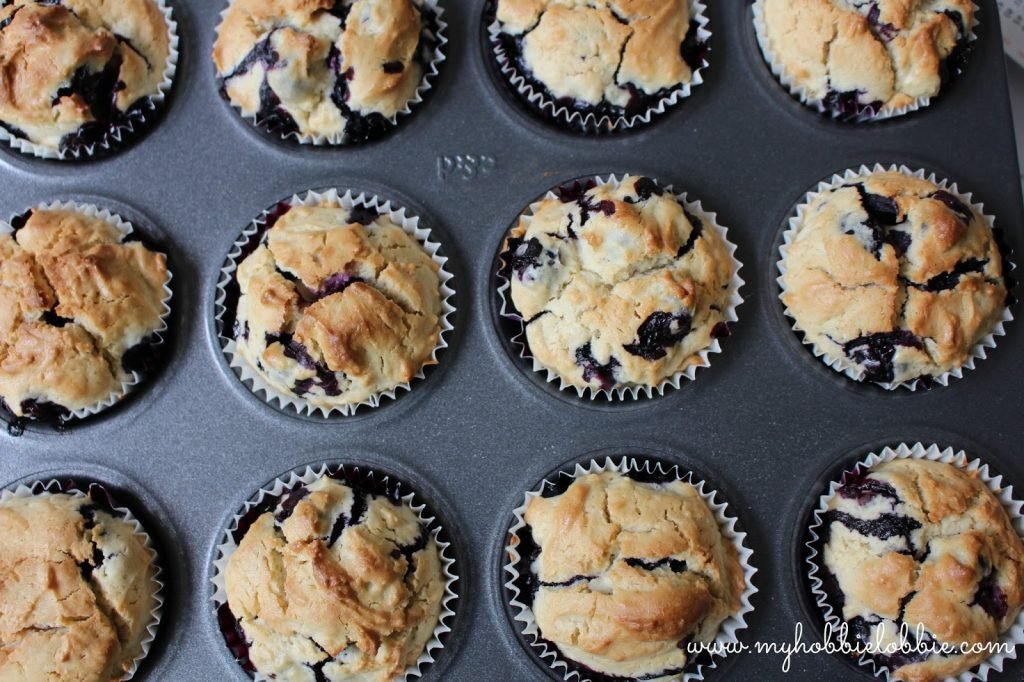 Classic Blueberry Muffins
Makes 12
2 cups all purpose flour
1 tsp baking powder
1 tsp ground cinnamon
1/2 tsp salt
1 egg
1 cup sugar
4 tbsp butter, melted and slightly cooled
1 1/4 cup sour cream
1 tsp vanilla extract
1 1/2 cup blueberries
Preheat the oven to 180º and line a muffin tray with paper liners or grease a tray.
In a mixing bowl, place the flour, baking powder, cinnamon powder and salt and whisk till combined.
Toss in the blueberries and make sure the flour mix coats them well and set the bowl aside. (This ensures the berries don't sink to the bottom.)
In another bowl whisk the egg till it has loosened. Add the sugar and whisk till you are left with a thick mixture.
Add the vanilla extract and combine.
Add the melted butter and whisk well to combine.
Lastly, add the sour cream and whisk until just combined.
Add the wet mix to the dry ingredients and gently fold in using a rubber spatula until just combined. The batter will be thick and you may see a few small dry flour spots. I found mine a little too dry so I added a couple of tbsps of milk and folded in gently. Take care to not overmix the batter.
Spoon the batter into the lined muffin tray.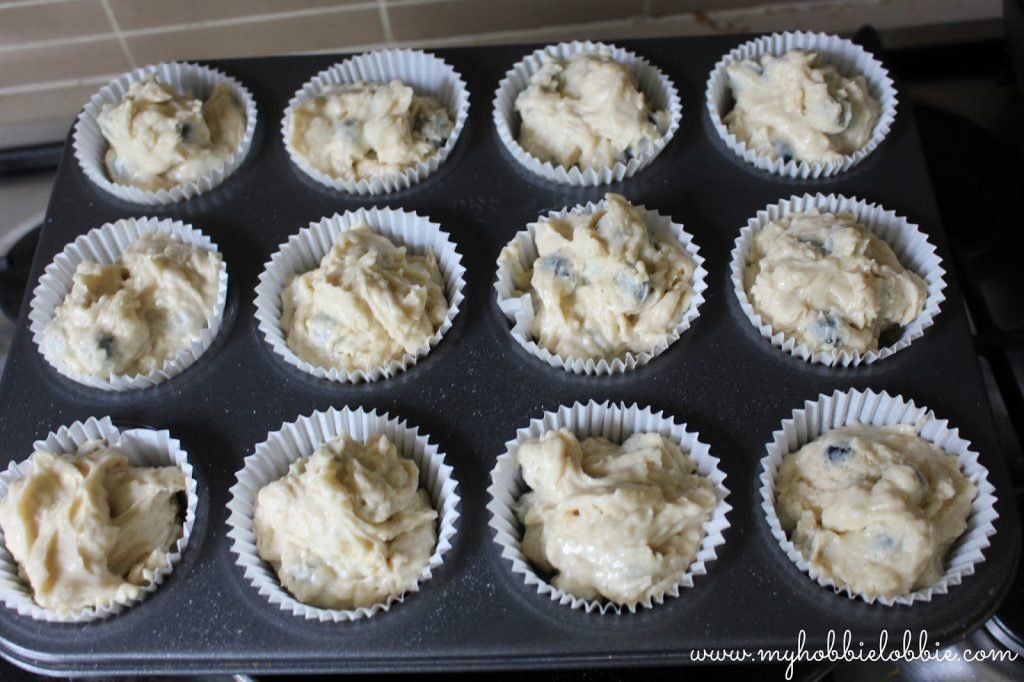 Bake till the tops are a light golden brown and a toothpick pierced in the center comes out clean, about 25-30 minutes.
Immediately move the muffins to a wire rack to cool and serve at room temperature.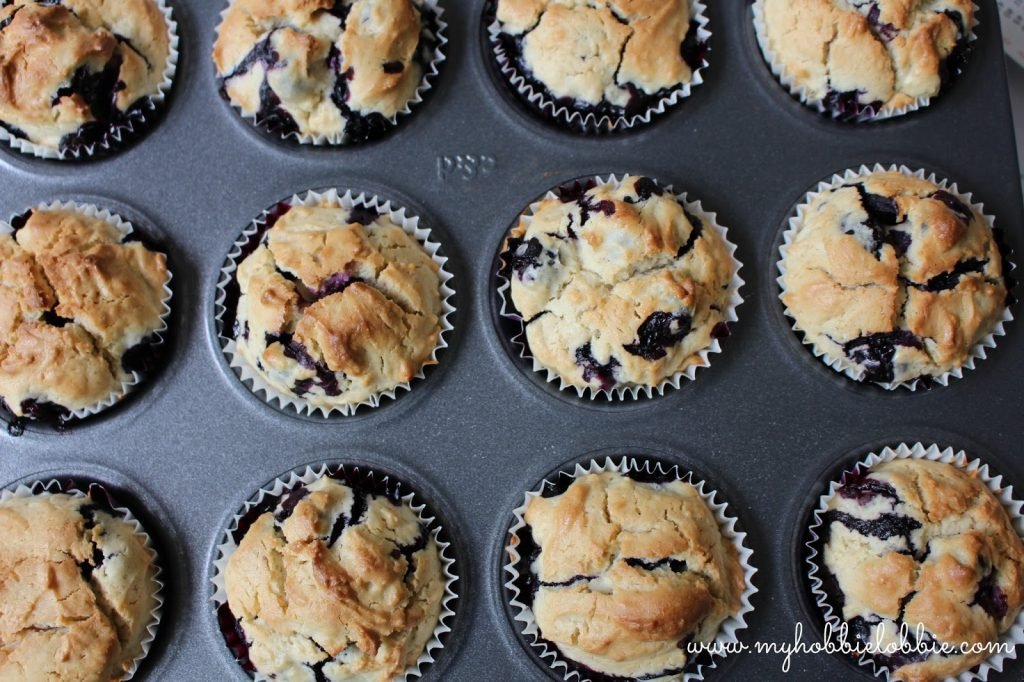 Store any leftovers in an airtight container at room temperature.
I don't know what I'm most excited about – the
SRC
reveal, this 2-minute cake, the Nutella in it or that it uses just 4 ingredients. It's safe to say that I'm super happy with this recipe. For this month's SRC assignment I had Cathleen's blog,
A Taste of Madness
. Picking a recipe for this month's reveal was particularly tough. Cathleen loves baking and is a big fan of anything covered in chocolate, in a nutshell. After spending some time going through her blog, I think we could become good friends. I know we like the same kind of food. How do I know that? Its simple really. I wanted to make (almost) every single recipe I came across on her blog. Seriously, go over to Cathleen's blog and check it out. You can thank me later 🙂 With great difficulty I narrowed my choices for this reveal down to her
Coconut Oatmeal Cake
,
Homemade Caramels
, this crazy
Smores Brownie Pie
, these Gooey
Cinnamon Squares
and the
Nutella Mug Cake
. After a lot of deliberation, serious deliberation, the Nutella Mug Cake won.
4 ingredients, a quick stir and 2 minutes later, your kitchen will smell amazing and you'll have a little mug of deliciousness in the form of this cake ready. This recipe was really the obvious choice for this reveal when I think of it, atleast subconsciously. My first mug cake recipe – this 2-minute Chocolate Mug Cake is one of the more popular recipes on my blog. And I know why. The appeal of instant gratification is hard to turn down. So if you lurve your Nutella, treat yourself to this Mug Cake.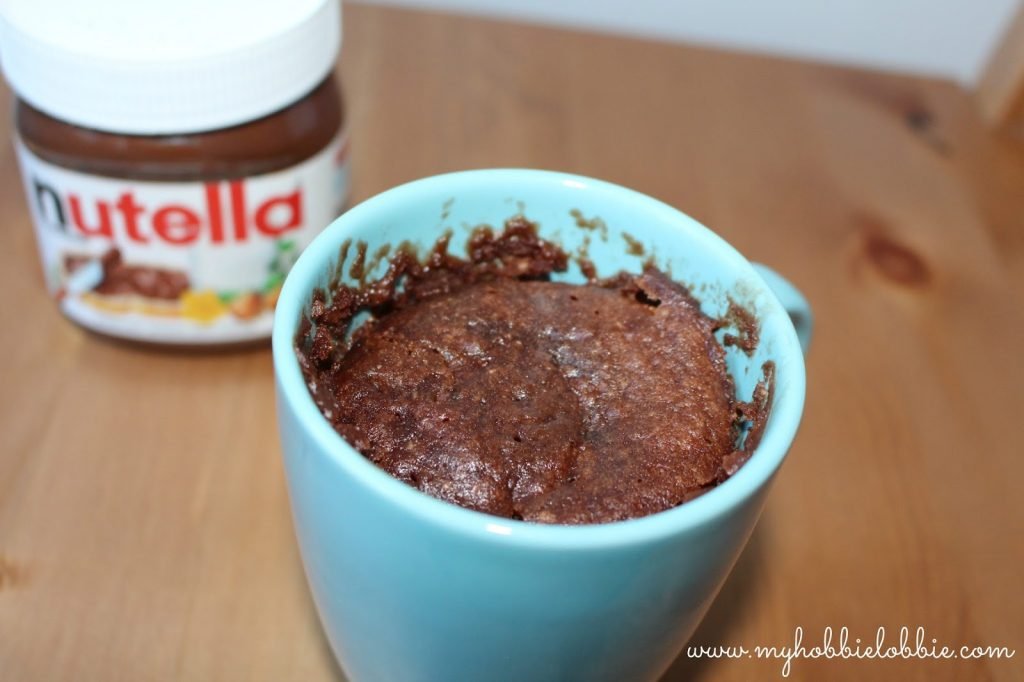 2-minute Nutella Mug Cake


4 tbsp all purpose flour
1/4 tsp baking powder
1/4 cup Nutella
3 tbsp milk
Whisk all the ingredients together. I find it easiest to whisk everything together in a bowl.
Pour the batter into a microwave safe mug.
Microwave for about 90 seconds and see if its done. If its not done, microwave in 30 second increments as needed.
Enjoy!!!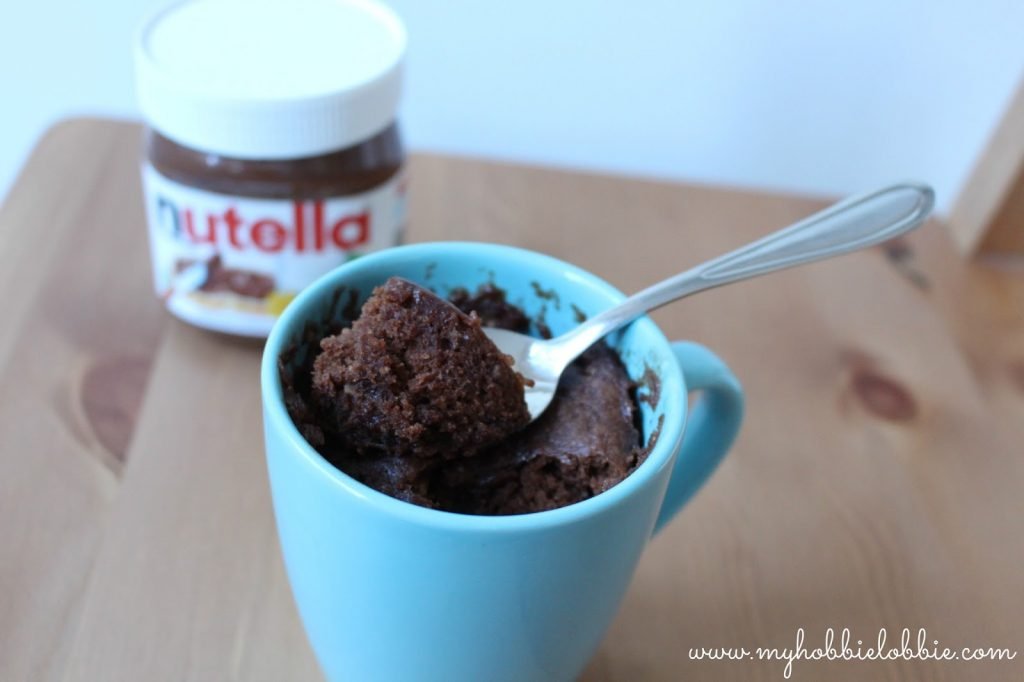 I have finally gotten around to writing this post. For some reason these pictures have been lurking somewhere in the deep, dark recesses of my computer and kinda got forgotten there. Today, when I was looking for something else, I came across them and realized I hadn't yet shared it with you. So it just had to be done.
We've been trying to be more conscious of what we eat now. No fad diets or deprivation, but we're trying to focus on making better choices. Let me be very clear here, there will still be baked goodies. And lots of regular ones too. All I'm saying is that I'm going to be more open to the slightly healthier variants too. For example, these brownies. I came across this recipe when I was looking for ways to use up a massive box of sweet potatoes I picked up at the growers market at Flemington. The only sweetener in it is maple syrup. The rest of the sweetness comes from the sweet potato and the dates. And that make me happy. I can enjoy a piece because I know whats in it. There are also no eggs in the recipe, so that will make my vegetarian friends from India (the ones that don't eat eggs) very happy. This recipe also uses raw cacao powder instead of cocoa powder or chocolate. Though I'm pretty sure you'd be able to substitute them if you so wished. I hear raw cacao is purer and healthier. A quick blitz of ingredients in the food processor, a quick stir in of the dry ingredients and you're ready to bake. That's how easy it is to make these brownies.
Now, the verdict – These are nothing like the typical chocolate brownies you buy at the store or even make at home. They are equally delicious and have a nice gooey texture. They have a slightly different flavor from the sweet potatoes and kinda reminded me of a typical Goan sweet "Dodol" with minimal effort. So if you're up for trying out something a little different, give these sweet potato brownies a go. You won't be disappointed.
Sweet Potato Brownies
Recipe from: Deliciously Ella
2 medium to large sweet potatoes (approx 600g)
2/3 cup ground almonds (I used almond meal)
1/2 cup rice flour (You could also use buckwheat flour)
14 dates
4 tbsp raw cacao
3 tbsp pure maple syrup
A pinch of salt


Preheat the oven to 180ºC.
You need to use cooked sweet potato for the recipe. You could either roast, boil or stem them till they are nice and soft. I wrapped them in foil and baked them while I had the oven on the previous night.
Peel the sweet potato and cut them into chunks and add them to a food processor along with the pitted dates. Process this you are left with a nice creamy mixture.
Place all the dry ingredients in a bowl and stir together.

Add the sweet potato and date paste and mix this thoroughly combined.
Finally, finally I got around to making these beauties. I've wanted to make these for a few years now. Yes, you heard me, a few years. See, here's something I have to admit. I have a 'must try' list of recipes that gets longer with time and I can barely decide which one to make first. So finally, while juggling with all of what life has to throw at me, I got around to make these cookies.
See, here's the thing. I've sorta lost my baking mojo recently. But, I'm glad to say that has changed with these cookies. I just woke up one day and decided that I was going to make them. They were really easy to make. I stuck to the recipe, or atleast that was the intention, but as luck would have it I didn't have the light brown sugar that this recipe calls for. I thought I did, but what I had was 2 packets of dark brown sugar. I was dead set on making these cookies and I wasn't going to let the brownness of the sugar get in the way 🙂 That is why these cookies don't look like the typical Snickerdoodles, but I'm sure that had no impact on the taste. These cookies were really good. I'm so happy that I finally got around to trying them out. They outer crust was perfect and cinnamony (pretty sure I just made that word up) while the inside was light and pillowy soft. Go ahead and try it out. It is a recipe that's perfect for the holidays.
I had almost forgotten how good it is to bake at home. Nothing compares to home baked goodies. Having found my absconding baking mojo, I hope to bake a few more yummies soon.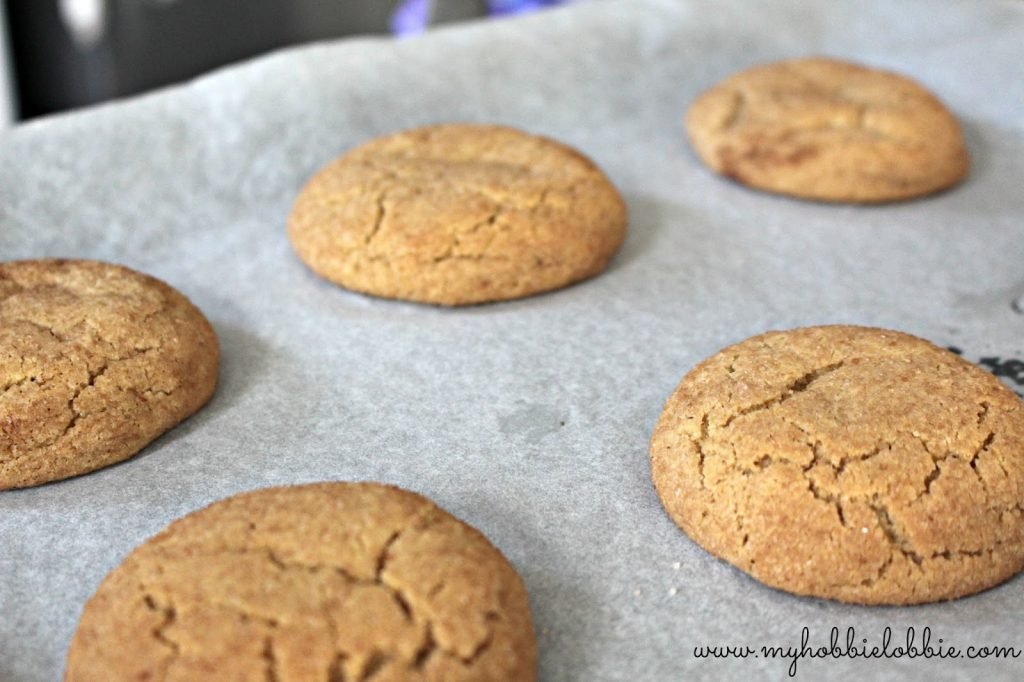 Snickerdoodles
Yields 20
1 cup butter, at room temperature
3/4 cup granulated sugar
1/2 cup dark brown sugar (the original recipe calls for light brown sugar)
1 egg
1 egg yolk
1 tbsp vanilla extract
1 tsp baking soda
1 tsp cream of tartar
1/2 tsp salt (I just added a pinch since I used salted butter)
1 tsp cinnamon powder
2 3/4 cup flour
Cinnamon Sugar –
1/4 cup granulated sugar
1 tbsp cinnamon powder
Preheat the oven to 180ºC.
Line a cookie sheet with some parchment paper and set aside. You could use a silicone mat if you have one.
Beat the butter and sugars till light and fluffy.
Add the egg, egg yolk and vanilla and beat again. Scrape down the sides while you're mixing the dough.
Add in the baking soda, cream of tartar, salt and 1 tsp cinnamon powder and mix well.
Add the flour and mix it slowly only till just combined.
In another small bowl mix the sugar and cinnamon powder to make the cinnamon sugar and stir till well combined.
Using a cookie scoop or a spoon, measure about 2 tbsp of the cookie dough and roll into a ball.
Roll the ball in the cinnamon sugar mix and place on the prepared cookie tray. Place the balls about 2 inches apart on the tray.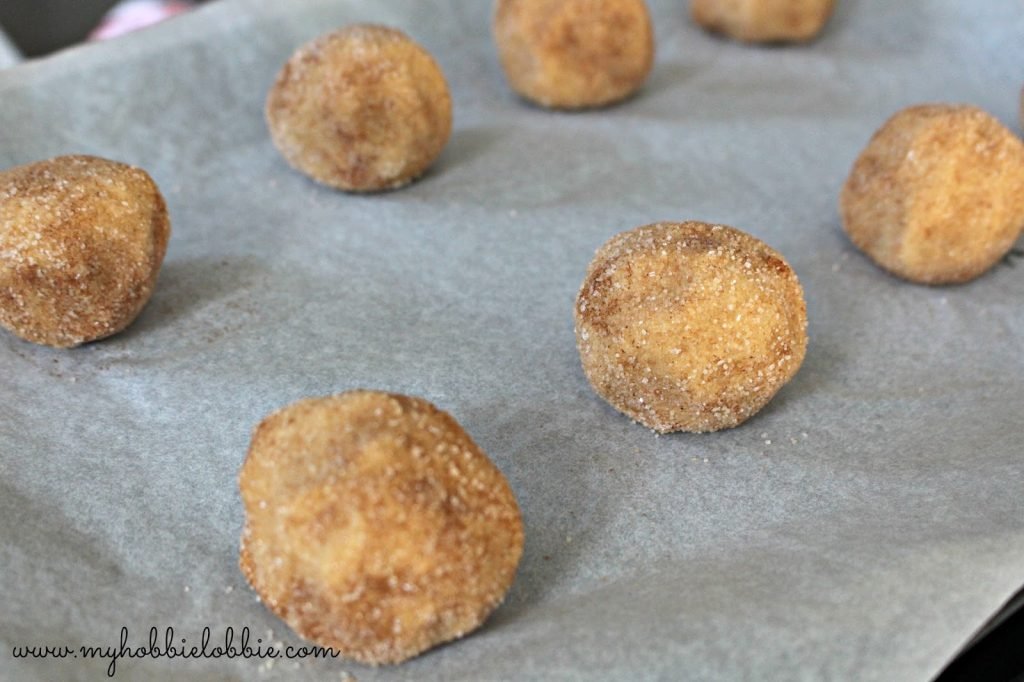 Bake for 10 minutes or till the edges are slightly golden. The centers may seem undercooked but they will set as the cookies cool.
If you like your cookies crisper then bake for an additional 2 minutes.
I baked them for 10 minutes and the cookies were perfect.
Those of you who follow my blog posts will know that my recipe titles which are normally my post titles usually never make lofty claims. This time it just had to be done. I believe, yes, truly believe that I have come across the best cheesecake recipe.
Let's go back to where it all began, shall we! My husband and I were sitting one evening and watching the latest season of Masterchef Australia (one of my favourite food shows) and it happened to be a Masterclass episode. I'm so stoked they brought back the Masterclass episodes this year. I felt quite cheated out of them last year. Anyway, Matt Preston was making a baked cheesecake. We love cheesecake in our house. So we were very keen to check this masterclass out. Long story short, we loved the way his cheesecake turned out and decided that we would try it sometime soon.
Now I didn't know how soon "soon" would actually be. I figured it would be a while before I got a chance to make one of them. Turned out, my husband had other plans. The following Saturday while I was at work (yes, unfortunately I do work some weekends), he actually went to the shops and picked out all the ingredients for the cake and had it prepped by the time I got home from work. We popped it in to bake and then in the fridge to set. After dinner that day we were both anxious to see how it turned out. It was HEAVENLY. Soft, creamy, beautifully flavoured with a fantastic crust. We we both very, very pleased with the way this cheesecake turned out and I can happily say that this will now be my go-to recipe for a baked Cheesecake. Thank you Matt Preston! and thank you Masterchef Australia!
Baked Cheesecake


For the base –
1 packet of Granita biscuits (250g pack) (if you can't find Granita biscuits, you can use Digestive biscuits instead)
60g sugar
75 g butter, melted
For the filling –
750g cream cheese, at room temperature
230g or 1 cup caster sugar
4 eggs
2 1/2 tbsp lemon juice
1 tsp lemon
1 tsp vanilla extract
A pinch of salt
300ml double cream
Preheat the oven to 175ºC.
Line a 23cm spring form cake tin with baking paper.
Double wrap the outside of the cake tin with extra wide aluminium foil. This is to make the tin water tight to ensure that water from the little water bath you will create for the cake, doesn't seep into the cake.
For the base, blitz the biscuits in a food processor till you get crumbs. Add the sugar and blitz again for a couple of seconds till its mixes well. Add the unsalted butter and blitz again to combine.
At this stage, your base mix should resemble coarse wet sand.
Press the mix into the bottom of the prepared cake tin, spreading it out with the back of a large wooden spoon to even it out.
Bake for 10 minutes till lightly brown and set.
Remove the tin from the oven and set aside to cool. This base should be completely cooled before you add the filling.
For the filling, place the cream cheese in a stand mixer and using a padding attachment beat till smooth and creamy.
Add the sugar and beat till the sugar has completely dissolved.
Add the eggs one at a time, beating between each addition and make sure the egg is fully incorporated in the mix before adding the next one.
Add the lemon juice, vanilla extract and salt and mix until well combined.
Now add the cream and mix until well combined.
Pour the mix over the cooled base. Set the cake tin in the middle of a larger roasting tray or larger baking dish. You want to ensure your roasting tray / baking dish has high sides. Set this on the middle rack of the oven.
Carefully, fill the roasting tray with boiling water upto a 2 cm height and bake till the cake has set and the top is a little golden brown. This should take about 65 minutes.
Turn off the oven and leave the cheesecake inside the oven to cool with the oven door closed.
Then take the cheesecake and leave to cool completely.
Cover it and pop it into the fridge to cool a little and set further.
Serve with fresh berries if desired. But even by itself, the cake is so good you'll be glad you baked it.