Up until a few years ago, I wasn't the biggest fan of khichdi. At the time, I had never made it myself and the few versions that I tried, always fell short. That is till I tried Gloria's recipe. Gloria used to be my brother-in-laws housekeeper and she was very skilled in the kitchen. While I didn't have the opportunity to spend to much time with her, this was one recipe, she very willingly shared with me. I have tweaked it to suit our tastes and I love this version. To me this khichdi has now become comfort food. So, whenever I'm under the weather or even if its just a cold, wet day, I feel myself yearning for a bowl of this moong dal khichdi. Have I mentioned that this is a ridiculously easy recipe? Well, it is and today I'm sharing this little gem with you. I hope you try it out and like it as much as we do.
Moong Dal Khichdi
Serves 2
1/3 cup basmati rice
1/3 cup moong dal
1 tbsp oil
1 chilli, cut into large pieces
1/2 a medium sized onion, chopped
1/4 tsp. turmeric powder
Freshly cracked black pepper, to taste
Salt, to taste
Fresh coriander, chopped (leaves and stalks)
For the tempering –
1 1/2 tbsp ghee (clarified butter)
3 cloves garlic, finely chopped
1/2 tsp cumin seeds
Wash the rice and the dal separately. Repeat this process a few times, till the water runs clear. Soak the rice and the dal separately. The rice needs to soak for about 20 minutes and the dal for about 10 minutes. (So I soak the rice first, and 10 minutes later, I soak the dal). Drain the water in each of the bowls and run some fresh water through and drain again.
Heat the oil in a vessel on medium heat.
Add the chillies and saute for a few seconds.
Add the onions and saute till they have softened and are a little translucent.
Add the pepper and turmeric powder and stir well, to coat the onions.
Add the rice and the dal and stir through.
Now, add 2 1/3 cup of water. (I use a 1:3.5 ratio. That is, 1 part rice to 3.5 parts of water. Towards the end if you feel the need to add some more water, you can. I added another 1/3 cup towards the end. So this time I used a 1:4 ratio. The quantity of water will depend on your rice. So start off using 3.5 parts)
Add salt to taste and stir through. Once the salt has dissolved, you can taste the liquid in the pot and see if it is seasoned to your liking or add more salt, if needed.
Bring the water to a boil. Then cover the pot, reduce the heat to a simmer and let the rice and lentils cook off till tender and most of the liquid has been absorbed. (At this point if you feel the need to cook it further, add a little more water and continue cooking as stated above.)
When done, take off the heat and start working on the tempered spices.
In a small vessel, melt 1 1/2 tbsp ghee.
Add the chopped garlic and stir around. Let this cook gently till a little of the rawness of the garlic goes away.
Then, add the cumin seeds and gently cook a little more. This will infuse the ghee with beautiful flavors. Make sure to watch carefully, as you don't want the garlic to take on any color or burn.
Add this to the pot of khichdi and stir through.
Finish off with some chopped coriander and stir to distribute well.
Serve hot. Garnish with a little extra coriander and serve with a pickle of your choice. I recommend a Mango Chundo / Chunda (a sweet and slightly spicy Mango pickle).
Enjoy!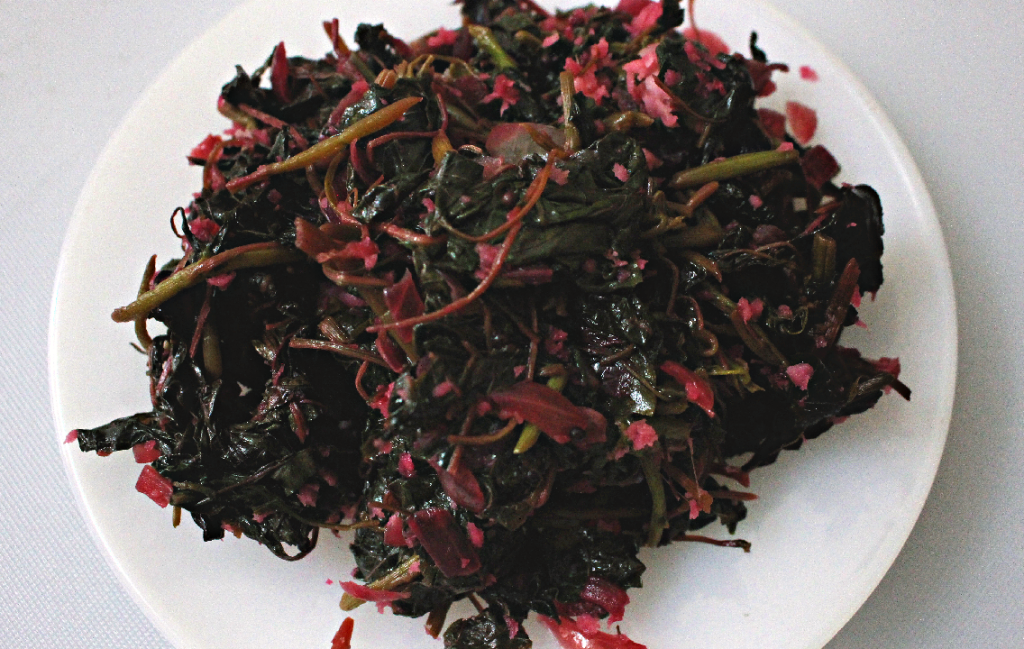 This post is a shout out to another one of my favorite vegetables – Red amaranth leaves. Have you tried it before? If you haven't, do try and get your hands on some. It is such a fun vegetable with its beautiful, naturally red color. It is super easy to put together and uses just a few, easy to find ingredients and you have yourself a mildly spiced, flavorful stir fried vegetable. My take on it, uses some grated coconut. Don't leave the coconut out. It absolutely makes this dish. The name 'tambdi bhaji' literally translates to Red Vegetable (in Konkani, Tambdi=red and bhaji=vegetable)
The sad part is, as much as I love this vegetable, I haven't been able to find these gorgeous leaves in Sydney. When I was back home in Mumbai a month ago, I knew we were going to make a few trips to the local fresh food market. Now, I haven't spoken about this before, but back when I lived in Mumbai, my first stop to the market was at a little stall run by a local lady (from the Gorai – Manori stretch). There are a couple of such stalls and these ladies bring a gorgeous bounty of produce that they grow on their properties. And this is as close to fresh, chemical free and organic food as you can get (make sure you chat with your vendor to confirm their growing practices). So on one of these trips to the market, my favorite vendor had some gorgeous bunches of red amaranth leaves. Needless to say, I grabbed a couple of massive bunches and ran home to whip it up for lunch.
So without any further rambling, let's move on to the recipe.


Tambdi Bhaji
2 large bunches of red amaranth leaves
2 tbsp oil
1/2 tsp mustard seeds
3 green chillies, slit
1 onion, chopped
2 heaped tbsp grated coconut
Salt, to taste
To prep the vegetable, break off the roots and the woody part of the stems and discard. Wash the leaves under cold, running water and drain. Wash it out a couple of times or till clean. Roughly chop the vegetable and keep aside.
Heat the oil in a large pot on medium heat. Carefully tip in the mustard seeds.
When the seeds splutter, add the chillies and let them fry till fragrant.
Add the onions and saute till they soften and turn slightly pinkish.
Add the chopped vegetable and stir well to coat it in the oil and onion mix. Let the vegetable stir fry for a couple of minutes. You will notice it wilting already.
Add some salt, to taste and stir well to mix.
Add a couple of tablespoons of water and mix through.
Cover the pot and cook on medium heat for about 3-5 minutes or till the vegetable is tender and most of the water has evaporated.
Add the grated coconut and stir through.
Check for seasoning and add more salt, if needed.
Cover the pot and let it cook for about another minute to let the coconut heat through.
Serve hot. Enjoy!