Today we're going to talk pickles. No, not the bread and butter pickles or the dill pickle kind. We're talking Indian pickles. Pickles form a huge part of Indian cuisine. As vast as India is as a country, even more diverse is the food that comes from all different parts. Every region has its own culture, language, cuisine and hence versions of pickles. I have always been a very picky pickle person. (Haha, theres a mouthful of a sentence). Anyway, there are some pickles I just can't deal with (most of these being the spicy store bought ones) but there are others I can't get enough of.
Pickle making has always intimidated me. I always thought of it as a tedious and daunting process. I guess some of this anxiety with pickle making also comes from my Mum. She makes some mean pickles, but inspite of every care, can never get them to last. They'd get spoiled before we could finish them. I always thought that would happen to me too. Don't ask me why, I just thought it would. Until I tried my first homemade pickle – this super yummy Goan Eggplant Pickle. I was surprised at how easy it was to make and we enjoyed it for months after.
I was eager to try out a few more recipes after my success with the eggplant pickle. So a few months ago, when raw mangoes started showing up around Sydney, I just had to try out some mango pickles. Some Indian pickle recipes are long drawn and need to be kept in the sun. I wanted something a little quicker. So, I picked up a few green mangoes at Paddy's Market in Flemington and I narrowed it down to two recipes to try out this time around. One of them was this Instant Mango Pickle. Ofcourse, seeing that it was an instant recipe was a huge bonus. Plus it was so easy to make, I couldn't not try it. Also this is a small batch recipe, which was fantastic, because we're a family of 2 and I had more recipes to try out. I chose to wait for a few months before sharing this recipe, because I wanted to see if it would keep. And I'm happy to report that if you use a clean, dry glass bottle and a clean and dry fork / spoon to serve, this keeps refrigerated for more than 4 months. Moreover, this is a delicious spice blend, unlike those you will find in any store-bought version. I happen to really like this recipe. I'd take that as a win for me and my pickle making.
Spicy Kerala Mango Pickle
Recipe from: Edible Garden
2 cups raw mango, skin on, cut into uniform sized cubes
2 tbsp salt
1/4 cup oil
2 1/2 tsp black mustard seeds
1/2 tsp fenugreek seeds
2 springs curry leaves (leaves only)
2-3 tsp red chilly powder
2 tsp vinegar (optional)
Add salt to the cut mango pieces. Toss well and keep aside for 20-30 minutes.
Combine 2 tsp mustard seeds and the fenugreek seeds and grind them to a coarse powder together.
After the mango pieces have been sitting in the salt for 30 minutes, heat oil in the pan and add 1/2 tsp mustard seeds.
When the mustard seeds pop, turn the flame off. Add the powdered mustard and fenugreek.
Immediately add the curry leaves and the red chilly powder and stir well for about 5 seconds.
Tip in the salted mangoes and add the vinegar, if using.
Stir well. The residual heat of the pan will cook the pickle through as needed.
Let the pickle cool down completely in the pan itself.
Once it has completely cooled, store in a clean, dry glass bottle / jar.
Store refrigerated.
Enjoy!!!
**Serve with your favorite dal and rice.
This recipe has been added to –
Food on Friday @ Carole's Chatter
A couple of days ago, I came across something I instantly new was going to be a wonderful find. Now I am guilty of constantly looking for and saving interesting recipes that I want to try out. I have a list of bookmarks that grows every minute and a pinterest account that will prove my point. But this little treat flew straight to the top of that list. Turns out that smoothie bowls have been very popular for a while now. I was probably stuck under a rock for a really, really long time given that I hadn't seen these beauties before. But when I saw the first one, I had to look them up. There are so many combinations possible that it blew my mind. A smoothie bowl is bowlful of refreshing goodness with a choice of flavors and toppings only limited by your imagination. These smoothie bowls are like a cross between an ice cream, a soft serve, a frozen yogurt and a smoothie without the bad stuff. It is great for summer. And seeing how hot a summer it is turning out to be, these are going to be perfect for breakfast, Or once you see how good these are, a smaller portion as a snack.
Since this is my first smoothie bowl, I kept it simple. It is so easy to make and so refreshingly delicious, I know I'm going to be making more than a few more of these All you need is the fruit of your choice, milk and a little yogurt. Onto the toppings. You could use your choice of cereal, granola, nuts, seeds, chocolate chips pretty much whatever you feel like.
So go ahead and give these bowls a try. They will be a hard summer option to beat. You know you'll be seeing a few more of these. Oh, have I mentioned these just take a couple of minutes to make. Its a winner all the way.
Also, I have news. I have finally been bitten by the Instagram bug. I hope you can join me there. My Instagram username is @TheAspiringHomeCook. You can find the recipes from this blog making an appearance there at #theaspiringhomecook. Have you tried a recipe from this site. Post a picture on Instagram with #theaspiringhomecook and tag me in the picture to be featured in my feed.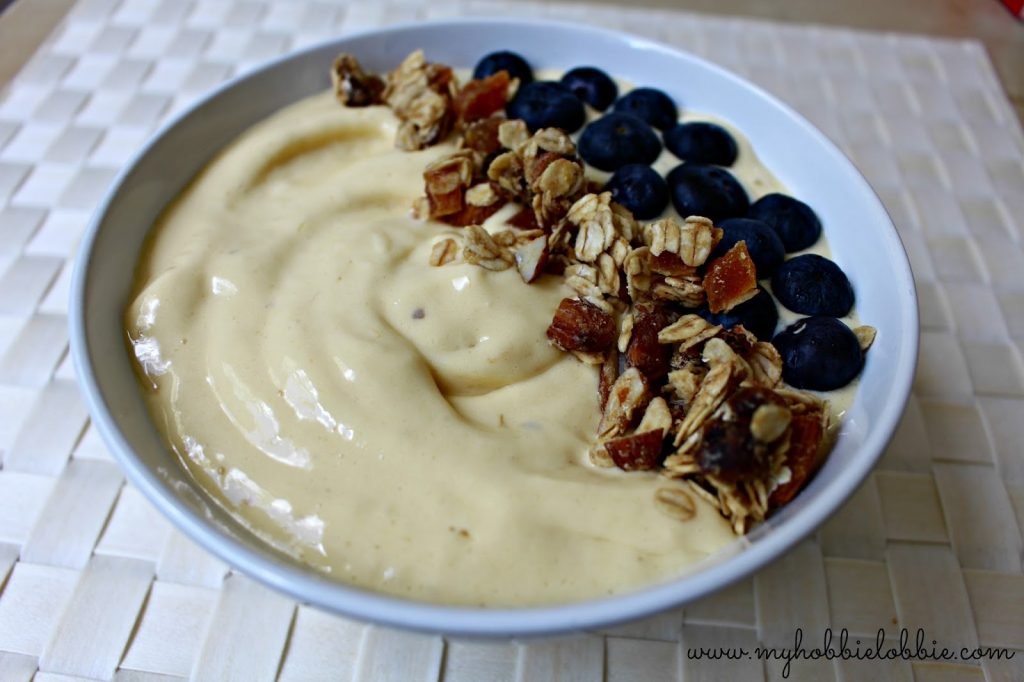 Mango Smoothie Bowl
Serves 1-2
1 cup frozen mango cubes
1 banana, frozen
1 cup milk
4 tbsp Greek yogurt
For the toppings –
A few fresh blueberries
Peanut butter granola
Place the mango, banana, milk and yogurt in a blender and blitz on slow at first.
Scrape down the sides and blitz till you are left with a soft serve consistency.
Pour the smoothie into a bowl.
Top off with fresh blueberries and some granola.
Serve chilled.
For quite sometime now I've seen so many variants of the Chia pudding pop up all over the place. I've been tempted to try it out and see if we'd like it for a while. But I'm pleased to report that I'm finally part of the Chia pudding lover's clan. I've tried a couple of flavours so far and we've loved them. These are pudding options that are perfect either for breakfast, a snack or dessert. The first one was an Almond Joy inspired one, which we gobbled up before we could get any pictures. But going by how much we enjoyed that one, I wanted to try out a few more options. And that's when I came across this one. I love mangoes. I've been missing the good old Alphonso mangoes that are really popular in Goa and Mumbai. I have not had another mango that can match the Alphonso in taste and texture. As luck would have it, a while ago, when I was picking up a few things from my local Aldi store, I saw these…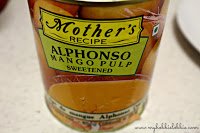 This pulp is sweetened. But it is so good, I could eat it with a spoon and call it dessert. I picked up a couple of cans. One was used for milkshakes and smoothies and one was in the pantry. I ended up using this pulp for the chia pudding. And since this was sweetened, I didn't add any sweetener to the milk. However, if you aren't using a sweetened pulp, you will need to add either honey or dates or sugar; basically any sweetener of your choice. Also, please note that the quantities mentioned below can be adjusted to suit your preference.
These are perfect for make ahead options. You can make them the previous day and have them ready to go in the morning. You could also set these in travel containers to take your breakfast to work. All you need to make now is the chia pudding, which is as simple as stirring the chia seeds into the milk. That's it. I stuck with the whole Goa inspired flavours and topping the puddings with some toasted cashew nuts. It was pretty spectacular – perfect for summer. I can wait to find some more of these cans of mango pulp now.
Have you tried chia puddings before? What's your favourite combination? Leave me a comment and let me know, I'm eager to try out different variations.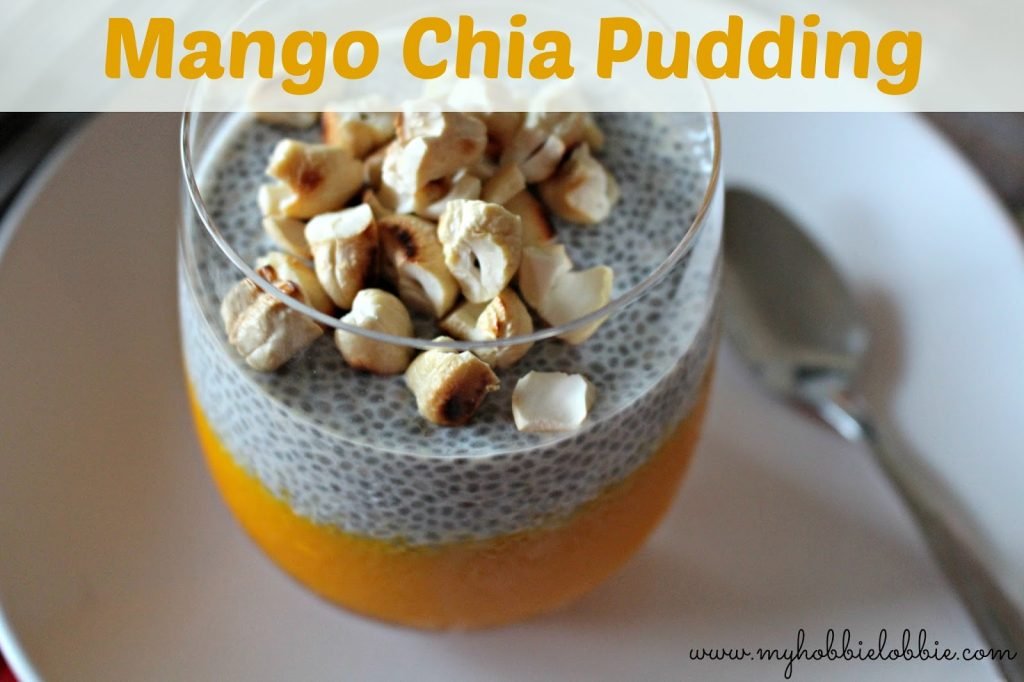 Mango Chia Pudding
Adapted from: Ashley Neese
Serves 2
2/3 cup Mango pulp, sweetened
1 cup milk
1/4 cup chia seeds
1/4 tsp. vanilla extract
A handful of cashew nuts, toasted
In 2 glasses, pour the mango pulp. I filled about 1/3 of the glass with the mango pulp, careful to not let the mango drip down the sides of the glass.
Set aside in the refrigerator.
In a seperate bowl, combine the chia seeds, milk and vanilla and stir for about 3-4 minutes constantly, till it becomes a thick pudding. Let it stand for about 5 minutes to set.
Pour the chia pudding over the mango pulp carefully, in a steady stream.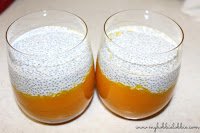 Cover the glasses with cling film and refrigerate for atleast 4 hours or overnight.
When you're ready to serve, top with some chopped up toasted cashewnuts.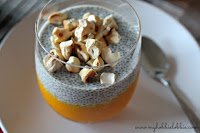 Sit back and enjoy!!!