I love bananas!!! I don't know if I've shared that with you before, but I really do love them. Infact, we almost always have bananas in the house. Up until now, every time I was left with a couple of over ripe bananas, I would either make some
banana bread
or banana fritters (I must share that with you sometime soon). And trust me, I love both the banana bread and fritters. But sometimes its nice to switch it up.
Last week I had 2 over ripe bananas and its been so hot, I had no intention of switching the oven on to make the banana bread. I kept putting off the tea-time fritters and yesterday I decided I had to use the bananas and if I left them anymore, I'd probably have to throw them out. I hate wasting food so that was out of the question. The plan that morning was to make some oatmeal for breakfast, but then it struck me I could use the bananas with the oats and do something with that. I remember a while ago, coming across a banana oat pancake recipe and decided to try it out. Now, those of you who've been visiting for a while know I love my pancakes. So what could be better than combining my love for bananas and pancakes. Nothing much right! So breakfast that morning was sorted. I blitzed the ingredients in the blender and added a few fixin's like fresh blueberries and roughly sliced almonds. I think Jamie Oliver would have been happy with me. I really like his philosophy on superfoods. Eat a variety of fresh produce in moderation and everything acts as a superfood. I figure the addition of the berries and almonds would amp up these pancakes to superfood status. I googled a few recipes but in the end just ended up throwing a few things together and I tell you it was great. I was really pleased with how the pancakes turned out.
Basically this recipe uses no refined flour and no refined sugar and you'll never miss them. We did use some maple syrup over the pancakes to sweeten the deal, but who can resist maple syrup over pancakes. Definitely not me 🙂
I hope you give these pancakes a try. They deliver taste and health together.
Banana Oat Blueberry Pancakes
Makes 6 pancakes


1 cup rolled oats
2 over ripe bananas
2 eggs
1 tsp vanilla extract
A handful of fresh blueberries
12-15 roasted almonds, roughly sliced
A pinch of salt
A little oil, to fry the pancakes (I use olive oil, but you could any oil of your choice)
Maple syrup, to drizzle over
Blitz the oats in a blender till you are left with a powder.
Add the bananas, eggs, a pinch of salt and the vanilla extract. Blitz till you are left with a nice batter.
Scrape the sides down and give it another quick blitz.
Pour the batter in a large bowl and add the sliced almonds and blueberries and fold through gently, making sure they are evenly distributed.
Heat a little oil in a pan, about half a teaspoon. I use an oil spray to reduce the amount of oil being used.
Carefully ladle some batter onto the pan. Cook on medium heat.
When the bottom edge looks like its getting a little color, gently lift a portion of the pancake. If you are happy with the cooking on that side, flip the pancake and let it cook on the second side too.
Repeat with a spray of oil and a ladle of batter for every pancake till you finish the batter.
Serve warm with some maple syrup.
Enjoy!!!
Yay for the first
SRC
reveal of 2016! Even though we just had a teeny tiny month off from SRC to enjoy the holidays and spend time with family, I must admit I've missed and an am happy to be back in the swing of things. For my first assignment for the year, I had the absolute pleasure of perusing Dorothy's blog,
Shockingly Delicious
. I was so excited with this assignment. I've been a big admirer of Dorothy's blog ever since I first set eyes on it. She has one of those blogs where you want to make everything you see. Which tells you what a task picking out a recipe for this months reveal was. With great difficulty I finally narrowed my picks down to these beauties –
Almond Polenta Cake
,
Irish Elephant Ears
and a delicious looking
sesame dressing
. Now, those of you who don't know Dorothy, she has also been called the
"Pie Lady of Malibu"
and with good reason. She has won 23 ribbons at the Malibu Pie Contest in all among other accolades. Check out her award winning recipes
here
. I have bookmarked her recipe for a pie called
The Bob and Andy Pie
, a curiously named pie that looks pretty darn good. I was tossing between the pie and her
Dutch Baby Oven pancakes
and in the end, by a very short margin, the oven baked pancakes won.
Truth be told, I've been waiting for the opportunity to try out the Dutch Baby Oven pancakes and this was the perfect time. I love my pancakes and was eager to check out this version that bakes in the oven and you just cut it up and serve with your favourite things. This time around I had to use fresh berries which are at their prime at the moment. Where do I start with this recipe! It is super simple to put together and the flavour is phenomenal. It is like no other pancake I have tasted. I loved the flavour of the nutmeg and the vanilla in the batter. And do not leave out the fresh fruit. It really adds to the taste and the whole experience. I used fresh berries because they are gorgeous and in season. You could use whatever fruit you like and is in season and I'm sure it will turn out fabulous. Thank you Dorothy for a fantastic recipe!
I halved the recipe and it was pretty good for breakfast for 2. The amounts mentioned below serves 2.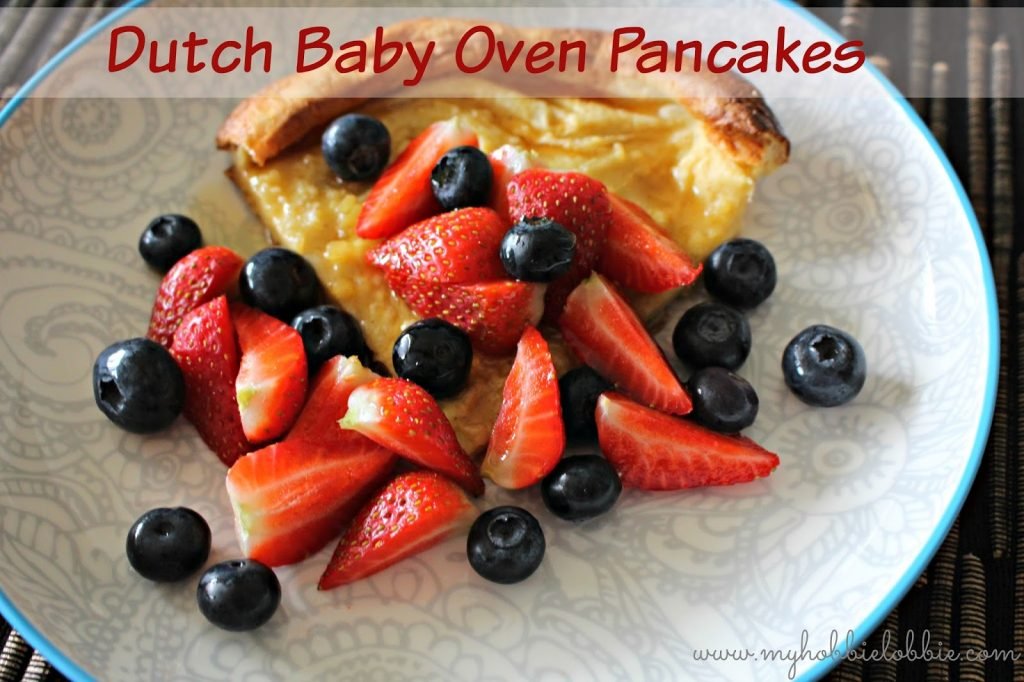 Dutch Baby Oven Pancake


2 eggs
1/2 cup milk
1/2 cup all-purpose flour
1 tbsp sugar
1/4 tsp vanilla extract
1/8 tsp grated nutmeg
A pinch of salt
1/8 cup butter
For the toppings –
Fresh blueberries
Fresh strawberries
Maple Syrup
Heat the oven to 245ºC.
Place an 8″ pan in the oven to heat up for about 5 minutes.
Place the butter in the pan and let it melt, till foamy.
In a large mixing bowl, whisk up the eggs, milk, sugar, vanilla, nutmeg and salt.
Add the flour and whisk till combined.
When the butter is foamy, carefully take the pan out of the oven and swirl the butter around to coat the bottom of the pan.
Pour in the pancake batter and bake for 20 minutes.
Sit back and be amazed as the sides rise up first, followed by the centre. This will deflate after you take it out of the oven and cut into it.
Serve up with berries and a drizzle of maple syrup.
I think some good greek yogurt would also do well with fruit or you could stick with some fruit and sprinkle some icing sugar over the top.
Enjoy!!!
:
<!– end InLinkz script —>