A couple of days ago, I came across something I instantly new was going to be a wonderful find. Now I am guilty of constantly looking for and saving interesting recipes that I want to try out. I have a list of bookmarks that grows every minute and a pinterest account that will prove my point. But this little treat flew straight to the top of that list. Turns out that smoothie bowls have been very popular for a while now. I was probably stuck under a rock for a really, really long time given that I hadn't seen these beauties before. But when I saw the first one, I had to look them up. There are so many combinations possible that it blew my mind. A smoothie bowl is bowlful of refreshing goodness with a choice of flavors and toppings only limited by your imagination. These smoothie bowls are like a cross between an ice cream, a soft serve, a frozen yogurt and a smoothie without the bad stuff. It is great for summer. And seeing how hot a summer it is turning out to be, these are going to be perfect for breakfast, Or once you see how good these are, a smaller portion as a snack.
Since this is my first smoothie bowl, I kept it simple. It is so easy to make and so refreshingly delicious, I know I'm going to be making more than a few more of these All you need is the fruit of your choice, milk and a little yogurt. Onto the toppings. You could use your choice of cereal, granola, nuts, seeds, chocolate chips pretty much whatever you feel like.
So go ahead and give these bowls a try. They will be a hard summer option to beat. You know you'll be seeing a few more of these. Oh, have I mentioned these just take a couple of minutes to make. Its a winner all the way.
Also, I have news. I have finally been bitten by the Instagram bug. I hope you can join me there. My Instagram username is @TheAspiringHomeCook. You can find the recipes from this blog making an appearance there at #theaspiringhomecook. Have you tried a recipe from this site. Post a picture on Instagram with #theaspiringhomecook and tag me in the picture to be featured in my feed.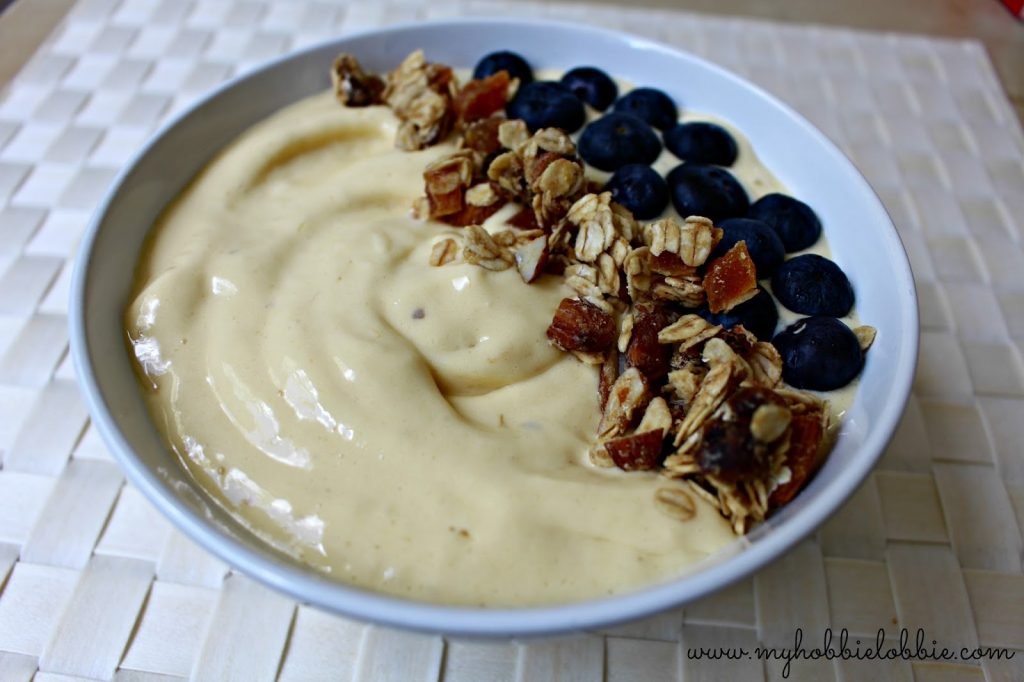 Mango Smoothie Bowl
Serves 1-2
1 cup frozen mango cubes
1 banana, frozen
1 cup milk
4 tbsp Greek yogurt
For the toppings –
A few fresh blueberries
Peanut butter granola
Place the mango, banana, milk and yogurt in a blender and blitz on slow at first.
Scrape down the sides and blitz till you are left with a soft serve consistency.
Pour the smoothie into a bowl.
Top off with fresh blueberries and some granola.
Serve chilled.
For this month's
SRC
assignment, I had a real treat. I was assigned Marie's beautiful blog
Not Enough Cinnamon
. I feel like we're kindred spirits of sorts. Apart from our love for food, like me Marie moved to Australia a year and a half ago and loves her new home. "Hi Marie, it's nice to meet you!"
Her blog is chock full of gorgeous pictures and awesome recipes. I can wait to try out her Pea and Mint Soup and her homemade Nut butters. But those endeavours will have to wait till I get back home.
This months post comes to you from Mumbai. We're visiting for a short while and are trying to cope with moving from what was a beautiful autumn to a scorching hot summer here. I needed something to cool down. So I opted for her Banana Peanut Butter Yogurt Popsicles. I loved the idea and I was very sure my mother had a set of popsicle moulds, so I went ahead and made it. As luck would have it, I couldn't find those moulds I was so sure I knew were around, so I did the next best thing. I decided to make some mini pops 🙂 I set these in an ice cube tray and used little toothpicks for sticks. They turned out to be really cute miniature portions. Just between you and me, I tried it out as a smoothie with a splash of milk added to the blender with the rest of the mix and it was yum. You can taste the peanut butter and the banana and to me that it a wonderful pairing.
I know a lot of you are headed into summer soon, so go ahead and cool off with this lovely popsicles that could serve as a little snack too since all it has is banana, yogurt and peanut butter.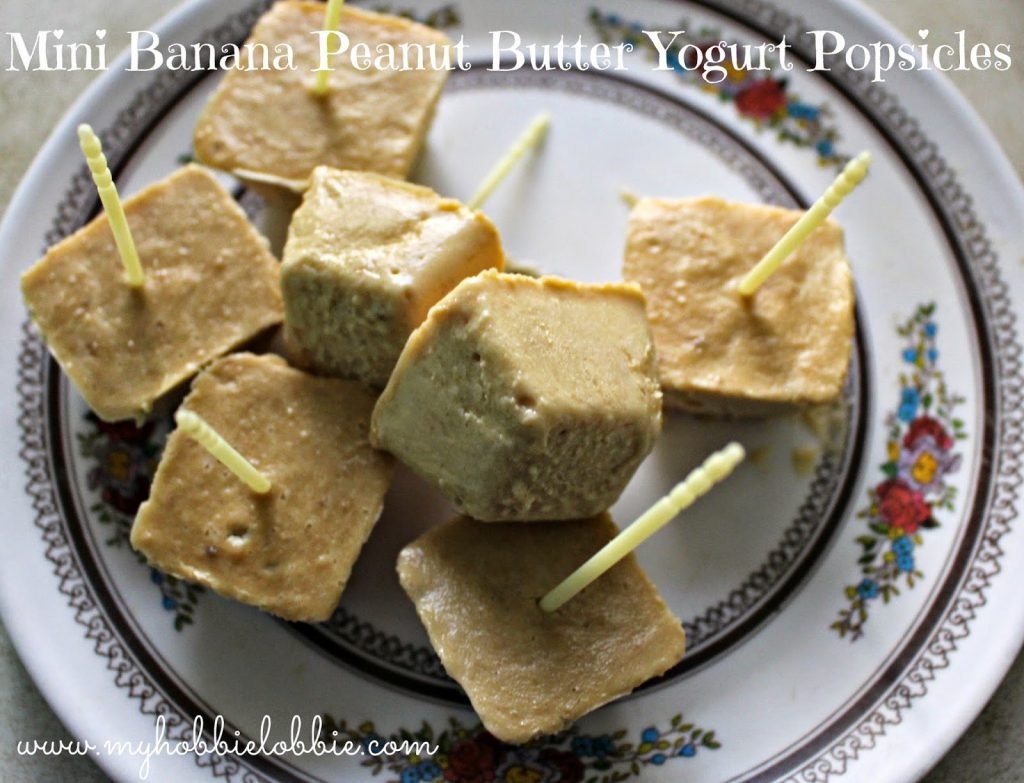 Mini Banana Peanut Butter Yogurt Popsicles

5 large bananas
2/3 cups peanut butter
1 1/4 cup Greek yogurt
Blitz all the ingredients together in a food processor and set in popsicle moulds.
If you'd like to try it out as a smoothie, add a splash of milk to loosen it to a smoothie consistency.
Enjoy!!!
WordPress (self-hosted) plug-in: [inlinkz_linkup id=502933 mode=1] WordPress dot com:
This month's
SRC
assignment was an absolute doozy. I was assigned Erin's blog,
Making Memories with Your Kids
. I was really happy with this assignment, not to mention excited. I've known and admired Erin's blog since 2010. That was when I first came across her blog; we were both participating in the "12 Weeks of Christmas Cookies" bake along. Go over and have a look at all the fun she's got going there. Not only does she have some awesome recipes, but she's also got heaps of fun foods for kids, craft activities and some really amazing gift ideas for pretty much any occasion. I love looking at all the ideas she comes up with.
For this month's SRC reveal, I decided to try out her Deep Fried Zucchini with Garlic Aioli Sauce. Mainly, because that Garlic Aioli sounds so amazing I had to try it out and I needed something to have it with. Enter – Deep Fried Zucchini. Both really simple recipes, but oh so very good. I know I will be making these time and again 🙂
The Aioli is nice and flavorful, but the real star, to my utter surprise was the zucchini. I expected the aioli to be my favorite. The zucchini was so good, it didn't need a dipping sauce. I have some more zucchini in the fridge and I'm going to make another batch for dinner this evening. That's how good it is. Don't take my word for it, go ahead and try it. Erin, thank you so much for this recipe. I LOVE it.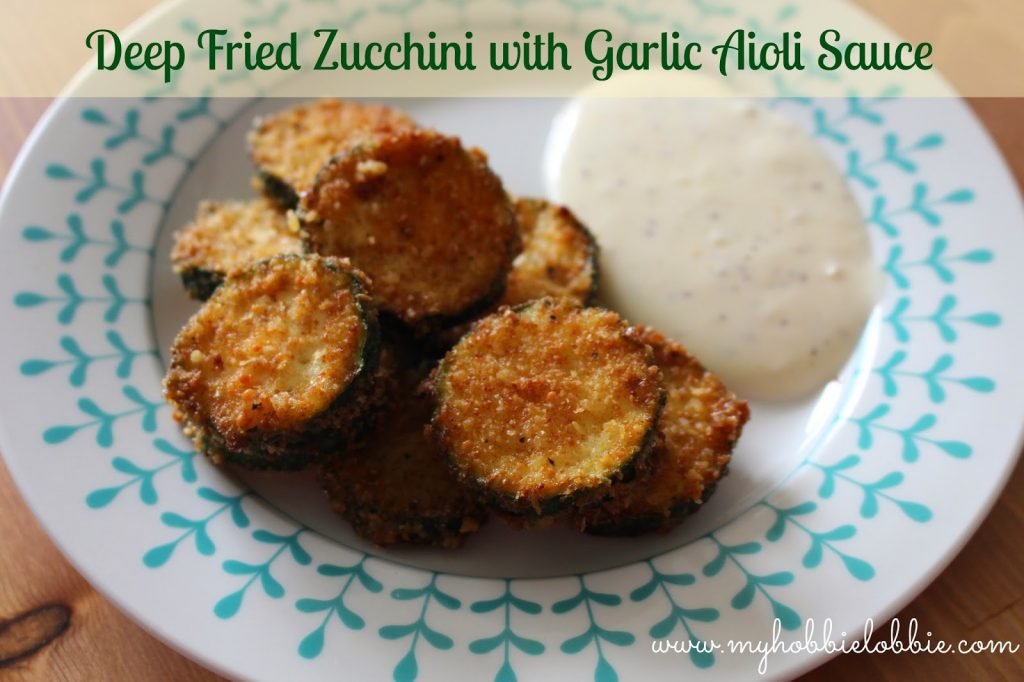 Deep Fried Zucchini
Zuchinni
2 eggs
1/4 cup buttermilk
1 cup breadcrumbs
1/2 cup Parmesan cheese
Salt and pepper, to taste
Oil, for deep frying
Heat the oil for deep frying.
Cut the zucchini into slices about 1/4 of an inch thick.
In a bowl, beat the eggs and the buttermilk.
In another bowl mix the breadcrumbs, parmesan cheese, salt and pepper.
When the oil is hot, dip the zucchini in the egg dip and then in the crumb mixture and then carefully place in the oil.
Fry for a couple of minutes on both sides on a medium flame, till golden brown.
Using a slotted spoon, remove the slices from the oil and place on some kitchen paper to drain any excess oil.
Serve hot.
Garlic Aioli


1 cup mayonnaise
1 tbsp lemon juice
3-4 cloves of garlic, minced / crushed.
Mix it all together and serve.
Here's something I haven't done before – I made dessert too. Nothing fussy but an absolute treat. When I saw this post on Erin's site, I couldn't go past it. I've seen this ages ago and always wanted to try it out. They just look like so much fun. I had absolutely no excuse to not make it. The next time I make these, I will have to leave the soda out a lot longer. I did it this time but evidently it needed to sit out longer. So when you try these out, if you think your soda has been out long enough to cut down the carbonated effect, keep it out a little longer 😉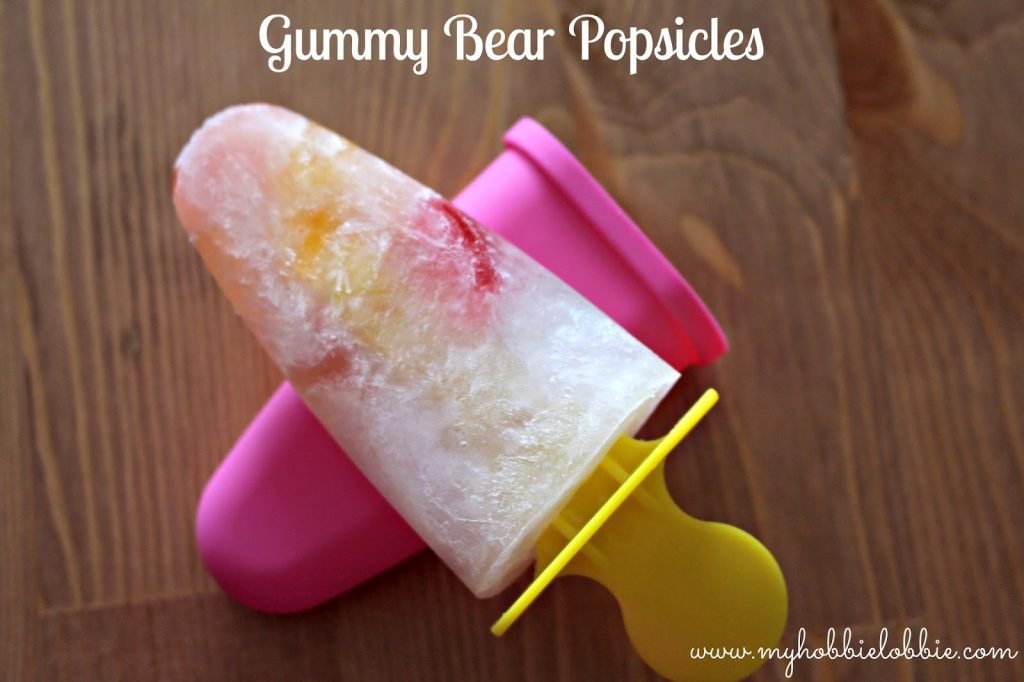 Gummy Bear Popsicles


Sprite
Gummy Bears
Let the soda sit out for a while to let some of the fizz die out.
Drop some gummy bears into your popsicle mould. You can use as many or as few as you like. I went for about the half way mark.
Top up with the Sprite.
Freeze.
Enjoy on a hot summer's day or as it turns out on the first day of autumn here 🙂
The kids will love it and so will the adults.
There are no kids in our household and I still made it and we loved it.
Do stop by and check out what the rest of Group A whipped up this month.