Hello! It's me. I'm so glad you are still here. I've been missing on the blog recently as we've just moved house. But I'm happy to report that after a couple of insane weeks of packing, cleaning and unpacking, we are mostly settled in and I'm back to my regular routine. While this was happening, winter seems to have well and truly set it. You won't find me complaining, because I LOVE winter. Its the season for soups, stews, warm puddings and lots of baking – all my favorite kind of things.
Speaking of warm puddings, I have a list of them I want to make this winter and hope the next few weeks will give me an opportunity to share them with you here. I have always wanted to try making some rice pudding (known as kheer in India) at home. Each time I walk by the frozen dessert section at Coles, I'm tempted to pick up a pot of rice pudding. But I don't, because surely it couldn't be too hard to make some at home. The problem is, I just never got around to doing it. Until now.
Usually rice pudding is made using uncooked rice. I recently found myself with some leftover plain Basmati rice from lunch and I didn't want it to go to waste. Waste not, want not, right? So I decided that I was going to try and use it to make some rice pudding instead. After a little searching, I found just the recipe I was looking for. A no-nonsense approach to a rice pudding that used leftover rice. You've probably ended up with some extra rice from an Indian takeout lunch / dinner on occasion. Don't throw that stuff out. Transform it into this glorious, rich and creamy rice pudding in no time with a few pantry staples.
BTW has anyone seen the latest mini series on ABC called War on Waste. Such an eye opener. It is shocking how much food is wasted regularly in households, among other wastage. This is a great way of reducing household food wastage. I love finding ways to reduce wastage. Do you have any recipes that use leftovers and cut down on food wastage? Tag them on Instagram using #MyWarOnWaste and lets help inspire people to reduce waste.
So go ahead and try it out. You can serve it as a beautiful tea time treat or as dessert. Any leftovers can be refrigerated. You can enjoy your rice pudding both warm or cold. Personally, I prefer mine warm, which works really well on colder days. I'm really glad I tried making this pudding at home. Who knew that something this tasty and satisfying could be this simple to make.
My rice pudding has a yellowish tint because I added a few strands of saffron to the pot while cooking it. You can leave it out and it will look like regular rice pudding.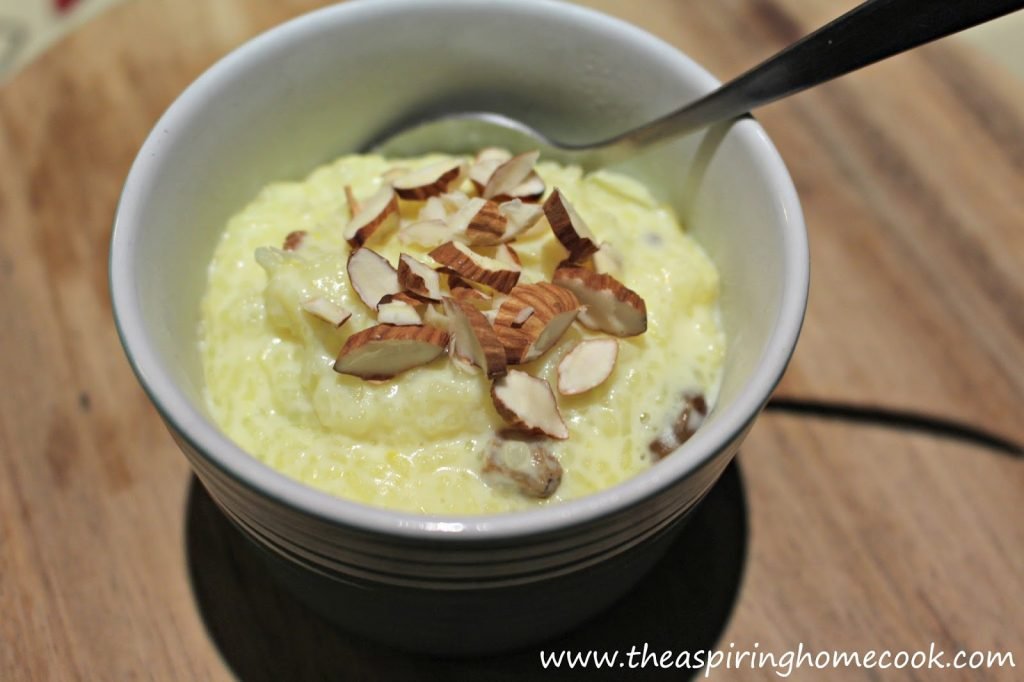 Rice Pudding
Adapted from: Fatima Cooks


1 cup cooked rice (I used leftover Basmati rice)
2 cups milk
1/4 cup sugar, or to taste
1/4 tsp cardamom powder
A few strands (4-6) saffron (optional)
A few raisins
A few almonds, roughly sliced / chopped
Place the rice, milk, sugar, cardamom powder and saffron strands in a pot.
Cook on medium heat, stirring continuously but gently. Scrape down the sides and the bottom of the pan regularly. Cook till the milk has reduced and has become a thick, cream like consistency. It is okay if some of the rice grains break down. It helps thickening the pudding. But don't mash the rice completely. You want a little texture in there.
How thick you want the pudding to be, is upto you. Just before it is done, add the raisins. Turn it off the heat when it has thickened to your liking. I find that heating the raisins through the pudding plumps them up a bit and makes them extra yummy, rather than just placing the raisins on top.
Serve in bowls and top with some sliced / chopped almonds.
Enjoy!!!
If you want more ideas like this to help reduce food wastage and save money, follow me on Pinterest here.
For quite sometime now I've seen so many variants of the Chia pudding pop up all over the place. I've been tempted to try it out and see if we'd like it for a while. But I'm pleased to report that I'm finally part of the Chia pudding lover's clan. I've tried a couple of flavours so far and we've loved them. These are pudding options that are perfect either for breakfast, a snack or dessert. The first one was an Almond Joy inspired one, which we gobbled up before we could get any pictures. But going by how much we enjoyed that one, I wanted to try out a few more options. And that's when I came across this one. I love mangoes. I've been missing the good old Alphonso mangoes that are really popular in Goa and Mumbai. I have not had another mango that can match the Alphonso in taste and texture. As luck would have it, a while ago, when I was picking up a few things from my local Aldi store, I saw these…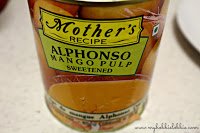 This pulp is sweetened. But it is so good, I could eat it with a spoon and call it dessert. I picked up a couple of cans. One was used for milkshakes and smoothies and one was in the pantry. I ended up using this pulp for the chia pudding. And since this was sweetened, I didn't add any sweetener to the milk. However, if you aren't using a sweetened pulp, you will need to add either honey or dates or sugar; basically any sweetener of your choice. Also, please note that the quantities mentioned below can be adjusted to suit your preference.
These are perfect for make ahead options. You can make them the previous day and have them ready to go in the morning. You could also set these in travel containers to take your breakfast to work. All you need to make now is the chia pudding, which is as simple as stirring the chia seeds into the milk. That's it. I stuck with the whole Goa inspired flavours and topping the puddings with some toasted cashew nuts. It was pretty spectacular – perfect for summer. I can wait to find some more of these cans of mango pulp now.
Have you tried chia puddings before? What's your favourite combination? Leave me a comment and let me know, I'm eager to try out different variations.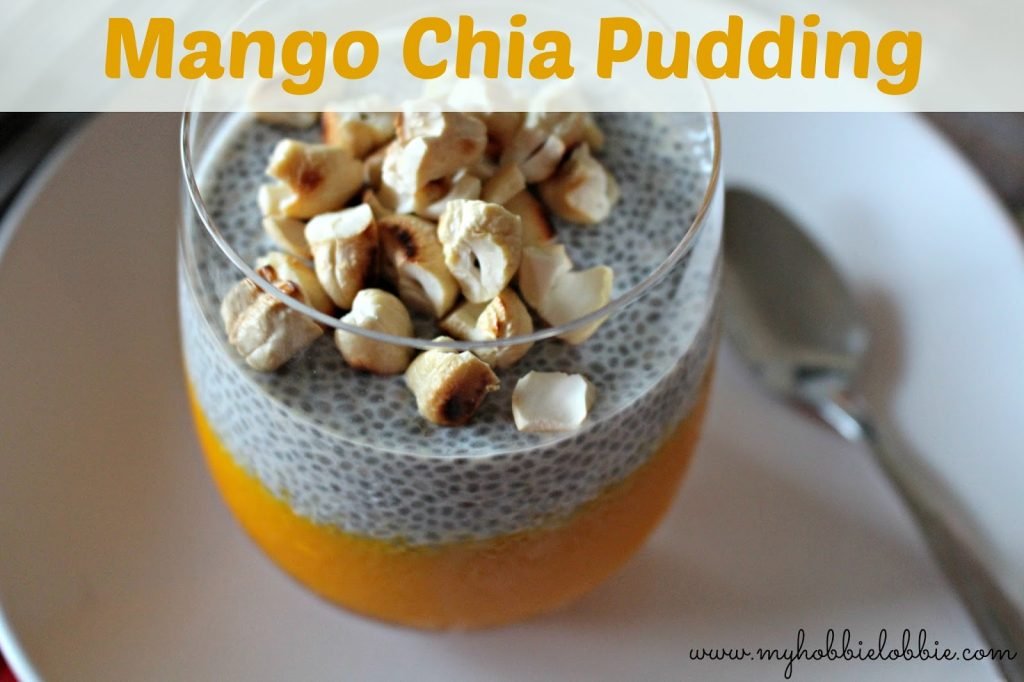 Mango Chia Pudding
Adapted from: Ashley Neese
Serves 2
2/3 cup Mango pulp, sweetened
1 cup milk
1/4 cup chia seeds
1/4 tsp. vanilla extract
A handful of cashew nuts, toasted
In 2 glasses, pour the mango pulp. I filled about 1/3 of the glass with the mango pulp, careful to not let the mango drip down the sides of the glass.
Set aside in the refrigerator.
In a seperate bowl, combine the chia seeds, milk and vanilla and stir for about 3-4 minutes constantly, till it becomes a thick pudding. Let it stand for about 5 minutes to set.
Pour the chia pudding over the mango pulp carefully, in a steady stream.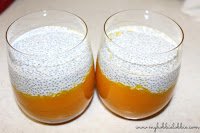 Cover the glasses with cling film and refrigerate for atleast 4 hours or overnight.
When you're ready to serve, top with some chopped up toasted cashewnuts.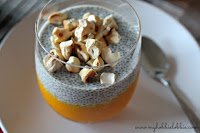 Sit back and enjoy!!!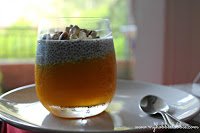 For this month's
SRC
reveal, I was assigned Anna's blog,
Cheese with Noodles
. I love that name. It combines two of my favourite foods. Anna sounds like someone I could be great friends with. Apart from cooking up really yummy food, she loves indulging in her crafty hobbies like crochet, which we have in common and sewing, which I'm hoping to spend more time on soon. We share the love of gardening too. And she lives is Alaska. Oh how could I forget her pets – she has bunnies, cats and dogs, which could only mean that she is a super busy woman.
While looking for a recipe to make for this month's reveal, I narrowed it down to her Buttermilk Cheddar Chive Bread, a very interesting Fruit Pizza, these droolworthy Garlicky Bacon & Cheddar stuffed Burgers and this refreshing Greek Pasta Salad. However, when I saw this Brownie Pudding post, my mind was made up. I love pudding and I love Brownies, so I new I had to try this Brownie Pudding.
It was easy to put together and requires just a few pantry staples. My favourite part of this recipe was not having to wait for it to cool down. You can enjoy it warm with some Vanilla ice-cream, which is exactly what we did. These puddings have the most delicious crusty top that is beautifully chewy and a warm, gooey centre, perfection. I was thrilled, because until today I'd only seen gooey centres on the television and here I was sitting with an individual pudding with the perfect gooey centre. Thanks Anna for a lovely recipe.
I stuck to the original recipe, only I made them in individual ramekins and I agree with her on the portions. I made 3 individual portions, but 4 would have been much better. That's just something I'll have to make note of for when I make this again.
Brownie Pudding


115g butter, melted
2 eggs
1 cup sugar
1/3 cup cocoa powder + 1 tbsp
1/4 cup flour
1 tsp Vanilla extract
Vanilla ice cream, to serve with (optional)
Preheat the oven to 180ºC.
Grease 3 individual ramekin bowls and set aside.
Beat the eggs and sugar, till thick and creamy, light yellow.
Sift the cocoa powder and flour together.
Add this to the eggs and sugar mix and mix together until combined.
Add the melted, cooled butter and again mix until just combined.
Pour the batter into prepared ramekin bowls or a larger bowl that has been greased.
Place these bowls in a water bath (A water bath is a larger baking dish filled with hot water that reaches about halfway the height of the bowls.)
Carefully place in the oven and bake for about 45 minutes if you are making one large bowl. If you are making individual portions, like I did, bake for about 30-35 minutes.
Test by inserting a toothpick near the edge of the bowl. When it comes out mostly clean it is done. Don't overbake as you want to have the middle a little gooey.
Let it cool for about 15-20 minutes and serve with vanilla ice-cream, if desired.
Here's the pudding bowls, just out of the oven –
Just so you know, you too can get the perfect gooey centre 🙂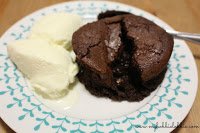 Don't forget to check what the other members of Group A posted –
Now here's a pudding that I've always loved. My aunt, who is in England now used to make this very often when she lived with us many years ago. I must have been no more than 6 years old at the time, but I can still remember how she'd always serve us a pudding of some sort or the other after a meal. Years later, my dad tried his hand at making us some bread pudding. Now don't get me wrong, it was good, but it just wasn't the same like the one my aunt used to make for us. When I tried out this recipe, I was really pleased because this is the closest I've had to the real thing, atleast for me. The only thing I did a little differently than what my aunt used to do was add some slivered almonds and some golden raisins. Oh boy, I was glad I did. It turned out to be really yummy. However, if you're not to fond of dried fruit and nuts in your bread pudding, then don't hesitate to leave it out altogether.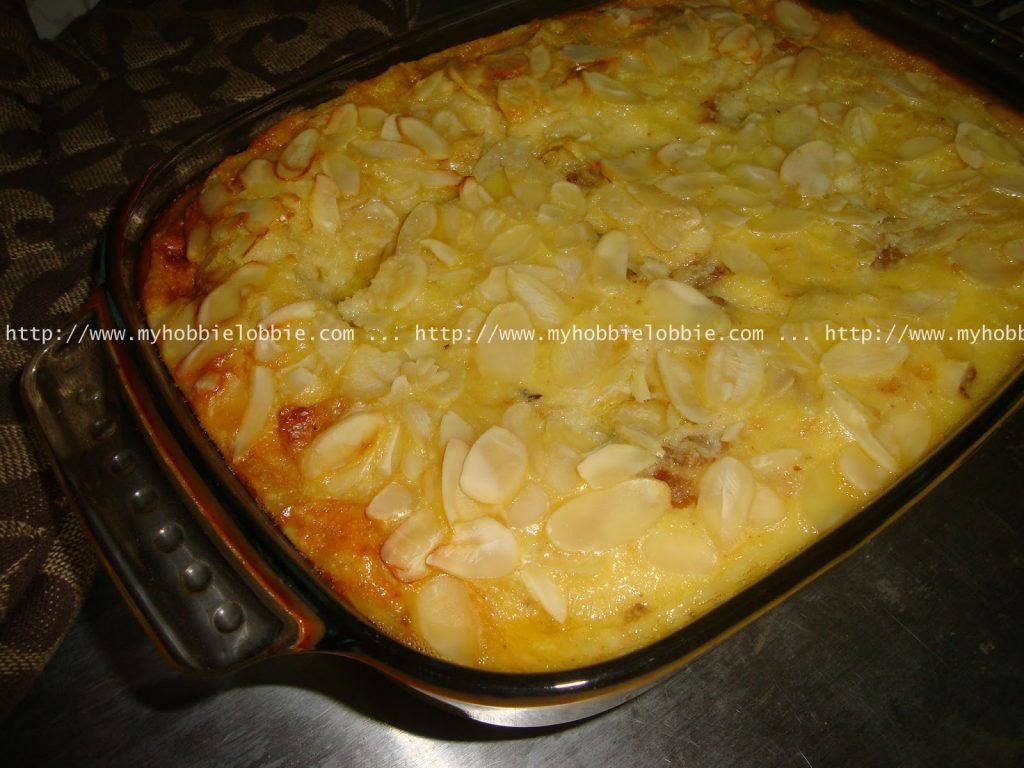 Bread Pudding

12 slices of bread, if they're a day or 2 old, its even better
500ml milk
5 eggs
150g sugar
Grated nutmeg or nutmeg powder, to taste
1-2 tbsp. butter
1/2 – 1 tsp. vanilla essence
Extra sugar for the layer of caramel
1/4 cup of raisins, or to taste (optional)
1/4 cup slivered almonds (optional)
Mix warm milk and sugar and stir to dissolve the sugar.
Lightly beat up the eggs, vanilla and nutmeg and add to the cooled down milk mixture. Whisk in to mix well.
Chop up the bread roughly or simply tear the slices of bread into smaller pieces and soak it in the milk and eggs mix.
Add the raisins and stir a little to spread them through the mix.
Let it stand and soak in the liquid. In the meanwhile, you can make the caramel.
Make the caramel either straight on the baking tray, if you're using a metal one or make it in a pot and pour into the baking dish to cover the base of it. I did the latter. Simply melt the sugar on low heat till it caramelises. Keep an eye on it as is can go from a beautiful caramel to severely burnt in moments.
When your happy with the colour of the caramel, drizzle it over the base of the baking tin while its still hot. As it starts to cool it wont spread around the base.
Note that when making the caramel, they say its better to swirl the pot rather and stir it. That's how I've always done it and have never had any trouble with it.
Give the caramel a few minutes to set and then pour in the eggy – milky – bread mix. (I'm sure there's a better term to use here 😉 but you get the message)
Sprinkle some of the slivered almonds on the top, you can also add some raisins to the topping if you wish.
Add a few knobs of butter on the top.
Bake in a preheated oven at 160ºC for about 30-40 minutes.
Here's what it looks like before baking; all assembled and ready to go into the oven.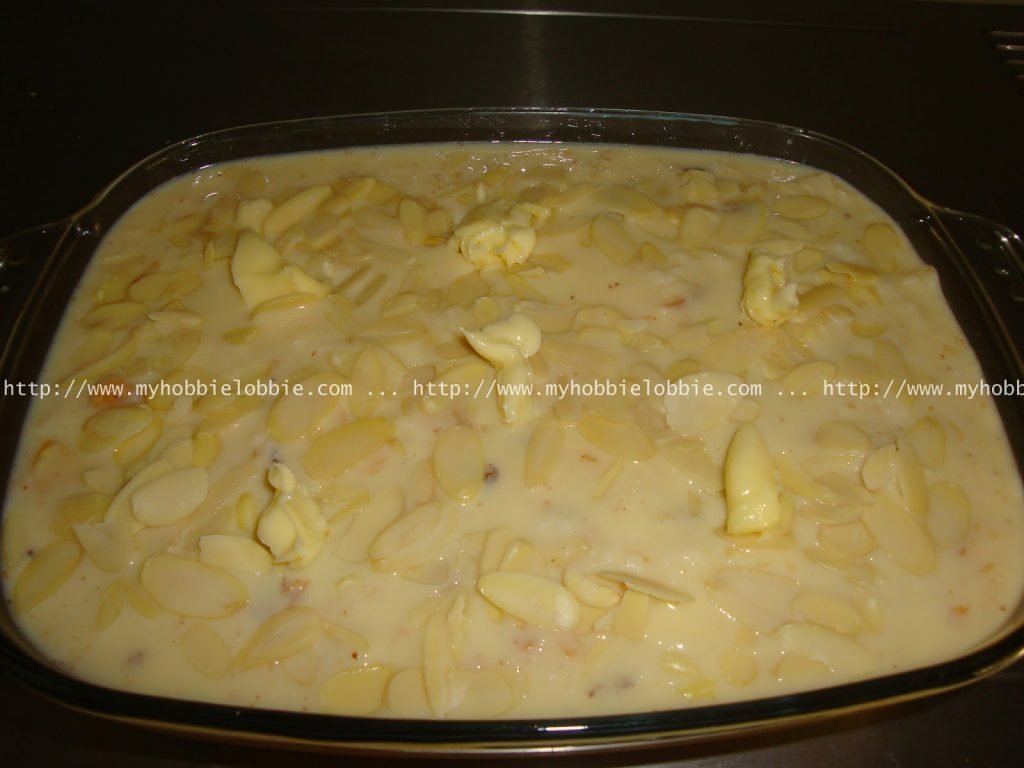 After it comes out of the oven and has cooled down, here's a glimpse of the golden caramel goodness that lies beneath.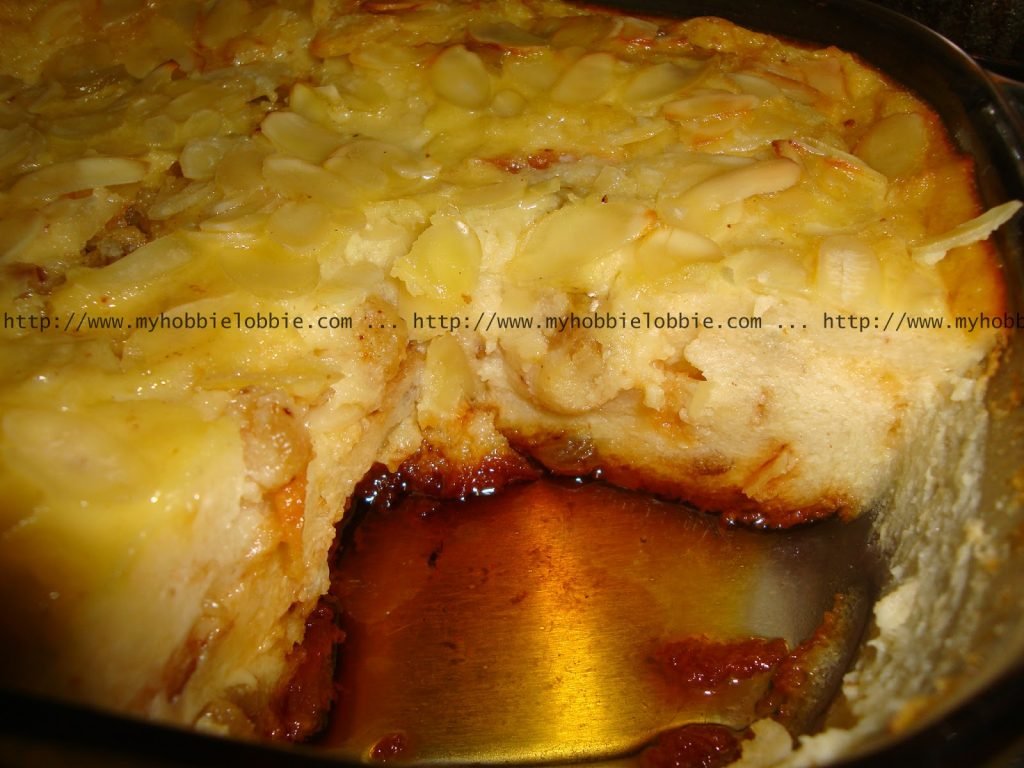 This pudding can either be served warm or cold. Its just as good either way.