For most of us, the working week always flies by. There's little or no time for an elaborate breakfast. And in our house, its pretty much the same. But come the weekend, there's a little more time. You can sleep in, have a lazy breakfast or brunch before you start with your activities for the day.
Breakfast happens to be one of my favorite meals of the day. Well, a weekend breakfast, that is. Its the perfect time to whip up a batch of pancakes or French Toast or muffins. And if you're the mood for something savory, then eggs and toast with the optional bacon and sausages is a great option. If you're in a slightly more adventurous mood, then only a masala omelette will do. We love a good omelette. It needs to have nice bold flavors, a little spice and a little bite as well. We love it so much, that it sometimes makes an appearance as "breakfast for dinner". Anyone else like "breakfast for dinner" as much as I do? I cannot believe that I haven't shared this recipe with you before. It is super simple and so good. We usually serve it with some plain / buttered toast or some hot chapatis. They also make a fantastic sandwich when served between 2 slices of buttered bread. Try it out this weekend and let me know what you think of it.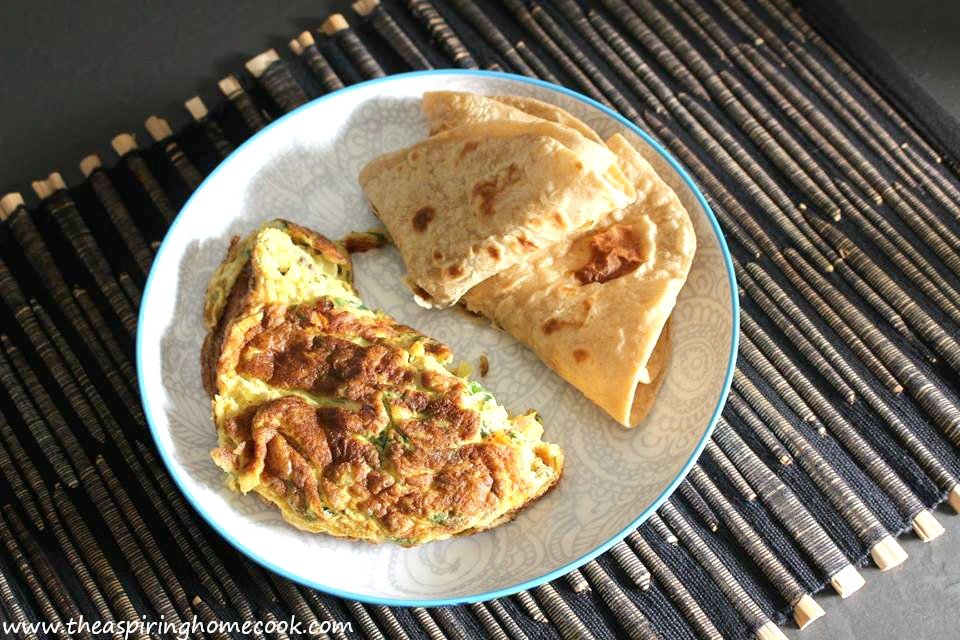 Masala Omelette
Yields 1 omelette
2 eggs
2 tbsp finely chopped onions
2 tbsp finely chopped tomatoes
1-2 tsp finely chopped coriander leaves and stalks
1/2 birdseye chilly, finely chopped
Salt, to taste
Freshly cracked black pepper, to taste
A good pinch of turmeric powder
1 tsp oil
Add the onions, tomatoes, chilly and coriander to a bowl.
Add the salt, pepper and turmeric powder to the bowl and mix everything thoroughly.
Heat a pan over medium heat.
Drizzle the oil in the pan. When the oil has heated, pour the omelette mix into the pan.
Cook it over medium heat till the bottom side has set and turned a light brown.
Carefully flip over and cook on the other side as well.
Serve hot.
Enjoy!
You can watch how I make it here –
This is a recipe I came across by pure chance. Last week I bought a big basket of fresh ricotta, not for the ricotta, but for the basket. Has anyone else done something as crazy as that? I needed the basket for a project I'm working on and if all goes well, I will share that with you. But I must admit, I was quite stoked to have the fresh ricotta to play with. And play I did. This is one of the things I made using that ricotta. I made a batch of these amazing Savory Ricotta Scones. I used a bunch of dried herbs I had in the kitchen, but I can only imagine how much more amazing these would taste with fresh herbs. One of the things I want to do, is grow my own herbs. And if I have any luck with that, I will make this recipe using fresh herbs.
Have you tried making scones before? I've tried these Chocolate Chip Banana Scones, Double Chocolate Scones and some Classic Scones – all sweet ones, out of which my favorite one is the Chocolate Chip Banana Scone. That being said, I do want to try my hand at a few more recipes. So this time, I decided to try out a savory scone and when I saw this recipe for Savory Ricotta Scones, I was thrilled. It would be the perfect way to build on my scones list as well as use up that amazing Ricotta.
The recipe itself was very simple and the scones turned out really well. They were tender and delicate and beautifully flavored. They would pair fantastically with a soup. I want to try these with a roasted tomato soup when the weather cools down. So whether or not you've tried scones before, I do hope you try these out. Serve them with a soup, or for brunch or with some tea and let me know what you think of them.
I've made a little video to help you through the process –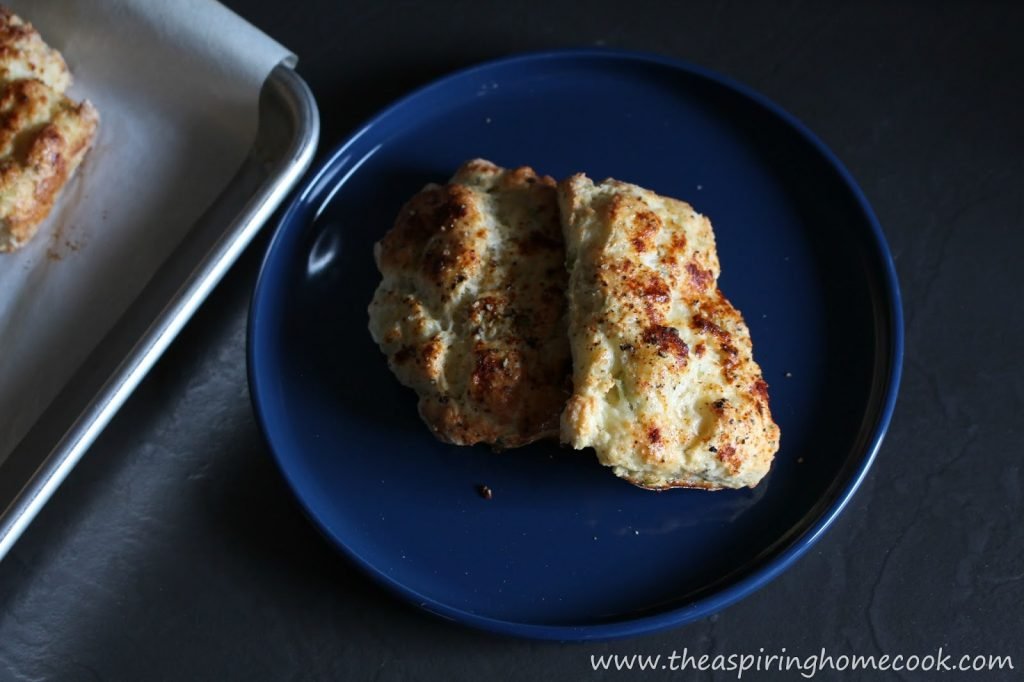 Savory Ricotta Scones
Adapted from: Love Life and Good Food
2 cups all-purpose flour
1 tbsp baking powder
2 tsp sugar
1/2 tsp salt
5 tbsp chilled butter
1/2 cup sliced spring onions
1/2 tsp dried mixed herbs
1/4 tsp dried parsley
1/8 tsp dried thyme
1 cup ricotta cheese
2/3 cup milk
1 egg
Sea Salt
Black pepper, freshly cracked, to taste
Smoked paprika, to sprinkle over
Preheat the oven to 220ºC.
Line a baking tray with some parchment / baking paper and lightly grease the paper.
Whisk the flour, baking powder, sugar and salt in a large bowl.
Cut the butter through the flour mix or grate it and mix it till you get a coarse crumb texture.
Add the spring onions and herbs. Stir through.
Add the Ricotta cheese and milk and stir through just until combined.
Turn out on a lightly floured surface. Lightly bring the dough together. Do not knead.
Pat the dough into a rectangle. Dip the cutter or knife in some flour and cut into 10-12 equal pieces.
Place on the parchment lined baking tray.
In a small bowl, whisk the egg with 1 tsp water. Use a silicone / pastry brush and brush the egg white on the scones. Sprinkle some salt, freshly cracked black pepper and smoked paprika over the tops of the scones.
Bake for 20 minutes.
Serve while still warm with a little butter.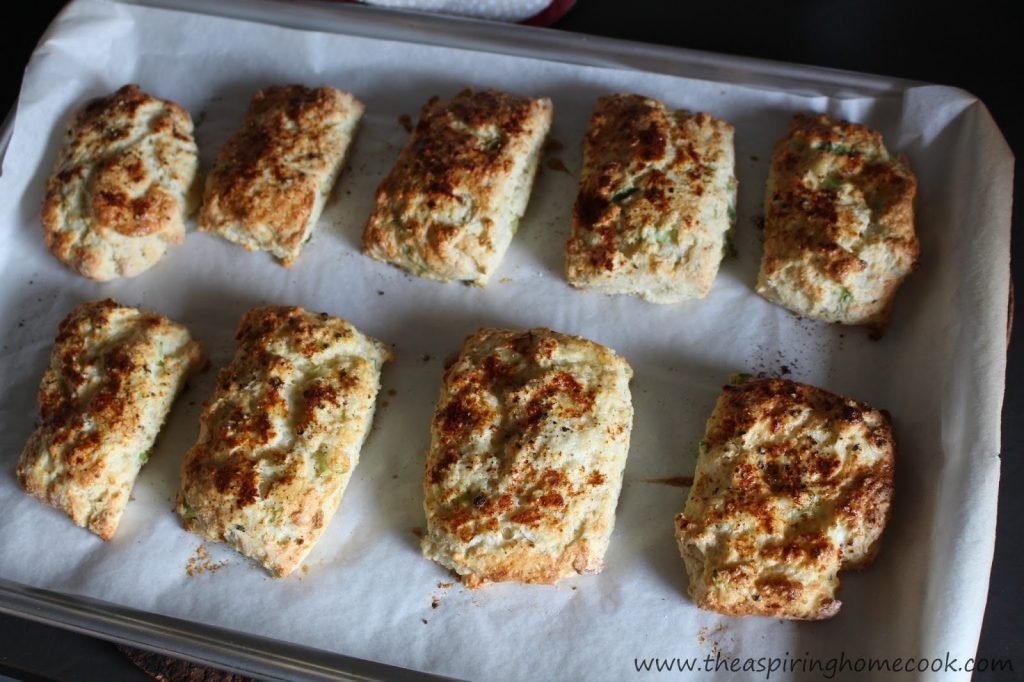 If you're making these in advance or if you have leftovers, they reheat well either in a covered pan on low heat or wrap them in foil and warm in a 180ºC oven for about 5-10 minutes.
So a few days before we left for our trip, I found a great deal on some beautiful zucchini. Obviously, I couldn't resist it and bought some. Now, whenever I see fresh fruit and veg at good prices, I end up buying a bunch. I know I'll eventually figure out what to do with it. For those of you who don't know, that's how I plan my menu. I go by what's in season and what appeals to me on the day I'm shopping. Not very organised, I know, but it works well for me. I like to be surprised. On the day we were leaving, I realised I still had the zucchini and some eggplant. I couldn't leave it till we got back, it just wouldn't last. So I made a beautiful pickle with the eggplant. I will share that recipe soon. With the zucchini I made these muffins. I figured we could just take them with us to snack on.
The muffins are really simple to make. My husband helped with these. Now I have to be honest. We usually work well together in the kitchen. But on this given day, we were trying to get things done quick and there was a little confusion. We ended up using half the quantity of flour that the recipe called for. Fortunately for us, it wasn't a disaster. With extra baking time, the muffins were fine. I would love to try these again with the right measurements. However, the muffins turned out pretty well. They were light and spongy, savoury with a hint of cheese. I might even try using a sharper, vintage cheddar the next time. I was pleasantly surprised when these tasted even better a couple of days later. I can happily report that these muffins keep well for a week refrigerated. When you want to eat them, simply warm them up in the microwave and you've got yourself a nice, little snack.
The recipe I've listed below, is the original one with the right measurements, just incase you'd like to try these out too.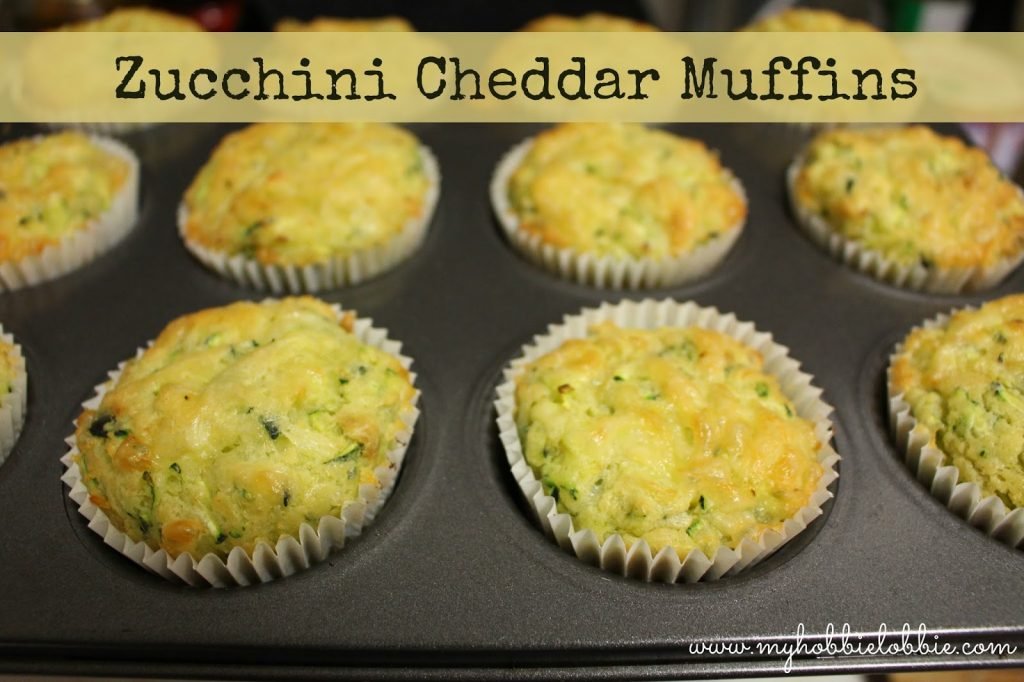 Zucchini Cheddar Muffins
Adapted from: Will Cook for Smiles
Yield: 12 muffins


3 eggs
3/4 cup vegatable oil
1/4 cup sour cream
1 1/2 tsp salt
2 cups all-purpose flour
2 tsp baking powder
1/2 tsp baking soda
2 cups shredded zucchini
100g cheddar cheese, grated (30g reserved for topping)
Preheat the oven to 180ºC and place muffin liners in the cavities in the pan.
In a large mixing bowl combine the dry ingredients, the flour, salt, baking powder and baking soda. Set aside.
Whisk the eggs, oil and sour cream till combined.
Add the wet ingredients to the dry ingredients and whisk until just incorporated.
Add the zucchini and mix well.
Add 70g of shredded cheese and whisk till it has evenly combined.
Spoon batter into the muffin pan and top with the reserved 30g of shredded cheese.
Bake for 18-20 minutes or till a toothpick inserted in the centre of the muffins comes out clean.
Enjoy!
If you want to keep these for later, let them cool off completely and store them in an airtight container in the fridge. Warm in the microwave when you are ready to eat them. (It lasted us a week. It might've lasted longer, but we got through this batch.)
Our weekday breakfasts are usually hurried as we get ready to make our way to work and get on with our day ahead. So on weekdays, its usually a couple of slices of buttered toast, a cup of coffee and a fruit or some cereal or porridge and a fruit. So over the weekend, I feel its only fitting to have a more leisurely and stepped-up-a-notch type of breakfast. Some of you will remember that one of these types of breakfast is a helping of
pancakes
. Another such fairly simple, yet very satisfying breakfast option for me is French Toast.
There are a few variants to this basic French toast that I've tried and I'll list them at the bottom of the post. Something that I've been longing to try is a stuffed French toast. I seriously hope I get around to trying that sometime soon; I have so many ideas for those. This basic recipe I picked up from watching my mother in the kitchen. People find it hard to believe that when I was a kid, I didn't fancy spending much time in the kitchen watching my mother cook. One exception was when she was making something sweet. So when she was making us French toast for breakfast or when we were making goodies to go on the Christmas platter, it was hard to get me out of the kitchen. Till this day, I really enjoy making the sweeter stuff, desserts, cakes, cookies etc. Its the everyday cooking that sometimes leaves me lacking inspiration.
Anyway back to the French toast. What I really like about making this at home is that you get to decide what flavors you want to work with and just how sweet you'd like it to turn out. When frying the slices of bread be sure to let it color a little. Its the browning that caramelizes the sugar and gives it a delightful crunch.
What's your favorite French Toast recipe? Drop in a line in the comments section and let me know. I'd love to try some new variants.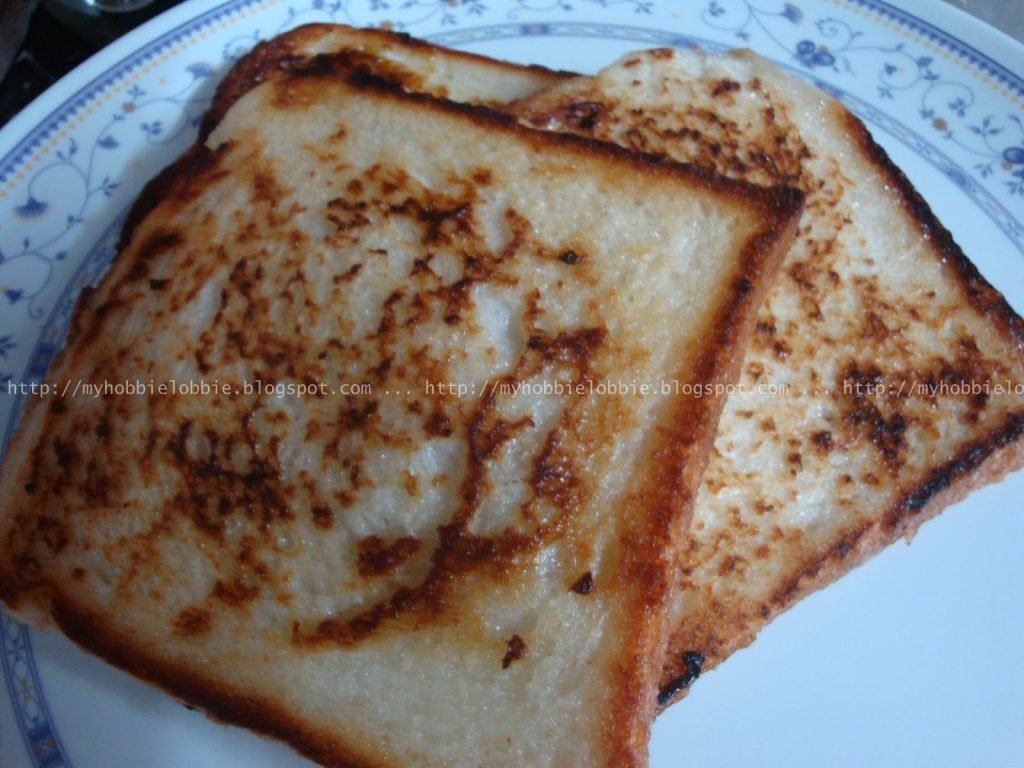 French Toast
(This recipe should make enough to dip about 4-6 slices of bread)
4-6 slices of bread
1 egg
1/2 cup of milk
Sugar, to taste
A few drops of vanilla extract
Butter / oil to fry
Heat a knob of butter or a little oil in a pan.
Whisk the eggs, milk, sugar and vanilla till well combined. Use a shallow bowl that is wide enough to fit the slices of bread in.
Dip the slices of bread in this mix, one at a time to cover well on both sides and soak in some of the liquid. I usually do a double dip on both sides.
Carefully place the slice in the hot pan and let it cook on a medium flame till it caramelizes a little. Flip and cook the other side as well.
If your griddle or pan is large enough, you can do multiple slices at a time. You'll finish off faster.
Enjoy it warm with a nice cup of coffee.
If you'd like, you can drizzle some honey over the slices when you're ready to eat. Don't drizzle the honey before hand, it will make your toast soggy. If you don't fancy honey, you could dust it with some powdered sugar or cinnamon sugar as well.
Variants
– You can substitute the vanilla with some cinnamon powder. You could also use a combination of both.
– You can also substitute the vanilla with some freshly grated nutmeg.
Both this variants are gloriously flavorful. Try them all and see which one you prefer.
This recipe is linked to –