I've been making marzipan at home for a little over 12 years now. I must admit that in the past, I have only made marzipan using cashew nuts. This is mainly because they were more widely available in Mumbai and were more affordable than almonds. Last Christmas, when I shared my favorite marzipan recipe
here
and on
YouTube
, the video got a lot of love. I also got a lot of questions about making marzipan using almonds. There were also requests for an eggless version of marzipan. Now I have previously shared a different recipe for an
eggless (cashew nuts) version
. But I decided that this year, in time for Easter, I would try out an eggless almond marzipan recipe and share it with you. After a little experimenting, and more marzipan than I know what to do with, I have, what I consider a really good recipe to share with you.
How do they both compare? Well I found that the cashewnut marzipan is lighter while the almond one is a little on the denser side. That being said, the almond version is super delicious. I think even more than the cashewnut one. Then, there's also the fact that the almond one is a no-cook recipe. So, to sum up, I will still make my cashewnut version as it is a little easier to work with, but the almond one will be absolutely perfect to use in so many different ways. I'd love for you to try it out and tell me what you think of it.


No-cook Almond Marzipan
(Yields 250-260gms approx.)
1 cup raw, natural almonds
1/2 cup icing sugar
1/2 tsp rose water (you can add a little more if needed)
1/2 tsp almond extract (you can add a little more if needed)
Place the almonds in a heatproof bowl.
Pour water from a recently boiled kettle over the almonds to cover the nuts. Leave the almonds to soak for a couple of minutes.
Drain the almonds and peel them. Place them on some kitchen paper or a clean kitchen towel to dry up. Let the almonds cool down completely.
In a high powered blender / food processor, blitz the almonds to a fine powder.
Place the almond powder in a large bowl. Add in the icing sugar. Mix it thoroughly till combined.
Add the rose water and almond extract and knead to form a dough / log.
Your marzipan is now ready to be used.
If you don't need to use it immediately, you can wrap it in cling film and refrigerate till needed. It keeps for a couple of months. (Personally, I would just make this when needed, probably a couple of days ahead.)
NOTE: This marzipan is not a very sweet version. When the marzipan is formed, taste some of it. If you want it sweeter, simply add some more icing sugar and knead it in.
It's been nice to settle in to my regular routine over the last few days. Truth be told, I do miss being on Holiday and being around family and friends. But there is something deeply pacifying about being back home doing my thing.
I haven't baked in ages. Furthermore, its been about three months since I last shared a baked recipe here. I was tossing between cookies, brownies and tea cakes. And while I was looking, I realized that I had this exotic little gem saved in my massive 'must-try' list. And with a name as exotic sounding as Basbousa, I had to. So as soon as the temperature dipped a tiny bit, I decided to turn the oven on. Basbousa is an Egyptian semolina cake drenched in sugar syrup.
This batter comes together really quick and easily. There's no need to break out the heavy equipment, I just used a whisk. So basically you bake the cake, make a sugar syrup and drizzle it over the cake and top with some sliced / slivered (flaked) almonds and coconut chips and that's it. This is a dense tea cake, so don't expect a light sponge. It has a very different flavor profile compared to a basic sponge too. It has a subtle tang from the yogurt and the lemon in the syrup. Dare I say, it is very deliciously different. My husband really liked this cake. And he is someone who loves a good chocolate cake and the occasional sponge cake. This one though, he has asked me to keep track of, so that we can make it again. Imagine my surprise. But then again, it wasn't overly surprising considering how good this cake is. Try it out for yourself.
Basbousa
Recipe from: The Mediterranean Dish
For the cake –
1/2 cup butter
1 cup sugar
1 cup natural, unflavored yogurt
2 cups coarse semolina
1/2 cup milk
1 tsp baking powder
1/4 cup sliced / flaked almonds
1/4 cup sweetened coconut chips or sweetened shredded coconut
For the syrup –
1 1/2 cup sugar
1 3/4 cup water
2″ cinnamon
1/4 tsp lemon juice
Preheat the oven to 170ºC and grease a 9 inch cake tin and keep aside.
Melt the butter and set aside. You can do this in a little saucepan on the stovetop on in a little microwave safe bowl in the microwave. Set this aside.
In a large mixing bowl, whisk together the yogurt and sugar.
Now add the semolina, milk and baking powder and mix thoroughly.
Next, stir in the melted butter and whisk well. Let the batter rest for a while (about 5-10 minutes or so) for the semolina to absorb some of the moisture.
Pour the batter into the greased cake tin and bake for about 40-45 minutes.
While the cake is baking, make the sugar syrup. Place the sugar water and cinnamon in a saucepan. Bring to a boil on high heat stirring occasionally, but only till the sugar dissolves. Turn the heat down to low and continue to cook for a few minutes till the syrup thickens. Then take off the heat and stir in the lemon juice.
Set aside to cool and then remove the cinnamon.
When the cake is ready, take it out of the oven and immediately pour the cool syrup on the hot cake.
Leave the cake to cool off completely and let the cake absorb the syrup, at least for an hour.
Just before serving, top the cake with the almond and coconut chips.
Serve.
I love bananas!!! I don't know if I've shared that with you before, but I really do love them. Infact, we almost always have bananas in the house. Up until now, every time I was left with a couple of over ripe bananas, I would either make some
banana bread
or banana fritters (I must share that with you sometime soon). And trust me, I love both the banana bread and fritters. But sometimes its nice to switch it up.
Last week I had 2 over ripe bananas and its been so hot, I had no intention of switching the oven on to make the banana bread. I kept putting off the tea-time fritters and yesterday I decided I had to use the bananas and if I left them anymore, I'd probably have to throw them out. I hate wasting food so that was out of the question. The plan that morning was to make some oatmeal for breakfast, but then it struck me I could use the bananas with the oats and do something with that. I remember a while ago, coming across a banana oat pancake recipe and decided to try it out. Now, those of you who've been visiting for a while know I love my pancakes. So what could be better than combining my love for bananas and pancakes. Nothing much right! So breakfast that morning was sorted. I blitzed the ingredients in the blender and added a few fixin's like fresh blueberries and roughly sliced almonds. I think Jamie Oliver would have been happy with me. I really like his philosophy on superfoods. Eat a variety of fresh produce in moderation and everything acts as a superfood. I figure the addition of the berries and almonds would amp up these pancakes to superfood status. I googled a few recipes but in the end just ended up throwing a few things together and I tell you it was great. I was really pleased with how the pancakes turned out.
Basically this recipe uses no refined flour and no refined sugar and you'll never miss them. We did use some maple syrup over the pancakes to sweeten the deal, but who can resist maple syrup over pancakes. Definitely not me 🙂
I hope you give these pancakes a try. They deliver taste and health together.
Banana Oat Blueberry Pancakes
Makes 6 pancakes


1 cup rolled oats
2 over ripe bananas
2 eggs
1 tsp vanilla extract
A handful of fresh blueberries
12-15 roasted almonds, roughly sliced
A pinch of salt
A little oil, to fry the pancakes (I use olive oil, but you could any oil of your choice)
Maple syrup, to drizzle over
Blitz the oats in a blender till you are left with a powder.
Add the bananas, eggs, a pinch of salt and the vanilla extract. Blitz till you are left with a nice batter.
Scrape the sides down and give it another quick blitz.
Pour the batter in a large bowl and add the sliced almonds and blueberries and fold through gently, making sure they are evenly distributed.
Heat a little oil in a pan, about half a teaspoon. I use an oil spray to reduce the amount of oil being used.
Carefully ladle some batter onto the pan. Cook on medium heat.
When the bottom edge looks like its getting a little color, gently lift a portion of the pancake. If you are happy with the cooking on that side, flip the pancake and let it cook on the second side too.
Repeat with a spray of oil and a ladle of batter for every pancake till you finish the batter.
Serve warm with some maple syrup.
Enjoy!!!
You're probably wondering why I'm posting an apple crisp recipe in the middle of Spring. Well, you know the last few months have been super busy and I haven't been regular with the posts here. Today, I have a little time on my hands and was looking through some of the pictures I've taken of posts I'm hoping to get done soon and this one jumped out. I realized I hadn't shared this recipe with you yet and I thought it would be a good opportunity to do that. You see, like I've said in the past, I have been cooking and baking, I just haven't gotten around to posting yet.
I know while we're enjoying the slight warming of the weather, most of you are in the middle of autumn / fall and you should have plentiful access to some apples. Now, I've had my share of apple cobblers and pies before, but this little dessert is in a league of its own. The crisp almond topping adds a whole new dimension to the apple-cinnamon mix. Its adds some crunch and pairs with the apples so well, you have to eat it to believe it. In the picture, I've only captured the crisp, but you could serve it up with some vanilla custard or some lovely vanilla bean ice cream.
The only thing I did differently, is I left the skin on the apples. But if you don't like it, you could peel them. Oh yeah, I also left out the nutmeg. This recipe is a sure keeper. I see myself making this over and over again.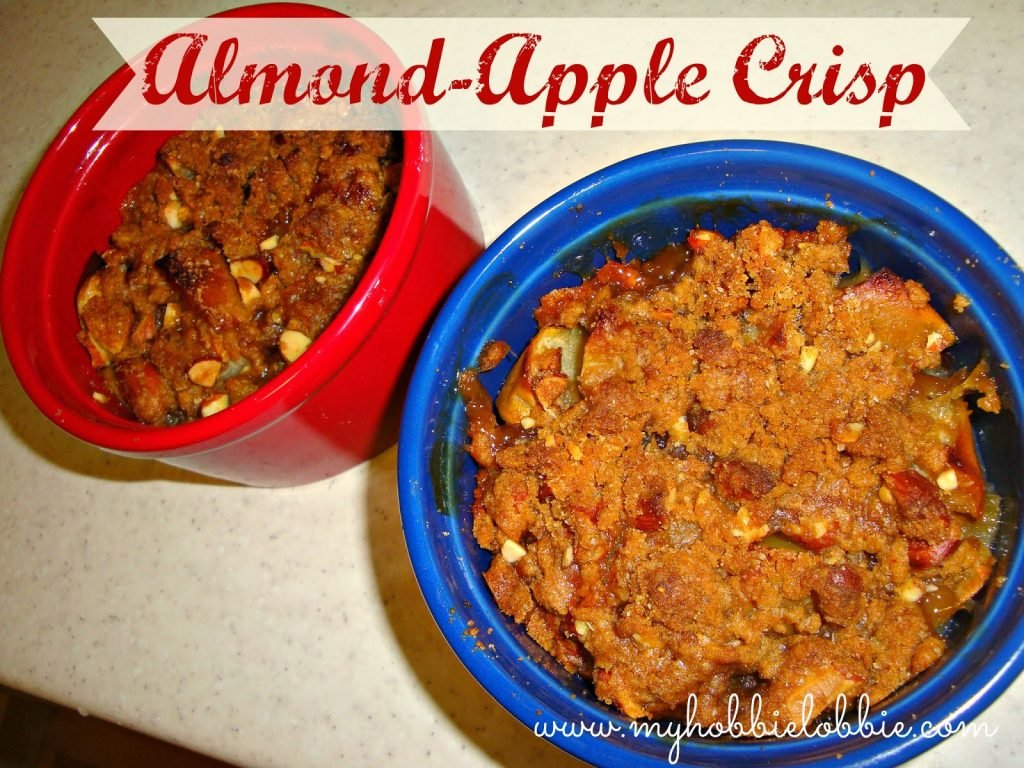 Almond-Apple Crisp
(Recipe from: Brown Eyed Baker)
For the apple filling –
1 1/2 pounds Granny Smith apples, cored and chopped into small pieces
1 1/2 pounds Red Delicious / Gala apples
1/2 tsp cornstarch
4 tsp lemon juice
2/3 cup sugar
A pinch of salt
A pinch of cinnamon powder
For the Almond Crisp topping –
3/4 cup all purpose flour
3/4 cup light brown sugar
1/2 cup slivered almonds, crumbled with your fingers
1/2 tsp salt
1 1/2 tsp cinnamon powder
1/2 cup cold butter, cut into small cubes
Preheat the oven to 180°C.
To make the filling –
Stir the cornstarch and the lemon juice in a large bowl till it dissolves.
Add the apples, sugar, salt and cinnamon and toss well to combine.
Pour the mix into and 8″ square baking dish. I did that and had some left over so I used a couple of ramekins.
To make the topping –
In a medium bowl, whisk the dry ingredients together.
Rub the butter into this mix, by using your fingers till it resembles coarse crumbs.
Sprinkle the topping evenly over the apple mix.
Bake for 50-55 minutes or until the topping is golden brown.
Enjoy!!!
For some more apple inspiration, try these recipes –
Apple Pie
Baked Apple Chips
Cinnamon Sugar Apple Cake
Apple Hand Pies