Goan sausage pulao is soul food for almost every Goan. And I definitely fall into that category. I've only been able to make this now, more than 5 years after we moved away from India, mainly because I haven't had access to a good Goan sausage. Goan sausages are called Chorize / Chorise and they are the spicier and tangier cousin of the Portuguese Chorizo. I recently tried making my own sausages at home and while I need to tweak the recipe just a tiny bit, I was pretty stoked with the results. They are the tastiest sausages I've had.
Anyway, on to the pulao. This pulao is a brilliant one-pot meal that comes together in a jiffy. You don't need to make your own sausages to enjoy this pulao. If you do, kudos to you. Otherwise, simply buy some good Goan sausages. Your pulao will only be as tasty as your sausages are. This pulao is a culmination of my
Peas Pulao
and my
Goan sausage chilly fry
, which by the way, make a stunning combination too.
Are you ready for it???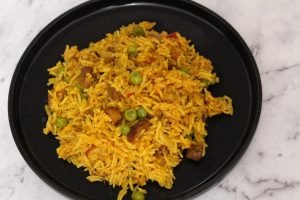 Goan Sausage Pulao
Serves 2
2/3 cup Basmati rice
1 tbsp oil
2 green cardamom pods
2″ cinnamon
8 black peppercorns
5 cloves
1/2 onion, chopped
1 chilly, finely chopped (or to taste)
1/3 tsp turmeric powder
1 large link of Goa sausages
1/2 tomato, chopped
1/4 cup green peas
Salt, to taste
Wash the rice in some water and drain. Repeat this 3-4 times. Then soak the rice in water for 30 minutes. The water level should be an inch above the level of rice. After 30 minutes, drain the rice, rinse through with some fresh water and drain. Your rice is now ready to be cooked.
Heat the oil in a vessel on a medium heat.
Add the whole spices (cardamom, cinnamon, peppercorns and cloves) to the oil and saute for about 30 seconds.
When the spices are nice and fragrant, add the onion and chilly. Saute till the onions have softened and turn translucent.
Add the turmeric powder and stir well.
Add the sausage and stir fry for a couple of minutes.
Add the tomato and cook till the tomato has softened.
Now add the rice and gently stir through, using either a wooden or silicon spoon, to prevent the grains from breaking.
One the rice has fried off a little for about a minute, and is coated well with all the spices add the green peas and 1 1/3 cup of room temperature water. (The ratio of rice to water should be 1:2)
Add salt to taste. (Remember the sausage also has some amount of salt in it.)
Stir well.
Cover and cook on medium heat till all the water has been absorbed by the rice.
Take off the heat and keep it covered. Let it rest for a couple minutes.
After a couple of minutes, fluff up the pulao gently with a fork.
Serve hot.
With the Holiday season done, I know a lot of us are trying to get back to regular eating habits. We're trying to eat a little healthier after all the Holiday indulgences. We've also had a family wedding in early January, so for us the indulgences have been a little more that usual this time around. Now that I'm back and mostly unpacked and back to business as usual, the focus is on healthier food.
I love trying out new recipes and cuisines. Now I know Mexican food is hardly a new cuisine, but for me, this was a new recipe. My ground beef recipe is a little more involved than this one. I love the simplicity of it. The method was a little different than what I was used to, but by the time this taco meat was ready, it looked and smelt great and tasted fantastic. I can guarantee this tastes so much better than any packaged taco meat that you buy from the store. And you know exactly what has gone into the pot.
You could, as the name suggests, use this in tacos, but since we are trying to eat healthier, we enjoyed this with some iceberg lettuce and a bean salad on the side. Who said healthy eating had to be boring or tasteless. This was healthy and delicious and is going to make quite a few appearances on our dinner table. I do hope you try it out too.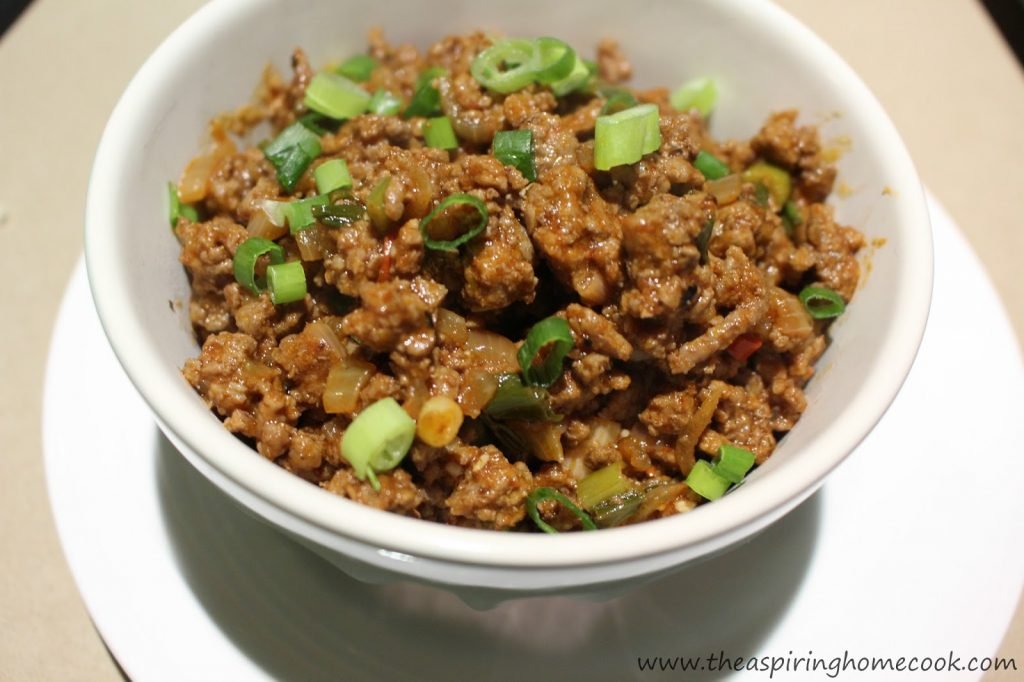 Homemade Seasoned Taco Meat
Recipe from: Premeditated Leftovers


1/2 kg lean ground beef
1 tbsp olive oil
1 cup onion, finely chopped
1/2 cup tomatoes, chopped
2 cloves garlic, finely chopped
1 1/2 tsp cumin powder
1 1/2 tsp chilli powder
1 tsp paprika
1/4 tsp salt
1/4 tsp crushed black pepper
1/2 tsp dried oregano
1 cup water
2 green onions, sliced
Heat the olive oil in a skillet over medium high heat.
Add the ground beef to the pan and cook the meat till it is browned and no longer pink. This should take about 4-5 minutes.
Now add the onions and tomatoes and cook for about 2-3 minutes or till the onions have started to soften.
Add the rest of the ingredients except the water and the green onions. Stir everything together and saute for a couple of minutes. By now all the spices should have started doing their job and should be fragrant.
Now add the water and bring the pot to a simmer.
Cover the pot and let it simmer for about 5 minutes.
Now uncover the pot and cook the meat uncovered till almost all the liquid has evaporated.
Take the pan off the heat and stir in the green onions.
Enjoy!