Winter is one of my favorite seasons. I love the chill in the air and everything that comes with it, especially after a long, hot summer. I love winter clothes, the food and the indoor days. But what I love most of all is rugging up on a chilly day with a piping hot mug of homemade hot chocolate. So today, I'm going to share with you how I make my basic hot chocolate from scratch in under 5 minutes. Yup, its quick, simple and divine.
Homemade Hot Chocolate
Makes 1 mug


3/4 cup (full fat) milk
1/4 cup heavy cream
1/4 cup dark chocolate, chopped
A few marshmallows, for topping (optional)
Combine the milk and cream in a saucepan and heat it over medium heat till it just about starts simmering. Do not let it come to a boil.
Add the chopped chocolate and whisk till dissolved.
Pour into a mug and top with marshmallows (if using) and sprinkle some grated chocolate on top.
Enjoy your very own Homemade Hot Chocolate!!!
Turmeric latte … Yay or nay?
This is a post I have been meaning to share for some time now. I know a while ago, turmeric lattes were all the rage everywhere. I was happy to see it gain popularity. We have been enjoying this golden cuppa for decades now.
I remember piping hot mugs of turmeric latte when I was a child. My mum would make this for us, usually before bedtime during the monsoons or winter, or when we had a cough or cold. Our version of the turmeric latte has some ingredients that are wonderful to soothe a sore throat. Turmeric, ginger and honey are all known for its health benefits. I was convinced that the only way I could get rid of a cough or a bad throat was with a mug of this golden goodness before bedtime.
If you need to chase those winter blues away or if you just need to cut down on your coffee intake, substitute your cup of coffee with this turmeric latte. Even though we used to have a mug of it just before bedtime, I now find myself reaching for this even in the morning or later in the day, when I'm craving a hot cuppa.
The way we make it, you don't need any fancy gadgets or equipment. Yes, you do need a couple of warming spices (namely, turmeric powder and ginger powder), but a little goes a long way, you won't need to purchase them often. We tend to have both powders in the pantry, so its really easy to fix up a batch of turmeric latte. This recipe is more just a guide. Tweak it to your liking for that perfect cup. This is how I like it.
Turmeric Latte


1 cup milk
1 tsp organic honey
1/4 tsp turmeric powder
1/8 tsp ginger powder
Place the milk, turmeric powder and ginger powder to a saucepan / pot. Whisk all the ingredients well.
Heat it over a medium high heat, till it is hot enough for you.
Place 1 tsp honey in your mug. Top with the turmeric milk. Stir well till the honey is dissolved.
Enjoy!!!
Have I told you how much I love Indian sweets? Probably not. Well, here goes – I love, love, LOVE Indian sweets. I love Indian sweets even more than I love chocolate some days. I know, shocking!!! Isn't it?
When I lived in Mumbai, I was fortunate enough to have 3 really good Indian sweet shops or Mithaiwalas in the vicinity. Thankfully they weren't too close. I'd literally go nuts whenever I went there. There were so many options to choose from. And I don't to well with too many options. I just cannot pick in those situations. Anyway, my indecisiveness aside, one of my favourite Indian sweets has to be Gulab Jamuns. Gulab Jamuns are beautiful little deep fried dumplings soaked in cardamom infused sugar syrup.
I have made Gulab Jamun at home a few times now. Traditionally, the dumplings are made with milk that is reduced to an almost solid state. This process takes atleast an hour. If you live in India, you should be able to go to the store and buy mava / khoya (the reduced milk solids). If you don't want to spend as much time or money (mava / khoya can be pricey), but still want to sit back and enjoy some home made Gulab Jamun, you have come to the right place. I have found a recipe that will probably take you about half an hour (or thereabouts) to make from start to finish.
If you are someone who has just about started dabbling in Indian food and want to impress your family and friends with some home made Indian dessert, try your hand at this recipe. You will love it and you can count on being hailed a superstar if you bring these to a potluck or any party.
Now, on to the recipe. I cannot take credit for this genious idea. I was watching Better Homes and Gardens one Friday night and I saw Fast Ed make these and I knew then and there that I had to try them out myself. It was too good to be true and the skeptic in me, knew there'd be something different about these. Either the flavour or the texture wouldn't be right. But I was wrong, so very wrong. These Gulab Jamun turned out just like I remember them. Beautiful luscious dumplings, soft and drenched in the infused sugar syrup. These are best enjoyed a little warm but they are pretty darn good served cold as well. Even in the traditional sweet shops in India the sizes of the dumpling vary. I make them a little smaller because they will expand after frying and soaking in the sugar syrup. I prefer them smaller because that way they cook through quickly and they look so dainty served in a little bowl. I have also seen them made oblong in shape. Either way they are like little bites of heaven.
You could dress them up by sprinkling some pistachio dust (grated/ finely chopped pistachio) over them. They don't need it, but it looks prettier. I didn't have any pistachio with me, so I skipped that step.
If you love Gulab Jamun as much as I do, and you've been known to pick up some of the tinned stuff you get in the Indian stores or probably even the ready mixes (like Gits etc.), ditch them. You don't need any of that stuff. Try this recipe out and you'll never go back to those tins and mixes again.
Gulab Jamun
For the sugar syrup –
500g sugar
700ml water
4 pods of cardamom
Open the cardamom pods and separate the seeds and the shells.
Place all the ingredients, including the cardamom seeds and shells in a saucepan and bring to a boil.
Lower the temperature after it comes to a boil and let it simmer for 5 minutes.
Take off the heat and set it aside.
** We usually crush the cardamom seeds to a powder and add that to the syrup. This results in a stronger infusion of flavour. If you haven't tried cardamom before or aren't sure how strong the flavour would be, start off by keeping the seeds whole. The favour infused will be subtle. When serving, make sure you discard the seeds and shells first.
** Start off by making the syrup first because it needs to cool a little before you can add the dumplings. The syrup needs to be warm, not scalding hot when the dumplings are put in.
** Do NOT stir the syrup once the sugar has dissolved. Stirring will crystallise the sugar.
For the dumplings –
220g milk powder
1/2 cup all purpose flour
1/2 tsp baking powder
1 tbsp ghee / clarified butter
A little milk (approximately less than half a cup)
Oil, for deep frying
Heat the oil for deep frying.
Place the milk powder, all purpose flour, baking powder and ghee in a mixing bowl.
Gradually add the milk a little at a time and bind the ingredients to a dough. It is important to not add too much milk while making the dough. Use just enough to bind everything together.
Shape them into little balls. You want the balls to be smaller than what size you want the finished product because they will expand.
This recipe yield 20-22 massive dumplings or if you're after little ones, you can get about 45. I got 47 in all. Make sure the dumplings are evenly sized so that they cook evenly.
Test if the oil is hot by placing a tiny pea sized ball in the oil. If it sizzles and rises to the top you'r oil is hot enough and you can proceed. If it just sits in the oil, you need to heat the oil a little more. If the ball just chars, you're oil is too hot. Take it off the heat for a couple of minutes and then place it back on slightly lower heat and continue.
Have the oil on medium heat.
Carefully, drop the dumplings in the hot oil and fry till golden brown.
Your sugar syrup should have cooled down a little by now, but should still be fairly warm.
Using a slotted spoon, take the dumplings out of the oil and tap off any excess oil and put the dumplings in the sugar syrup straight away. Watch them expand as they soak in the syrup. Gently turn them around in the syrup after about a minute so that is soaks in the syrup on all sides.
Repeat with the rest of the batter. Once the dumpling have soaked in the sugar syrup and expanded a bit, you can carefully take them out into a shallow serving bowl or a baking dish like this one. Pour all the sugar syrup over.
At this stage, you can add the chopped pistachio over.
Sneak a peek at what it looks like on the inside. Soft, melt in your mouth goodness!
Serve warm or cold.
As the person who put made these lovely dumplings, even if you're making this ahead of time, I urge you to sample some of these warm and you'll know what I'm talking about. 🙂
REMINDER: I'm hosting a giveaway and would love for each of you to be a part of it. Up for grabs are gift vouchers from Amazon / Flipkart. For details and to participate click here. Giveaway closed.
Today I am going to share with you a wonderful recipe for which I can take absolutely no credit at all. Yup, you heard that right. This is a recipe that my husband remembers and has committed to memory from watching his mother and Nan cook. Can you believe that!!! I love him to pieces and its things like this that earn him extra brownie points. 🙂 I remember the first time he whipped up this beauty was a few years ago. I was out of town for a couple of weeks on work. I had a few things cooked up and kept in the fridge for him to just heat up and eat while I was away. I knew he was good with puddings, breakfast and the like, but wasn't too sure if he'd manage mains for lunch and dinner. To my delight, when I got back from my trip, waiting for me was a pot of this beautiful fragrant stew. To say I was pleasantly surprised would be an understatement. Long story short, we both loved it and from then on, each time we have this stew, my husband actually makes it himself.
This is such a simple recipe and it requires just a handful of ingredients. If you use a pressure cooker to cook your meat, its comes together faster, which is what I did. Unlike typical Indian food, this stew is not spicy but is beautifully flavored. You can serve this up with a couple of slices of hearty bread or croutons or even over steamed rice. I personally think it tastes better on the next day, so we always make a little extra to enjoy for even 2 to 3 meals.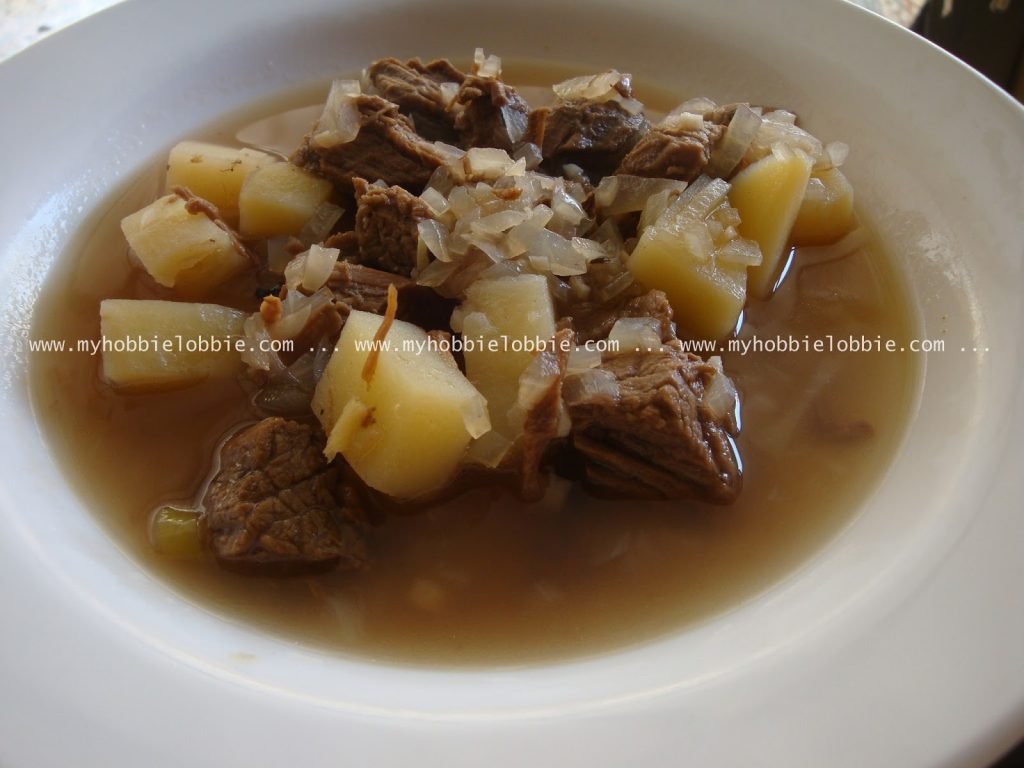 Nana Braganza's Beef Stew
1lb. beef, boneless (I use what we call undercut, very flavorful n tender, cooks up really fast, but you can use what you have on hand)
4-6 cloves
2″ cinnamon
8 pepper corns
Salt, to taste
Juice of half a lime
2 tbsp. Worcestershire sauce
2 onions, finely chopped
2 potatoes, cut into small cubes
1-2 fresh green chillies, finely sliced
4 cloves garlic, finely chopped or minced
3/4″ ginger, finely chopped or minced
1/2 cup of red wine
2-3 rashers of bacon, skin taken off and chopped into small pieces (optional, but yum)
1/4 tsp crushed black pepper powder
1 tbsp. vegetable oil
Cut the beef into 2-3 large pieces.
Sprinkle salt, lime juice and Worcestershire sauce over the meat. Add the cloves, cinnamon and pepper corns and toss well making sure the meat is marinated in this for about 10-15 minutes.
Pressure cook with a couple of cups of water till tender. I cooked it on low for 30 minutes after the first whistle. Let the pressure ease of on its own. Cut the beef into cubes. Reserve the stock.
Heat the oil in a pan and add the bacon. Let the bacon fry a little and release its fats. If you're using bacon you may want to reduce the amount of oil a little. If your not using bacon, simply move on to the next step.
Add the chopped onions and chillies and saute them.
When the onions have softened a little, add the chopped ginger and garlic and continue sauteing.
After a minute or two add the potatoes and continue sauteing.
Add some pepper powder and stir.
When the onions have slightly started to brown, add the wine to deglaze and add the stock that the beef was cooked in with the whole spices.
Let it come to a boil and simmer for about 10-15 minutes.
Add the meat and let it all heat through.
Check for seasoning and adjust if needed. Let it simmer for another 10 minutes or so. Once the flavors have fully developed, take it off the fire.
Serve hot.
This recipe has been linked to –
Show me you Plaid Mondays
Tempt My Tummy
Wonderful Food Wednesday
Back for Seconds
Wow Me Wednesday
Cast Party Wednesday
What's Cookin Wednesday
Chef's Day Off
Goa – what can I say about this little piece of heaven? Well, our ancestors hail from Goa and ever since I was a little girl, we spent most of our summer holidays there. Even today, my husband and I love going there. We drive down for a few days whenever we get the chance. Goa is along the West Coast of India and the place really needs no introduction. Folks from all over the world holiday here. It has some really amazing beaches, lots of Portuguese influence in the culture (the architecture, the way of life and the food) and, in my opinion, some of the best food, especially the traditional Goan seafood preparations.
This recipe is a mild stew compared to the otherwise spicy food found there. This is the second time I've made it and I've got to tell you I love it. Its easy to make, the flavors are clean, the colors are really vibrant and have I mentioned that its really delicious. You really should try this, you wont regret it. This one is definitely a keeper for me. The recipe I used is from this really great book that I picked up a couple of years ago called "The Essential Goa Cookbook" by Maria Teresa Menezes. This is a book I use very often and I've never been disappointed.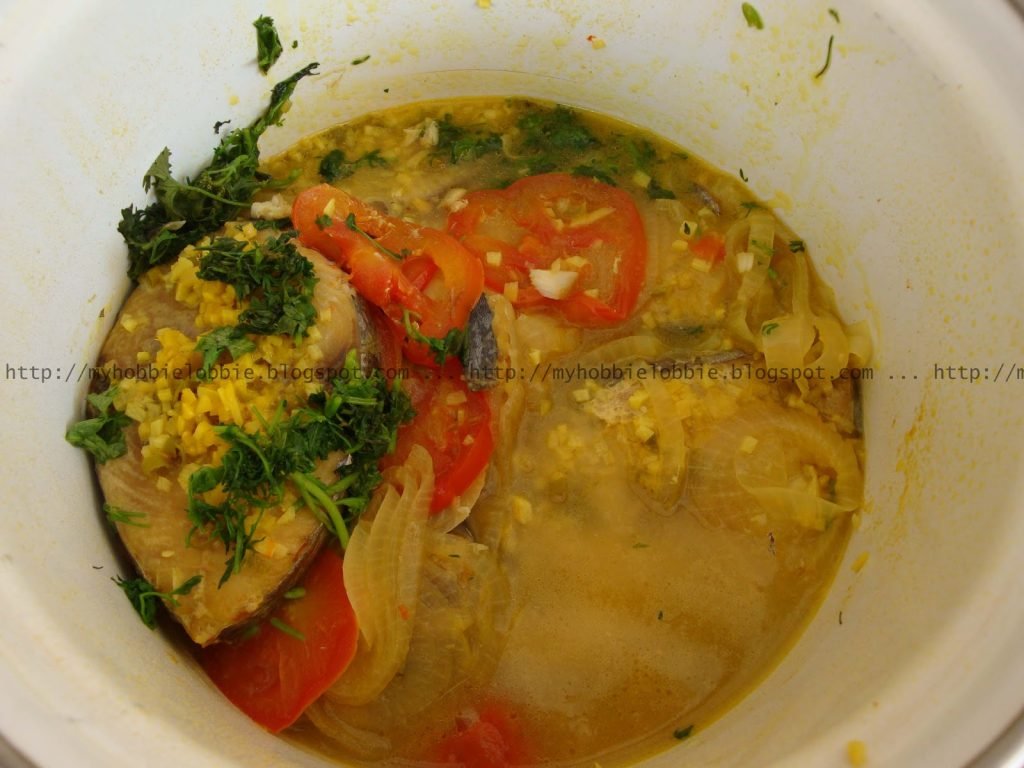 Caldeirada
Adapted from: The Essential Goa Cookbook
6 slices large fish, or 6 small fish whole (I used Kingfish)
10 cloves garlic, chopped fine
1″ ginger, chopped fine
4 green chillies, chopped fine (I used 3)
1/4 tsp turmeric powder
3 large onions, sliced to get rings
3 large tomatoes, slice to get rings
1 tbsp vinegar (I used Apple Cider Vinegar)
2 tbsp olive oil
Salt, to taste
Fresh coriander leaves, chopped, for garnish
Clean and wash the fish. Apply a little salt and keep the fish aside for about half an hour.
Mix the ginger, garlic, chilly and turmeric powder and a little salt in a bowl.
In a shallow pan, arrange half of the onion slices to form a layer. Layer half the tomatoes over it. Place half the fish over it and sprinkle half the spice mix over it. Repeat the layers with the rest of the onions, tomatoes, fish and spice mix.
Over this, pour the olive oil, vinegar and one cup of water. Do this carefully so as to not disturb the layers.
Cover the pan and cook on a medium heat till the fish is done. Shake the pan gently and tilt it to prevent the contents from sticking to the pan.
Turn off the heat when the fish is cooked and sprinkle with the chopped coriander leaves. Cover and let it sit for about 5 minutes before serving.
We had this with some plain rice.
Enjoy!!!
This recipe is linked to –
Gaajar ka Halwa, Carrot (Gaajar) Halwa or Carrot Pudding is a very popular dessert in India. There are loads of recipes you will find being using to whip this up. Some serve it warm, some serve it cold, some recipes will result in a richer version, but I'd like to think of mine as a slightly more health conscious variant which still results in a delightful dessert. This can also be kept in an airtight container in the refrigerator for a long time. But truth be told, it'll get gobbled up much sooner.
Gaajar ka Halwa
(Makes about 14-16 servings)
1 kg carrots, grated
1 (400g) tin condensed milk (I used Milkmaid)
1/4 cup milk
2 tbsp. ghee or clarified butter
2 tbsp. sugar (please adjust this to suit your taste)
Seeds of about 15 green cardamom pods, pounded to a fine powder
A few almonds, slivered
In a heavy bottomed pan, heat the ghee.
Add the grated carrots and stir well. Let the carrots sweat a little.
Add the milk and let it cook off for a couple of minutes on a medium flame.
Add the condensed milk. Stir well. After a few minutes add sugar to taste. Stir well.
Leave it uncovered on a medium flame, stirring occasionally till all the liquid evaporates. You may need to turn the heat down towards the end of the cooking process.
When its almost done, add the powdered cardamom seeds and slivered almonds. Mix well and take of the heat.
Garnish with a few slivered almonds and serve.
Once it has cooled completely, you can refrigerate the rest.
Note: When adding the powdered cardamom and slivered almonds, you can also throw in a few raisins and/or some chopped pistachios if you want.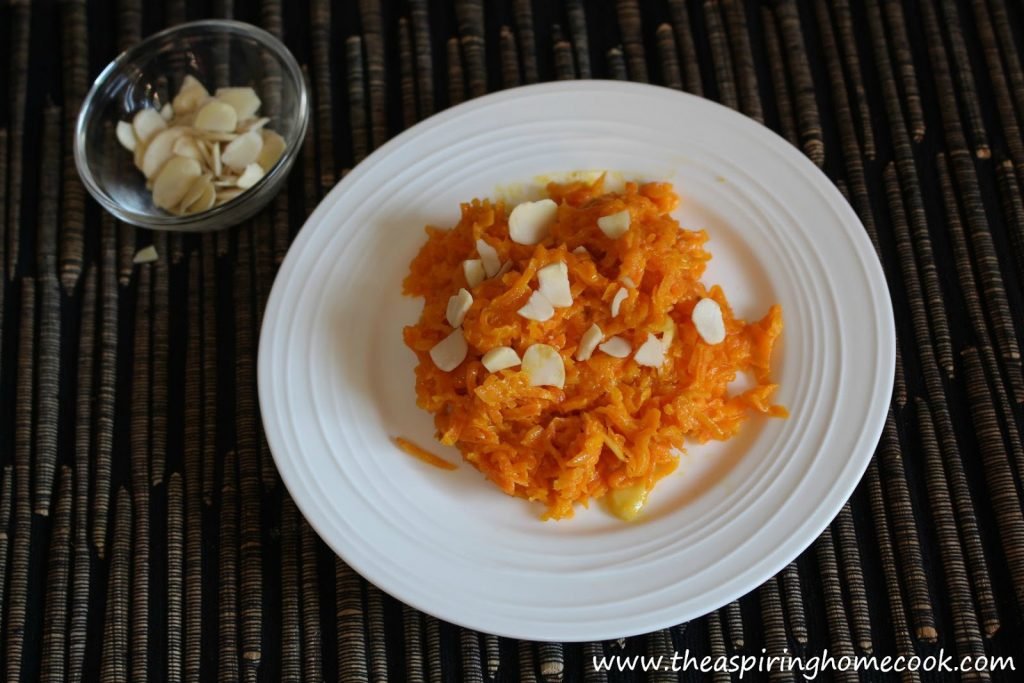 This recipe has been linked to
Sweets for a Saturday #1 hosted by Lisa of Sweet as Sugar Cookies
Please spend some time and check out what the others have brought to the table this week.