This Thai Chilli Basil Fried Rice is packed with vegetables. It uses all plant-based ingredients but still has all the flavors found in Thai cuisine.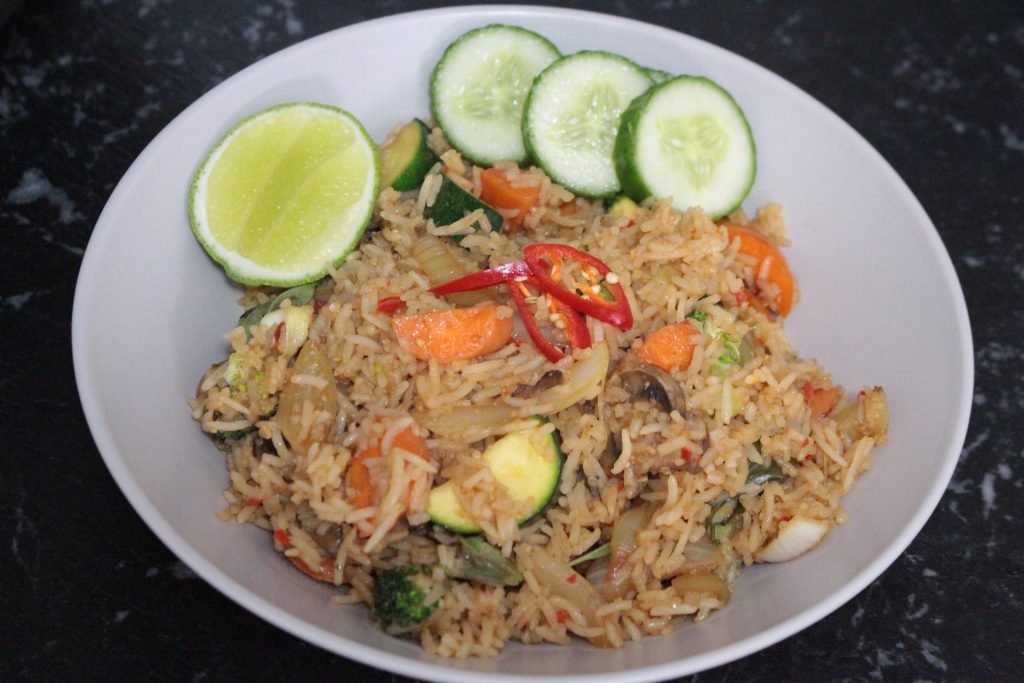 A good fried rice is a must have in every aspiring home cook's arsenal. I enjoy fried rice a lot. Sometimes, I think, maybe a little too much. But in my defense, what's not to love about it? While I love a good Chinese style fried rice, this Thai Chilli Basil Fried Rice has become a new favorite.
Its a simple meal in itself that is super versatile. You can use a lot of different vegetables, whatever you have on hand. It requires just a little advance planning in the form of cooking the rice ahead of time. Combine that with a clever use of some sauces that I always keep on hand and I can sit down to a nice, hot, home cooked meal in a jiffy.

In the past, I've always relied on a Chinese style fried rice. But a couple of years ago, when I tried a Spicy Thai Chilly Basil Fried Rice at a local Thai restaurant, I was smitten. All this flavor and spice – this fried rice blew my socks off. I ordered it every time we went out for Thai food. After a few such instances, I knew that I simply had to learn to make this at home and so with some experimentation, I ended up with a recipe that was really close to my favorite version.
Fast forward to December 2019. Just a few weeks before Christmas, my husband and I decided to switch to a more plant-based diet. And I'm happy to report that we're loving every bit of this new plant based diet. The last couple of months have involved a lot of experimentation and researching substitutes to make my favorite recipes vegan-friendly. And I have finally found the ever elusive 'mushroom oyster sauce' that always seems to be sold out at my local Asian grocery store. Obviously, the next step was to try a vegan version of my Thai Chilli Basil Fried Rice.
It took a little tweaking, but OMG, this fried rice is phenomenal. I think I may like it a little more than the original recipe. So if you like Thai food, whether or not you follow a plant based diet, you must try this recipe out. Its a simple recipe, but is so flavorful and packed with veggies, that I promise you won't even miss the meat.
So let's talk about the recipe. There are a few steps involved but they are all really easy to follow. The fried rice is ready in minutes and its best to have all the components prepped and ready to go.
Step 1 – Making the rice
I used some Basmati rice as that's what I had on hand. Wash the rice out a couple of times and soak it in some water for about 30 minutes. Drain the water, rinse with some fresh water. Bring a large pot of water to a boil, season with salt, add the rice and cook it till is done about 80%. The rice should still have a little bite and shouldn't be too soft. Let it cool completely.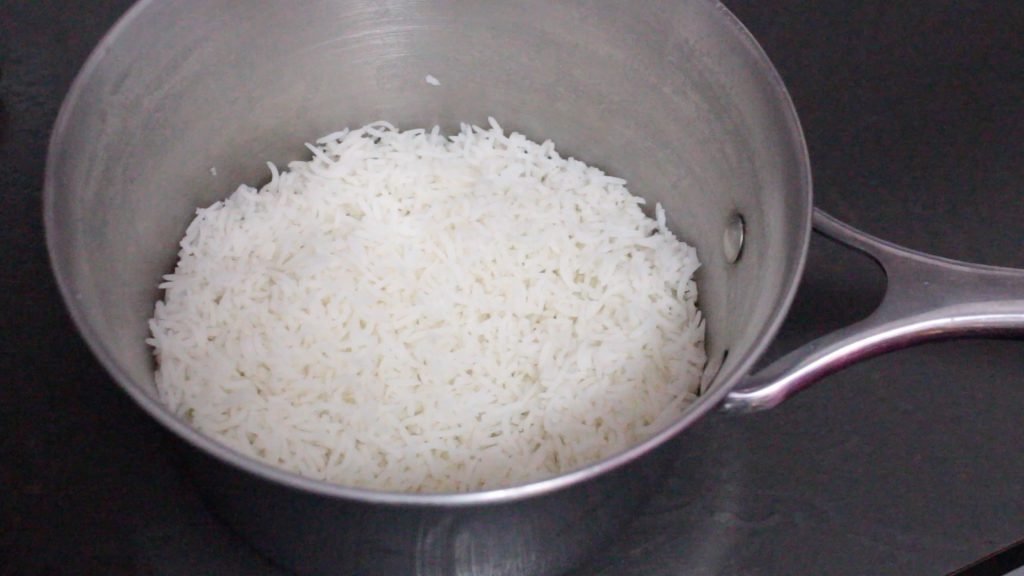 It's best to cook the rice atleast a few hours before you need to make the fried rice. You can even make the rice the previous day. Let it cool completely and refrigerate till you need to use it.
Step 2 – The spice paste
This couldn't be simpler. Its a combination of some Thai birdseye chillies and garlic. We like our food spicy and this recipe is no exception. If you like Thai food but want to cut down on the spice, you can use a combination of birdseye chillies and some cayenne peppers or any other milder chilly. Grind this to a coarse paste.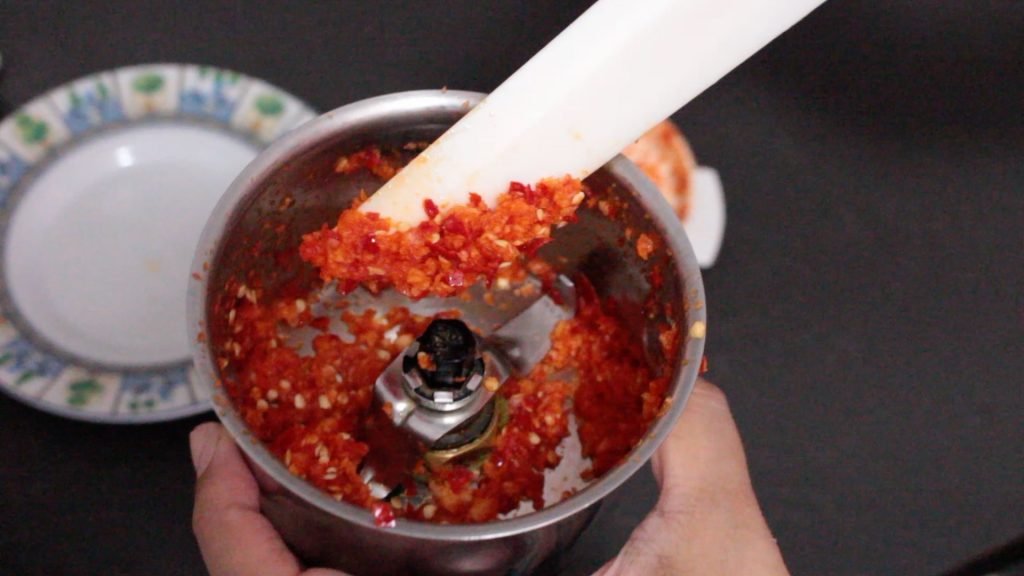 Step 3 – The sauce
This sauce makes this fried rice what it is. I have had to make a few substitutions to make this recipe vegan friendly but I believe this combination of sauces comes really close.
Simply stir together all the ingredients for the sauce – the miso paste, soy sauce, mushroom sauce, white pepper powder and sugar. Set this aside to use once we start cooking.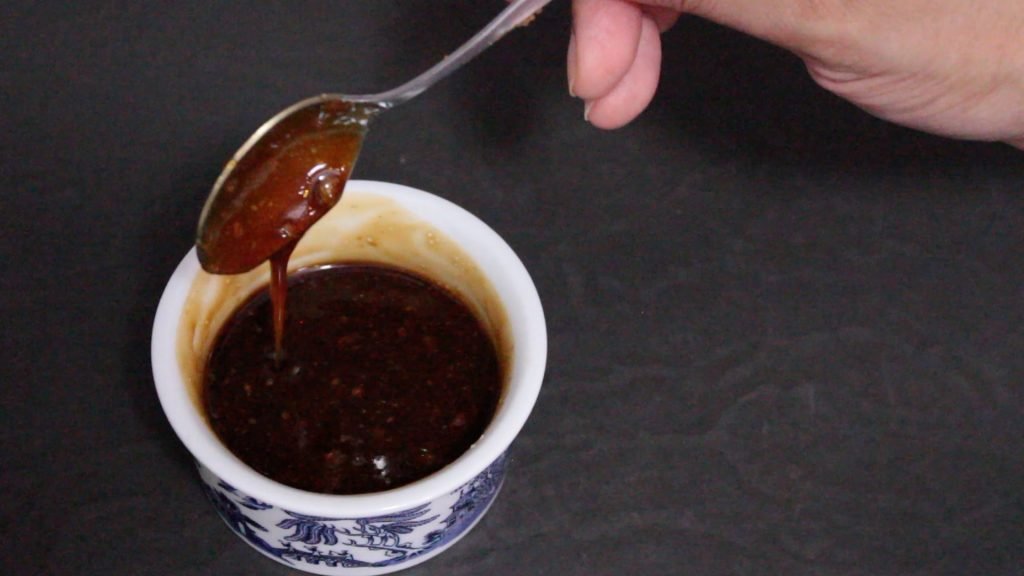 Step 4 – Prepping the veggies
Clean and cut all the vegetables and keep them ready. I use onions, carrots, zucchini, mushrooms and broccoli.

Pick the Thai basil leaves and keep them in a separate bowl.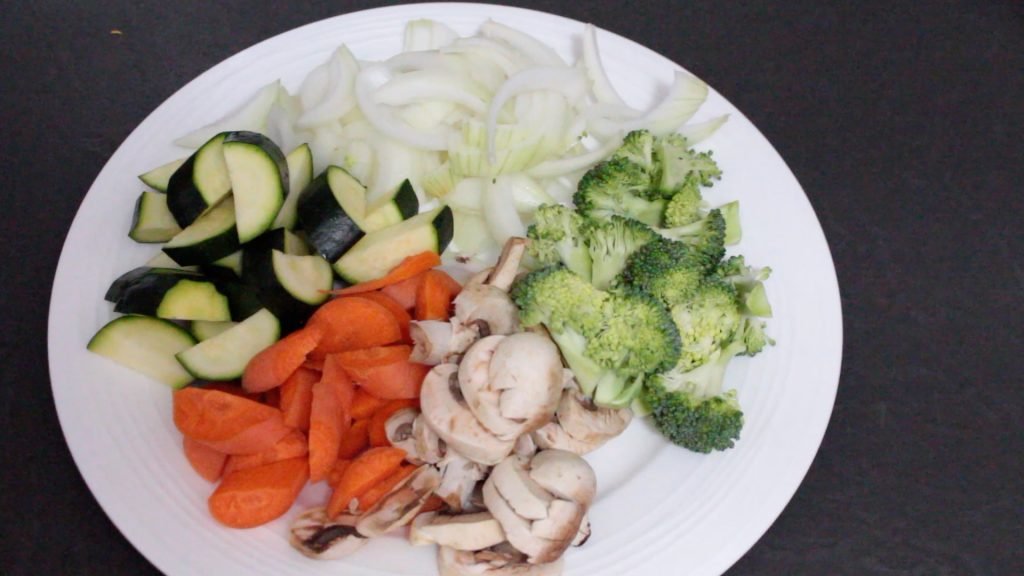 Step 5 – Making the fried rice
This is by far the easiest part of the recipe. Now that all our prep work is done, the rest is just a matter of stir frying our ingredients in stages. Make sure you use a large wok or a large enough pan. At this stage, all the cooking is done on a high heat.
Now that you're familiar with the process, let move on to the recipe.