A good Pork Vindaloo is a must-have at any gathering, party or special occasion in most Goan households. Today, I'm sharing a much loved recipe in our family – my father's Pork Vindaloo. It is such a simple recipe, but results in such a spectacular curry. You are going to enjoy this one. It is perfect to serve around the Holiday season, because this can be made a day or two in advance. In fact, the flavors are even better if it is served a day after it is made. I hope you enjoy this recipe as much as we do.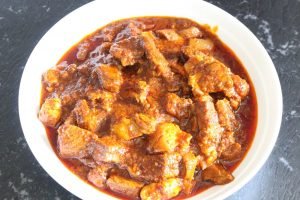 Goan Pork Vindaloo


1 kilo boneless pork (pick a slightly fatty cut)
1-2 tbsp oil
1 – 1 1/2 onion, finely chopped
Salt, to taste
Vinegar, to taste
1 tsp sugar
For the masala – 
12 Kashmiri chillies, deseeded
6 black peppercorns
5 cloves
3 green cardamom pods
2″ cinnamon
6-8 large garlic cloves
1 1/2 inch ginger
Vinegar, to grind to a paste
Cut the pork into chunks and set aside.
Grind all the ingredients for the masala to a fine paste using vinegar. (Ideally Goan vinegar is used. If you don't have access to it, malt vinegar or red wine vinegar will work well too.)
Heat some oil in a large pan. Saute the onions till they have softened and start caramelizing.
Add the masala and fry off well for a couple of minutes.
Add the pieces of pork and salt, to taste. Stir well to coat all the pieces with the masala and let the meat fry off for a few minutes.
Add enough water for the pork to cook through and achieve the consistency you want. I used about 2 cups of water. (You can add more water, if required, later on, when the meat is cooking.)
Cover and cook till the meat is tender.
Check for seasoning and adjust as required.
Add 1 tsp sugar to balance out all the flavors.
Serve hot. This Pork Vindaloo goes very well with some steamed rice, a Peas Pulao, some bread or sannas too.
Enjoy!