A good, rich, dark and sometimes boozy Christmas Fruit Cake is a must-have on every Christmas platter. Studded with dry fruit soaked in rum and spiced with beautiful holiday flavours, this recipe is sure to win you over.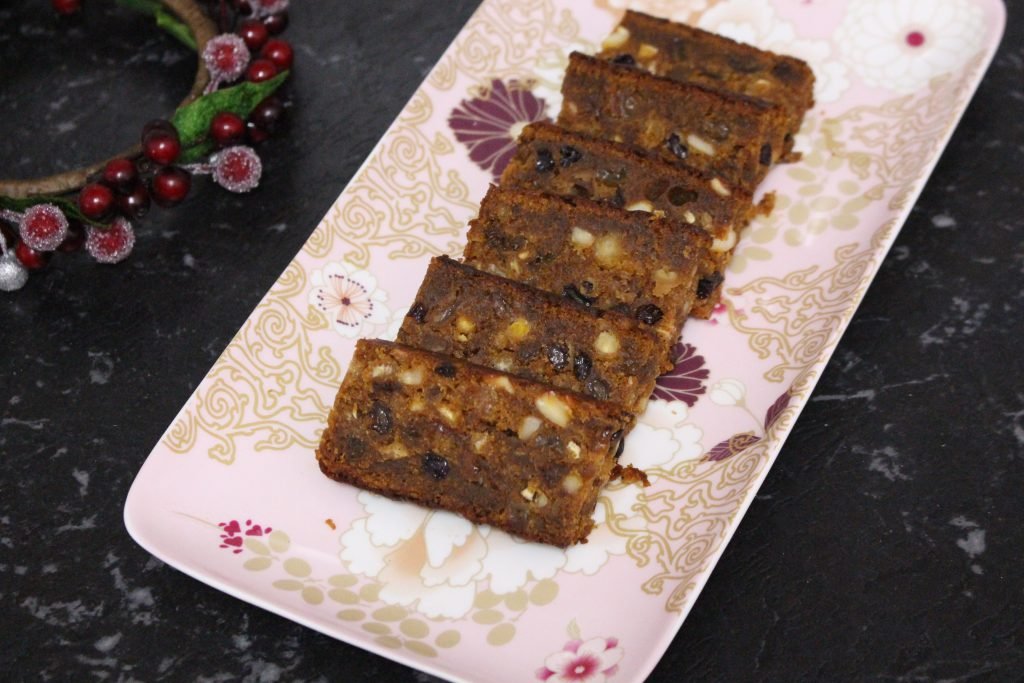 In most Christian homes along the south west coast of India, a good Dark Fruit cake makes an appearance at Christmas and all special occasions like engagement parties, weddings, anniversaries, Communion celebrations and so on. It also holds a very prominent spot on a typical Christmas platter, or what is locally referred to as a Kuswar platter. (Kuswar=Christmas sweets)
Most people I know enjoy a good fruit cake, but very often, find it too tedious to make one at home. They settle for a commercially made cake, which very often has a number of additives including caramel colour to give it a deep, dark colour.

Today, I'm sharing with you, my favourite Fruit Cake recipe. This recipe is a little longer than most other cake recipes. However, I can assure you it is a fairly simple process and the end result is so good, it's well worth all the extra effort. To help make the process easier, I've broken this recipe down into a few parts. Some of them can actually be done days before you'd like to bake this cake. The best part is, this cake tastes best if it's allowed to rest for a couple of days, so it's a perfect one to make ahead.
Step 1 – Soaking the fruit
This recipe calls for 500gms of mixed dry fruit. In my assortment, I've used raisins, sultanas, currants, mixed peel, candied / glacéd cherries and candied ginger. You can use any dry fruits of your choosing, in the proportion you'd like them. It just needs to add up to about 500 grams all together.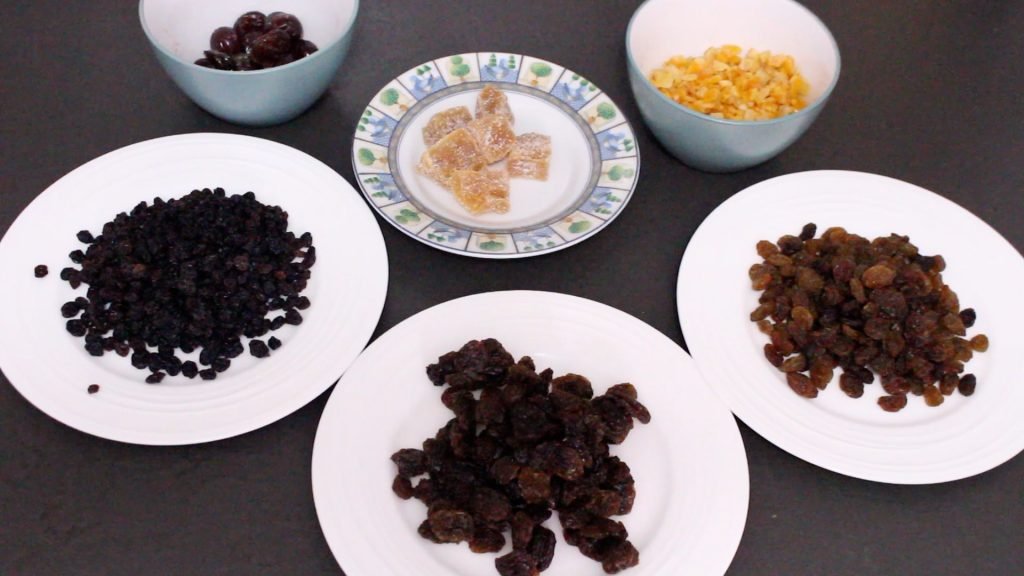 Chop the larger pieces of fruit down to make slicing your finished cake easier. Doing this also makes for a better eating experience, in my opinion. Place all the fruit in an airtight glass jar, top it off with some rum and set it aside in a cool dark place. The fruit needs atleast 24 hours to soak and rehydrate. The longer is steeps in the rum, the better the results. This can be done upto a year in advance.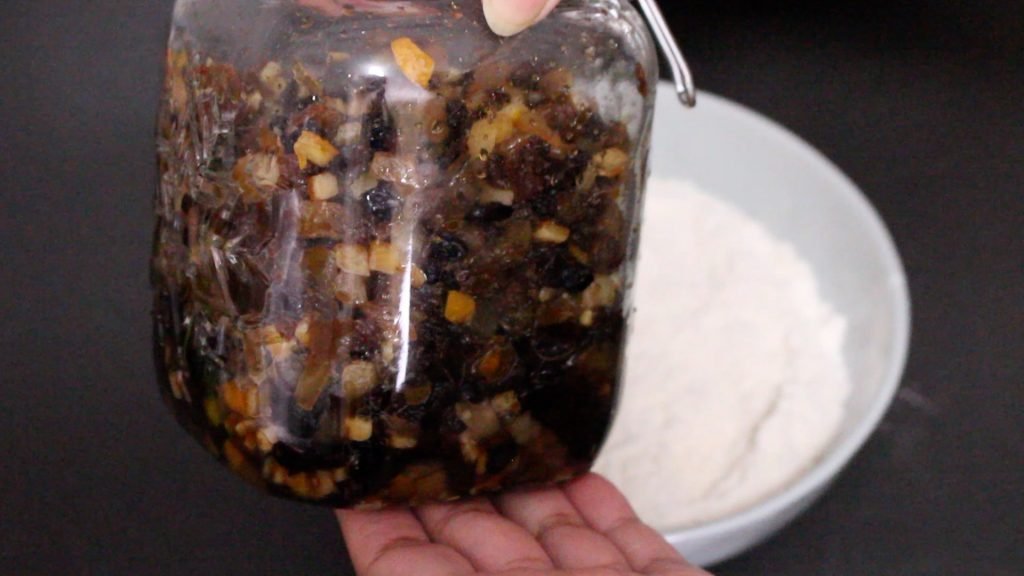 Step 2 – Making the caramel
The 2nd step is making the caramel. There are many ways to make a caramel. For this recipe, you're looking for one that gives you a slightly more fluid consistency. I'm using a 2:1 ratio – 2 parts sugar to one part water and I find that this gives me the perfect results for this recipe. You can make this caramel even a few days before you want to bake your cake. Simply let it cool down completely and store in an airtight glass jar. If you're making this the caramel, the day that you're baking the fruit cake, make sure the caramel has cooled down completely before you add it to the batter.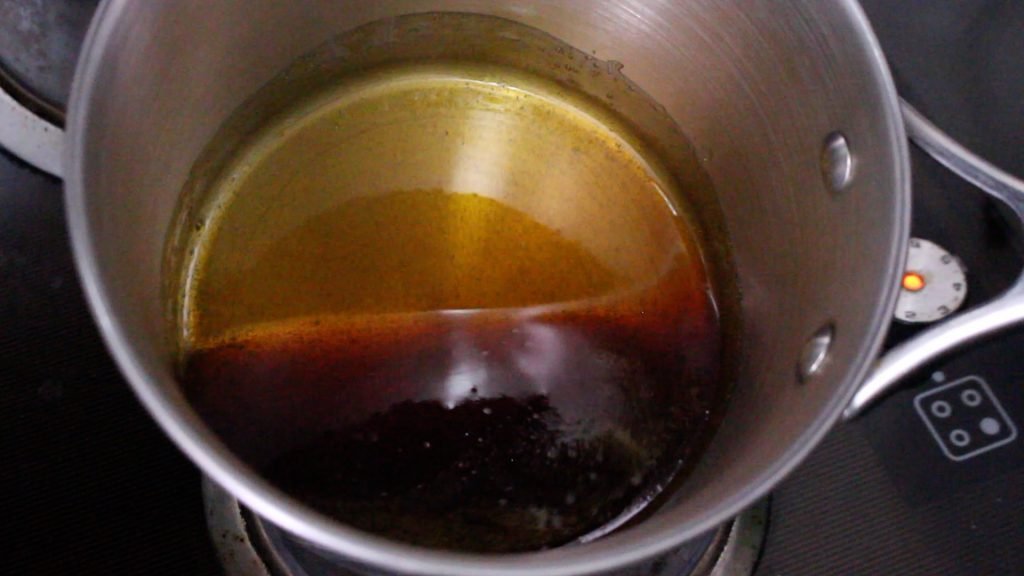 Step 3 – Making the cake
Making the batter is a very simple process. It's just like making any other cake. You need to ensure all your ingredients are at room temperature. In this recipe, I'm using dark brown sugar to help lend a darker colour to the cake. If you can't find dark brown sugar, regular white sugar will work too. Just make sure you use a fine grain sugar or simply powder your regular white sugar before adding it to the batter.
Sometimes, you find that the fruit in a fruit cake like this one isn't evenly distributed. Mix the fruit into the flour – baking powder mix to ensure that the fruit doesn't sink to the bottom of the cake.
Also, in this recipe, I'm using treacle to darken my cake and give it an added boost of flavour. If you can't find treacle, use some molasses instead. I'm not using any artificial colours. A lot of the commercially available dark fruit cakes use caramel colour. If you'd like to, you can add some to the batter.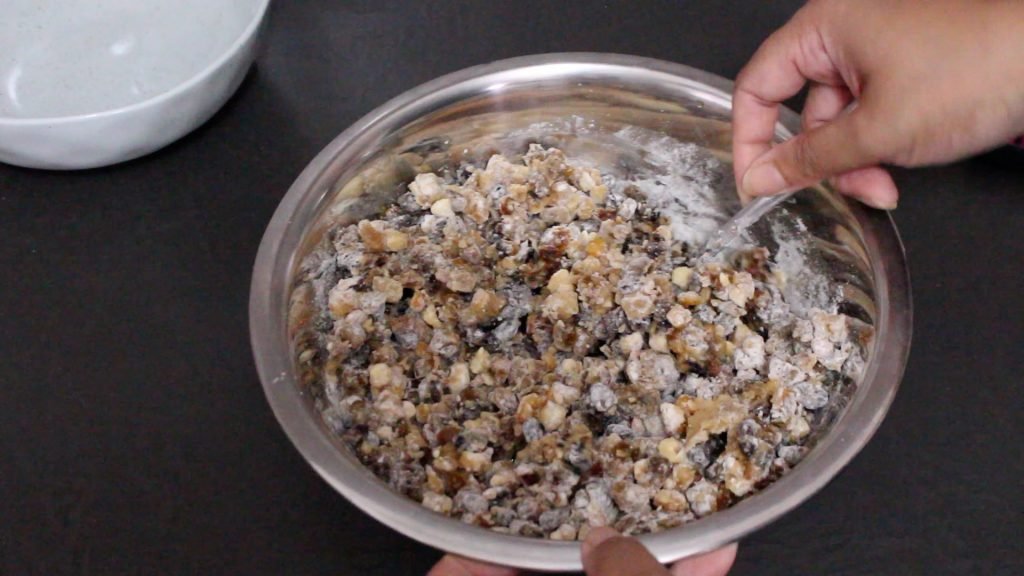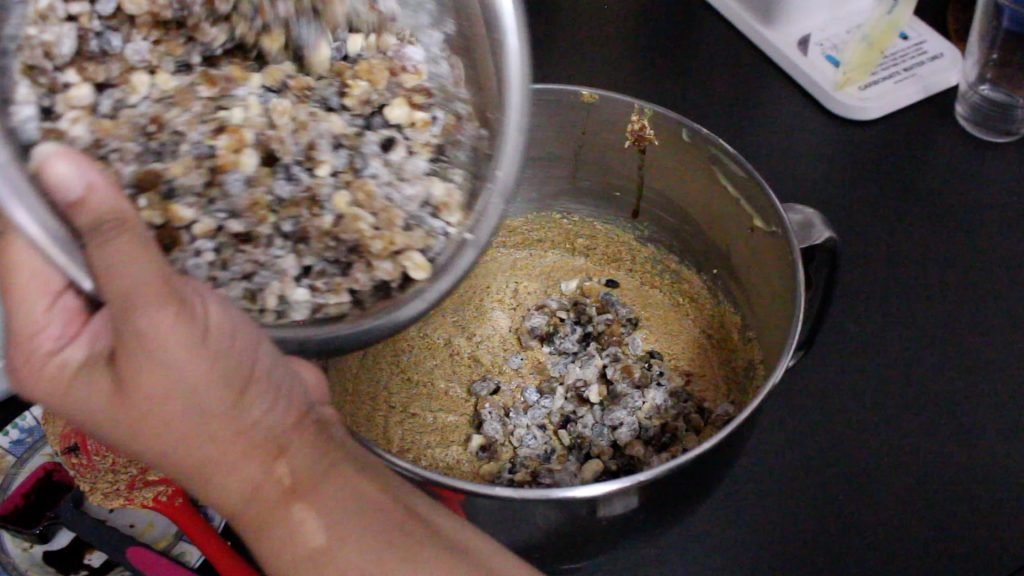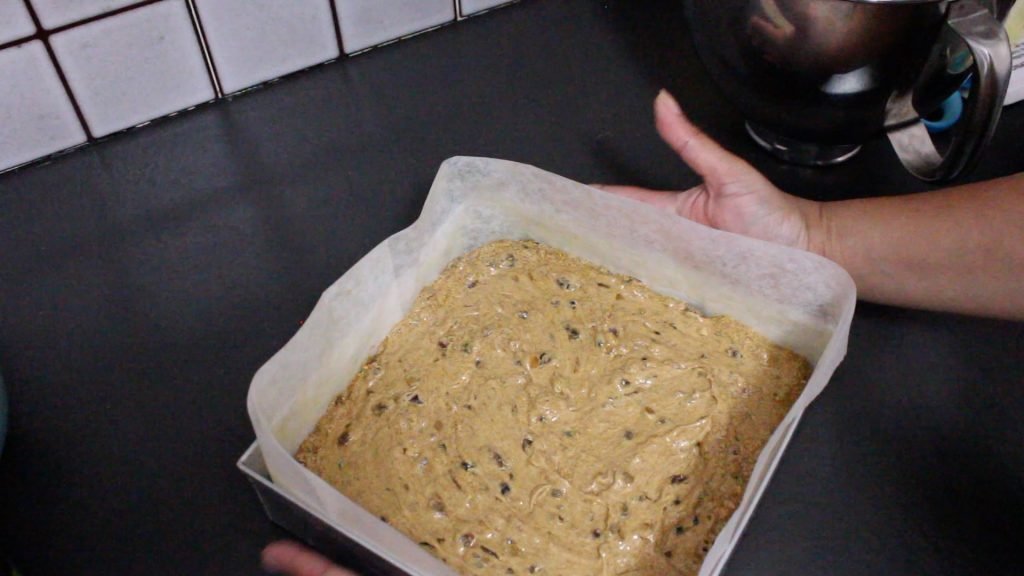 I'm going to feed this cake only once with some dark rum, just as it comes out of the oven. This will help the cake soak up all the rum.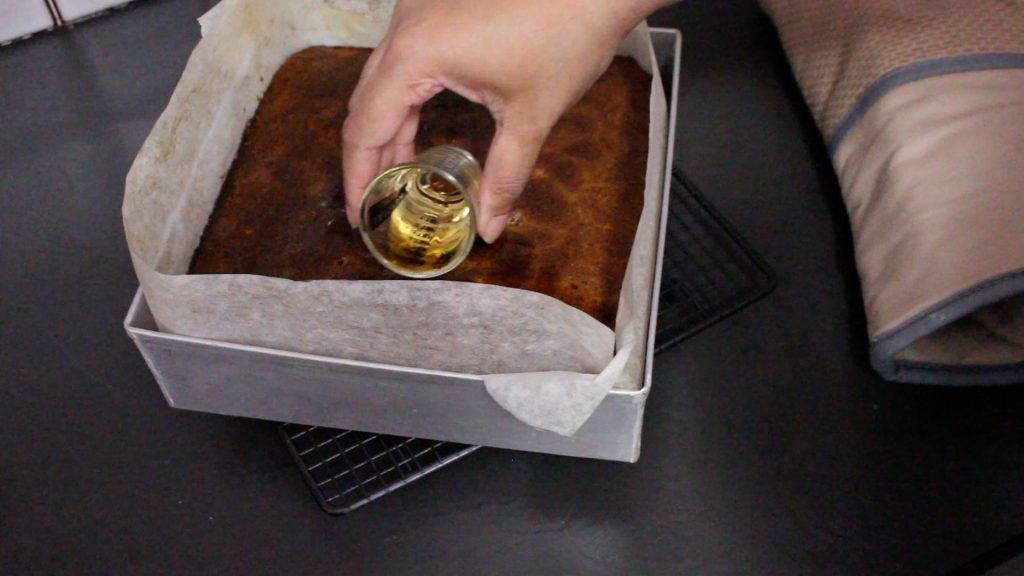 While you can cut into the cake as soon as it cools dow, for best results, I recommend atleast letting it stand overnight before you cut into it.
Once all the Hard Yakka's out of the way, sit back and enjoy your stunning Fruit Cake.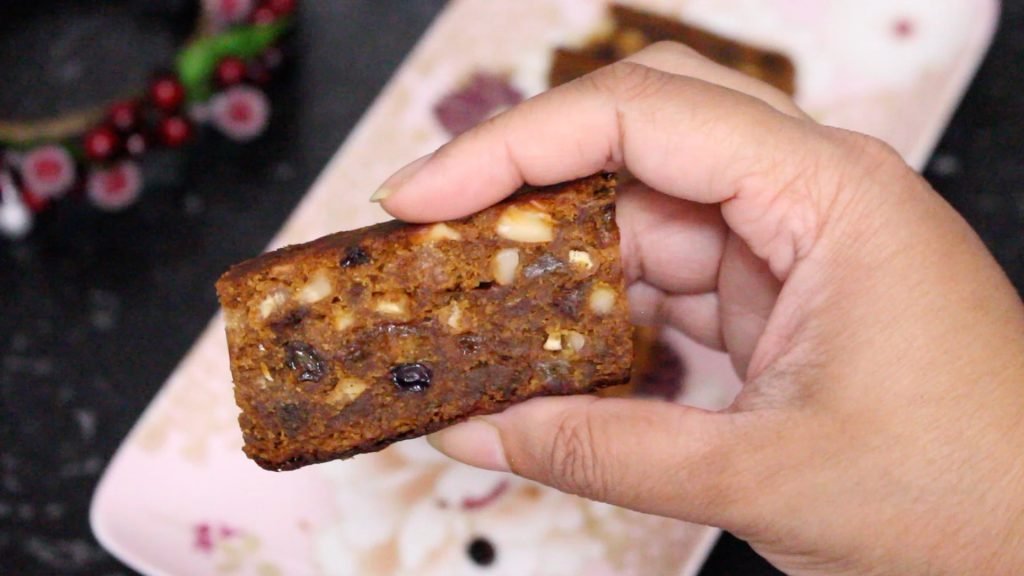 Christmas Fruit Cake
Course: Cakes, Cakes, Cookies & Desserts, Recipes
Difficulty: Medium
Soaking time
24
hours (min)
This rich, dark and boozy Christmas Fruit Cake is studded with dry fruit and is beautifully spiced to make it the perfect cake for the Holidays.
Ingredients
For soaking the dry fruit –

100g sultanas

100g raisins

100g currants

100g mixed citrus peel

50g candied / glaced cherries

50g candied ginger

240ml dark rum

For the caramel –

1 cup sugar

1/2 cup hot water, from a recently boiled kettle

For the cake –

200g butter, at room temperature

200g dark brown sugar

4 eggs

1 tsp Vanilla bean paste / vanilla extract

2 tbsp Treacle

120ml Caramel (recipe included)

Zest and juice of 1 orange

250g all purpose flour

1 tsp baking powder

1 tsp ground cinnamon

1/2 tsp ground ginger

1/4 tsp ground nutmeg

1/8 tsp ground cloves

Dry fruit, previously soaked as per directions below.

50g cashew nuts, chopped

45ml dark rum
Directions
Soaking the fruit –
Chop all the dry fruit into smaller pieces. I try and keep them evenly sized, like the size of the currants, which are the smallest in the assortment.
Place all the chopped fruit in an airtight glass jar. Top with rum. Mix well. Cover and steep for a minimum of 24 hours in a cool, dry place. You can leave this fruit to steep for upto a year. Shake the jar or stir the ingredients every once in a while.
For the caramel –
Place 1 cup sugar in a large vessel. Let it melt and caramelise on medium heat till all the sugar has dissolved. Do not stir the sugar. Swirl the pan, as needed.
Once all the sugar has completely dissolved and it caramelised, pour 1/2 cup hot water down the side of the vessel. It is important to do it in this manner to prevent the caramel splashing on you.
Let it heat through for about another 10 seconds or till both liquids have mixed well. Give it a light stir to ensure they have mixed through.
Set this aside and leave to cool completely before adding to the cake batter.
If you're making the caramel ahead of time, after is had completely cooled, store in an airtight glass jar in a cool, dry place.
To make the cake –
Mix the flour and baking powder in a bowl to combine well.
In a larger bowl, place the soaked dry fruit after draining out any excess rum. Do not discard this rum. You can top the jar up with more fruit and rum and leave to steep for the next time you make this cake.
Add the cashewnuts to the fruit and mix well.
Add the flour and baking powder mix to the bowl and mix the flour and fruit thoroughly, and stir through to break up any larger clumps of fruit.
Preheat your oven to 170C and line a 9 inch square cake tin with baking paper and grease it.
In the bowl of your stand mixer, place the butter and brown sugar and beat till it is light and creamy and all the sugar has dissolved.
Add the eggs, one at a time, mixing between each addition.
Add the vanilla, orange zest and juice, caramel, treacle and all the ground spice powders. Mix well till combined.
Lastly, add the fruit – flour mix and fold it into the cake batter.
Bake for 40-45 minutes or till done.
Immediately, pour the rum all over the top surface of the cake.
Let the cake cool down in the cake pan itself.
When it has completely cooled, it is ready to serve or store. For best results, let it rest overnight before cutting. Store carefully wrapped in a couple of layers of baking paper.
When you're ready to serve, cut into slices or bars and enjoy!
Recipe Video
Notes
Make sure all ingredients are at room temperature.
The fruit should be soaked for a minimum of 24 hours or upto one year in an airtight glass jar. The longer they steep, the better.
Make sure the caramel has cooled down completely before adding to the batter. The caramel can be made a few days ahead. Simply let it cool down completely and store in an airtight glass jar till ready to use.
For best results, let the cake rest atleast overnight before cutting into it.