I have kept my Easter prep for too late this year. I'm usually a lot more prepared than this. However, a minor accident had reduced my mobility this past week. I am on the mend but still not back to 100%. So I wanted to keep my treats quick and easy.
With that in mind I whipped up some Chocolate Nests. I love this recipe. It takes 3 ingredients and half and hour to make a batch. This is a very versatile recipe so you can make as big or small a batch, as you'd like. It is also a flexible recipe, so you can use the chocolate of your choice and mini eggs of your choosing too. So, if like me, you've left Easter prep for the last minute, try out this recipe. It is very popular with the little kids … and the big ones too.
Wish you and your loved ones a Happy and Holy Easter!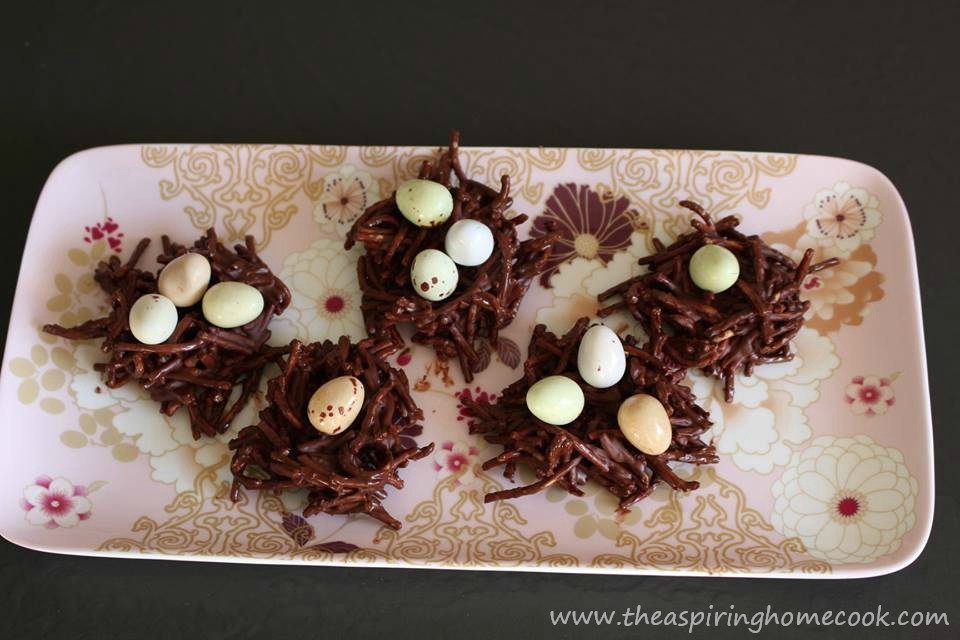 Chocolate Nests
Makes 8 Nests
100 grams Chocolate (I used Dark chocolate)
100 grams ready to serve Noodles
Mini Speckled Eggs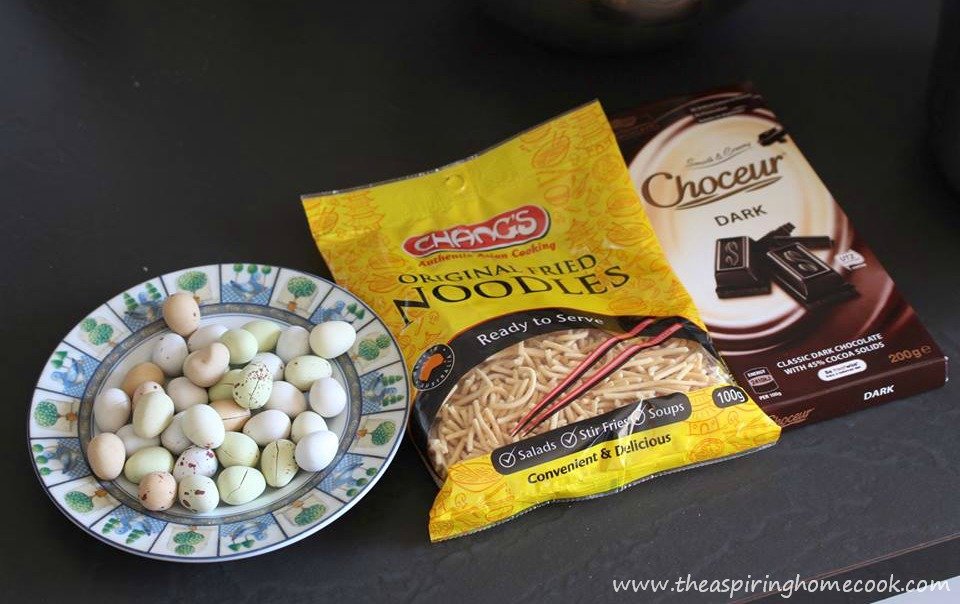 Chop up the chocolate roughly and melt using a double boiler. If you haven't worked with a double boiler, watch the video linked below to see how you can use a simple saucepan and bowl to make one. (You can also melt the chocolate in a micowave using a microwave safe bowl and in 30 second increments.)
Toss the noodles into the chocolate and mix gently to coat the noodles in the chocolate completely.
Using a spoon and either a spatula or a butter knife, scoop out portions of the noodles onto a tray lined with baking paper. Shape to form rough circular shapes and make a little dip in the center of each nest.
Place the mini eggs in the dents created.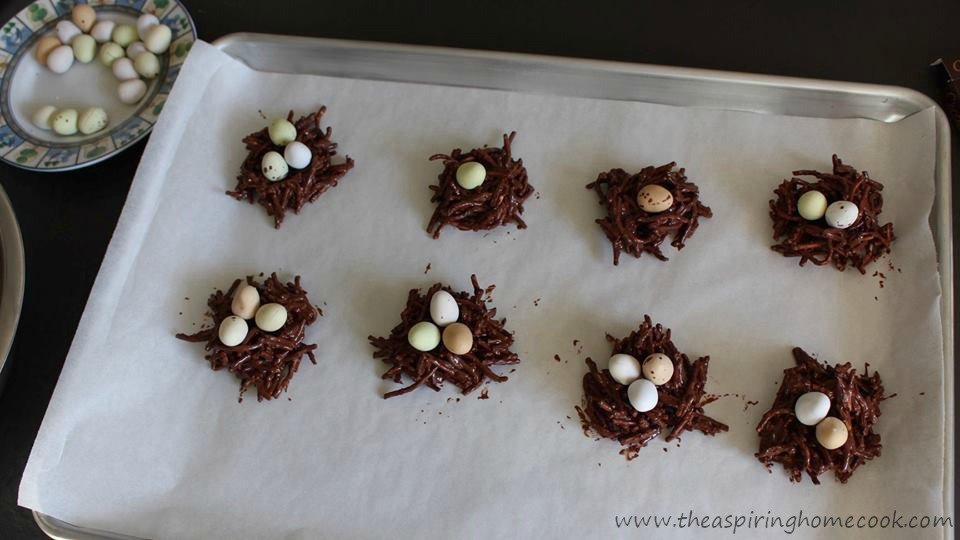 Refrigerate for 20 minutes.
Serve.
You can watch the video recipe here –
This recipe takes me way back to when I'd first enjoyed some Tava vegetables. It was at a party that had a huge buffet offering, both non-vegetarian and vegetarian. While the non-vegetarian spread was really impressive, I was intrigued by a live stall happening over on the veggie side of the table. There was a massive tava (cast iron griddle) and it had a variety of vegetables on it. The aroma was deliciously intoxicating and I knew I had to try some. I helped myself to a small assortment, some salads and took some naan bread to go along with it. Little did I know that this dish would have me hooked for a long time to come. This was about 7 years ago, I think. To this day, the thought of those tava vegetables has me yearning for some.
After a lot of searching, high and low, I found a recipe, that I tweaked to try and replicate the flavors I so vividly remember. Since I cook for just my husband and I, this recipe is scaled down. I also just use my favorite veggies from that day – okra (bhindi) and potatoes (aloo). I found that these are also some of the easy ones to work with. I don't make this recipe very often, because the veggies start off by getting deep fried and are then tossed with a spice mix (tava masala), and the deep frying tips this to the slightly indulgent side.
The spice mix, or my version of the tava masala is hot a very hot mix. The spices used are warm and flavorful. The chaat masala is an integral part of this recipe. If you haven't tried it before, it is a blend of a few spices like cumin, pepper and a few others with some powdered mango. So it has a unique flavor profile, you get a slight hit of salt, tang from the mango and delicious flavor from the blend of other spices. You can easily find this at any Indian grocery store. (This chaat masala also works well with other chaat recipes you find on my blog.)
So try this easy stir fry recipe. This is best enjoyed served hot with some chapatis, rotis, naan or other flatbread of your choice. It would also work well as a side dish to some hearty Dal & Rice.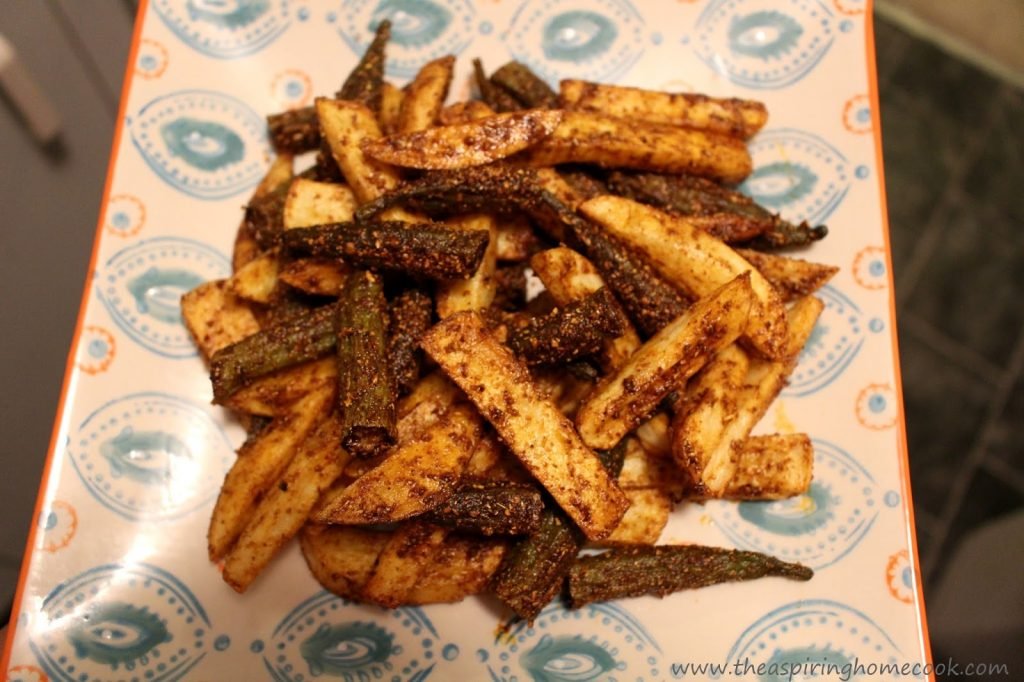 Tava Style Aloo Bhindi


3 medium potatoes
20-25 okra
1/4 tsp turmeric powder
1/2 – 1 tsp Kashmiri chilly powder (or any other mild chilly powder)
1 tsp coriander powder
1/4 tsp cumin powder
1/4 tsp chaat masala
Salt, to taste
1 1/2 – 2 tbsp oil, plus oil for deep frying
Place a pan with the oil for deep frying on medium high heat.
Wash and peel the potatoes and cut into evenly sized fries / chips.
Wash the okra and pat dry. Chop the stalks off the okra and discard. Try and use okra that is similar in size, if not, cut them down to about the same size as the potato pieces.
By now, the oil should be hot. Carefully, and in batches, add the potatoes to the oil. Don't overcrowd the pan or the oil will froth over and spill.
Deep fry the potatoes on medium heat till they've cooked through. Drain using a slotted spoon and set aside on some kitchen paper to get rid of any excess oil.
Deep fry the okra on medium heat till they have start getting a little darker in color and have started crisping up.
Drain using a slotted spoon and set aside on some kitchen paper to get rid of any excess oil, like you did the potatoes.
Take the oil for deep frying off the heat.
Heat 1 tbsp oil in a large pan on medium heat. When the oil is warm, NOT hot, add in the turmeric powder first and then add the rest of the spice powders.
Stir that through for about 20-30 seconds or till the spices get aromatic.
Add the okra to the pan and toss well. Lastly add the potatoes and toss to coat the veggies with the spices evenly.
Check for seasoning and add salt, to taste. Toss well.
Serve hot.
You can watch the video recipe here –
Veggies – Love Em or Hate Em?
In my house, we love veggies. Whether it is steamed, in a curry, stir fried or straight up in a salad, we love it all. We are trying to include more veggies in diet as much as we can, because it is healthier for you. And when you eat what's in season, it tends to be a lot easier on the pocket too. I try to eat local produce as much as I can and always go for what's in season.
When I came across a recipe for a vegetarian Shepherd's Pie, I knew I had to try it. It calls for a bunch of veggies, which most of us usually have on hand, and lentils. We eat a lot of lentils, pulses, legumes, so I knew this would be an interesting way to switch things up. There are a few processes involved in the recipe, but they are all really simple and I loved that there were leftovers.
This Veggie Shepherd's Pie is chock full of veggies and lentils and is the perfect meal for a cold, wet day. The veggies and lentils are full of flavor and are topped with mashed potatoes.And who doesn't love mashed potatoes?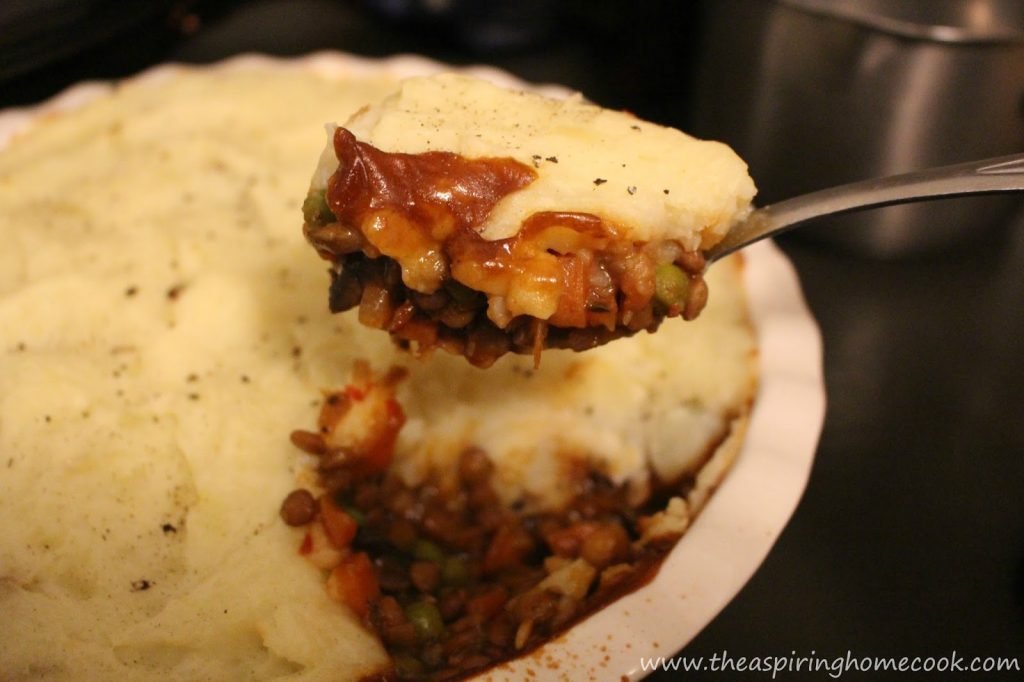 Vegetarian Shepherd's Pie
Recipe from: Budget Bytes
1 cup cooked lentils
1 tbsp olive oil
2 cloves garlic, finely chopped
1 large onion, chopped
3 carrots
2 stalks celery
Handful of button mushrooms, sliced
Salt, to taste
1 tsp dried thyme
1/2 tsp smoked paprika
Freshly cracked black pepper, to taste
1 tbsp tomato paste
1 tbsp flour
1 cup vegetable broth
1 cup frozen peas
6-8 potatoes, depending on size (You need enough to make about 4 cups worth of mashed potatoes)
A knob of butter (optional)
Heat olive oil in a large skillet over medium heat.
Add the onions and garlic and saute till the onions have softened.
While the onions are cooking, dice the carrots and celery to 'more or less' resemble the size of the peas and lentils.
Once the onions have softened, add the diced carrots and celery to the pan and cook till the celery has started to soften.
Now add the sliced mushrooms, salt, thyme, smoked paprika and pepper to the pan. Stir well to let the spices incorporate. Continue cooking till the mushrooms have fully softened.
Add the tomato paste and the flour to the pot. Stir and continue to cook the veggies till they're coated and the pasty mix starts to coat the bottom of the pan. This should take about 2 minutes.
Add the vegetable broth to the pan. Stir to dissolve the flour and tomato paste that has coated the bottom of the pan.
Bring the broth to a simmer. It will have started thickening. Add in the cooked lentils and peas and let them all heat through.
Taste for seasoning and add more salt and pepper if needed, stir through and take the pot of the heat.
Preheat your oven to 200ºC.
Wash and peel the potatoes and cut them into cubes to cut down on cooking time.
Boil them in salted water till tender. Drain and mash the potatoes with the butter (if you are using) till no lumps are left. Taste and add more salt, if needed.
Add the vegetables to a large casserole dish (I used my 9 inch ceramic pie dish). Top with the mashed potatoes. It is easier to handle the mashed potato when it is still warm. I used the back of a spoon to flatten the mashed potatoes. You can choose to use a fork or a spoon to create a decorative pattern if you'd like.
Bake for around 15 minutes till everything has heated through. If you want the mashed potatoes to brown some more, place it closer to the top heating element of your oven, or turn your broiler on (if your oven has that function) and bake for a few more minutes. Watch closely and when it has browned to your liking, take it out of the oven.
Sprinkle some more freshly cracked black pepper over the top and serve hot.
Enjoy your veggies!!!
Pin this now for later –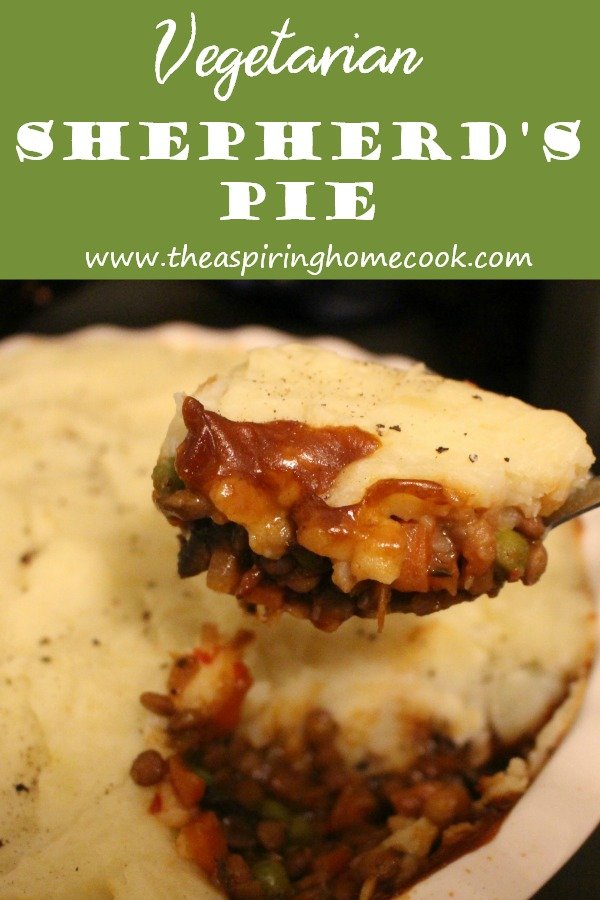 Happy St. Patrick's Day everyone!!!
St. Paddy's Day crept up on me this year. I didn't have any Irish recipes planned for the day. But the more I went about my chores for the day, the more it bugged me that I wasn't doing anything special. I had made Irish Cream at home before many years ago. I'd whipped up a batch for my Mother's birthday and it went down a real treat. We had none leftover. So I thought the least I could do, was whip up a Batch of Irish cream for the day.
It is amazing how this beautiful liqueur comes together in minutes. You just need a few simple ingredients. Now you can definitely use an Irish Whiskey, if you have some on hand and it would be a more authentically Irish 'Irish Cream'. But in a pinch, any whiskey will do.
I even made my own chocolate syrup for this recipe because I never have that stuff in the house. It turned out really well. Even my husband, the tequila loving man that he is, was impressed.
Whip up a batch for your next gathering and watch it disappear. You could also decant this Irish cream in little bottles, use a little ribbon or twine and a pretty tag and use them as hostess gifts or place them in gift baskets or hampers. I can tell you this much, I would be very happy to receive a gift like this. Step aside Bailey's, you have some major competition now 😉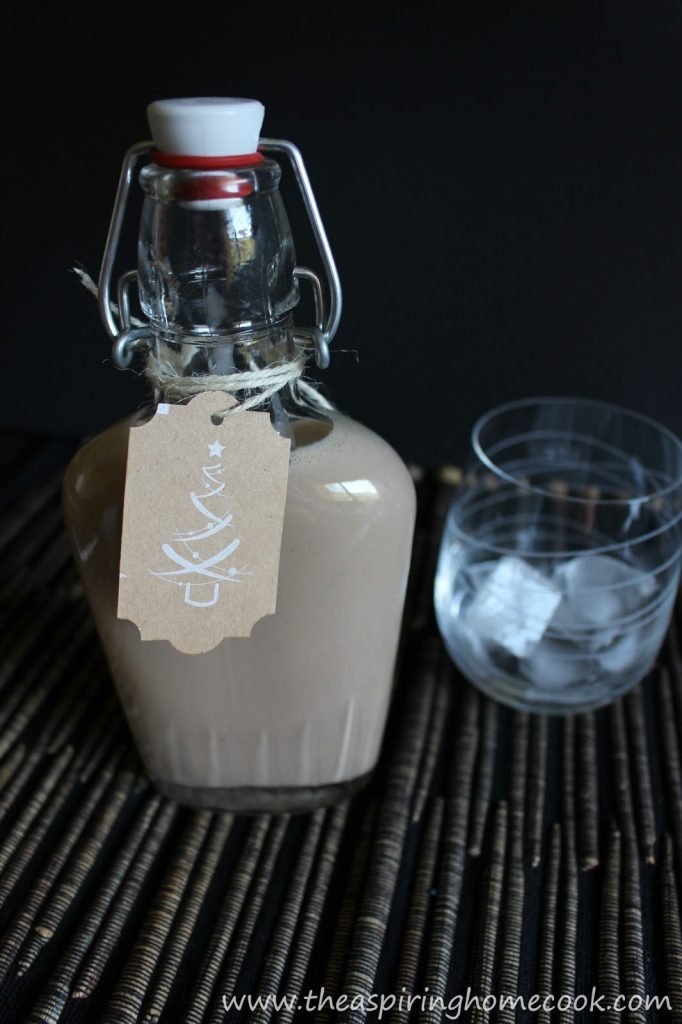 Since this recipe contains cream, the bottle needs to be refrigerated and should keep for 2 months, not that it will stick around that long. But you might want to include this information on your tag if you're gifting this to someone.
So what are you waiting for? Go make yourself a batch.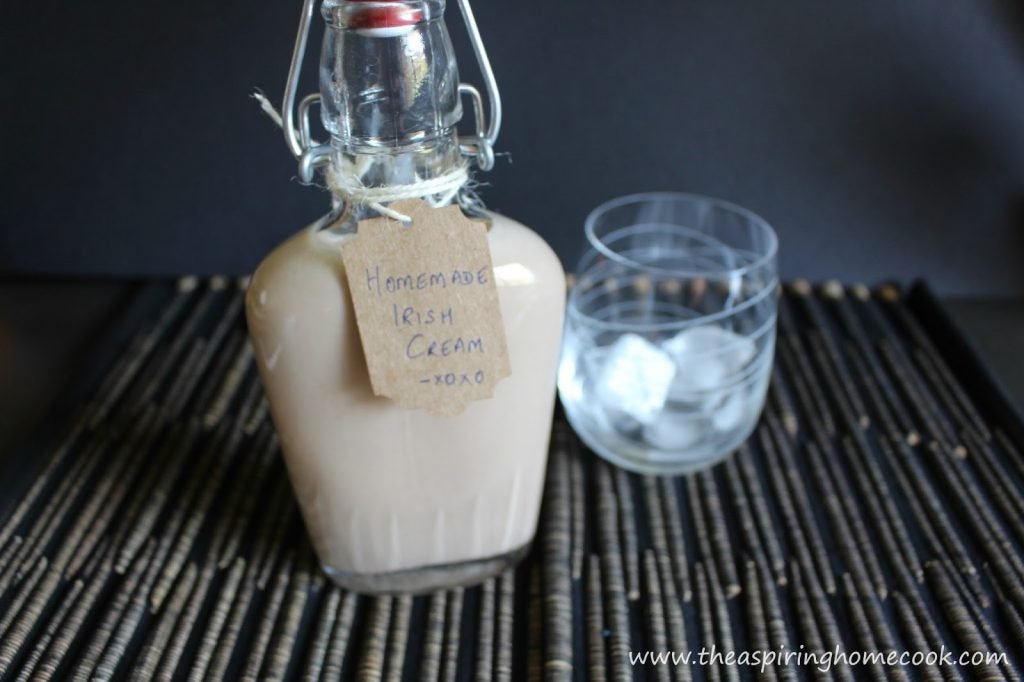 Homemade Irish Cream
Adapted from: The Make Your Own Zone
1 tsp instant coffee granules (if you don't have any on hand, use some brewed coffee, about 1/4 cup strong freshly brewed coffee, but make sure it has completely cooled before you use it.)
1 cup thickened cream
1 cup Whiskey
1 can sweetened condensed milk (I used a 395g can of Nestle condensed milk)
2 tbsp Chocolate Syrup (recipe below)
In a large bowl stir together the cream and the whiskey.
Add the coffee granules / brewed coffee and stir together till the granules have dissolved.
Now add the condensed milk and stir well.
Lastly add the chocolate syrup and stir well to make sure everything has mixed well.
Pour into bottles and refrigerate.
Enjoy on the rocks or use in any recipe that calls for Irish Cream.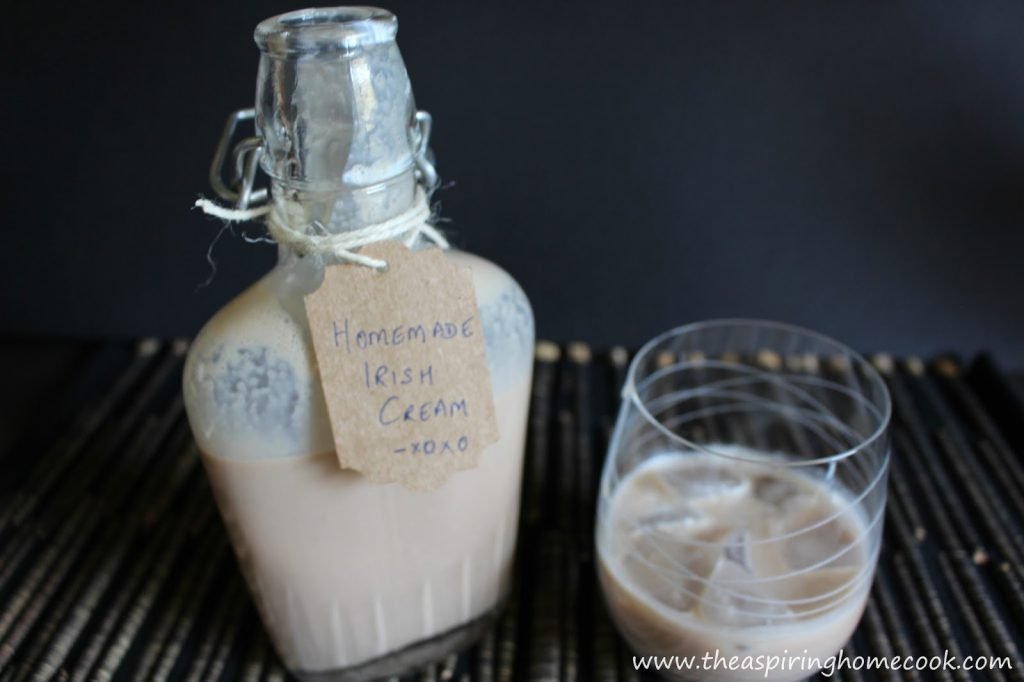 For the Chocolate Syrup –
1/2 cup water
1/3 cup sugar
1/3 cup cocoa powder
A pinch of salt
1 tsp Vanilla bean paste
In a small saucepan, place the water and sugar on medium high heat and whisk till the sugar is dissolved.
Whisk in the salt and cocoa to dissolve it all and continue cooking till it has slightly thickened. (This will take 3-4 minutes.)
Take the saucepan off the heat. Add the vanilla and stir through.
Leave it to cool before storing.
Pin now to your favorite boards!!!

Today, I have sort of a confession to make. Okra or Ladyfingers or Bhindi / Bhende (in Hindi / Konkani) whatever name you know it by, happens to be one of my favorite vegetables. There, I've said it out loud. Sadly, this intriguing vegetable has a bad reputation. It is infamous for being slimy and tasteless. I am going to try and persuade you otherwise. Yes, okra tends to when raw. Because of that a lot of folks simply won't work with it. I've had the opportunity to try this vegetable in many different forms. If you've been here a few times, you know my Mum is a great cook. She would use these is vegetable curries and lentils stews (sambhar), stuff them with rechaad masala and fry them and make a stir fry (bhaji) two different ways. Since then I've tried atleast 3 more ways to cook them, like this
Kurkuri Ajwaini Bhindi
. That's how much I love okra. And I'm here to tell you that if it is cooked well, it isn't slimy at all. And it is tastes amazingly delicious.
In Goan homes, this is a very popular way to cook okra. Just a few simple ingredients go into the pot and result in a beautiful stir fry. Serve this vegetable hot with some chapatis or even as a side dish to some fish curry and rice for a complete Goan meal.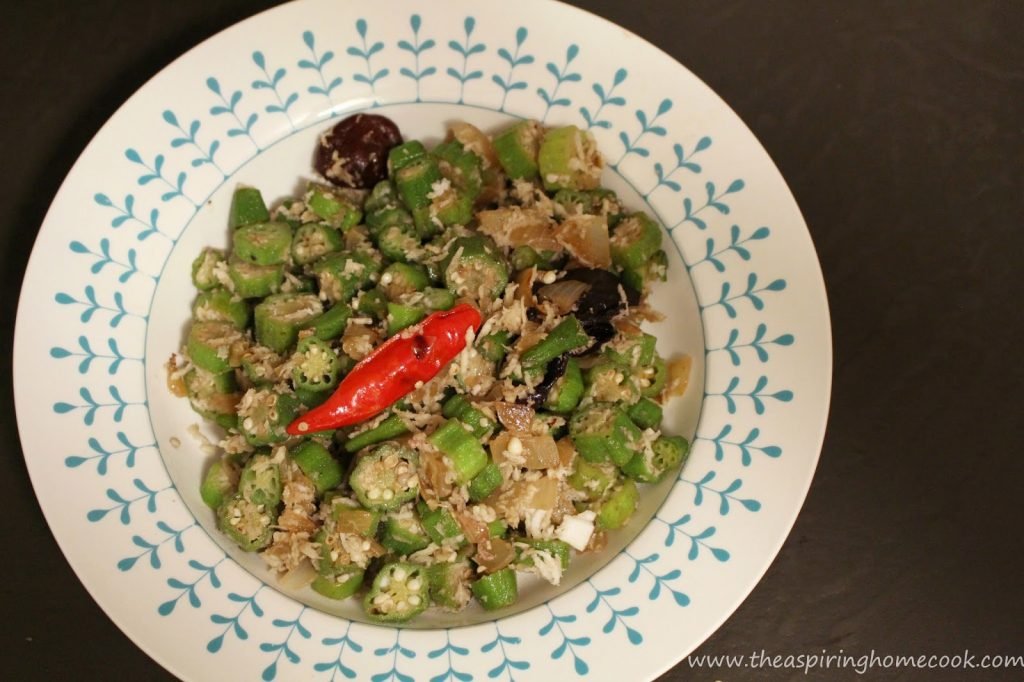 Goan Okra Stir Fry / Bhende Solantule
250gms okra
1 medium onion, diced
2 birdseye chillies, slit
5 pieces of Kokum
1/4 cup grated coconut
Salt, to taste
1 tbsp olive oil
Wash and dry the okra. Cut off and discard the heads. Cut the okra into slices.
Heat the oil in a pan.
Add the chillies to the pan and saute it for a few seconds.
Now add the chopped onions and stir fry till the onion softens and the edges of the pieces of onion start turning brown. Now add the okra and kokum to the pan and saute for a couple of minutes, stirring every now and then to ensure it doesn't stick to the pan or burn.
Add salt to taste and stir and continue to cook uncovered till the edges of the okra slices start turning a light brown.
At this stage add a touch of water (a couple of tablespoons) to help the vegetable cook. Lower the flame, cover the pan and simmer for a few minutes.
Stir the contents of the pan and check for seasoning and and when the okra is tender, add the coconut and stir through. (When you first uncover the pan, if the okra hasn't cooked through and the liquid has been absorbed, add another small splash of water and continue to cook till the okra is tender).
Cook for another minute or till the coconut has warmed through.
Serve hot.
It has been ages since I baked a batch of cookies. There was a time when I baked almost every week. But that hasn't happened for a while. I must say that this batch has reminded me of all the reasons why I love baking. You haven't really eaten a good cookie until you've eaten one that's homebaked. The store-bought ones pale in comparison. I do believe that since I haven't had a home baked cookie in a while, the difference was very noticeable and it is safe to say that I will be doing a lot more baking. It's a good thing autumn seems to be just around a corner. Putting the oven on will be some much more pleasant on cooler days.
On to these cookies. The batter is really easy to put together. And the macadamia nuts in the cookies are amazing. I used a batch that I'd bought on our last trip to the Sunshine Coast. If you're ever there, you must visit the Nut Factory. There's not much to look at, but they offer a range of macadamia nut snacks, ranging from the natural and the plain roasted to a beautiful dark chocolate covered Macadamia Nut for the chocolate lover in you and a Crunchy Hickory Macadamia for when you're in the mood for something savory (This was one of my favorites and it goes really well with a cold beer.) The best part of the visit is you can sample some of the treats on offer. But I digress. So let's get back to these cookies. I was specifically looking for a cookie recipe to showcase the gorgeous Macadamia Nuts and this recipe does just that.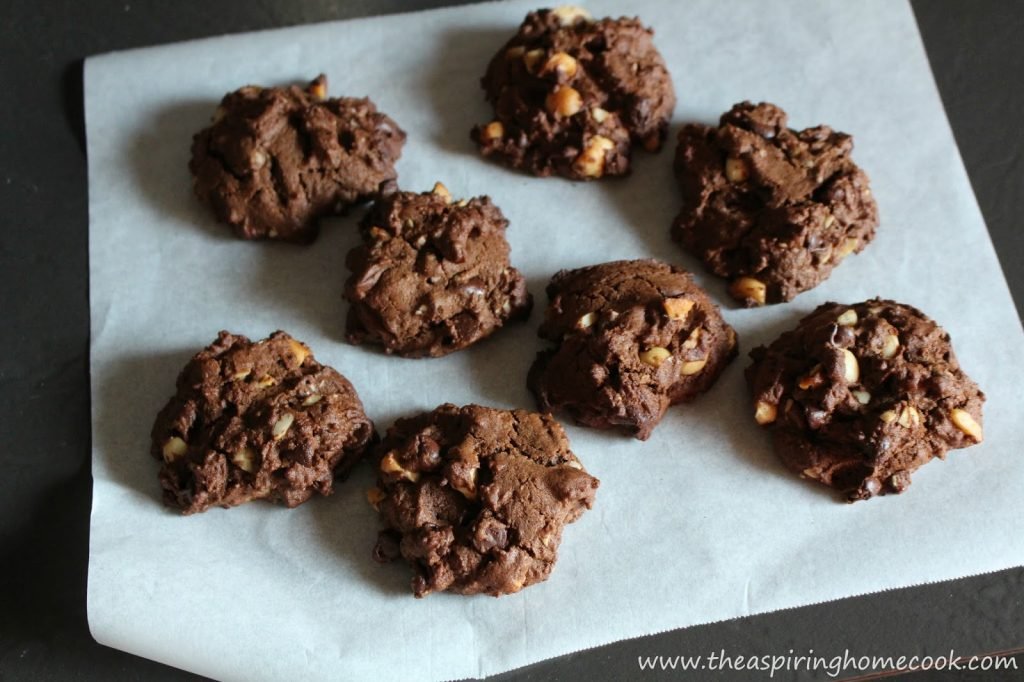 Double Chocolate Macadamia Cookies
Adapted from: Crazy for Crust
Makes 20 cookies


1/3 cup cocoa powder
1/2 tsp baking soda
1/4 tsp salt
1 1/4 cup all purpose flour
1/2 cup butter, softened
2/3 cup brown sugar
1 tsp vanilla bean paste
1 large egg
1 cup chocolate chips
1 cup chopped macadamia nuts
Preheat the oven to 180ºC. Line a cookie sheet with parchment paper and set aside.
In a medium bowl whisk the cocoa powder, baking soda, salt and flour till they are all combined.
Cream the butter and sugar together.
Mix in the egg and vanilla till well incorporated.
Add the flour cocoa mix and mix until just incorporated.
Add the chocolate chips and the chopped macadamia nuts and fold into the cookie dough.
Scoop batter into equal sized portions onto the prepared baking tray and space them a couple of inches apart.
Bake for 9-12 minutes or until the cookies have just lost the glossy sheen.
Cool completely and then store in an air tight container.
Enjoy!!!
You can watch the video recipe here –
Yes, you read that correctly. Homemade mayonnaise in 30 seconds. I love having mayonnaise at hand most of the times. My husband likes some mayo with his crumb fried fish or chicken. We also enjoy it in sandwiches and salad dressings.
For me, the homemade Mayo craze started years ago, back when I was in Bombay. At that time, it was hard to find mayonnaise in stores. The good stuff was usually imported and cost a small fortune. The locally made stuff just didn't tick the boxes for me. So my husband and I decided to try making mayonnaise at home. A few struggled attempts later, we nailed down our recipe and method and I had posted that recipe here. It was just how we liked it and we could make as much as we needed in a few minutes. I have to say, it has been years since I've purchased mayonnaise from a store, except for a couple of times when we just moved to Australia and we waiting on our kitchen appliances and the rest of our stuff to get here.
A couple of years ago, I caught a little snippet of Matt Preston whipping up a batch of Mayonnaise and I simply had to try it with my recipe to see if it worked. The beauty of this method is that it takes about 30 seconds from start to finish to whip up a batch of mayonnaise with minimal clean up after. Since then we've never looked back. And today I'm going to share with you my recipe for 30-second Homemade Mayonnaise.
If you've every considered making Mayo at home, but thought it was too difficult or too fussy, I urge you to try this out. This is how I like my Mayo. The best part is, you can adjust the salt, sugar and vinegar in the recipe to make it just right for you. Added bonus, no nasties. You know exactly what has gone into making your jar of mayo. So I really hope you try it out soon.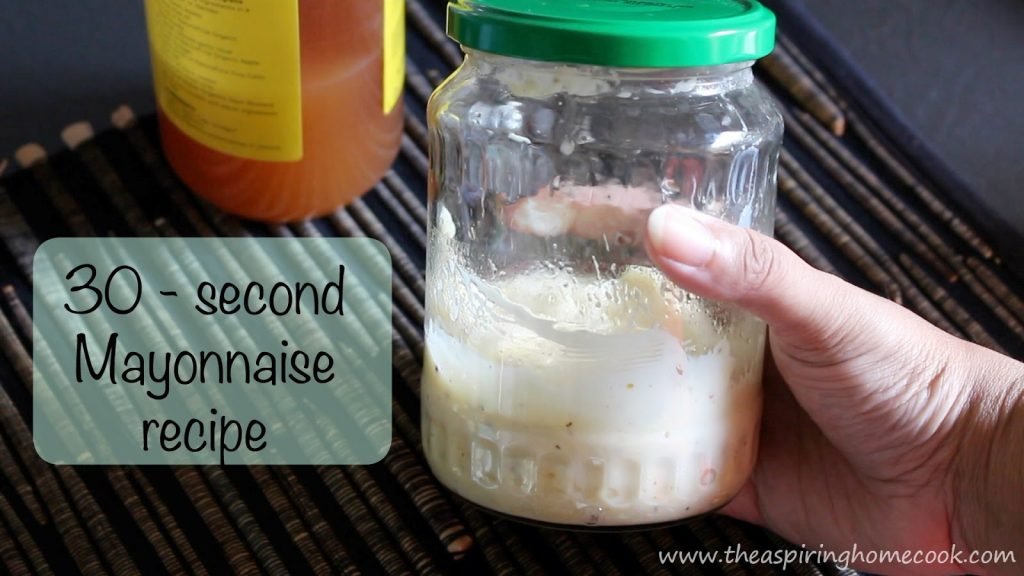 30-second Homemade Mayonnaise


1 fresh, free range egg
3/4 cup oil (I used sunflower oil but any mild flavored oil will do)
1/2 tsp mustard seeds
1 1/2 – 2 tsp apple cider vinegar, or to taste
Salt, to taste
1 tsp sugar, or to taste
Place all the ingredients in a clean and dry jar.
Place the blade of the immersion blender at the bottom of the jar and start it off at a medium speed.
Very slowly raise the blender toward to top of the oil in the jar. You should feel a little resistance as you do this from the emulsifying mayo below.
The mayonnaise is ready to use. You can close the jar and refrigerate till you are ready to use it.
You can watch the video recipe here –
Hello everyone and welcome back. A few days ago, I whipped up another batch of Potato Chops. This is my favorite way to enjoy Savory Mince. For those of you who have never eaten a Potato Chop before, it is a handled, single serve version of Shepherd's Pie. Ofcourse, this recipe is a tad spicier than the original one, because of the use of Goan spices. As always, you can adjust the spice level to your liking.
If you haven't had potato chops before, you really should. These little beauties are served up in lots of Goan homes, not just in Goa, but around the world. They are a must at any party or family gathering, in my house at least. I have posted this recipe before, but that was years ago. The recipe is still the same one. I've just got some new pictures and I've made a little video to show you how I make these potato chops. They are pretty simple to make, but if you're a visual learner like me, the video will help make the process simpler. So go on over and have a look. Let me know if you have any questions at all. The step by step recipe is just below.
Potato Chops


1/2 a recipe of Beef Mince (Beef mince video recipe here – https://youtu.be/RhSfsw2EC1U ) (You can substitute mutton mince, if you don't eat beef)
4-5 medium potatoes, boiled, peeled and mashed
Salt to taste
1/4 tsp cumin powder
A pinch of turmeric powder (optional)
1 tbsp fresh coriander leaves, chopped
1 egg
Bread crumbs / Panko bread crumbs
Vegetable oil, for frying


Make half a portion of beef mince and keep aside. This should come down to room temperature before you proceed with this recipe.


Boil the potatoes only when you are ready to make the chops you need to work when the potatoes are still warm. Cold potatoes make handling difficult.


Peel and mash the potatoes well. Make sure there are no lumps. Add salt to taste, cumin powder, turmeric powder and coriander leaves and using your hands mix well to ensure all the spices and herbs are evenly distributed. Feel free to adjust the quantities of the spices and herbs used to suit your taste.


Take a portion of the mashed potato, the size of a tennis ball, roll into a ball and flatten to form a thick disc on the palm of your hand. Place a spoon of the mince in the center and bring the sides of the potato disc up and over the filling to cover it well. Make sure that no mince is sticking out. If you feel the need to add more potato to it, feel free to do so. The mashed potato merges well. Shape it to form a patty and keep aside. Continue till you've used up all the mashed potato.


Crack an egg in a shallow bowl, wide enough to fit the chops. Beat well to incorporate the white and the yolk.


Pour some bread crumbs onto a plate and keep it ready. I have a little assembly line going for this, starting with the chops at one end, followed by the bowl with the beaten egg, the bread crumbs and a plate lined with some absorbent kitchen paper at the other end.


Heat some oil in a pan.


Briefly dip a chop in the egg and turn over, making sure it coats the chop well.


Dredge it through the bread crumbs making sure the potato chop is well coated. This is what will give it a good crunch.


Carefully place in the pan with the heated oil and shallow fry till it takes on a nice golden brown color. Turn and let the other side fry as well till it gets golden brown.


Carefully take it off the pan and repeat till you've used up the rest of the potato mix.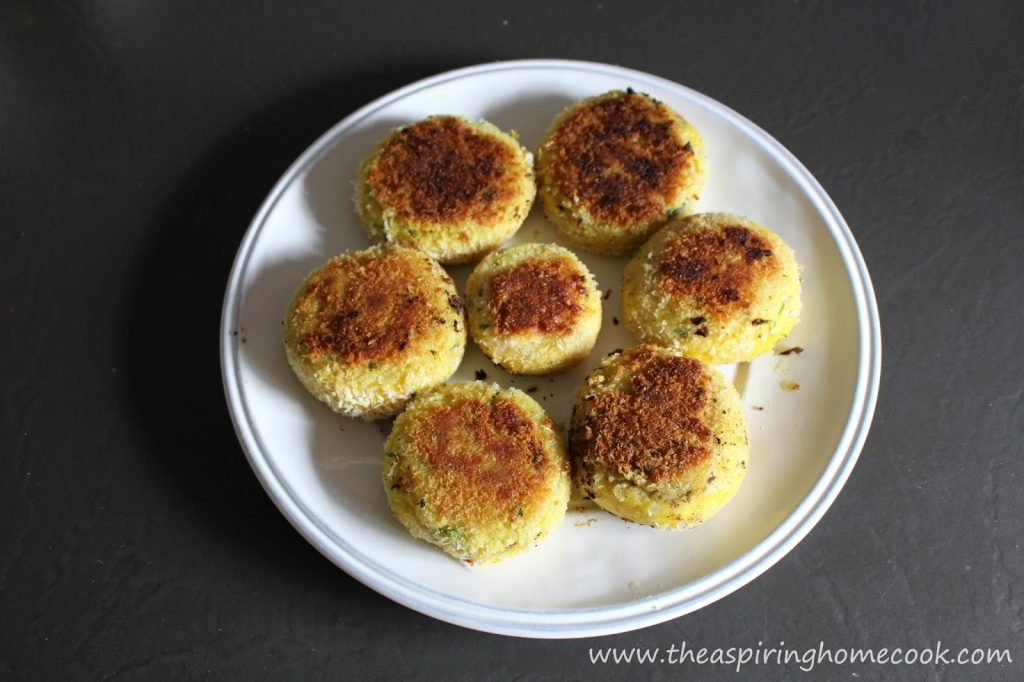 NOTE: You don't need to fry these one at a time, place as many as your pan can accommodate, making sure theres a little space between them to help you turn these over.


Here's what it looks like on the inside –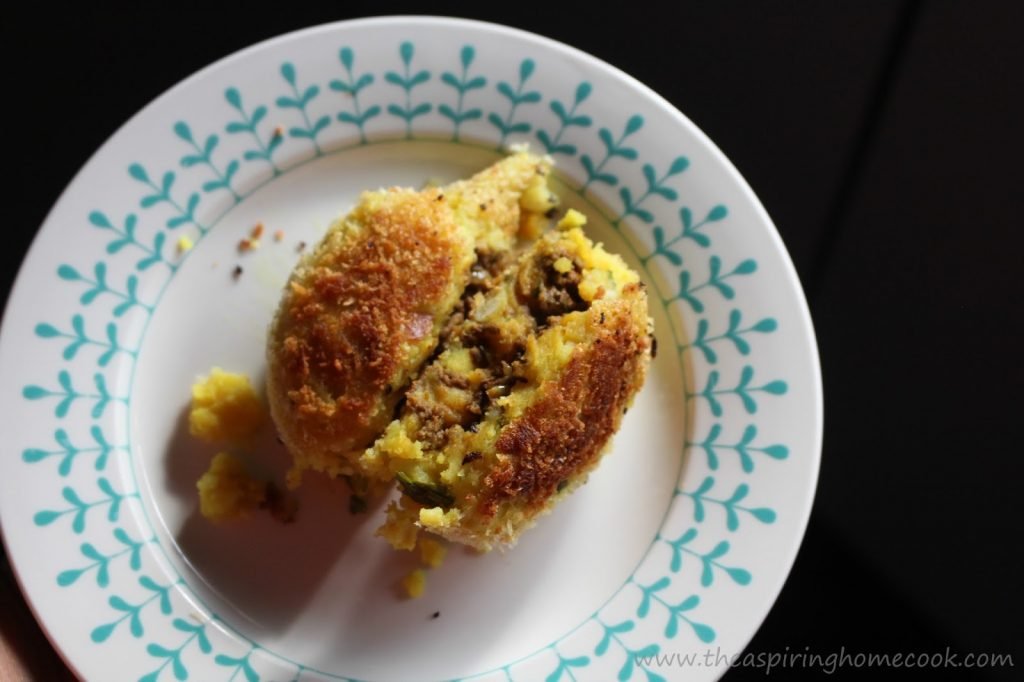 These potato chops are best served hot with some tomato sauce. Any leftovers refrigerate and reheat well.