It has been ages since I baked a batch of cookies. There was a time when I baked almost every week. But that hasn't happened for a while. I must say that this batch has reminded me of all the reasons why I love baking. You haven't really eaten a good cookie until you've eaten one that's homebaked. The store-bought ones pale in comparison. I do believe that since I haven't had a home baked cookie in a while, the difference was very noticeable and it is safe to say that I will be doing a lot more baking. It's a good thing autumn seems to be just around a corner. Putting the oven on will be some much more pleasant on cooler days.
On to these cookies. The batter is really easy to put together. And the macadamia nuts in the cookies are amazing. I used a batch that I'd bought on our last trip to the Sunshine Coast. If you're ever there, you must visit the Nut Factory. There's not much to look at, but they offer a range of macadamia nut snacks, ranging from the natural and the plain roasted to a beautiful dark chocolate covered Macadamia Nut for the chocolate lover in you and a Crunchy Hickory Macadamia for when you're in the mood for something savory (This was one of my favorites and it goes really well with a cold beer.) The best part of the visit is you can sample some of the treats on offer. But I digress. So let's get back to these cookies. I was specifically looking for a cookie recipe to showcase the gorgeous Macadamia Nuts and this recipe does just that.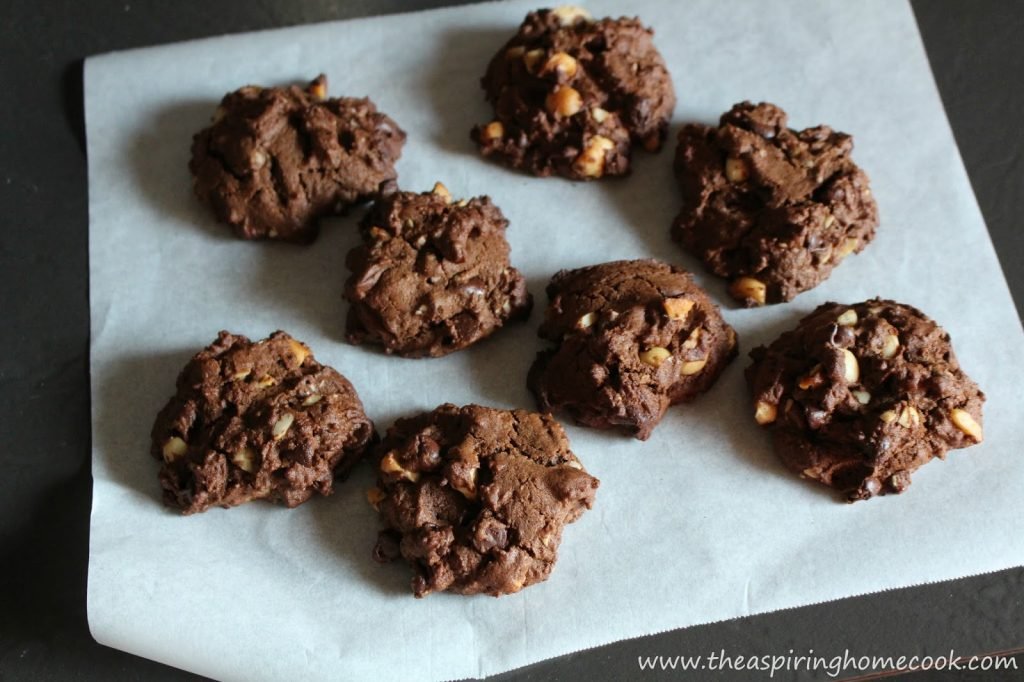 Double Chocolate Macadamia Cookies
Adapted from: Crazy for Crust
Makes 20 cookies


1/3 cup cocoa powder
1/2 tsp baking soda
1/4 tsp salt
1 1/4 cup all purpose flour
1/2 cup butter, softened
2/3 cup brown sugar
1 tsp vanilla bean paste
1 large egg
1 cup chocolate chips
1 cup chopped macadamia nuts
Preheat the oven to 180ºC. Line a cookie sheet with parchment paper and set aside.
In a medium bowl whisk the cocoa powder, baking soda, salt and flour till they are all combined.
Cream the butter and sugar together.
Mix in the egg and vanilla till well incorporated.
Add the flour cocoa mix and mix until just incorporated.
Add the chocolate chips and the chopped macadamia nuts and fold into the cookie dough.
Scoop batter into equal sized portions onto the prepared baking tray and space them a couple of inches apart.
Bake for 9-12 minutes or until the cookies have just lost the glossy sheen.
Cool completely and then store in an air tight container.
Enjoy!!!
You can watch the video recipe here –
Bananas – probably one of my favorite fruits around. Any of you out there as crazy about your Nanas as I am. I have them in the house almost every week. That being said, every once in a while, I end up with bananas getting a little over ripe. Have you had that happen to you? Stop! Don't throw it away. I always try and find ways to use up over ripe bananas too. Waste not, want not, right?
I'm always on the look out for new ways to use up these over ripe bananas. You may have noticed I have more than a few recipes on the blog that you can try out, if you need to use up some bananas. But this time, I wanted something a little more indulgent. On my recent trip to Costco, I bought a bag (a fairly large one) of bittersweet chocolate chips, so I thought why not use some chocolate chips in a good banana bread recipe. After a little looking around, I found one I knew was going to be great.
A little mashing, a few whisks and a very short while later, I was ready to pop this Chocolate Chip Banana Bread in the oven. Just one large mixing bowl needed. You don't even need to break out the heavy duty equipment to whip up this batter. After baking and probably doing the hardest part of this recipe – waiting for it to cool down, I ended up with a pillowy soft loaf of Banana bread studded with chocolate chips, some still a little melted from the baking, lending a beautiful, but not too sweet, chocolatey (Wait! is that even a word?) element to this bread. I know this recipe is a keeper. Try it out for yourself and see,
Chocolate Chip Banana Bread
Yields: 1 Loaf
Recipe from: Something Swanky
4 medium over ripe bananas
1 egg
3/4 cup sugar
1 tsp vanilla
1/4 cup vegetable oil
1 1/2 cups all purpose flour
1 1/4 tsp baking powder
1/2 tsp baking soda
1/2 tsp cinnamon powder
1/8 tsp salt
1/2 cup bittersweet chocolate chips (plus extra to sprinkle on top)
Preheat your oven to 180ºC.
Line a loaf tray with greaseproof paper and spray with cooking spray. I used my olive oil spray.
In a large mixing bowl, mash the bananas till they are mostly smooth.
Add the egg, sugar, vanilla and oil and whisk to mix well.
Next, add the flour, baking powder, baking soda, cinnamon powder and salt and mix till a batter forms. Do not over mix.
Fold in the chocolate chips using a rubber / silicone spatula.
Pour the batter into the prepared loaf tin.
Sprinkle a few more chocolate chips on top if you like. At this stage, I would recommend slightly pressing these chocolate chips into the batter. It will look better this way. I didn't do that but will definitely do it the next time.
Bake for about 40-45 minutes or till a skewer pierced though the centre comes out clean. Try and avoid piercing any of the chocolate chips. If you hit a chocolate chip, wipe the skewer down and check again.
When it is done, take it out of the oven and leave to cool for about 10-15 minutes.
Slice and enjoy with a hot cuppa tea of coffee or even some milk.
Here's what the inside looks like. Yummmm!
Need more ideas to use up some over ripe bananas? Try these —
1) Banana Bread
2) Mini Eggless Banana Walnut Muffins
3) Chocolate Chip Banana Bread Scones
4) Banana Oat Blueberry Pancakes
5) Mango Smoothie Bowl (Peel the over ripe bananas, put in freezer friendly zip lock bags and use anytime to make this smoothie bowl)
6) Blueberry Smoothie Bowl (Again, peel the over ripe bananas, put in freezer friendly zip lock bags and use anytime to make this smoothie bowl)