Recheado Masala (Rechaad Masala) is a quintessential Goan spice blend. You will find this in every Goan or Goan food lovers home. While its a few basic spices that's simply blended together in a mixer / food processor, the trick is getting the right balance of flavors. Every household has its own version of this masala. And yes, we have one too. The recipe I'm sharing with you today is my Mother's recipe which I've tweaked a tiny bit and I think it's now just the way we like it.
I always have a jar of this masala in the fridge. That's the beauty of it. You can make a batch up when you need it or make it ahead of time and store it in the refrigerator. I store it in a clean, dry, airtight glass jar and it easily keeps for weeks, if not months. It's a great masala to have on hand. Typically this masala is used to pan fry a variety of seafood from fish, to prawns and even crabs. We also make a finger-licking, lip-smacking okhra or bhindi with this masala. I will share those recipes with you really soon.


Goan Recheado Masala
20 Kashmiri red chillies
1 whole pod of garlic, peeled
1 inch ginger, roughly chopped
1/2 tsp turmeric powder
1 tsp cumin seeds
1/4 tsp black peppercorns
3 cloves
2 inches cinnamon
5 cardamom pods
A small ball of tamarind, about the size of a walnut
Vinegar, to grind the masala to a paste
Sugar and Salt, to taste (optional, see note)
Soak the tamarind in a little hot water for a couple of minutes. When it has softened, mash it between your fingers and discard any seeds, pieces of shell or fibre that you may find.)
Place all the spices in your mixer. Add the tamarind pulp and the water it was soaking in. Add a couple of generous tablespoons of vinegar. Blend to a smooth paste, adding more vinegar as required. (Halfway through this process, scrape down the sides of the jar to make sure you get a smooth paste).
When it has blended to a smooth paste, it is ready to use.
Store any excess in a clean, dry, airtight glass jar in the refrigerator and use as needed.
NOTE:
You can add a little salt to taste and 1-2 tsp. of sugar while grinding, if desired. I leave this out, so that I can season the dish as I need to, when using this masala.
Yes, you read that correctly. Homemade mayonnaise in 30 seconds. I love having mayonnaise at hand most of the times. My husband likes some mayo with his crumb fried fish or chicken. We also enjoy it in sandwiches and salad dressings.
For me, the homemade Mayo craze started years ago, back when I was in Bombay. At that time, it was hard to find mayonnaise in stores. The good stuff was usually imported and cost a small fortune. The locally made stuff just didn't tick the boxes for me. So my husband and I decided to try making mayonnaise at home. A few struggled attempts later, we nailed down our recipe and method and I had posted that recipe here. It was just how we liked it and we could make as much as we needed in a few minutes. I have to say, it has been years since I've purchased mayonnaise from a store, except for a couple of times when we just moved to Australia and we waiting on our kitchen appliances and the rest of our stuff to get here.
A couple of years ago, I caught a little snippet of Matt Preston whipping up a batch of Mayonnaise and I simply had to try it with my recipe to see if it worked. The beauty of this method is that it takes about 30 seconds from start to finish to whip up a batch of mayonnaise with minimal clean up after. Since then we've never looked back. And today I'm going to share with you my recipe for 30-second Homemade Mayonnaise.
If you've every considered making Mayo at home, but thought it was too difficult or too fussy, I urge you to try this out. This is how I like my Mayo. The best part is, you can adjust the salt, sugar and vinegar in the recipe to make it just right for you. Added bonus, no nasties. You know exactly what has gone into making your jar of mayo. So I really hope you try it out soon.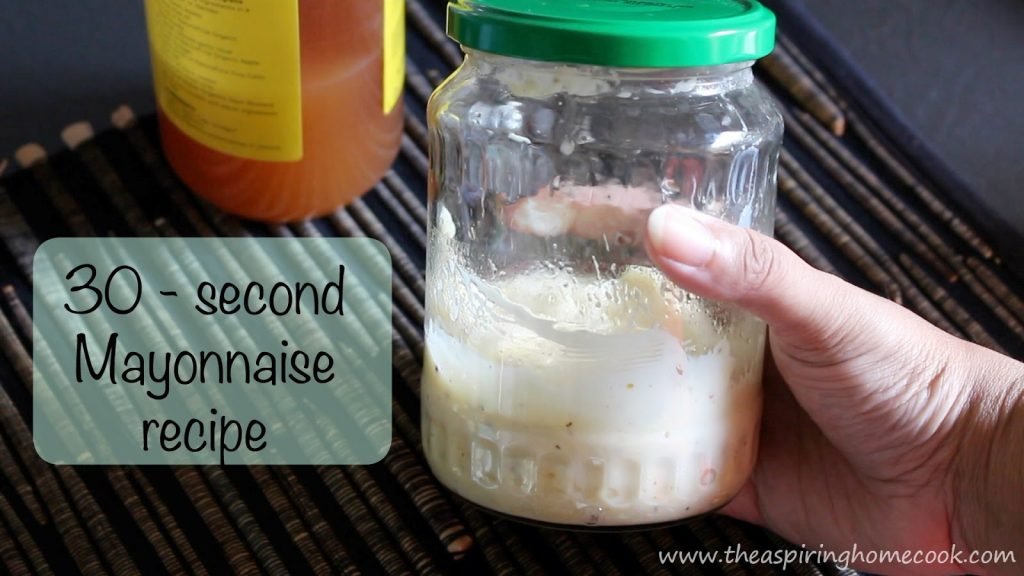 30-second Homemade Mayonnaise


1 fresh, free range egg
3/4 cup oil (I used sunflower oil but any mild flavored oil will do)
1/2 tsp mustard seeds
1 1/2 – 2 tsp apple cider vinegar, or to taste
Salt, to taste
1 tsp sugar, or to taste
Place all the ingredients in a clean and dry jar.
Place the blade of the immersion blender at the bottom of the jar and start it off at a medium speed.
Very slowly raise the blender toward to top of the oil in the jar. You should feel a little resistance as you do this from the emulsifying mayo below.
The mayonnaise is ready to use. You can close the jar and refrigerate till you are ready to use it.
You can watch the video recipe here –
Today we're going to talk pickles. No, not the bread and butter pickles or the dill pickle kind. We're talking Indian pickles. Pickles form a huge part of Indian cuisine. As vast as India is as a country, even more diverse is the food that comes from all different parts. Every region has its own culture, language, cuisine and hence versions of pickles. I have always been a very picky pickle person. (Haha, theres a mouthful of a sentence). Anyway, there are some pickles I just can't deal with (most of these being the spicy store bought ones) but there are others I can't get enough of.
Pickle making has always intimidated me. I always thought of it as a tedious and daunting process. I guess some of this anxiety with pickle making also comes from my Mum. She makes some mean pickles, but inspite of every care, can never get them to last. They'd get spoiled before we could finish them. I always thought that would happen to me too. Don't ask me why, I just thought it would. Until I tried my first homemade pickle – this super yummy Goan Eggplant Pickle. I was surprised at how easy it was to make and we enjoyed it for months after.
I was eager to try out a few more recipes after my success with the eggplant pickle. So a few months ago, when raw mangoes started showing up around Sydney, I just had to try out some mango pickles. Some Indian pickle recipes are long drawn and need to be kept in the sun. I wanted something a little quicker. So, I picked up a few green mangoes at Paddy's Market in Flemington and I narrowed it down to two recipes to try out this time around. One of them was this Instant Mango Pickle. Ofcourse, seeing that it was an instant recipe was a huge bonus. Plus it was so easy to make, I couldn't not try it. Also this is a small batch recipe, which was fantastic, because we're a family of 2 and I had more recipes to try out. I chose to wait for a few months before sharing this recipe, because I wanted to see if it would keep. And I'm happy to report that if you use a clean, dry glass bottle and a clean and dry fork / spoon to serve, this keeps refrigerated for more than 4 months. Moreover, this is a delicious spice blend, unlike those you will find in any store-bought version. I happen to really like this recipe. I'd take that as a win for me and my pickle making.
Spicy Kerala Mango Pickle
Recipe from: Edible Garden
2 cups raw mango, skin on, cut into uniform sized cubes
2 tbsp salt
1/4 cup oil
2 1/2 tsp black mustard seeds
1/2 tsp fenugreek seeds
2 springs curry leaves (leaves only)
2-3 tsp red chilly powder
2 tsp vinegar (optional)
Add salt to the cut mango pieces. Toss well and keep aside for 20-30 minutes.
Combine 2 tsp mustard seeds and the fenugreek seeds and grind them to a coarse powder together.
After the mango pieces have been sitting in the salt for 30 minutes, heat oil in the pan and add 1/2 tsp mustard seeds.
When the mustard seeds pop, turn the flame off. Add the powdered mustard and fenugreek.
Immediately add the curry leaves and the red chilly powder and stir well for about 5 seconds.
Tip in the salted mangoes and add the vinegar, if using.
Stir well. The residual heat of the pan will cook the pickle through as needed.
Let the pickle cool down completely in the pan itself.
Once it has completely cooled, store in a clean, dry glass bottle / jar.
Store refrigerated.
Enjoy!!!
**Serve with your favorite dal and rice.
This recipe has been added to –
Food on Friday @ Carole's Chatter
For years now, I've envied folks that can make good pickles. In our home we always enjoy a good pickle, but that is one thing my mother never made much of, when we were growing up. She had a few good recipes but seldom made them. She made a real good green chilly pickle and a Goan pickle using prawns and another one using fish. So most of the time we ended up using store bought pickle. We didn't have a choice really. I didn't care much for the store bought variety, expect for a certain kind we got in Goa, but those trips usually happened once a year.
Then one year, a dear friend of mine had to visit her aunt who lived an hour and a half away from where we lived and she asked me to go with her. At lunch, she served up a home made eggplant pickle that I fell in love with. I must have been about 16 years old then, so it never really occurred to me to ask her how she made it, nor did I have access to the tonnes of information that is accessible on the internet in today's day and age. But over the years, I'd think about that wonderful pickle and often wondered if I would every find something similar again.
Fast forward to a few weeks ago. I got a fantastic deal on some eggplant and picked up a couple of large ones. I originally thought I'd grill it and store it in some olive oil with some herbs. But I ran out of time and it got to the stage where we were to leave for our holiday the very next day. What I haven't told you yet is that a few weeks prior to that I came across a recipe for a Goan eggplant pickle, which I glanced at and moved on without making much of it. Since grilling and preserving the eggplant in such a short time frame was out of the question, I thought about that recipe and dug around for it.
I was a little sceptical since I'd never made a pickle before. But I figured I had nothing to lose but trying my hand at it this once. I always thought it was a daunting process. I was amazed at how simple this recipe was. A few spices, a little cooking and a week of maturing. We got back from our holiday to a really fabulous pickle. Very similar to my friend's aunt's version. This recipe is a keeper. I made a few changes to the recipe and the one below, reflects those changes. It's safe to say that I'm very happy with this first attempt and can't wait to try out some more as and when we need to replenish our stock. This pickle is mildly spiced and sweet at the same time and is a wonderful accompaniment to a simple dal and rice or any meal really. 🙂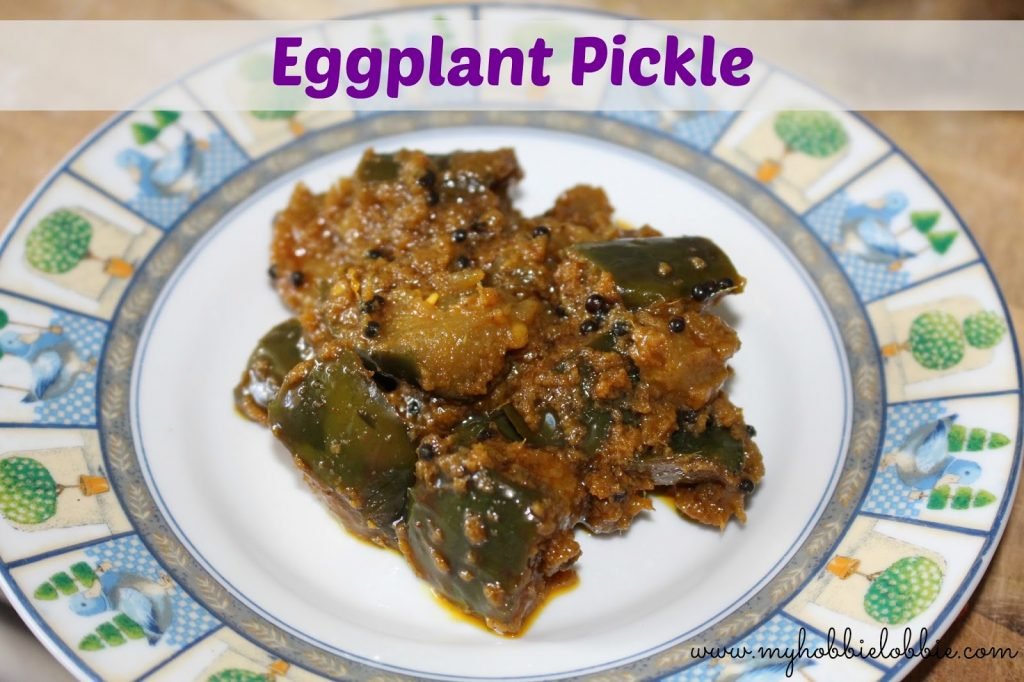 Eggplant Pickle
Adapted from: Erica's Yummy Food


2 large eggplants
20 cloves of garlic
2 pieces of ginger, each about 3″ long
1 tbsp kasoori methi (dried fenugreek leaves)
1 tsp cumin seeds
12 cloves
4 tsp red chilly powder
1/2 cup sugar
1 cup oil
2 heaping tsp mustard seeds
A handful of curry leaves
4 1/4 tsp salt
1 1/2 tsp turmeric powder
3/4 cup apple cider vinegar
Prep a glass bottle but thoroughly washing and making sure it is completely dry. (You could use mason jars if you like.) Any moisture on the bottle will result in your pickle going bad. It will get moudly and you wont be able to eat it. I simply place the bottle in a dishwasher and it is perfectly washed and bone dry.
Cut the eggplant into cubes (about 1/2″).
Sprinkle the eggplant with 4 tsp of salt and toss well. Set this aside for 2 hours.
You can now prep the rest of your ingredients, while you wait for the eggplant to discard all the excess moisture.
Peel and roughly chop the ginger and garlic.
Using a mixer / food processor, grind the ginger, garlic, fenugreek leaves, cumin seeds, cloves, red chilly powder, turmeric powder and vinegar to a paste.
After 2 hours, you will notice that the eggplant has released a lot of moisture. Drain all the liquid from the eggplants and gently squeeze the eggplant to get rid of any liquid. You want to be gentle and let the cubes retain their shape but still discard and excess liquid.
Heat the oil in a large pan. Lower the heat to a medium low.
Add the mustard seeds and let them sputter.
When they are sputtering, carefully add the curry leaves.
Add the spice paste and cook on a low to medium heat for 10 minutes. But cooking the paste first, you are left with a mellow flavour and not a sharp tartness of the vinegar. Stir frequently.
Add the eggplant cubes and cook for another 10 minutes. Stir gently every now and then to mix well, but be careful to not break down the eggplant pieces. After cooking for 10 minutes, the eggplant cubes should be tender but will still somewhat retain their shape and not be too mushy.
Add the sugar to the pan and cook for another 5 minutes and now you will see the oil separating at the sides of the pan.
Take off the heat and spoon the hot pickle into the prepared glass bottles. Cover the bottle and leave it on your counter to cool. (Bottling it when it is still hot creates a vacuum when the mix cools and ensures your pickle has a good shelf life.)
When it has completely cooled, you can store it in the fridge. I left mine to mature for a week while we were away.
Enjoy!!!
Now, do your pickle loving self a favour and try this recipe out soon. You can thank me later. 🙂
This has got to be one of the quickest recipes I've come across. Its taken me longer to write up this post than to make this fresh salsa. If you haven't realized by now, I really like my tortilla chips and nachos. You might remember my homemade version from
here
. Even though tortilla chips are easily available all over the place here in Australia, I somehow still prefer the homemade version. For this post, you'll see a store bought option pictured. I just need a little time to whip up a homemade batch, it is so much better; tastier and you know exactly whats in it.
But today we're here to talk not about the chips, but this really yummy salsa dip. A while ago, I'd picked up a jar from the local supermarket, that claimed to be 'Hot'. I love spicy stuff, so I thought this would really hit the spot. What I love about Mexican food is the spice from the chillies and peppers and the tang from the lemon and tomatoes. Much to my disappointment, this store bought salsa was neither 'Hot' nor tangy. I knew I had to figure out a way to get my hands on something better. So when I came across this recipe for a blender version of Salsa, I decided to try it out. It was too quick and easy a recipe to pass up. And am I glad I tried this out. The salsa was fresh, packed full of flavor, you can easily adjust the spice levels to your liking. It was everything a good salsa should be. I sure hope you try it out.
The picture doesn't do it much justice. It was fairly late in the evening when it was taken. I hope to get a better picture up sometime soon.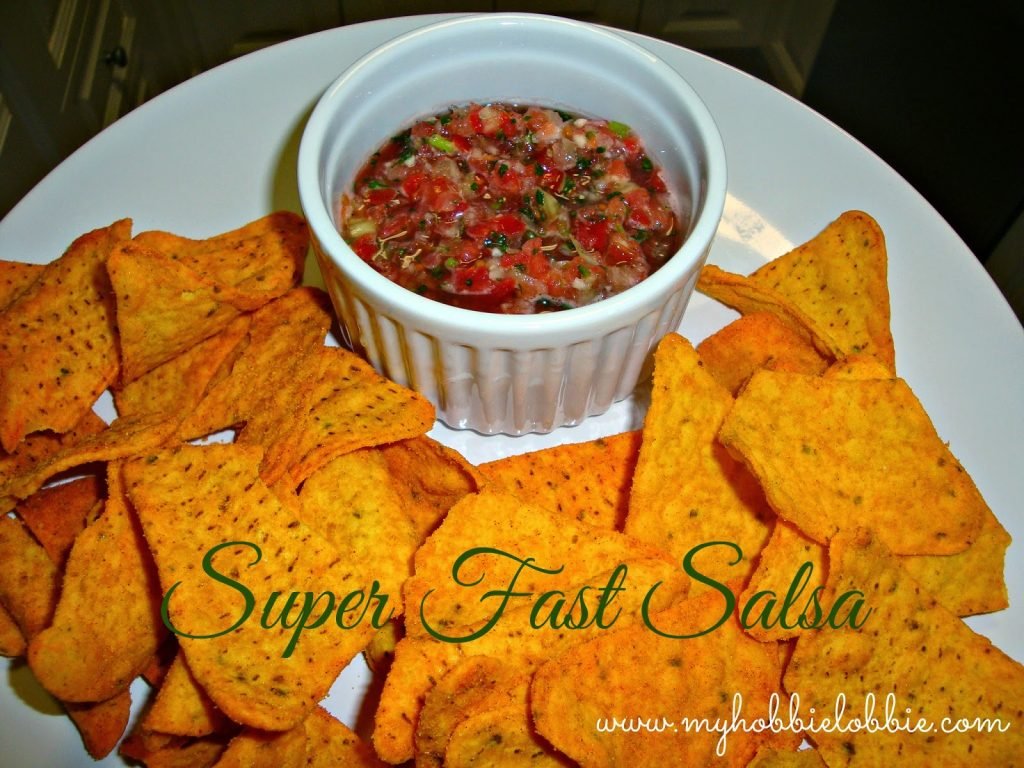 Super Fast Salsa
(Adapted from: Barbara Bakes)
1 clove of garlic
1/4 onion, roughly chopped
2 -3 tomatoes, roughly chopped
Fresh coriander leaves with stalks
Lime juice, to taste
Salt, to taste
Place all the ingredients in the food processor.
Pulse till it reaches the consistency you like and is combined.
Adjust the salt and lime if needed.
Enjoy!
Have I told you about how much I love avocados? Ofcourse not, because before we came to Australia, I'd never tasted one. But when I tried my first one, I was in love. I've had a few avocados since then and have loved every bite. My favorite way to enjoy an avocado is in the form of this simple, yet fresh and vibrant Guacamole. It is a chunky version so its nothing more than chopping up a few veggies, mixing and seasoning them. I can actually eat this by the bowlful. I serve this as a side like a salad, as a dip for some corn chips and so much more. Stay tuned for more.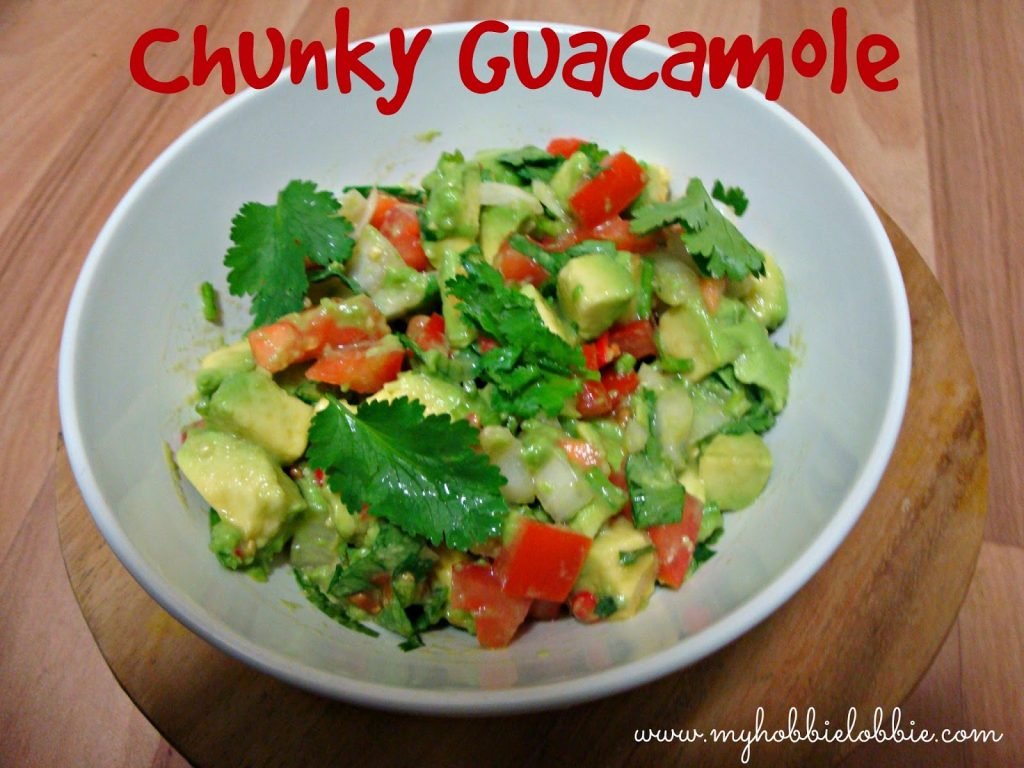 Chunky Guacamole
1 avocado, halved, pitted, peeled and chopped
1/2 onion, chopped
1 tomato, chopped
1 green chilly, finely chopped (optional)
1 tbsp fresh coriander leaves, chopped
Salt, to taste
Sour lime juice, to taste
Mix all the veggies in a bowl, add salt and lime to taste and toss well.
Serve.
I made jam at home. And not just any jam, I made some delicious Nectarine Jam. I've been holding back on ya! Not intentionally of course, but I just haven't gotten around to sharing this information with you –
Paddy's Market at Flemington rocks!!!
I've only been there a couple of times now, but I love the place. Fresh, seasonal produce combined with an opportunity to meet the growers and very reasonable pricing, makes this one of my favorite places to shop for fruit and veggies.
On my first trip there, I picked up a whole box of tomatoes, which transformed into homemade tomato puree. I will share that post with you soon. And some amazing veggies that churned out some super yummy food for us.
Our last trip there was equally fantastic. My husband picked up this huge box of yellow nectarines at a bargain. Now there's only so much nectarine that the two of us can eat before it starts getting bad. I didn't want any of it to go to waste, so before I lost any of them, I decided to try my hand at making some jam. Now I have to admit that I was a tiny bit nervous. You see, I'd never made jam before. But I decided to take the plunge. I found a recipe that looked simple enough to make.
The process was not as tedious as I expected it to be. After washing, de-stoning and chopping up the fruit, all it took was about 45-50 minutes on the stove top. It would have been a shorter process but I had the heat on so low in the beginning, that the vessel was barely warm when the mix should have started simmering. So I turned up the heat and everything else pretty much fell into place. I did make one change to the original recipe, I added some cinnamon sticks to the fruit in the pan. This took the jam to a whole different level of yummmm.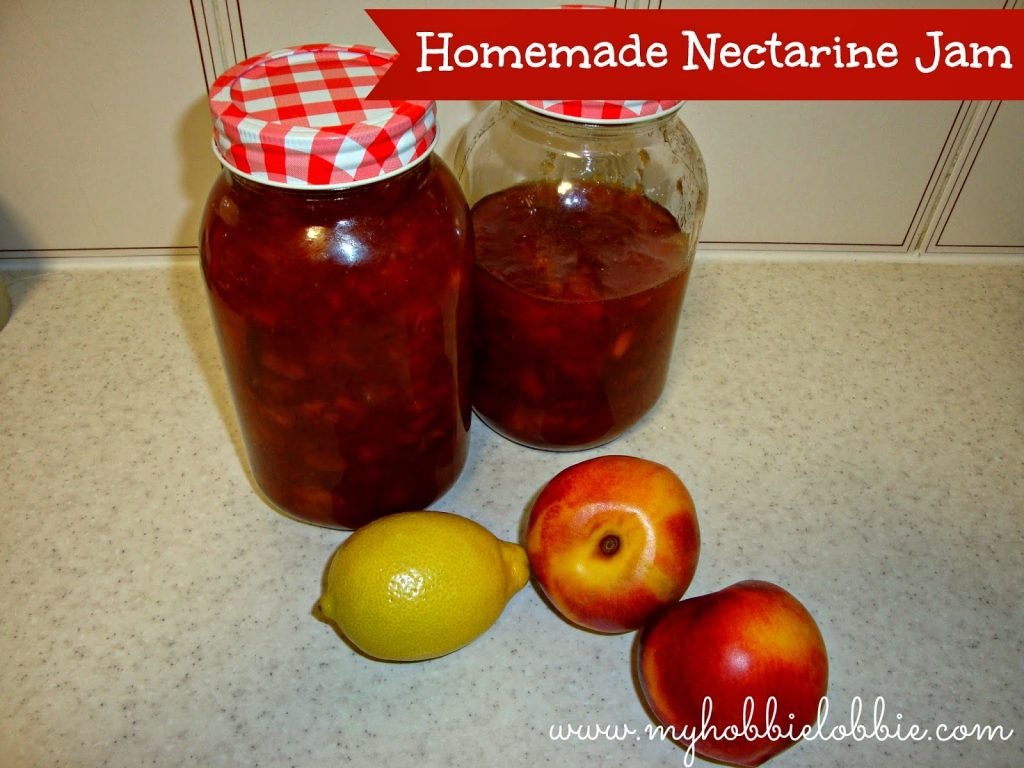 If you haven't tried making jam before, don't let it intimidate you. Now that I know first hand how simple this process is, I can't wait to try my hand at making jam of some other fruits as they come in season. The resulting jam was not just beyond delicious, but I also knew what was in it. I knew for a fact that there were no funky ingredients in there like you find in the store bought version.
How good was this nectarine jam? Here's something to consider – My husband doesn't care about jam too much. I mean he'll have a little, if there's no other option, but that's it. The color and the aroma of the homemade nectarine jam was so alluring, he had to try a little, without me having to ask him to. After the first spoonful or two or maybe even more, he was converted. He loves this jam. That says a lot. I see a lot more homemade jam in my future 🙂
Homemade Nectarine Jam
Yellow Nectarines
Lemon / (s)
Sugar
Cinnamon sticks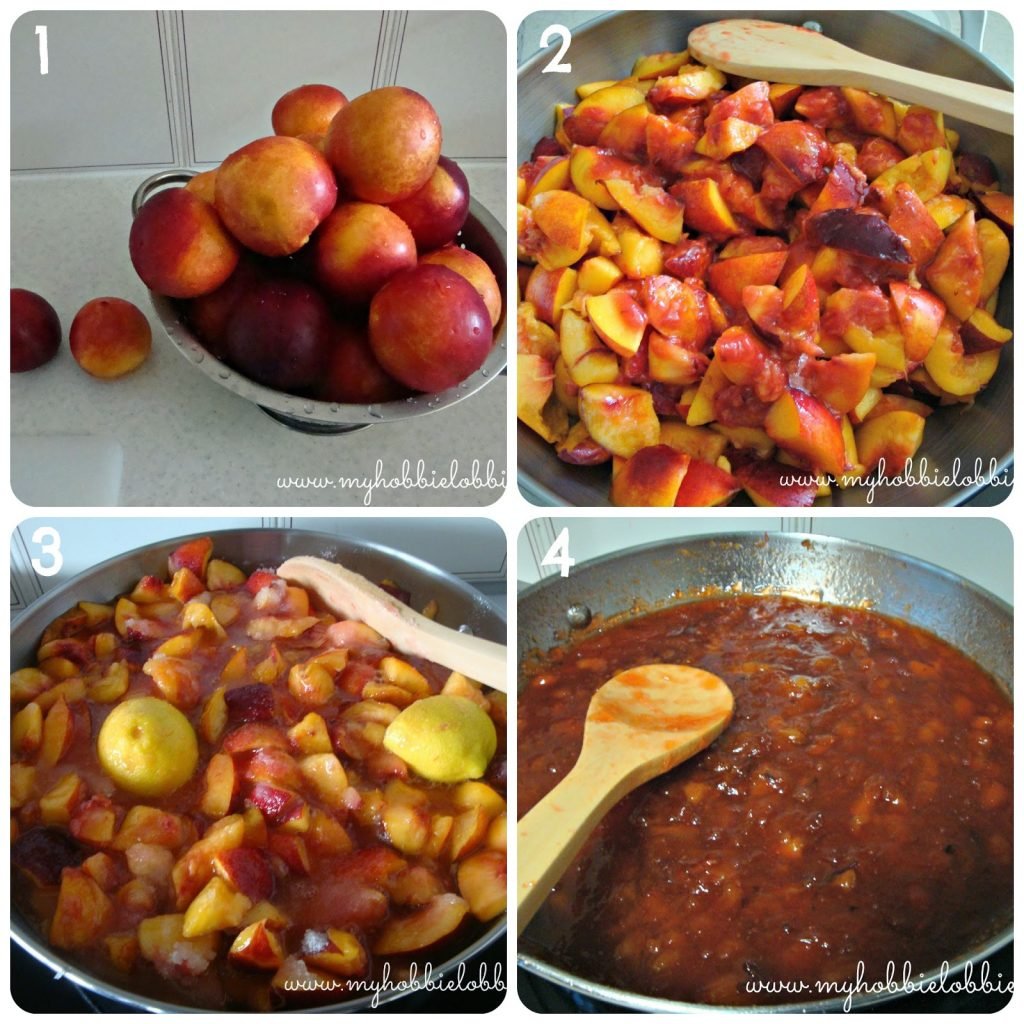 1) Prepare your fruit – We used a carton of nectarines. Wash, de-seed and chop the fruit up. I left the skin on.
2) Weigh the fruit. Add half the weight in sugar. eg. My fruit weighed about 1900g give or take a few gms. I added about 950g sugar.
3) Squeeze the juice of 1 lemon onto the fruit and put the peel in with the fruit. Throw in a couple of cinnamon sticks.
4) Cook over a medium heat till it reaches the desired consistency. Make sure you stir frequently else the fruit could stick to the pan and burn. Also, the stirring helps with breaking down the pieces of fruit. It helps to use a wide pan, so that more liquids can evaporate. It took me about 45-50 minutes.
Take out the lemon skins and the cinnamon sticks. Use a potato masher to break down the fruit to achieve the consistency you like. I left some pieces of fruit in, I like a chunky jam with pieces of fruit in.
When it has cooled, store this nectarine jam in prepared jars. (They should be washed and completely dry).
Since I don't sterilize the jars or follow other canning steps, I keep my jam in the refrigerator. Lets see how long it lasts.
And look at that color, all from the fruit, without anything artificial.
I sure hope you give jam-making a go. I found it immensely satisfying and a whole lot of fun. 🙂
Even though I'm not in Mumbai any more, I know there must be atleast a few other cooks and bakers like me, who found amazing recipes online, only to find that they needed sour cream to make it. "What's the big deal?", you ask. Well the deal is you can't find Sour Cream in Mumbai. This is one product that hasn't yet made it to the supermarket shelves. No matter how hard you try, it will be practically impossible to find a tub of it, and if you're really lucky and you do, you'll have to pay an exorbitant amount for it.
It was extremely frustrating for me, until I decided that enough was enough. I was determined to find a way to either make it myself or find a substitute for it. After a lot of reading up and digging through quite a lot of material, I found out that you can easily mix up a concoction that you can use when a recipe calls for sour cream. All you need is some Fresh Cream – I always used Amul Fresh Cream and thick curds (dahi) – this you can either use homemade dahi or Amul Masti Dahi – a brand I preferred to use. I'm pretty sure you could use any other brand available with the same results.
Sour Cream


200g fresh cream
1 heaped tbsp thick curds
A pinch of salt
Beat the cream till slightly thicker and still creamy.
Add the curds and the salt and mix well, till everything is well incorporated.
Use as needed.
And that's it! How easy is that?
I hope you find this little snippet helpful. I sure did.
Disclaimer: This post hasn't been sponsored, nor have I been compensated by Amul in any way. These are products that I use and really love working with and wanted to share with you.
Even though I'm not British or Australian for that matter, or have never been to these countries, Fish N Chips has established itself as comfort food in my household. A lot of times when we'd go out for dinner, especially to Pop Tate's (now Jughead's – near Movietime, Malad), one of our favorite things to order had to be their Fish N Chips. What hooked me onto this was their tartar sauce. It was so good, I could literally enjoy it by itself. After quite a few dinner's there and spending quite a buck, I wondered if it would be possible to try and replicate this at home. So after going through a few searches on the internet, I had a rough idea of what would go into the sauce and I decided to wing it from there on.
The results were amazing. I was astonished at how simple the entire meal was to put together. We were feasting on Fish N Chips in no time at all. Would I dare compare it with the one from Pop Tate's. This time around, hell yeah! My version was just as good, if not better and my husband agrees. Now we no longer have to go out to tuck into a platter. Every single element on this plate can be made from scratch. Isn't that wonderful.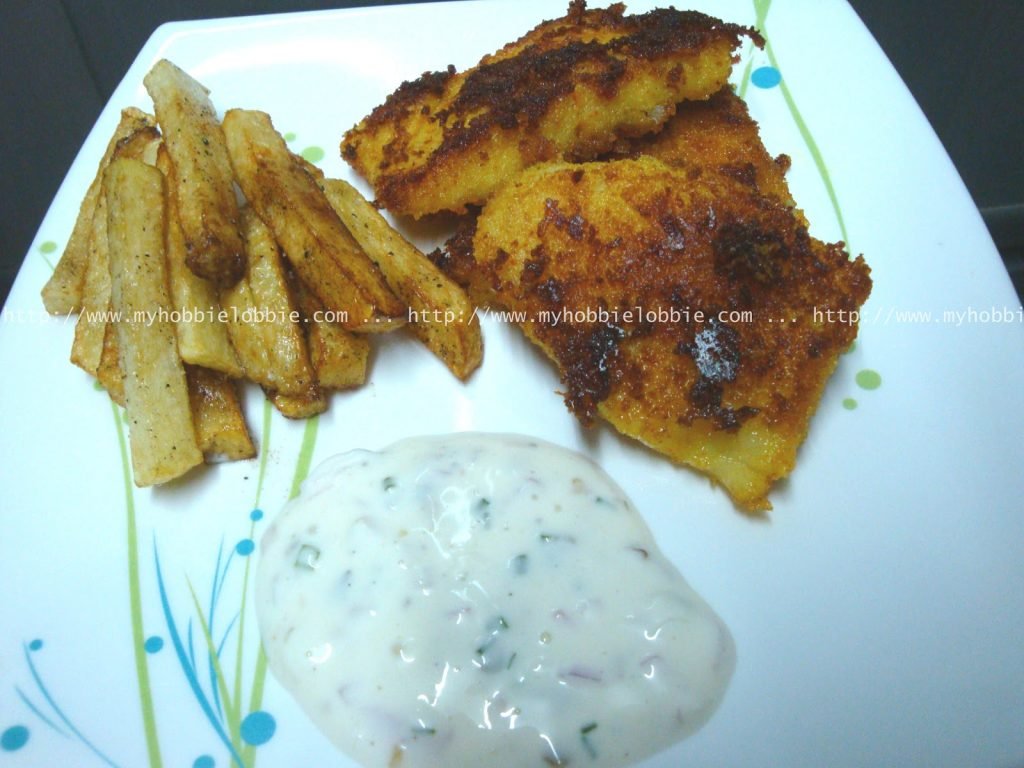 Fish N Chips
Serves 2


For the fish:
4-6 fillets of fish depending on the size (I used 2 Premium Basa fillets from Hypercity and cut it into smaller pieces. You can use any fish you like, preferably not the tinier ones.)
I simply crumb fried these fillets. I used the same recipe like the one for Crumb Fried Prawns.
Try not to fidget with the fish while it is frying as it is fairly delicate. Once it develops a nice golden brown crust on one side, flip it over and let the other side cook.
For the chips:
Use 2 potatoes, more if you'd like a larger portion of chips. I used the recipe for my Homemade French Fries.
For the tartar sauce:
1/3 cup Mayonnaise (This time around I used some store bought Mayo, that I happened to have on hand, but you could just as easily whip up some on your own. Click here to find out how.)
1/2 small onion, finely chopped
Some chives, chopped (I didn't have any fresh chives at hand, so I used dried chives)
A spoon of Pickled Sweet Cucumber Relish (I had a jar of this so I used it, otherwise I would've just thrown in some finely chopped cucumber)
A large squirt of lime juice
Place all these ingredients in a bowl and stir to mix.
Check for seasoning and adjust the ingredients as required to suit your taste.
Keep refrigerated till you're ready to serve. Stir before serving.
This recipe is linked to –
Real Food Wednesday
It's a Keeper Thursday
Full Plate Thursday
Yesterday, I had posted about a wonderful
samosa
recipe I had come across at
U.S. Masala
. This amazing blog has a bunch of wonderful recipes that I so want to try. Why perusing this space, I found a recipe for a Green Chutney as well as a Tamarind and Date Chutney, both of which can be used as accompaniments for a large variety of chaat and Indian snacks. I was very pleased with how both of these turned out, just the way I like it. These are going to be my "Go To" recipes for now. And it'll not be easy to knock these off their spot.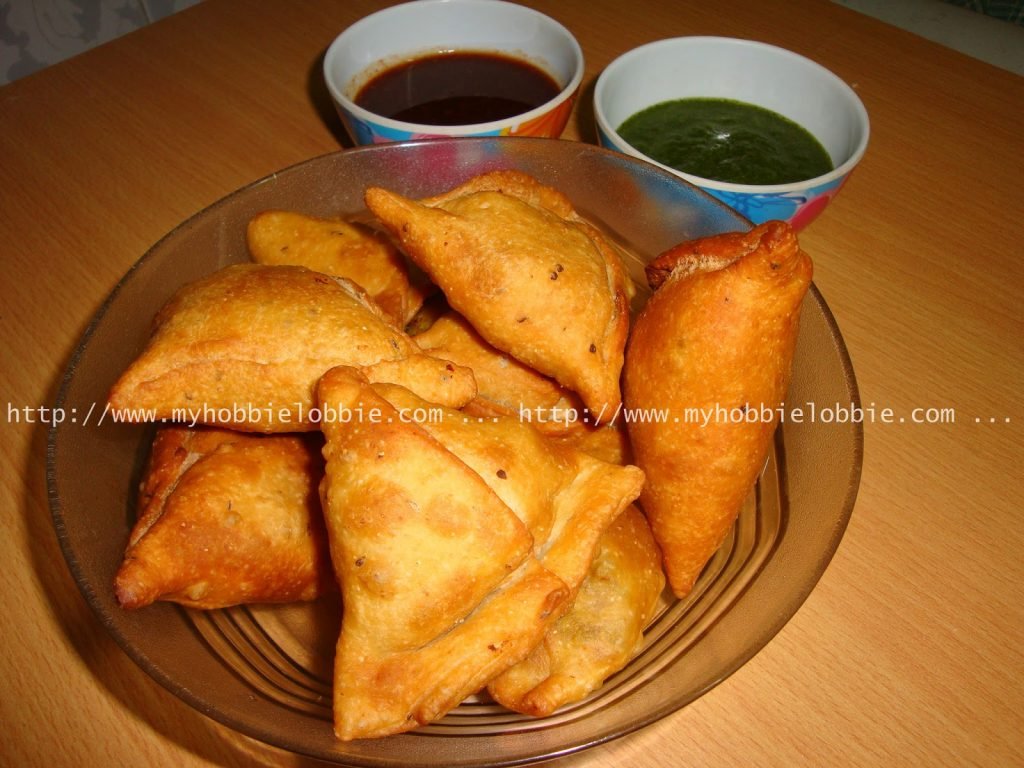 Green Chutney (Pudiney (mint) ki chutney)
1 cup fresh coriander leaves, packed
1/4 cup fresh mint leaves
2 cloves garlic
1/2 tsp cumin powder (I suggest you roast some cumin seeds and crush them on the spot – its a lot more flavorful that way)
2 green chillies
1-2 tsp lemon juice
Salt, to taste
Blend all the ingredients till you get a smooth paste.
Adjust salt and lemon to taste.
You can decant it in a clean glass bottle and refrigerate if you aren't using it immediately.
Tamarind and Date Chutney (Imli ki chutney)
Makes about 1/2 cup
3 tbsp tamarind pulp
3 tbsp dates, pitted and chopped
1/2 cup jaggery, roughly chopped
2 cups water
1 tsp salt
1 tsp red chilly powder
1/2 tsp fennel powder
1 tsp roasted cumin powder
1/4 tsp black salt
In a heavy bottomed pan on medium heat, place the tamarind pulp and water and mix well.
Add the dates and let it come to a boil.
Lower the heat to medium low and add the jaggery and mix. Let it cook on medium to medium low till the jaggery melts and the sauce reduces to half, stirring regularly.
Add the salt and all the spice powders and mix well.
Cook for about 2-3 minutes and turn the heat off when it gets to a ketchup like consistency. Keep in mind that this sauce will thicken as it cools.
Cool down to room temperature and store in a clean and dry glass bottle and refrigerate till you need to use it. It keeps for weeks, if it lasts that long 🙂