Who's up for some popcorn? And not just any ordinary packet of store-bought popcorn, but an amazing Homemade Caramel Popcorn. I've said it before and I'll say it again, popcorn is one of my favorite snacks. In the past, I've used those microwavable packets too, but ever since I learned how to pop my own corn at home, I just make it from scratch. It is so easy and so much more economical than the store bought bags. Not to mention, that you're saving on all that unnecessary packaging too.
I've tried so many variants of flavoring while experimenting at home. Some savory and some sweet. Today, I'm going to share with you my favorite version of Caramel popcorn. The corn takes a couple of minutes to pop, the caramel sauce comes together in a few minutes, then all you do is toss everything together and leave it to cool down and set for a few minutes.
What you get is the most amazing crunchy popcorn, seasoned lightly with a little salt, to taste, covered in the most beautiful caramel sauce. Is there anything else you could want in a snack? Yes, this is a slightly indulgent snack, but we all deserve a treat every once in a while, don't you think so?
Let's have a look at the recipe.
Caramel Popcorn
Yields: 3-3 1/2 cups of popped corn
For the popcorn –
1 1/2 – 2 tbsp cooking oil, any unflavored oil will do
1/4 cup popping corn
Salt, to taste
For the sauce –
1 tbsp butter
1/2 cup sugar (finegrain / caster sugar works best)
1/8 tsp baking soda
To make the popcorn –
Heat a large, heavy bottomed vessel. Add the oil and let it heat up.
Add 2-3 corn kernels and let them pop. This is when the oil is at the right temperature. At this stage, add the rest of the corn to the vessel. Put a lid on and leave very slightly ajar.
Swirl the pan around every now and then.
When the popping slows down and almost stops, take the vessel off the heat and immediately sprinkle some salt over. Toss the corn and salt to season well.
To make the caramel sauce –
Heat a small saucepan over some medium heat.
Add the butter and sugar to the pan and let it all melt down, stirring every now and then.
Once it melts, watch the pot carefully as the sugar will turn color very quickly and could burn.
When you've reached a nice caramel color, immediately take it off the heat and add the baking soda and stir thoroughly.
Quickly pour it over the popped corn and stir through to coat the popcorn with the sauce.
Turn the popcorn out on a lightly greased baking tray and leave it to cool and set.
Enjoy!
Veggies – Love Em or Hate Em?
In my house, we love veggies. Whether it is steamed, in a curry, stir fried or straight up in a salad, we love it all. We are trying to include more veggies in diet as much as we can, because it is healthier for you. And when you eat what's in season, it tends to be a lot easier on the pocket too. I try to eat local produce as much as I can and always go for what's in season.
When I came across a recipe for a vegetarian Shepherd's Pie, I knew I had to try it. It calls for a bunch of veggies, which most of us usually have on hand, and lentils. We eat a lot of lentils, pulses, legumes, so I knew this would be an interesting way to switch things up. There are a few processes involved in the recipe, but they are all really simple and I loved that there were leftovers.
This Veggie Shepherd's Pie is chock full of veggies and lentils and is the perfect meal for a cold, wet day. The veggies and lentils are full of flavor and are topped with mashed potatoes.And who doesn't love mashed potatoes?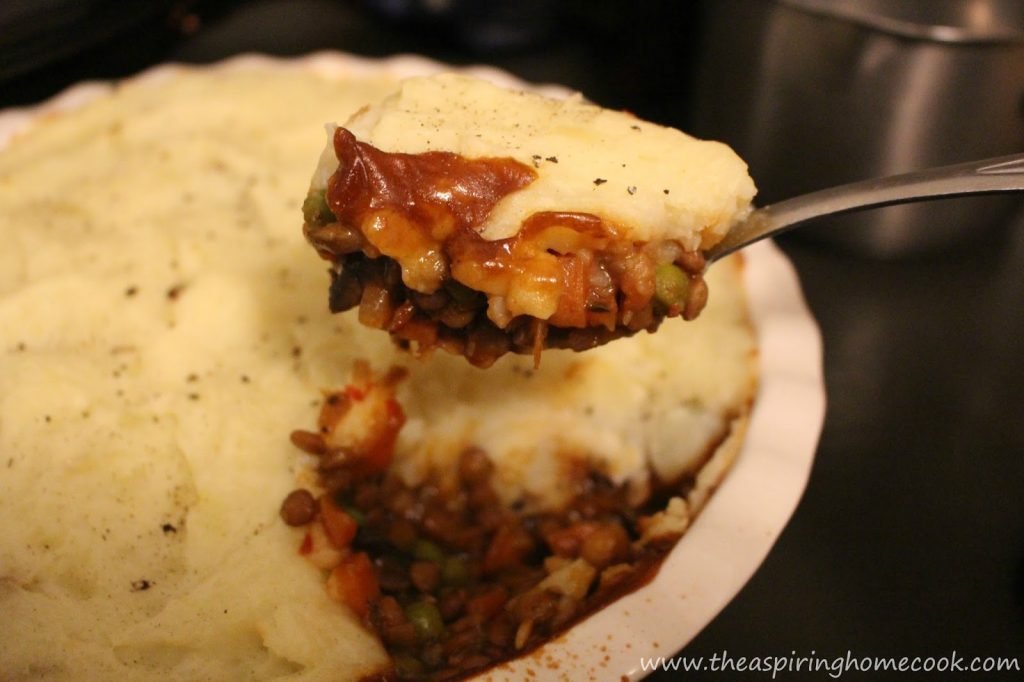 Vegetarian Shepherd's Pie
Recipe from: Budget Bytes
1 cup cooked lentils
1 tbsp olive oil
2 cloves garlic, finely chopped
1 large onion, chopped
3 carrots
2 stalks celery
Handful of button mushrooms, sliced
Salt, to taste
1 tsp dried thyme
1/2 tsp smoked paprika
Freshly cracked black pepper, to taste
1 tbsp tomato paste
1 tbsp flour
1 cup vegetable broth
1 cup frozen peas
6-8 potatoes, depending on size (You need enough to make about 4 cups worth of mashed potatoes)
A knob of butter (optional)
Heat olive oil in a large skillet over medium heat.
Add the onions and garlic and saute till the onions have softened.
While the onions are cooking, dice the carrots and celery to 'more or less' resemble the size of the peas and lentils.
Once the onions have softened, add the diced carrots and celery to the pan and cook till the celery has started to soften.
Now add the sliced mushrooms, salt, thyme, smoked paprika and pepper to the pan. Stir well to let the spices incorporate. Continue cooking till the mushrooms have fully softened.
Add the tomato paste and the flour to the pot. Stir and continue to cook the veggies till they're coated and the pasty mix starts to coat the bottom of the pan. This should take about 2 minutes.
Add the vegetable broth to the pan. Stir to dissolve the flour and tomato paste that has coated the bottom of the pan.
Bring the broth to a simmer. It will have started thickening. Add in the cooked lentils and peas and let them all heat through.
Taste for seasoning and add more salt and pepper if needed, stir through and take the pot of the heat.
Preheat your oven to 200ºC.
Wash and peel the potatoes and cut them into cubes to cut down on cooking time.
Boil them in salted water till tender. Drain and mash the potatoes with the butter (if you are using) till no lumps are left. Taste and add more salt, if needed.
Add the vegetables to a large casserole dish (I used my 9 inch ceramic pie dish). Top with the mashed potatoes. It is easier to handle the mashed potato when it is still warm. I used the back of a spoon to flatten the mashed potatoes. You can choose to use a fork or a spoon to create a decorative pattern if you'd like.
Bake for around 15 minutes till everything has heated through. If you want the mashed potatoes to brown some more, place it closer to the top heating element of your oven, or turn your broiler on (if your oven has that function) and bake for a few more minutes. Watch closely and when it has browned to your liking, take it out of the oven.
Sprinkle some more freshly cracked black pepper over the top and serve hot.
Enjoy your veggies!!!
Pin this now for later –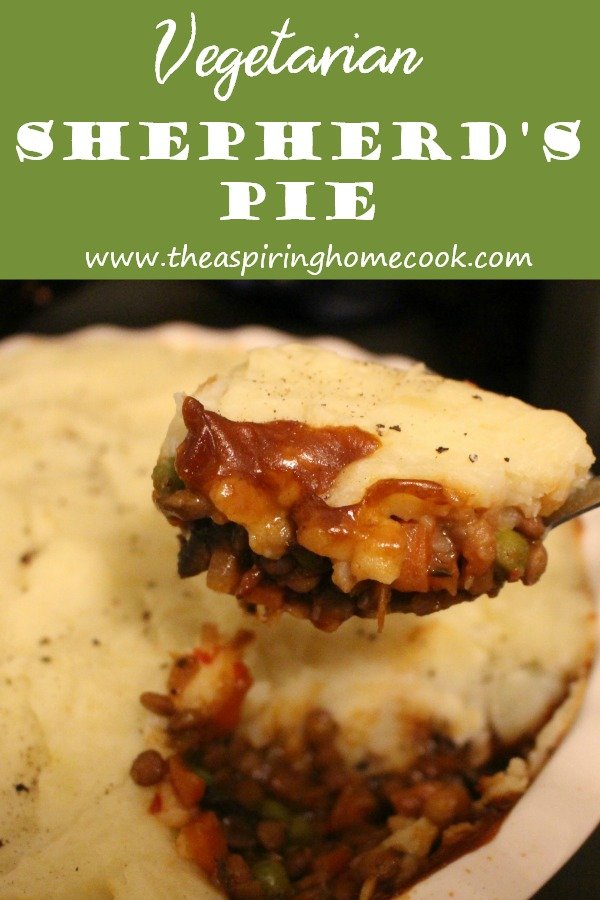 Hello lovelies!
I'm in a particularly good mood today. I know it's a Monday and I'm not usually a Monday person. It probably has something to do with the fantastic beach day we had yesterday. The hubby and I drove down south of Sydney and stopped at Thiroul beach for the day. The weather was just beautiful and water was amazing. Such a stark contrast to the scorchers we've been having the past few days. It was pure bliss. I simply love that part of NSW. Have you been there? I'd love to know what your favorite spots are? For all you beautiful people that are still dealing with winter, here's a little sunshine coming your way 🙂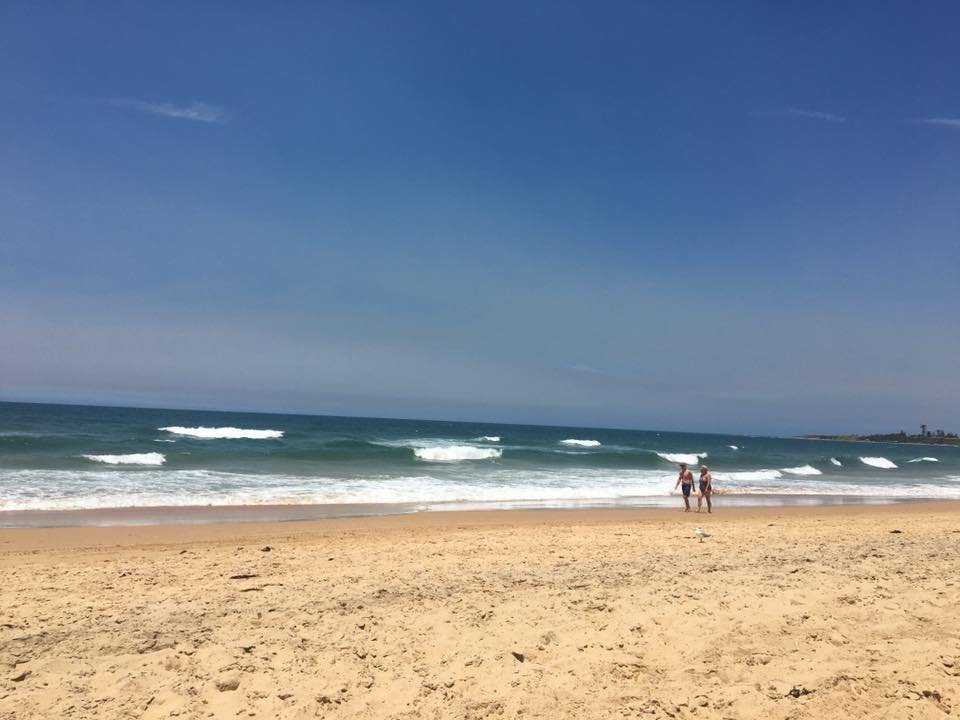 Speaking of sunshine, today's recipe is just like a little sunshine on a plate. It's a sweet potato mash. I love sweet potatoes. I almost always make these Baked Sweet potato fries. But at times I also just boil them with a pinch of salt till tender and snack on them, or roast them, or if I'm feeling a little indulgent, whip up a batch of these Sweet Potato Brownies. But last week, when I wanted to use up a sweet potato, it was just too hot to switch the oven on. So I decided to try making a mash. It was as easy and quick as a regular batch of mashed potatoes, but just a touch sweet and a little savory at the same time. It was glorious. I might just like a Sweet Potato Mash a little more than I like a regular mash.
So, if you haven't yet tried a sweet potato mash, don't wait any longer. Get your hands on a sweet potato and get to work. You won't regret it.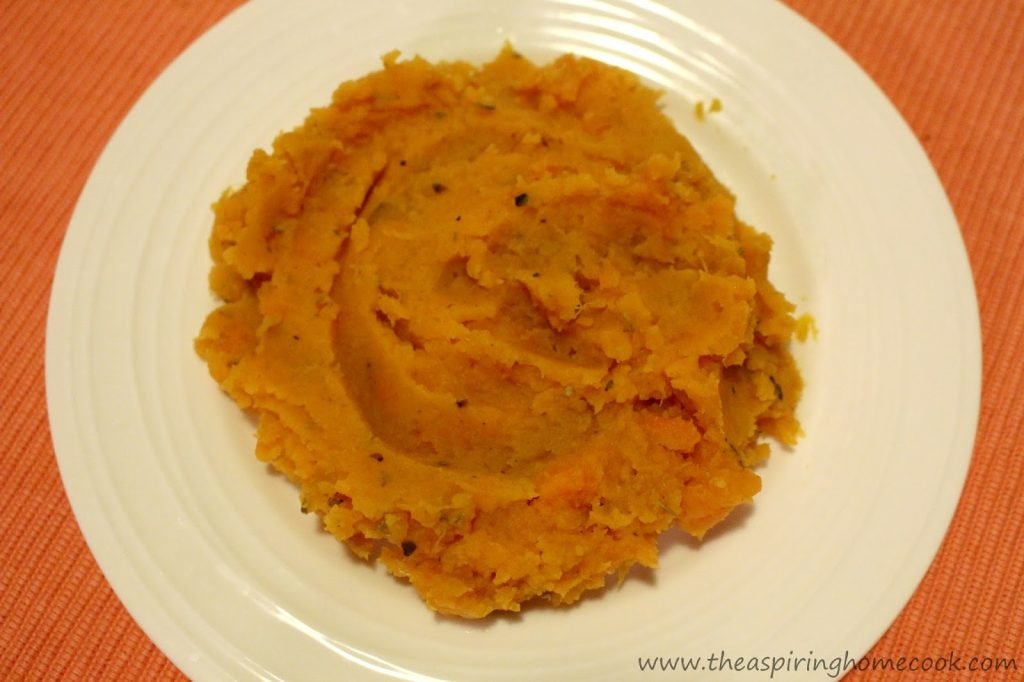 Sweet Potato Mash
Recipe from: Cooking Light
Serves 4
1 1/2 pound sweet potatoes (about 650-700g)
1 1/2 tbsp butter
1 tbsp extra virgin olive oil
A large pinch of dried thyme or 2 tsp chopped fresh thyme, or to taste
1/4 cup milk
Salt, or to taste
Freshly crushed black pepper, to taste
Peel and cube the sweet potato. Place the potato in a large pan with about 1/2-1 tsp of salt and water till it reaches about 2 inches above the level of the potatoes.
Bring to a boil and simmer till tender. This usually takes about 15-20 minutes depending on the size of the pieces.
Take off the heat, drain and place the potatoes back in the pan.
In another little skillet or pot, heat the olive oil and butter over medium heat. Cook till brown and fragrant. Be alert as this can burn quick.
Once it has browned, take off the heat and stir in the thyme.
Add the milk, salt and pepper to the hot sweet potatoes and mash till it reaches the desired consistency.
Now drizzle the browned butter mix over and stir through the mash.
Garnish with some more crushed black pepper or thyme leaves as desired.
Enjoy!!!
I served this up with some Eggplant patties and a Lemon, Sun-dried Tomatoes and Almond Quinoa Salad for dinner.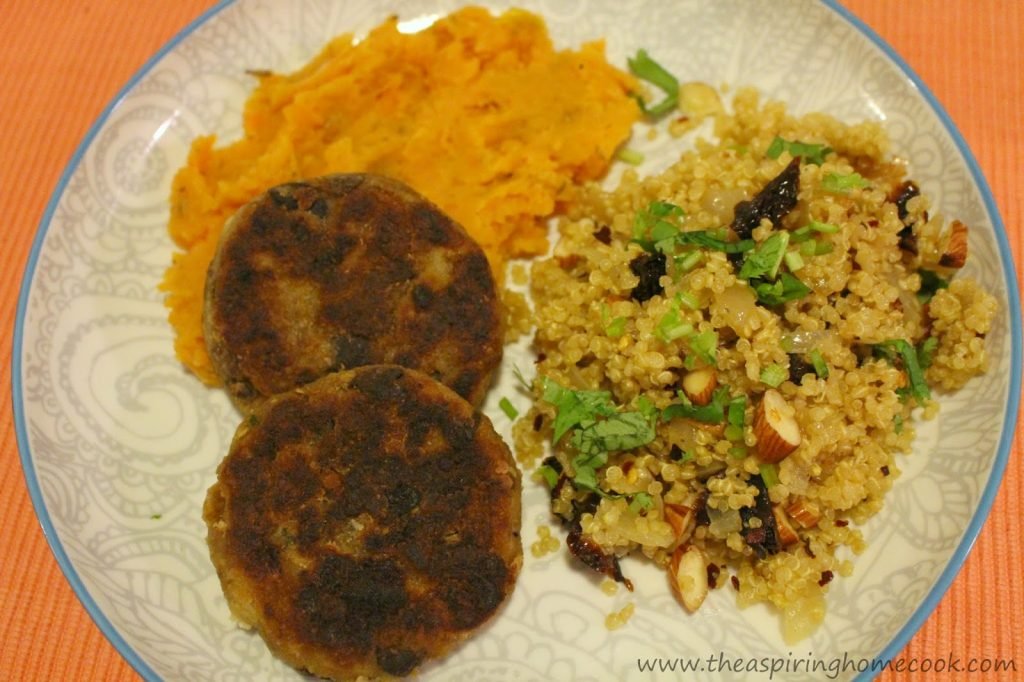 Find the other recipes to make this meal here –
Eggplant Patties
Lemon, Sun-dried Tomato and Almond Quinoa Salad
Almost everyone around the globe appears to be embracing the approach of fall. Falling leaves, cooler days, soups and sweaters and all things pumpkin. In my part of the world though, we are well on our way to Summer. But, since we're so blessed with great weather and an abundance of fruit and veg all the year round, we are still getting a fair bit of pumpkin. But I think it is nearing the end of pumpkin season. I realized I had never made or tasted pumpkin pie. I know right! That, I am glad to report, has officially changed.
Over the weekend, I bought some pumpkin, made my own pumpkin puree, the filling and the pastry from scratch. Hang on, don't run away. It sounds like a lot of work, but it really wasn't. I roasted the pumpkin late one evening and the next day I made the pie. The pastry and the filling comes together in the food processor. The food processor was used mainly out of necessity. I'd sprained my wrist a few days ago and there was no way I could have knead the dough or mashed the pumpkin by hand. I was amazed at how easy it was. I may never go back to making shortcrust pastry any other way. I do hope you try baking a pumpkin pie from scratch this year, especially if you haven't done so before. It is so satisfying, you'll be glad you did.
I left the pie just as it was baked and didn't even cover the little knife test mark, because I didn't want to over sweeten it by adding any icing sugar on top. You could dust it with some icing sugar if you'd like. If you want to make it more indulgent, top it with some whipped cream or serve it with some ice cream if you'd like. We tried that, but loved how it tasted by itself. And trust me, it tasted even better the next day. So make it a day or two before you need it (think Thanksgiving dinner), and once it has completely cooled down, refrigerate till you are ready to serve. The pie is beautiful – the pastry is perfectly flaky and the filling spiked with warm spices is silky smooth.
How to make Pumpkin Puree at home –
1 – 1 1/2 kilo pumpkin
You can either use small pumpkins or a wedge of a larger one, whatever you can get your hands on. I used about 1/3 of a Kent Pumpkin.
Preheat the oven to 180ºC.
Cut into equal sized wedges. Leave the skin on. Scoop out the insides – the seeds and the membrane.
Place the pumpkin skin side down on a roasting tray and bake for 45 minutes to an hour or till a knife pierced through the flesh of the pumpkin goes through without any resistance. (I did this while we were having dinner)
Let the pumpkin cool. (I left it to cool overnight and made the puree the next day.) Peel the pumpkin or scoop out the flesh, whatever you find easier, and place the pumpkin in a food processor and blitz till done. If it looks too dry, add a couple of spoons of water and blitz again.
What you are left with is a glorious bowl of fresh pumpkin puree.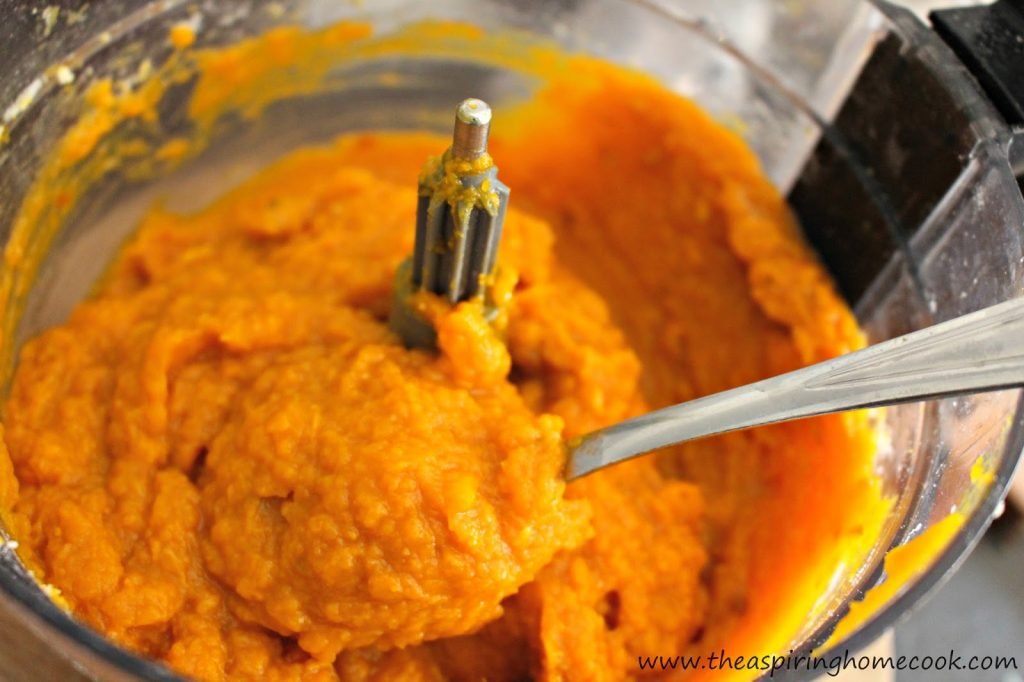 Once you have your pumpkin puree, you can use it to make anything pumpkin you'd like – Pumpkin pie, pumpkin doughnuts, pumpkin cake / cookies, pumpkin rolls and the list goes on.
Now, let's get on to making the Pumpkin Pie.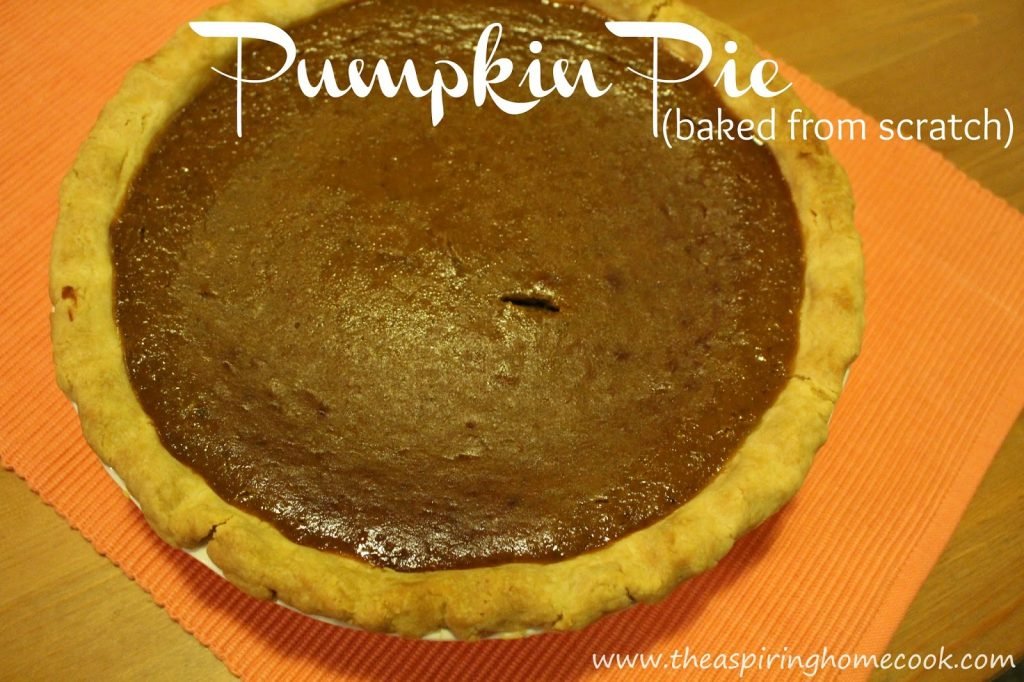 Pumpkin Pie
Recipe from: Tabler Party of Two
For the pie crust –
250g all purpose flour
125g cold butter, cubed
A couple of tablespoons of cold milk
(If you're using unsalted butter, add a pinch of salt. If you're using salted butter, leave out the salt.)
Place the flour and butter in the food processor.
Pulse a few times till the butter has broken down and you're left with a mix that looks like this.
Add a couple of spoons of cold milk to help bind the pastry and pulse a couple of times till you are left a mix that looks like this. Start with a spoon or two and add more if needed.
Place some clingfilm on your work surface (lesser clean up this way) and tip this mix on top.
Press together to form a dough. Don't knead or overwork the dough.
Wrap it up in the same cling film and refrigerate for about half an hour.
While the dough is chilling, make the pie filling.
For the pie filling –
2 cups fresh pumpkin puree
1 can evaporated milk (a 12 ounce can)
3 eggs
3/4 cup sugar
1/2 tsp salt
1 1/2 tsp ground cinnamon
1 tsp ground ginger
1/2 tsp ground nutmeg
1/2 tsp ground cloves
Place all the ingredients in the food processor and blitz till everything is well incorporated and smooth.

Preheat the oven to 180ºC.
Take the dough out of the refrigerator and roll to a disc large enough to cover a 9 inch pie dish. Line the pie dish with the dough and pour in the filling.
Cover just the edges of the pie crust loosely with foil to keep it from burning.
Bake for 50-60 minutes or till a knife pierced through the center comes out clean. Take the foil off in about the last ten minutes to let it evenly brown.
Cool and cut into wedges and serve.
Enjoy!!!
Pin now and try later.