It has been ages since I baked a batch of cookies. There was a time when I baked almost every week. But that hasn't happened for a while. I must say that this batch has reminded me of all the reasons why I love baking. You haven't really eaten a good cookie until you've eaten one that's homebaked. The store-bought ones pale in comparison. I do believe that since I haven't had a home baked cookie in a while, the difference was very noticeable and it is safe to say that I will be doing a lot more baking. It's a good thing autumn seems to be just around a corner. Putting the oven on will be some much more pleasant on cooler days.
On to these cookies. The batter is really easy to put together. And the macadamia nuts in the cookies are amazing. I used a batch that I'd bought on our last trip to the Sunshine Coast. If you're ever there, you must visit the Nut Factory. There's not much to look at, but they offer a range of macadamia nut snacks, ranging from the natural and the plain roasted to a beautiful dark chocolate covered Macadamia Nut for the chocolate lover in you and a Crunchy Hickory Macadamia for when you're in the mood for something savory (This was one of my favorites and it goes really well with a cold beer.) The best part of the visit is you can sample some of the treats on offer. But I digress. So let's get back to these cookies. I was specifically looking for a cookie recipe to showcase the gorgeous Macadamia Nuts and this recipe does just that.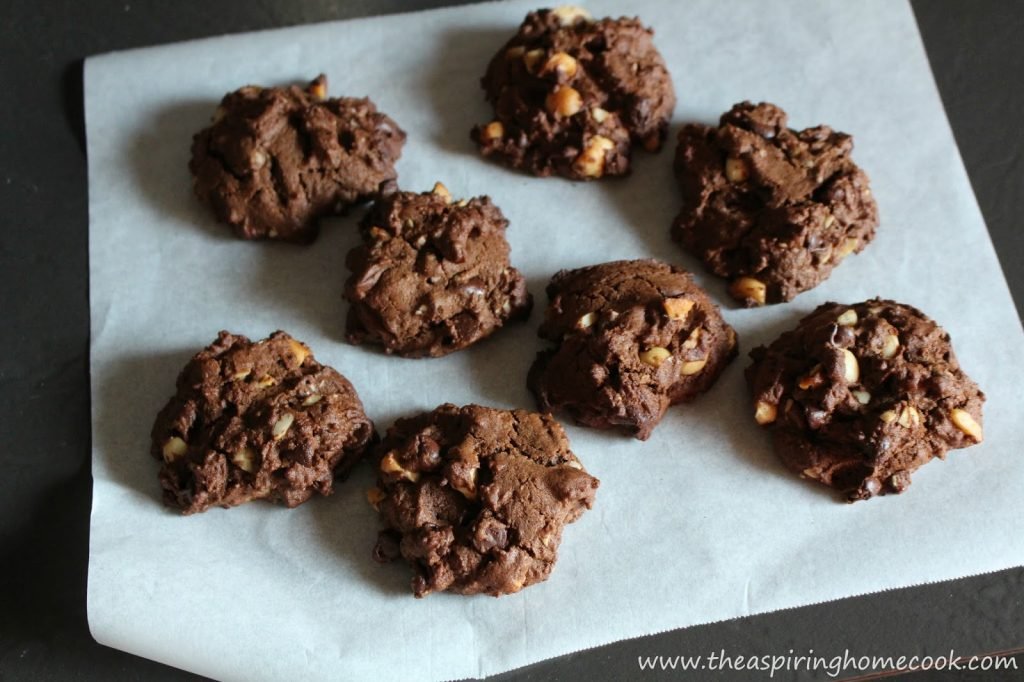 Double Chocolate Macadamia Cookies
Adapted from: Crazy for Crust
Makes 20 cookies


1/3 cup cocoa powder
1/2 tsp baking soda
1/4 tsp salt
1 1/4 cup all purpose flour
1/2 cup butter, softened
2/3 cup brown sugar
1 tsp vanilla bean paste
1 large egg
1 cup chocolate chips
1 cup chopped macadamia nuts
Preheat the oven to 180ºC. Line a cookie sheet with parchment paper and set aside.
In a medium bowl whisk the cocoa powder, baking soda, salt and flour till they are all combined.
Cream the butter and sugar together.
Mix in the egg and vanilla till well incorporated.
Add the flour cocoa mix and mix until just incorporated.
Add the chocolate chips and the chopped macadamia nuts and fold into the cookie dough.
Scoop batter into equal sized portions onto the prepared baking tray and space them a couple of inches apart.
Bake for 9-12 minutes or until the cookies have just lost the glossy sheen.
Cool completely and then store in an air tight container.
Enjoy!!!
You can watch the video recipe here –