Even though I'm not British or Australian for that matter, or have never been to these countries, Fish N Chips has established itself as comfort food in my household. A lot of times when we'd go out for dinner, especially to Pop Tate's (now Jughead's – near Movietime, Malad), one of our favorite things to order had to be their Fish N Chips. What hooked me onto this was their tartar sauce. It was so good, I could literally enjoy it by itself. After quite a few dinner's there and spending quite a buck, I wondered if it would be possible to try and replicate this at home. So after going through a few searches on the internet, I had a rough idea of what would go into the sauce and I decided to wing it from there on.
The results were amazing. I was astonished at how simple the entire meal was to put together. We were feasting on Fish N Chips in no time at all. Would I dare compare it with the one from Pop Tate's. This time around, hell yeah! My version was just as good, if not better and my husband agrees. Now we no longer have to go out to tuck into a platter. Every single element on this plate can be made from scratch. Isn't that wonderful.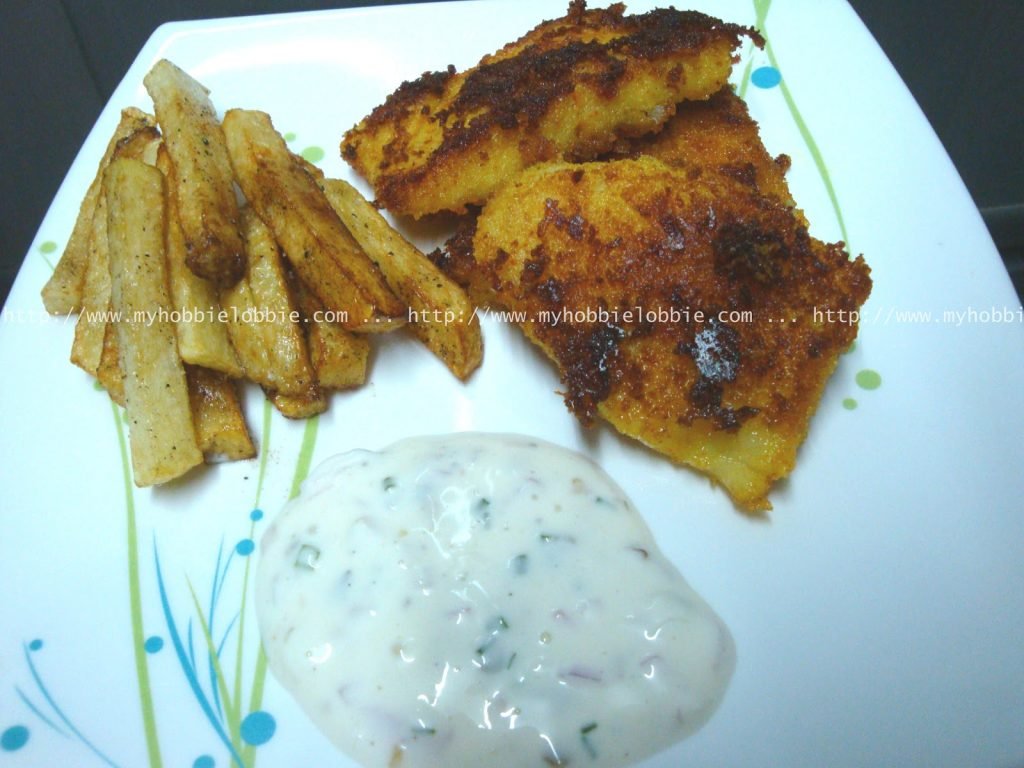 Fish N Chips
Serves 2


For the fish:
4-6 fillets of fish depending on the size (I used 2 Premium Basa fillets from Hypercity and cut it into smaller pieces. You can use any fish you like, preferably not the tinier ones.)
I simply crumb fried these fillets. I used the same recipe like the one for Crumb Fried Prawns.
Try not to fidget with the fish while it is frying as it is fairly delicate. Once it develops a nice golden brown crust on one side, flip it over and let the other side cook.
For the chips:
Use 2 potatoes, more if you'd like a larger portion of chips. I used the recipe for my Homemade French Fries.
For the tartar sauce:
1/3 cup Mayonnaise (This time around I used some store bought Mayo, that I happened to have on hand, but you could just as easily whip up some on your own. Click here to find out how.)
1/2 small onion, finely chopped
Some chives, chopped (I didn't have any fresh chives at hand, so I used dried chives)
A spoon of Pickled Sweet Cucumber Relish (I had a jar of this so I used it, otherwise I would've just thrown in some finely chopped cucumber)
A large squirt of lime juice
Place all these ingredients in a bowl and stir to mix.
Check for seasoning and adjust the ingredients as required to suit your taste.
Keep refrigerated till you're ready to serve. Stir before serving.
This recipe is linked to –
Real Food Wednesday
It's a Keeper Thursday
Full Plate Thursday