This version of marzipan is made using cashew seeds and is shaped into little colorful bites. It is the crowning glory of every Indian Christmas platter.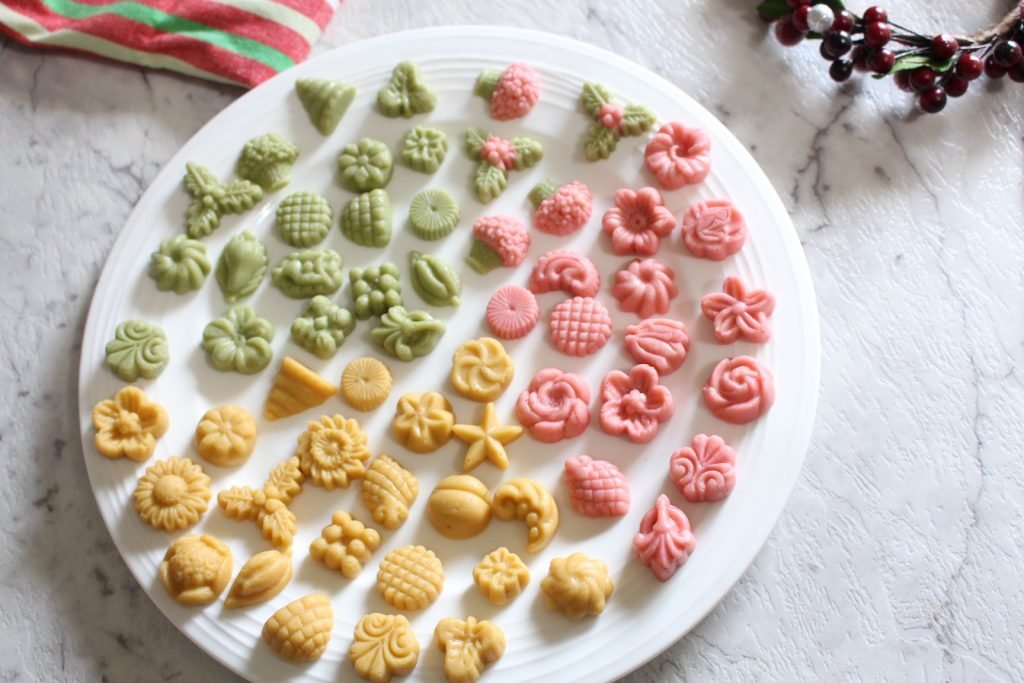 Today, I want to take a minute, right at the onset, to say "Thank you" from the bottom of my heart for all your support on my YouTube Channel. I am overwhelmed that so many of you want to watch my videos and try my recipes. A lot of you lovely folks have asked me to share my Marzipan recipe. 
The recipe that I'm sharing with you today, is my absolute favourite. Typically, Marzipan is made using Almonds. But in Goa(and India, in general), Cashew nuts / Cashew seeds are more easily and abundantly available than Almonds. So the Goans / Indians have simply swapped one for another. And the results are pretty spectacular. I always make my version using cashew seeds. You can use this recipe to form little shapes like you will see me do today, you can cover a cake with it, and I've also made
Marzipan tarts
in the past. The possibilities are endless. 


Marzipan
Yields: 1/4 kilo or 250g Marzipan
125g Cashew Nuts 
200g Sugar
1 egg white
1/2 tsp Almond essence
1/4 cup water
Food colours, as required
Soak the cashew nuts in some (room temperature) water for about 10 minutes. Drain, run some fresh water through the nuts, and drain them again.
Grind the cashew nuts, egg white and water to a fine paste.
Pour the ground paste, the almond essence and sugar into a large heavy pan. Place the pan on low-medium heat and stir to combine.
Cook the paste on a medium low heat, stirring continuously till it thickens and starts coming away from the pan. 
Use the water test to check if it is ready. Place some ice cold water in a small bowl and drop a 1/2 teaspoon of the sweet on it. If it firms up on cooling it is done. If it is still soft or too sticky, it needs more cooking.
As soon as it has cooked, pour the marzipan on a large plate and spread it out a little and leave it to cool down a little. Knead it to a dough while it is still warm.
Portion and colour the marzipan as desired. 
You can now shape it as needed or use it in any recipe that calls for it. 
If you making little shapes with the marzipan, once you de-mould it, place it on a plate and leave it to air dry for a while till it sets and is slightly firm to the touch. You can then place it in an airtight container and store. This should last you a couple of weeks if stored well. 
If the temperature is too high where you are, consider refrigerating it till needed.
My Christmas Tree is up, the carols are playing and the air at home, especially in my kitchen is full of lovely aromas of Christmas sweets being made. This literally is the best time of the year. If you haven't figured it out yet, I love all things Christmas. Christmas sweets in my house, like any other Goan household, includes all sorts of traditional Goan recipes. Over the last few years, I've found myself including a couple of recipes that are more 'recent' for lack of a better word. Like this little gem I'm sharing with you today.
Most Goan Sweet recipes are a labor of love and usually require either hours of stirring on the stovetop or take hours to shape and form. And while I love them all and make most of them every year, I love having recipes like this Chocolate Hazelnut Fudge on hand. This recipe is a great one to have on hand. It uses just 4 ingredients and the cooking time is just a few minutes. And, after leaving it to set in the fridge for a few hours, you end up with a super delicious, decadent chocolate fudge. This time around, I'm using hazelnuts in the fudge and I'm happy to report that this fudge tastes very similar to the Ferrero Rocher chocolates you find in the shops, albeit, without the wafer. You can customize this fudge to suit your liking by swapping hazelnuts for any nuts that you prefer.
Chocolate Hazelnut Fudge


350g dark chocolate
100g hazelnuts
1 tin condensed milk (we get 395g tins here)
30g butter
Line a 9 inch square baking tray with some foil, leaving a little overhang on the sides and set aside.
Lightly roast the hazelnuts. Carefully remove any pieces of skin / peel that may have been left on. Let the nuts cool down completely.
Roughly chop the nuts or place them in a ziplock back and crush the nuts with a rolling pin. You will be left with a rough chop.
Add the butter, condensed milk and chocolate pieces to a heavy bottomed pan. Stir over medium heat till the chocolate has melted and everything in the pan has combined to form a rich, luscious mix.
Add the hazelnuts and stir through to incorporate well. You will notice the mix starting to thicken.
Quickly pour into the foil lined tray. Leave it on the countertop to cool down a little. Once it comes to room temperature, pop the tray into the fridge and leave it to set for 4-6 hours or overnight.
Carefully peel back the foil. Cut the fudge into squares and serve.
If you're not serving this up immediately, place in an airtight container and refrigerate till needed.
Enjoy!!!
Its December folks! Anyone who knows me, knows I'm a bit Christmas crazy. I love everything about the Holiday season. I'm going to kick off this years Christmas recipe posts with a lovely little cookie – the Indian Nankatai. This is an eggless recipe and is so easy to put together. What you end up with is a delicate and really delicious little treat. I like making a big batch of Nankatais closer to Christmas. I add these on my Christmas platter of sweets to share with family and friends and I also have some in the cookie jar to serve up with some tea.
Let's talk about the dough for a bit. It is such a ridiculously simple recipe, you will be surprised at how tasty the nankatais turn out. I find that this dough can be a little finicky and it usually works beautifully on a slightly warm day. While that works beautifully for us in Australia and anyone in the Southern Hemisphere, it could be a challenge in the Northern Hemisphere, where its the middle of winter. If its cold where you are, you might find that the dough ends up a little crumbly and you may have a little difficulty shaping it into a cookie. When that happens, I pop the dough in an ovensafe bowl and pop it into a slightly warm oven (about 100 degrees) for a couple of minutes. This helps the ghee warm up and helps bind the dough.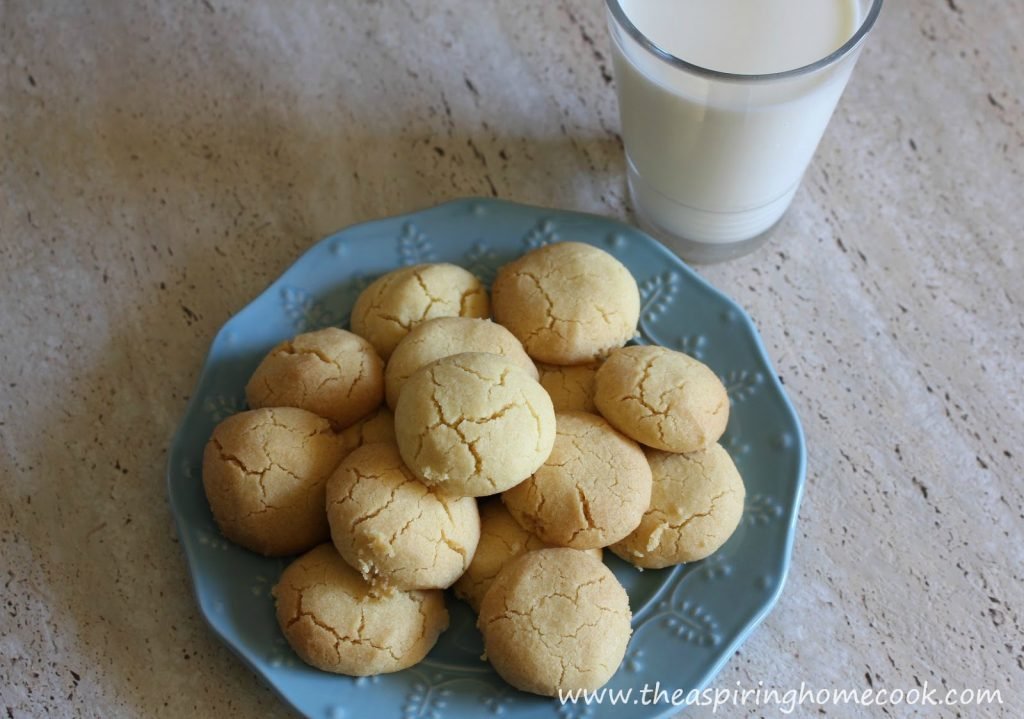 Nankatais
Yields: 1/2 kilo (approx 30 cookies)
1 1/3 cup all purpose flour
1/3 cup besan (chickpea flour)
1 cup sugar (superfine. You can also powder larger grain sugar and then use it in the recipe)
2/3 cup of ghee (clarified butter)
1/4 tsp baking soda
Preheat your oven to 180 deg. Celsius and line a baking tray with some baking / parchment paper.
Mix the ghee and sugar till it is light and creamy. Scrape down the edges and bottom of the mixing bowl halfway through the process.
Add the rest of the ingredients (baking soda, all purpose flour and chickpea flour) to the mixing bowl and continue mixing till it forms a dough.
Shape into little cookies by rolling portions of the dough into a little ball and flatten it slightly. Place the cookies on the lined baking tray.
Bake for 12-15 minutes or till done. Your looking for a light colour on the edges.
Take it out of the oven and leave the cookies to cool on the tray itself.
When completely cool, store in an airtight container.
Enjoy!
You can watch the video recipe here –
Howdy folks! I hope everyone's had a great Halloween. Now that Halloweens over, I figure its safe to start actively working on Christmas. And in an attempt to get a headstart, I've decided to post one of my favorite cake recipes. This one is a basic sponge cake recipe. Now I know, this is not a very Christmassy recipe, but I know a few people who don't like fruit cake and actually request for a sponge cake instead. While this recipe is basic, there's nothing basic about the end result. It uses simple ingredients and results in a really flavorful cake. While you can use this cake as a starting point for a number of cake creations and other desserts, this cake can hold its own as a tea cake too. Infact, my husband enjoys this cake so much, that when he asks me to whip one up, he justs wants it as is, no frosting or anything.
If you're someone who wants to learn how to bake, this is a great place to start. I've actually filmed the recipe too and I've included some of my tips and tricks to help out novice bakers. I will link the video at the end of this post.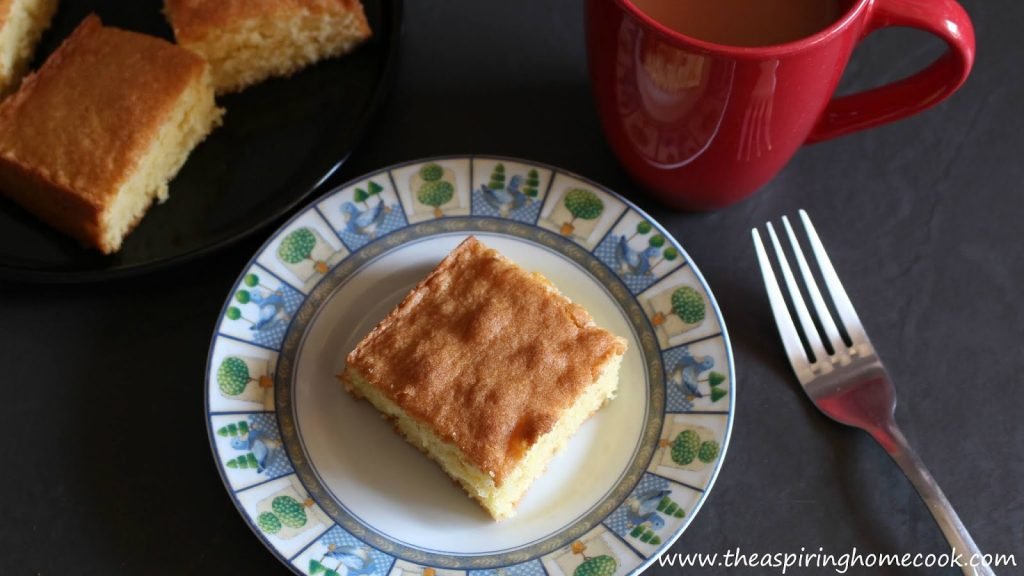 Vanilla Sponge Cake


250g butter, at room temperature
250g sugar (Use either a really fine grain or powder your sugar in a dry grinder before using)
250 all purpose flour
4 eggs
1 tsp vanilla extract / vanilla bean paste
1 tsp baking powder
Preheat your oven to 180ºC and line the base of your cake tin and grease the base and the sides and set aside.
Separate the eggs.
Whisk the egg whites to stiff peak stage and set aside.
In a large mixing bow, beat the butter, sugar, egg yolks and vanilla till light and creamy.
Mix the flour and baking powder.
Sift the flour mix into the butter and sugar mix in 3 stages, folding the flour into the batter only until just incorporated, with each addition.
Add a couple of scoops of the stiff egg whites to the cake batter and gently mix to loosen the batter. Gently fold the rest of the egg whites into the batter till it is well incorporated.
Pour the cake batter into the prepared cake tin and bake for 30 minutes or till a cake pierced through the center of the cake comes out clean.
Let the cake cool down in the cake tin. When it has reached room temperature, carefully take it out of the tin.
You can now use this cake in any recipe that calls for a vanilla sponge cake or serve it as it is.
Enjoy!!!
Turmeric latte … Yay or nay?
This is a post I have been meaning to share for some time now. I know a while ago, turmeric lattes were all the rage everywhere. I was happy to see it gain popularity. We have been enjoying this golden cuppa for decades now.
I remember piping hot mugs of turmeric latte when I was a child. My mum would make this for us, usually before bedtime during the monsoons or winter, or when we had a cough or cold. Our version of the turmeric latte has some ingredients that are wonderful to soothe a sore throat. Turmeric, ginger and honey are all known for its health benefits. I was convinced that the only way I could get rid of a cough or a bad throat was with a mug of this golden goodness before bedtime.
If you need to chase those winter blues away or if you just need to cut down on your coffee intake, substitute your cup of coffee with this turmeric latte. Even though we used to have a mug of it just before bedtime, I now find myself reaching for this even in the morning or later in the day, when I'm craving a hot cuppa.
The way we make it, you don't need any fancy gadgets or equipment. Yes, you do need a couple of warming spices (namely, turmeric powder and ginger powder), but a little goes a long way, you won't need to purchase them often. We tend to have both powders in the pantry, so its really easy to fix up a batch of turmeric latte. This recipe is more just a guide. Tweak it to your liking for that perfect cup. This is how I like it.
Turmeric Latte


1 cup milk
1 tsp organic honey
1/4 tsp turmeric powder
1/8 tsp ginger powder
Place the milk, turmeric powder and ginger powder to a saucepan / pot. Whisk all the ingredients well.
Heat it over a medium high heat, till it is hot enough for you.
Place 1 tsp honey in your mug. Top with the turmeric milk. Stir well till the honey is dissolved.
Enjoy!!!
For most of us, the working week always flies by. There's little or no time for an elaborate breakfast. And in our house, its pretty much the same. But come the weekend, there's a little more time. You can sleep in, have a lazy breakfast or brunch before you start with your activities for the day.
Breakfast happens to be one of my favorite meals of the day. Well, a weekend breakfast, that is. Its the perfect time to whip up a batch of pancakes or French Toast or muffins. And if you're the mood for something savory, then eggs and toast with the optional bacon and sausages is a great option. If you're in a slightly more adventurous mood, then only a masala omelette will do. We love a good omelette. It needs to have nice bold flavors, a little spice and a little bite as well. We love it so much, that it sometimes makes an appearance as "breakfast for dinner". Anyone else like "breakfast for dinner" as much as I do? I cannot believe that I haven't shared this recipe with you before. It is super simple and so good. We usually serve it with some plain / buttered toast or some hot chapatis. They also make a fantastic sandwich when served between 2 slices of buttered bread. Try it out this weekend and let me know what you think of it.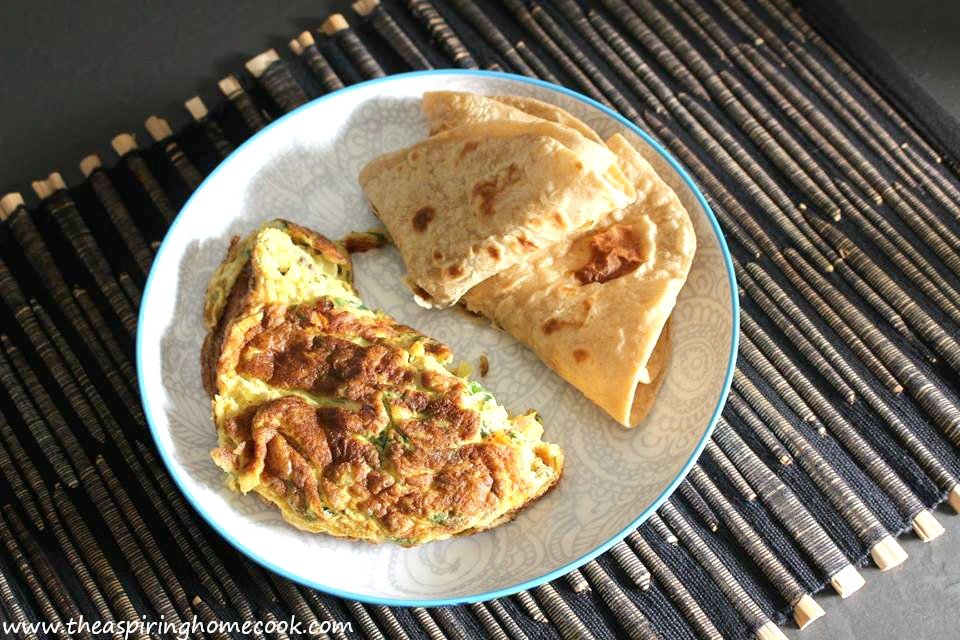 Masala Omelette
Yields 1 omelette
2 eggs
2 tbsp finely chopped onions
2 tbsp finely chopped tomatoes
1-2 tsp finely chopped coriander leaves and stalks
1/2 birdseye chilly, finely chopped
Salt, to taste
Freshly cracked black pepper, to taste
A good pinch of turmeric powder
1 tsp oil
Add the onions, tomatoes, chilly and coriander to a bowl.
Add the salt, pepper and turmeric powder to the bowl and mix everything thoroughly.
Heat a pan over medium heat.
Drizzle the oil in the pan. When the oil has heated, pour the omelette mix into the pan.
Cook it over medium heat till the bottom side has set and turned a light brown.
Carefully flip over and cook on the other side as well.
Serve hot.
Enjoy!
You can watch how I make it here –
Hi guys! Today's post is a special one. It's my favorite chocolate brownie recipe that I'm going to share with you. It's my go to recipe for chocolate brownies and I've used it for years now. It yields, what I consider, the perfect Chocolate Brownie. You get a beautiful crust on the outside and a fudgy, gooey center.
It's the perfect baking option for holidays or when you're baking for a crowd because of its simplicity. The recipe can be doubled if you like. And when simple recipes yield such fantastic results, you know you're on to a winner.
So I do hope you try these brownies out.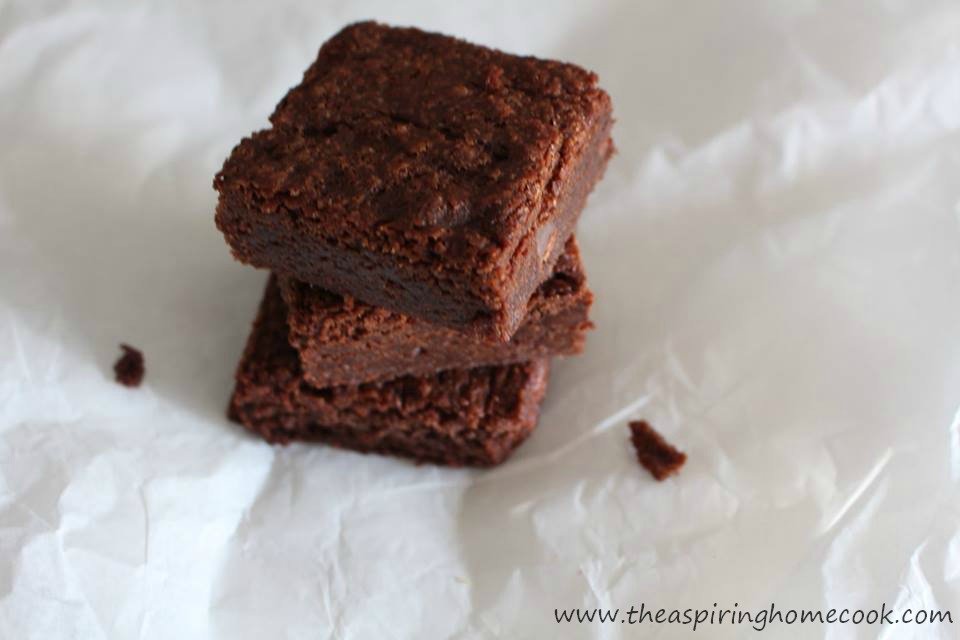 The Best Chocolate Brownies


110g all purpose flour
185g salted butter
175g dark chocolate (either buttons, or roughly chopped bars, both would work)
175g sugar
2 eggs
1 tsp vanilla bean paste
A pinch of salt
50g chocolate chips.
Melt the butter and dark chocolate in a heavy bottomed pan on low heat. Once everything has melted, take the pan off the heat and set it aside to cool.
Halfway through the cooling process, turn the oven on and preheat it to 180ºC. Line an 8 inch square baking tray with some foil and leave an overhang on the sides. The foil makes clean up so much easier and the overhang helps take the brownies out of the try very easily.
Crack one egg into a small bowl and lightly whisk it. Add it to the melted and cooled butter and chocolate mix and whisk to incorporate. Repeat this with the second egg.
Add the vanilla, salt and sugar and whisk well, making sure everything has mixed well.
Now add the flour and whisk until just combined.
Add the chocolate chips and fold it through the batter with the help of a spatula.
Pour the batter into the foil lined tray and bake for about 25-30 minutes.
Take the brownies out of the oven and let them cool completely.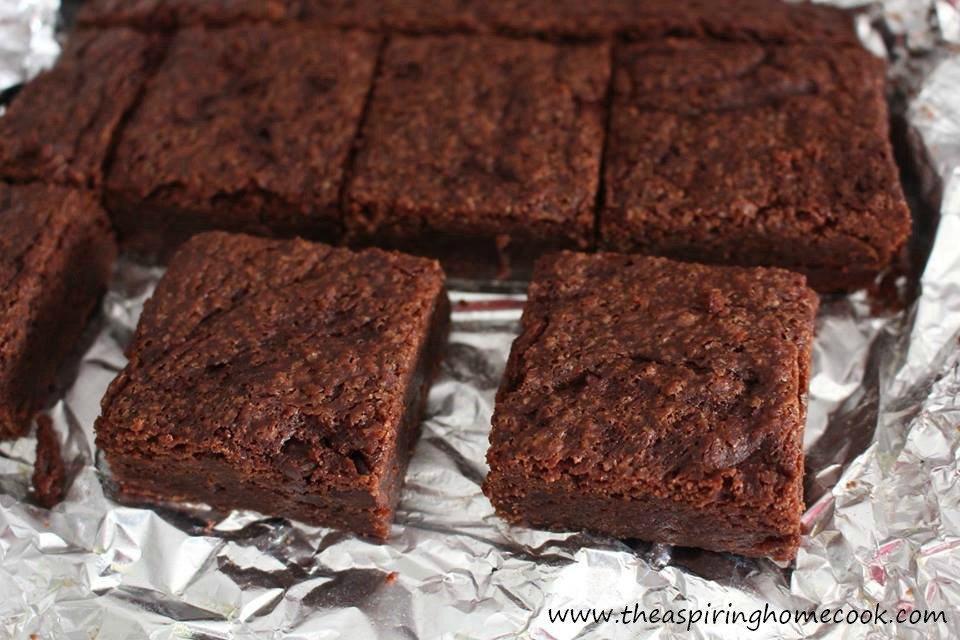 You can now cut them into squares and serve.
Pin now and try later!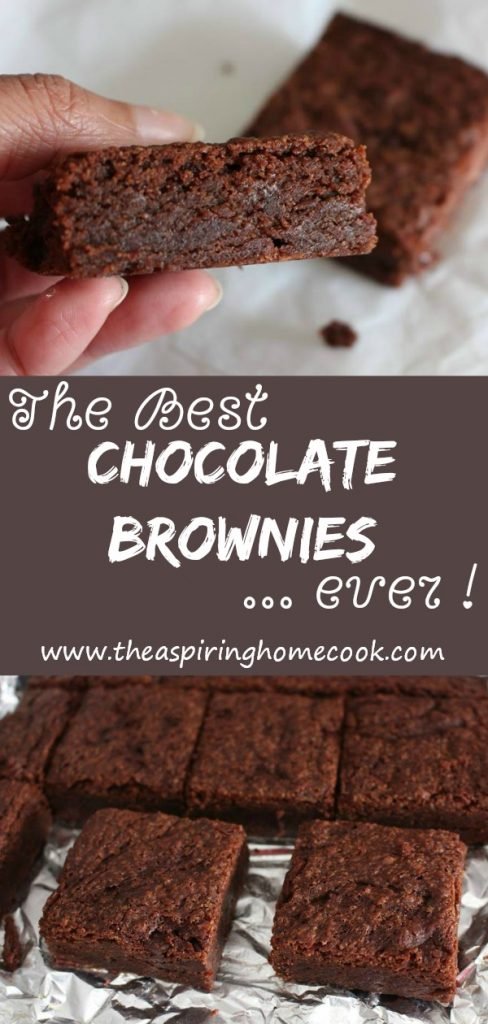 I feel so immensely happy as I type this post and I owe it all to our SRC Reunion event. Those of you who've been around here for a while, will know that I was part of this super fun group called the
Secret Recipe Club
. This was a lot of fun, sort of like Secret Santa for food bloggers. You were assigned a partner and you had to pick and cook a recipe from their blog and all the members would post about it on a pre-determined day called Reveal Day. I was part of the SRC right from June 2011 to November 2016, a little over 5 years. So when we wrapped that up, I knew I would missed this bunch of bloggers.
Early last month, Sarah of Fantastical Sharing of Recipes, who happens to be our SRC boss lady 😉 called out to all the club members and announced an SRC reunion event. Of course, I signed up for it and for this event, I was assigned Micha's blog, Cooking Mimi. Micha's blog is packed with great recipes. I had an absolute blast going through her blog and picking a recipe for today. After a lot of looking around I narrowed my choices down to this Hawaiian Pork, Potstickers (she even makes her own potsticker wrappers), Quick and Crispy Pork Cutlets and her Sweet Chili Pork. Have you spotted the trend here? I somehow happened to be zeroing in on Pork recipes. So this much was clear, I knew I was making Pork. When I saw her recipe for Sweet Chili Pork my mind was made up. This is what I was going to make.
Before we move on to the recipe, let's talk about this Sweet Chili Pork, shall we? This dish has it all with juicy little pieces of pork tossed in a sweet sauce with mild heat from the Sweet Chili sauce and the crunch of the onion and capsicum just rounds it off beautifully. I could not believe how easy this recipe was. I wanted to try it just to see if a recipe this minimal would hit the spot. And hit the spot it did. I am so glad I tried this out. My husband is not a fussy eater but he is my biggest critic and helps me work on recipes and tweak them. He was floored by this recipe. And I agree with him 100%. This recipe is very similar to the kind of takeaway meals we got back in Bombay, albeit not with pork, but with chicken. Thank you Micha, for an absolute stunner.
I only made a couple of minor additions to the original recipe. I added some finely chopped ginger and garlic and some pieces of capsicum (green peppers) to the recipe. We served this up with some fried rice, but this would work very well with some noodles too.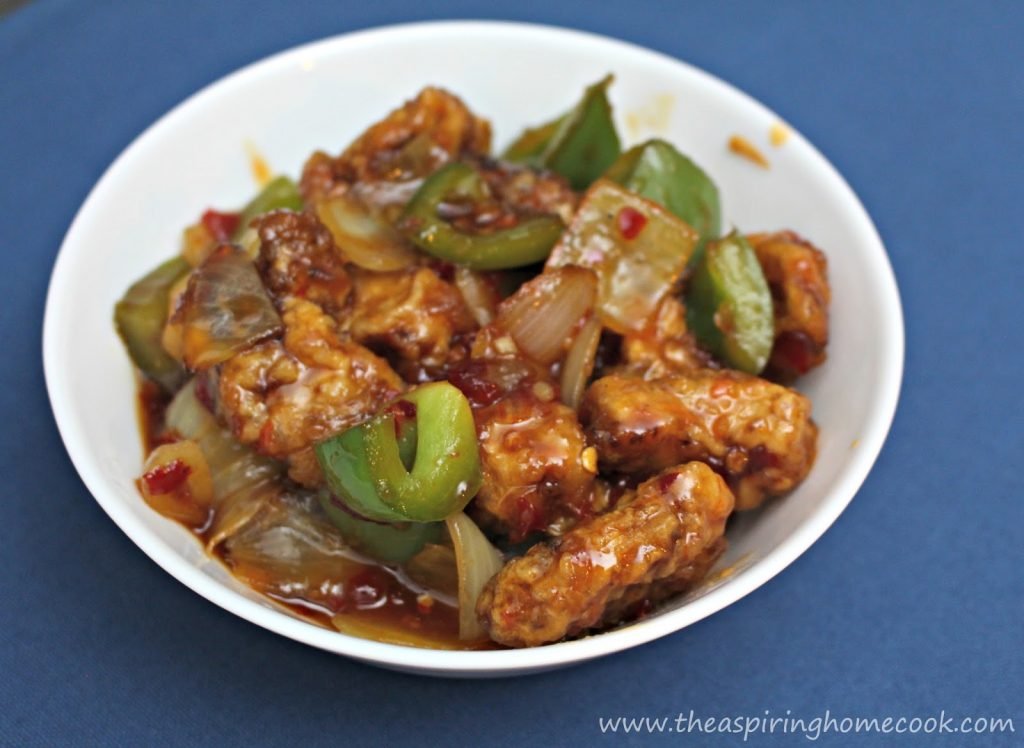 Sweet Chili Pork


1/4 kg boneless pork
1 egg
1/3 cup flour
1/4 cup cornstarch
1/2 cup + 1 tbsp vegetable oil
1 large onion, cut into cubes
1 /2 green capsicum, cut into cubes (similar in size to the onion cubes)
3 cloves garlic, finely chopped
1/2″ ginger, finely chopped
1/2 cup sweet chilli sauce
Salt, to taste
1 tbsp lime juice
Heat 1/2 cup of oil in a skillet over moderate heat.
Crack the egg into a small bowl, whisk it and set it aside.
In another bowl, mix the flour and cornstarch.
Cut the pork into bite sized pieces. Toss the pieces in a little salt and lime juice. Toss the pork pieces in the flour mix. Then dip them in the egg and in the flour mix again .
Fry the pieces of pork in batches for about 3-4 minutes a side or until golden brown and crispy. Drain and set aside.
Heat 1 tbsp of oil in another pan.
When the oil is hot, add the onion and capsicum and stir fry till the pieces have just started to soften. I like mine a little crunchy. Cook it to your desired level of doneness.
Add the finely chopped ginger and garlic and stir it around.
Add the sweet chilly sauce and the fried pork pieces. Stir to coat everything in the sweet chili sauce. At this point, if you want a little more sauce in the dish, add some more. Toss well.
Serve hot.
Enjoy!!!
Here's a peek at all my previous SRC posts.
Don't forget to see what the others have whipped up for our 2018 reunion –
Back when I was working at my last job, a colleague, who happened to be my work bestie, introduced me to this treat. We'd take our breaks together whenever we could and hop over to Muffin Break. Our Muffin Break outlet made the best Spinach and Feta Rolls (sidenote – their Bran muffins were to die for). But I'd never noticed these little beauties before this. I was on a first name basis with its Non-vegetarian counterpart – the sausage roll. I've had quite a few of those. But on this particular day, when we went over to Muffin Break, she ordered a Spinach and Feta Roll to go with her coffee. Needless, to say, I was intrigued. So I ordered one for myself too. And the rest, as they say, is history.
From that day on, if I ever need to grab a bite and am in the mood for something savory, I pick up one of their Spinach and Feta Rolls. They are seriously good. And, I like to think that I'm getting a little extra Spinach in my diet that day.
So getting back to yesterday. When I found myself with a big basket of Ricotta cheese and a bag of Spinach I needed to use up, I decided to see if I could use the two together and come up with something delicious. After a little looking around, I found just the thing. I've based my rolls on a similar recipe I found online and I just switched it up to my liking. This time around, I used store bought Puff pastry. I had a packet in the freezer that I wanted to use up too. This recipe has just 2 basic components – the pastry and the filling. The filling is really easy to put together. You just mix up all the ingredients and your ready to go. The verdict – These rolls are really good. They're not exactly like the Muffin Break ones. I am now convinced that there is some flour added to their filling, possibly to bulk it up. But these homemade rolls can give them a serious run for their money. And this time, I know for sure that there's a heap of spinach in there. And everyone knows that Spinach with Ricotta and Feta is a match made in heaven. So let's have a look at these Spinach Rolls, shall we?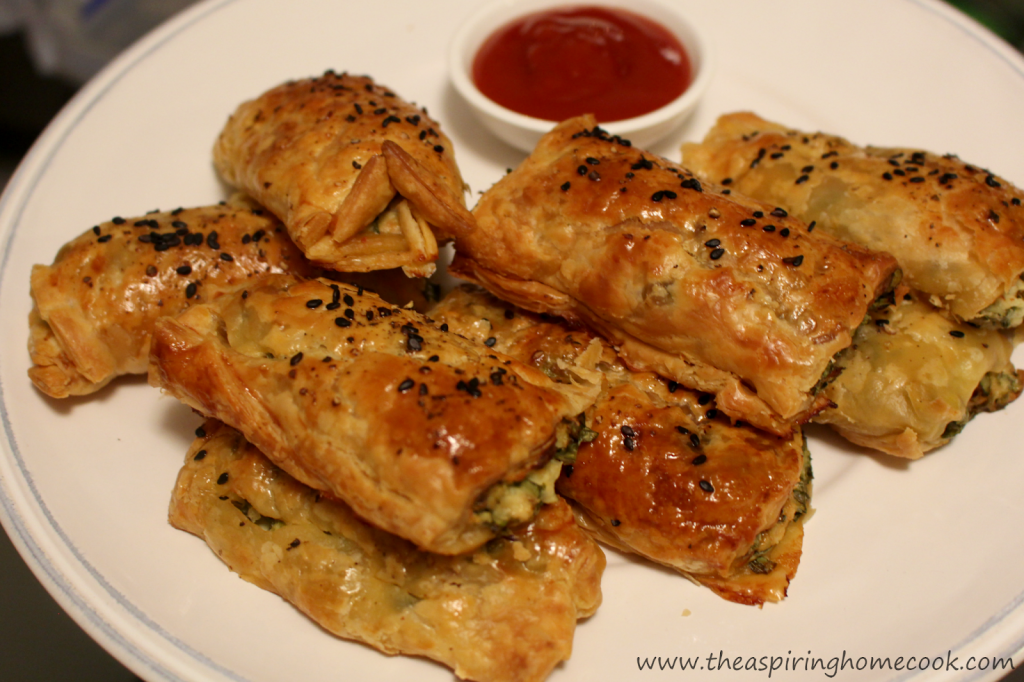 Spinach, Feta and Ricotta Rolls
Makes 18 rolls
3 sheets Pampas all butter Puff pastry
200g Feta Cheese
300g Ricotta Cheese
150g Baby Spinach, finely chopped
Red Chili Flakes, to taste
Salt, to taste
Freshly cracked black pepper, to taste
1 egg
Black sesame seeds, to sprinkle over
Preheat your oven to 180ºC.
Place the baking tray in the oven.
Thaw 3 sheets of puff pastry. The pastry should be soft enough to work with but still cold. If it warms up too much, it gets sticky and difficult to work with.
Crumble the feta into a bowl.
Now add the Ricotta and crumble that in as well.
Add crushed black pepper to taste.
Taste the mix and add more salt if you want. I didn't need to add any salt at this stage.
Add the spinach and red chili flakes. Mix well.
Crack the egg into a small bowl. Whisk and keep aside.
Working with one sheet at a time, cut the sheet in half.
Spoon the mix to form a long log in the center of each half of the pastry (lengthwise).
Brush one side (along the length) of each half of the sheet with the whisked egg.
Roll the other side of pastry over the spinach into a tight log. The egg will help seal the pastry.
Place the rolls on greaseproof paper, seam side down. Repeat with the rest of the pastry.
Carefully place the paper onto the heated tray.
Brush the tops of the rolls with the whisked egg (egg wash).
Crack some black pepper on the top of each roll and sprinkle some black sesame seeds on the rolls.
Bake for about 30 minutes or till golden brown in color.
Serve hot.
This is a recipe I came across by pure chance. Last week I bought a big basket of fresh ricotta, not for the ricotta, but for the basket. Has anyone else done something as crazy as that? I needed the basket for a project I'm working on and if all goes well, I will share that with you. But I must admit, I was quite stoked to have the fresh ricotta to play with. And play I did. This is one of the things I made using that ricotta. I made a batch of these amazing Savory Ricotta Scones. I used a bunch of dried herbs I had in the kitchen, but I can only imagine how much more amazing these would taste with fresh herbs. One of the things I want to do, is grow my own herbs. And if I have any luck with that, I will make this recipe using fresh herbs.
Have you tried making scones before? I've tried these Chocolate Chip Banana Scones, Double Chocolate Scones and some Classic Scones – all sweet ones, out of which my favorite one is the Chocolate Chip Banana Scone. That being said, I do want to try my hand at a few more recipes. So this time, I decided to try out a savory scone and when I saw this recipe for Savory Ricotta Scones, I was thrilled. It would be the perfect way to build on my scones list as well as use up that amazing Ricotta.
The recipe itself was very simple and the scones turned out really well. They were tender and delicate and beautifully flavored. They would pair fantastically with a soup. I want to try these with a roasted tomato soup when the weather cools down. So whether or not you've tried scones before, I do hope you try these out. Serve them with a soup, or for brunch or with some tea and let me know what you think of them.
I've made a little video to help you through the process –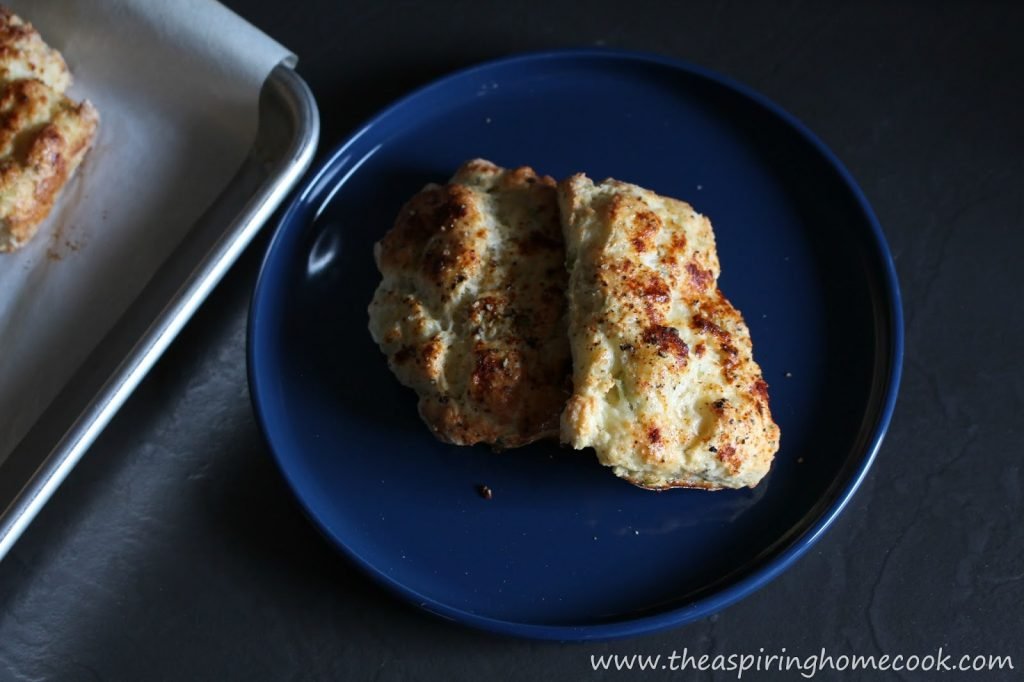 Savory Ricotta Scones
Adapted from: Love Life and Good Food
2 cups all-purpose flour
1 tbsp baking powder
2 tsp sugar
1/2 tsp salt
5 tbsp chilled butter
1/2 cup sliced spring onions
1/2 tsp dried mixed herbs
1/4 tsp dried parsley
1/8 tsp dried thyme
1 cup ricotta cheese
2/3 cup milk
1 egg
Sea Salt
Black pepper, freshly cracked, to taste
Smoked paprika, to sprinkle over
Preheat the oven to 220ºC.
Line a baking tray with some parchment / baking paper and lightly grease the paper.
Whisk the flour, baking powder, sugar and salt in a large bowl.
Cut the butter through the flour mix or grate it and mix it till you get a coarse crumb texture.
Add the spring onions and herbs. Stir through.
Add the Ricotta cheese and milk and stir through just until combined.
Turn out on a lightly floured surface. Lightly bring the dough together. Do not knead.
Pat the dough into a rectangle. Dip the cutter or knife in some flour and cut into 10-12 equal pieces.
Place on the parchment lined baking tray.
In a small bowl, whisk the egg with 1 tsp water. Use a silicone / pastry brush and brush the egg white on the scones. Sprinkle some salt, freshly cracked black pepper and smoked paprika over the tops of the scones.
Bake for 20 minutes.
Serve while still warm with a little butter.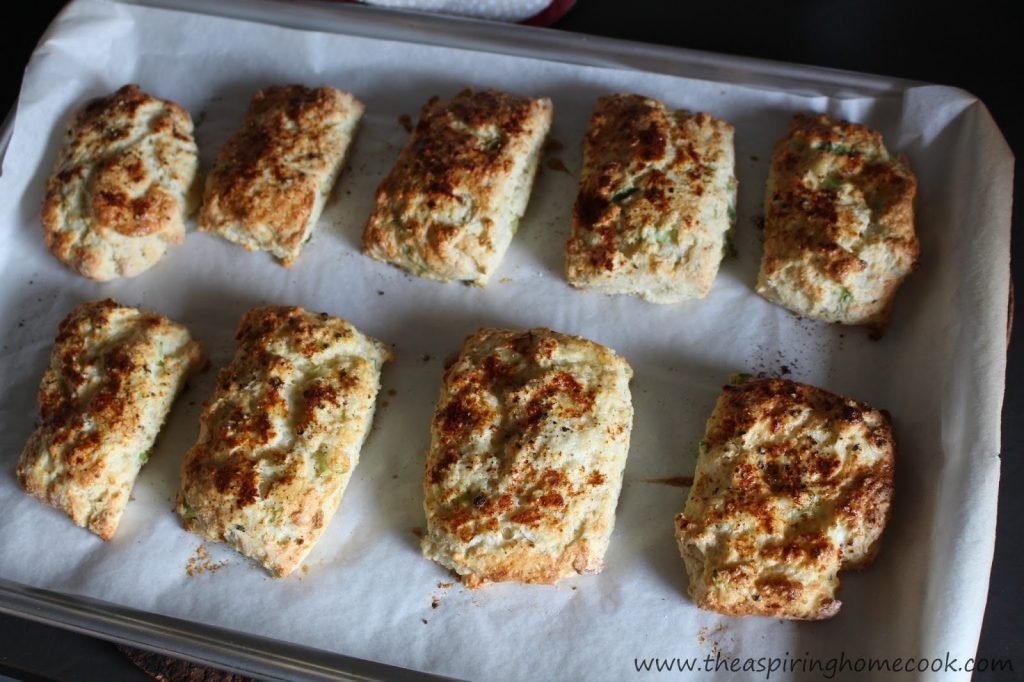 If you're making these in advance or if you have leftovers, they reheat well either in a covered pan on low heat or wrap them in foil and warm in a 180ºC oven for about 5-10 minutes.