Hi guys! Today's post is a special one. It's my favorite chocolate brownie recipe that I'm going to share with you. It's my go to recipe for chocolate brownies and I've used it for years now. It yields, what I consider, the perfect Chocolate Brownie. You get a beautiful crust on the outside and a fudgy, gooey center.
It's the perfect baking option for holidays or when you're baking for a crowd because of its simplicity. The recipe can be doubled if you like. And when simple recipes yield such fantastic results, you know you're on to a winner.
So I do hope you try these brownies out.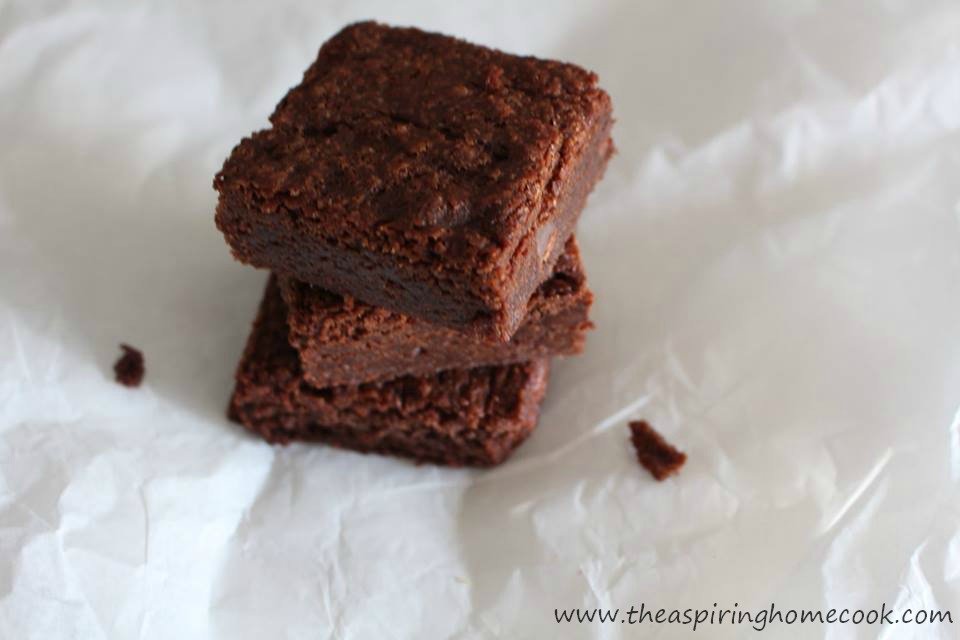 The Best Chocolate Brownies


110g all purpose flour
185g salted butter
175g dark chocolate (either buttons, or roughly chopped bars, both would work)
175g sugar
2 eggs
1 tsp vanilla bean paste
A pinch of salt
50g chocolate chips.
Melt the butter and dark chocolate in a heavy bottomed pan on low heat. Once everything has melted, take the pan off the heat and set it aside to cool.
Halfway through the cooling process, turn the oven on and preheat it to 180ºC. Line an 8 inch square baking tray with some foil and leave an overhang on the sides. The foil makes clean up so much easier and the overhang helps take the brownies out of the try very easily.
Crack one egg into a small bowl and lightly whisk it. Add it to the melted and cooled butter and chocolate mix and whisk to incorporate. Repeat this with the second egg.
Add the vanilla, salt and sugar and whisk well, making sure everything has mixed well.
Now add the flour and whisk until just combined.
Add the chocolate chips and fold it through the batter with the help of a spatula.
Pour the batter into the foil lined tray and bake for about 25-30 minutes.
Take the brownies out of the oven and let them cool completely.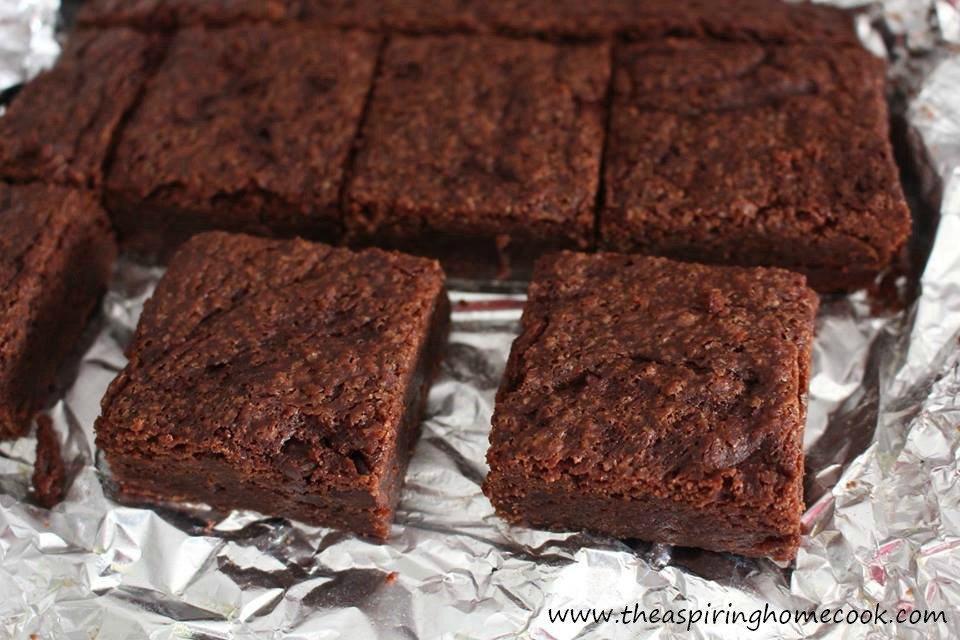 You can now cut them into squares and serve.
Pin now and try later!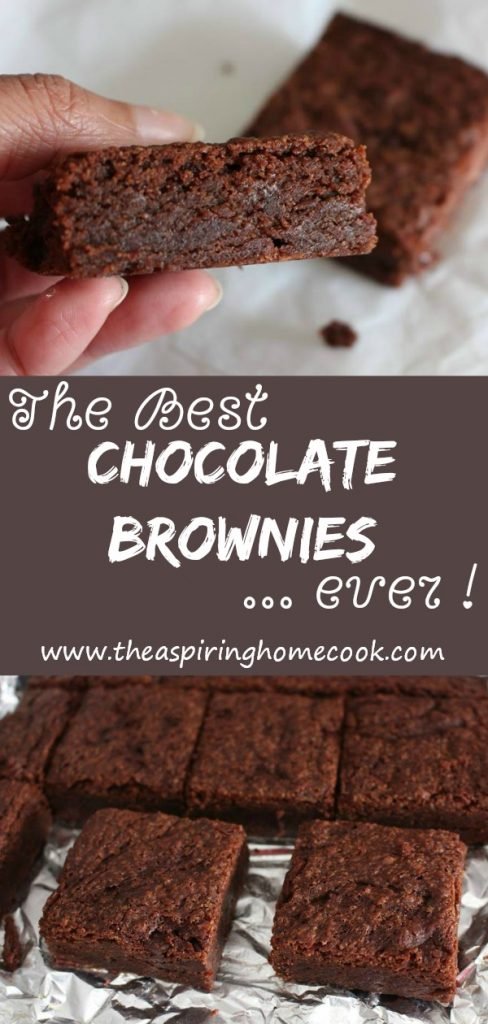 I have finally gotten around to writing this post. For some reason these pictures have been lurking somewhere in the deep, dark recesses of my computer and kinda got forgotten there. Today, when I was looking for something else, I came across them and realized I hadn't yet shared it with you. So it just had to be done.
We've been trying to be more conscious of what we eat now. No fad diets or deprivation, but we're trying to focus on making better choices. Let me be very clear here, there will still be baked goodies. And lots of regular ones too. All I'm saying is that I'm going to be more open to the slightly healthier variants too. For example, these brownies. I came across this recipe when I was looking for ways to use up a massive box of sweet potatoes I picked up at the growers market at Flemington. The only sweetener in it is maple syrup. The rest of the sweetness comes from the sweet potato and the dates. And that make me happy. I can enjoy a piece because I know whats in it. There are also no eggs in the recipe, so that will make my vegetarian friends from India (the ones that don't eat eggs) very happy. This recipe also uses raw cacao powder instead of cocoa powder or chocolate. Though I'm pretty sure you'd be able to substitute them if you so wished. I hear raw cacao is purer and healthier. A quick blitz of ingredients in the food processor, a quick stir in of the dry ingredients and you're ready to bake. That's how easy it is to make these brownies.
Now, the verdict – These are nothing like the typical chocolate brownies you buy at the store or even make at home. They are equally delicious and have a nice gooey texture. They have a slightly different flavor from the sweet potatoes and kinda reminded me of a typical Goan sweet "Dodol" with minimal effort. So if you're up for trying out something a little different, give these sweet potato brownies a go. You won't be disappointed.
Sweet Potato Brownies
Recipe from: Deliciously Ella
2 medium to large sweet potatoes (approx 600g)
2/3 cup ground almonds (I used almond meal)
1/2 cup rice flour (You could also use buckwheat flour)
14 dates
4 tbsp raw cacao
3 tbsp pure maple syrup
A pinch of salt


Preheat the oven to 180ºC.
You need to use cooked sweet potato for the recipe. You could either roast, boil or stem them till they are nice and soft. I wrapped them in foil and baked them while I had the oven on the previous night.
Peel the sweet potato and cut them into chunks and add them to a food processor along with the pitted dates. Process this you are left with a nice creamy mixture.
Place all the dry ingredients in a bowl and stir together.

Add the sweet potato and date paste and mix this thoroughly combined.
I have finally started trying out new cupcake and brownie recipes, basically the sweet baked stuff, to add to my repertoire. It started with the
strawberry cupcakes
and now I've moved on to brownies. The first brownie to catch my attention was this cream cheese swirl brownie, that I saw at one of the linky parties that I participate in. This was a great brownie. It had a little tang from the cream cheese but it wasn't too overwhelming. What worked really well with it was the yummy caramel like taste that the edges of the brownies lent to it. The combination of flavors was great. My brother and husband both thought that these were caramel brownies and if I didn't know better I would've thought so myself.
In a nutshell, try it out. Good stuff, I tell ya.
This is what the inside edges look like –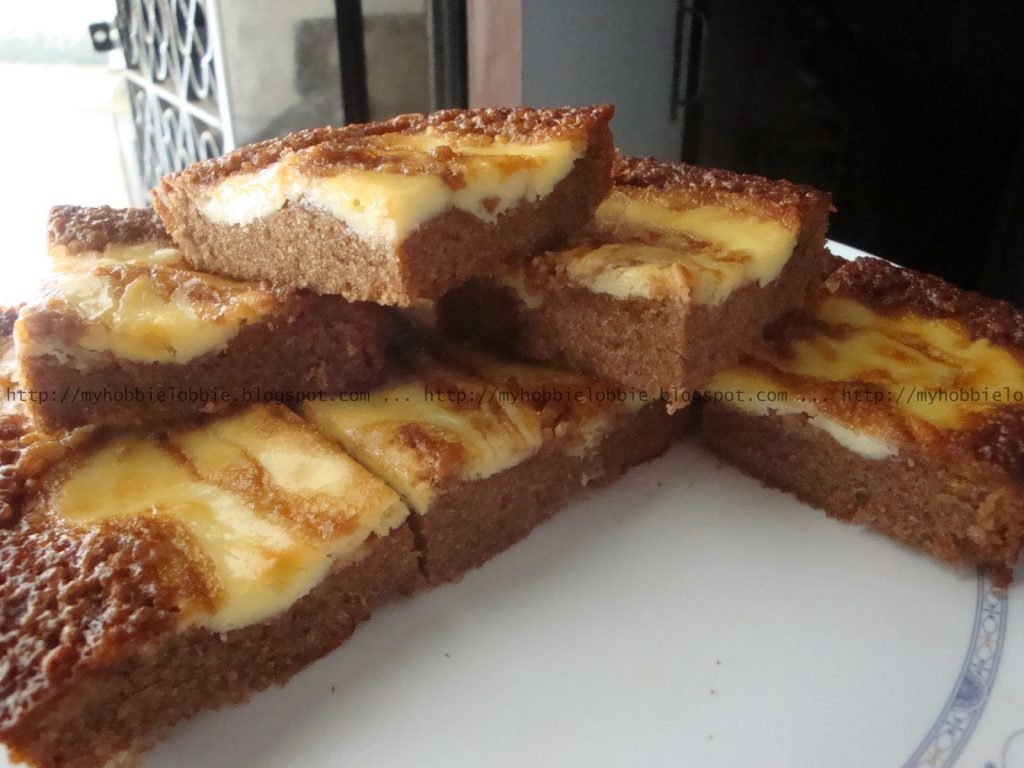 Cream Cheese Swirl Brownies
Adapted from: The Flour Sack
Makes 16
For the Brownie base:
2/3 cup all purpose flour
1/2 tsp baking powder
6 oz bittersweet chocolate
1/2 cup butter, cut into cubes
1 cup sugar
2 tsp vanilla extract
3 eggs
For the Cream Cheese Swirl:
8 oz Cream Cheese, at room temperature
1/4 cup sugar
1/2 tsp vanilla
1 egg yolk
Preheat your oven to 160ºC.
Butter an 8″ square pan
For the brownie base, whisk the flower and baking powder in a small bowl and keep aside.
Melt the chocolate and butter over a double boiler. When the chocolate has melted completely, remove from the heat and whisk in sugar and vanilla.
Cool slightly. Add the eggs one at a time, whisking between each addition.
Continue whisking till the mixture is well incorporated and smooth.
Gently fold in the dry ingredients and mix till just barely incorporated.
For the cream cheese layer, beat the cream cheese, sugar, vanilla and egg yolk till well combined.
Pour half the brownies base batter into the pan. Dollop half the cream cheese mixture by the spoonfuls. Repeat by layering the brownie base over it and then dollop the rest of the cream cheese mixture. Use a butter knife and gently swirl the batter to give a marbled effect.
Bake till the edges of the brownies have puffed slightly and a toothpick inserted into the center comes out with several fudgy crumbs attached to it. This should take about 55 minutes.
Cool completely. Cut into squares and enjoy!
(Note: I halved the recipe and used a 6″ square pan and I got 9 pieces.)
This recipe is linked to –
Sweet Tooth Friday
Sweets for a Saturday
These Chicks Cooked