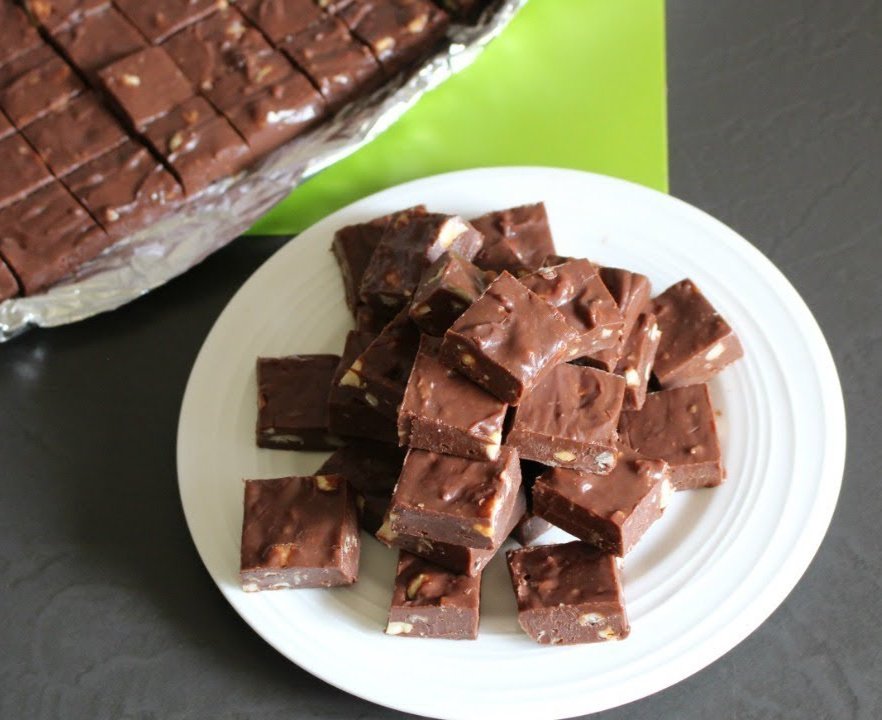 My Christmas Tree is up, the carols are playing and the air at home, especially in my kitchen is full of lovely aromas of Christmas sweets being made. This literally is the best time of the year. If you haven't figured it out yet, I love all things Christmas. Christmas sweets in my house, like any other Goan household, includes all sorts of traditional Goan recipes. Over the last few years, I've found myself including a couple of recipes that are more 'recent' for lack of a better word. Like this little gem I'm sharing with you today.
Most Goan Sweet recipes are a labor of love and usually require either hours of stirring on the stovetop or take hours to shape and form. And while I love them all and make most of them every year, I love having recipes like this Chocolate Hazelnut Fudge on hand. This recipe is a great one to have on hand. It uses just 4 ingredients and the cooking time is just a few minutes. And, after leaving it to set in the fridge for a few hours, you end up with a super delicious, decadent chocolate fudge. This time around, I'm using hazelnuts in the fudge and I'm happy to report that this fudge tastes very similar to the Ferrero Rocher chocolates you find in the shops, albeit, without the wafer. You can customize this fudge to suit your liking by swapping hazelnuts for any nuts that you prefer.
Chocolate Hazelnut Fudge


350g dark chocolate
100g hazelnuts
1 tin condensed milk (we get 395g tins here)
30g butter
Line a 9 inch square baking tray with some foil, leaving a little overhang on the sides and set aside.
Lightly roast the hazelnuts. Carefully remove any pieces of skin / peel that may have been left on. Let the nuts cool down completely.
Roughly chop the nuts or place them in a ziplock back and crush the nuts with a rolling pin. You will be left with a rough chop.
Add the butter, condensed milk and chocolate pieces to a heavy bottomed pan. Stir over medium heat till the chocolate has melted and everything in the pan has combined to form a rich, luscious mix.
Add the hazelnuts and stir through to incorporate well. You will notice the mix starting to thicken.
Quickly pour into the foil lined tray. Leave it on the countertop to cool down a little. Once it comes to room temperature, pop the tray into the fridge and leave it to set for 4-6 hours or overnight.
Carefully peel back the foil. Cut the fudge into squares and serve.
If you're not serving this up immediately, place in an airtight container and refrigerate till needed.
Enjoy!!!