Black Bean and Sweet Corn kernels come together to make amazing flavor-packed tacos, using a taco-seasoning made from scratch.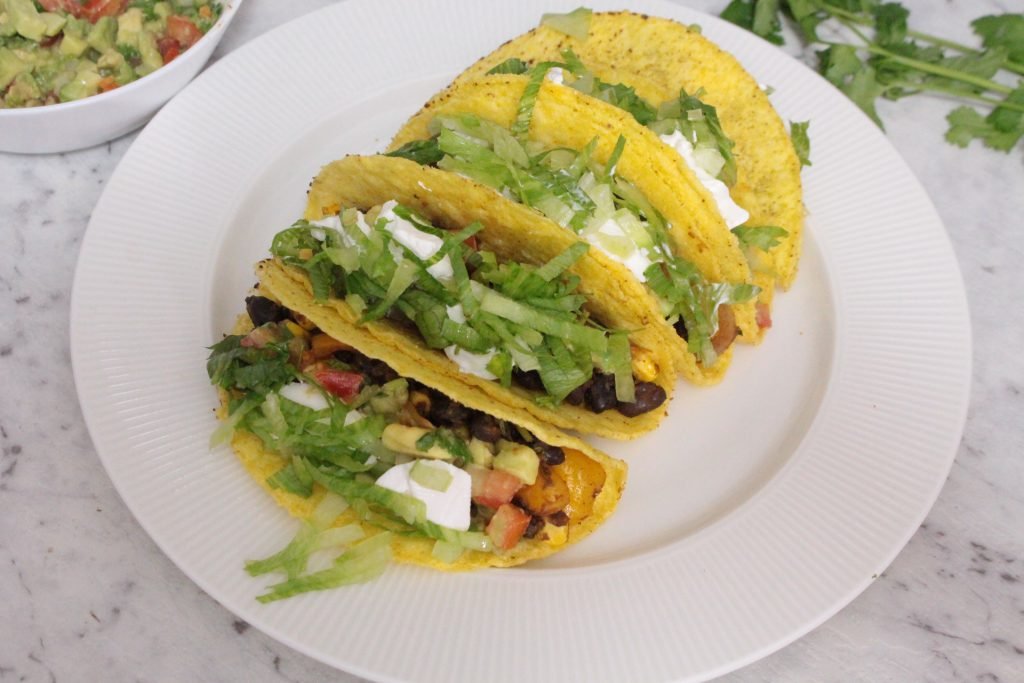 Today I'm sharing with you a recipe that is so simple and easy to put together, and results in such an extremely flavorful dish, you are going to be blown away.
That was a bold statement to start off with, right? Well, that's because it's the truth. Everybody needs a few recipes like this in their arsenal, because let's face it, life can get hectic and recipes like this make it easy to get dinner on the table in a hurry. I know a lot of folks do 'Taco Tuesday'. We personally don't, but that's just because we enjoy Tacos whenever we feel like it.
Tacos are usually associated with meat fillings, usually chicken, beef, pork and sometimes even fish or shrimp. But this doesn't mean you can't enjoy a really good taco if you follow a plant-based diet. And today's recipe is going to show you just that.
We'll be making a quick black bean and corn taco mix and a chunky guacamole to fill our tacos with. For the black bean mix, I use half a cup of dried black beans. These beans are soaked overnight and then pressure cooked the next day. I have a stovetop pressure cooker that gets the job done in under ten minutes. This works out so much better than buying canned beans because there is less waste, it works out to be more economical and I feel the beans are so much tastier. Try it out, if you have a pressure cooker or an instant pot. If not, you can simply use a can of black beans.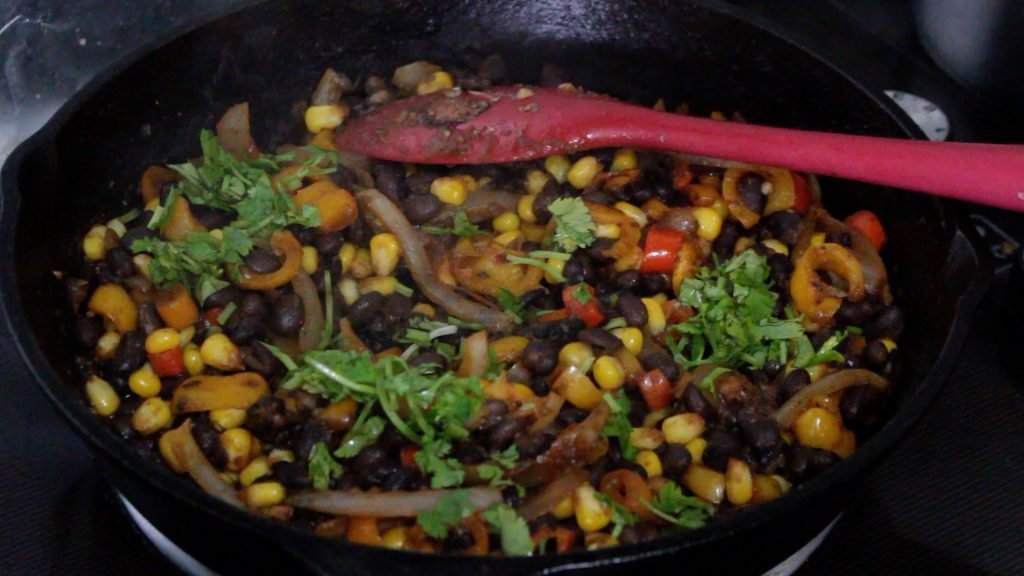 My chunky guacamole is also a very basic and simple recipe. It combines the richness of the avocado with the punchy flavors of a pico de gallo or a salsa. And like me, if you just need to serve 1 or 2 people, save the half of the avocado that has the pit still in it, squeeze some lime juice all over the cut surface, pop it into an avocado saver if you have one, or simply cover it with some cling film and pop it into the fridge for the next meal or the next day. This reduces the browning of the avocado. Do you have any tips for storing half an avocado? Leave me a comment and let me know. I'd love to be able to store it without having to use any single use plastic.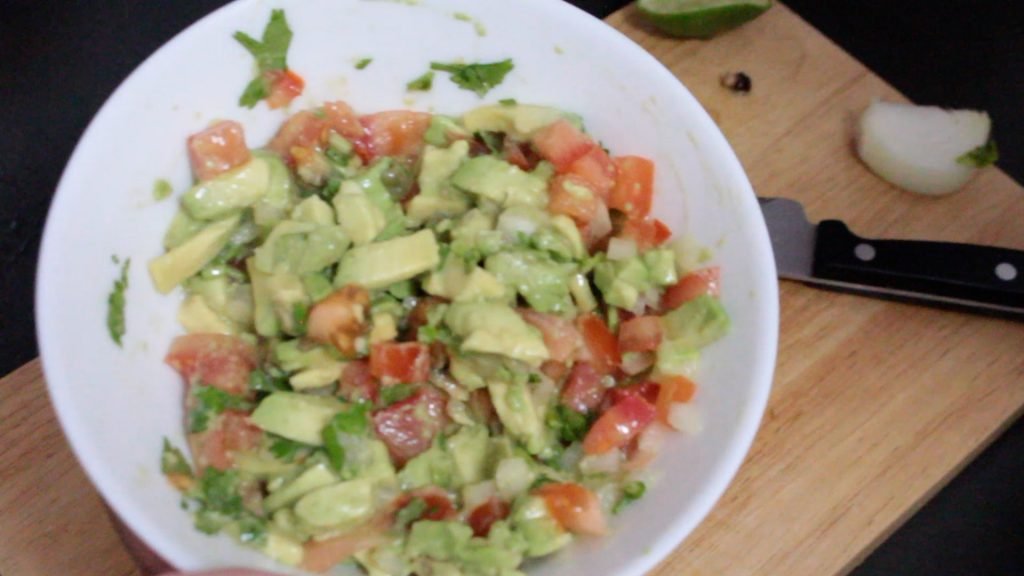 Assembling your tacos is one of the most fun parts of this recipe. You can add whatever your heart desires to your taco. Here's what I use to make up my tacos –
Hard corn taco shells
Black bean and corn mix
Chunky guacamole
Pickled jalapenos
Plant based sour cream
Finely shredded lettuce
If you love a good taco, you simply have to try it out and I hope you love it as much as we do. This recipe makes enough of the bean mix for 12-15 tacos. If you're serving 12-15 tacos in one sitting, double the guacamole recipe.
Black Bean and Corn Tacos
Course: Main
Cuisine: Mexican
Difficulty: Easy
Black Bean and Sweet Corn kernels come together to make amazing flavor-packed tacos, using a taco-seasoning made from scratch.
Ingredients
For the Black Bean and Corn Taco Mix –

1/2 cup dried black beans OR 1 can black beans

1/2 cup sweet corn kernels

1/2 onion, sliced

1/2 capsicum, sliced (See note)

1 large clove of garlic, finely chopped

1 tbsp oil

1/4 tsp smoked paprika

1/2 tsp ground cumin

A pinch of extra hot cayenne pepper powder (optional)

1/4 tsp dried oregano

2 tbsp Chipotle Sauce

1-2 tbsp fresh coriander leaves and stalks

For the guacamole –

1/2 large avocado

2 tbsp of chopped onion

1/2 large tomato, diced

1 tbsp coriander leaves and stalks, chopped

Salt, to taste

Lime juice, to taste

For the Tacos –

Hard corn taco shells

Pickled jalapenos

Sour cream

Shredded lettuce
Directions
To make the black bean and corn mix –
Wash and soak the black beans for 6-8 hours or overnight. Drain the water, rinse through and cook till beans are done. (I cooked the beans in a stovetop pressure cooker and they get ready in under 10 minutes.)
Heat oil in a pan and saute the onions till they've slightly softened.
Next, add the capsicum and let them saute for about a minute.
Add in the garlic and stir fry well till the garlic is nice and fragrant. Be careful and make sure the garlic doesn't burn.
When the garlic turns fragrant add the paprika, cumin and cayenne pepper powders and the dried oregano. Stir well.
Add in the chipotle sauce and stir thoroughly.
Add the black beans (that have been previously cooked) and the corn (I use frozen corn) to the pan and stir well.
Let this cook off for a couple of minutes or until the beans and corn has heated through.
Check for seasoning and adjust as needed.
Once most of the liquid from the pan has been absorbed, take the pan off the heat.
Top it off with the chopped coriander.
To make the guacamole –
Add all the ingredients to a bowl and mix well.
To make the tacos –
Heat the taco shells according to the packet instructions.
Layer the black bean and corn mix, the guacamole, pickled jalapenos, sour cream and shredded lettuce and serve up.

Enjoy!
Recipe Video
Notes
The 2 servings mentioned at the start of the recipe is for 2 servings of 4 tacos each (Roughly about 8 tacos). This recipe makes enough of the black bean mix for 12-15 tacos. If you are serving 12-15 tacos in one sitting, you may want to double the guacamole recipe.
The black bean and corn mix works really well in burritos and quesadillas too.
You can use 1/2 a capsicum of your choice or you can use smaller sweet peppers instead. In all you'll need about 1/2 a large capsicums worth of peppers. You can adjust this amount to suit your liking.