This baked delight is supposed to be a classic Greek dish. Typically, it is made of eggplant and lamb mince. We're not overly fond of lamb mince for regular eating. So I used the next best thing, beef mince. I find it more flavorful. Now let me tell you something about this dish. It is good, really good, so very good. Sometimes, I wonder why I don't make it more often. Hmmm. Anyway, each time I make it, it gets polished off. Ofcourse, one casserole lasts us a couple of meals atleast. But what I'm trying to say is none of it ever goes to waste. I use Nita Mehta's recipe from her book "Continental Cooking for the Indian Kitchen". I'm pretty sure this recipe will not be a
classic
Moussaka recipe, but nevertheless, its pretty darn good.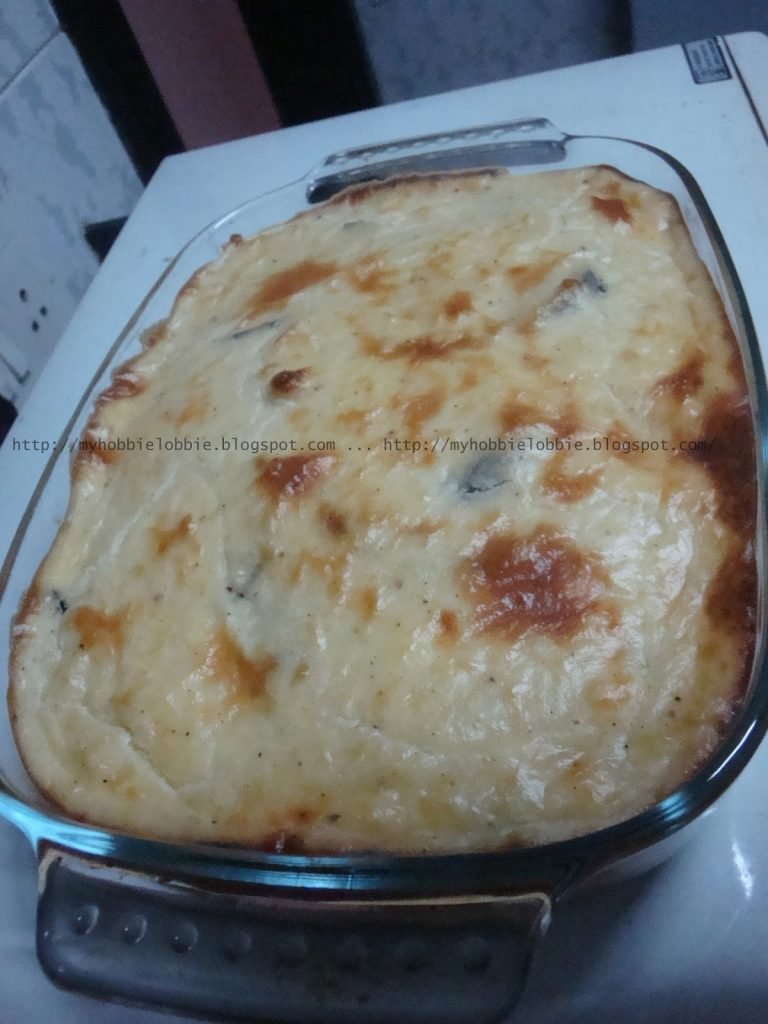 The inside still remains luscious, moist and full of flavor.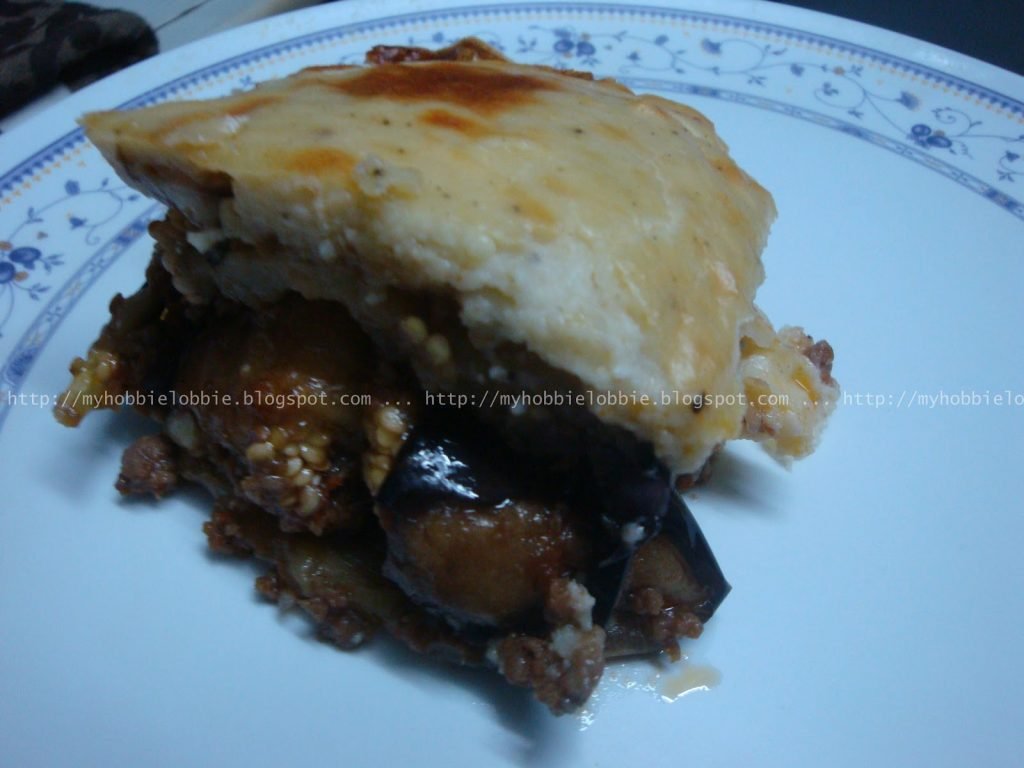 Moussaka
Adapted from: Continental Cooking for the Indian Kitchen by Nita Mehta
(Serves 6-8)


2-3 eggplant, thin long variety
2 tomatoes, chopped
500g beef mince (you can use lamb if you'd like to)
2 large onions, finely chopped
6 flakes garlic, finely chopped
2 tbsp tomato puree
2-3 tbsp olive oil
1/2 tsp red chilly flakes
1/2 tsp oregano
1/4 tsp black pepper powder
Salt, to taste
For the Cheese Sauce –
2 tbsp butter
3 tbsp all purpose flour
1 1/4 cups milk
1 egg
1/4 – 1/3 cup Grated cheese
1/4 tsp mustard
Salt to taste
Thinly slice the eggplant and arrange them on a platter. Sprinkle salt on both sides of the slices and let it stand for about 1/2 an hour to drain the juices. Rinse in cold water and pat dry.
Heat some oil in a pan. Fry the slices till brown. Make sure you do not burn them. Drain on absorbent paper towels and keep aside.
Heat the olive oil in a pressure cooker.
Add the onion and stir fry till they soften a little.
Add the chopped garlic and stir fry till the onions turn pink.
Add the tomatoes and stir fry till the juices evaporate.
Add the mince and cook on a high flame till brown and dry.
Add the tomato puree, chilly flakes, oregano, salt and pepper. Add 1/2 to 3/4 cup of water and pressure cook. After the 1st whistle, simmer on low flame for 2 minutes.
Remove from the gas and cool till the pressure dies down.
Open the cooker, check for tenderness, adjust seasoning if needed and cook till almost dry. Dry the excess liquid but don't make it too dry. Keep aside.
For the cheese sauce, heat butter in a saucepan. Add flour and cook on a low flame for a minute till it changes color slightly. Remove from the heat. Add the milk and mix well. Return to heat and cook till the sauce thickens. Add salt, pepper, mustard and cheese. Remove from the heat and cool slightly. Add the beaten egg to the cooled white sauce. Keep aside.
To Assemble
Spoon half the meat mixture in a shallow ovenproof dish. Top with half the eggplant slices. Repeat with a layer of the rest of the meat and top that with the rest of the eggplant slices. Pour the cheese sauce on top.
Cook in a preheated oven at 200ºC for 25 to 30 minutes or until bubbling hot and browned.
Serve hot with some garlic bread.
This recipe is linked to –
Tuesdays at the Table
Hearth and Soul
A Little Birdie Told Me
Delectable Tuesday
Recipes I Can't Wait to Try
What's on the Menu Wednesday
What's Cooking Thursdays
It's a Keeper Thursday
Full Plate Thursday