Soft and delicious Homemade Flour Tortillas made using just a few simple pantry ingredients. These are easy to make and great for meal prep.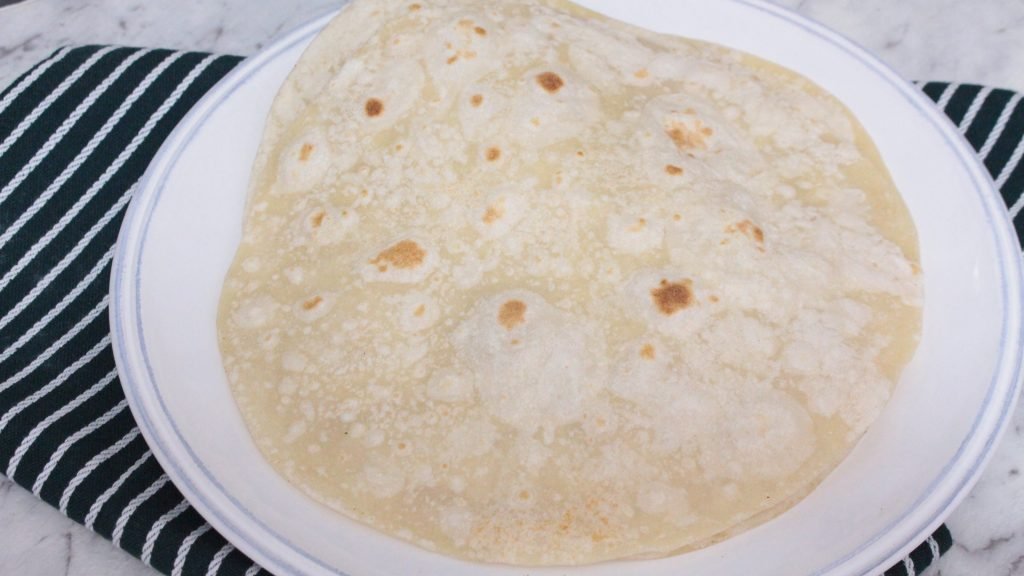 So, I have a confession. Although I love a good wrap, I cannot stand the taste of store-bought tortillas. Maybe, its just me, but I can actually smell and taste the plastic on the store bought ones. Does anyone else feel that way? I've tried a bunch of different brands from both Coles and Woolworths and it's always the same. And for me, personally, it spoils the whole wrap experience. And that's one of the main reasons I haven't shared many recipes for wraps here on the site. But all that's about to change, now that I can make tortillas at home.

These flour tortillas are everything you'd want in a tortilla and then some. They are soft, so tasty and are made using simple ingredients like flour, salt, oil and water. That's it. Knead these basic ingredients to a dough, roll out and cook them up. You can make these ahead of time and re-heat when you're ready to serve. I made these tortillas using all-purpose flour, but you can also make them using whole-wheat flour, if you'd like.

This recipe is a great one for meal prep. You can cook up these tortillas ahead of time. Once they have cooled down, you can pop them in a zip lock back and refrigerate them and then use them through the week. Or you can even use them to make burritos and freeze them for use later. I've used these homemade flour tortillas to make quesadillas too. So this is one really versatile recipe that's great to have on hand.

If this is your first time attempting to make tortillas from scratch, go check out my YouTube video, which takes you through the entire process and I share all my little tips and tricks as well.
This time around, I will be using these tortillas to make some amazing Tandoori Spiced Cauliflower Wraps. Stay tuned for that recipe, coming up next.
Homemade Flour Tortillas
Cuisine: Mexican
Difficulty: Medium
Ingredients
2 cups all-purpose flour

1 tsp salt

2 tbsp oil

Warm water, to knead to a dough (around 3/4 cup)
Directions
Add the flour, salt and oil into a large mixing bowl. Rub the oil into the flour to mix well and break down any clumps.
Knead this to a dough using luke-warm water. Add water gradually to knead to a smooth pliable dough. I used about 3/4 cup.
Roll to a ball, cover with a kitchen towel and leave to rest for about 30 minutes.
After the dough has rested, divide dough into portions. I got 7 wrap sized portions. Roll these portions into balls, cover with a kitchen towel and let the dough rest for another 15-20 minutes.
After resting the dough, roll out tortillas on a floured surface to a thin disc about 1/8″ thin.
Heat a pan on medium high heat. When the pan is hot, place tortilla on pan and let it cook for about a minute or till you see little bubbles appear and the side touching the pan has a few light brown spots.
Gently press the air pockets to help them expand a bit.
Flip over and let it cook till you get a few light golden spots on the tortilla. Don't overcook the tortillas as they tend to get hard.
Recipe Video
Notes
You may need to use a little less or a little more water depending on your batch of flour. Add the water gradually.