Soft and light, these delicious bread rolls are made from scratch and make the perfect addition to any dinner menu or party meal.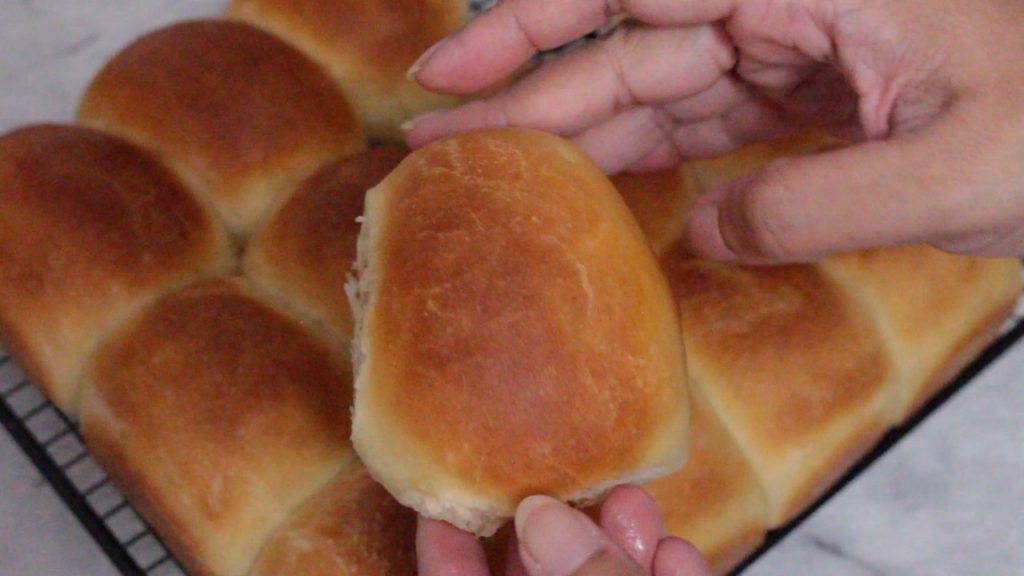 Believe me when I say, there's nothing better than taking a batch of freshly baked bread out of the oven. Except of course, eating it. Have you ever tried baking bread at home, from scratch? I know a lot of people feel intimidated by the thought of yeast. I was a member of that club for a very long time. But I can tell you this much, if you keep a few things in mind, you will be well on your way to mastering the art of bread baking. Moreover, there are so many varieties to try.

The recipe I'm sharing with you today is one that I fall back on frequently to make bread rolls. It's a very basic bread recipe and makes a great starting point, if you haven't baked bread before.


Things to keep in mind –
Yeast – Make sure that your yeast is viable. This is easy to do. Place the quantity specified in the recipe in a bowl with warm water and sugar. When rested for about 5 minutes, the yeast gets bubbly and frothy, signalling that it is still viable. If it doesn't froth up, you may need to replace your yeast.

Using warm water – Make sure that your water is warm, not hot. You should be able to keep your finger submerged in the warm water comfortably. If you cannot, the water is too hot, and it will kill the yeast.

Kneading the dough – Kneading the dough takes a little time. You need to do this patiently. This helps build gluten fibres, which in turn will help your bread rise well.

Resting time – Bread almost always, cannot be rushed, unless you're making a quick bread. The time needed to rest (prove) your dough depends on the ambient temperature. Resting the dough in a warm spot in the kitchen will help it rise. If it is really cold where you are, consider keeping it by a window that gets a lot of sun or in the oven with just the light on.
Keep these vital points in mind when you're making bread and you will see great results. Bread making gets better with practice. If your first batch doesn't turn out spectacular, don't worry, the next batch will be better, since you now know what to expect. So now that we've covered all of that, let's move on to the recipe.
How to make Bread Rolls (Pao)
Soft and light, these delicious bread rolls are made from scratch and make the perfect addition to any dinner menu or party meal.
Ingredients
1 1/2 tsp instant dried yeast

2 tsp sugar

1/4 cup warm water + 1 cup warm water (approx.) to knead the dough

3 cups plain flour / all purpose flour

1 tsp salt

1-2 tbsp olive oil
Directions
In a little bowl, place the warm water and add sugar and yeast to it. Stir to mix a little. Let it stand for about 5-10 minutes for the yeast to activate.
In a large mixing bowl, place the flour and salt. Mix through.
Make a well in the centre and add the yeast and sugar solution. Mix it in with the flour. Add more warm water gradually and knead to a smooth, soft dough. (I had to use just over 1 cup of water) Once the dough comes together, continue kneading for about 5 minutes. You will find the dough gets a little more stretchy than it first was.
Drizzle oil and knead it into the dough.
Lightly oil the bottom of the bowl and place the dough in it. I lightly oil the top of the dough too. This keeps it from drying out. Cover and set aside in a warm spot in the for about an hour or till the dough has doubled in size.
Knock the dough back to get rid of the air bubbles and roll to a ball. Cut into portions and roll out into smooth balls. Place them about an inch apart in a lightly greased baking pan.
Cover and leave it in a warm spot for the second rise. This takes about 45 minutes to an hour.
Preheat your oven to 180 degrees. Brush the top of the bread rolls with some water and bake for about 25-30 minutes.
As soon as the bread is baked, take it out of the oven, brush some butter over the top and cover the pan for around 5 minutes with a clean tea towel. This traps the steam in and keeps the rolls soft.
Then take the rolls out of the pan and leave them on a cooling rack to cool.

Enjoy!!!
Recipe Video
Notes
This is a vegan friendly recipe. I used a vegan butter, but feel free to use a butter of your choice.
Soft and delicious Homemade Flour Tortillas made using just a few simple pantry ingredients. These are easy to make and great for meal prep.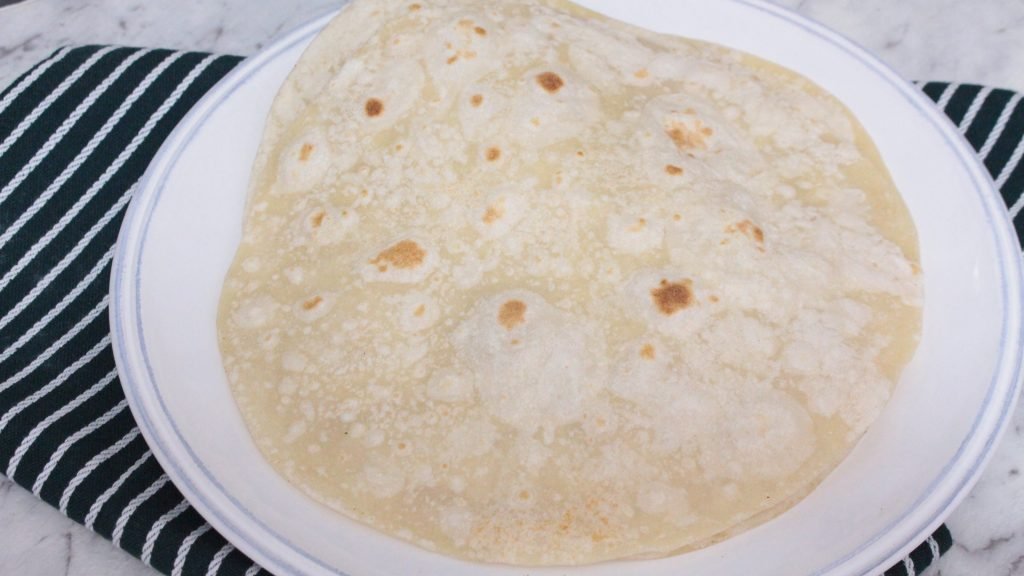 So, I have a confession. Although I love a good wrap, I cannot stand the taste of store-bought tortillas. Maybe, its just me, but I can actually smell and taste the plastic on the store bought ones. Does anyone else feel that way? I've tried a bunch of different brands from both Coles and Woolworths and it's always the same. And for me, personally, it spoils the whole wrap experience. And that's one of the main reasons I haven't shared many recipes for wraps here on the site. But all that's about to change, now that I can make tortillas at home.

These flour tortillas are everything you'd want in a tortilla and then some. They are soft, so tasty and are made using simple ingredients like flour, salt, oil and water. That's it. Knead these basic ingredients to a dough, roll out and cook them up. You can make these ahead of time and re-heat when you're ready to serve. I made these tortillas using all-purpose flour, but you can also make them using whole-wheat flour, if you'd like.

This recipe is a great one for meal prep. You can cook up these tortillas ahead of time. Once they have cooled down, you can pop them in a zip lock back and refrigerate them and then use them through the week. Or you can even use them to make burritos and freeze them for use later. I've used these homemade flour tortillas to make quesadillas too. So this is one really versatile recipe that's great to have on hand.

If this is your first time attempting to make tortillas from scratch, go check out my YouTube video, which takes you through the entire process and I share all my little tips and tricks as well.
This time around, I will be using these tortillas to make some amazing Tandoori Spiced Cauliflower Wraps. Stay tuned for that recipe, coming up next.
Homemade Flour Tortillas
Cuisine: Mexican
Difficulty: Medium
Ingredients
2 cups all-purpose flour

1 tsp salt

2 tbsp oil

Warm water, to knead to a dough (around 3/4 cup)
Directions
Add the flour, salt and oil into a large mixing bowl. Rub the oil into the flour to mix well and break down any clumps.
Knead this to a dough using luke-warm water. Add water gradually to knead to a smooth pliable dough. I used about 3/4 cup.
Roll to a ball, cover with a kitchen towel and leave to rest for about 30 minutes.
After the dough has rested, divide dough into portions. I got 7 wrap sized portions. Roll these portions into balls, cover with a kitchen towel and let the dough rest for another 15-20 minutes.
After resting the dough, roll out tortillas on a floured surface to a thin disc about 1/8″ thin.
Heat a pan on medium high heat. When the pan is hot, place tortilla on pan and let it cook for about a minute or till you see little bubbles appear and the side touching the pan has a few light brown spots.
Gently press the air pockets to help them expand a bit.
Flip over and let it cook till you get a few light golden spots on the tortilla. Don't overcook the tortillas as they tend to get hard.
Recipe Video
Notes
You may need to use a little less or a little more water depending on your batch of flour. Add the water gradually.
I seem to be on an Indian bread / flatbread roll at the moment 🙂 A while ago, I had spotted someone posting a picture for Methi Pooris and ever since, I've thought about them every once in a while when I try and work out what we're going to have for dinner. What are Methi Pooris? Pooris are little deep fried flatbreads. Methi is nothing but fenugreek. So basically, these are just little deep fried flatbreads with a little fenugreek in them. Now, not always, do these thoughts get acted on, but not this time. This time, I am proud to say I actually made these pooris. I did a little reading up on them and with every recipe I read, I found myself with a little ingredient hurdle I wasn't going to conquer. So on went my thinking cap and I decided that I was going to bravely venture into conconting my own version of the pooris. I took bits and pieces from 3 different recipes that I thought would work together, made a few minute changes and was very happy with the result. I didn't get any step by step pictures this time, since I wasn't sure how well the pooris would turn out. But when we tasted them, I knew I had to share this recipe with you as soon as I could.
So, if you are looking to add a little variety to your routine Indian meals, try this out. A lot of folks make the pooris using fresh methi / fenugreek. I didn't have access to any, so I replaced it with some Kasuri Methi / dried fenugreek leaves. These are readily available in any Indian grocery store and keep well for months. I served this up with some Aloo bhaji, or mildly spiced Indian curried potatoes. You can find the recipe for that here. If you'd like to try the basic poori recipe, the plain one, you can find it here. If you're a noob at cooking Indian food the potato stir fry is a good place to start. It is nothing more than a quick stir fry and if I can make it, anyone can 🙂 So don't let the thought of cooking Indian food scare you. Give these recipes a try and you'll be hooked.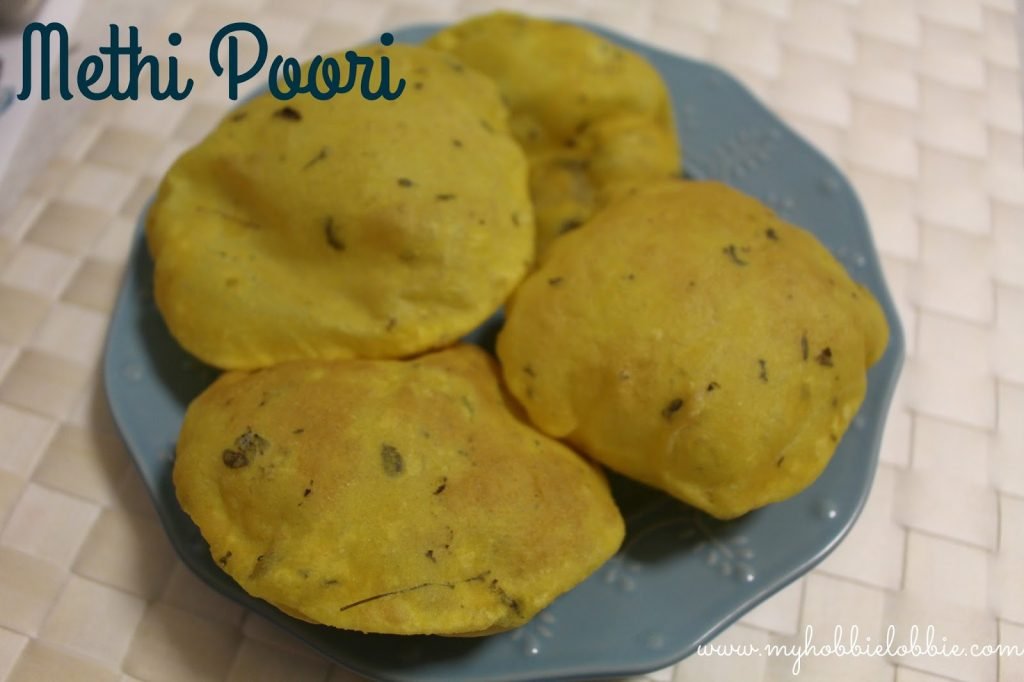 Methi Poori


1 cup whole wheat flour
1/2 cup all purpose flour
1/2 tsp salt
1 heaped tbsp natural, unflavoured yogurt
1/2 tsp turmeric powder
2 tbsp Kasuri methi (dried fenugreek leaves)
Oil, for deep frying
Mix the whole wheat flour, all purpose flour and salt in a large bowl.
Place the kasuri methi in your palms and rub a little to release their flavour. Sprinkle over the flour.
Tip in the turmeric powder and mix everything together.
Add the yogurt and stir through.
Gradually add a little water and knead to a soft, pliable dough.
Add the water gradually as you don't want to end up with a sticky dough. If the dough turns out too sticky, sprinkle a little flour over and knead it in and you should be good to go.
Cover with a damp cloth and let it rest for about half an hour.
Heat the oil for deep frying over medium heat.
(To test the oil, drop a tiny pea sized ball of the dough carefully into the oil. It should sizzle and rise to the top fairly quickly. If this happens, your oil is at the right temperature. If it browns straightaway, your oil is too hot. Take it off the heat for a while and then start frying. If it just sinks to the bottom without any sizzle, your oil is not hot enough.)
Make small walnut size portions and roll to form a disc. Do not roll out too thin. (According to my mum, they need to be a little on the thicker side to puff up. I simply follow that and get brilliant results each time.)
Deep fry as you're rolling them out. Don't stack the raw discs before frying.
When golden brown, drain on absorbent kitchen paper.
Serve hot!
Ooh I have a good one to share with you today. A while ago I was browsing the web for some cooking inspiration and I came across the recipe for green peas parathas. What are they? Basically, stuffed Indian flatbread, the stuffing is a mildly spiced green peas mix. This way you get some veggie while you're enjoying your rotis. The recipe for the stuffing is so simple and quick to put together. I am very happy to add another paratha to my repertoire. We usually make parathas for breakfast, but they are great to have with lunch or dinner, or as a slightly robust snack. I love my parathas and am always on the lookout for newer variations. So for I've made
Aloo Parathas
,
Methi Parathas
and
Gobhi Parathas
. Do you know or have you tried a yummy paratha recipe that is your absolute favourite? I'd love to hear about it. Leave me a comment and let me know.
So back to this paratha. This paratha is easier to make than the Gobhi Paratha, because of the filling. This filling has lesser moisture and so is so much easier to roll. I was happy with that. I love the little green peeking through the paratha with the finished product. Try it out and see what you think of it.
Green Peas Parathas
Recipe from: Show Me the Curry
Yields approx. 9-10

For the dough –
2 cups wholewheat flour
1/2 tsp. salt
Water
1 tbsp olive oil / ghee
Mix the flour and the salt well.
Drizzle the olive oil and mix through.
Bind with a little water at a time to form a soft pliable dough. The dough should not be sticky.
If you find the dough sticky, add some more whole wheat flour. If the dough is too dry and difficult to knead, add a little water.
Knead well, roll into a ball, cover with a damp cloth and keep aside while you make the filling.
For the filling – 1 1/2 cup frozen green peas (you could use fresh too), rinsed, thawed and thoroughly drained
2 birdseye chillies, or to taste
1 tbsp garlic minced
1/4 cup fresh coriander leaves and stalks, chopped
Salt, to taste
1 tbsp ghee (clarified butter) (alternatively you could use olive oil)
1/2 tsp cumin seeds
Into the bowl of a food processor, place the green peas, chillies, garlic, coriander and salt.
Pulse a couple of times. You want a coarse blend and NOT a paste or puree. You want some larger pieces and some smaller bits, much like what you see in the pan in the next picture.
Heat a pan over medium heat and add 1 tbsp ghee.
Add the cumin seeds and let them sputter, being careful to not burn them.
Add the green peas mix.
Stir around and let it cook out for about 2 minutes.
Remove from the pan and let it cool completely.
**Additionally you will need some dry whole wheat flour for dusting your work surface and some ghee to brush over the parathas.
To make the parathas –
Place a thick bottomed pan / tawa on a medium flame and let it heat up.
In the meanwhile, divide the dough and the pea mix into portions.
1) and 2) Dust your work surface with some flour. Roll a ball of dough between your palms to form a smooth ball. Flatten and using a rolling pin roll out to a disc about 6 inches in diameter. While rolling you need to make sure it doesn't stick to the work surface. Don't flip the dough over while rolling. (Note that these measures are approx. just to give you an idea of the sizes).
3) Place the disc in the palm of your hand. I am right handed, so I place the little disc on my left palm.
4) Spread a few drops of ghee on it.
5) Place a spoonful on the filling mix in the centre. You don't want to overfill the parathas or rolling can get messy.
6) Pick up opposite sides of the disc and press together to seal.
7) Gather in the rest of the edges. Press the edges against each other (like a little dumpling) to seal. Then flatten it gently and press the edges down. Here you are trying to roll it into a little ball carefully without smashing it.
8)Dust a little more flour on your work surface, if needed. Place the seam side down and gently start rolling the little ball out.
9) Roll out to about 8 inches wide. Again, you need to make sure it doesn't stick to the work surface. You can dust with more dry flour if needed. You also don't want to roll it too thin because the filling will just ooze out.
Place this on a well heated tawa / griddle and roast for a while moving it around till light brown spots appear on one side. Turn over and cook on the other side till light brown spots appear on the other side as well.
To finish off, spoon a few drops of clarified butter on the paratha and spread. Flip over and repeat this on the other side letting it roast for a few seconds after you add the clarified butter to the side.
Serve hot with butter and a mug of hot coffee for a yummy Indian breakfast or brunch option.
This time around, I served this up for dinner with some mildly flavoured yogurt (plain raita) and some sweet mango pickle. (The pickle is called Chunda / Chundo and you should be able to find it in any Indian store.)
These parathas go very well with any Indian style veggies too.
**Notes –
You can leave out the clarified butter if you want an even healthier version, but it does wonders for the taste.
If you have any dough or filling left over, simply refrigerate and use the next day.
You can also make a plain paratha by simply rolling out the dough, spread the ghee, wrap and re-roll and roast it without the filling. This can be served with your favorite jam or cheese or scrambled eggs or an omelette or anything else you'd fancy.
You could serve this up with plain yogurt too.
For the plain raita –




Good quality, unflavoured yogurt
Salt, to taste
Sugar, to taste (I use about 1 tbsp to 1 1/2 cups of yogurt, approx)(This will also depend on how tart the yogurt is. I sometimes use lesser than that)
Cumin powder
Red chilli powder
Mix the yogurt, salt and sugar and still thoroughly to incorporate the salt and sugar and beat till you are left with a smooth yogurt.
Place in the serving bowl and lightly spinkle some cumin powder and red chilly powder over.
Enjoy.
If you have more zucchini than you know what to do with, yesterdays savoury
Cheesy Garlic Zucchini Bread
and this vegan chocolate  cranberry zucchini bread should give you a couple of options. It is amazing how versatile zucchini is. It lends itself to both sweet and savoury recipes really well.
I was happy to find a vegan bake recipe, because I have quite a few readers / followers that would love an eggless bake like this. That coupled with the fact that it is so easy to make, makes this a must try recipe. I was glad I tried this recipe and it is a keeper for sure. The bread is nice and moist, light and chocolatey.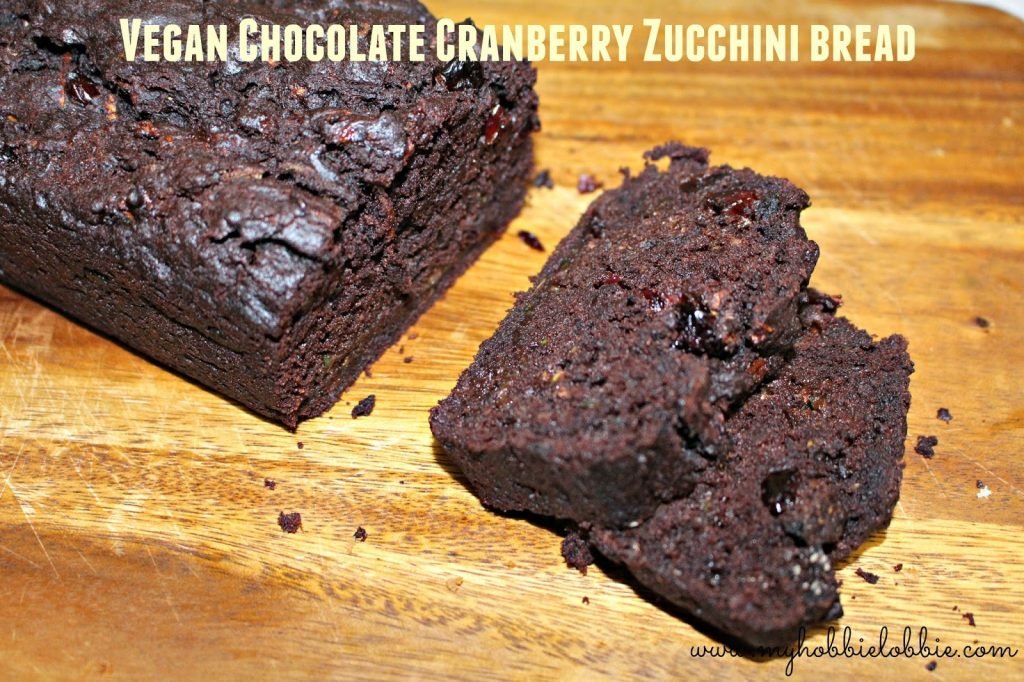 Vegan Chocolate Cranberry Zucchini Bread
Recipe from: Popsugar
1 1/2 cups zucchini, grated
1 cup whole wheat flour
1/2 cup unsweetened cocoa powder
1 tsp baking soda
1/4 tsp baking powder
1/4 tsp salt
1/2 tsp cinnamon powder
1/4 tsp allspice powder
1 large ripe banana
1/2 cup white sugar
1/2 cup canola oil
1 tsp vanilla extract
1/2 cup dried cranberries
Preheat the oven to 180ºC and lightly grease a lined loaf tin.
In a large bowl, mix the flour, cocoa powder, baking soda, baking powder, salt and spices and set aside.
In another bowl, mash the banana and mix in the sugar, oil and vanilla. Fold in the grated zucchini.
Stir in the dry ingredients while being careful not to over mix.
Fold in the cranberries.
Pour the batter into the prepared loaf tin and bake for 40-50 minutes or until a toothpick inserted comes out clean.
Those of you who follow me on
Facebook
, know that I've been meaning for this post to go live for over week now. Well, I've finally gotten to it and let me tell you, it's worth the wait. Recently I picked up some zucchini at a bargain price from Paddy's market at Flemington and was eager to try something different from the
zucchini fritters
I usually make. Don't get me wrong, we still enjoy the fritters every time they are made, but I'd seen so many other recipes around, I was eager to try something new. I went through all my bookmarks and pins and after a little looking, I found 2 recipes that I was going to work with – one savoury and the other sweet. This is the savoury one.
From personal experience, I knew I could not go wrong with a recipe that had cheese and garlic in it. And I was right. This is an easy loaf recipe that is so flavourful. It goes well with a nice big bowl of soup. I found that this bread was best eaten slightly warm. I tried warming the required slices in the microwave as well as on a pan. Both work well. The pan gives you light toasty edges, which I personally find quite yummy. Not to mention, it looks pretty. I love the green flecks throughout the loaf. I followed the recipe to the letter with the exception of swapping the green onion for some chopped onion and was very happy with the result. The only thing I did differently was bake a whole loaf instead of mini loaves. This increased the baking time and when I make this recipe again, I'll make sure I have a mini loaf tin. I think they would be perfect in the smaller sizes.
Cheesy Garlic Zucchini Bread
Recipe from: Emily Shares
3 cups all-purpose flour
4 tsp baking powder
1 tsp salt
1/2 tsp baking soda
1/2 tsp garlic powder
1 cup zucchini, grated
3/4 cup cheddar cheese, grated
1/4 onion, finely chopped (the original recipe calls for 1/4 cup finely chopped green onion)
2 tsp dry dill (or 1 tbsp fresh dill)
2 large eggs
1 cup buttermilk
4 tbsp butter, melted
Preheat the oven to 180ºC.
Line a loaf tin with parchment paper and spray with non-stick baking paper.
In a large bowl, whisk together the dry ingredients – the flour, baking powder, salt, baking soda and garlic powder.
Then add the zucchini, cheese, onion and dill to the bowl and toss to coat them with the flour mix.
In another bowl, whisk the eggs, buttermilk and the cooled, melted butter.
Add the wet ingredients to the flour mixture and gently stir through until the ingredients are just moistened. The batter will still be lumpy and that's alright. Do not over mix the batter.
Pour into the prepared loaf tin and bake for about 50-60 minutes or till a toothpick pierced through the center comes out clean.
If you choose to bake these as mini loaves, bake for 20-30 minutes or till a toothpick comes out clean.
And you have yourself a beautiful loaf of bread.
I've always been a bread lover. In my book, nothing beats warm bread fresh out of the oven with some butter on top. If like me you like good bread and you ever are in Hong Kong, please stop by this Italian restaurant called Fat Angelo's. The food is phenomenal, but their bread basket is out of this world. I consider their bread, the best I've had till date, ever.
On to my experience baking bread from scratch. In the past, using yeast overwhelmed me. I tried my hand at bread a few times a couple of years ago and each time ended up with blobs of unrisen dough resulting in brick hard bread, no, you could definitely not call that bread. Later on I learned that I wasn't doing anything wrong. Infact, I was using a brand of yeast that was known to fail; only I didn't know that. So if any of you reading this are based in India and have tried baking bread using Bluebird yeast, without much success, you know why. Please change your brand of yeast.
This Crusty Italian Bread is something I am so proud of. Once you get the hang of making bread, its actually a lot of fun and very satisfying to see a beautiful loaf emerge from the oven. The flavor and texture was fantastic. My husband isn't overly fond of bread, but he went back for seconds. He liked this bread so much that he had a slice after dinner with some butter. I was elated. I knew that I had done something right. I can't wait to make this again.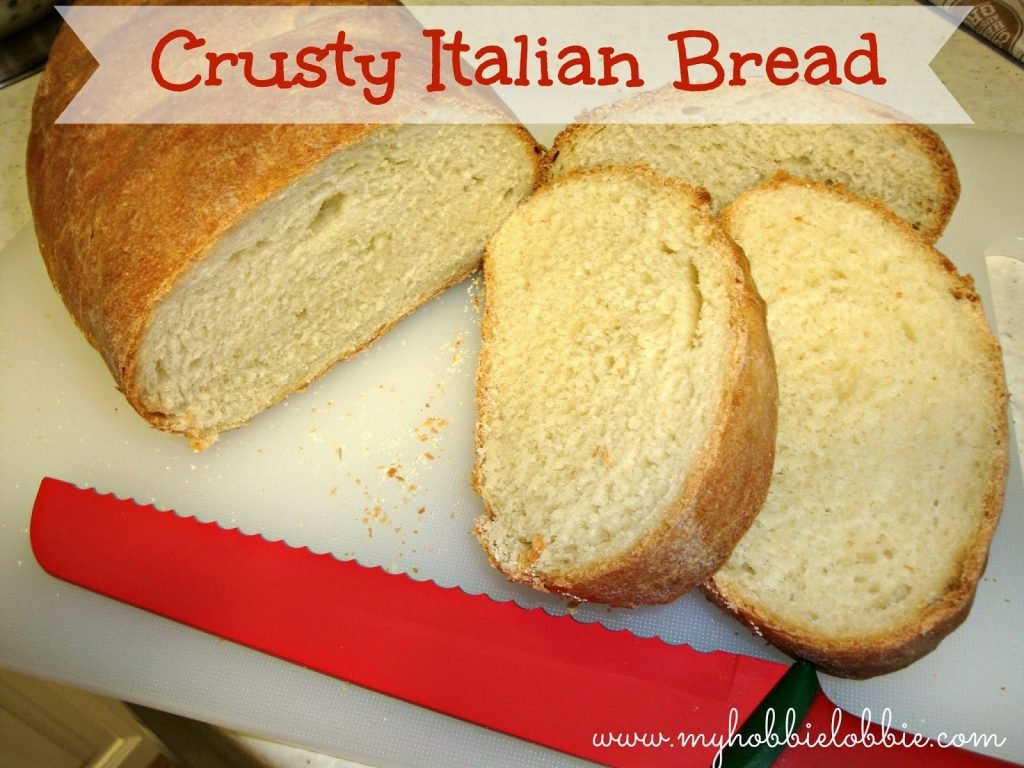 Crusty Italian Bread
Recipe from: Let's Feast
2 1/2 cups all purpose flour
1/2 tbsp light brown sugar
1 heaped tsp instant dry yeast
1 tbsp olive oil
1 cup lukewarm water
1 tsp salt
Place the flour in a large mixing bowl.
Mix in the yeast, salt and sugar.
Add the oil and the water and mix it well till the dough comes together.
Turn the dough out onto a lightly floured surface and knead the dough well. Add more flour gradually if the dough is too sticky. Knead the dough for about 7 minutes. The dough should be well knead, soft and not tacky or sticky.
Smooth it out into a ball and place in an oiled bowl and cover with cling film. Keep the bowl in a warm place for about 60 minutes or until double in size.
Remove the cling film and punch the dough back to knock out the air.
Turn the dough out onto a lightly floured surface and flatten the dough with your hands. Roll it to form an oval shape. It should be rolled tightly and press the seam well. Repeat the process again. You should end up with an oval loaf with slightly tapered ends. Place it onto a lightly floured board and cover loosely with a clean tea towel and leave to rise for 30 minutes.
Preheat the oven and your baking tray to 220°C.
When the dough is ready to be baked, remove the tray from the oven, sprinkle some semolina and place the loaf of bread over it, to add some crunch to the base.
Using a sharp knife, make a couple of slits on the top of the loaf about 1-2cm deep.
Spray the loaf with water and place it in the oven for 3 minutes. Repeat this step 2 more times, leaving the dough to bake for about 40 minutes after the last spray.
If you think the bread is browning a little to much or too quickly, place some aluminium foil loosely on top.
When the bread is done, take it out of the oven, turn over and tap the base of the loaf. If it sounds hollow, the bread is done.
Leave the bread on a cooling rack. Once it has cooled, slice and enjoy!!!
Those of you who've been following this space for a while, know that I've always loved the idea of baking my own bread, but have always been intimidated by the mighty "yeast". However, off late I've been doing better with it. I whipped up these stuffed bread sticks a while ago and we absolutely loved it. Warm bread straight out of the oven, with a garlic butter spread on the inside coupled with some melted gooey cheese. Whats not too love! Just writing about it has me longing for another piece. The best part is that this is a whole wheat bread, with just a tad of all purpose flour, so it is a healthier variant too. Now that I've made this lovely delight, my head is just swimming with other options to use as a stuffing. I'm really looking forward to some more experimentation with this bread. But don't take my word for it, try it out.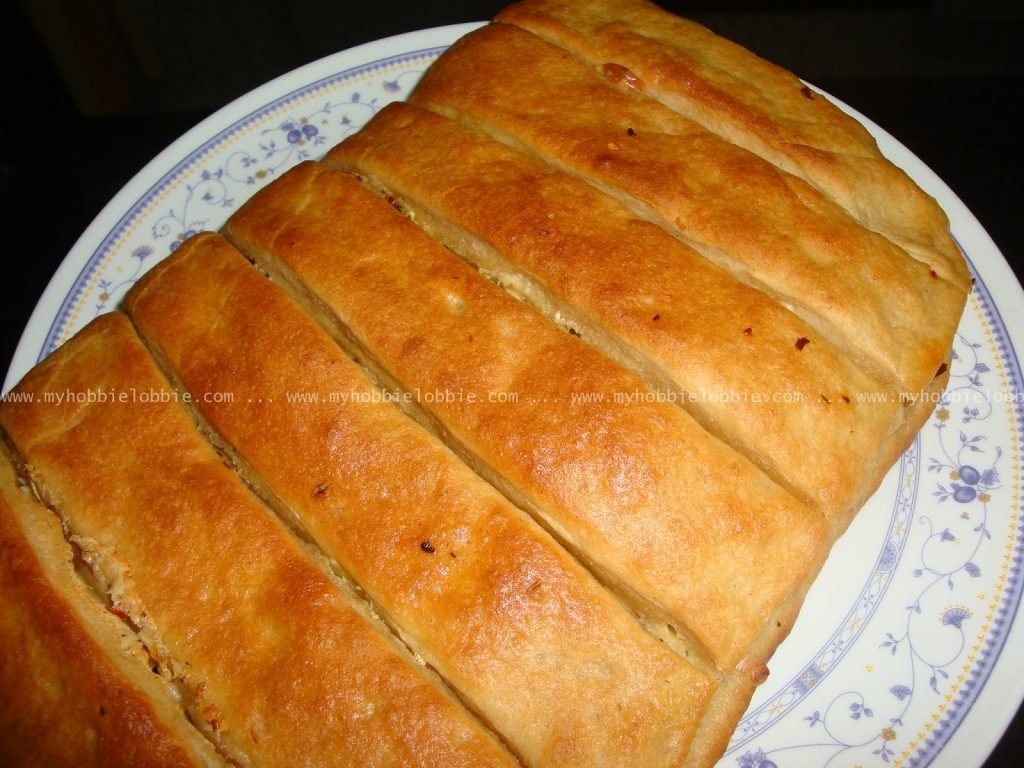 Now, who's ready to take a peek at what the stuffing looks like. I used a mix of mozzarella and cheddar by Kraft. I think I'm going to up the cheddar the next time.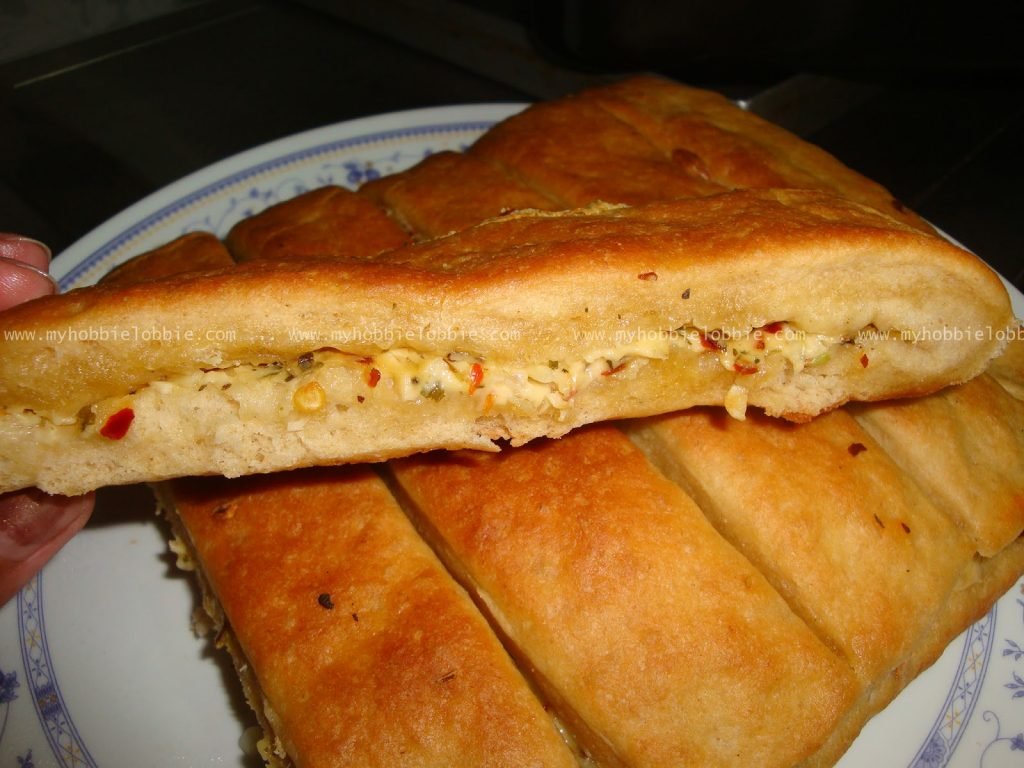 Cheese stuffed Whole Wheat Garlic Bread Sticks
Adapted from recipe by: K Latha Kiran
(Yield: 8 bread sticks)
For the bread –
1 1/2 cup whole wheat flour
1/2 cup all purpose flour
3/4 cup water
1/2 tbsp instant yeast
1 tsp salt
1/2 tsp sugar
1 tbsp olive oil
For the garlic spread –
2 tbsp salted butter
6 large cloves of garlic, chopped
Red chilli flakes, to taste (optional)
Mixed Italian herbs, to taste (optional)
Grated cheese, to taste (your choice of cheese / blend)
In a bowl, mix the yeast, water and sugar and dissolve.
Add the flours to it and knead it to form a soft pliable dough. The dough will be a little sticky. Its a sign that your gluten is forming, which is a good thing.
Mix the oil and the salt using the palm of your hand and rub it into the dough.
Cover with a damp cloth and leave it in a warm place for about an hour or till the dough has doubled in size.
Oil your fingers and knock back the risen dough lightly.
Roll the dough out on a lightly dusted surface.
Mix all the ingredients of the garlic spread except the cheese and apply on the dough.
Sprinkle grated cheese on half of the dough, flip the other half over to cover.
Cover with the damp cloth and leave to rise for about 20 minutes to half an hour.
Preheat the oven to 180ºC and bake for 15-20 minutes till it browns on top.
Take it out of the oven and immediately brush lightly with some olive oil.
Enjoy!
Those who know me well, know that I love all good food, but dessert is my absolute weakness. I love all kinds of sweets, candies, bakes and Indian sweets too. The thing is, I can bake some wicked stuff, but I've never attempted too many traditional Indian sweets at home. I usually just go to an Indian sweets shop and pick up stuff over there. In a way, thats a good thing because a lot of these divine treats are usually high on the sugar and ghee (clarified butter). Atleast that's the notion I have. I have made a few before like this slightly healthier version of
Sheera
,
Gaajar ka Halwa
and Gulab Jamuns which I'd made a long time ago before I'd started blogging (I should make those again). Today's treat is a slightly healthier one. It is a sweet Indian flatbread called Puran (Poo-run) Polis (Poh-lees). These are usually made for the Holi and Gudi Padwa festivals. We enjoyed these for breakfast, had some with our afternoon cup of tea and enjoyed every bite of it. My husband loved it, for him these were perfect. That's always great to hear.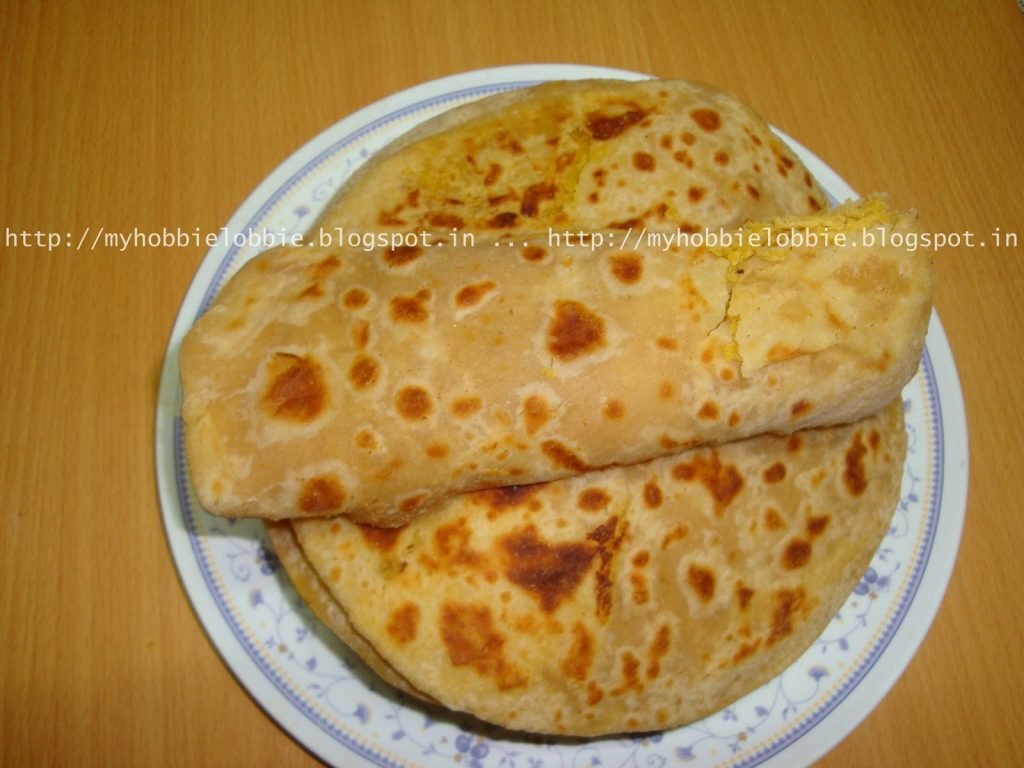 Puran Poli
Recipe by: Tasty Treats
Makes 10
For the flatbread –
100g whole wheat flour
100g all purpose flour
1/4 tsp salt
Milk, for kneading the dough
2 tbsp vegetable oil
For the filling –
200g chana dal
1 cup water
225 gms jaggery, roughly chopped
8 green cardamoms – seeds crushed
A little ghee / clarified butter, to smear on while cooking
Mix the flours and salt and knead it to a soft and smooth dough using milk as needed.
Incorporate the oil into the dough by kneading in 1 spoon at a time. Knead well till all the oil is incorporated.
Keep the dough aside in an airtight container for an hour.
Wash the dal a couple of times and pressure cook it with a pinch of salt and 1 cup of water for 2 whistles.
Turn off the heat and when the pressure has dropped completely, drain the excess water and spread the dal on a plate to cool off.
Add the jaggery and cardamom seeds to the dal and mix well. I put it in the mixer and pulsed it a little till it turned to an almost smooth paste.
If the paste is too wet, cook it off on medium heat till the moisture dries out a little, till it can be rolled into little balls.
Cool it off, divide it into 10 equal portions and roll them into balls and keep aside.
Divide the dough into 10 equal portions and roll into balls.
On a lightly floured surface, roll out the dough to about 4″ in diameter (just approx large enough to contain the filling and a little extra around the edge for sealing), place the filling in the centre and cover with the dough, sealing it off (sort of like a stuffed dumpling).
Flatten this ball out gently and ever so gently roll it out as thin as possible without exposing the filling. If it remains on the thicker side too, its no problem. From here on, you have to handle the flatbreads very gently or they will break.
Place them on a hot griddle and let it cook on a medium flame till it lightly browns on one side. Flip over to achieve the same result. Smear a little ghee on top and flip over and let it cook till done. Smear a little ghee on the other side as well and flip over and cook off.
I like to eat these a little warm. They refrigerate well too. Simply reheat them on the griddle and you're good to go.
This recipe is linked to –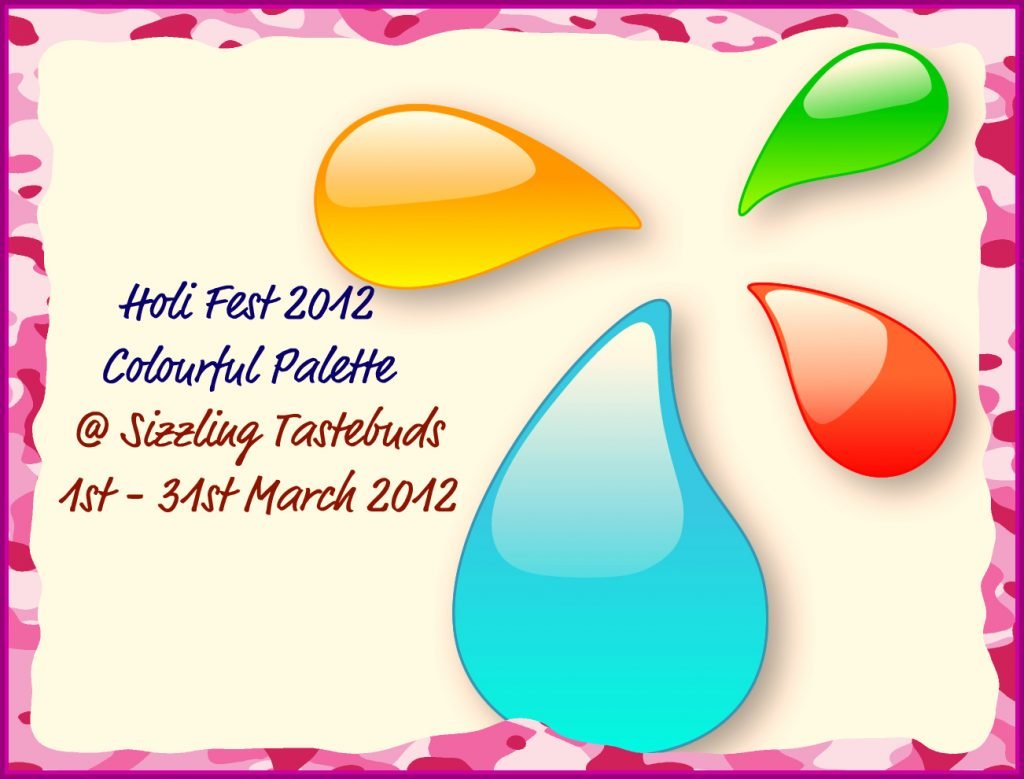 My parents came over for dinner last night. I was excited to have them over, but ran into a bit of a dilemma. Those of you who've been following this blog for a while will know that I intend going vegetarian this Lenten season. I was determined to not let this visit come in the way. So using my previous post as inspiration I got to work and I'm glad to report that we had the loveliest dinner. I whipped up some of this
Paalak Paneer
and a platter of
Eggplant Patties
. The original eggplant patties recipe uses egg in the batter, but yesterday I just left the egg out and they turned out really well even without it. To round it off, I made some baked naans and that's what I want to highlight in today's post. This is just the second time I've made these naans but I can swear by them, they're that good. Those of you who've ordered from local eateries will be used to the rubbery and extremely chewy pieces of cooked dough they call naans. Friends, you have no idea what you've been missing. Try making these naans at home and I know you'll be as amazed as I am. But don't take my word for it. Try it out for yourself and let me know what you think.
These are really easy to make. I made the basic butter naans yesterday, but you can use an array of toppings of your choice ranging from herbs to garlic to cheese, pretty much anything you fancy. Serve these up with your favorite Indian food. While savoring these yesterday, I realized that they'd be ideal for making wraps as well. So when we resume meat in our diets, I'm gonna try that out for sure. I couldn't get a picture of the whole batch of them as they we disappearing faster than they came out of the oven. This is one I managed to get a shot of. Maybe, I'll have better luck next time. Till then I guess this one will have to do.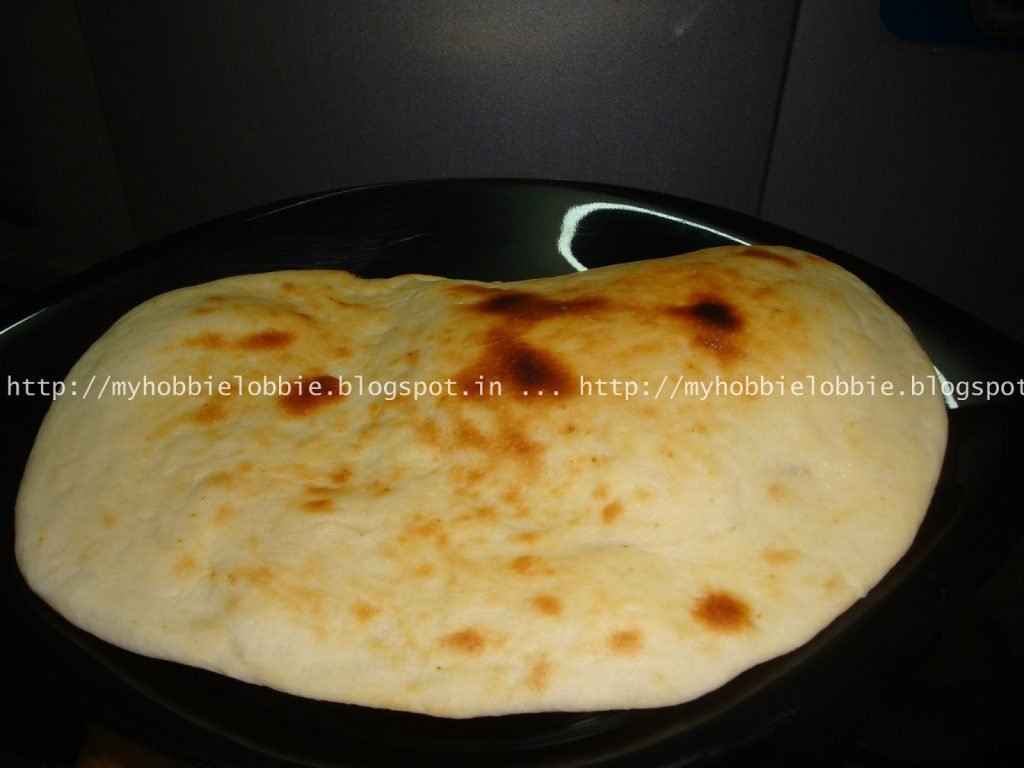 Baked Naan
Yields 11-12 depending on size
500g all purpose flour
4 tsp. sugar, powdered
1 tsp. salt
1 tsp. baking powder
220-260 ml milk
4 tbsp. oil, plus a little extra for greasing
A little butter, for the topping
Mix the dry ingredients together and set aside.
In another bowl mix the milk and oil and use this mixture to knead the flour to a pliable dough. This should take about 8-10 minutes. You can use a little more milk, if needed, to knead the dough, if its too dry.
Cover with a damp tea towel and keep in a warm place for about 15 minutes.
Preheat the oven to about 170ºC on the grill mode and place a baking tray high in the oven under the grill.
Divide the dough into 10-12 portions depending on the size of the naans you'd like to make.
Roll the portion out to form the naans. (At this stage you need to add any toppings over the naan and press them into the dough.)
Drizzle a couple of drops of oil on the baking tray. I did this just this one at the onset to prevent sticking.
Place the rolled out dough on the baking tray under the grill for 2-3 minutes till they puff up and lightly brown. Flip them over and let them get a few brown spots on the other side as well. Take them out of the oven and brush them lightly with some butter. Keep an eye on them as they can start to burn in the blink of an eye.
Serve them hot.