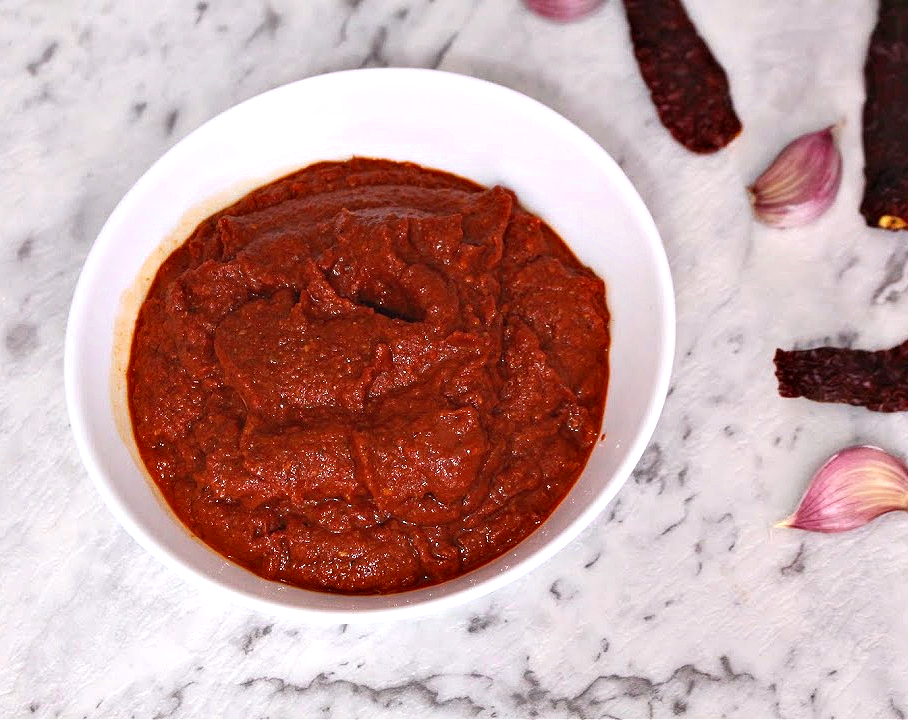 Recheado Masala (Rechaad Masala) is a quintessential Goan spice blend. You will find this in every Goan or Goan food lovers home. While its a few basic spices that's simply blended together in a mixer / food processor, the trick is getting the right balance of flavors. Every household has its own version of this masala. And yes, we have one too. The recipe I'm sharing with you today is my Mother's recipe which I've tweaked a tiny bit and I think it's now just the way we like it.
I always have a jar of this masala in the fridge. That's the beauty of it. You can make a batch up when you need it or make it ahead of time and store it in the refrigerator. I store it in a clean, dry, airtight glass jar and it easily keeps for weeks, if not months. It's a great masala to have on hand. Typically this masala is used to pan fry a variety of seafood from fish, to prawns and even crabs. We also make a finger-licking, lip-smacking okhra or bhindi with this masala. I will share those recipes with you really soon. 


Goan Recheado Masala 
20 Kashmiri red chillies 
1 whole pod of garlic, peeled
1 inch ginger, roughly chopped
1/2 tsp turmeric powder
1 tsp cumin seeds
1/4 tsp black peppercorns
3 cloves
2 inches cinnamon
5 cardamom pods
A small ball of tamarind, about the size of a walnut
Vinegar, to grind the masala to a paste
Sugar and Salt, to taste (optional, see note)
Soak the tamarind in a little hot water for a couple of minutes. When it has softened, mash it between your fingers and discard any seeds, pieces of shell or fibre that you may find.)
Place all the spices in your mixer. Add the tamarind pulp and the water it was soaking in. Add a couple of generous tablespoons of vinegar. Blend to a smooth paste, adding more vinegar as required. (Halfway through this process, scrape down the sides of the jar to make sure you get a smooth paste).
When it has blended to a smooth paste, it is ready to use. 
Store any excess in a clean, dry, airtight glass jar in the refrigerator and use as needed. 
NOTE:
You can add a little salt to taste and 1-2 tsp. of sugar while grinding, if desired. I leave this out, so that I can season the dish as I need to, when using this masala.